I have long wanted to try to get to Samuiin a way that includes aircraft and transfer. That is, the plane arrives in the city on the mainland (Surat Thani or Nakhon Si Tammarat), from where the bus takes you to the pier in Donsak, and then by ferry to Koh Samui. Such complex tickets are sold on the websites of AirAsia and NokAir low-cost airlines and all transfers are already included in the price. If you do not know, here my post with all the ways to get to Samui.
The content of the article
Flight Bangkok-Samui from NokAir
I recall a direct flight to Samui from Bangkokonly possible by Bangkok Airways (or Thai Airways), and the cheapest tickets cost about 3,500-4500 baht per person one way. The average price is at Airasia / Nokair 1500-2000 baht. And if you take not in advance, but a few days before the trip, the difference may be 3-4 times, especially during the peak season. Bangkok Airways I flew, so this time I flew to Nok Air with a transfer.
Flight standard, there is nothing to tell. Departure from Don Muang Domestic Terminal. They gave a roll and water on board, typical of NokAir, because AirAsia does not give it either. The flight lasted just over an hour. By the way, since I did not take the ticket at the cheapest rate (although this may not be the case), they put me in some premium place. There was an extra two feet in my legs, for the first time I flew like that, I even wanted the table to be a little closer so as not to stretch.
The flight arrived a little later, as it flew a littlelater. The airport Nakhon Si Tammarat is small, parochial, literally one building and that's it. If it were not for these flights with transfers, it is not clear who else would fly here.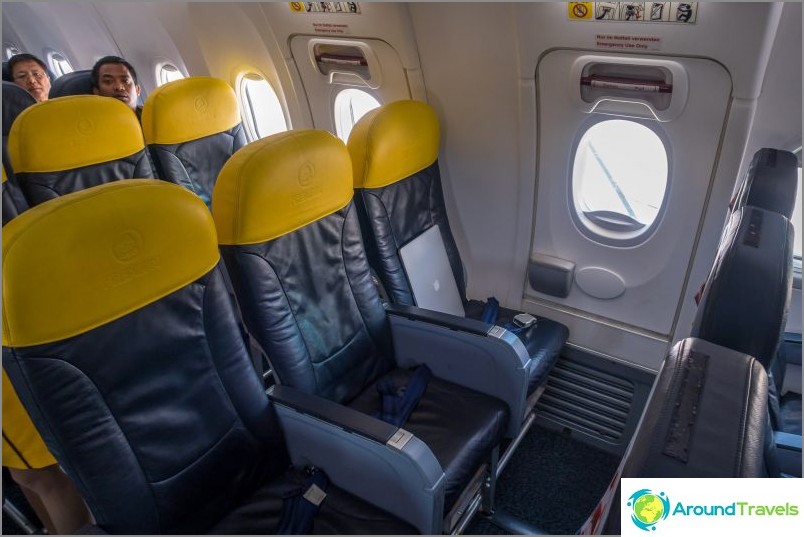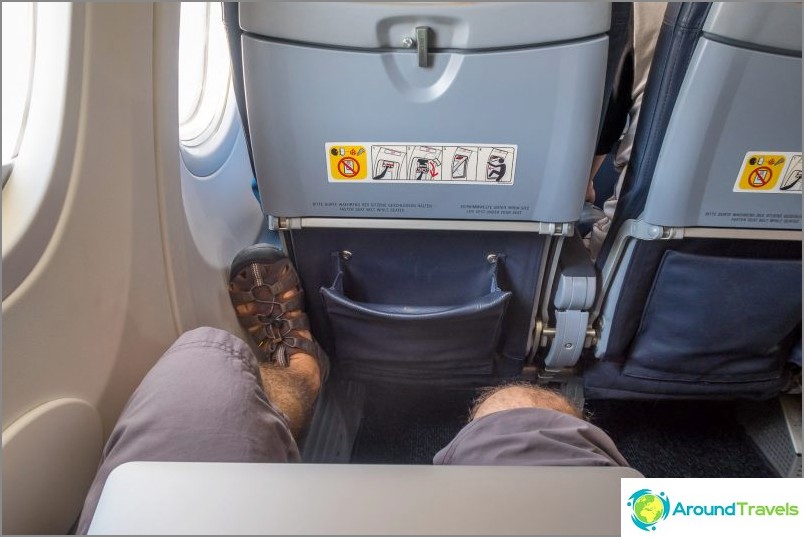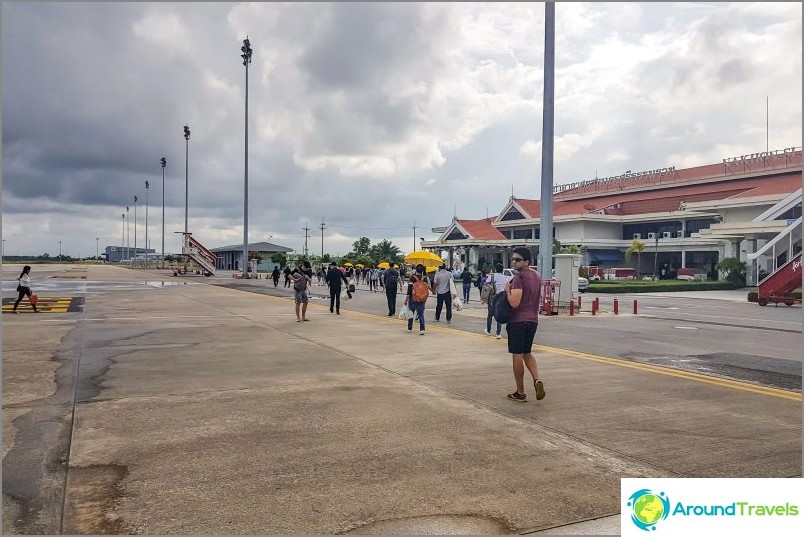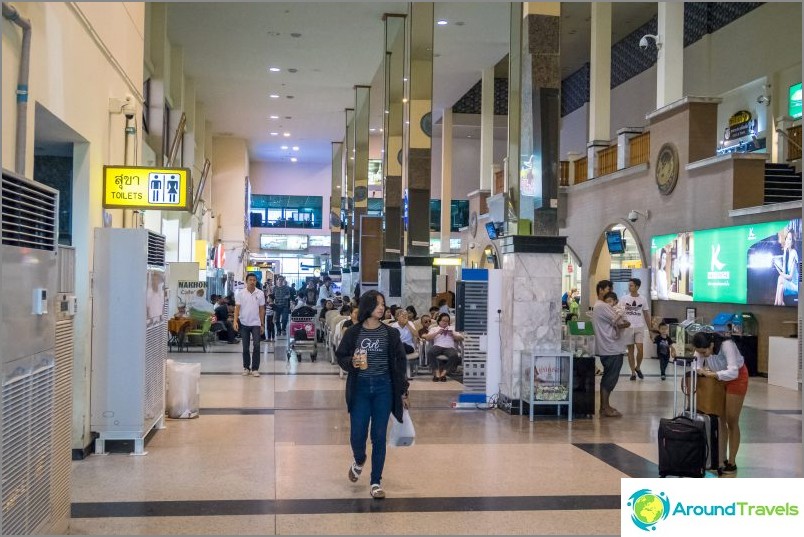 Transfer from the airport to Donsak Pier
Immediately after leaving the baggage claim areaThere is a rack, it says Nok Transfer. Missing is impossible. There were Thai and checked the tickets / surnames, sticking a sticker on the T-shirt to those who follow on Samui or Phangan. You can also buy a transfer on Samui from the pier in Nathon to the hotel for 150 baht.
I did just that, as with the purchasea ticket, something was buggy and an additional amount for this transfer was not written off (they offered to buy on the website immediately, but it was impossible to put a tick in the box). But it is for the better, because it cost 300 baht on the site, that is, 2 times more expensive. Strange somehow, because the transfer is the same, and generally when buying in advance, on the contrary, you need to give a discount. So do not buy on the site.
Then they all loaded into a big bus. Before the pier in Donsak it was about an hour to go, from where the high-speed catamaran was taking everyone to Samui or Phangan.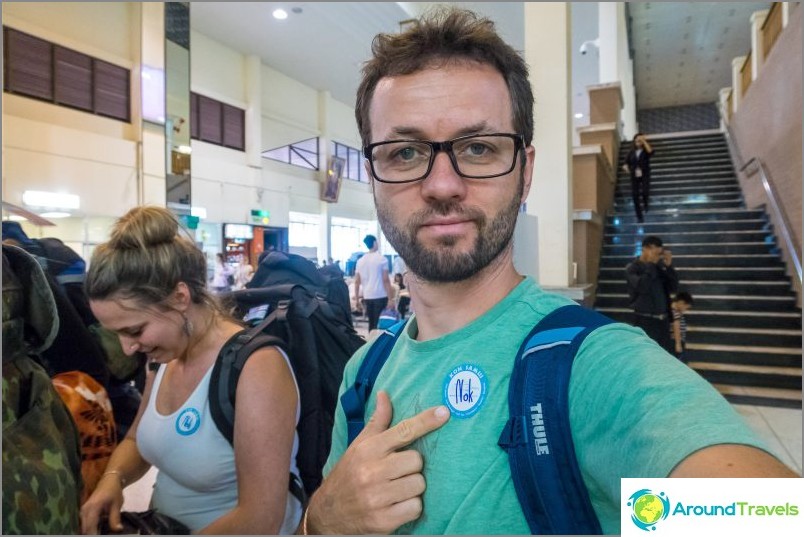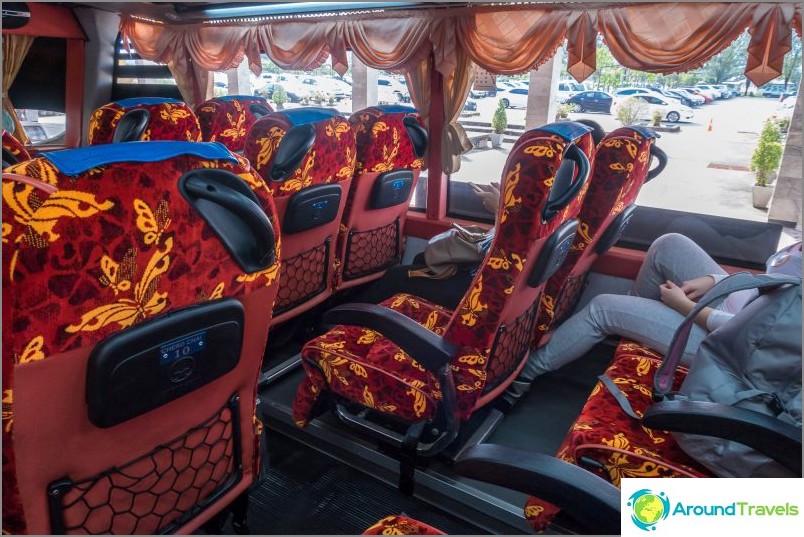 Catamaran Lompraia from Donsaka to Samui
After unloading from the bus for about an hour, or evenmore, we waited on the quay landing on a catamaran. after which another hour they sat in an entire crowd in this catamaran. There were strong waves, it shook, so the landing was so prolonged. First, they put everyone who went to Phangan and showered their luggage, then those who sailed on Samui entered. By the way, you need to stick a sticker on the luggage, denoting where it is, nobody told me about it. He noticed well that they were on many suitcases, and he also asked. And that is unknown, would not have floated away my suitcase to Phangan.
The most interesting thing started when the catamaran sailed. Periodically it was like a roller coaster and was breathtaking when the catamaran jumped on the waves. Well, I had a pill from car sickness (This one) which I took in advance, otherwiseI would have to puke all the way. Correctly said, everyone who is swayed in transport, Lomray to swim is not worth it. Neither with this method (airplane + transfer), nor when Lomprayya herself is direct from Bangkok by bus. In the latter case, the catamaran is sailing from Chumphokhon, and this is much further than from Donsak. God forbid there will be a storm, no pill will save.
And I do not catch horror. When we all got into the catamaran, some people joyfully began to drink alcoholic drinks on the upper open deck. When I went out on Samui, it was a pity to look at some of them, they were jealous of us, because they still had half an hour to swim to Phangan.
So, it is better to swim longer, but on the ordinarythe ferry, it is almost not felt rolling. So, if you choose a similar option to get to Samui (plane + transfer), then it is better to fly AirAsia, and not NokAir, just AirAsia will have a regular ferry instead of a catamaran.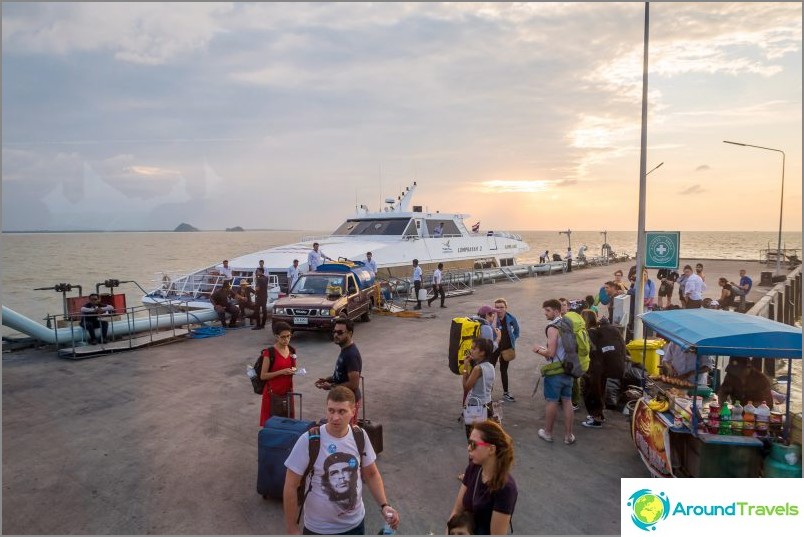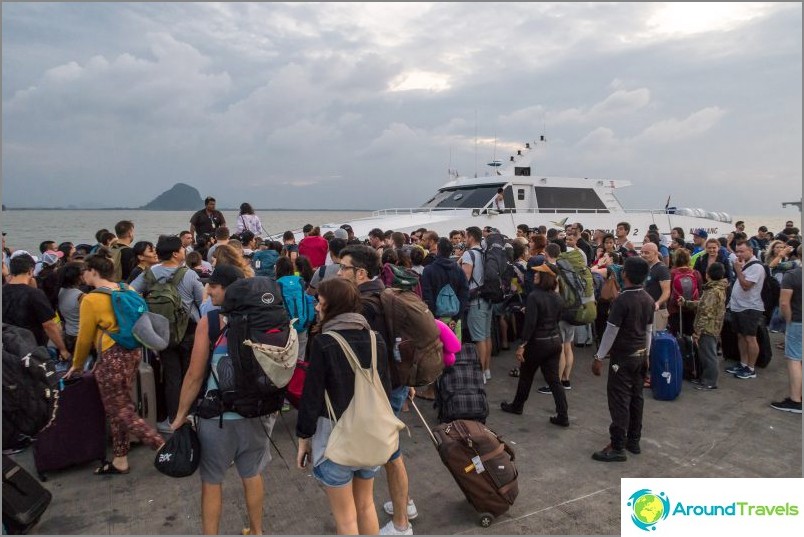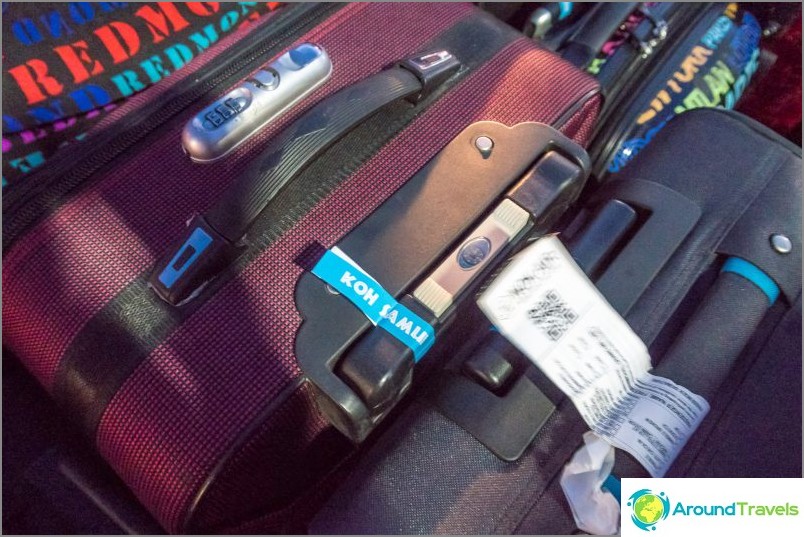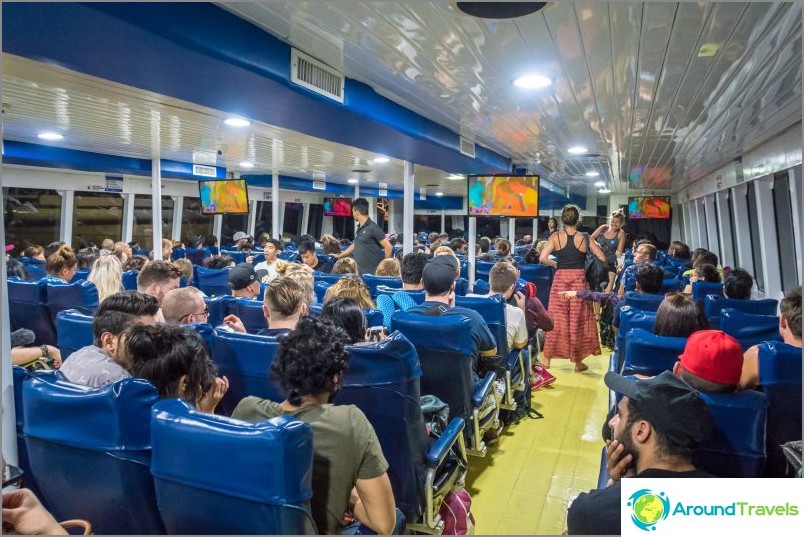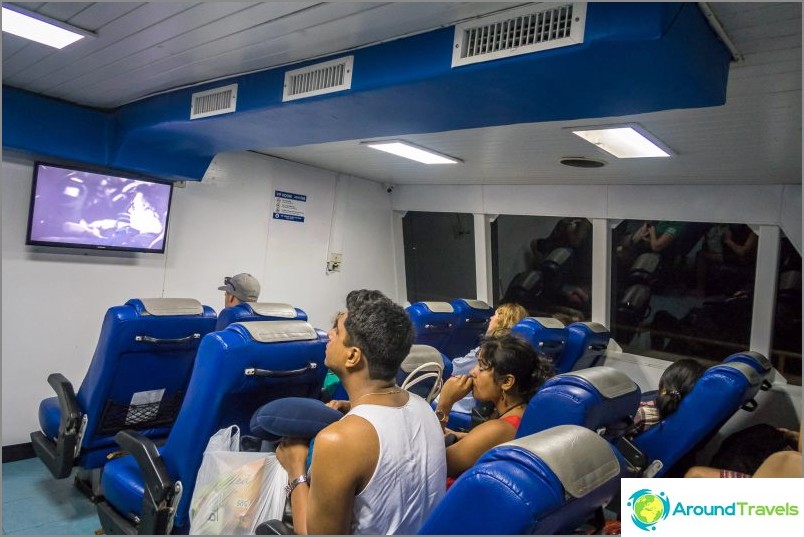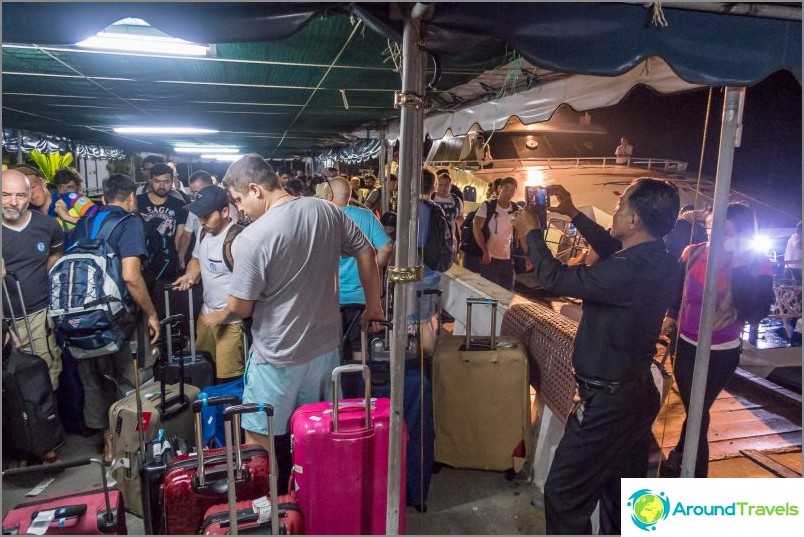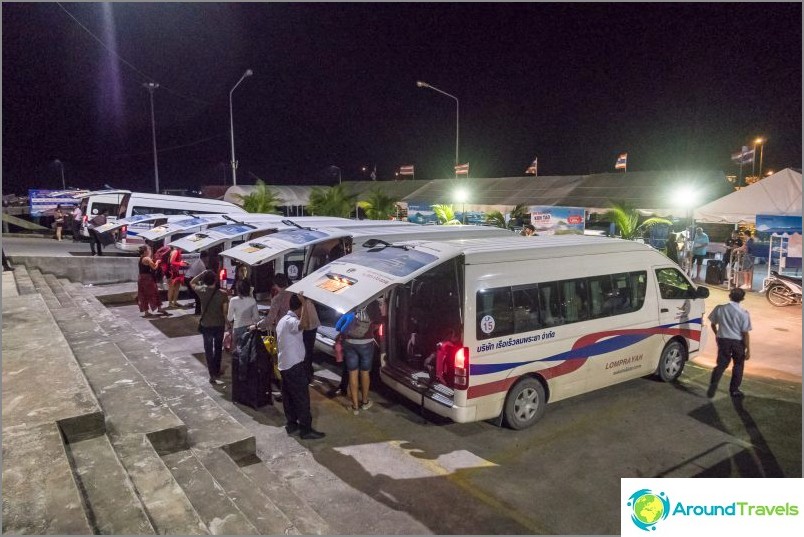 findings
What did I do? At 12:40, I was at Don Muang Airport in Bangkok, at 14:10 I flew out, at 19:50 I was on Koh Samui at the pier in Nathon, and at 20:40 at the hotel on Chaweng. That is about 8 hours on the road. Plus, about 30-60 minutes to get to the airport in Bangkok, but we will not take them into account. Thus, you need to lay almost all day to transport yourself to Koh Samui.
In my opinion, this method is not ice, especially forfamilies with children. I have little idea how to spend 8 hours with a child on such a road, with a bunch of transfers and expectations. That is, you can, of course, do not argue, but not comfortable. Therefore, I am personally for a direct flight from Bangkok Air: 1 hour at Bangkok airport, 1 hour flight, 30 minutes taxi to the hotel, total about 2.5-3 hours for everything. In addition, there will definitely not be a problem of motion sickness on a catamaran / ferry.
Most budget travelers will choose a bussince it will cost a bit cheaper than even a plane + transfer. Although I would not say that much. But here, if there is a task to save, it is clear that there are no planes.
On the map
Just in case, the map is clearer about what it is about, where are the cities, marinas, islands.
Transport Samui, Ko Phangan and Tao
Samui Airport:
Raja Ferry Pier:
Pier SeaTran Ferry Pier:
Pier Raja Ferry:
Ticket office of Raja Ferry:
Pier SeaTran Discovery:
Pier Lomprayah:
Gas station to the cafeteria and minimarket:
Tha Thong Pier:
Pierce Bandon:
Suratthani Airport:
Suratthani Railway Station:
Nakhon Titammarat Airport:
Pierce Matapon:
Pierce Lompraia:
Pier Tha Young:
Pierce Pra Lan:
Pier Bang Bang:
Tong Sala Pier (transport and passenger):
Tong Sala Pier (passenger):
Pier Haad Rin:
Pierce Petcherrat:
Pierce Big Buddha:
Lompraia Office:
The new office of SeaTran Explorer:
Phantip CO Tickets:
Yellow Bus Office:
Stop the songteo:
Pier on Koh Tao:
Rent a car at Samui Airport:


Life hacking 1 - how to buy a good insurance

Choosing insurance is now unrealistically difficult, so to help all travelers, I compile a rating. To do this, I constantly monitor forums, study insurance contracts and use insurance by myself.

Life hacking 2 - how to find a hotel 20% cheaper

First, choose a hotel on Booking. They have a good offer base, but the prices are NOT the best! The same hotel can often be found 20% cheaper in other systems through the RoomGuru service.

Discount hotels