I present to your attention a guest post on the topical topic of "travel with children" by Svetlana Nekrasova. Recently, and we had a similar article about travel by car with a child, well, in this case, personal experience is connected with flights on airplanes. I hope someone will find this information useful.
Relatives think we are a little crazyfriends are adventurers, but in fact we are a happy young family that once left a provincial town to get to know better first Moscow, and then the whole world. We periodically move from one place to another and, which is especially surprising environment, our most active movements began with the birth of a daughter.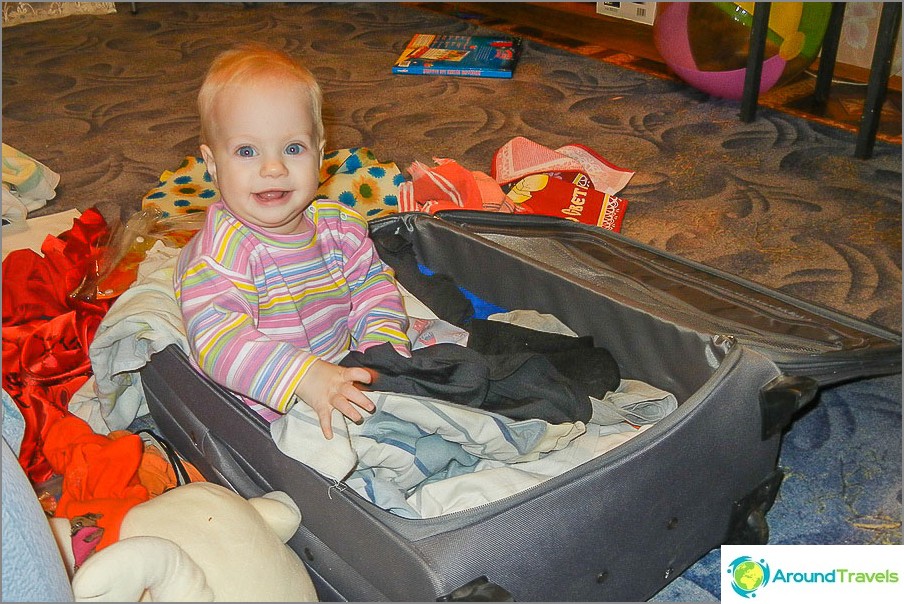 She is now 2 years and 5 months old. Here are our longest travels during this time:
Moscow (where she was born) - the Far East (daughter of 6 months, 6 days in the usual train compartment)
Far East - Moscow (daughter 9 months, 8 hours by plane)
Minsk - Far East (one and a half year old daughter, flight with one transfer, in the amount of 1.5 days on the way)
Far East - Thailand (daughter 1 year 10 months, flight with two transfers, more than two days on the road)
Thailand - Far East (daughter 2 years 2 months, flight with two transfers, about two days on the road)
We had different transfers. We either completely freed the house and left for a long time, or collected only the most necessary, and the rest of the things just waited for us in the apartment.
For the first time we went, when my daughter was six months old. Six days in a train compartment gave a lot of impressions, experience and confidence that now we can take any trip.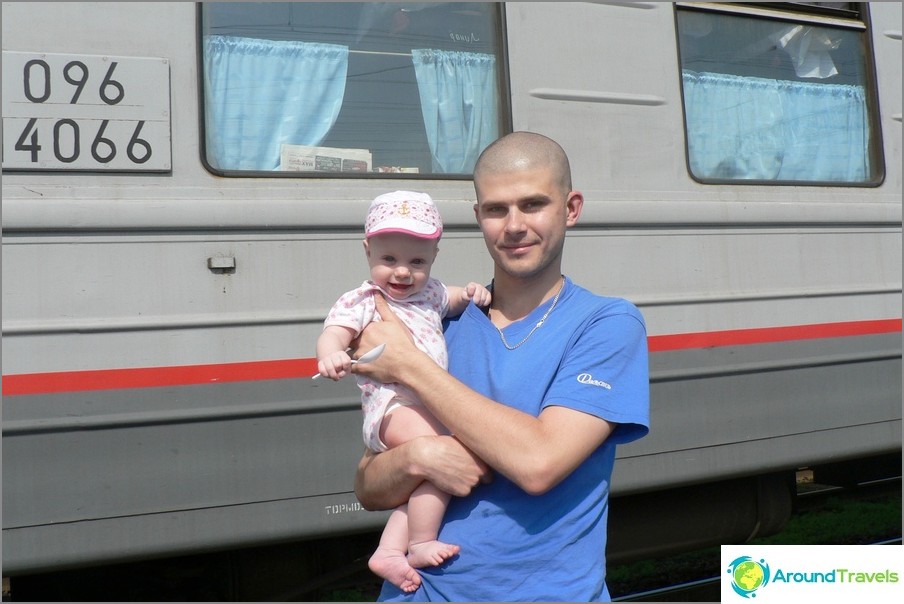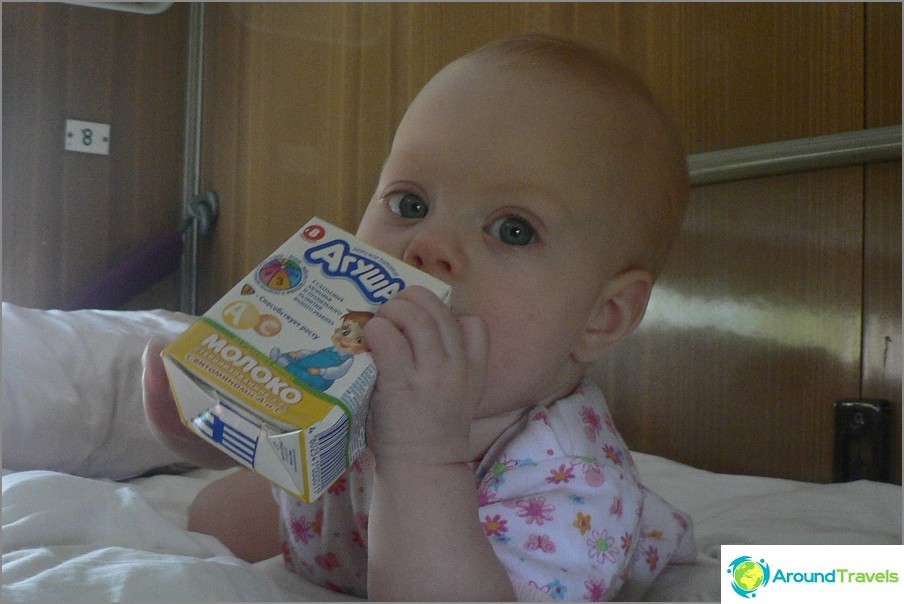 Only once we had a strong climatic contrast - from winter to summer. The difference between these photos is three days, and the temperature difference is 55 degrees (from -25 to +30).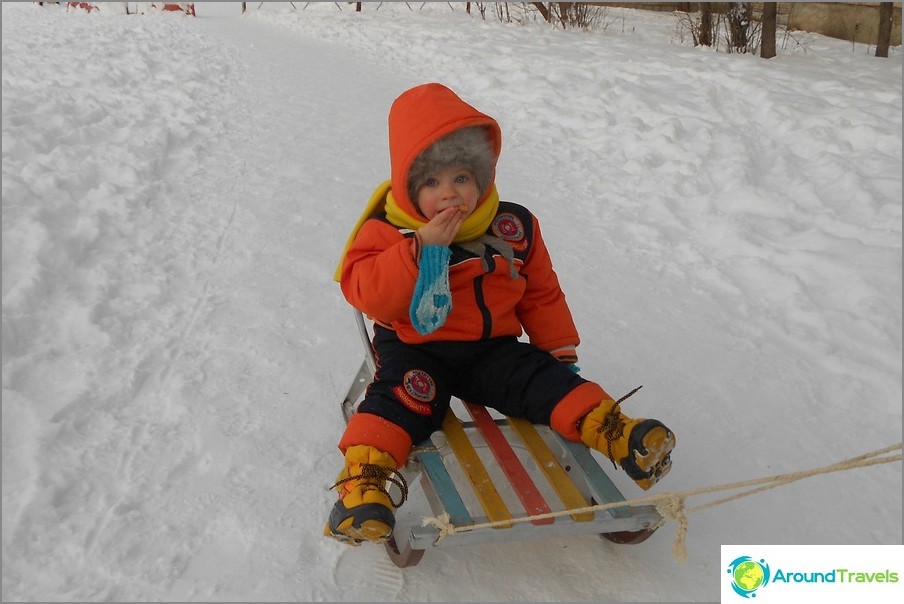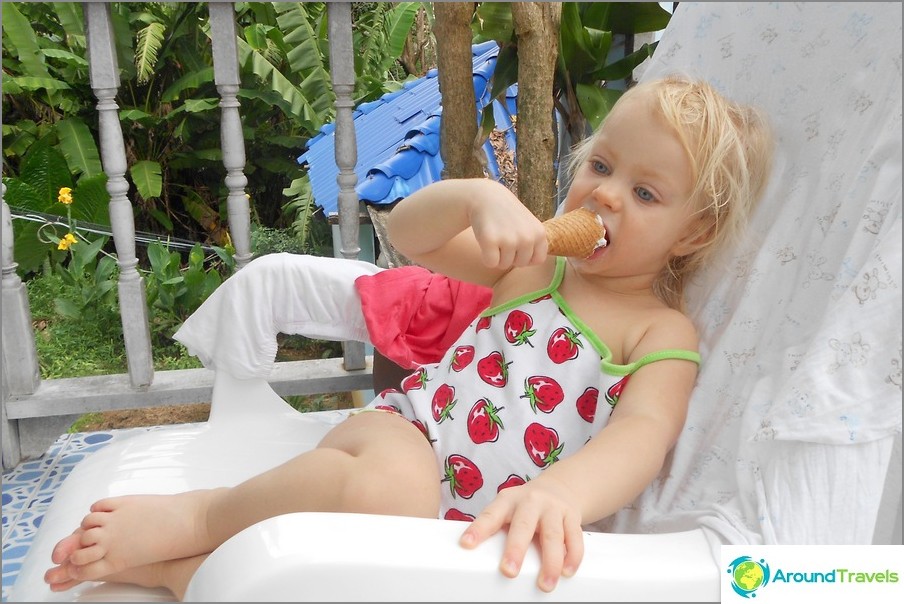 We are no longer afraid of long trips with a child. I believe that this is largely due to the correct attitude and the confidence that everything will go perfectly. Of course, we always turn on our head and think over everything in advance so as to make the road more comfortable. Over time, our family travel principles were developed, which allow each next movement to be made even more comfortable.
The main principle of our travels is to organize movements in such a way that the child is interested in traveling with a minimum set of toys.
Each trip is a peering into the world, the knowledge of its new facets. When we ourselves are interesting on the road, then the child does not miss.
In addition to entertainment, there is another important point -this is compliance and adjustment. Seriously we approach the issue of choice of flights and the compilation of logistics of movements. So for long flights we prefer night flights, with a long transfer (15-20 hours) we check in to the hotel, and at the airport we always find the opportunity to wash and even wash the child with great need.
And more important principles regarding the things and products that we take with us: clothes - tested, toys - interesting, food - beloved.
And now I will tell you more about how we go through the charges on the road and what allows us to make each flight comfortable and interesting for the whole family, including the child.
The content of the article
Charge strategy
Of course you can give simple advice about fees.- travel light, and then the fees will also be light. However, to put into practice such advice is much more difficult, especially if there is a child and the trip is going to be long.
We traveled with a wide variety ofluggage - from ten bags to two backpacks. The first trips were tedious - the child was still very small, and we have little experience. Things gained a lot of things and hardly placed their luggage. We didn't have enough of our hands to carry everything at once, worn in batches.
After each trip my husband said - inthe next time at least two times reduce the number of things. He came the next time, and we tentatively fit in instead of ten already in eight bags. So empirically developed their own strategy fees. This winter we went to Thailand with two ordinary backpacks (the size of school ones) and a small bag. Everyone was happy!
So, our strategy of fees:
1. Lists.
Based on the purpose and duration of the trip, a list of things on the road. Since there are three of us now, there are three such lists too.
2. Joint discussion.
We discuss with my husband in advance what is important to take withby myself. Discussing controversial moments. For example, to take a blender or not, to take a tripod or not, what clothes are useful and in what quantity. Even at this stage, the husband tells us what weight restrictions we have (depending on the airline) and what bags we take (we have a choice of both a suitcase and backpacks of different sizes and bags). We also exchange recommendations of traveling bloggers, whose sites we are viewing at the stage of preparation for the trip.
3. Primary collection.
In advance (for five days) everyone looks at histhings and for themselves determines what will be taken on the road. If you can do without these things before departure, then we immediately put them in a bag. If the thing is still to be used (of course, there is a majority), then we simply separate it from other things (in a separate drawer of the dresser, or in a bag, or in convenient stationery folders with a button).
So there is a primary collection of things, appearsunderstanding the volumes desired. Often, during the primary collection, we postpone more things than we actually take. In subsequent revisions, the excess will be left, but it will be much easier to decide what is going to be and what is not.
The primary view of things happens to everyone inyour mode. When I have a free 20 minutes, I open the closet and put aside clothes for traveling on a separate shelf. Then, when time reappears, I go to the rack and select several books I want to take with me. When there is another 10 minutes, I put everything I need into a cosmetic bag. It turns out that everything remains in place, I continue to use many things, but there is some structuredness of things and the isolation of those that I want to take.
4. Basic fees.
Basic fees are due the day before.travel, preferably in the absence of a child. Most often, I walk with my daughter, and my husband is going. The main task is to put all things in bags / backpacks / suitcases and make sure that everything is in place. At the same stage, it becomes clear whether it is necessary to further reduce the number of things on the road. Most often you need))) Especially children)))
At the same stage, a checklist is compiled. It differs from the list of things on the road by the fact that in front of each item there is a square for the tick "put" and the check-list is compiled as detailed as possible, fixing each unit. So, we write not "wires", but we prescribe each wire with separate points: charging for the phone, charging for the camera, USB-cable for the camera and so on.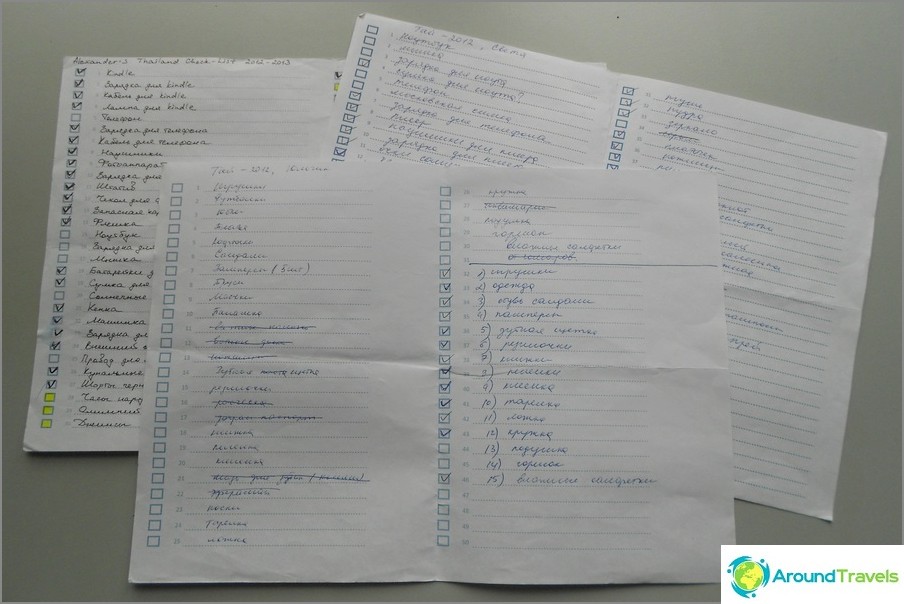 5. Final fees.
Pass the day before. Almost always together. The daughter usually sleeps at this time. Most of the things going to her husband in silence (it is better not to disturb). First, complete concentration helps not to forget anything and at least approximately remember what lies where, if you need to get it. Secondly, without distraction things are going faster. Thirdly, my husband has a talent for packing things. He has more than one pack in one backpack than I put in two. At this stage, all things add up to checklists. We no longer think whether we took everything or not - all this has already been thought out a hundred times in the previous stages. The task is to put things that are fixed in the check-list.
6. Product fees.
The last is going to package with products. Most of the pre-cooked is eaten during the first day, so this is a temporary baggage.
So are our usual fees on the road. There were, of course, more spontaneous ones, when they gathered in chaos and haste when moving from Moscow to Minsk, there were very easy charges when they flew to Thailand and took almost no clothes with them.
Depending on the upcoming trip preparationmay be more thorough or relaxed. But on the whole, the strategy of the charges described above has always allowed us to meet at the optimum time and without nervous breakdowns, even when the daughter required increased attention or slept less than usual.
I will dwell a bit on the peculiarities of the collection of children's things.
Yes, it is this category of things that turns out to be the most.big and so important. The unpredictability of climate, temperature at the airport, plane, hotel requires a set of different things. Plus, you always take more, because children are so unpredictable, and a T-shirt filled with juice and wet pants need replacing.
When collecting children's things is important nothinginvent and take what the child wears regularly now. As a rule, these are the most comfortable things for the child. There were cases when during the collections I found among the things I never wore a dress or pants and decided to take them with me. Almost always, these things remained unclaimed, since their shortcomings were revealed on the way (the dress was large, and the pants were narrow and uncomfortable). Now on the road, I try not to experiment, but take proven things.
An important point that many do not attachproper value is to take a few children's things that will allow you to give a feeling of a familiar home on a completely new place for a child. We always take with us our favorite daughter's diaper (we use as a blanket), her pillow, her plate and mug, a few toys. She is very happy about these things. They become for her a connecting thread between the past and the present.
A separate item will talk about toys.
What toys to take on the road?
Properly chosen toys for the road make getting even more pleasant. We are divided into three groups:
1. Favorite toys, from among those that are at home. We hide such toys two weeks before the trip, and then they are perceived with a special delight by the child. Of course, we take the toys convenient to carry. All fragile and poorly washable leave at home.
2 New toys - purchased or made by hand. New toys can take the child for a long time not only on the road, but also later, during the adaptation period at a new place. I sew toys from felt. They are very light and compact. It should be borne in mind that it takes time to search for interesting new toys in stores and prepare your own. I am puzzled by this question usually about two weeks.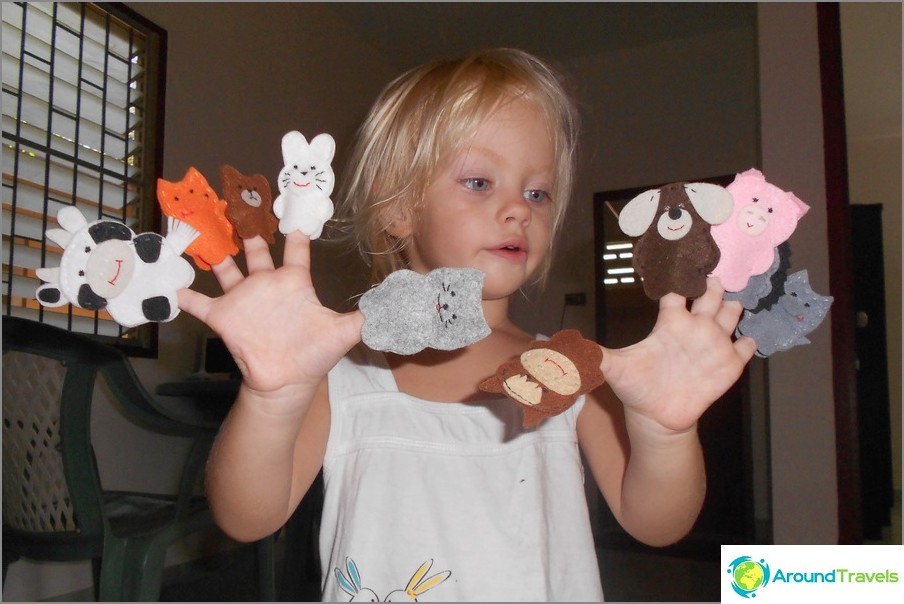 3. Not toy entertaining. This includes a drawing pad, pencils, stickers (subject books, just stickers and album), children's books (preferably in a thin binding and paper cover)
All this, too, buy in advance. Just in different situations I look at the goods and find the format I need or an interesting idea. I know my daughter's preferences in toys and follow them. It is better to buy another machine, with which she plays well, than a doll, in the hope that she will show interest to her as a girl.
Be sure to take motor toys: cars, animals on wheels and stuff like that. With them you can come up with a lot of games, even without leaving the chairs in the waiting room.
Part of the toys folded in a bag that we hand inluggage. That is, on the road to these toys will not have access. Some of the toys are folded into a backpack, which stays with us as hand luggage and access to toys is easy. And we put some more toys (the smallest ones) in our pockets (both my husband and I). These toys are very helpful when in a backpack to climb inconveniently. For example, in a taxi, while traveling to the airport or during check-in.
I remember a funny case when passingCustoms control of her husband felt and asked to show what lies in the outer pocket of his shirt (something bulging and hard). You should have seen the face of the customs officer and the smiles of others, when the husband took out of his pocket a little goose, a daughter's favorite toy at the time.
What food to take with you?
For ourselves (adults) we take comfortable intransportation products. For our food, I do not particularly worry. I know that we can always buy something for ourselves if we want. And we can be patient and spend a few days on sandwiches, if there are no other options.
It's not a ride with a child, so another principle works in relation to a child - to take your favorite food, even if it is not very convenient to carry.
So, I often take oatmeal with me. I cook it in front of the most expensive one and pour it hot into a prepared container (the most common food container). I still offer warm porridge to my daughter at the very first meal. Yes, it is somewhat inconvenient to transport, it is likely that it will spill (it has never been, the main thing is to pack it correctly), it is not always convenient to eat it in field conditions, but it is nourishing, not dry bread and the daughter likes it. I cook a little more than my daughter usually eats, so the head of the family also eats up.
For the rest of the products using bags. Food bags are our hack of the last trip. In Thailand, we are so used to them that we continue to use them now. I now travel all the way to the road in portions. For example, I take cookies in one package of 0.5 kg, and four packages of 5-6 cookies each. For one meal just enough bag, and with the crumbs throw it away. This bag can safely give the child. It is convenient to keep it and the contents are not much at all (in case of a fall and a spill, it is not a pity to throw it away and is easy to assemble).
If, for example, I boil eggs, then I put each egg in a separate package. Then it is easy to clean it without even taking it out of the package and after eating the package for release. Debris is much less and more convenience.
I do the same with horns, sausages and sandwiches. She used to boil chicken drumsticks and put them in sachets. The principle is simple: got a bag, ate, threw it away.
Fruits, vegetables on the road take reluctantly. First, they are heavy, and to eat them, you need to eat a lot. Secondly, they are not always convenient in transportation and eating (bananas are crumpled, oranges and mangoes are poured with juice and the peel is inconvenient to peel, and so on). Thirdly, many fruits cause the intestines to work harder, which can cause additional inconvenience.
We do not take anything sour-milk for the road yet.
The menu on the road, I think in advance and for 4-5 daysI exclude these products from our food (especially from the child's menu) before the trip, otherwise we run the risk of finding out that the food carefully prepared by mom is already fed up. To persuade and convince in such cases does not work.
We had a moment when I was so carried awaylast days in Asia (we lived in Chiang Mai then) that she forgot to adjust our diet. We found delicious sausages in the dough in the dough and enjoyed snacking with them, saving time on cooking. On the road, the same (which lasted about two days), the daughter said that she had eaten a lot of sausages and refused them completely. And I relied on them !!! In general, the daughter was eating bit by bit buns and chocolates. By the end of the trip she was so hungry that with great appetite she ate noodles with soy sauce in a Chinese cafe in Beijing, where we had another transplant.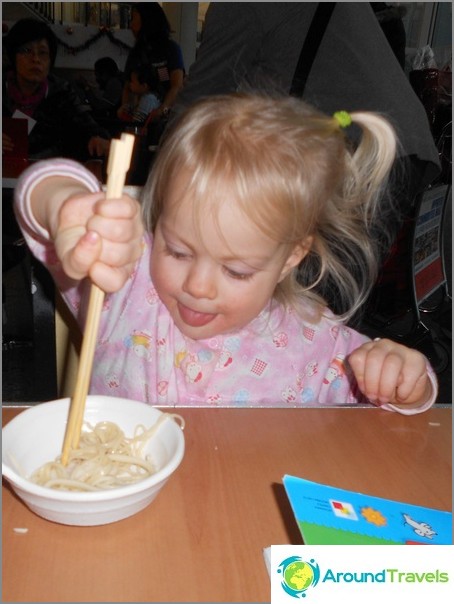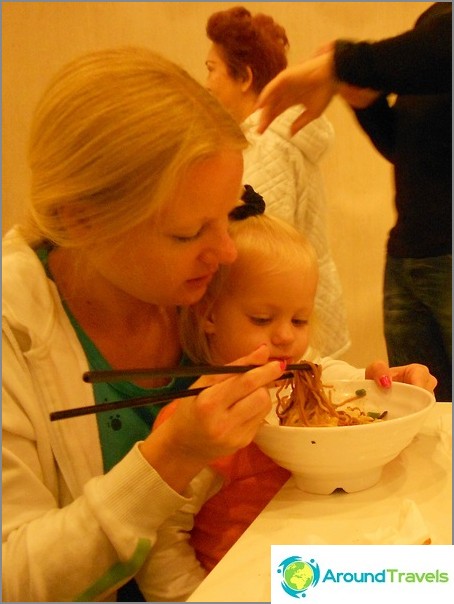 Tastes of all children are different, in the matter of food costsfocus exclusively on the preferences of the child. I try to take products that are cooked / cooked at home (for example, bake pancakes or boil pellets), and cookies / chocolates on the road can be bought.
We also always take disposable spoons with us,thin towel and water in small bottles. With small bottles at the inspection often passed without problems (we explain that for the child), but with a large 1.5 liter just will not be allowed. By the way, at the customs control in Beijing (the most strict and careful control over the entire flight time) did not even allow a small bottle to be carried.
What things are useful for the flight?
We always have a clear distinction between baggage and hand luggage - this is logical. Hand luggage is also subdivided: one backpack - laptops, appliances / electronics and documents, the second backpack - things on the road.
When we flew from Thailand, there were jeans,sneakers, sweaters, which were worn at the airport before boarding (airplanes are often cool). There are also spare things for the child to change clothes and warming, if necessary, and all sorts of useful things, such as toilet paper and wet wipes. Be sure to put the cars closer - these are our universal toys in any situation - and a book. We also carry a pot. It's comfortable. We use it either in the waiting room, if the toilet is far away, or in the toilet itself.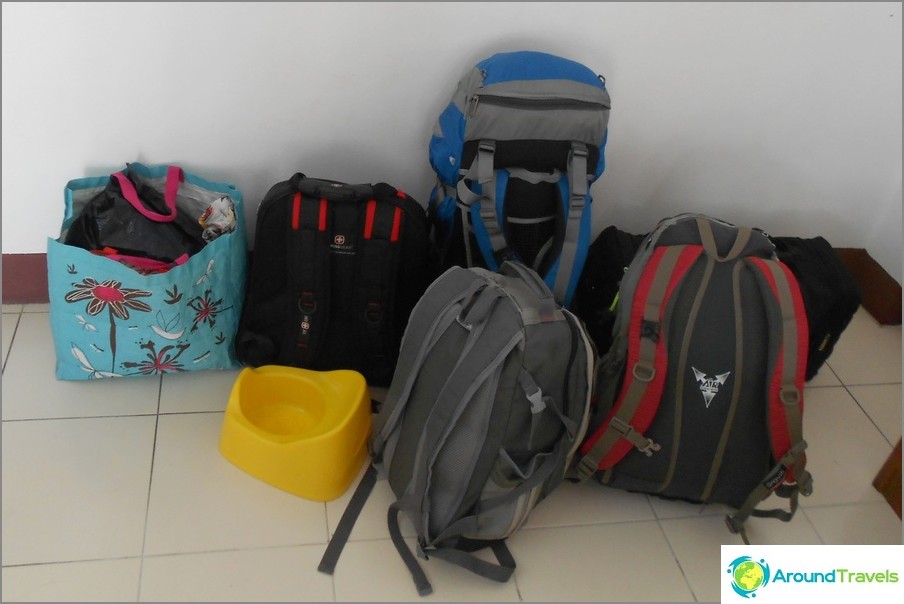 Behavior strategy
Thinking over trips and fees is of course time consuming.process, but it is worth it to give him enough time and effort. If, at the preparation stage, all the things are correctly folded, the products are sealed and all the necessary documents are put together, then the process of completing it becomes at least twice as simple and comfortable.
Another important point, greatly simplifyingroad trouble - compliance with the rules. First of all it concerns the allowable baggage allowance. We had experience overpayment for the advantage. These are superfluous nerves and unjustifiably large sums. We'd better leave some of the things, and put the heaviest of clothes on ourselves, than hope for chance.
At the airports for all the flights we spentmore time than in the plane itself. Without a doubt, the comfort of waiting largely depends on the airport itself: the work of the staff and the internal arrangement. But the internal readiness to resolve current situations and long wait is also important.
What do parents expect with a child at the airport?
1. A lot of people and huge airport lounges.
Large overseas airports in which weI had a chance to visit (Beijing, Hong Kong, Bangkok) - these are such giants that I was breathtaking only from one appearance. Inside, they were even bigger - a real city in miniature. If you move in a relaxed way, the plane will fly exactly, until you figure out what's what.
Save time and effort when departing from largeAirports help us interaction as a team and composure. So, when we enter the airport, my daughter and I stay with the luggage, and my husband does reconnaissance (10-15 minutes). During this time, he finds out where the check-in desk is, finds our flight on the departures board and makes sure that there is no delay, and everything is on schedule, finds scales to check luggage for packing in the norm and packing for bags (if necessary). In passing, it determines where there are toilets and other objects of interest to us. It is much more convenient and faster than the whole family to wander around the airport.
On the way at the stage of registration and customscontrol (and other official procedures) we divide the areas of responsibility. The task of the husband is to bring us where it is necessary, to tell what to do, solve all the issues with the staff and control the documents. I am fully responsible for the safety of the child and satisfy her interest in knowing the world. That is why I do not ask my husband too many questions, do not control his actions and completely throw out all organizational issues from my head. This allows me to focus on myself, on the child and to maintain inner peace.
2. High loyalty of staff to families with a child.
Traveling abroad, I enjoy thatattention given to families with children at airports. They let us pass without a queue, register without reminder to the most comfortable seats in the cabin, offer extra food on the plane, we are the first to launch the plane along with VIP passengers. When searching with me and the child pass by the frame. The staff is smiling and trying to help.
We conducted the most thorough inspection in Beijing. They asked to open every second bag, they didn't allow me to carry the water even in a small bottle, for the first time I was personally inspected, felt for clothes. But even then they did not wake up my daughter, who was sleeping in my arms.
3. The need to continually interest the child in what is happening in order to avoid whims and boredom.
Part of the time this task is easily handled by toys taken with them. When they are diverse, it is easy for a child to offer both outdoor games and calm ones.
Like what we play on the road.
In the queues for registration and passagecustoms help out books and albums with stickers. I like educational books, where stickers are needed to complete tasks. That is, the child does not just get a sheet with stickers in his hands, but a whole book with thematic pictures and tasks. On the last trip, my daughter had a success book with reusable stickers based on fairy tales.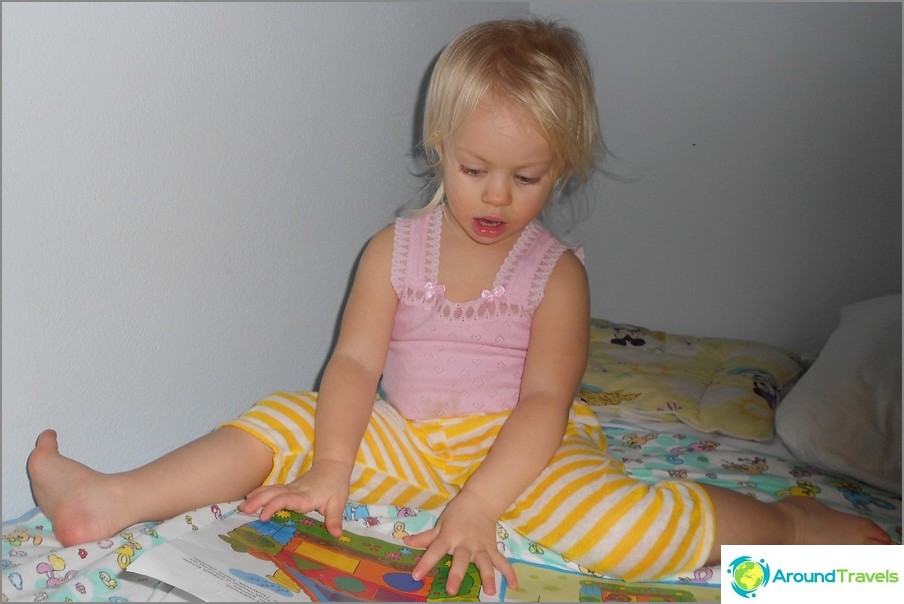 In the waiting room favorite game - with cars. On the road with us are two miniature tippers, which can roll off their seats, ride a race, overcome obstacles and carry someone.
In the airplane seat (especially during takeoff andlandings, when it is important that the child is sitting on his arms or was strapped in his chair) - books with children's rhymes and stickers as well. We are still looking at all the booklets for passengers.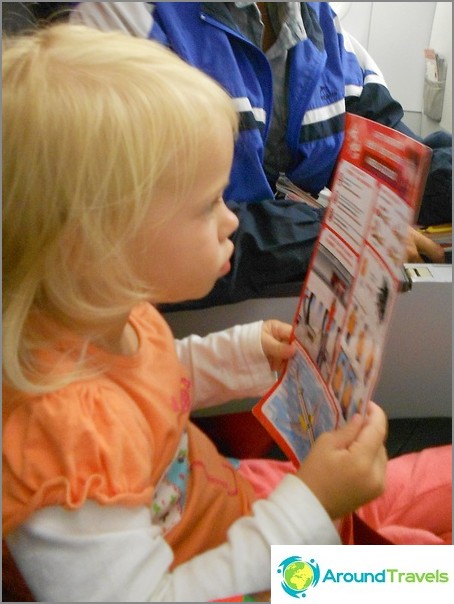 During the flight, we play with finger toys, draw in a notebook and invent games with some kind of soft beast.
Only once at Bangkok airport (Don MuangAirport) while waiting, we found a children's play area. This is of course a fairy tale! One and a half hours of time passed very quickly and unnoticed. But it was only once.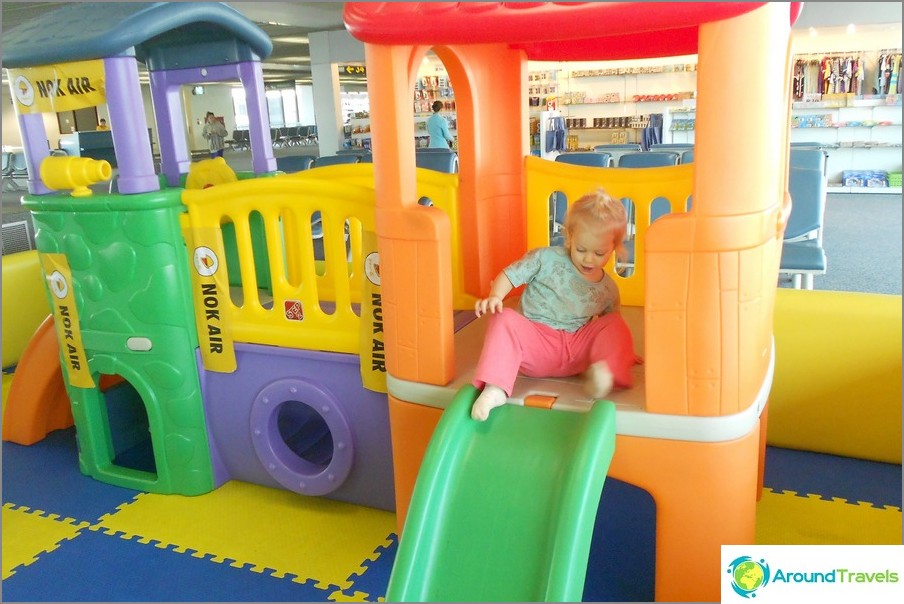 When toys get bored or the situation does not involve games at the moment, I am interested in what the setting offers.
So, in addition to toys at the airport, the child can be entertained:
the study of patterned carpet (or any other flooring): step on the line, step over or jump over them, we stamp on the squares, and so on
riding trolleys with things
screens with cartoons
taking off outside the window
stomping on the steps
escalators
portable racks near the gates (pass under them, move them). Here the principle works: "it is possible, until they said the opposite"
warm your hands under the dryer in the toilet (hit the season!)
count the seating in the waiting room.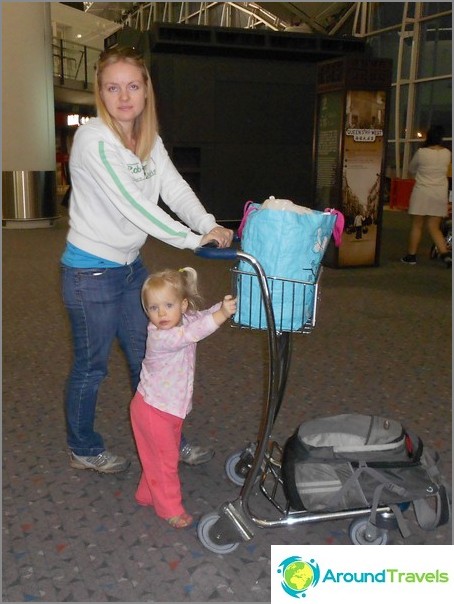 A popular way to captivate a child is to turn it on.on a tablet or laptop cartoons, but we do not use it. I can show the pictures on the phone - my daughter likes to look at her, and cartoons only tire her more. It seems to look with interest, but after it becomes sharply capricious and even tearful. So while we do without them.
While picking up, we easily agree toice cream and other sweets. A portion of ice cream, which is eaten with a spoon a little bit, can sit the child in place for about 20 minutes. An excellent opportunity for the whole family to take a break.
And my husband and I are changing. For example, at first he is walking with his daughter in the waiting room, and the next time his daughter pulls her hand and says "let's go there" - I will walk with her.
Two days on the road: how not to go crazy?
Long flights require more preparation and strength,but here everything is solved. Traveling in Asia, we were faced with the fact that flights with one and two transfers were the only ones that suit us at a cost. Direct flights (not charters) were unrealistically expensive at the time of purchase. As a result, several times we were on the road for two days in a row. All this time it was necessary to provide the child with at least some regimen, food, hygiene and entertainment.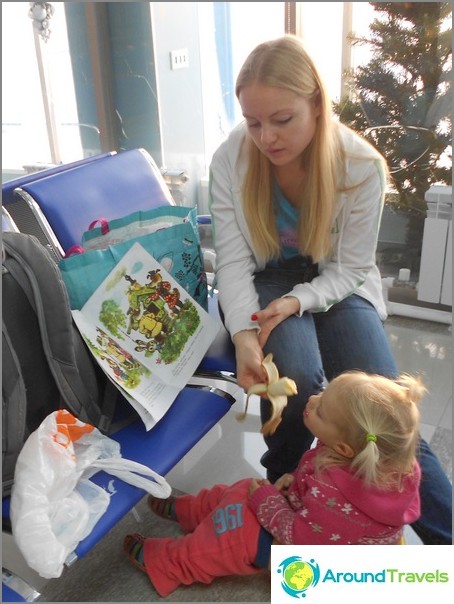 Mode - more listened to the child andadjusted to it. They took into account the change of time zones and helped the child smoothly restructure. Sometimes there was two daytime sleep instead of one, sometimes later laying down at night. Somewhere they deliberately delayed another dream or, on the contrary, they woke up early. It is important to turn off the usual stereotypes and act on the situation.
Food - each time faced with a decreaseappetite. This is normal, so they did not force them to eat by force, listened to her wishes. On the road, we allow more than usual sweetness, from which the child takes enough energy for himself. So, my daughter has a favorite delicacy - ice cream.
Hygiene - retire to comfortably change clothes andto rinse the child was an opportunity in the mother's and child's room (at the Hong Kong airport, for example) or in a regular toilet. For example, in Thailand, there were clean toilets at all airports, and I never had disgust. Wet wipes help out always and everywhere, but without paranoia. Frequent washing helps to moisturize the face, eyes and nose, as often the air is too dry with air conditioners and a closed space.
Entertainment - we compose a lot, we invent and with desire we support the child's beginnings.
What to do if the flight is night?
This requires the acceptance of the situation and the solution of problems as they arise. Often, our experiences are not justified, and long night flights are much calmer than small flights.
I love night flights. I remember, I was very worried about the eight-hour flight with my 18-month-old daughter. So, she fell asleep as soon as we entered the plane in Moscow, and woke up when we landed in Khabarovsk, having slept for a total of about eight hours. At the same time we were fed twice. My daughter slept in our arms (the place was not relied upon, but the plane was full) and woke up only two times, during which we helped her change her posture and she fell asleep again.
Behavior of parents during travels that save strength and nerves
We do not force the child to sit stillnext to us, give him the freedom of expression. At first, the thoughts "Can it be so?", "What people think about it," slipped through, but we quickly got sick of it and formed our own view on what is possible and what is not.
What does it matter what people think? If the child is good - he plays, he knows the world and if he does not spoil the property, does not go over the permissible limits, then we give the opportunity to play as she wants. In this case, we stay close, do not let the game take its course, but do not drag it away every time she comes up with a new harmless occupation in front of everyone.
Once at the check-in we had tostand in line for more than an hour (instead of the usual 10-15 minutes) due to the fact that difficulties arose in a person in front of us. It was a long boring wait. So our daughter just lay down on the floor (clean, soft carpet) and looked at a book with stickers. Then she got tired of it, and we ran a race in an empty corridor, and then, sitting on the floor, she ate a sandwich. Borders are only in our heads, and often they do not allow us to relax, but they force all the burden to straighten out their young children who do not yet have such boundaries. They are independent and know the world with interest.
And another time during a tedious transplant inMoscow, the daughter climbed under the seats in the waiting room at the knees and rolled cars. Yes, the floor was a bit cold and dirty, but the child was able to switch to the game, get distracted, and not whine from boredom. Moreover, dad was crawling around her and together they had a great time. Then he washed his hands, his pants changed his clothes and safely waited for such a desired boarding.
Let the baby crawl on the floor, eat with crumbs,he speaks loudly and makes other things uncomfortable for adults. We try to respond to this calmly. After all, the crumbs can be collected, hands wash, and if necessary, just apologize.
Svetlana Nekrasova
Blog "Be the wind"
http://nekrasova.me/
Life hacking 1 - how to buy a good insurance

Choosing insurance is now unrealistically difficult, so to help all travelers, I compile a rating. To do this, I constantly monitor forums, study insurance contracts and use insurance by myself.

Life hacking 2 - how to find a hotel 20% cheaper

First, choose a hotel on Booking. They have a good offer base, but the prices are NOT the best! The same hotel can often be found 20% cheaper in other systems through the RoomGuru service.

Discount hotels