After a 7-day hiking trip, having cave city Mangup-Calais and Grand Canyon of Crimea, we went to the sea. Descending from the mountains, tired, overgrown and dirty, we only wanted one thing, it is to relax and clean up. And also quickly get to Fox Bay, in order to smoke their calves, getting a bronze tan.
Reaching Alushta, we rented an apartment for a dayalready for 200 UAH (800r) for seven people. Well, you probably imagine what it was for the apartment. Odnushka with furniture of the Stalin era, dirty and stuffy. In this case, the owners themselves huddled on the balcony at the moment while we lived in it. It's sad and awful that some people live so poorly. And after all it is a resort city where money rivers flow. One pleased - the view from the window. But in the 30 degree heat it saved little. The windows for some reason were sealed with cotton. And only a small window vent pleased with its blows. With a sin in half, we all showered, in a no less dirty bath. And with an animal passion ripped 2 ripe and juicy watermelon. After the cereals and dried fruits on the hike, this was true bliss. And in the morning went to Fox Bay.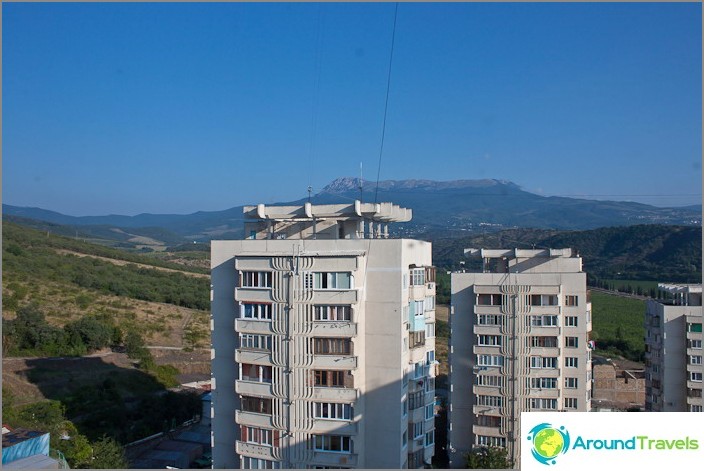 Fox Bay in Crimea
This is such a campground on the seashore. Tents stand for several kilometers. Places there are no longer wild, but good, that is still free. There is a cafe, shops with food, including vegetables and fruits. This is convenient, since it is not necessary to run every day to the grocery store. The most important thing is there, toilets! Otherwise, where on the beach to meet their needs? Equally important is the presence of showers. Very relevant after salt water. The toilet costs 2 UAH (8 rub), a shower 10 UAH (40 rub).
There were many negative reviews on the cafe andwe didn't use the sold products ourselves, so I can't either refute or confirm. We bought all the food in the store in the Resort, the benefit of just half an hour walk.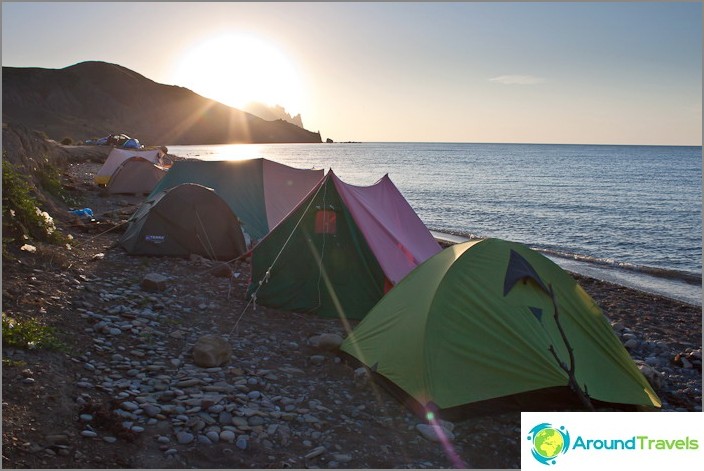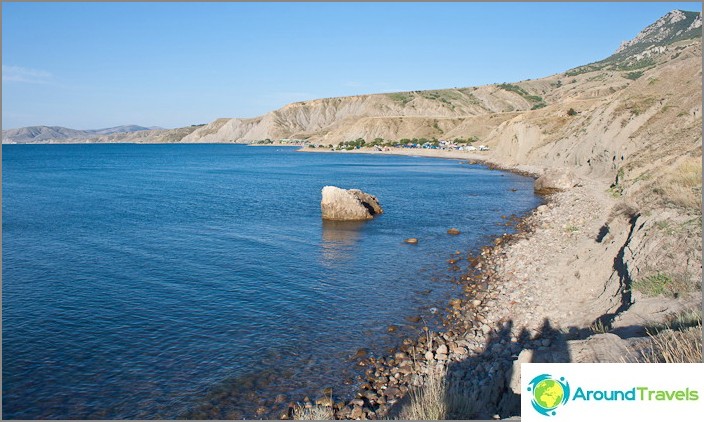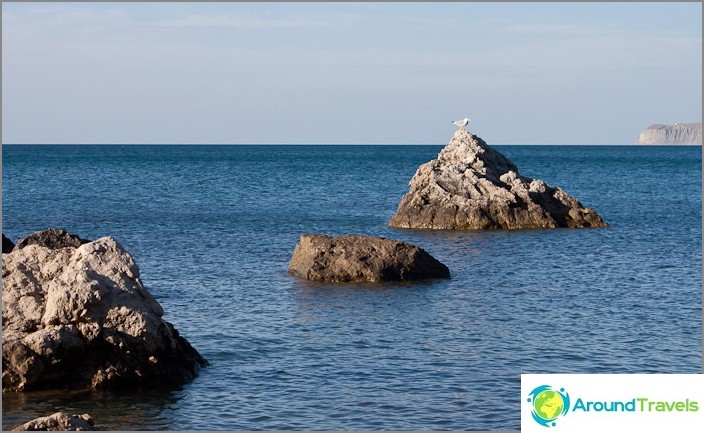 Another of the entertainment is the Echki-Dag mountain, which you can climb, tired of depicting a contented seal. Or admire the sunsets, because what could be more beautiful than the sunset on the sea ...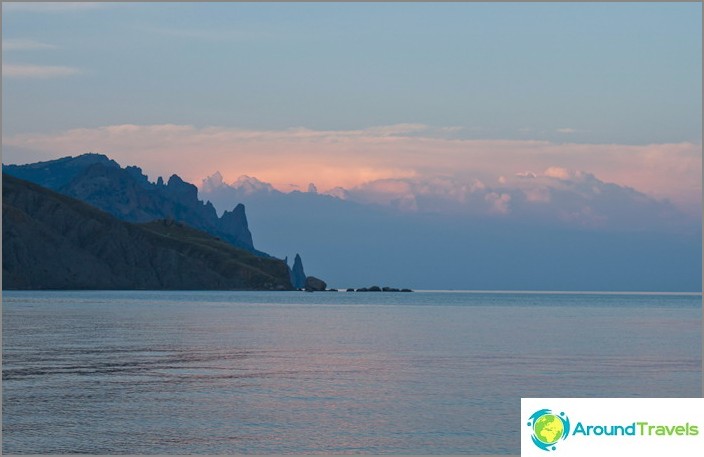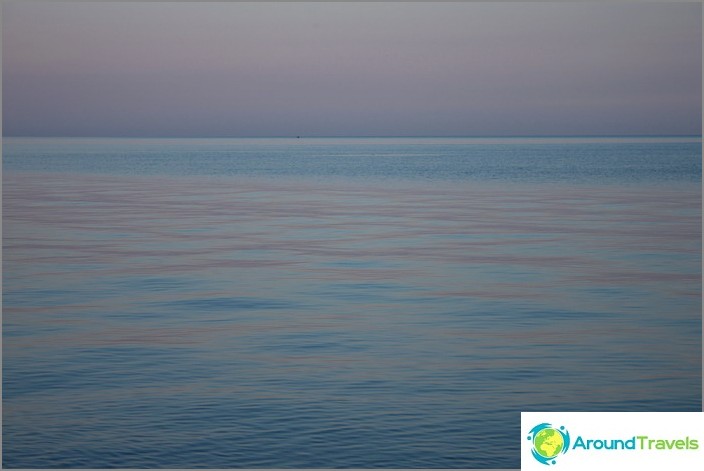 The contingent there is quite different. From ordinary vacationers with children, to rastamanov with drums. There are also many nudists in Fox Bay. And from different walks of life: both those who came to Tavria, and the Nissan X-trail, both practicing yoga and drinking beer. The main thing is that all peacefully coexist with each other. We are not embarrassed by this situation at all, we are simple people, we are tolerant of different worldviews.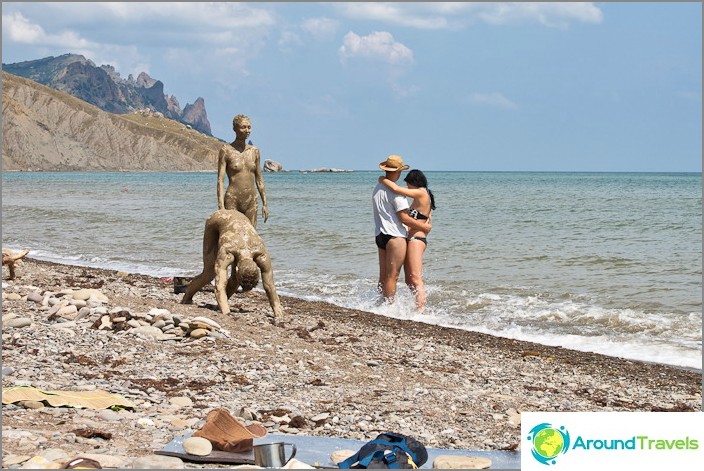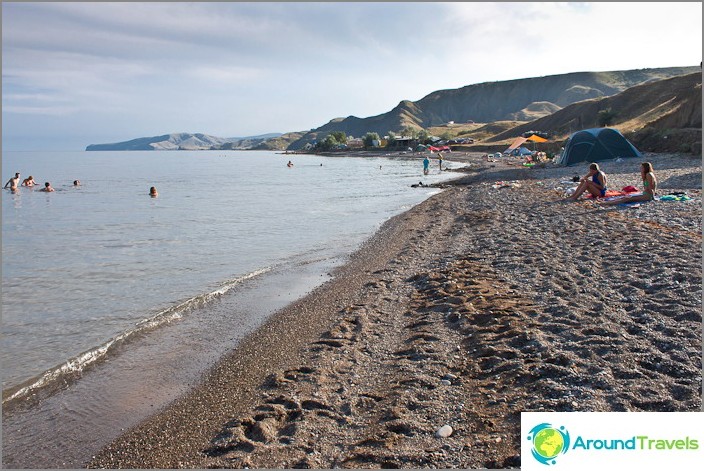 Alone in Fox Bay is bad. This is the absence of trees, and therefore the absence of shadow. More precisely, there are 20 trees, but of course they are occupied by those who have been living there for weeks. We didn't have a tent with us either, but we went on a hike and saved weight. Therefore, we roasted like tobacco chickens in this heat of the whole 2 days, not knowing where to shove ourselves, except for the salty sea! After that, charred, we left for Feodosia and without problems bought 7 reserved seats on the same day to Moscow. And who will say to me now that it is difficult to buy tickets during the season ?!
Just keep in mind that recently appeareda large number of negative reviews about Fox Bay: unsanitary conditions, theft and so on. From myself I can say, we did not see it, but this does not mean that it is not. If you are not sure, it is better not to go and look for something else. Although the really wild and clean places on the Black Sea is long gone.
P.S. Did you like the place? Then look How to get to Fox Bay. Have a nice rest!