I wanted to do some product reviews fortravels that I order from Aliexpress and online stores in Moscow, but first let it be just a brief and general overview of everything useful that I have now. And I will continue the same post and supplement from time to time.
I hope that something will be useful for you frommy list. I would be glad if you, in turn, also advise something in the comments. Well, and if suddenly something from me listed needs to be "surveyed" in detail, then write too, I will make.
The content of the article
For travelers
I remind those who are interested in various kinds of cashbacks. Buying on Ali, you can also get a return of up to 11%. All told in detail in the post about cashback with Aliexpress.
Travel charging
To start a travel-charging for gadgets. Although, of course, this is not quite the correct name, it is just charging with multiple USB ports. However, it is during the journey that there is a problem with sockets and, accordingly, charging. I sometimes have the feeling that those who design electrical wiring in hotels have come from the moon. How can you make 1 (one, Karl!) Outlet in the room and make it almost under the ceiling? There you are living example. I agree, not everywhere, but sometimes even in goodand expensive hotels / apartments just stupidly do not have enough outlets. After all, modern man has a lot of gadgets. You come to this after a long day of walking and you need to immediately charge: phone, power bank, camera, tablet, and also turn on the laptop somewhere. In addition, there may be an action camera, quadcopter, second camera, second phone, fitness bracelet. And if you two, three, four, and all the same set?
There is a way - to carry with you the pilot extender5-6 outlets. I do this sometimes, but it's still overweight in the baggage, plus you have to take 3-4 charges with you. Therefore, after returning from the last of Thailand, I first ordered two charges on Aliexpress at once. Then I tested them and realized that I needed 5 USB ports to have a reserve, and I also ordered 5 ports too.
Charging Aukey 5 USB (QC 3.0) - $ 22
Aukey 3 USB (QC 3.0) - $ 19
Aukey 3 USB (QC 2.0) - $ 14
Blitzwolf 2 USB (QC 2.0) - $ 10
There is a quick charge Qualcomm 2.0 or 3.0 (different models) - fast charging for phones that support this technology. Also chose those that give 2A per port, and not in total with other ports.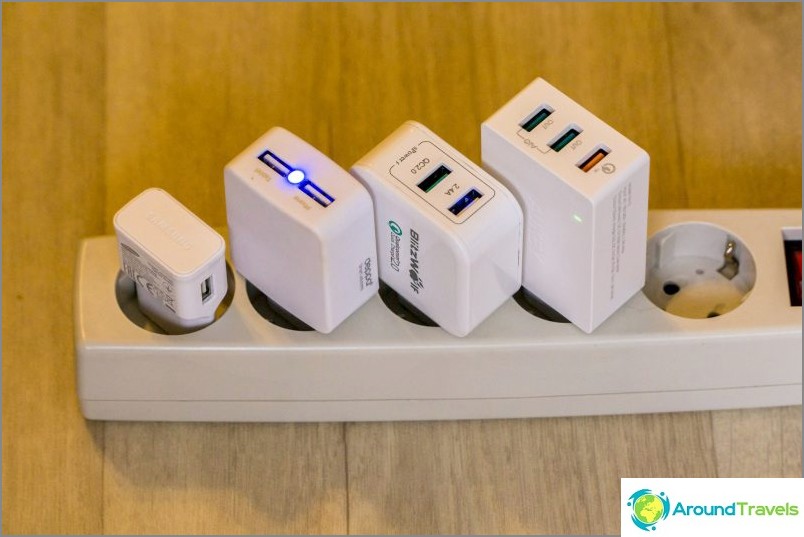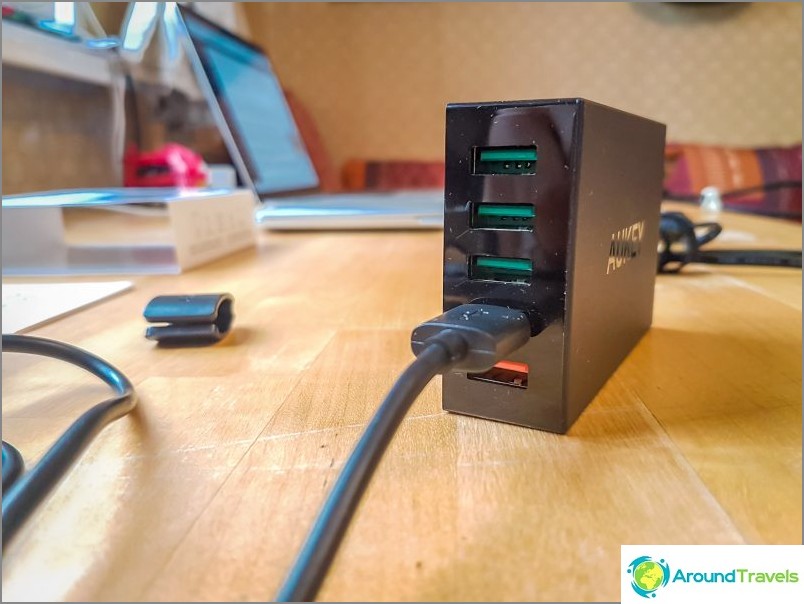 Powerbank - external battery
Honestly, I can't imagine how I used to gowithout a paurbank. I remember, I was always looking for sockets at the airport, in the cafes I charged, from a laptop, while putting the laptop myself. No good. Now the power bank is always with me, that at home, when traveling, I charge from it, then the phone, then the camera. IMHO, it's best to buy them now on Ali, prices are low there. All the same, their stores are ordered in China, and then here in Russia they are resold in Tridoroha. Read reviews, choose, there they are fully verified already.
At 10.000 mah for $ 15 - this one is very convenient for me
At 10.000 mah for $ 17
Travel wallet
I know, not all supporters put all documents, money and cards in one place, but I have a different opinion on this matter, I even whole post wrote on this topic. Therefore, I was very happy when I found an inexpensive wallet for traveling on Ali. Outwardly, it looks as if it is branded, as it is made very high quality.
$ 13 Wallet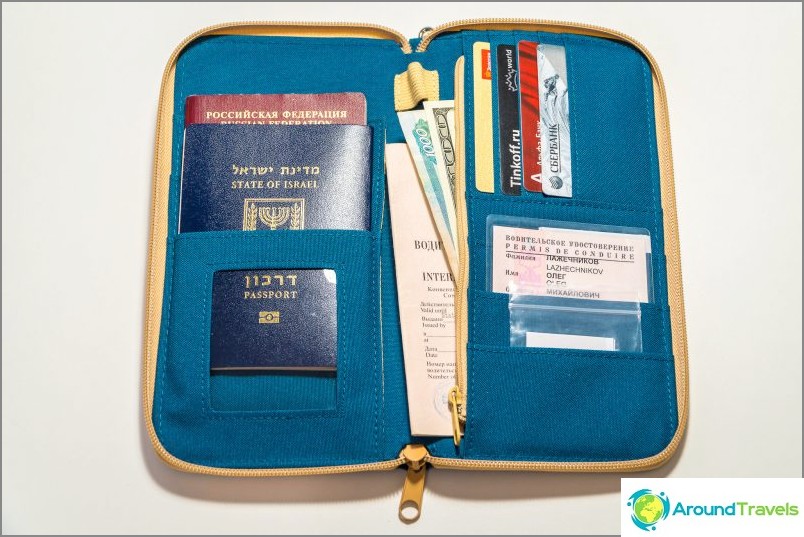 Mug for car and home
I bought myself a thermocup with a valve, a cool thing. Until you press the button, nothing flows from it. It is positioned as a cup for a car, such as carrying coffee to work, but it is perfect for freelancers who cannot break the habit of drinking tea or other drinks around a laptop. I repent, I myself am so. Therefore, at home now I drink only from such a cup. If someone drops it, as it already was (the child spilled tea on the MacBook), then now it is not scary. Well, traveling is also a handy thing, it can be used both in a car and just as a small thermos.
Mug company Contigo, I have a model West Loop - 2500r
I do not know how they differ there, but I am verysatisfied, I wanted a gash to review. They made a little valve in my model for others to make it convenient to wash. The mug is not budget, but perhaps there are some analogues on Aliexpress.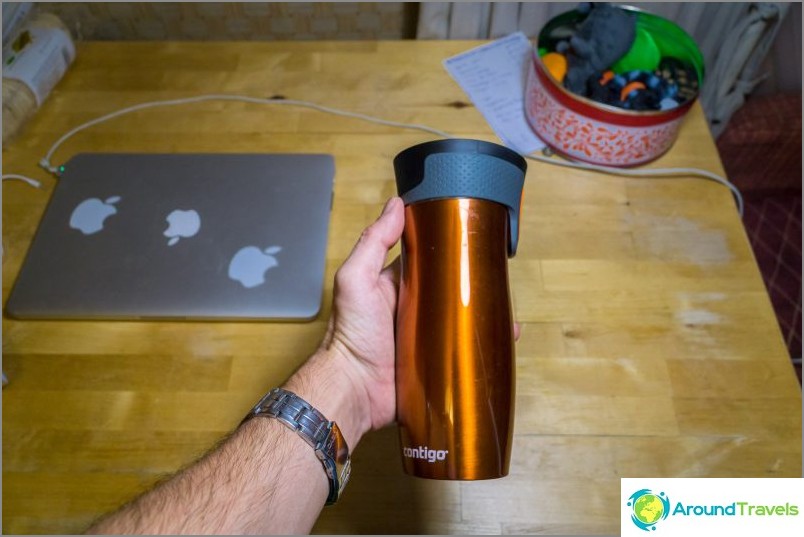 For auto travelers
Charging for cars
In the car I have the same trouble, very often you need2-3 ports to have, all the time something else is charging except for the phone. Especially when traveling, when the phone works as a navigator and constantly occupies one USB port. This charge supports fast charging Quick Charge Qualcomm 2.0, with it the phone is charging, and does not sit down slowly, as is often the case, if 4G and the navigator are on, and the second port does not suffer, it also delivers the desired current.
Aukey 2 USB (QC 2.0) - $ 11
Aukey 2 USB (QC 3.0) - $ 13-19 depending on the cable
Phone mount
Yes, you will say a trivial matter, but for me it wasthe whole problem is to find a holder that would suit me. I changed already about 10 pieces before I stopped on it. Those who have long bars, always loosened a month later, others began to fail the clamp. The Velcro fastener, when the phone is glued to the sticky surface each time, could not hold my phone.
So, this mount perfectly suited me incar for several reasons. His suction cup is glued not only to the glass, but also to the dashboard, plus it is compact. And in the end, I decided to fasten it not on the glass, but on the tidy, it turned out to be very close to the arm and did not need to be pulled, although I hadn't considered this type of fasteners before. I even took him to Israel with me
Holder - $ 4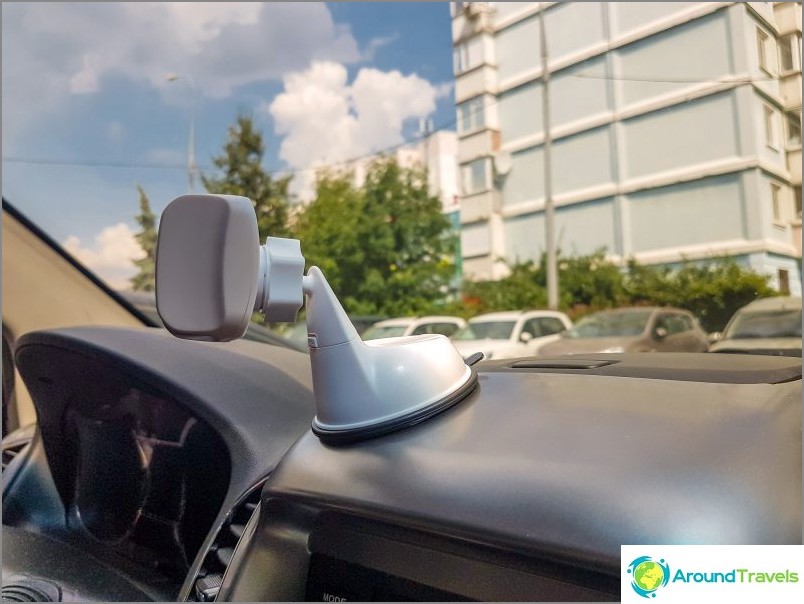 Registrar to the car
Also a very useful thing when traveling and at home. At first, I bought the usual registrar in a store in Moscow, which safely died in six months. After that, I reviewed a bunch of reviews and realized that almost all low-cost recorders would be like this - with poor video quality and short life. And if you take a normal one, you will have to lay out about 10-15 thousand rubles. That is why I decided to take the Xiaomi Yi DVR. At first thought Xiaomi action camera use, it has a loop recording mode, but I need it periodically and in the world too, I did not want to disengage each time.
Registrar Xiaomi Yi 1080P Car WiFi DVR - $ 56 if without a flash drive
I ordered the Chinese version with a suction cup (there are withdouble-sided adhesive tape). Then I asked for English, but this can not be done, because there are clear icons and a minimalist menu, everything is clear even in Chinese. You will ask why I took it without a radar, but because I was not ready to overpay for it, I practically do not break.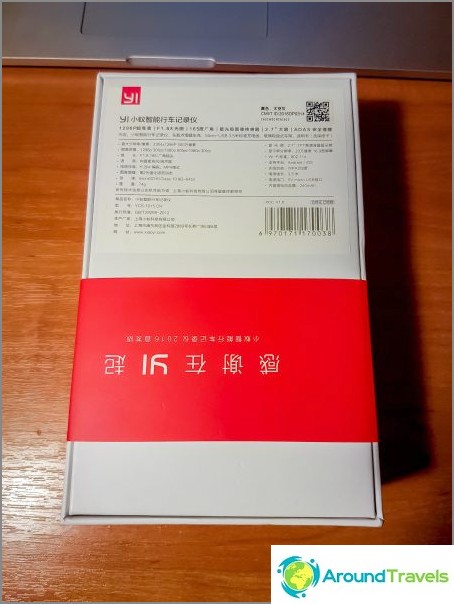 Little table for a child's chair
I really liked the idea of ​​a soft table forchild seat, a child can put toys on him, sculpt clay, feed him there in the end, so that he does not do anything around. Then I did not use Ali, and we made it to order at the fair of craftsmen (expensive). However, for a penny like now sold on Ali.
Table for a child seat - $ 9
I read reviews there. People are strange, they write: "horror, horror, the table bends, it is not possible to draw." No, well, how else is it possible, it's done for safety, not plastic. And to draw, you can simply buy an album with a hard cover and the problem is solved.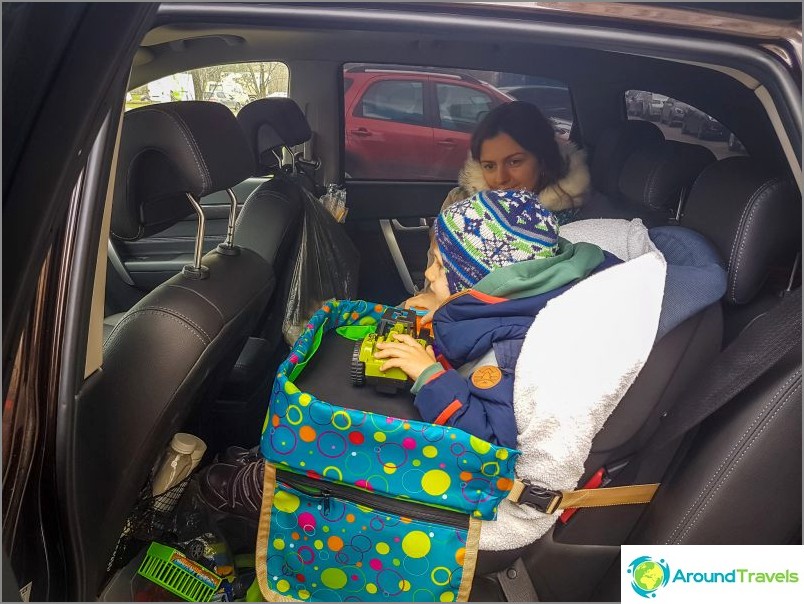 For children
Electronic thermometer
I had a whole epic with electronicthermometers, as I wanted to find one that would be comparable to mercury in accuracy. Utopian, but still. As a result, there are now 4 of them at home, ranging from cheap ones at 300 rubles, ending with expensive ones for 2500 rubles, the whole review should be written on them. A thing is actually useful when traveling, so it will not break in the baggage in any way. But it is also useful at home, because it is quite difficult to measure the temperature of an active child;
The shape of the gun was in fact very convenient. Measures in a second. But the most important thing is that there is a calibration, that is, you can correct it in any direction. Although generally a measurement on the forehead, it is such a thing in itself. Different parts of the forehead show different temperatures, plus there is a difference whether the forehead is wet or not, for example, a hat was worn or not. Even the praised German Medisana (2 copies!), Also for the forehead, lies with the changes
Thermometer-gun 1 - $ 13
Thermometer-gun 2 - $ 13
The thermometer on hand will dress only smallchild, but he needs him. The most important feature is connecting to the phone via Bluetooth, you can configure at what threshold of temperature the phone will scribble and wake the parent to give anti-fever. The price is too high, but in Russia they are sold at all 2 times more expensive, calling iTherm.
Thermometer on hand - $ 25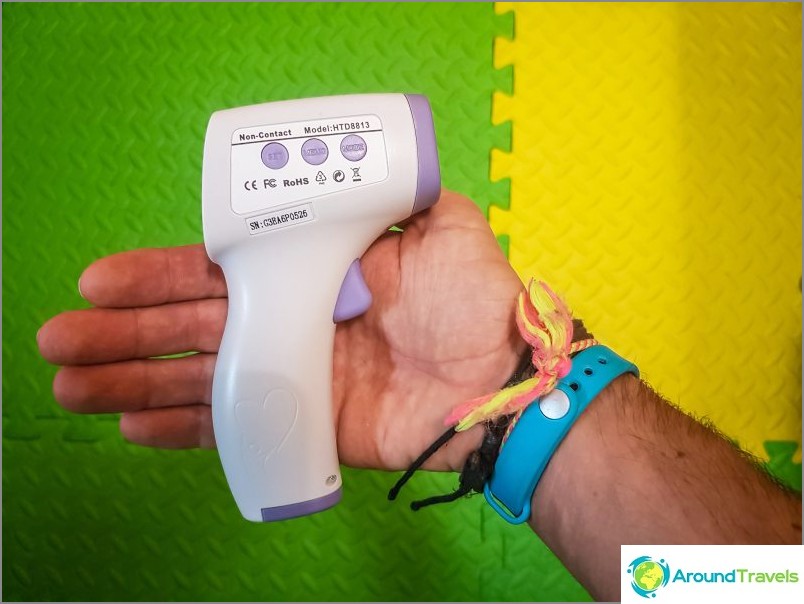 Soft and warm rug
When we came with a child to Europe or Tai,then constantly faced with a tiled floor in the hotel or a rented apartment. He has 2 minuses, he is such an infection - cold and very hard. You can't put a small child on him to play, you have to build a mini playpen on a bed or a couch. But you can take a rug that folds perfectly so that fits in a large suitcase, exactly under the cover. At the same time it is lightweight and decent. We have this already the third in a row. The first one died in six months of very active use, 2 are still alive (one is almost new). In principle, if you do not put stools or furniture on it, then it will live much longer.
Soft mat for a child - from $ 10 depending on size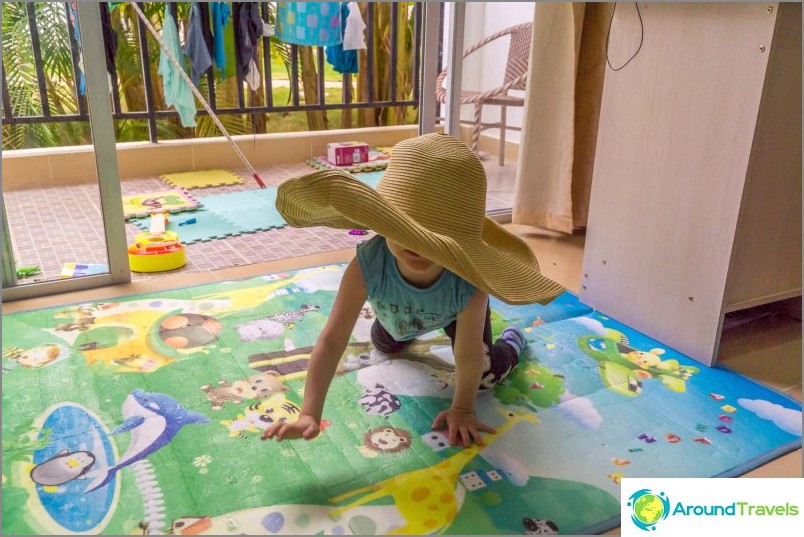 For photographers
Mini tripod
Once I bought a light tripod weighing 1 kg and realizedafter a time that he is still too heavy and cumbersome to carry with him constantly. However, the tripod is very necessary to put the camera at the right angle at dusk or for selfies. All sorts of different parapets and stones / caps that I put under the lens to set the angle came to the rescue. There is a much simpler solution - a mini tripod for constant socks. A 1-2-3 kg tripods should be left only for those cases when you'll probably shoot something serious, like a starry sky.
Mini tripod analog Manfrotto - $ 9
Really strong and high quality. The mirror will not hold a large one, but a mirror with a not too large lens completely.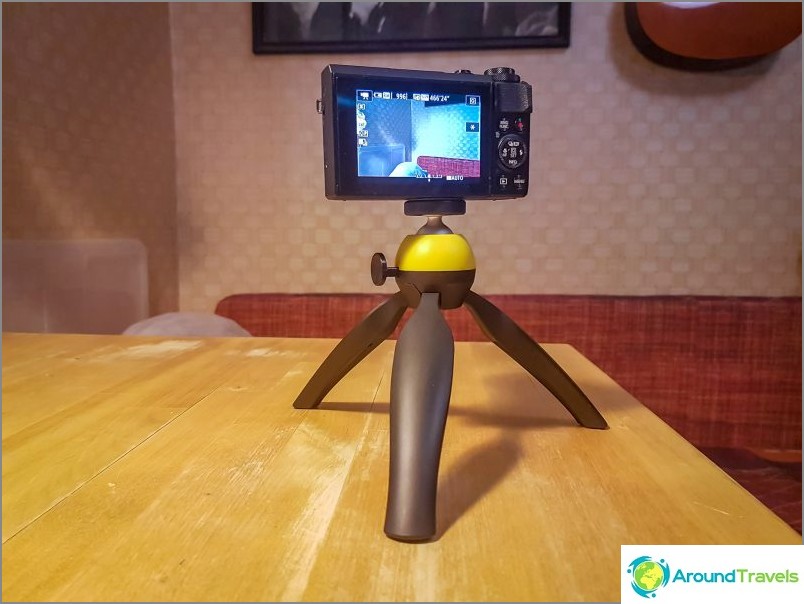 Camera mount
When traveling, I always and everywhere with a camera. And I have already tried, it seems to me, almost all the options, ranging from photo sling backpackending waist bag. However, everything is somehow inconvenient. It would be desirable, that the camera was always near at hand (on a neck), but thus did not interfere. I don't know if it's okay to anyone, but I don't even want to remove it into my bag every time, not to mention a photo backpack, and just hanging around my neck, it bothers me. Although, in principle, with the transition to mirrorless, the burden on the neck has become much less noticeable. Nevertheless, I ordered a platform (like with tripods), which can be fastened to any belt, and into which a fotik is inserted in a second.
Playground holder - $ 17
Clothespin for Go Pro - $ 6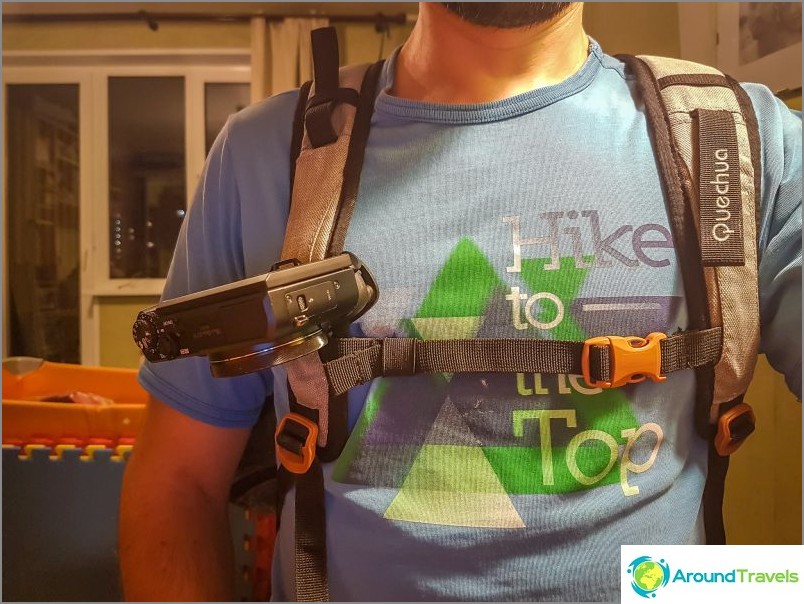 P.S. I will periodically update the post and add something new or remove the old one.
P.P.S. I also have a time-lapse-timer circular for the camera, a fitness bracelet from Xiaomi, should I tell you briefly?
Life hacking 1 - how to buy a good insurance

Choosing insurance is now unrealistically difficult, so to help all travelers, I compile a rating. To do this, I constantly monitor forums, study insurance contracts and use insurance by myself.

Life hacking 2 - how to find a hotel 20% cheaper

First, choose a hotel on Booking. They have a good offer base, but the prices are NOT the best! The same hotel can often be found 20% cheaper in other systems through the RoomGuru service.

Discount hotels