I did not plan to go to Koh Chang, althoughgoing in the foreseeable future. And since I was brought here, I traveled around the island on a bike for several days, looked at various housing, waterfalls, visited almost all the beaches, and so on. Strange, but it was in this bungalow, in which I originally settled myself and wanted to stay until the end of the stay.
In fact, there is nothing so straightspecial, but compared to others, it seemed to me the best option, especially if you have nothing against White Sand Beach. Yes, it takes as much as 10 minutes to go to the sea, but it doesn't matter to me, I don't really like the sea and swim in it.
In general, Koh Chang bungalow is one of the mostpopular housing options, but there are also ordinary hotels. Bungalows are not always cheaper than hotel rooms. If you walk a little around the island and see how they are, then everything will immediately become clear. Well, do not forget that if you live right on the beach, then this is immediately a plus to the price.
The content of the article
White Sand Garden Bungalow
Price and reservation
White Sand Garden Accommodation

three types: bungalows for 300 baht with a fan, bungalows for 600 baht with air conditioning, and large rooms of 500 baht with a fan.
In the latter, the most spacious and writtentable. But the bungalow has its own terrace, where I drank tea and worked at a laptop. Despite the fact that it was already November (and it seems like it was already the season), a woman at the reception said that in season my bungalow for 300 will cost 500 and with air conditioning 800 baht. You can try to bargain if you take for a period of several days.
Koh Chang hotels>
Be sure (and I insist) check availabilitydiscounts or special offers on the excellent Roomguru service. It will quickly and simply show you discounts in all existing reservation systems. In Asia, for example, there are lots of offers on Agoda.com that are much more interesting than on exactly the same hotels on Booking.com.
For me, not quite bad bungalows in Koh Changprice / quality ratio from budget to White Send. Saw cheaper options (or at the same price but by the sea), but there are much easier houses. Sorry just to book in advance via the Internet is impossible. Although you can try to call 080-0966673 and 039-551639, but I did not check them.
Interior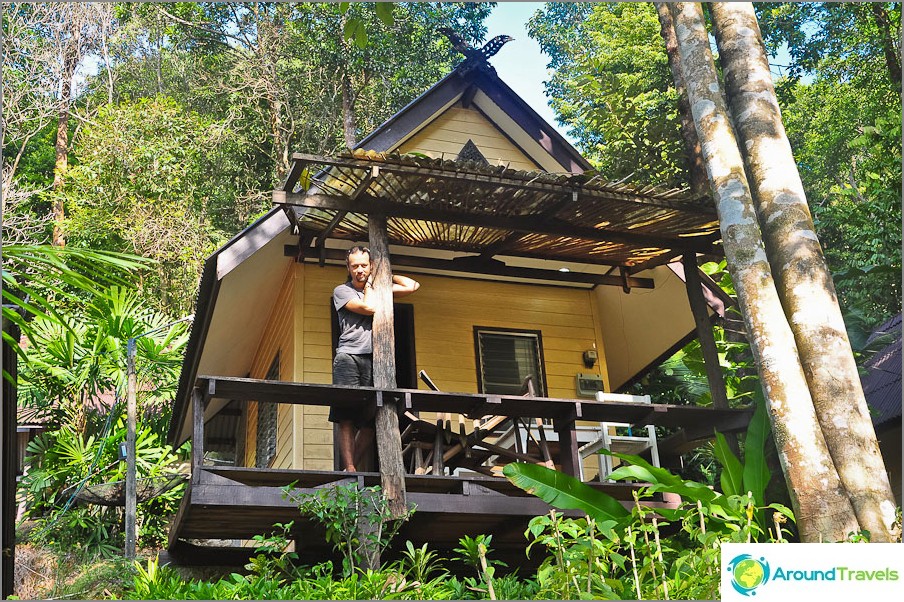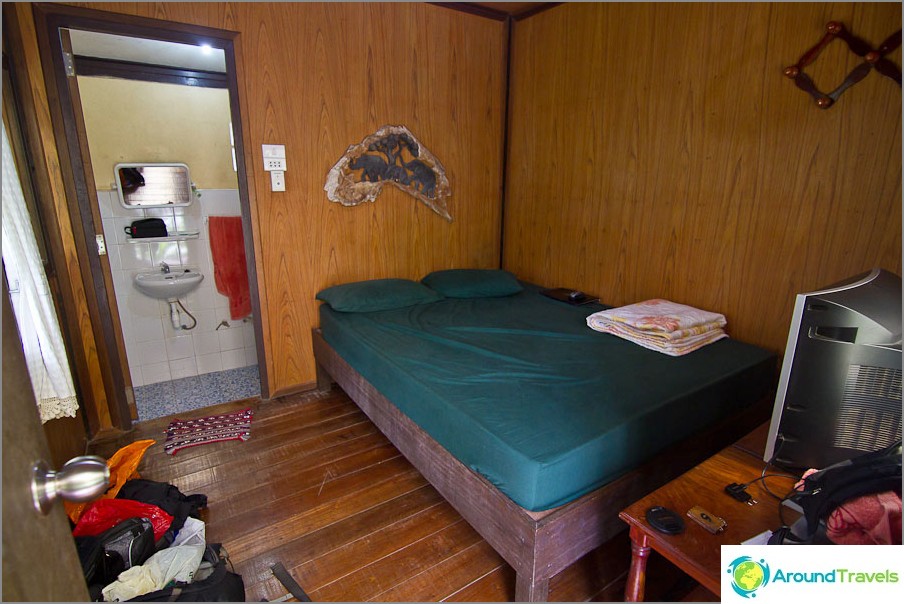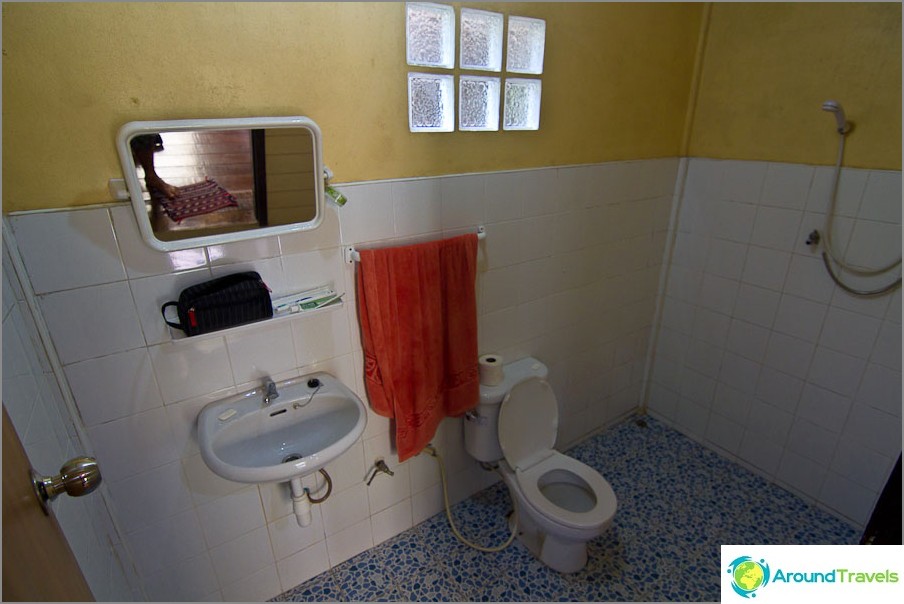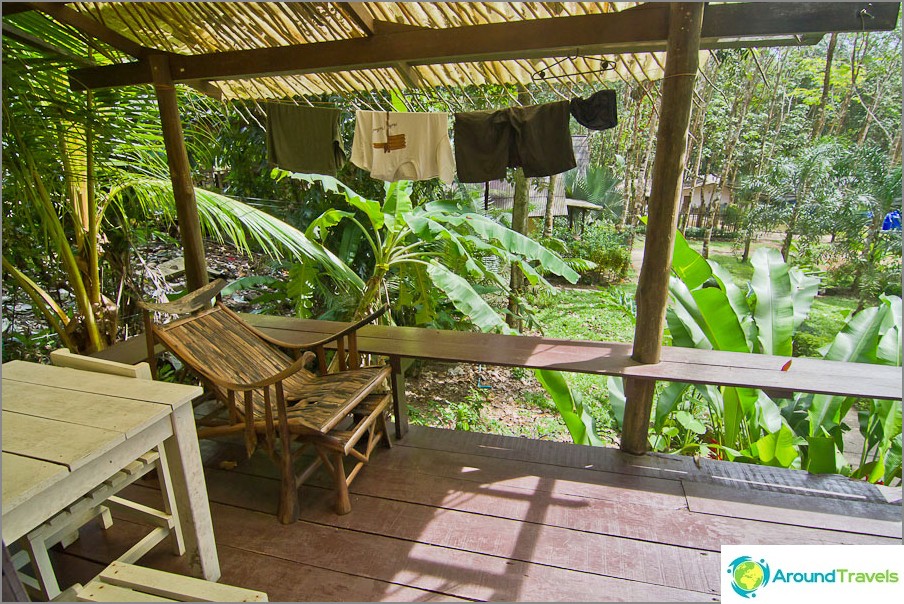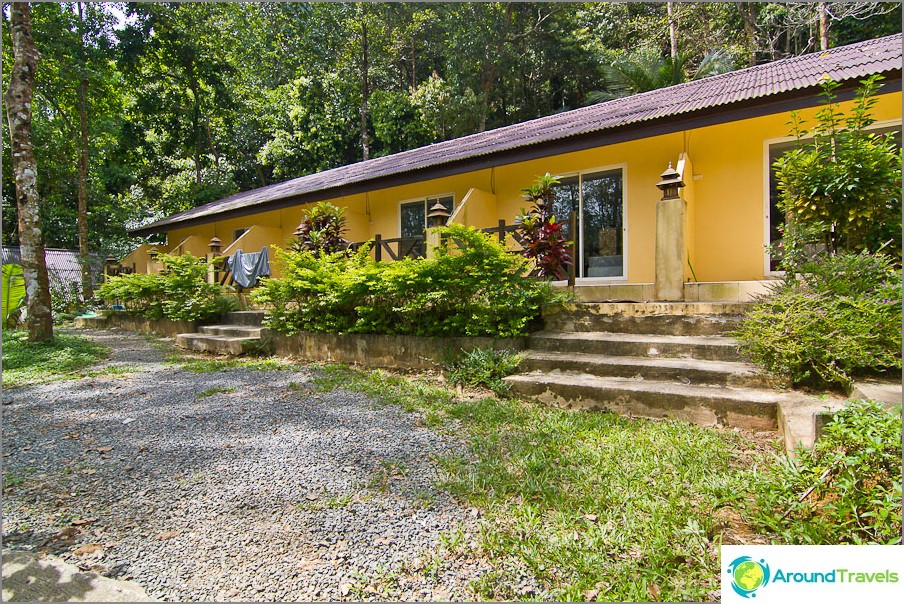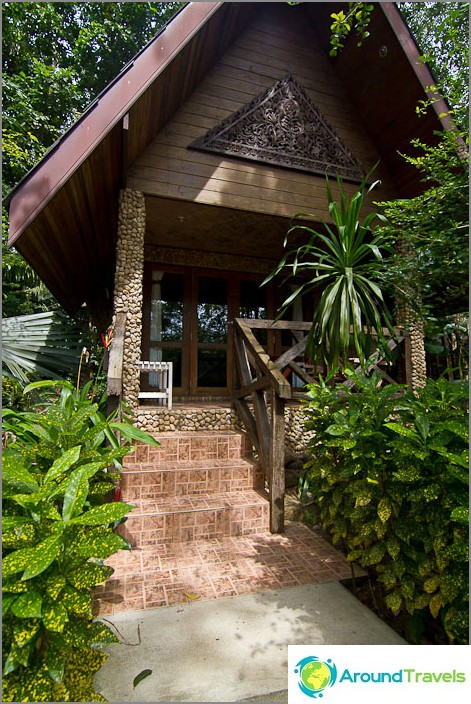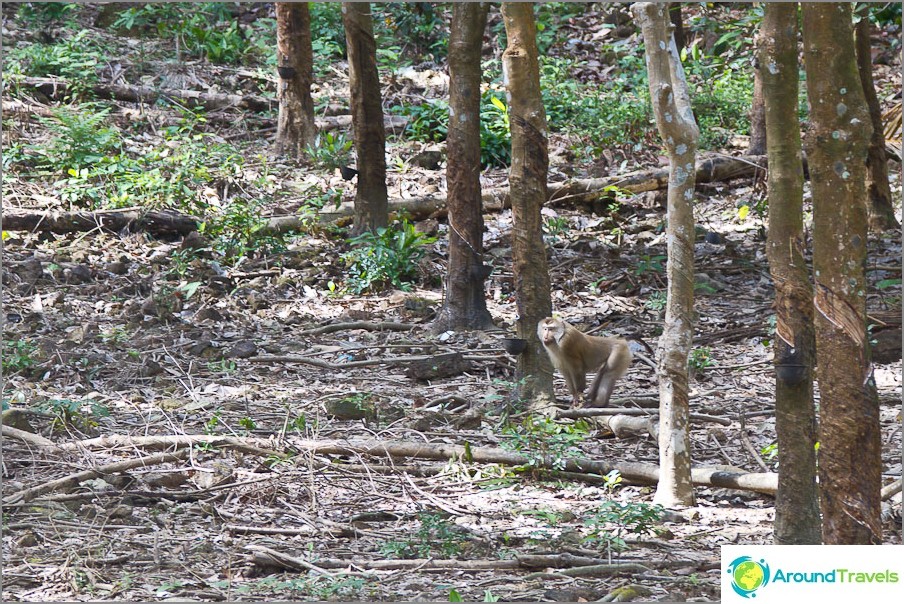 pros
What I liked about this bungalow compared toby others? Clean, everything is very strong (not from bamboo), forest and silence in the afternoon, looks and outside, and inside is nice, there is hot water and a shower, everywhere there are mosquito nets and no gaps, surprisingly there were no ants.
Another advantage, there is a rental of bikes for 200 baht inday or 150 baht, if you take more than 3 days. A deposit of 3,000 baht or a passport. I had almost a new Honda Click. This is important, as on the serpentines, it is necessary that there is enough power (if there are two), and that the tires are not bald, well, and the brakes are normal.
Minuses
There are also disadvantages - there is no internet, but 3g from Dtac is caught. There is also wifi from the neighboring guest houses. The mattress was covered with leatherette (what kind of trend is this in Tae?), Dogs bark at night, roosters yell in the morning
But the noise did not bother me at all, since I alreadytrained in the summer in Moscow, when all night right under the windows of motorcyclists chase with a terrible roar. So dogs with roosters are flowers, they won't wake me
How to find
The bungalow is located on White Sand Beach, but not atthe sea, and in the forest, almost at the very end of one of the lanes (the landmark of Kacha Resort, you should turn perpendicular to the sea and go inside the island, uphill). So, if you go along this lane, then along the road there are still at least 4 similar guesthouses of bungalow type.
The best one is Fisherman Hill Resort, andthe worst Tuk Tuk Guesthouse (although the foreigners on the way recommended it). However, as is clear from the article, I personally liked the White Sand Garden the most.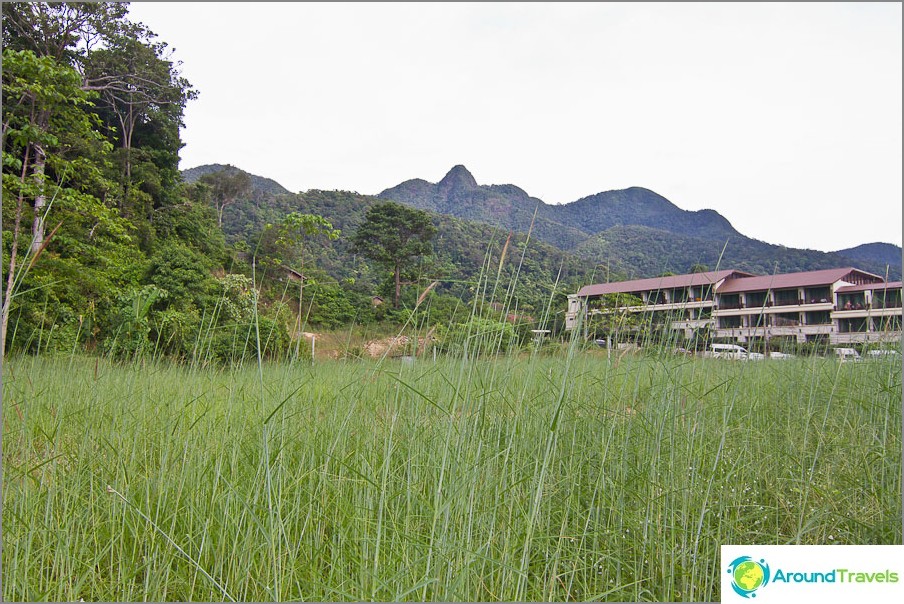 On the map
Bungalow Wite Sand Garden on the map:
White sand garden
White sand garden
Bungalow with fan and air conditioning. Clean, well maintained, strong bungalow made of wood or stone. There are bike rental 200 baht.
Read more.
Bungalow with fan and air conditioning. Clean, well maintained, strong bungalow made of wood or stone. There are bike rental 200 baht. More details.
Hotel map of Koh Chang:
Life hacking 1 - how to buy a good insurance

Choosing insurance is now unrealistically difficult, so to help all travelers, I compile a rating. To do this, I constantly monitor forums, study insurance contracts and use insurance by myself.

Life hacking 2 - how to find a hotel 20% cheaper

First, choose a hotel on Booking. They have a good offer base, but the prices are NOT the best! The same hotel can often be found 20% cheaper in other systems through the RoomGuru service.

Discount hotels