Goreme National Park is large enoughsquare and is located around the village of Goreme (Goreme). In some reviews about Cappadocia, they write that they need to spend a week here, but I do not agree with that. After a couple of days, the eye becomes blurred and the impressions pale, everything around seems to be of the same type, unless of course you are not an amateur caver. We had 2 days of excursions in Cappadocia. It is better to come here again and at another time of the year.
If you are going to Cappadocia, then print out the maps from my post: Cappadocia how to get.
Yes, keep in mind that all the interesting things are concentrated next to Goreme, and therefore you can not go anywhere else. Well, maybe only in Derinkuyu in underground cities.
Waking up at 6 am surrounded by dozens of balloons (I wrote about this in last article), we went for a walk. We spent the whole day from morning to evening in the valleys of the phalluses, or mushrooms, or tuffs, or outcrops, call it what you want. Local people call them "Peribajalary" (Turkish: Peri bacalar?), Which means "fairy chimneys". There are fireplaces of different heights, different colors, but there are a lot of them around. All valleys are dotted with them. We walked around Zeni Valley, Red Valley, Rose Valley and something else. We visited the temples of the time of the baptism of Russia and saw Christian icons on the walls with wiped faces. They were erased during the period of iconoclasm.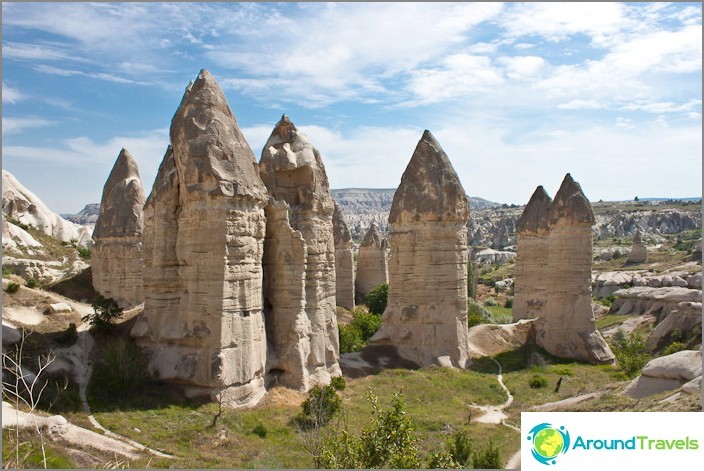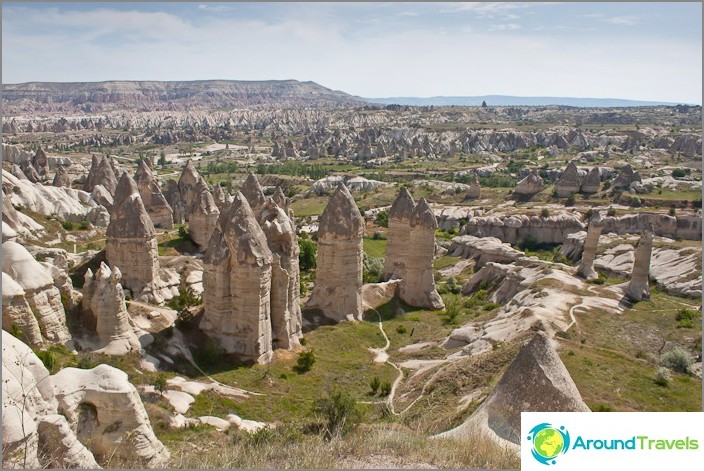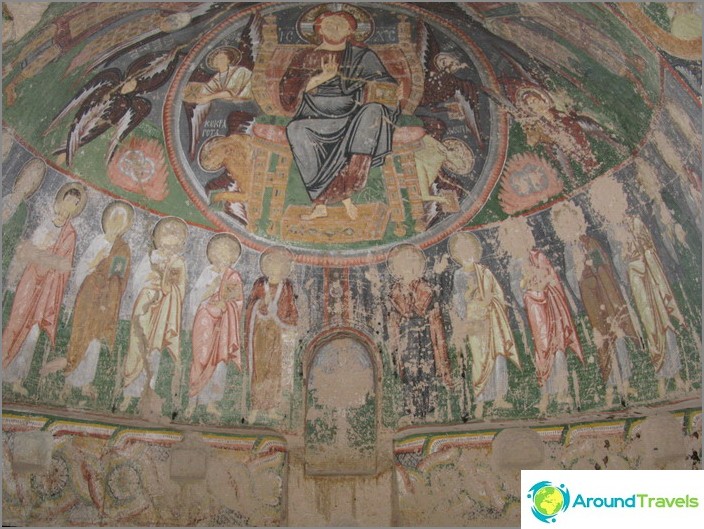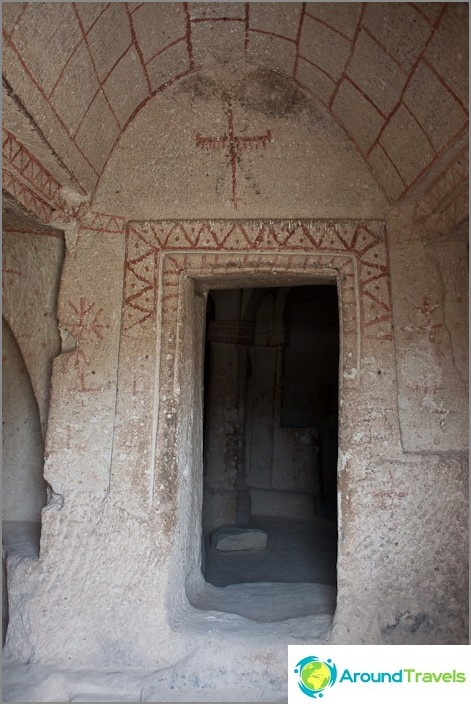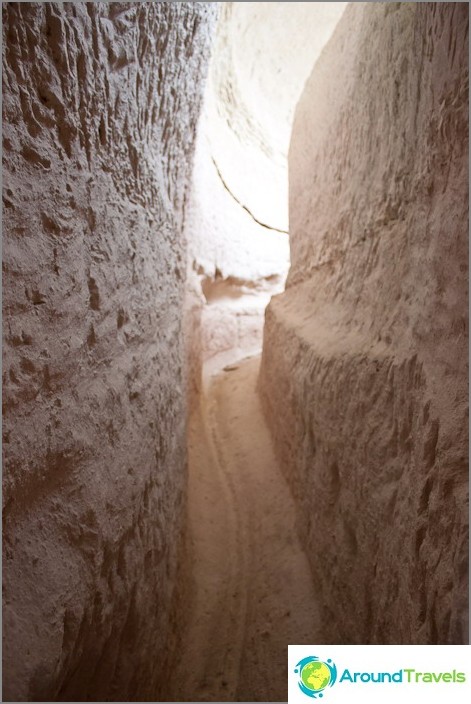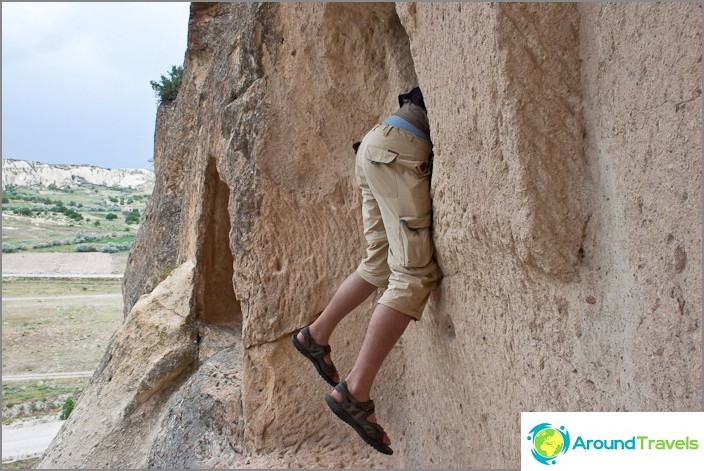 In many stone pillars people lived, and insome still live, or are used as a shed, since many have left plots of land next to this intricate miracle of nature, and where they periodically go to the country.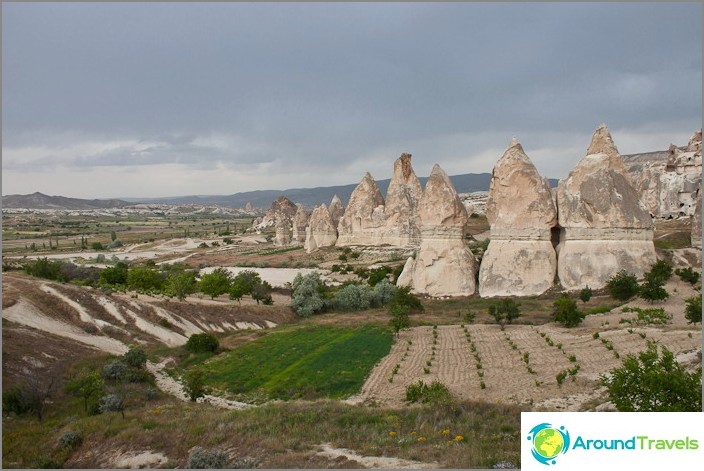 They descended after a strong earthquake, andpeople moved to ordinary homes. Probably, only inside the towns themselves, such as Goreme, there remained real residential tuffs. Most often they are used as restaurants or hotels that are popular among people who want to taste the charm of the stone color.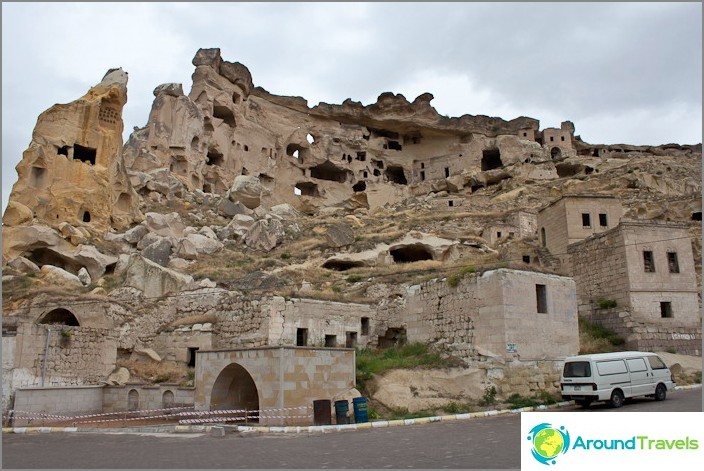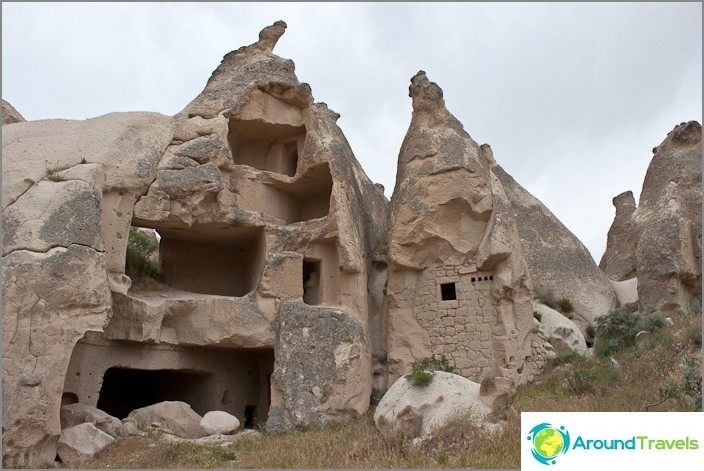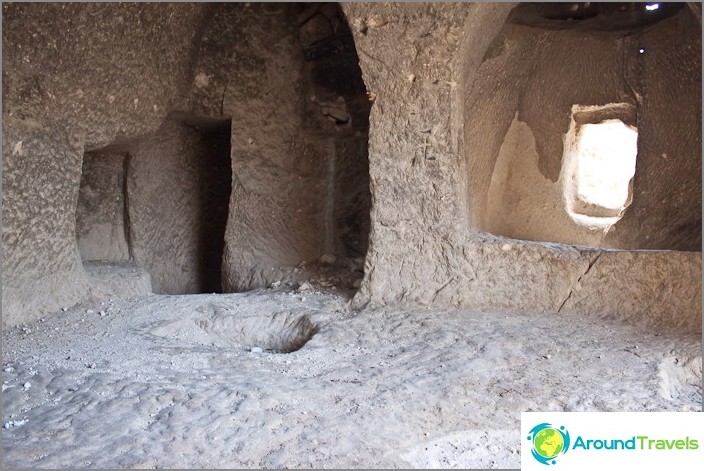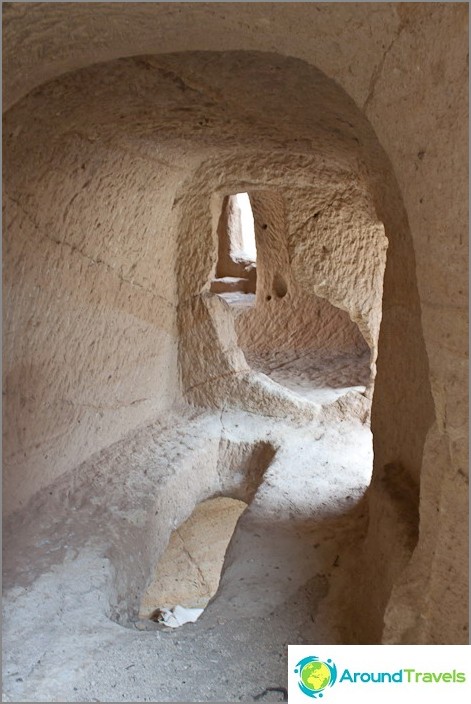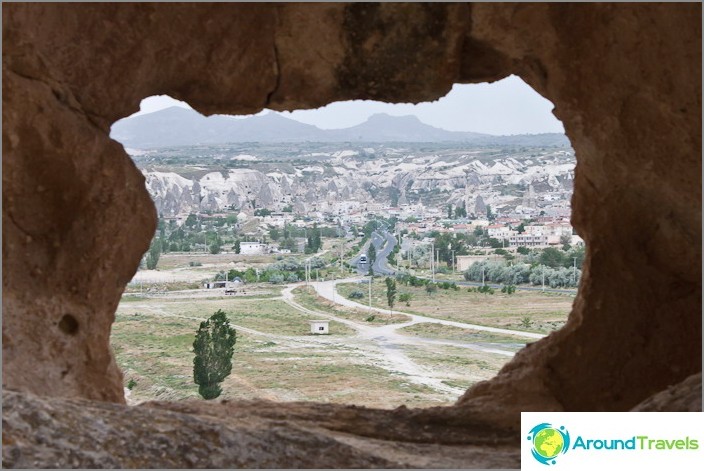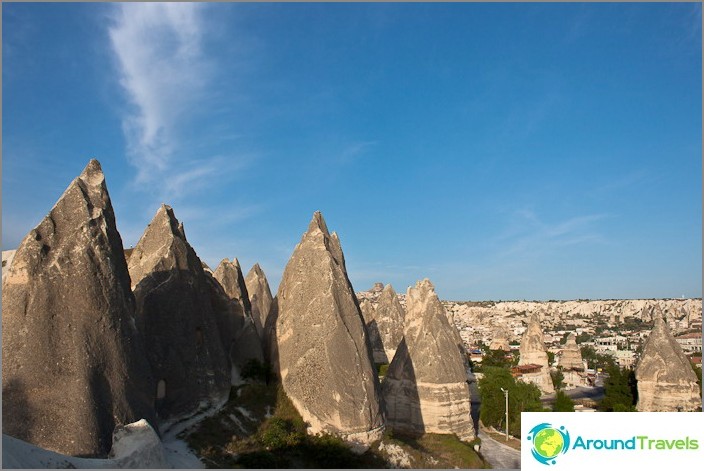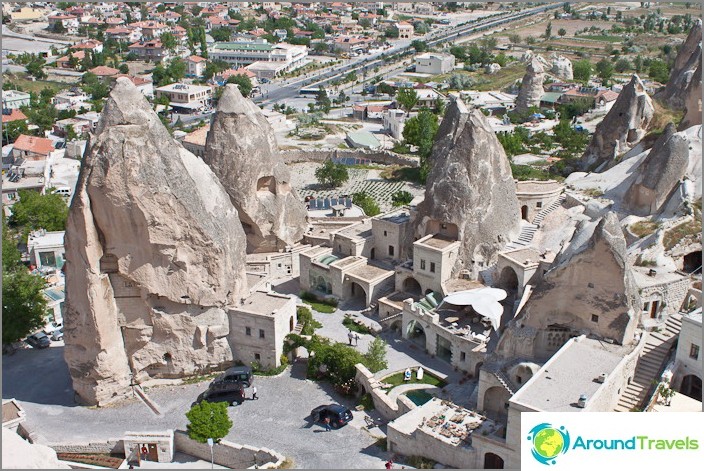 </a>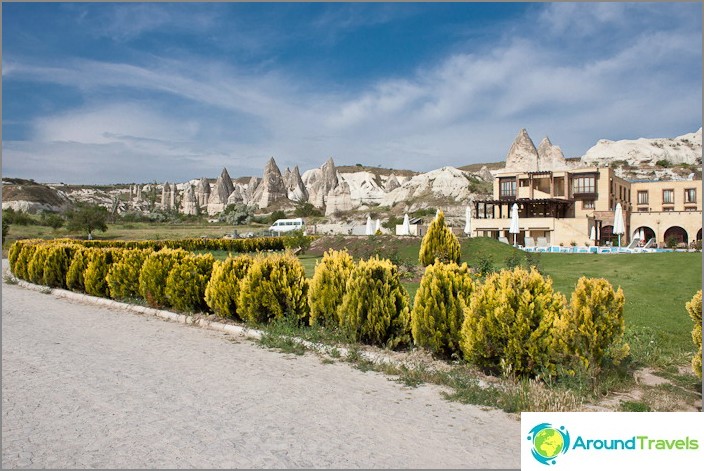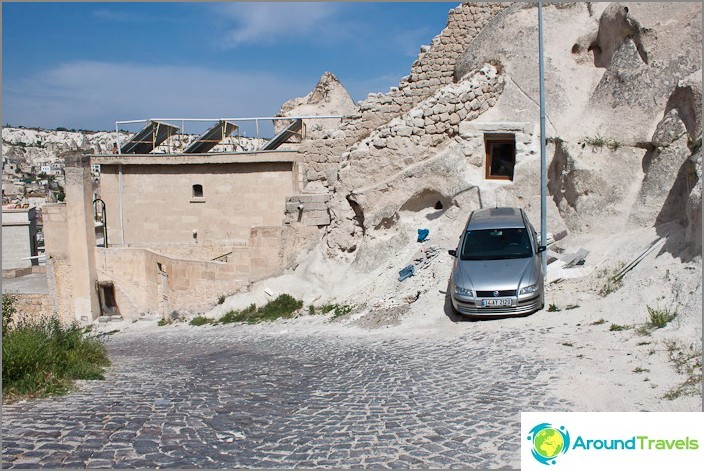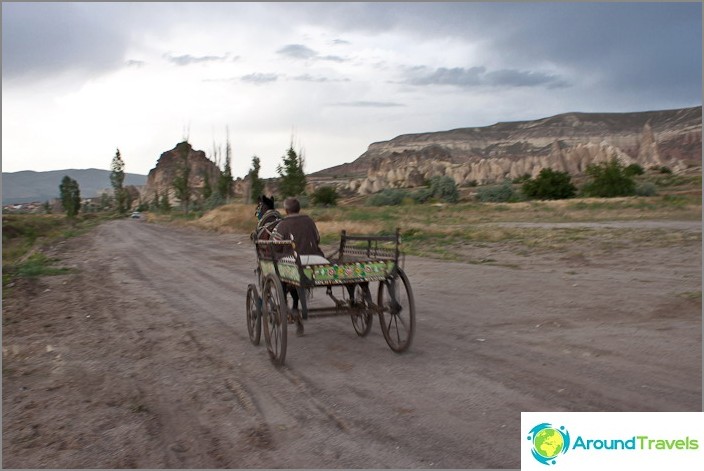 In the evening of the first day we were exhausting so that in generalI already wanted to continue the journey and leave Goreme. But I still have not seen the symbol of Cappadocia - the outcrops with the stones lying on top of them. Therefore, I dedicated the second day to this.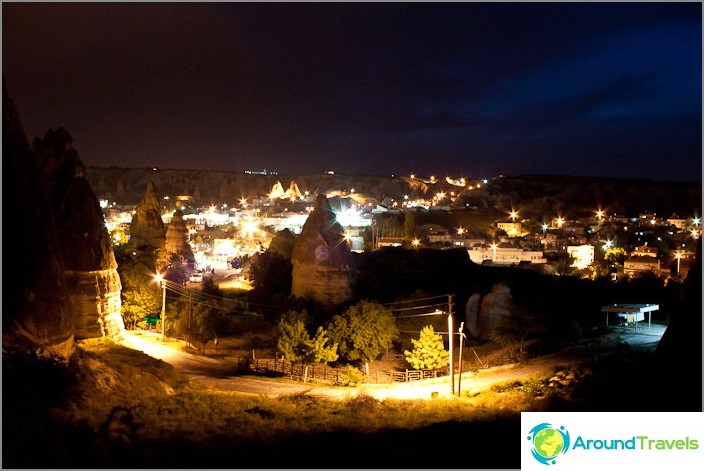 In the morning we first went shopping.Goreme in search of food, and found a great vegetable shop right next to the bus station and zatarilis everything you need. After eating to hell, I tried to arrange a photo session for a tortoise living not far from our tent, but she kept trying to get away from me.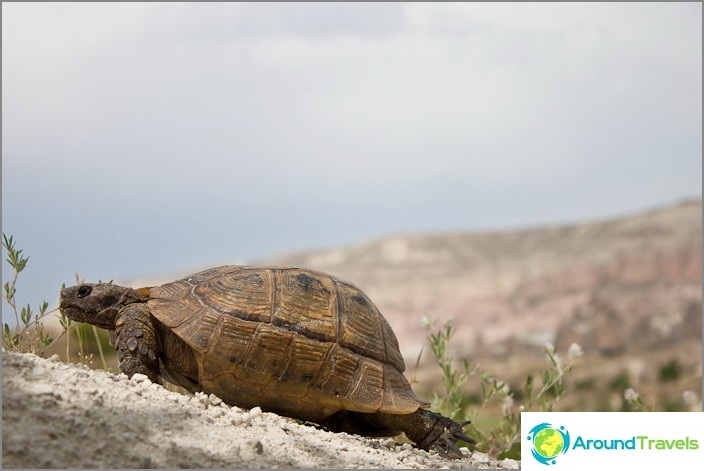 My travel companion was already nauseated bystones, and he decided to go with me to the first cafe. The rain that started at the wrong time only strengthened his intentions. I am in splendid isolation, covering the lens with A4 sheets and occasionally hiding in stone caves, yet captured the symbol of Cappadocia and Goreme, after which I immediately realized that my mission in the valley of phalluses was completed.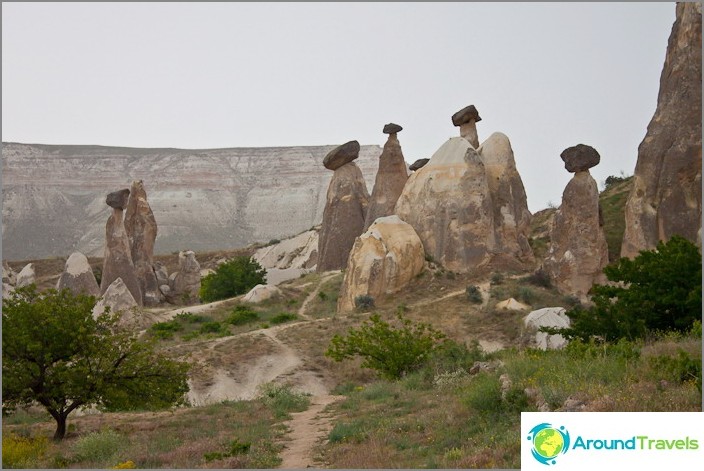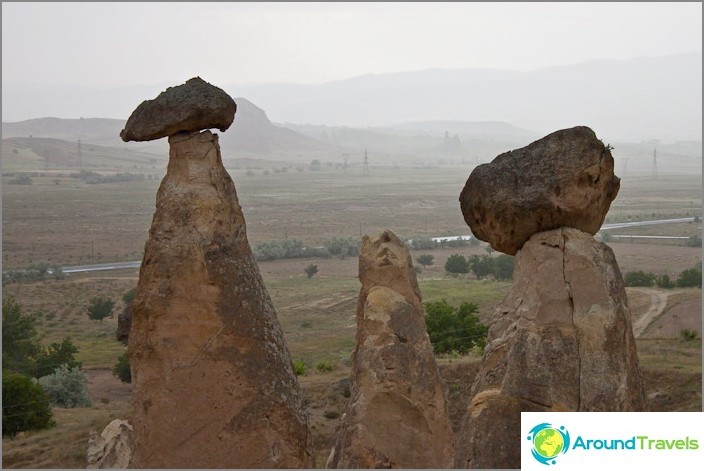 As a reward for half a day of rain and my torment, I saw the sky in the evening ... Even, probably, HEAVEN! Shimmering in different shades, and moving with scraps of clouds ...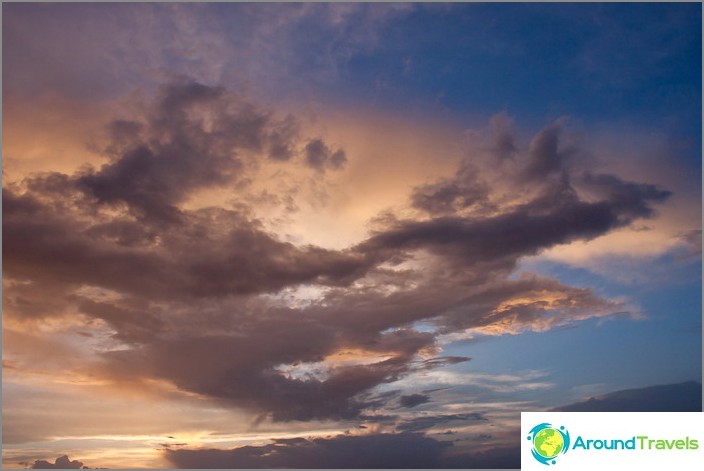 And in the evening, when it was already dark, we waited forwill start to sing our oral, in order to shoot a video to transfer the atmosphere. Oral we affectionately called the tower of mosques. For those who do not know, I'm telling you, in every city there are mosques with towers on which loudspeakers are hanging, from where an Arabic song is being sounded, calling for people to pray. The videographers of us are shitty, but try to imagine that evening, Cappadocia, there are remnants and ... prayer ...
Having collected monatki we went to the bus station, where we had to expect a night bus to Ankara. But it was not ... On the clock 0.00, there is no one around, and we, feeling idiots, are standing and waiting for the bus. Moreover, the departure from the neighboring city, the number on the ticket is worth the previous day and whether we were inflated, or 12 o'clock in the morning is considered the previous day. Seeing how we dug into the ticket booth in the hope that there was someone there, a taxi driver passing by took pity on us and called the main bus station - it turned out that the bus was just delayed ...
All parts of the story about our independent trip through Turkey:
Route - Kemer - Antalya - Demre (Worlds) - Olympus and Cirali. - Side - Lake Beysehir - Cappadocia - Goreme - Ankara - Adapazar - Karasu - Istanbul
Life hacking 1 - how to buy a good insurance

Choosing insurance is now unrealistically difficult, so to help all travelers, I compile a rating. To do this, I constantly monitor forums, study insurance contracts and use insurance by myself.

Life hacking 2 - how to find a hotel 20% cheaper

First, choose a hotel on Booking. They have a good offer base, but the prices are NOT the best! The same hotel can often be found 20% cheaper in other systems through the RoomGuru service.

Discount hotels