Want to tell how you can rent a villa with a private pool for just 2500 baht per day?
Sitting in a noisy and dusty Moscow is just the thingdump on vacation at sea and rent similar housing to get some rest from the hustle and bustle. Given the price, it is quite affordable for most. Yes, the villa is quite small and not on the best beach, but everything is relative. When someone starts to turn up his nose from a particular beach in Thailand, I immediately recall what the central beach looks like in Gelendzhik in August. Feel the difference, as they say.
So, after living a month in Hua Hin, I went to Phuket, because then there was a flight to Moscow. Looking along the way toilet park, joked in a quiet and peaceful resort on the beach Nai Yang.
The content of the article
Price and reservation
As I wrote above, I lived in a villa with a private pool for just 2500 baht. The resort is called L'esprit De Naiyang Beach Resort

. When the dollar is not very high, the cost is generally ridiculous. But in general, we should have had a villa with access to a common pool, it costs a little less.
However, they were all busy and they gave me a private villa, of course I did not mind. Filmed via Airbnb: here is the link.
There are also regular hotel rooms in the resort, but they are not as interesting as villas.
Hotels in Phuket>
Be sure (and I insist) check availabilitydiscounts or special offers on the excellent Roomguru service. It will quickly and simply show you discounts in all existing reservation systems. In Asia, for example, there are lots of offers on Agoda.com that are much more interesting than on exactly the same hotels on Booking.com.
For example, here is a direct link to the hotel: L'esprit De Naiyang Beach Resort

Through Airbnb, you can rent housing from privateindividuals, but there are also hotels. Sign up on the link and get a discount of $ 32 from Airbnb on apartments around the world. Valid on the first booking, the reservation must be from $ 70. The bonus can be used throughout the year. And be sure to look at my post. about the Airbnb servicein which I told what it is and why it is needed.
Get $ 32 off>
The territory and surroundings of the hotel
Nai Yang Beach is not considered the best onPhuket, however I like it very much. All because - this is a very quiet and peaceful place where there is no party. The whole beach is literally a few cafes, bars and massage parlors. Great beach to be in silence.
A little further on the highway there is a 711 and a market, the height of civilization, so to speak. You can look at me Detailed description of Nai Yang. In principle, if it becomes boring, you can always take a taxi and go to Patong, Karon or Katu.
I like to stop before leaving for Moscow on Nai Yang, since the airport is 5 minutes away, convenient. By the way, this is where you can take pictures. landing planes right above the beach, from the hotel for 40 minutes you can walk to this point.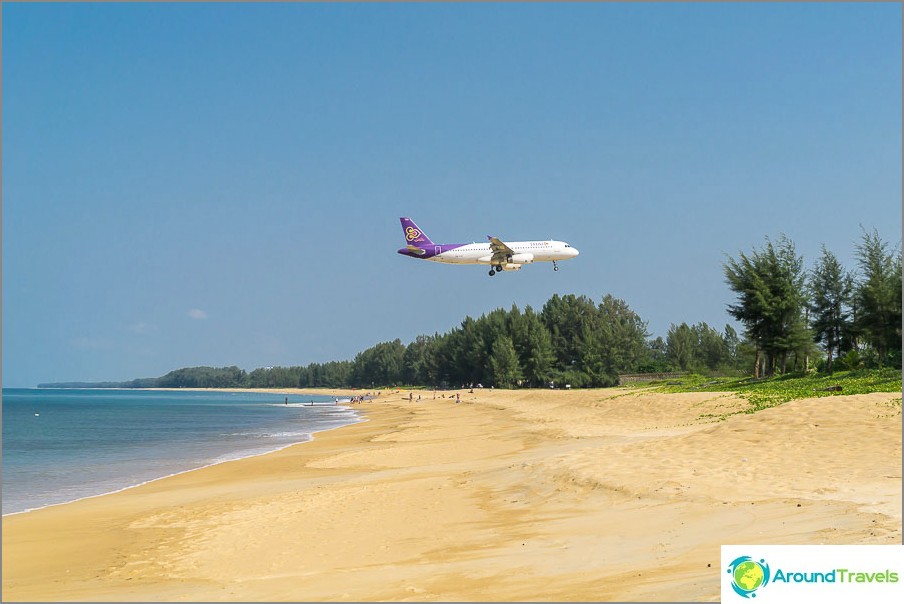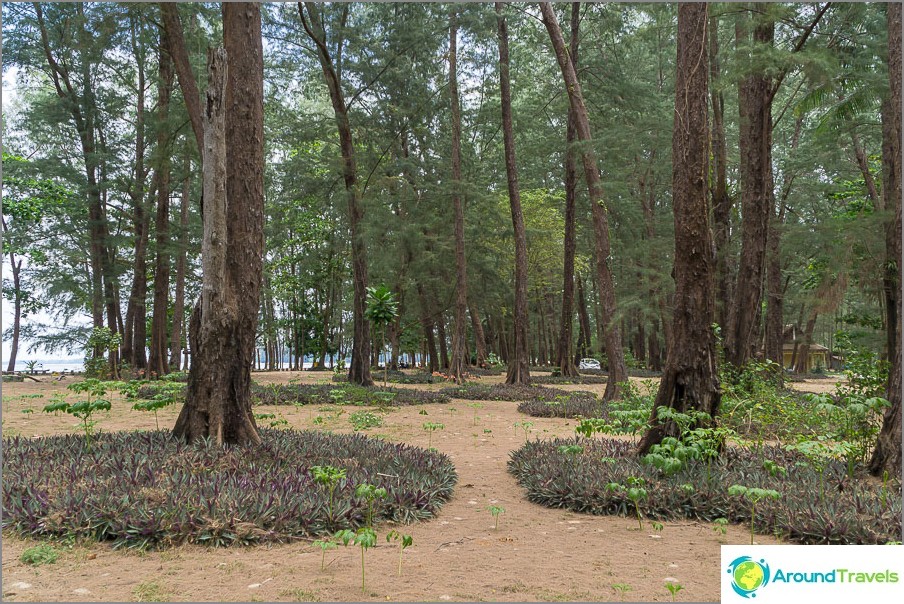 Hotel L'esprit de Naiyang is at the very endbeach beyond the river. Moreover, it is necessary to drive up to it from the side of the highway, and access to the sea is possible only on foot, moreover with the help of a small river crossing. There, you need to swim across literally 5 meters and a hotel employee is on duty, carrying one side of the river to the other. Funny.
The territory is not very big, but green andwell-groomed. Most of it is occupied by a pool, on the sides of which there are villas. You go out on the terrace, and there is a pool. Great idea! There are also villas with small private pools. They are not very suitable for swimming, but with the child there is plenty to chat about it.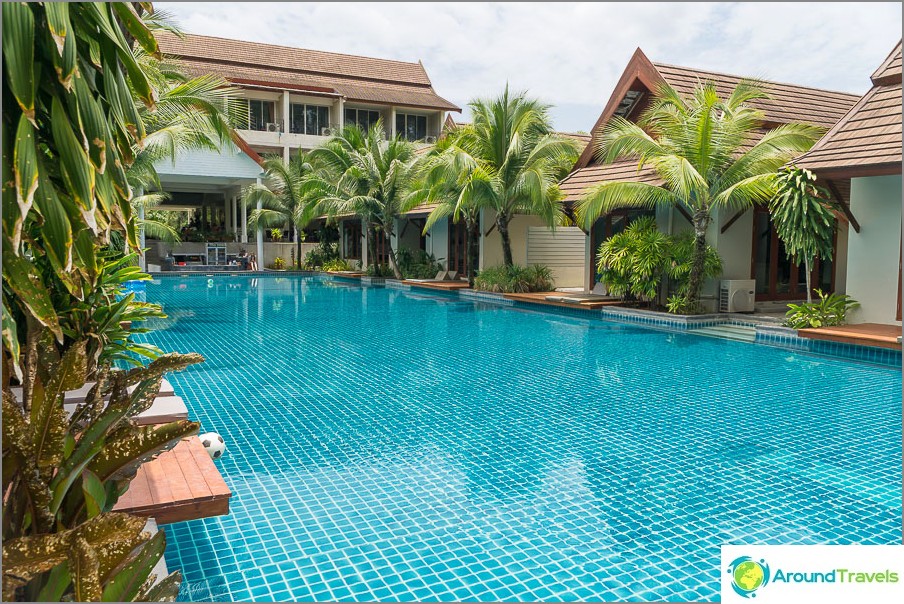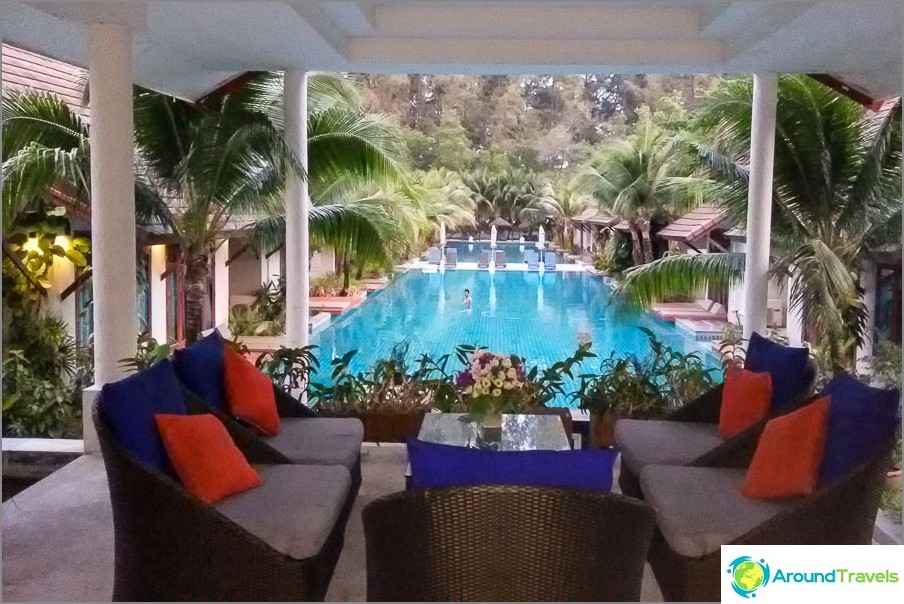 Pool Villa
Villa on the square, as usual typicalone bedroom house, only there is no kitchen. But most of the walls are glass doors, and most importantly there is a small swimming pool. Probably, this is the first time when I rented such housing, somehow it has not happened before. Liked. There is something in it when your pool or at least the house goes straight to the general. It is clear that you can not swim normally and can not be compared with the sea, but it is really convenient, especially with children. Just do not forget to close the door so that no one falls into the water.
Change of linen / towels and cleaning every day. The food in the cafe is delicious, the typhoon is normal, as it should be. Prices are average, for example, Padtai cost 200 baht.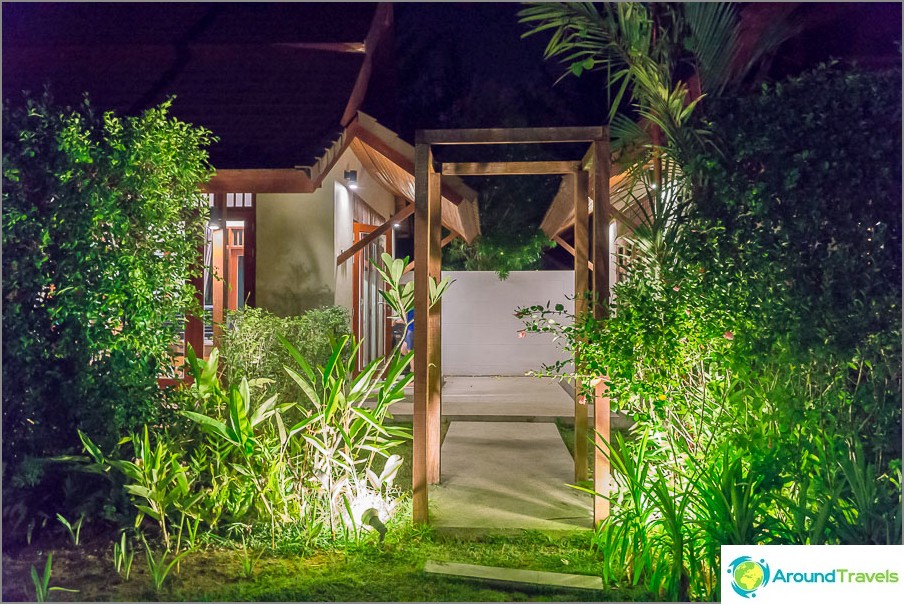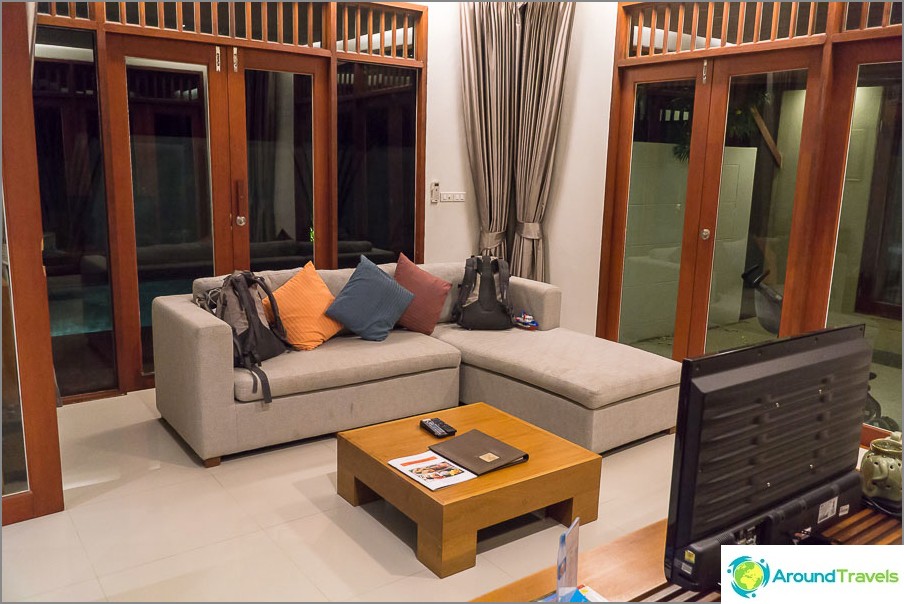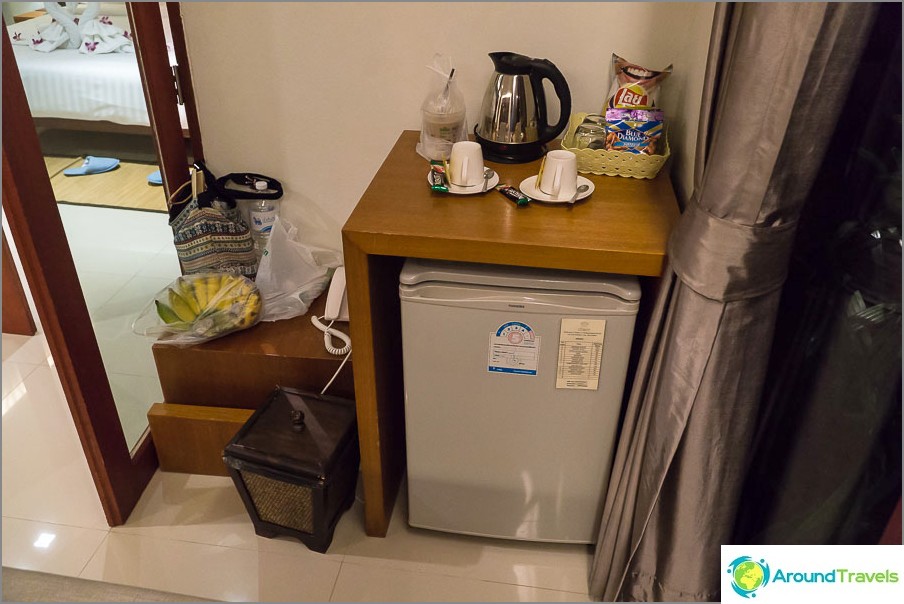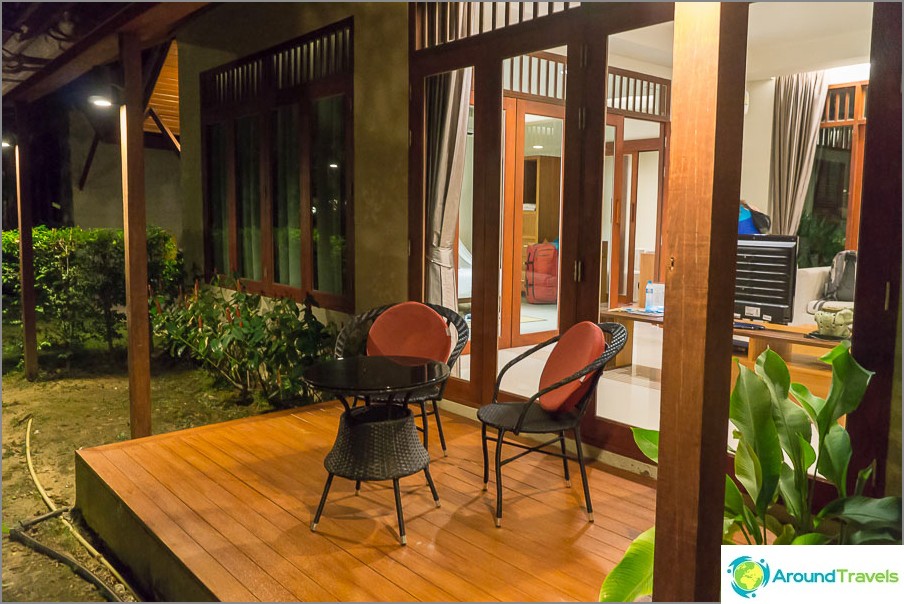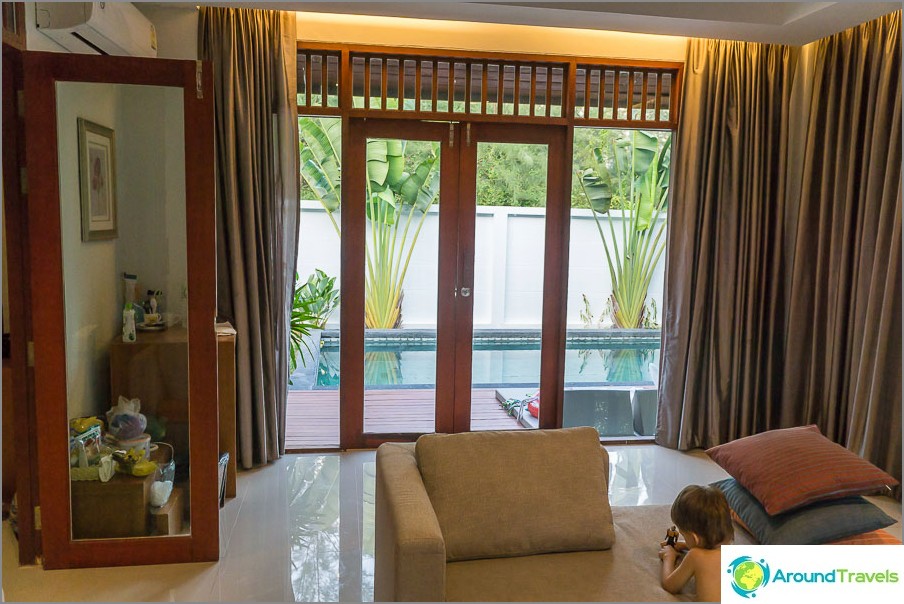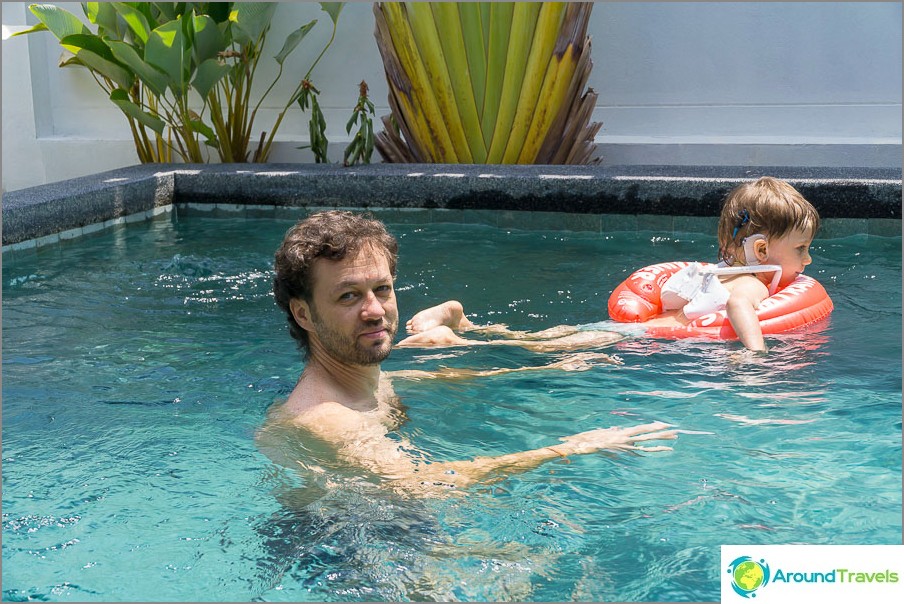 So that everything is not so sweet, but for this price,I will tell about minuses. They are. First, the traditionally dirty kondei, which have long been time to clean (you can ask to clean). And perhaps there is already time to refuel freon, and then one of the blocks (we had two), almost did not cool. Secondly, the Internet is almost dead. More precisely, the speed will greatly depend on who shakes parallel with you. Therefore, the Internet is there, it is not. And thirdly, in general, there is some habitation of housing, but in my opinion quite small. If the cons are critical for you, then it is better to look for another hotel with a pool in Phuket.
On the map
Resort L'Esprit de Naiyang
Resort L'Esprit de Naiyang
A great place for a relaxing holiday. Cheap villas with shared / private pool and hotel rooms.
Read more.
A great place for a relaxing holiday. Cheap villas with shared / private pool and hotel rooms. More details.
P.S. Perhaps, I like this beach also because it was one of the first seen on Phuket, and indeed in Thailand. Nostalgia!
Life hacking 1 - how to buy a good insurance

Choosing insurance is now unrealistically difficult, so to help all travelers, I compile a rating. To do this, I constantly monitor forums, study insurance contracts and use insurance by myself.

Life hacking 2 - how to find a hotel 20% cheaper

First, choose a hotel on Booking. They have a good offer base, but the prices are NOT the best! The same hotel can often be found 20% cheaper in other systems through the RoomGuru service.

Discount hotels