In one of the beautiful sunny warm daysof our stay in Grenoble (Grenoble) on the advice of friends, we decided to visit a local landmark - the Fortress called Bastille. I must admit that we didn't know anything about it and went there for the most part, because we wanted to climb on teleferik (residents clearly call it "eggs") and look at the panorama of the city from a bird's flight. In general, these balls are spoken of as the most important sight of Grenoble, no matter how it is depicted, they are usually always in the photo. But we were more interested in simply "flying" over the river and taking a ride on the cable car to our favorite mountains.
The content of the article
Where to stay in Grenoble
Hotels in Europe are better to book in advance and Grenoble is no exception, therefore I will recommend you Logis Institut Hotel or Hotel de l'Europe, one is cheaper, the other is more expensive, but both are good. And the Bastille is very close there.
Eggs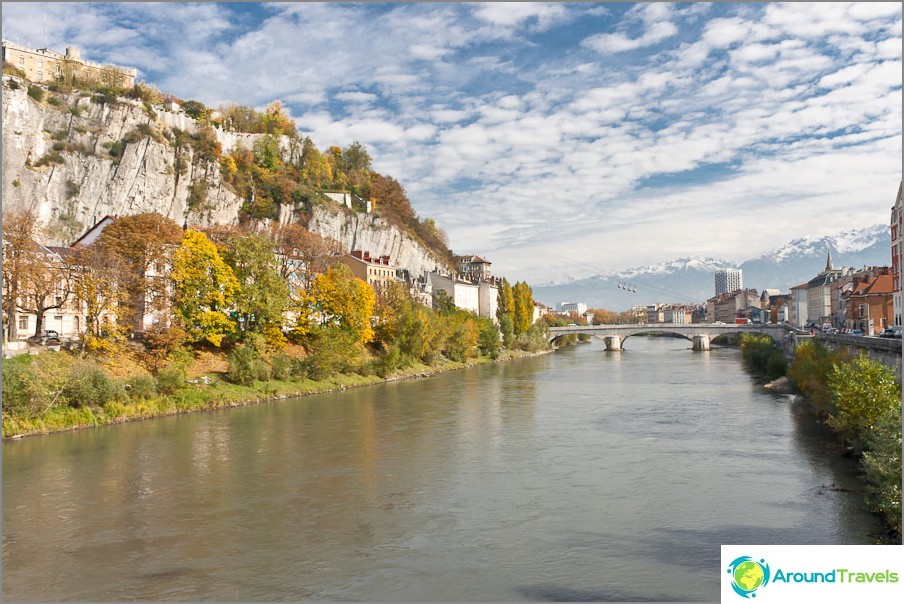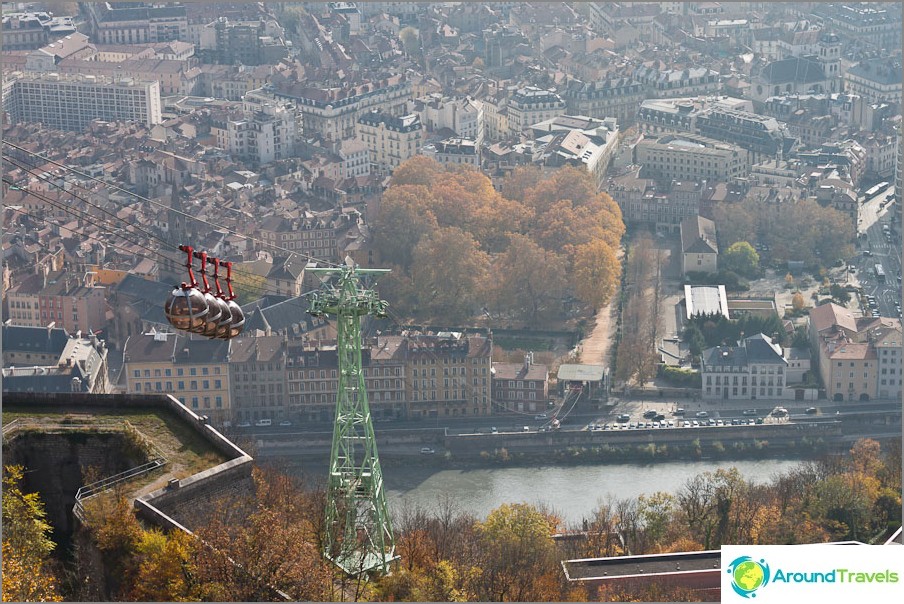 And so we headed for Stefan-Jay(Quai Stephane Jay) of the Iser River, from where that telepherique (telepherique) starts. There was almost no queue, we bought a ticket without any problems, but we still had to stand up. We, as the most intelligent, realized that the best kind would be from the last, so to speak, eggs - that is, the booths of the funicular, so politely began to let everyone in front of us, the knowledge of French helped explain our gesture of goodwill. But it was not possible to fulfill his plans immediately, since first, the couple before us decided to do the same, and the next time the Arab family loaded into the last cabin we wanted, standing in the wrong place in front of us.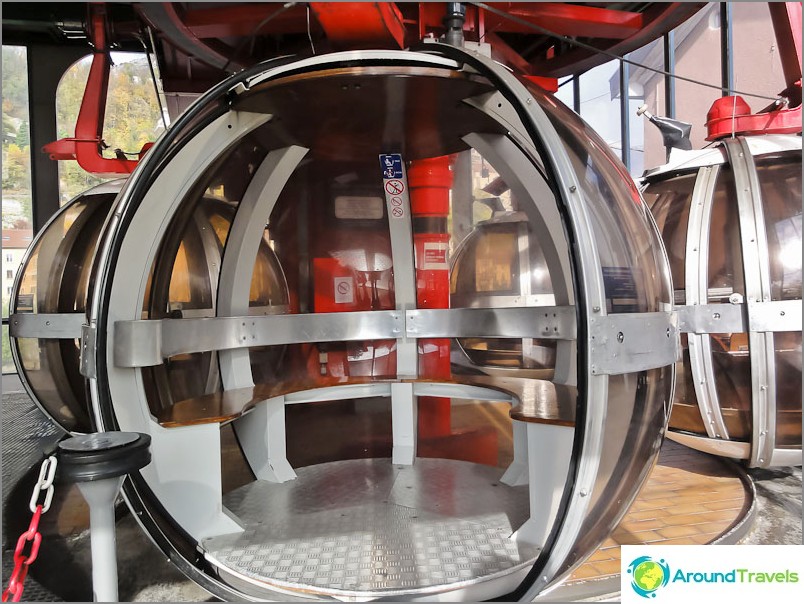 But with a sinking heart, I sit in the arrivedthe egg (I know, it sounds hilarious) and we quietly begin to rise up, crossing the river below us. In vain, we kept on making cameras - the dull glass of the ball made it impossible to take a single decent photo. Therefore, we just sat and looked with ecstasy around, the benefit is that the all-glass cabin allows it. I read on the Internet that the speed of the funicular in Grenoble was 6 meters per second, although it seemed to me that at some moments it slowed down, and at some points, on the contrary, it accelerated. By the way, according to some sources, the telefire of Grenoble was built in 1934 and became the first cable car in Europe.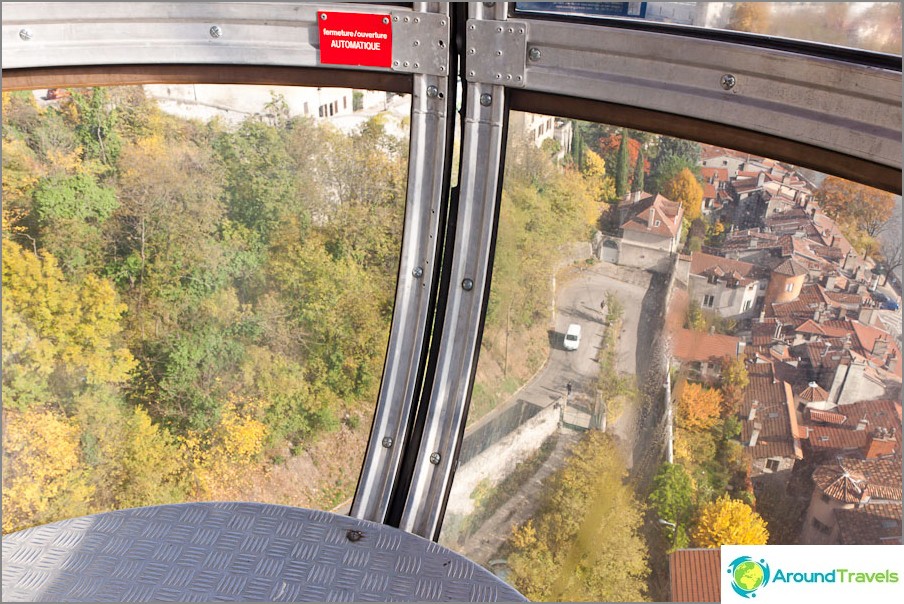 Bastille
And so we arrived at the covetedthe sights of Grenoble and passed to the first observation deck. For a long time, we could not tear ourselves away from the beauties and latitudes that were in our sight! Grenoble is beautiful extraordinary! With a wide river Isere, an artery passing through the city, with all its streets, with a clear and beautiful geometry of the quarters, and stunning mountains around the city! Impossible to stop looking!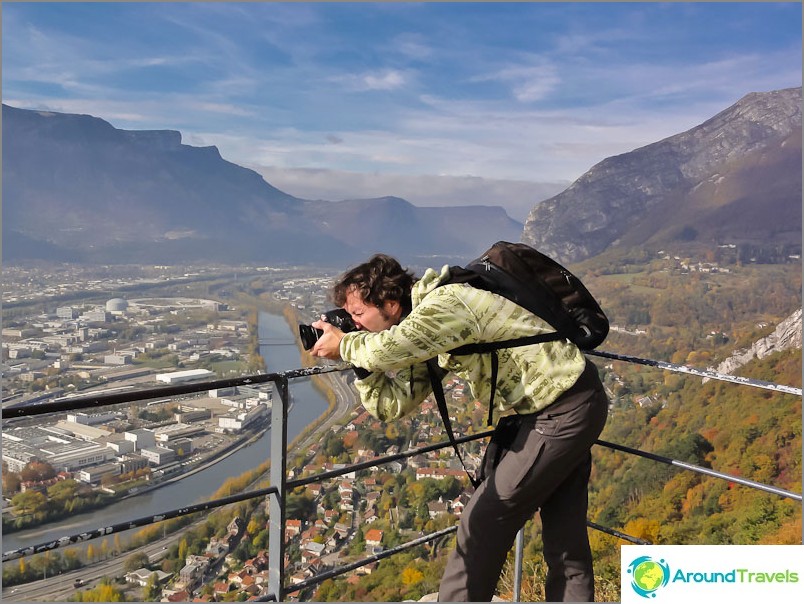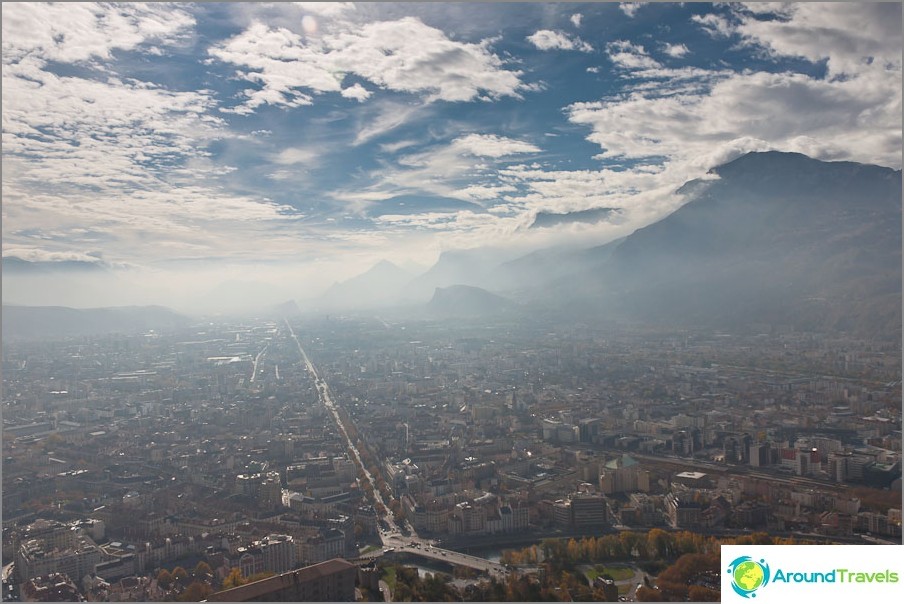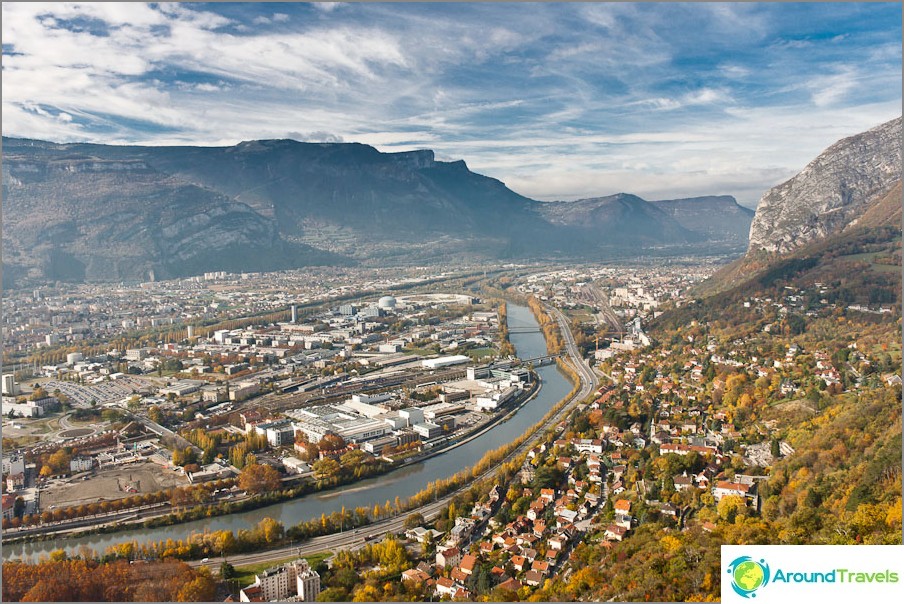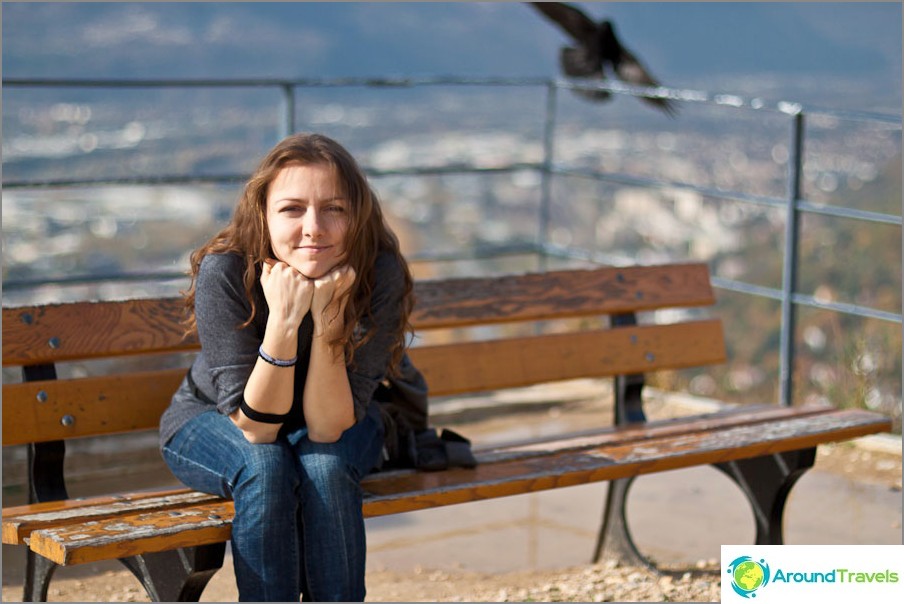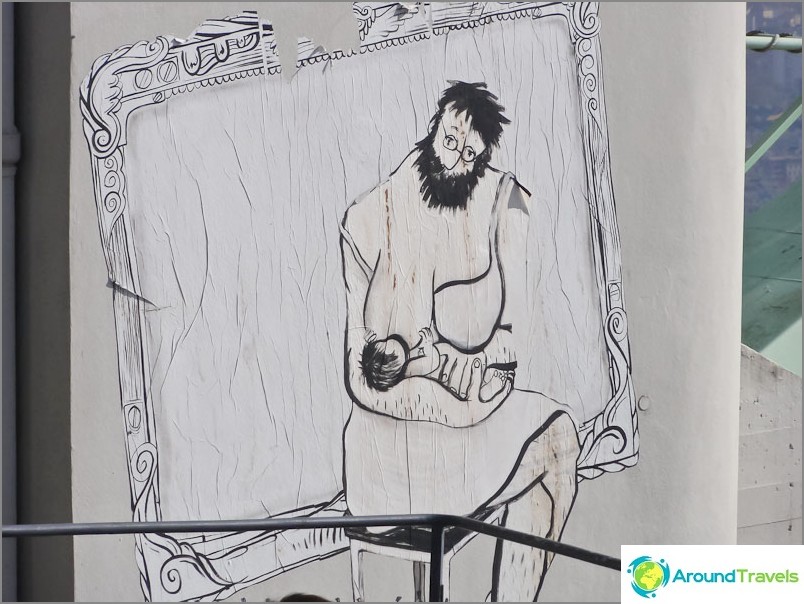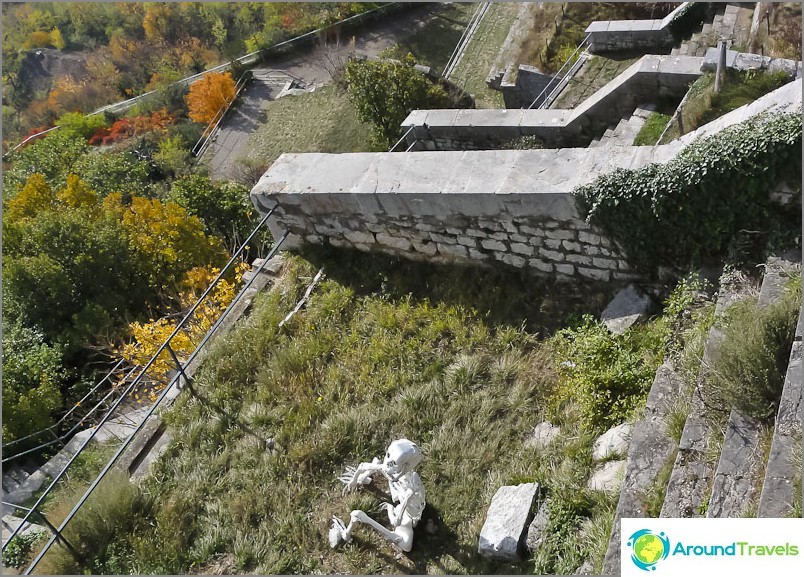 Pohah and pohov, having done a bunch of photos on this lookout, we went to another, which is located on the opposite side of the arrived funicular booths. Here we were met by snowy tops. Franzuse Alpsand the suburb of Grenoble stretched below. On this site I was very pleased with the colorful stands with various historical information. And if you are too lazy to read it all, you can click on the anglais button and listen to all the same in English (well, or francais and do the same in French). And while Oleg was running around the site with a camera, catching successful angles and trying different settings, I decided to ask and start listening.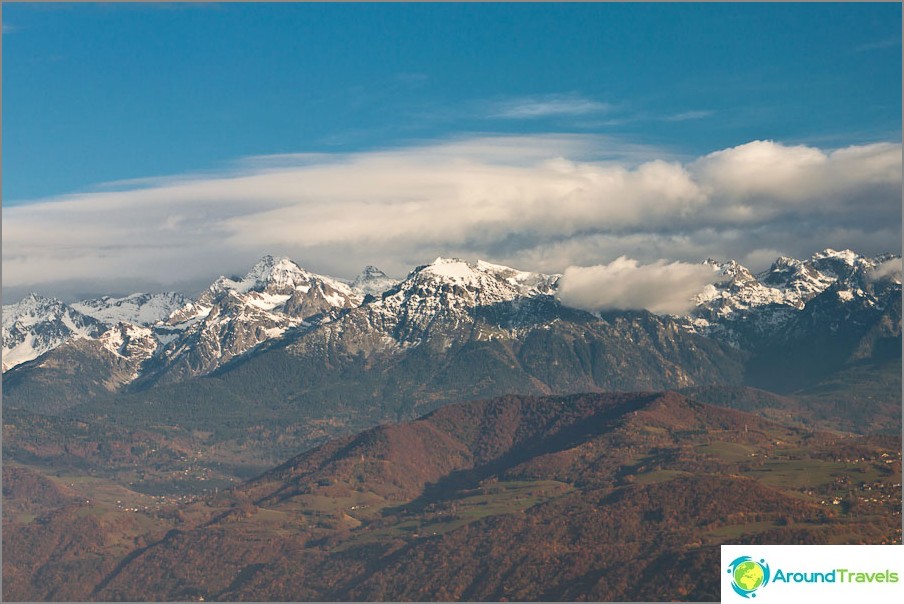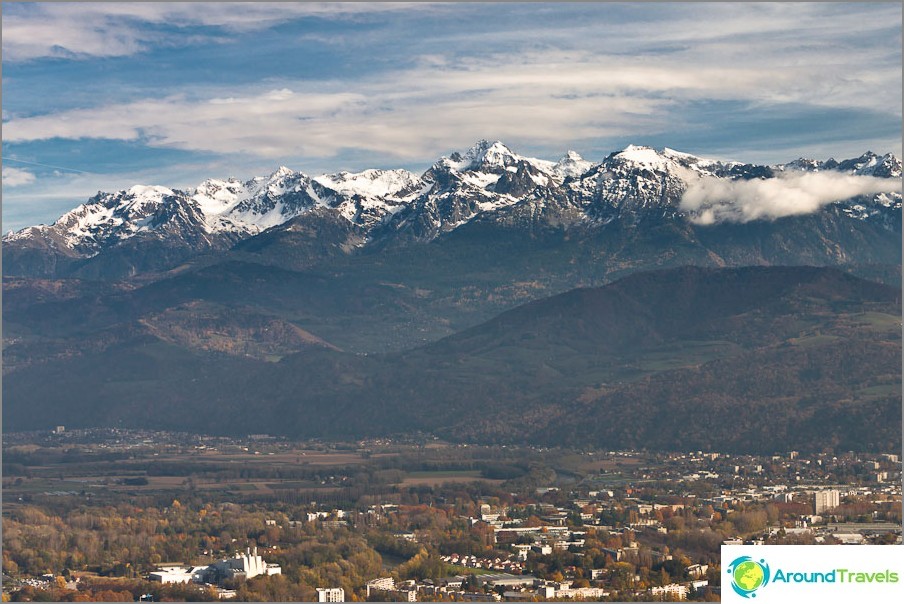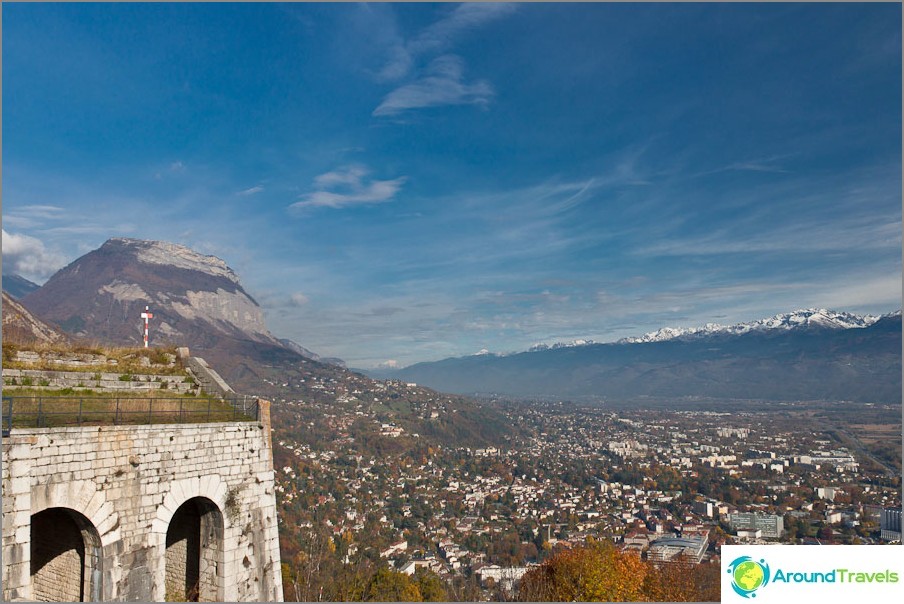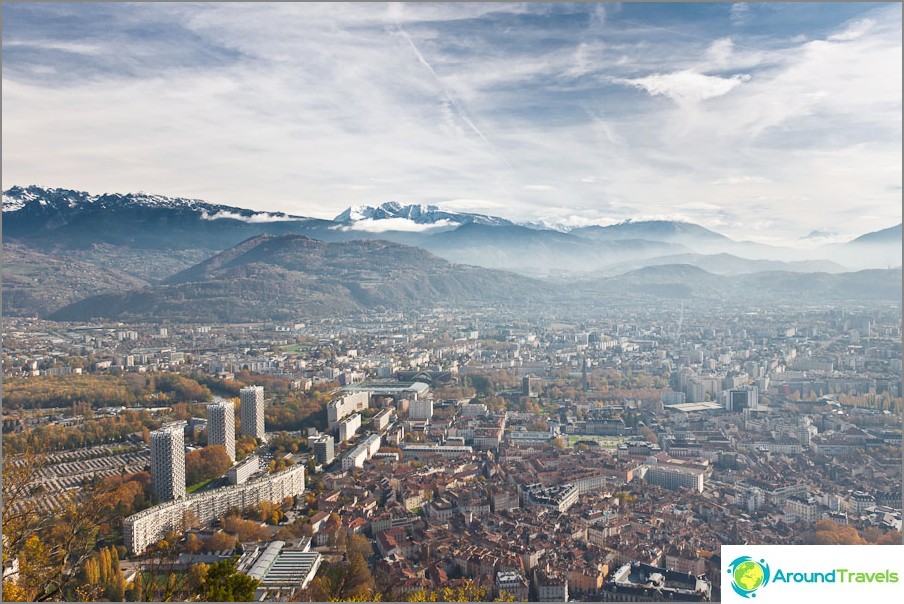 True, I was not able to replenish my historical knowledge in particular, I only realized that the Bastille of Grenoble was built in the 19th century and served to control the Alpine border.
Listening to historical information was complicated.by the fact that almost all the children entering this viewing platform considered it necessary to press all the buttons of all 6 or 8 stands on all the buttons for a long time, because of which there was such a multi-lingual voice that even it was sometimes difficult to talk. But I really liked the idea with these stands. Even special entrances were made to them, apparently, to make it easier for people with disabilities - such trifles touch me to tears!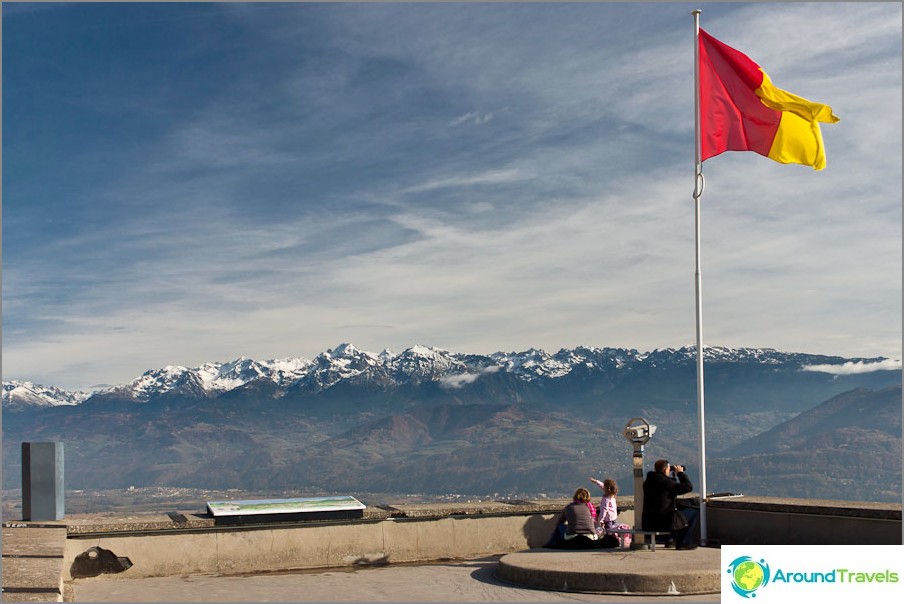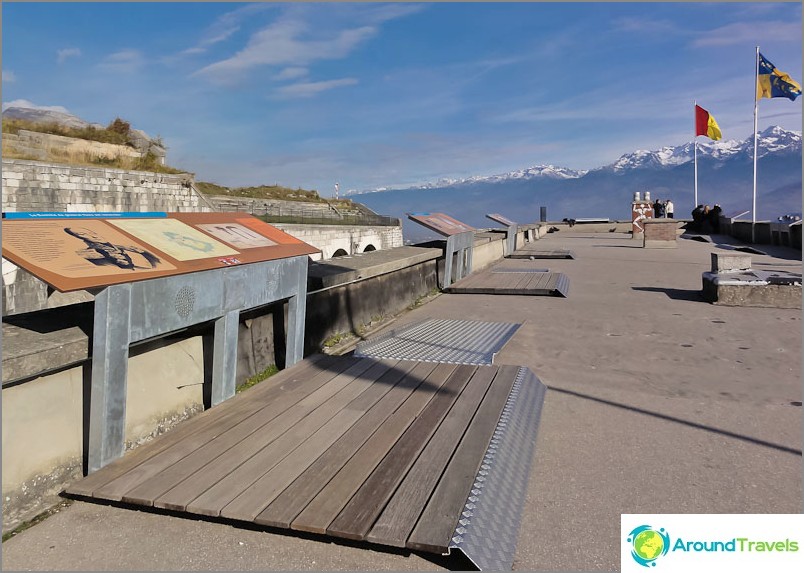 Well, apart from the views of an unusually beautiful city, in the Bastille of Grenoble there is nothing special to do. There is no place to go there, almost all the corridors and rooms are closed with bars.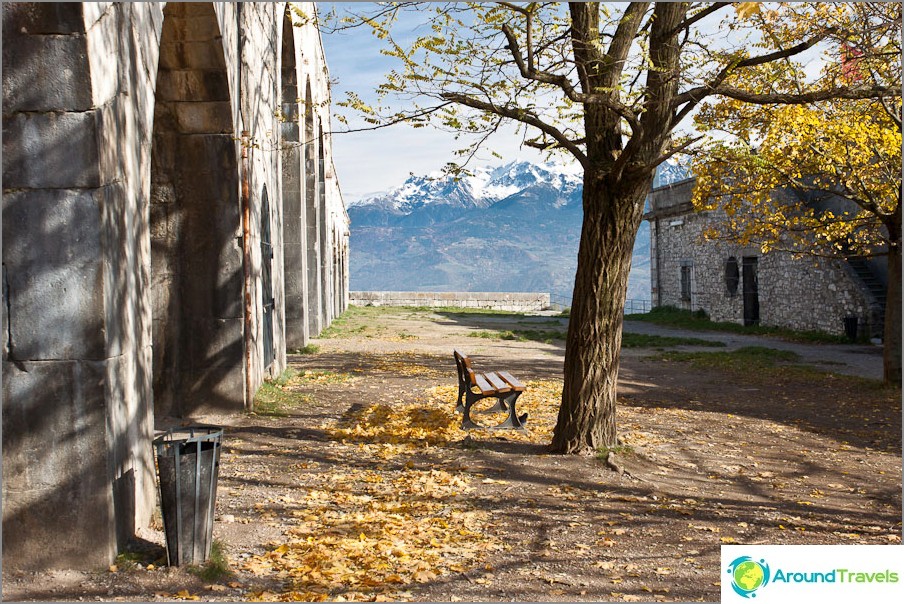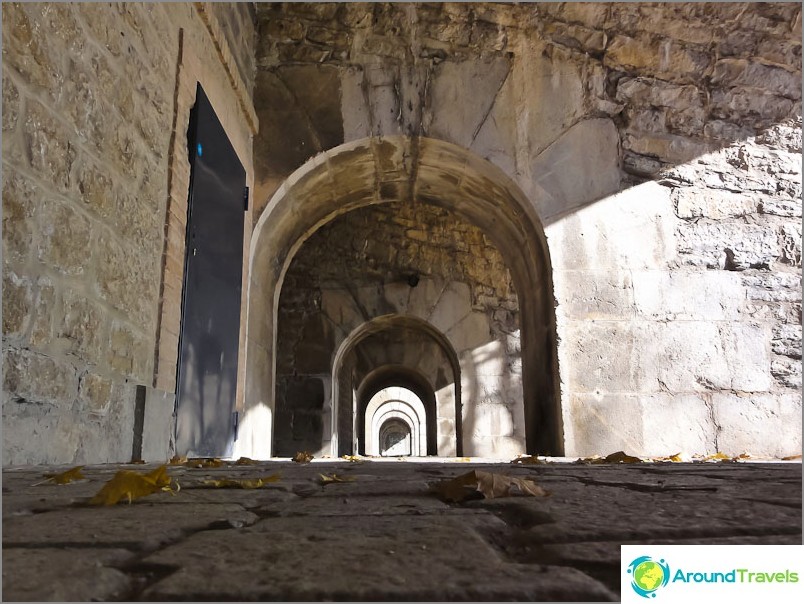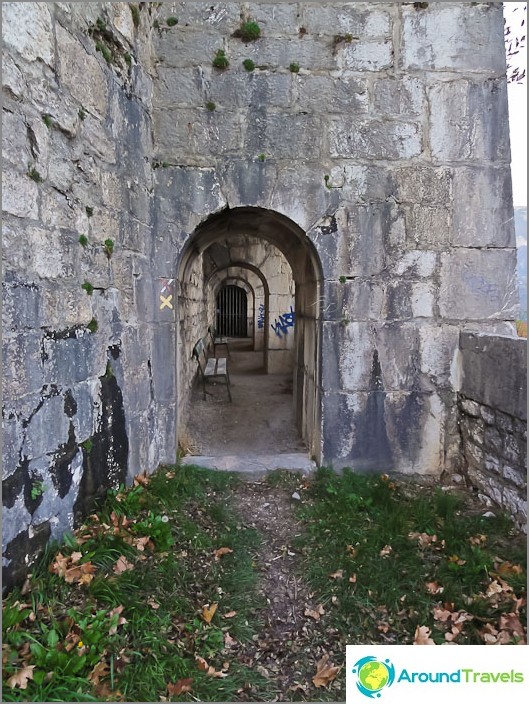 Maybe we think so, because we did not prepare well for the march. If you suddenly want to do it better, here is the plan of this fortress, you can study it better.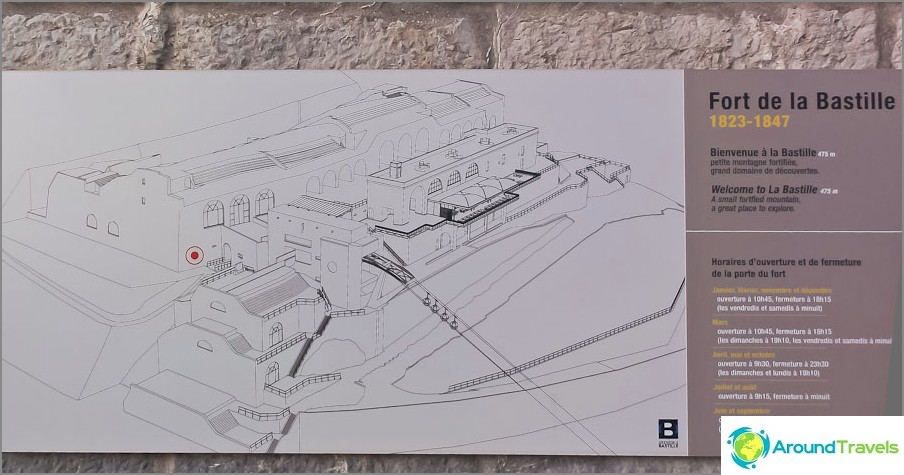 Cave near Bastille
We also looked into a cave near Bastille.Grenoble. In fact, it apparently used to be just a cave, which then human hands expanded and made a long tunnel, stretching along the mountain and down. From the holes there are also very beautiful views of the city.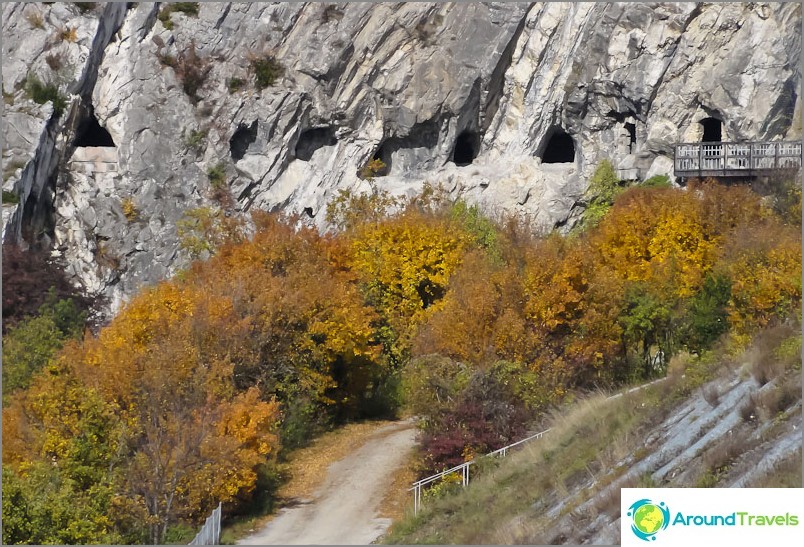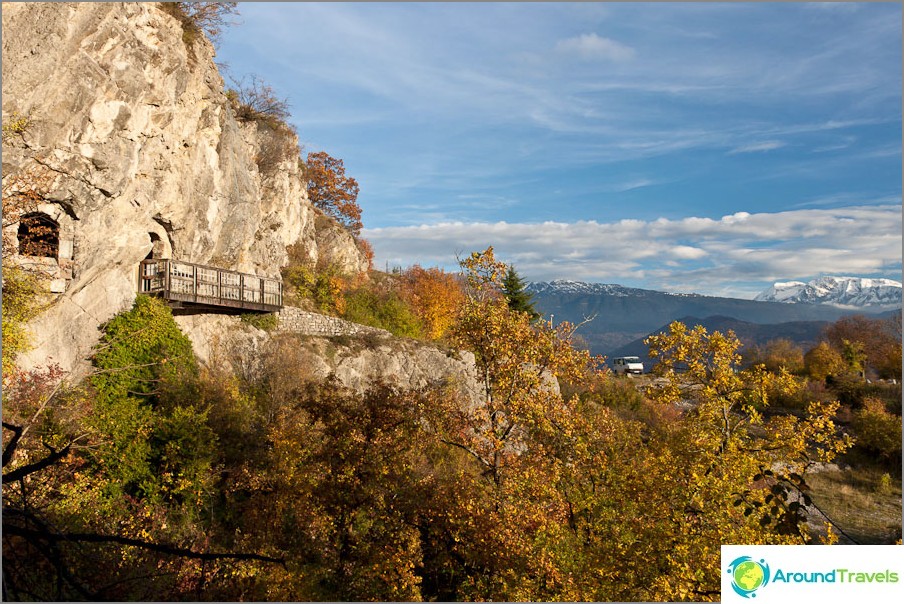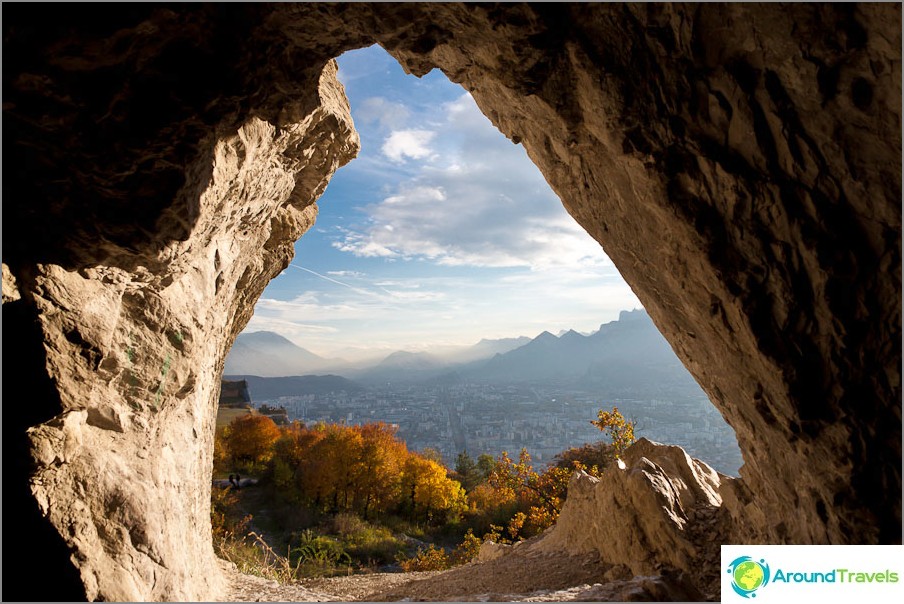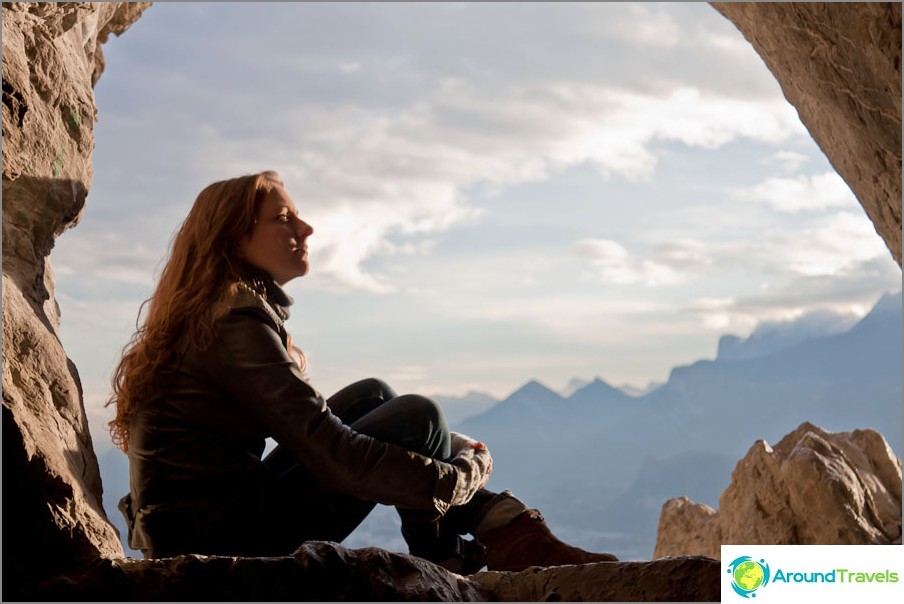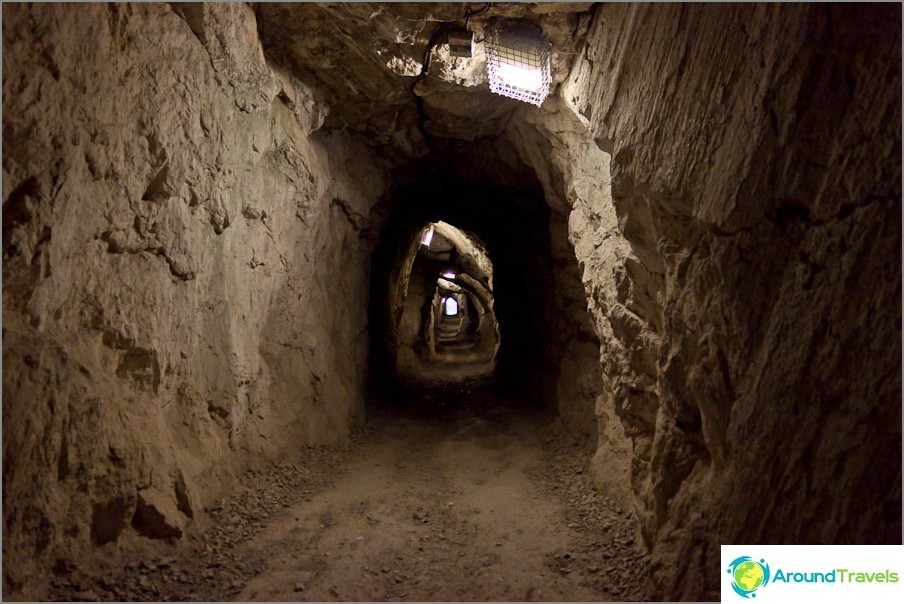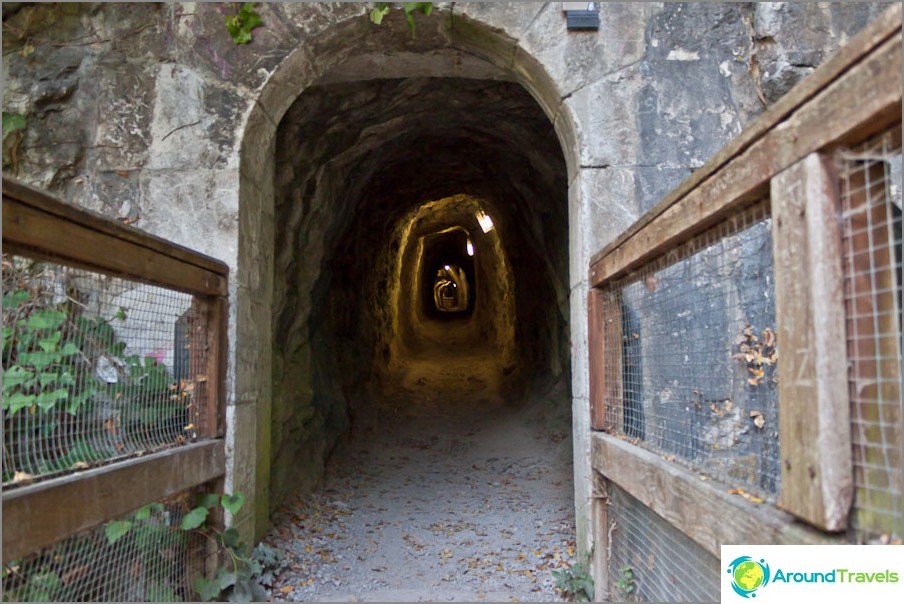 Night Grenoble from a height
Back we decided to go up the stairs in order to descend lower, take pictures from another point of the already night views of Grenoble. And this, I tell you, is simply fabulously beautiful!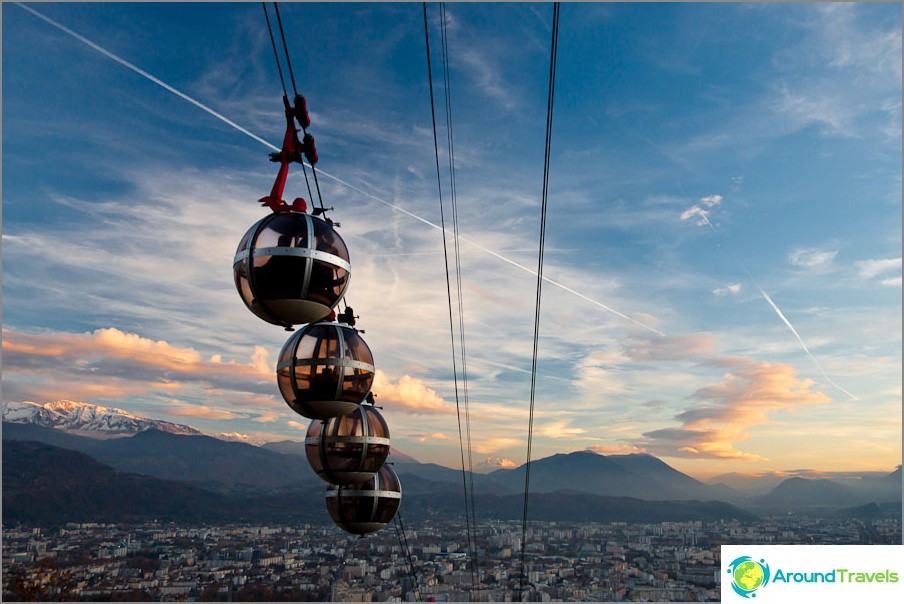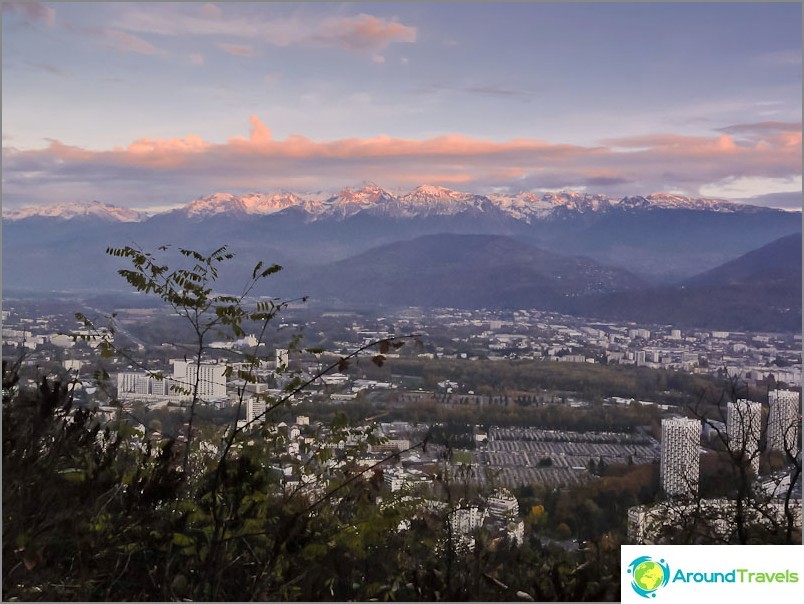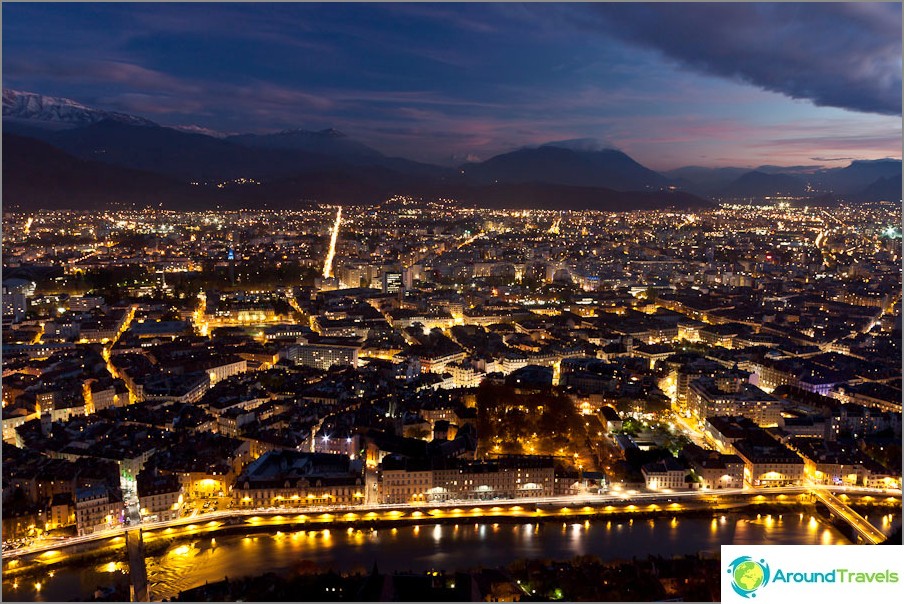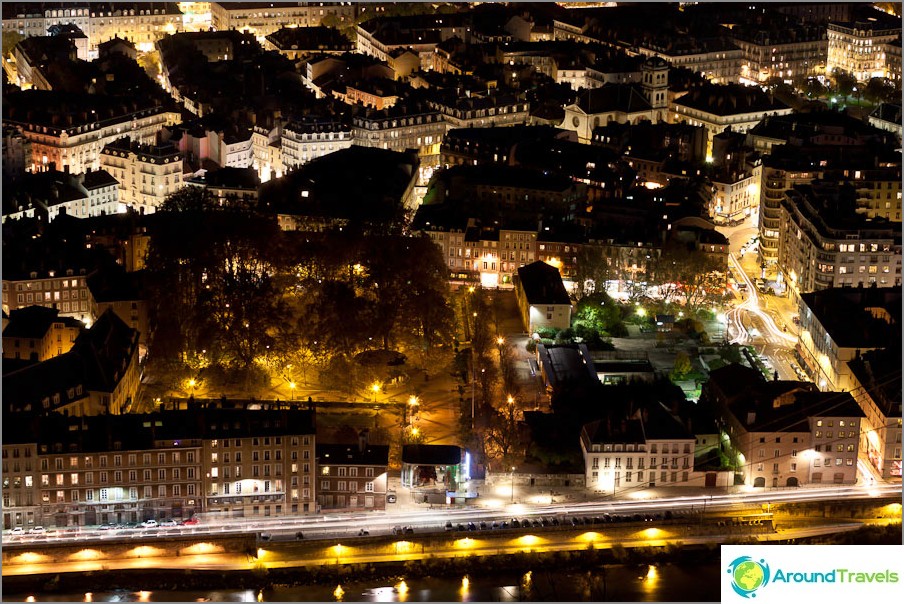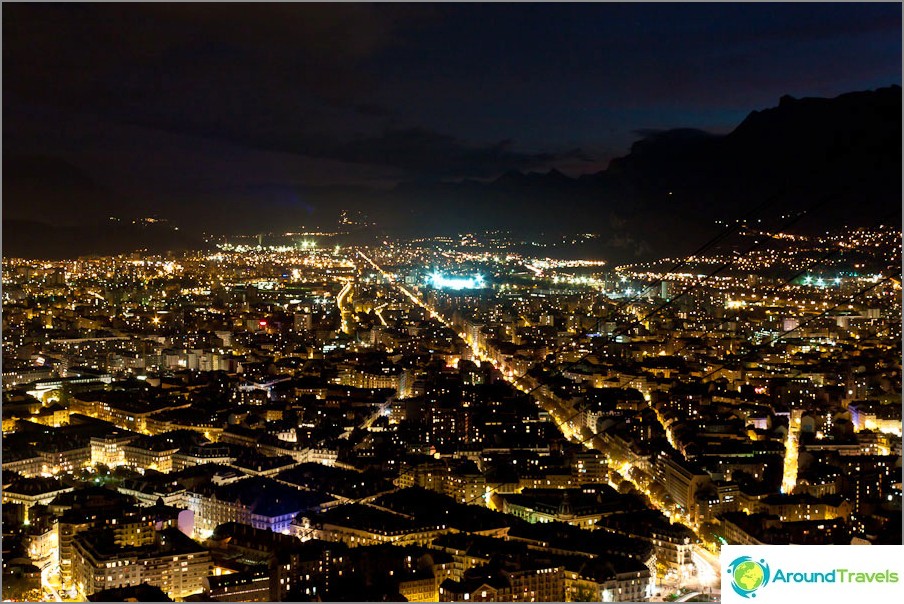 It was also fabulous to descend in pitchthe dark without a flashlight on the stairs, which sometimes disappeared somewhere, and for some reason began somewhere else. In general, the whole quest to go down. And here we have noticed how many people run around here! First up all the ladders and then down. Good training.
Well, and finally, some useful information on Teleferik (eggs, as you remember).
Ticket price
Adult one way 4.50 Euro
There-back 6.60 euros
One-way students EUR 3.50
5.05 euros back and forth
No more than 6 people go into one cabin. The funicular can be closed for 2-4 weeks in January for repairs.
At different times of the year, the mode of operation is slightly different for him, therefore it is better to recognize him in advance. You can do it here. http://www.bastille-grenoble.fr
Bastille on the map
They also asked me where the cave is. So here it is very close, if you look at the map (or if you stand in place with your back to Grenoble and face the fortress), then on your left hand. That is, you go around the fortress and literally walk a little. Then from the cave back you can return by an underground passage.
Here, just in case the coordinates of the cave - 45.201335,5.724091
Bastille Fortress in Grenoble
Bastille Fortress in Grenoble
An old fortress, from where magical views of Grenoble are revealed.
An old fortress, from where magical views of Grenoble are revealed.
Life hacking 1 - how to buy a good insurance

Choosing insurance is now unrealistically difficult, so to help all travelers, I compile a rating. To do this, I constantly monitor forums, study insurance contracts and use insurance by myself.

Life hacking 2 - how to find a hotel 20% cheaper

First, choose a hotel on Booking. They have a good offer base, but the prices are NOT the best! The same hotel can often be found 20% cheaper in other systems through the RoomGuru service.

Discount hotels