If you are going to Pai, then there is some information to simplify the trip to the first stage, where to live, how to get, what to see. My impressions of the town of Pai - Pai in Thailand.
And two articles about my bike trips around Pai - Pai and surroundings and Pam Bok Waterfallin which you can read more about the places where I was.
The content of the article
Rental accommodation in Pai
Accommodation in Pay is best sought through RoomGuru. You will see all the discounts on hotels at once in all reservation systems. Well, and only then you will book the standard on Bucking, Agoda or where else you will be offered. Prices can vary greatly, and often in the north of Tai it happens that the hotel is in one booking system, and in the other it is not. Strange, but true.
With accommodation in Pai, everything is standard for the north. The only thing is that there are a lot of bungalows here, and ordinary ones, when all the rooms are in the same building, seemed to me much smaller. Still, not a city, but rather a village-village. Housing prices are low. And a lot of budget housing, such as flimsy bamboo bungalows with holes in the walls and floor, which cost from 200 baht per day.
Houses are more reliable somewhere already from 400-500 bahtand higher. Those with air conditioning closer to 700 baht. Although the condo is not always needed, at night during the season it is usually an oak, and rather a warm blanket is needed rather than a condo. Good hotels somewhere 1000-2000 baht and, accordingly, higher. It depends on what you need and what comfort.
The first time I lived in a straw bungalow Twin hut no amenities and 350 baht. I decided to treshanut, and taste Baker life for a couple of days. I recommend to all romantics who also want to try something similar. There are several such bungalow hotels, just walk along the main street (Walking Street) to the river, cross it, and there one after another similar bungalows.
There is also a bungalow over the river, stronger and better. For example, Pai Country Hut or Phu View Guesthouse. The bungalows will already be wooden and neat.territory. In them, I also stopped once. The cost is somewhere between 500-700 baht per lodge. The hotel can also offer tea, coffee, bananas, under a common shed. With Wifi, as lucky, usually under a canopy or near the reception there is always. But there is always a mobile 3G, if that.
If you do not cross the river, and stay near the main street, then a good hotel Paifah Boutique House.
This is exactly the hotel, not the bungalow. Although the room is also partially wooden. Or, for example, Pai Country Home, it is already more hotel in more usual understanding. Both are right next to Walking Street, there are rooms for 800-1300 baht. Naturally, there is a variety of housing there, for every taste there.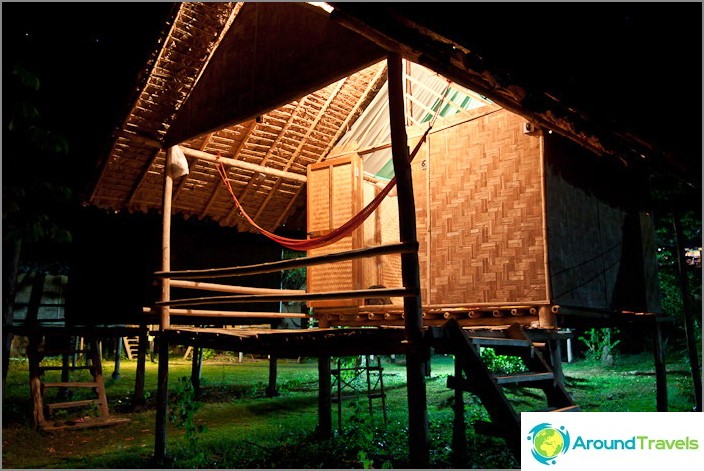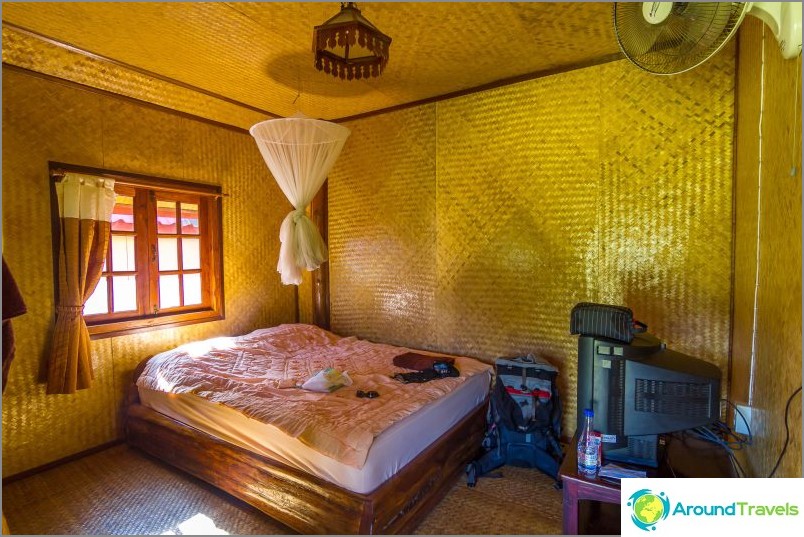 Bike rental in Pai
I rented a bike in Aya Service. Automatic costs from 100 baht per day. Plus, at the request of 40 baht, insurance against accidents, and plus 40 baht, again, if desired, insurance against theft. I took for 140 total with insurance. Deposit for helmet 100 baht. Instead of a passport, they said, a copy would come off, a cash deposit is not needed.
If you shoot a bike for the first time, then read all my thoughts and advice on this subject - scooter rental in Thailand.
Food in pae
The cost of food is approximately as in Chiang Mai and canto be a little more expensive, especially in cafes that are made specifically for foreigners, the place is tourist, and the choice is not to say that it's a huge one. Although it may have seemed, depending on where to go.
Pad Thai, or fried rice with vegetables / shrimps -30-40 baht purely in the Thai eatery, and in the cafe more civilized - 50-100 baht. As you can see, everything is pretty cheap. At Walking Street, which is open every evening, the prices are standard for scooters.
How to get to Pai and back
Minibas, minivans, andlokalbasy. The cost, respectively, 150, 150 and 72 baht. Travel time 3-4 hours. Lokalbas without air conditioning and rides longer. They go every hour, there are no problems leaving. Private minivans, for example, from the office that rents bikes go back from Paya. Tickets are usually bought up farang, and I could not go through them. So go straight to the bus station. Here I have more about this, including how to buy a ticket through the Internet.
What to watch in Pai
You can watch a lot of things here. Opposite the bus station, there is Information, where you can get a map of Pai and its surroundings, with some attractions. In this map, by the way, a place with bike rentals will be marked, it is just 5 minutes from the bus station.
There are several waterfalls, hot springs, points with mountain views. Most popular marked on the map. About less popular can be found in the agencies that offer trekking.
First of all, worth a visit Pai canyonAn interesting place in terms of nature and species. And a waterfall Pam bok waterfallthere is a very interesting stone canyon. Other waterfalls in Pai are fairly ordinary. As an option, visit the hot spring, the entrance fee is 200 baht per person.
Also popular is skating.elephants. Prices vary, sometimes 2 times, do not be lazy, ask around. You can independently drive to Elepfant Camp (elephant camp) and find out everything on the spot (on a bike for 10-15 minutes). There are several such camps, I found out the prices in four. We were called 300-600 baht, I agreed and ride.
If you do not drive independently, the costexcursions to Pai start from 300 baht per trip around Pai. But you need at least 4 people, or the price increases. As a rule, people are. Trekking in Pai costs about 700 baht per person per day.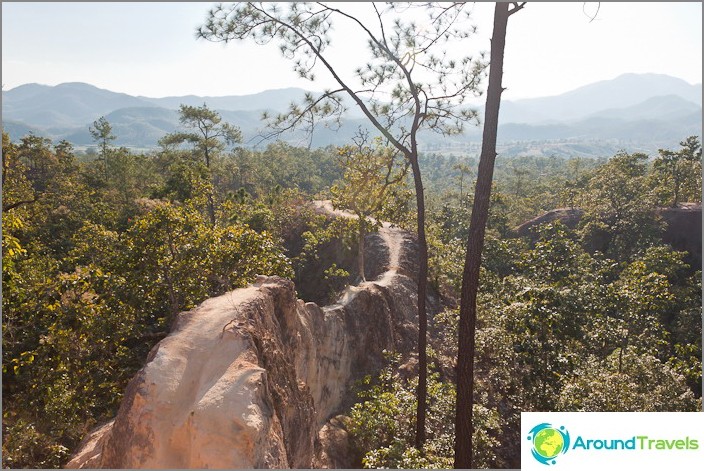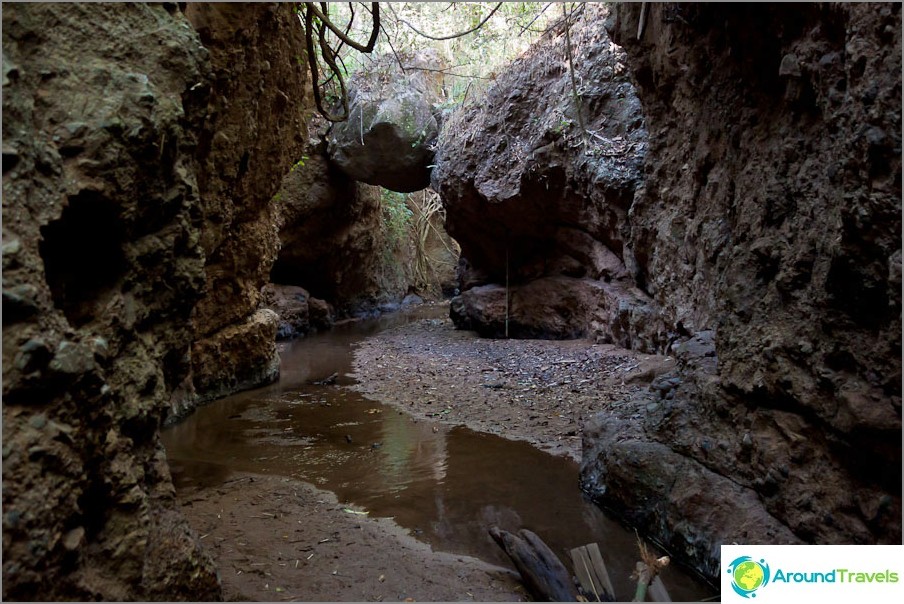 Map Pai
This card can not be printed, becauseit will be easy to get it in Pai itself, in the same bike rental, or opposite the bus station in Information. But you can save yourself on your smartphone. Maps are clickable.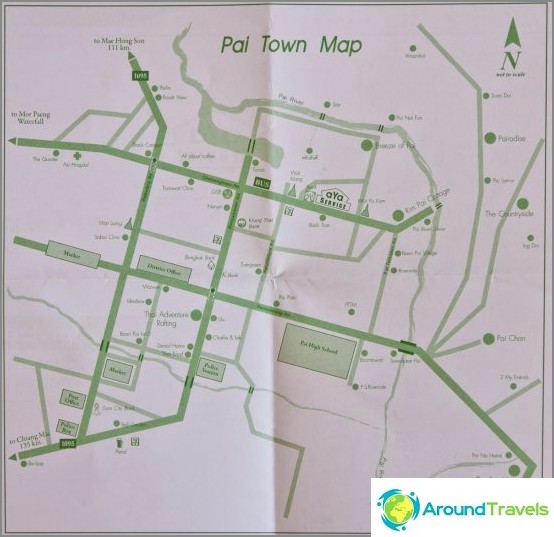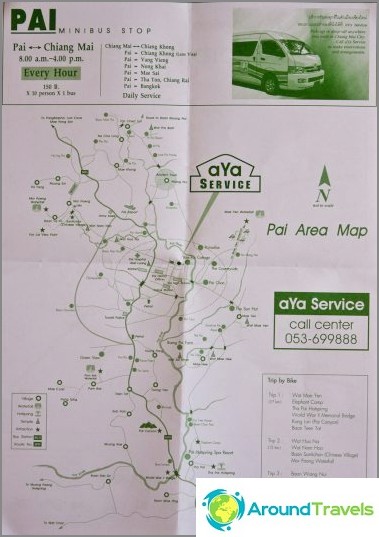 The points I have visited are marked. And in the village Pai tags, where there are bamboo bungalows and hotels.
Neighborhood Pai
Neighborhood Pai:


Life hacking 1 - how to buy a good insurance

Choosing insurance is now unrealistically difficult, so to help all travelers, I compile a rating. To do this, I constantly monitor forums, study insurance contracts and use insurance by myself.

Life hacking 2 - how to find a hotel 20% cheaper

First, choose a hotel on Booking. They have a good offer base, but the prices are NOT the best! The same hotel can often be found 20% cheaper in other systems through the RoomGuru service.

Discount hotels