Phangan made an amazing impression on meI did not expect that to happen. I thought it was an ordinary island, like Samui, Phuket or Koh Chang, but it turned out that it was not. It's all about the atmosphere and the contingent. Someone even draws a mystic here and talks about some kind of pink quartz, which is supposedly present in the rocks of Pangan and works like a huge magnet of love. And in my opinion, the whole thing is in the people who live here or come for a short time. I have never seen such an abundance of non-formals of various trends anywhere: yogis, syroedov, spiritual practitioners, shamans, meditators, travokurov, griboedov, freelancers, various coaches and so on.
The content of the article
Preparing for the trip
Description of the resort and why go to Phangan
Here once a month (full moon) is heldthe famous Full Moon Party, where young people come from all over the world to indulge in a hard time. And then families with children quietly spend the winter, and even package tourists come for a couple of weeks for a beach holiday. How do they all get along together? For me, this is a mystery. Introvert is hard enough to make new acquaintances and look for friends, especially when you're over 30. But for me, Phangan was an exception. Enough to get into one of the parties, and then you will spontaneously meet with different people, flowing from company to company.
You can easily adjust the degreeinvolvement in a particular party, starting with a complete immersion into the rhythm of the party-goer life, ending with not hearing anything about it at all. You can drink beer today, looking at the sunset in the Amsterdam bar, and the next morning do yoga in one of the centers or with friends and acquaintances. I had a feeling that everyone here knew everyone else, although it was not. It's just that many people are open for communication and there is no problem for them to just sit down at a table with strangers in some cafe and start a conversation.
I have not had such amount for a long time.thematic communication. I will not say that I belong to any of the trends, but nonetheless I am interested to talk about yoga and meditation, about blogging and remote business, about life experience and traveling. Phangan is relaxing. I laid a whole week on his visit, stayed two and still it turned out to be catastrophically low. It is difficult to understand Phangan in such a short time. Although you can completely and not mystify this island and refers to it as a normal youth resort.
Phangan is an amazing island. I perfectly understand those who came here for a short while, and were stuck for several years. I do not know if I managed to understand him in a couple of weeks, but, as they say, everyone will have their own Phangan. My Phangan are friends, techno parties, not Thai food at all, sports, wind in the face, and some special atmosphere. For 6 years, I relaxed and rested here for the first time. Phangan me, you can say, just made it do it. And it's great, because I myself do not know how, the habit of working without days off. Now this island will stand alone in my personal rating of resorts, where it's worth going not so much for the beaches, but because of nature, atmosphere and people.
Which beach to choose
Implied - which beach on Phangan is worth youprefer the rest to stay. Unlike Koh Samui, where I recommend first deciding on whether you will have a rental vehicle or not, it is important to understand something else from Phangan - why are you coming here? You will have a family-beach holiday, or you are by nature a vagabond party traveler without children and anchors, or - you are driving away from civilization. Just the beaches of Phangan, in my opinion, are divided into three main parts: east, south and west.
Imagine a Mercedes badge? Impose it mentally on the map of Phangan and get three parts. The left one (west and northwest) is considered the most resort oriented on a classic tourist, with children, suitcases, cameras and money. From Tong Sala to Chaloklam there are beautiful, easily accessible beaches with good infrastructure, roads and a choice of housing on the coast. This is an option for those traveling to rest on the classics. The main beaches are Shritan, Haad Son, Haad Yao, Haad Salad, Mae Had and Malibu.
The lower part of Phangan (south) is not the samebeautiful, but very long beaches, also from Tong Saly, to Haad Rin itself. There are many resorts and cheap housing, good infrastructure, a lot of large stores and fairly dense traffic. The bulk of parties are concentrated in this part of the island, and therefore the south attracts young people and those who come to Full Moon Party. This is an option for those who are coming off or not willing to spend money on hotels, since the plans are only to explore the island and no obligations. The main beaches are Thong Sala, Ban Tai and Haad Rin.
Overview of all the beaches in Phangan>
The right side of Phangan (east and northeast) -This is a wild region, where a large road is laid in the center of the island, but from it to the coast lead difficult and confusing primer, which you will not ride every day. To the four main beaches of the east, you can drive relatively quietly, but all the rest is a lost paradise, where people leave on purpose to forget about other people. This option is for hermits who do not need expensive hotels (although there are such ones) or a rented scooter. Beaches: Bottle Beach, Tong Nai Pan Yai and Tong Nai Pan Noi and Haad Yuan.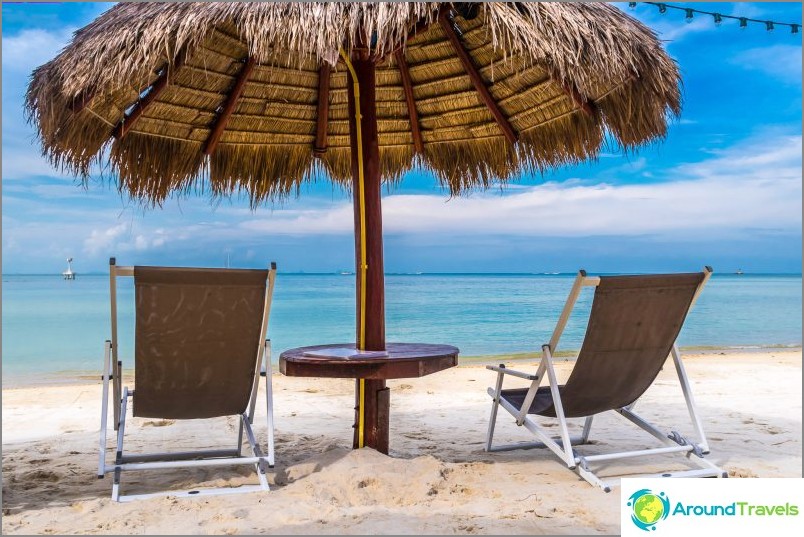 How to choose a hotel or house
With housing on Phangan, if we are talking about hotels inTheir classic understanding is pretty bad. Most of the housing is bungalows with old-fashioned houses. I stayed in many hotels and faced with the fact that there are really a lot of old buildings, although in the photos in the booking system everything looks great (most likely the pictures are 100 years old). At the same time, the price for stale numbers remains the same; no discounts are given. Brought for myself such a formula - you need about 1500-2000 baht per day, so that the hotel was more or less normal. If you pay a little more, it actually does not affect the quality of housing. Well, maybe the territory will be better, or the location of the hotel. Yes, it is, of course, about the season and the peak season, in the summer prices fall by 2 times.
By the way, yes, the location is pretty strong onpricing affects. If the bungalow is a beachfront, then about 1,500 baht can be given for the straw with slots in the walls. In general, if it is necessary directly, so that there is absolutely a "luxury" class, then these are already completely different prices, somewhere closer to 5,000 baht. For example, on Samui the choice is much wider and in general housing is better, and there are a lot of hotels, and not bungalows. In fact, I don't mind bungalows, but it's good to live in a separate house, but, as a rule, their condition is worse than if it were a single hotel building. Probably because it is easier to follow precisely for a large building.
Winterers and longsters who want to shoot at homeMonthly, usually move to Shritana area or near (west of the island), and on the road from Thong Sala to Chaloklam and in Chaloklam itself (north of the island) For me, so these 2 areas are best suited for longer stays and there most of the houses for rent. And I would personally choose Shritan. Just in case, you can not look for apartments on Phangan, they are not there.
If you are traveling to Thailand for the first time, thenI recommend to book a house or apartment in advance. This is done only through a realtor. Yes, they are not engaged in the cheapest housing and take a commission, but this allows you to avoid unnecessary trouble in an unfamiliar country. Believe me, independent searches on the site is a difficult task and it is not worth it. You're going to rest.
Send me a request, advise a trusted realtor, whom I myself trust. And then in recent times a lot has become a scam.
Send request>
How to get to Phangan
Phangan is 700 km from Bangkok and 350 kmfrom Phuket. There are no direct flights from Russia to Koh Phangan, since there is no airport on it. To get to Phangan is possible only by sea. The nearest airport to Phangan is located on the neighboring island - Koh Samui. Samui Airport - private, and it takes airplanes of only certain companies that break double - triple price, compared to the prices of low-cost airlines.
My opinion: try to immediately buy a single ticket Moscow-Samui, it will be with a transfer, but usually it is totally cheaper than buying several separate tickets. And certainly everything will be faster and more comfortable, especially with children (more about such flights). Search for such flights better traditionally on Aviasales, look immediately to Samui!
If you first buy a ticket to Bangkok orPhuket, then take a second ticket from Bangkok Airways (about 3,500 baht), then in an hour you will be in Samui. From the airport on Samui you will be transported to the catamaran on the pier in Bang Rai in five minutes, and in another half an hour you will be in Pangan Haad Rin.
The average option for money and comfort - flightfrom Bangkok on the low-cost airport to the mainland airports closest to the island (Surat Thani and Nakhon Titammarat), transfer to the bus, then transfer to the ferry that goes to Samui and Phangan. When buying such tickets (about 1,500 baht), you need to immediately take a ticket to the end point - Phangan, which includes a bus ticket and a ferry ticket. Everywhere they will take the hand, they will take it to the company minibus, then they will put it on the ferry, you won't get lost.
If you are traveling in economy mode, then your option is "bus + ferry" or "train + bus + ferry".
My detailed instructions read here: How to get to Phangan from Bangkok and How to get from Phuket to Samui (not Phangan, but the meaning is the same).
Climate and weather in Phangan
The weather on Phangan is very similar to the weather of Samui and,in general, significantly different from the weather reports for the mainland province of Surat Thani. A common phenomenon, when a joyful tourist is a complete surprise, excessive rainy in November and December. People come to be in the sun on New Year's holidays, and receive heavy rain and flooding. Keep in mind that due to global warming, the weather has shifted not only in Russia, but throughout the world, so it may well turn out that the below described signs will not fall on any item at all.
At the peak of winter rains, air temperaturedrops to 23 degrees, and in the heat may be 34 in the shade - all figures are averaged. The hottest months on Phangan are from February to April, the most rainy are from November to January. In the summer, monsoon rains (which reach Phangan only in autumn) take place throughout Thailand, and the weather on the island is a clear sky and short mushroom rains several times a day. At the end of September and in October, Phangan is not particularly happy with good weather, November is the peak of rainfall, and December is a gradual improvement in the weather.
In the winter months, almost all the beaches of Phangan (evenWestern, for all their shallow water) have unpleasant waves and mud every morning around the beach. Livni is washed away from the islands of all kinds of floating stuff, and after the storm all this garbage is on the sand. There is so little pleasant, but even such conditions are better than the Russian winter. And after - my advice: fly in March or summer. March is the golden month on Phangan, and in summer the season drops to zero, people go to explore Turkey and Egypt, and Thai beaches are empty. Prices are falling, sellers and landlords are becoming more compliant - beauty.
Upon arrival on the island
How to get to your hotel
If you do not plan to rent a bike immediatelyarrival (be careful of divorce), then a taxi and boat on Phangan they rule. Unfortunately, everything is generally bad with route transport, so I highly recommend thinking about a bike or a rented car if you don't want to get involved with bikes. Cars can be taken on the mainland at any of the airports, for example, on Samui and then cross over to Panagan. Even in Bangkok, you can take a car upon arrival and get to the island by yourself, see the sights along the way, then move along Pangan and then return to Bangkok (or drop off at the airport on Samui, on the mainland in Surathani or Nakhon Simmarta, then fly away by plane ). Instructions on how to rent a car.
Discounted car rental>
Public songteos walk mostly in the southparts of the island from Tong Saly to Haad Rin (you can stop right on the road), sometimes go west to Shritan and Haad Salad, in the north they are practically not visible at all, but in principle they do not go to the wild roadless east. Usually they always stand near the two main pangs of Phangan: Tong Saly and Haad Rin. When you arrive, you will see how people are immediately packed in them. In this case, the price will be about 50 baht.
If you freeze an empty songteo, it canturn into a taxi and take you anywhere, but the price will be appropriate. For example, from Tong Sahl to Haad Rin there will be about 400 baht, from Tong Sahl to Amsterdam the bar 200 baht. Plus a minus, how will you bargain, although they are not very inclined to lower prices. But at night there is simply no other transport, only such expensive transportation.
As an option, if you go to a normal hotel, thenhe will offer a transfer service, you can take. And so back. The price depends on the hotel, but I do not think it will be very different from the cost of a taxi. Also, taxi transfers may be from local expats, illegal immigrants. You can get to this or that beach by boat - a taxi-boat, but this is quite expensive.
What to see from the sights
As I wrote at the beginning of the article -attractions on Phangan one-two and obchelsya. A large tree, an old temple, a large waterfall and a national park with a viewpoint are all the main places of interest. Well, there are all sorts of religious bars and places. It seems to me that I had more or less time to understand the tourist part and the rave one. The only thing is that I couldn't persuade myself to go to Full Moon Party, because everything is pretty tresive there, although it would be necessary. But he visited other parties, such as Sansara and Geis bar.
Phangan took my slates, sunglasses, a littleI didn't pick up the phone (I fell out while riding a bike), the dog gnawed on my completely new trekking sandals, but gave me more in return. Despite the work, I was finally able to relax, for the first time, probably in 6 years, I was just resting for a few days. If you want to know about all this a little more detailed, then read my post with a list of attractions, where I brought the main places of interest of the island. Temples, waterfalls, observation platforms, recreational attractions and parties - all in one place, only the best.
Where to eat, in which cafes
Phangan - the island of cafes for all tastes. Party Lighthose, Eden and Guy's Bar on the border of civilization, rastaman Koh Raham, Top Rock and AmstArdam Bar. Purely relaxed Bar Three Sixty, Orion Wellness Cafe and The Dome sauna, Vegan Akashi and Israeli Taboon. In addition to the thematic establishments, there are ordinary cafeterias where you can get good coffee and dessert: cozy, tasty and cheap: Doppia, Dot's, Nira Bakery, Sweet Shell Caffee.
In many cafes and bars playing dynamic music. You get used to it and then it starts to be missed. Who would not say, but even if you do not consider the island tusov, it will still be the feeling that there is a party somewhere here, it is difficult not to notice. In more detail about all the listed institutions and even some of those not included in this post, read the article.
On-site transport
Came to Samui after Phangan - what is herea terrible movement, you will not leave the yard at once, you have to wait, bikes and cars are driving in a continuous stream. But the roads are better, the ring road is so generally even without such joints and potholes. On Phangan there is much more, that this is an island, that this is a tropics, nature is more. The district of Chaweng-Lamai is generally like a city. Something like Phangan is only Thong Sala, and then, it is several times smaller. On Phangan, the distance is less between points and there are no traffic jams.
People mostly move on rentedbikes, because on the songteo and taxis you just won't get enough money. There is a problem with a divorce for repairs (when you are charged an overpriced price for repairing damages, and sometimes they are not yours), but you can always resolve this issue by renting a scooter on Samui on more adequate terms and without a passport pledge. On Phangan, you still have to run and search for the rental that does not want to keep your passport. There are no large world rents, which have excellent state of technology and insurance - I did not find it in Phangan.
Rent a bike on Phangan and divorces>
Map of Phangan
Map of Phangan
Map of Phangan:


Life hacking 1 - how to buy a good insurance

Choosing insurance is now unrealistically difficult, so to help all travelers, I compile a rating. To do this, I constantly monitor forums, study insurance contracts and use insurance by myself.

Life hacking 2 - how to find a hotel 20% cheaper

First, choose a hotel on Booking. They have a good offer base, but the prices are NOT the best! The same hotel can often be found 20% cheaper in other systems through the RoomGuru service.

Discount hotels