First of all, you need to know that Krabi is not one island, but a whole province on the mainland with stunning sheer cliffs and a bunch of small islands. Krabi is located near Phuket.
All tourists and wintering camps stop inthe small town of Ao Nang (the beaches of Ao Nang and Nopparat Thara), which is located right on the coast. The place is known for serving as a transit point for those who go to the Railay peninsula, whose beaches are included in the tops of the most beautiful beaches on the planet.
The content of the article
Preparing for the trip
Description of the resort and why go to Krabi
Why does a lot of people come here? Because there are stunning cliffs everywhere! Almost like in the movie Avatar. The whole province is "watered" by them. And the disadvantages of the beaches in the village of Ao Nang can be compensated by the peninsula Raleigh and its beautiful beaches (swim from Aonang 10 minutes), as well as several islands, where beaches are also in order (swim 30-40 minutes).
As I said at the very beginning, everyone who goes toKrabi, stop in the village of Ao Nang. And here it is not bounty at all here, if we talk about beaches. Well, in my opinion. But the sunsets are very beautiful! It is necessary to understand that opinions about beaches are rather subjective, since everyone perceives them differently, and maybe someone will disagree with me.
The fact is that, firstly, visually the beaches in AoNang look so-so compared to the same Samui or Phuket, and, secondly, the daily ebb and flow are very important. You can come to buy, but there is no sea. Absolutely not. It took about 200 meters from the shore and the task was not trivial to reach the water. You also need to understand that here even at high tide it is relatively shallow - up the neck or a little deeper (although you can just swim). It is necessary to track the ebb and flow of the table from the Internet and come at a certain time, more in my post. On the other hand, shallow water is good for children, so it is often with children who come here.
So, if you lack in lifenature and beauty, but the sea and the beach are not so important (or you are ready to swim on Railay every day), then you are here. I must also say that there are generally fewer people here than on Phuket, even at the peak of the season, I know that this is important for some. Or, if you have a short vacation of 1-2 weeks, but you are ready to move from place to place, then you can come to Ao Nang and Reilly for at least a few days, and then return to Phuket.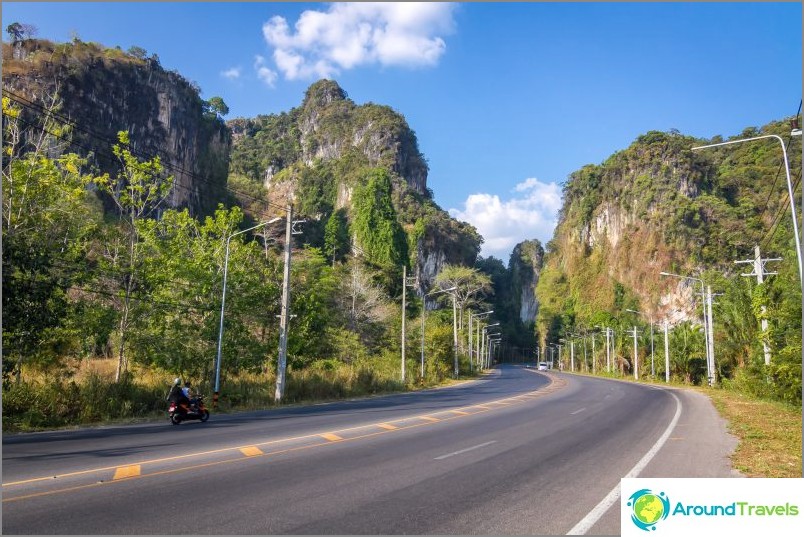 Which beach to choose
In fact, you have practically no choice, as there are few beaches and they look like each other. Arriving in Aonang, you will live in a hotel, or about Aonang beachor about Noparat Tara beachthey are adjacent to each other. The most central place is, of course, Ao Nang Beach, and the closer to the shore, the more hustle and bustle. But I would not say that there are a lot of people right there, if compared with Phuket, the village is still small. There is less civilization on Noparat Tara, but there is one too.
And if, on the contrary, you want to get away from everyone,it makes sense to consider Klong Muang beach (it is on the side and from Ao Nang to him to go 20-30 minutes) or Railay peninsula with its beaches. Only on the ground you will almost always be out of crowds, then on Rails only early in the morning and in the evening, because in the afternoon a lot of boats with tourists sail there.
Overview of all beaches in Aonang and Krabi>
About Reilly needs to be said separately. This is a peninsula with 4 beaches, 2 of which are considered very beautiful. Although this is a peninsula, you can only get to Riley by boat, about 10 minutes to sail. In principle, you can live in Aonang and swim on Railay every day for beauty and a good beach, but not everyone who comes on vacation will like this scheme. Therefore, you can initially book a hotel on Railay and go live there.
However, it is worth considering that there besides a number of cafes,several hotels, a couple of caves, a viewing platform and kayaks, no more entertainment. Perhaps it is worth going there for a few days, to taste all the delights of wildlife and recreation, and the rest of the time to live in Aonang. See for yourself. But as I said, you will only see wildlife in the season early in the morning and closer to sunset. Details about peninsula railey read in my post.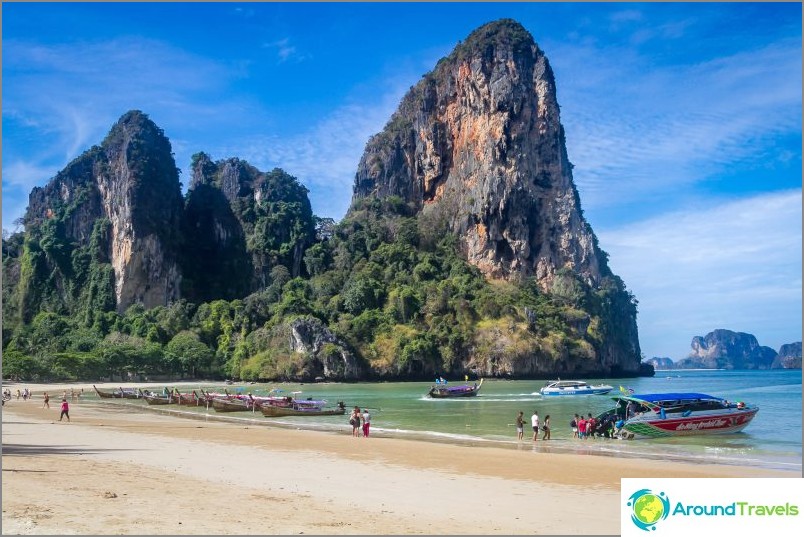 How to choose a hotel or house
The main resort in Krabi is Ao Nang. Therefore, I would recommend it to most tourists to stay in Ao Nang. There are hotels of any choice, from budget to expensive resorts, and the largest amount of the necessary infrastructure. Stands alone great hotel centara with its own private beach, accessible from Ao Nang, or on foot along a mountain path in 15 minutes, or by boat. This is if you want to separate a little.
You can also book a hotel in the areabetween the beaches of Ao Nang and Noparat Tara. The beaches themselves are separated by a small mountain, but it does not interfere with the movement, since the road along the sea goes almost without differences. And here on this site (near this mountain) there is a street extending from the sea perpendicular inland, there are many inexpensive and good hotels on it, I myself lived there. Very close to the main and a bit noisy Ao Nang street, but it is not felt.
My selection of the best hotels in Krabi>
Winterers and those who come for a period of 1-2of the month, I would initially advise considering only Aonang for living (Noparathara is also possible, but there are fewer options). In Ao Nang there is a Tesco supermarket of medium size and, more recently, Makro, and if you need major shopping centers, you can go to Krabi Town, it is 30 km away. But the most important thing is that it is in this area that the largest choice of housing is on a monthly basis (my catalog of houses).
Unfortunately, on the first, second and even thirdline, house or apartment you will not remove, there are only hotels. The nearest complexes of houses are 15-20 minutes on foot, but closer to the New Year, everything is already there, especially in the budget range. But if the distance does not matter to you (will shoot a bike), the number of options expands significantly, because on the outskirts of Aonang most of the wintering workers live.
If you are traveling to Thailand for the first time, thenI recommend to book a house or apartment in advance. This is done only through a realtor. Yes, they are not engaged in the cheapest housing and take a commission, but this allows you to avoid unnecessary trouble in an unfamiliar country. Believe me, independent searches on the site is a difficult task and it is not worth it. You're going to rest.
Send me a request, advise a trusted realtor, whom I myself trust. And then in recent times a lot has become a scam.
Send request>
How to get to Krabi
Krabi is located near Phuket, 2.5-3 hours by minibus. Actually, this is one of the options to get to Krabi. Transfer minibus can be taken upon arrival, but it will take time. Therefore, it is better to pre-order a transfer online via Kiwitaxi, then you will immediately be waited at the exit from the arrival hall with a sign. Transfer to Krabi costs about 3,000 baht per car, regardless of where to get it.
Alternatively, fly to Phuket airport and takecar rental. Again, it is better to do this in advance, as the season of the car is snapped up. Book better through a proven Economybookings, because through it is cheaper. But renting a car rather makes sense in order not only to get to Krabi, but also to drive around the neighborhood. You can return it, either at Krabi airport, or returning back to Phuket on it at the end of the holiday, thus saving on transfers.
Transfer from Phuket to Ao Nang>
Car rental discount>
Krabi has its own airport, which is located near Krabi Town, and where you can fly from Bangkok or Phuket. I have a detailed post, how to get from bangkok to krabiread, there are all ways, including bus and train. Also at this airport you can fly from other countries, but there are no direct flights from Russia, all with a transfer (look traditionally at Aviasales).
Therefore, if your task is to get from Russia toKrabi, then you need to, or look for flights with a transfer Russia-Krabi, or first fly to Phuket or Bangkok on one ticket, and then get from them to Krabi (by land or again by plane). But the plane is justified only if you follow from Bankgok, then you get a decent time to save. And from Phuket will be faster to get a transfer by land. There is a short ride. But decide for yourself how you prefer.
Climate and weather in Krabi
Krabi is the southern province of Thailand, so the climate here is almost year-round hot and humid. On average, the air temperature always lasts a little above 30 ° C in the daytime, and 23-26 ° C at night.
The best months for a holiday in Krabi: December, January and February. They are the coolest and with a minimum of rain. The only minus is a lot of tourists, housing is being sorted out and prices are higher. In March, the tourist season ends, it is still clear and sunny, but the air temperature is rising.
In the spring begins the hot season, when the temperaturerises to 36 ° C and increases humidity along with the chance of rain. There are already fewer tourists, but such a weather is quite difficult for a European, not for everyone. Water from the spring warms up very much. Again, not everyone likes to swim in water at a temperature of 30C, it is not refreshing.
The low season and the rainy season begin in summer. Rains in the form of strong and fast tropical storms do not interfere very much, but there are often big waves on the sea, it becomes dirty and it is not very pleasant to swim. But there are few tourists and although some of the establishments are closed, in the rest in the low season there are discounts and you can relax in silence and solitude, there are no crowds on the streets and on the beach.
In autumn, the temperature gradually decreases, and the weather is increasingly clear. By the end of autumn, the high tourist season begins again.
Upon arrival at the resort
How to get to your hotel
If you arrive by transfer from Phuket by land, you will not have this question, you will be taken directly to the hotel. And, if you first arrive at Krabi airport, you will need to get to the hotel somehow.
From the airport to Ao Nang can be reached bybus for 150 baht or taxi for 600 baht. The bus travels for about an hour, as it calls at Krabi Town and it does not go fast, and a taxi takes 20-30 minutes. Bus schedules are more or less tailored for flights, but you still have to wait. Taxis can also be taken at any time and leave immediately. Read more about how to get.
Also, you can order a transfer via the Internet.from Kiwitaxi, this is convenient. You will be met with a sign at the airport, will take luggage and will be taken immediately to the hotel. That is a minimum of communication on the spot upon arrival and the resolution of any issues. I have traveled several times through them and wrote your feedback.
Airport Transfers to Ao Nang>
You can also take a transfer from your hotel when making a reservation, if it provides such a service. But this is a matter of taste, of course, hotel transfer is usually the most expensive.
What to see from the sights
Since Krabi is located on the coast, beforeIn total, many are interested in various sea excursions. You can alone or as part of a group to swim on the Raleigh peninsula, the beaches of which, as I said, are included in the tops of the beaches. It will take one day. Another 1-2 days can be spent on trips to the surrounding islands, also for the sake of beaches, swimming and snorkeling. Even the well-known island of Phi Phi can be sailed from here, but I would recommend going there with an overnight stop.
In Ao Nang itself attractionsa bit and they are quite ordinary, so it makes sense to visit a little more distant places. Where can you go from Ao Nang? First you need to climb to Tiger Temple (Wat Tham Seua), offering stunning views of the entire province, and swim in Emerald pool (Emerald Pool). Then you can visit hot thermal springs (Prutiew Hot Springs) and nat. Park Than Bokoranee National Park, walk along the walkways through the mangroves.
What to see in Krabi and Ao Nang>
The main excursions are reduced to visiting the naturalbeauty on the mainland (some of them I have already listed above), as well as various sea excursions, starting with small islands, where you can swim and snorkel, ending with the resort of Phi Phi, where you can stay overnight.
Where to eat, in which cafes
In Ao Nang, as it is a developed resort, there are manycafe, and with local Thai cuisine, and with various European - pizza, pasta, even Scandinavian dishes can be found. An interesting feature - quite a lot of Indian cafes and even Arabic cuisine can be found. That is, for almost every taste.
There are several places with seafood, they are mostly onseafront, directly overlooking the sea. Seafood Street, Seafood Street, is located in that part of Ao Nang Beach, which adjoins the hill that separates it from Nopparat Thara Beach, next to Krabi Resort Hotel. Seafood Street consists of five large openand indoor cafes with buffet. Sala Bua is one of the best seafood restaurants here. All seafood cafes on the waterfront are great for a romantic dinner at sunset, and in the evenings here all the tables are usually busy.
Quite expensive, but very atmospheric restaurant - Lae lay grill. Near it is no less famous The Hilltop Ao Nang, but the first is better
Lae Lay Grill is located on a green hill aboveby sea and from here a wonderful view opens up, especially during sunset. Good place for a romantic dinner. Tables are located under the open sky and on the terrace. This restaurant is often advised to celebrate any holidays.
Many café bars with cocktails likealcoholic and without. If you walk along Ao Nang beach to the left (if facing the sea), then almost at the end of the beach you can see straw bower with massage tables, and then there will be several beach cafes and bars with tables right on the sand. The Last Cafe is one of those places with a pleasant atmosphere. Under unobtrusive music you can see the sunset here, in the evening numerous lanterns and candles are lit. You can order simple dishes such as fried rice in pineapple, a large selection of cocktails, beer, ice cream.
Another interesting thing is a cafe with steaks andAo Nang's special feature is halal. Since there are many Muslims in the south of Thailand, halal food is common here. For example, a good, though not cheap, place with steaks is Carnivore Steak and Grill. And if you want a democratic and with color, then this is Burger Bung - halal burger with a large selection and the prices are very nice.
There are pretty European and quite Ao Nangon the quality of coffee and pastry. True, tourist-designed cafes and restaurants are quite expensive, especially in comparison with local food. If you want European food and more, on the main street, where McDonalds and Starbucks (yes, they are also present here), there is a cafe with a buffet where you can build a usual European dinner or try Indian cuisine. In the Taj Palace it will cost only $ 10-15 and the reviews about this place are good.
And if more pulls on Thai food, then alongthe same street that runs perpendicular to the sea, there are several cafes with tables under a thatched roof, where there is both local cuisine and some dishes adapted for tourists and prices are reasonable. Good cafe with Thai dishes - Tonsai and Thailandia. Prices and choice here are encouraging.
For fans of fast food on the same street, you can see signs familiar to everyone and almost relatives: McDonalds, Subway, Pizza Company, Starbucks. There is even a burger king in Ao Nang.
On-site transport
In the surroundings you can ride a small tuk-tuk (taxi) or buy a transfer, if the long distance. On foot from Ao Nang you can walk along the monkey trail to the next Pai Long Beachwhere the hotel is located Centar, and you can in anotherNopparat Tara beach and along it until the river flows into the sea, from where the boats depart. But on foot from Ao Nang there is quite a distance to go, on a tuk-tuk this distance is covered in about 15 minutes.
So it's better to rent in Krabiany transport, the easiest is the bike. Or a car, especially if you have several people, have a child or you are going to drive around the neighborhood. I will immediately say a recommendation about the car - you have to take it from international distributors in world names so as not to have problems. And take it through the Economybookings, which gives prices 2 times lower than on the official websites of companies. I myself do this all the time. More details in my instructions.
Also as a taxi to the nearest islands andLongtails - long-tailed boats go to the beaches in Krabi. They connect difficult beaches with each other. Boats depart from the pier in Krabi Town, in Ao Nammao and in Ao Nang. From Ao Nammao boats go to East Raleigh Beach, from Ao Nang to Tonsai and West Raleigh. From Ao Nang, Noparat Tara and Klong Muang you can swim to the island of Hong, Chicken and others. Just in case, Hong is cheaper to swim with Klong Muang or even with Tube Kaek, as it already becomes much closer on water.
Krabi Map
Krabi Map
Krabi Map:
P.S. Ask questions, add, if something is missing. And leave your feedback about your holiday in Krabi, whether you like it or not
Life hacking 1 - how to buy a good insurance
Choosing insurance is now unrealistically difficult, so to help all travelers, I compile a rating. To do this, I constantly monitor forums, study insurance contracts and use insurance by myself.
Life hacking 2 - how to find a hotel 20% cheaper
First, choose a hotel on Booking. They have a good offer base, but the prices are NOT the best! The same hotel can often be found 20% cheaper in other systems through the RoomGuru service.
Discount hotels