Haad Yao Beach (Haad Yao) has a simple relief, without bends. It stretches for about 700 meters between the beaches. Sri thanu (To Sithana, not Shritana) and Haad Salad.
The beach is isolated and with its littleinfrastructure. The whole beach can be walked along the coast from edge to edge in about ten minutes, and on a scooter along the road, the whole area can slip through even faster. The entire first line is occupied by bungalows, and I must say that, according to my observations, this area is a popular place among Russians, Russian speech is often heard here.
The content of the article
Beach description
Haad Yao Beach is a secluded, beautiful, quiet place on Phangan. If you decide to live here for some time, it is better to have a sideways transport.
Although, so if you think about it, this advice is relevantin general, for all areas of Phangan, provided that you do not intend to sit on the beach all your free time without a glare. But if you are going, then on Haad Yao it is in principle possible. Good sandy beach, everything you need to eat and drown here.
Sunset, depth and waves
To my satisfaction, it turned out that Haad Yao iswhite sand beach. Whatever the enthusiastic vacationers say, the beaches of Phangan do not suffer from an excess of white coral sand - the geography is not the same, unfortunately. But the glory of the Buddha - come across some beaches, where the color is as close to white as possible.
In the pictures I have wet sand, so hecolor renders yellow. As on the whole island, the tide of Haad Yao becomes narrower; it is inconvenient when you walk along the beach, and the coastal cafes set their tables right on the sand. Sometimes you have to go around chewing people right on the sea, knee-deep in water.
Tides play an important role in the appearance of the beachand ebb, and in the cupability, too. The bottom is even, flat, without surprises. When the water goes away - there will be wet sand with shells and walks under the sun. When the water comes - there will be a depth of five meters from the shore and full bathing. On the other hand, if you come to Koh Phangan with children, then just for them such a beach would be perfect.
Sun beds and shade
As you can imagine, on the west coastany island of the planet, the shadow is only until noon, until the sun reaches the zenith. Haad Yao is no exception. Shadows here are more than enough: casuarines and palm trees are mixed together, although invisible boundaries of resorts will have to be observed.
Despite the fact that all the beaches belongthe royal family and the passage should be free anywhere in the kingdom, Thais prefer not to remember this law and may ask you to leave or pay for a stay on the beach in front of their establishment. So it is preferable to throw your belongings under trees in neutral territory. If all trump seats are occupied, then you can sit in a cafe.
Sun beds on Had Yao, I did not notice.
Beach photo
Near Sea Through and Ibiza Bungalows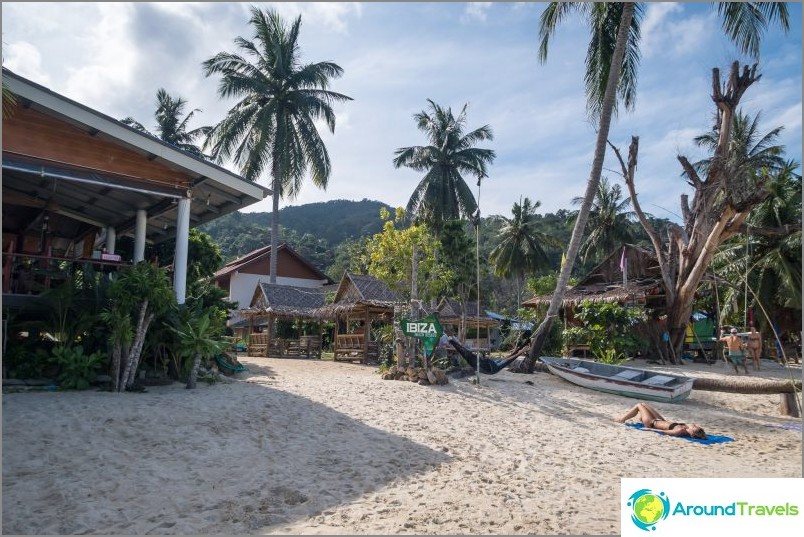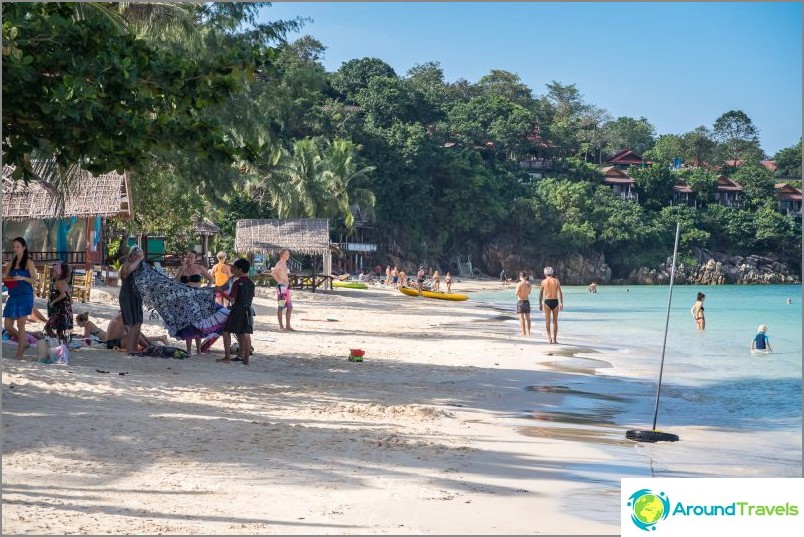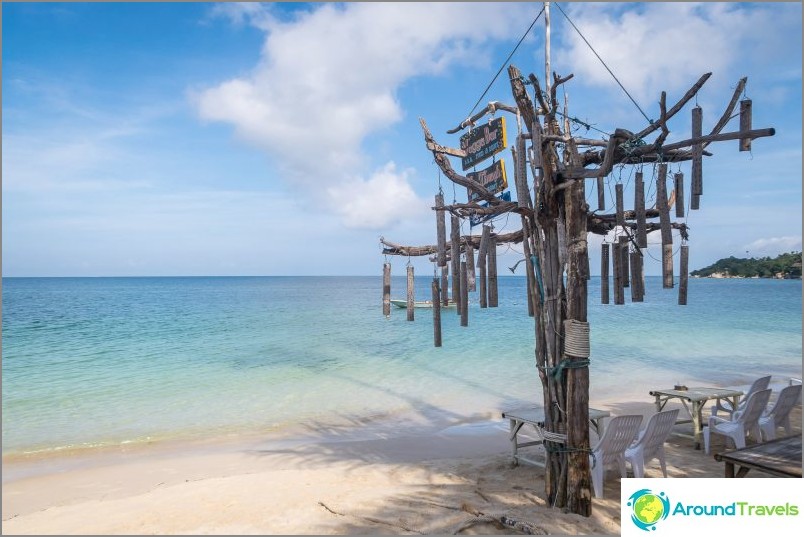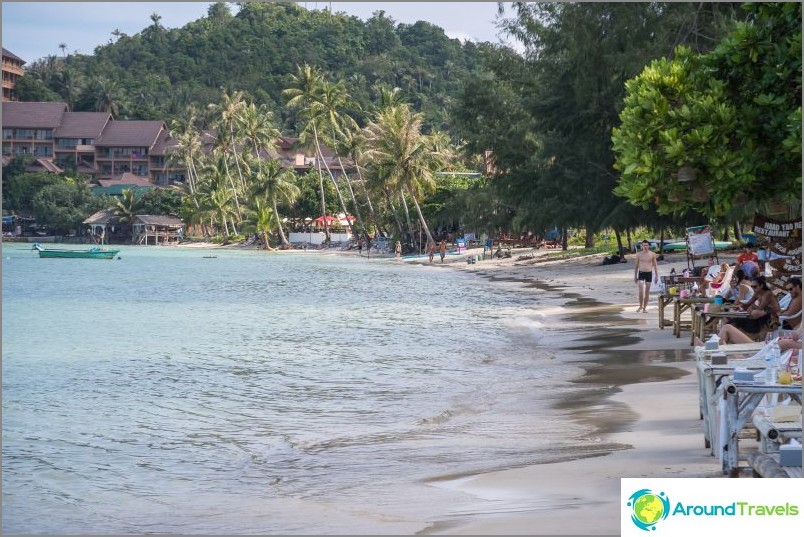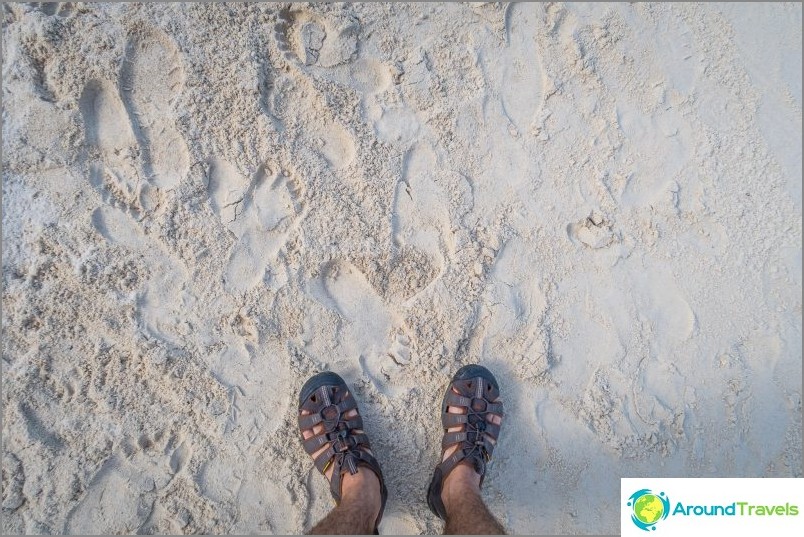 Closer to Haad Yao Bayview Resort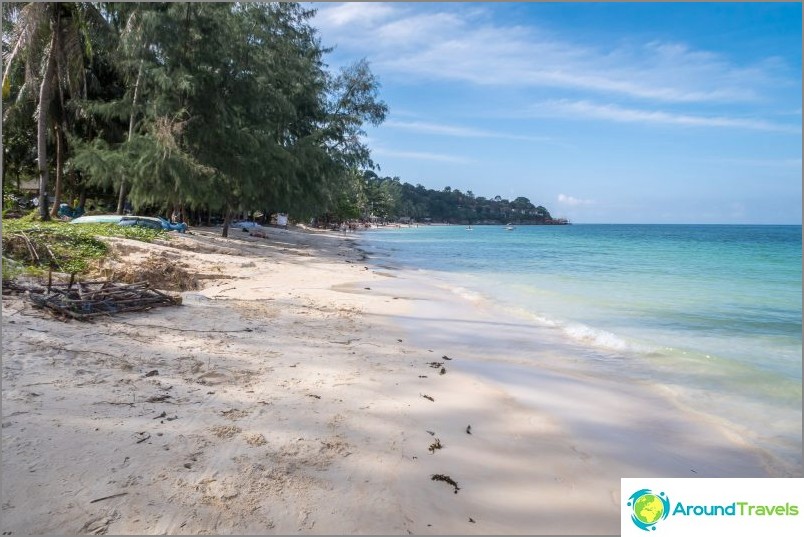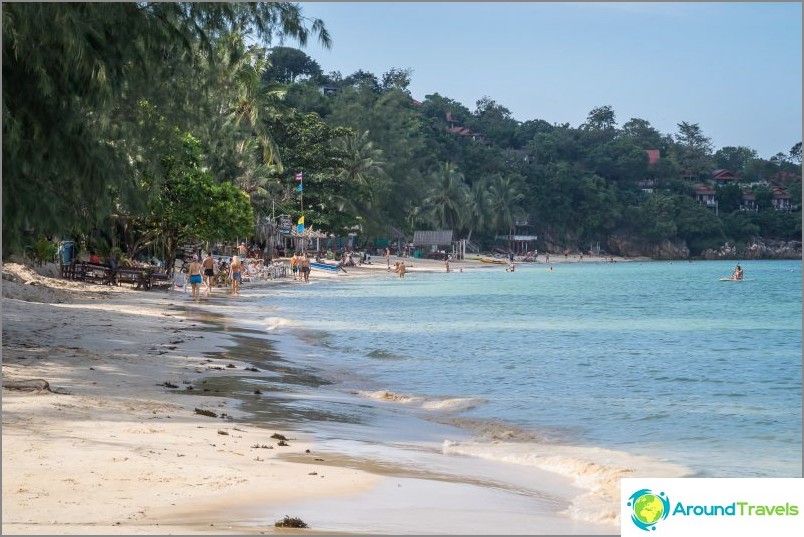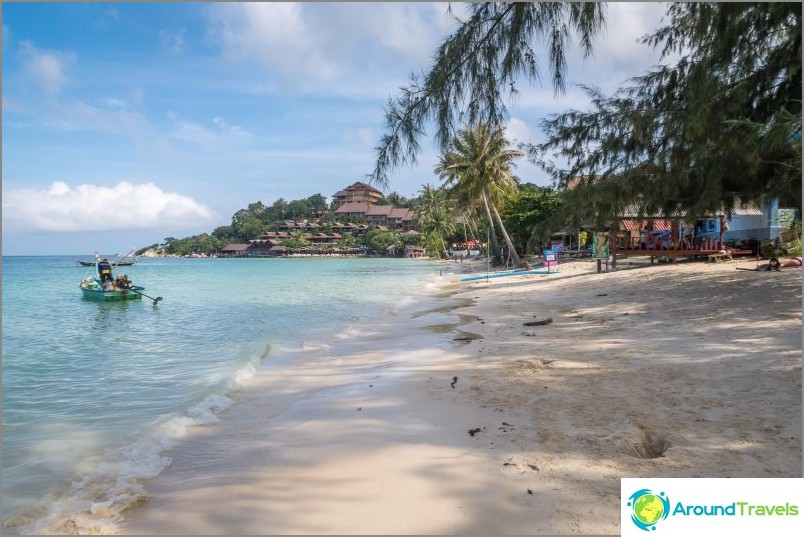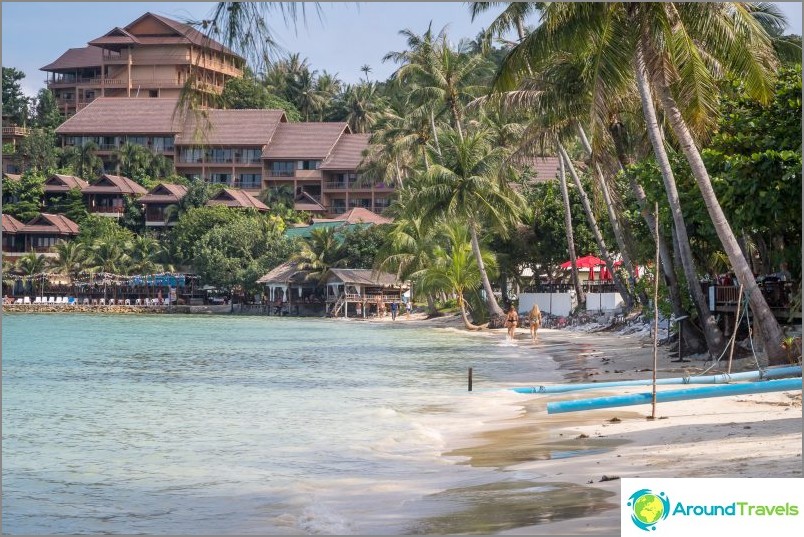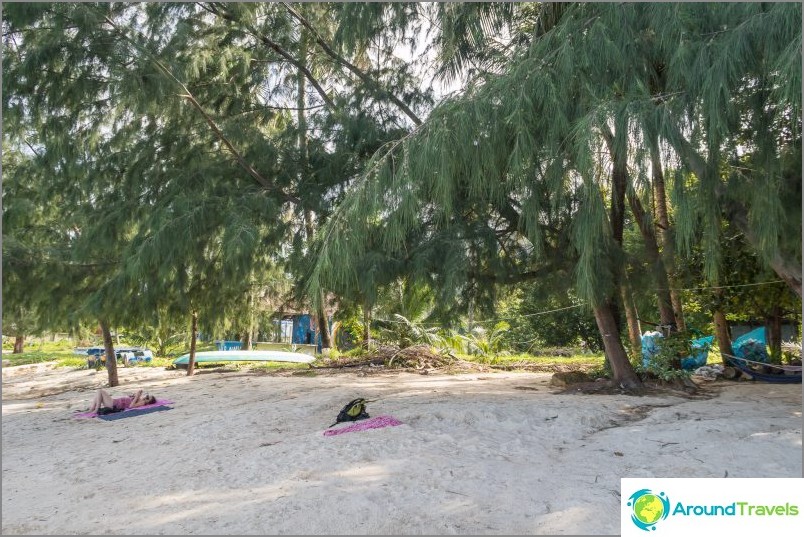 Infrastructure
I would not say that this place is developedinfrastructure. There are massage parlors, several cafes, but in general - the whole area is skipped on a bike without noticing, it is so small. Basically, people are content with the infrastructure of their resort or hotel, which employees will feed and make a massage, and they will offer rental, and can send it on a tour.
Haad Yao has a 7-Eleven convenience store,the range of which is enough to meet the needs of this micro-district. Very cool, by the way, for any beach to have your 7-Eleven or FamilyMart. This immediately increases its attractiveness for tourists who plan to stop for a long time and do not want to spend money on renting a car or risk renting a scooter. Of the less well-known institutions - Wagga bar on the shore.
Houses and hotels on the beach
Haad Yao, despite its relative miniature size, is full of housing of different categories, from guest houses to decent resorts with a good rating. For example:
High life bungalow

Sun Moon Star Resort Koh Phangan

Haad yao bungalows
I lived right on the border of the Had Son and Haad Yao beaches, at the Haad Son Resort

but he is on a mountain.
Here many beaches are located in lowlands and are separated.passes with the rise and descent, and so my hotel was on this rise. Going to Haad Yao beach is fun, but it's already hard to climb, although you can only walk to the hotel beach. My hotel review.
I also lived at the Sea Through Hotel.

, near which they usually throw bikes and continue to the beach on foot. Nice and comfortable place. You can live like in a hotel building (I lived in it, here is my review), but you can in a bungalow.
Hotels in Haad Yao>
Be sure (and I insist) check availabilitydiscounts or special offers on the excellent Roomguru service. It will quickly and simply show you discounts in all existing reservation systems. In Asia, for example, there are lots of offers on Agoda.com that are much more interesting than on exactly the same hotels on Booking.com.
For the lazy, here are the direct links to the hotels listed above:
How to find the beach
You can walk to the beach through any resort,some places even have signed signposts and an arrow is drawn for especially serious ones. And also for the landmark of the passage to the sea, you can take places where many bikes parked. The main lanes are near Ibiza Bungalows

and sea through

, they are marked on the map below.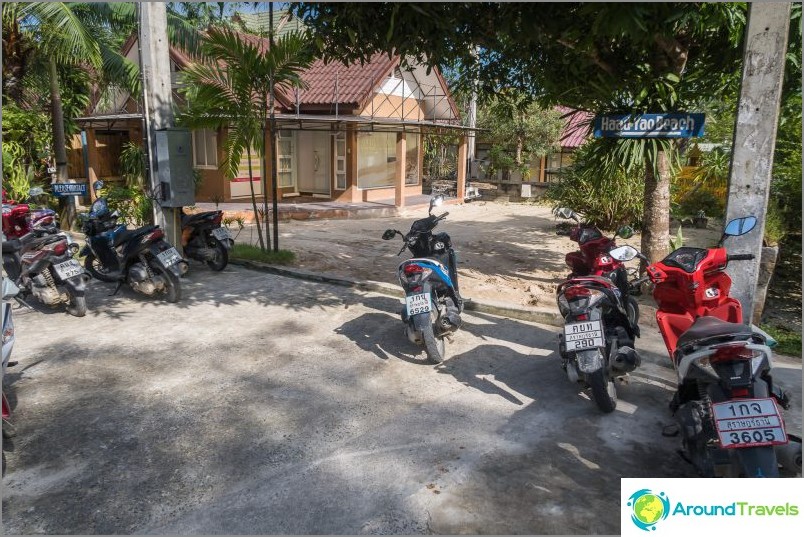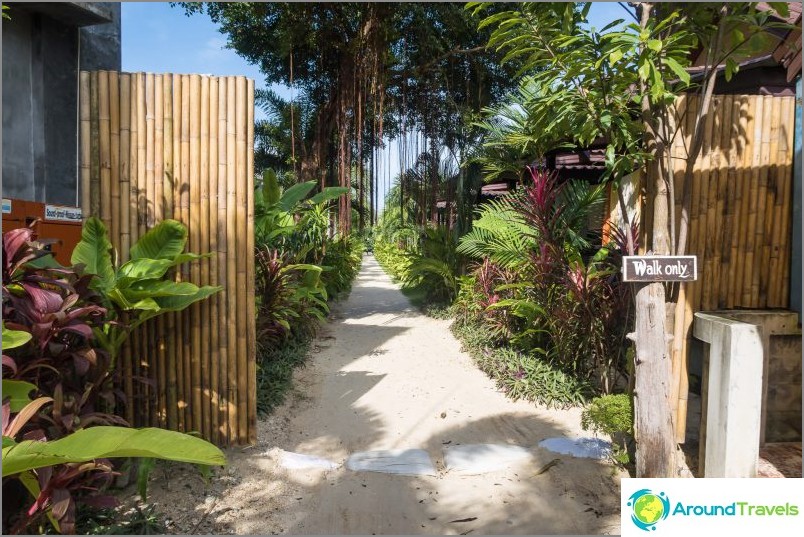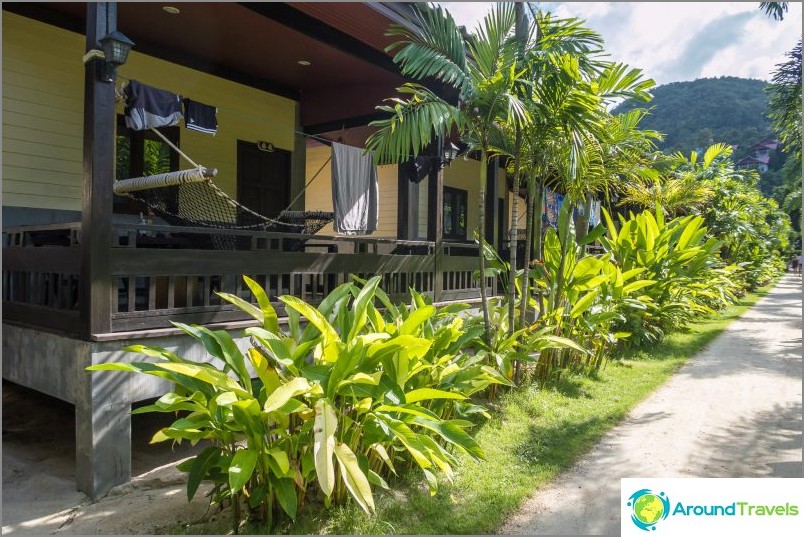 Beach map
Haad Yao Beach Card (Phangan)
Map of Haad Yao Beach (Phangan):


Life hacking 1 - how to buy a good insurance

Choosing insurance is now unrealistically difficult, so to help all travelers, I compile a rating. To do this, I constantly monitor forums, study insurance contracts and use insurance by myself.

Life hacking 2 - how to find a hotel 20% cheaper

First, choose a hotel on Booking. They have a good offer base, but the prices are NOT the best! The same hotel can often be found 20% cheaper in other systems through the RoomGuru service.

Discount hotels