About our trip on Chatyr Dag and Eklizi-Burun I wrote in the last article. Now it's time to tell about our main hike along the Crimean coast of the Black Sea through Tyrka Yaylu and Karabi Yaylu. The route is simple, but the beauty in it is decent, and most importantly, very few people along the way.
The content of the article
Map and route
Thread route: with. Perevalnoe (Kurlyuk Su river) - m / s Kurlyuk Bash - m / s East Suat - m / s Ai Alexiy - m / s Chigenitra - Rybachye.
Path length: About 35 km, daytime crossings are optional, but it is easier to focus on the tourist sites (t / s), because there are springs. Although they meet a couple of times. We spent 5 days on this distance, but you can go for 2-3 days.
Trip budget: Minimum 6500r: 5000r tickets there and back to the bus, 1000r hiking food and food to the bus, 500r on the spot for moving and fruit. It took me 9000r, because we spent 4 days on the beach and ate fruit, and also rented a room in Alushta for two nights.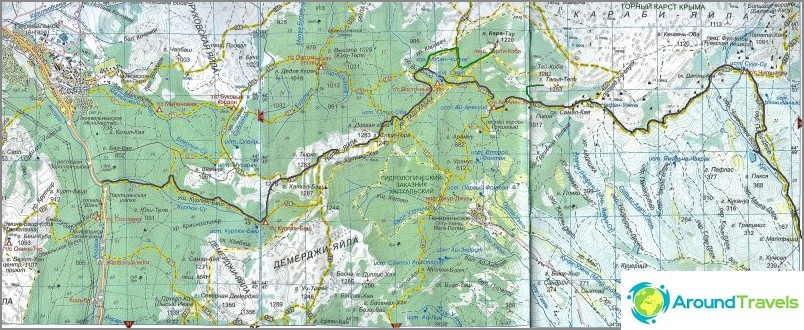 Initially, the campaign was planned in the Carpathians, but as in 2010 everything changed to the Crimea. I'm not destined to get into the Carpathians.
And this time it also happened that weTwo groups united: Andrey and Yana from Kharkov and Denis with Nastya from Moscow. I will not bore a long history of inconsistencies and discrepancies in our plans in order to coincide in a single point in the Crimea. By the way, the guys from Ukraine also have a travel blog and have already posted their report on our joint campaign.
Moscow - Simferopol
In Crimea, we arrived by bus. I do not recommend this to anyone, at least with the Neva travel agency. The bus was, of course, a Mercedes, but the Germans rode it along the way. As he still keeps on wheels, I'll never know. Honestly, I already forgot after traveling in Thailand and Turkey, what business is in Russian, when you are assured that the bus is modern, and then you go to the barn and without a toilet. Not to mention an unplanned three-hour transplant in Tula, hassle due to the lack of an escort (many buses and no one knows which one is going, even the drivers), sanitary stops right in the field, and so on.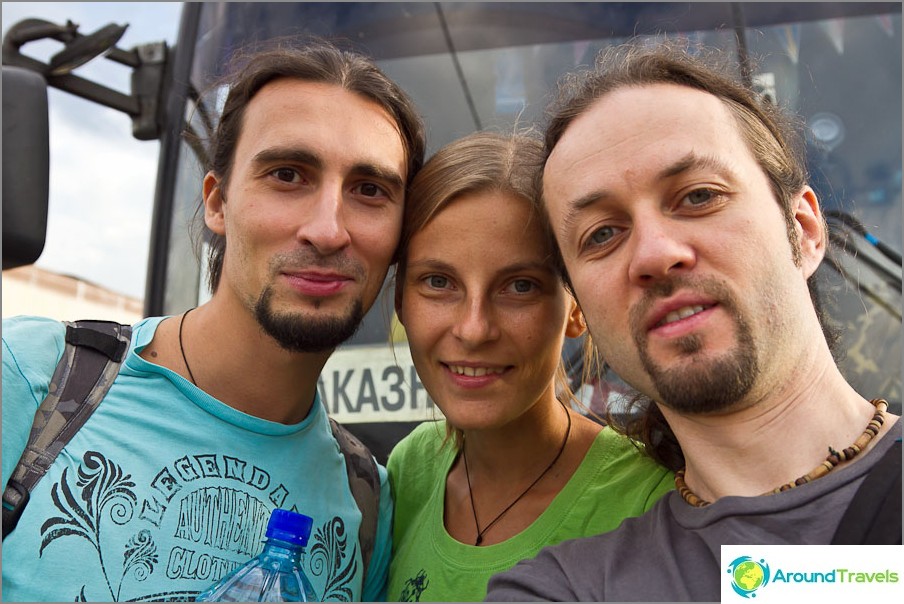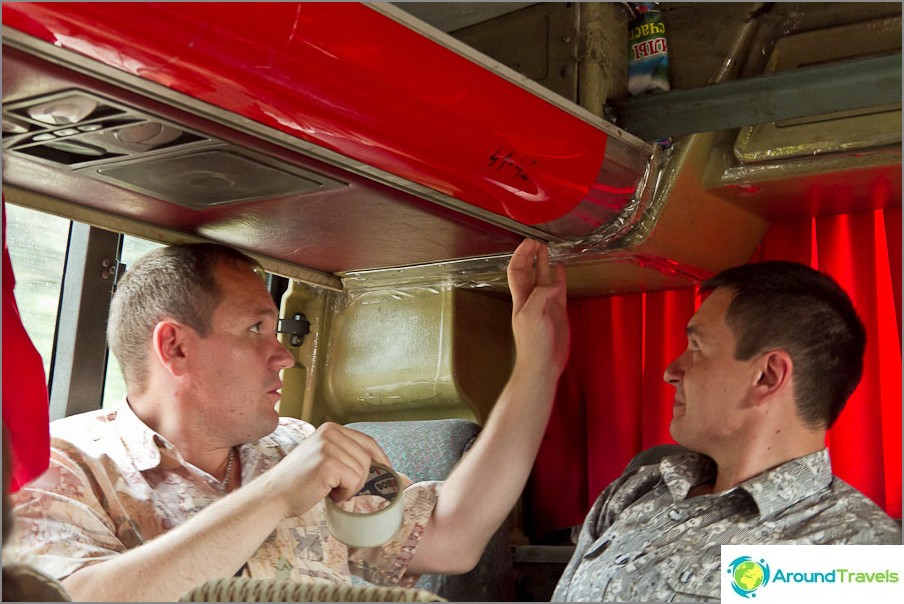 Hike. The first day.
River Kurlyuk-Su - m / v Kurlyuk-Bash - ist. Suluh-Both
To the entry point that is on the trackSimferopol-Alushta, we were thrown by our new friend in a car. It's difficult to find the Kurluk-Soo bed, since there are no signs, and in August it dries up. There is some kind of substation, you can orient on it. Here we met our Kharkov friends, and then we had to spend 3 days in the company of each other.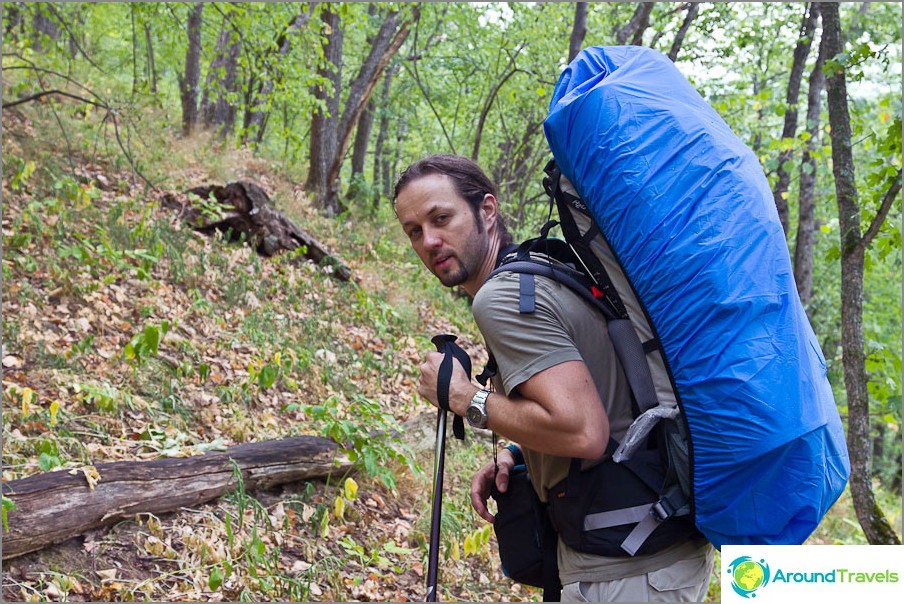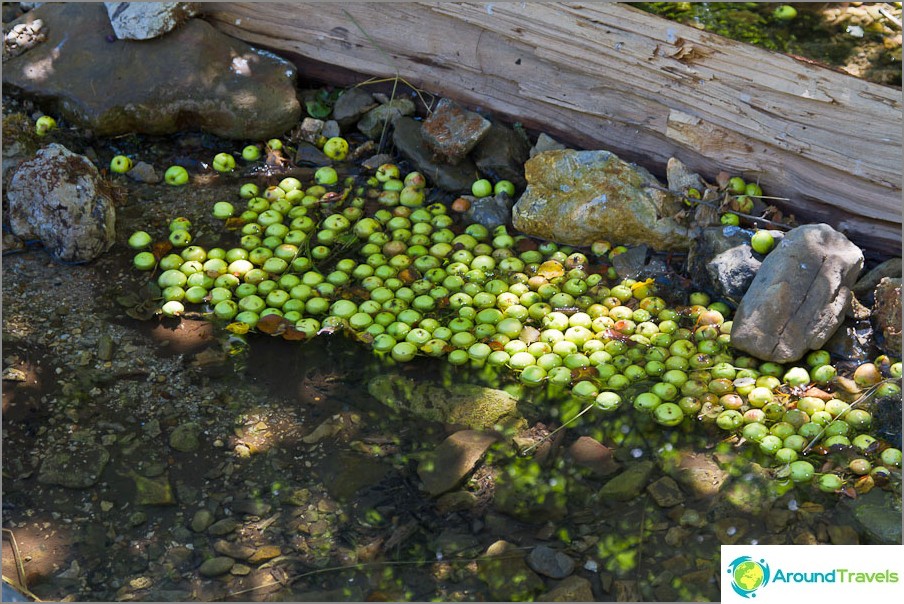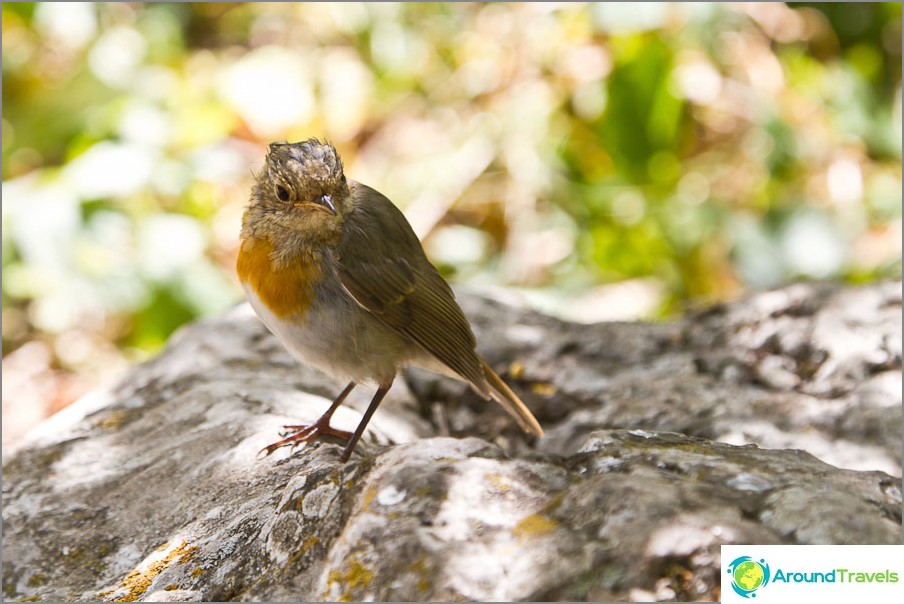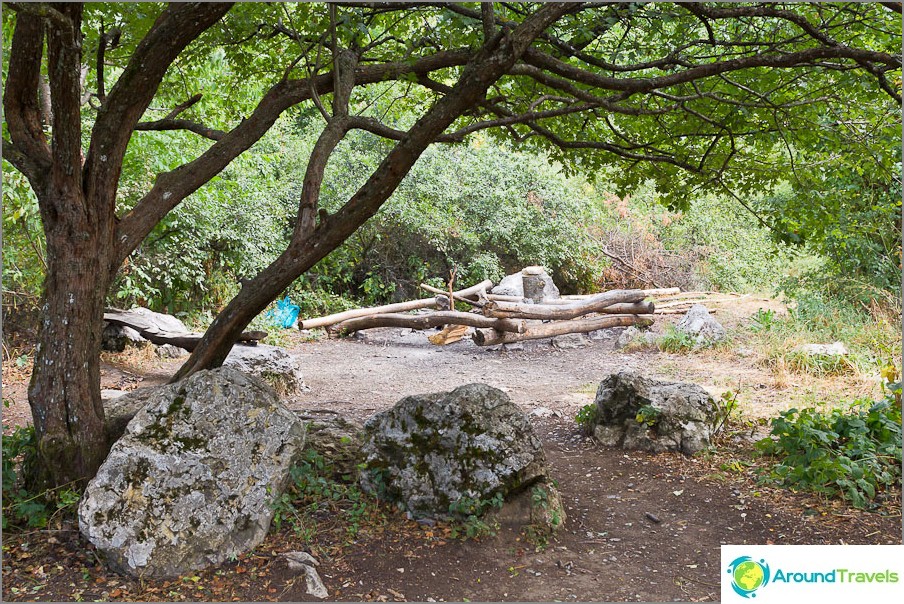 After reaching a couple of hours from the Kurlyuk-Bash parking lot andhaving made a snack there, we nevertheless decided to move on and not without difficulty climbed on Tyrka Yayla. The climb was decent and my body pampered with computer work asked for periodic mercy. But mountain views, for the sake of which everything was started, have already become available from a height.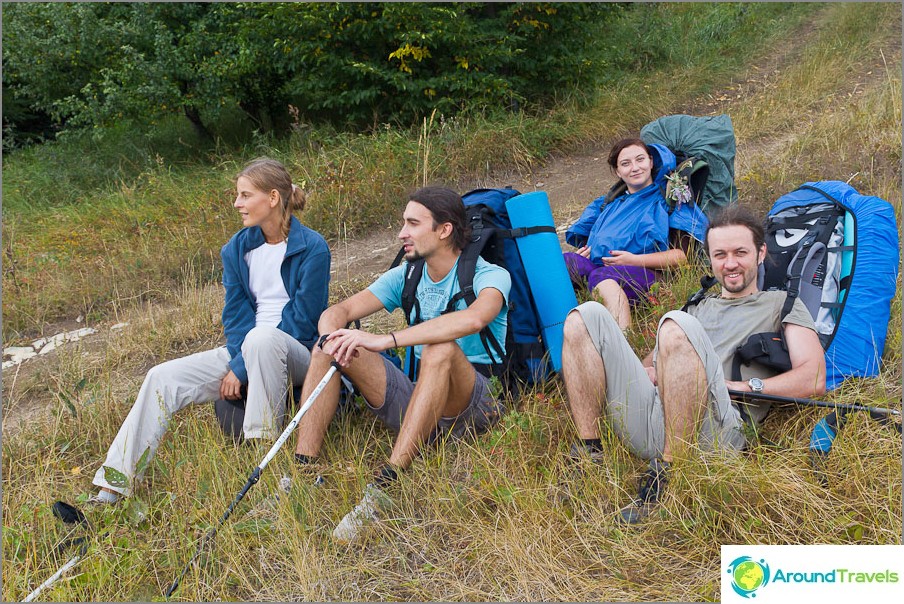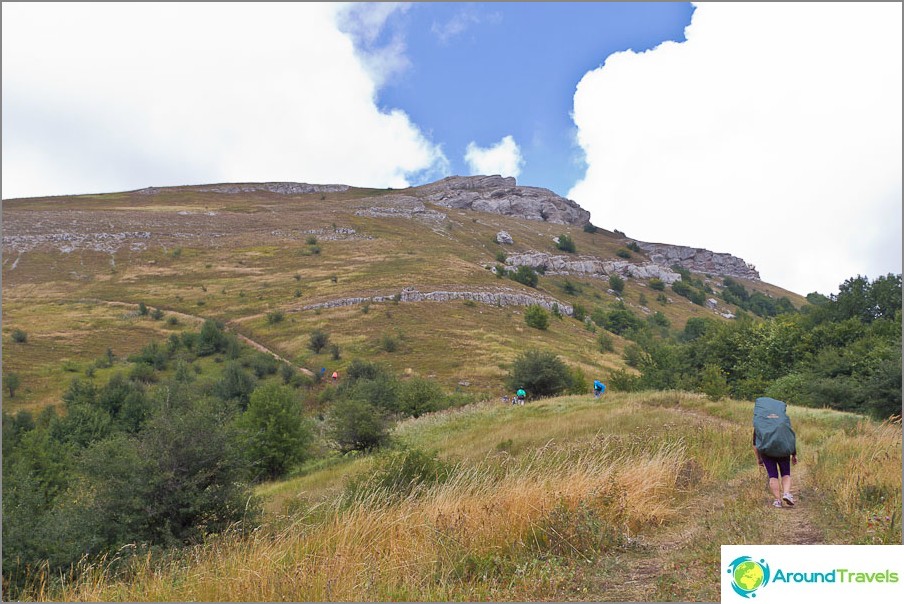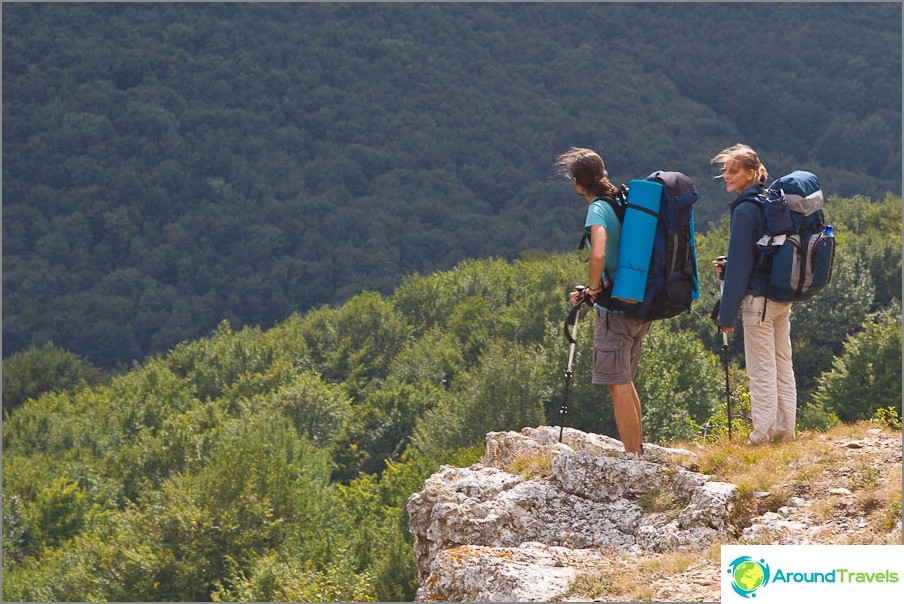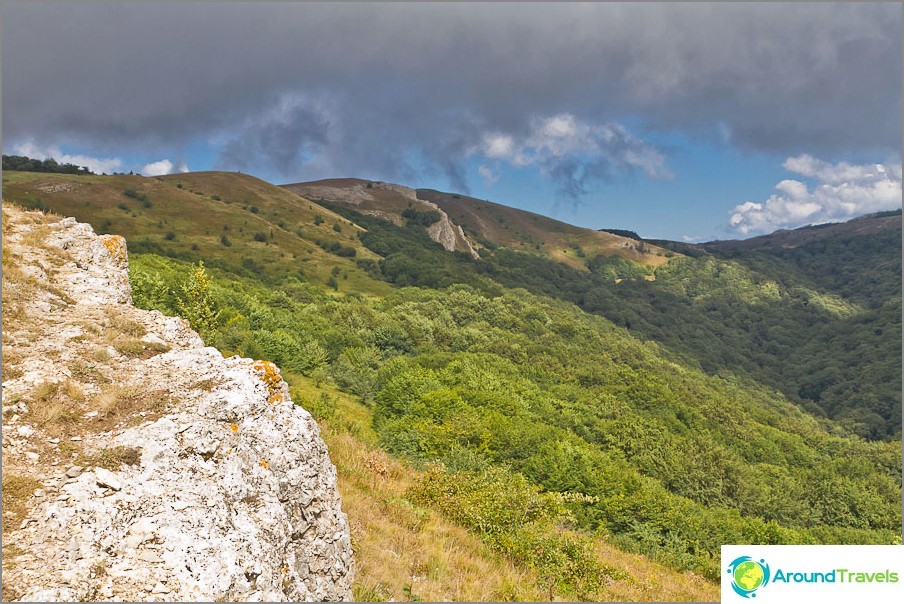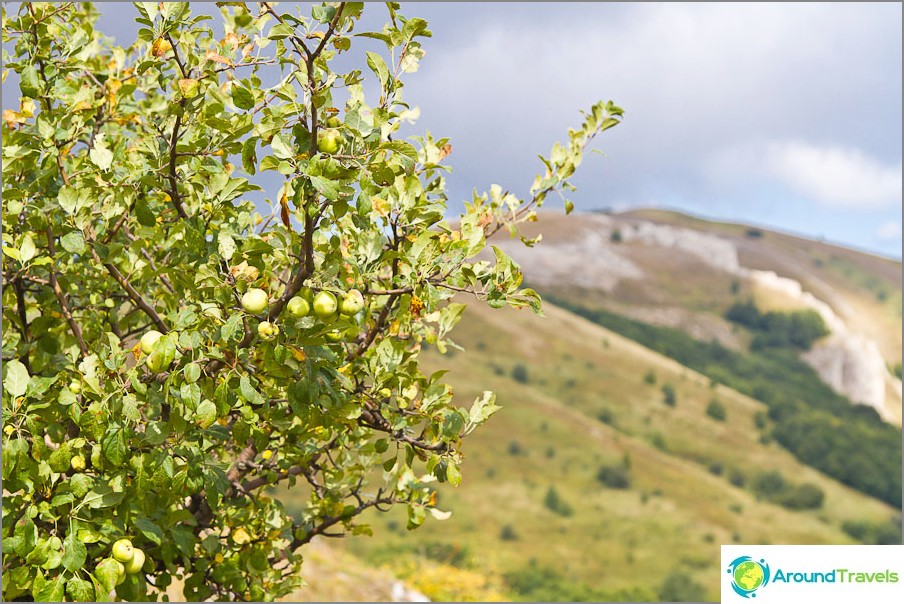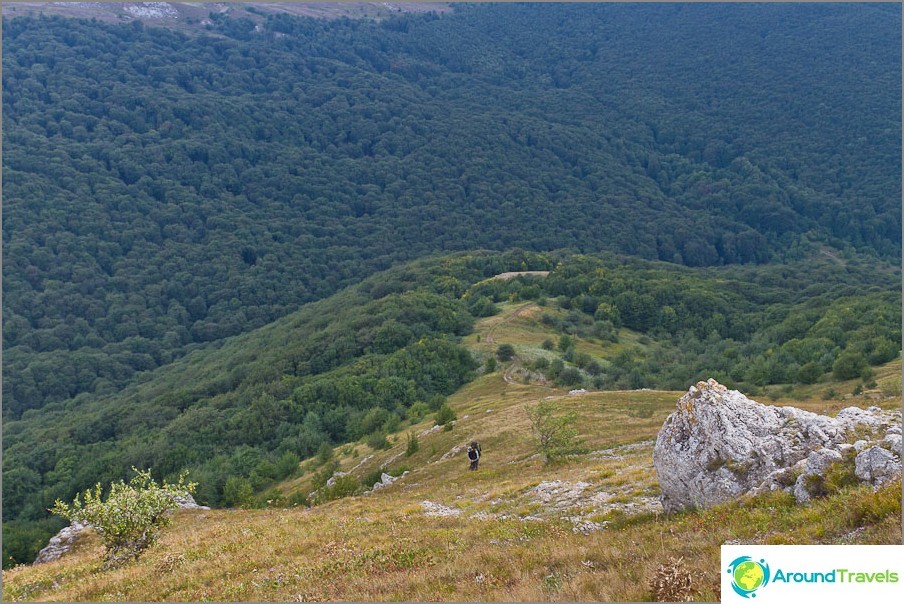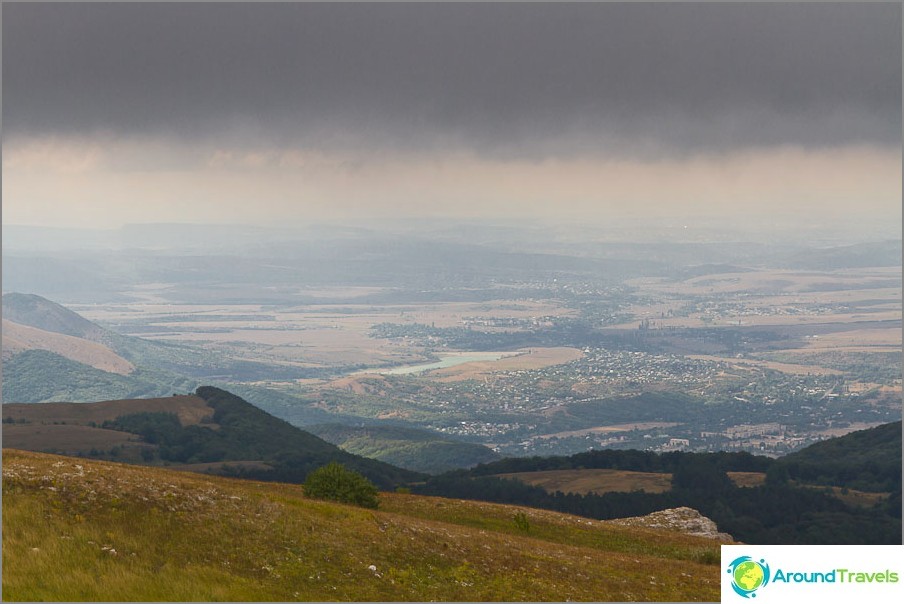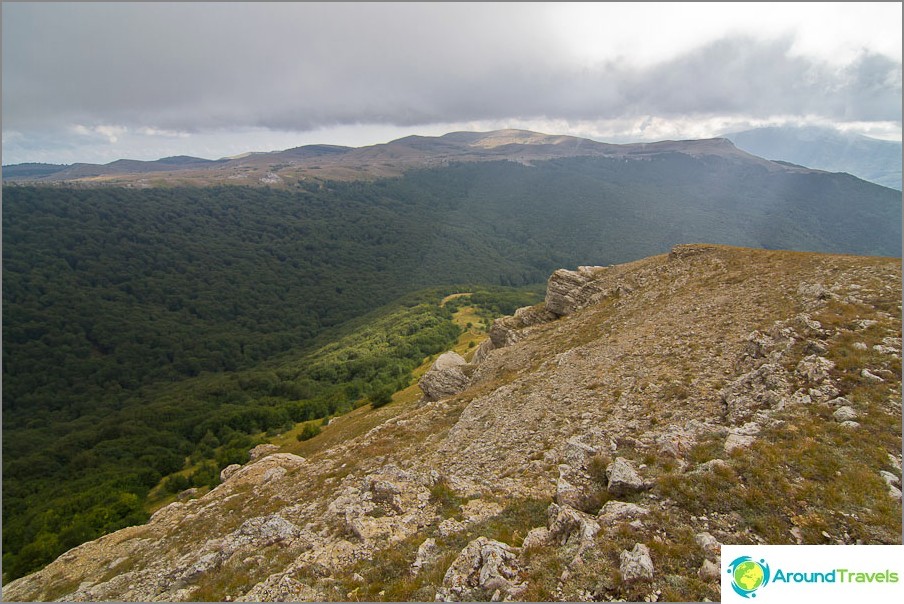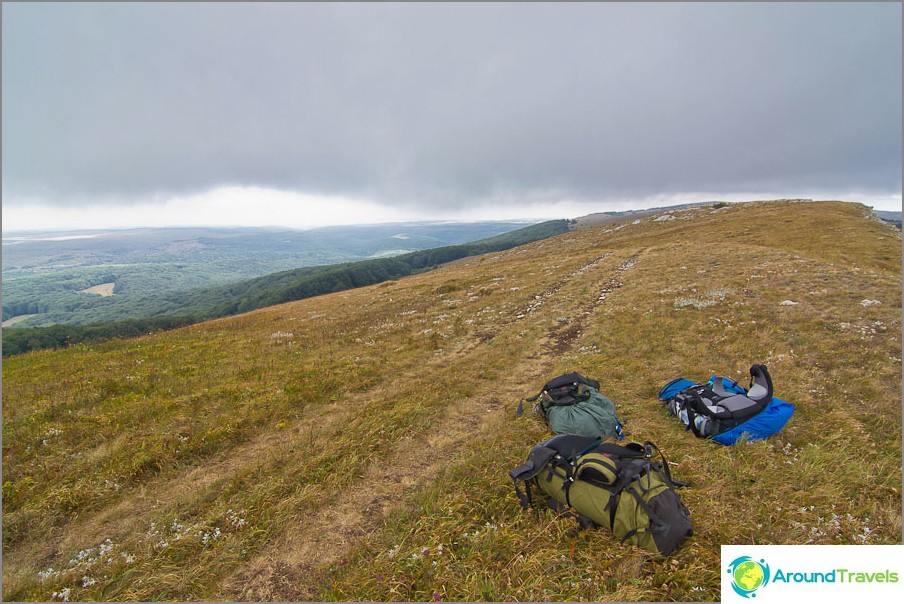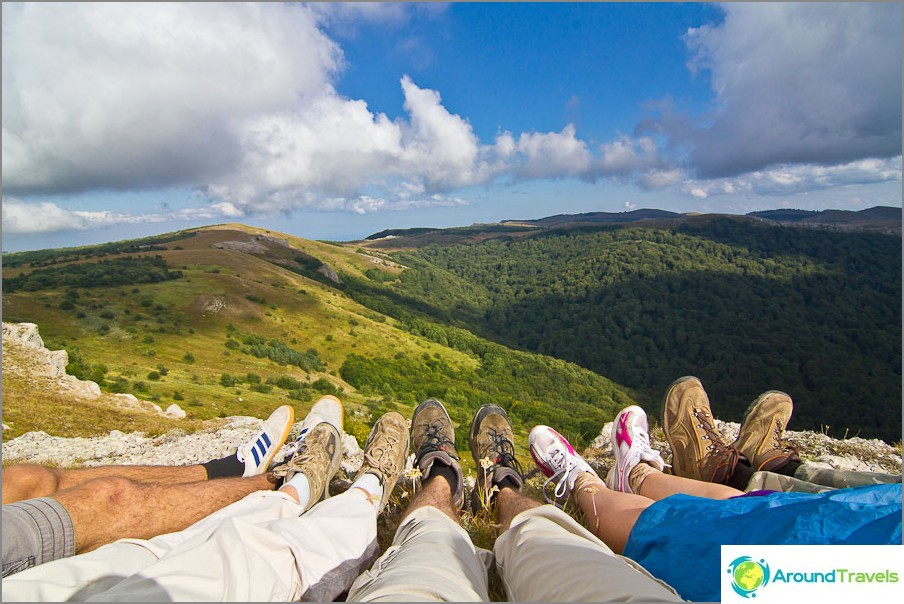 Tyrke Yayla - a very nice place with yellowmeadows and red rowan berries against the background of pine needles, with the smell of herbs, baths and pine needles. The wind, however, is sometimes such that at the edge of Table-Mountain (1240 m), I thought that we would be taken somewhere to Demerdzhi or immediately to the seashore. The first day was the longest in terms of the transition, then there were already small "dashes".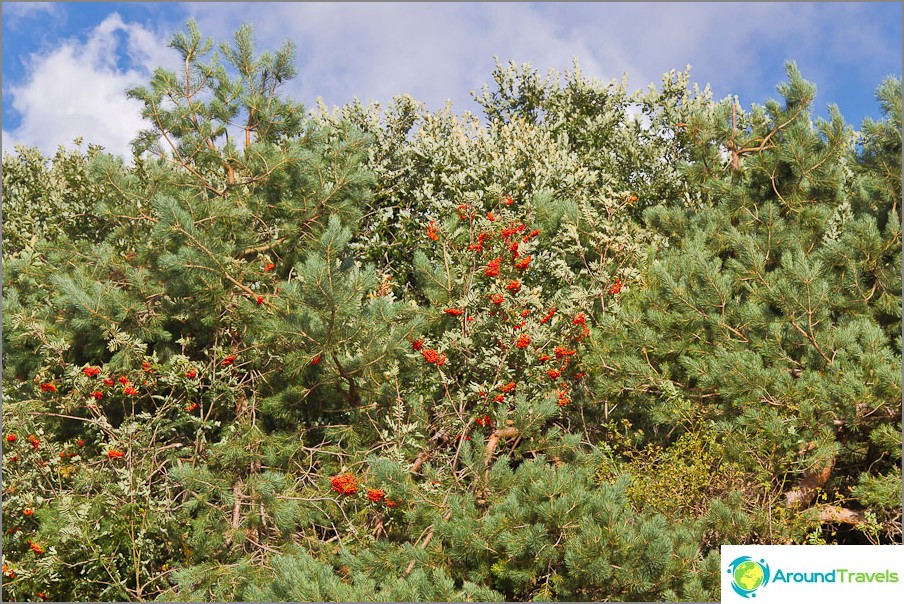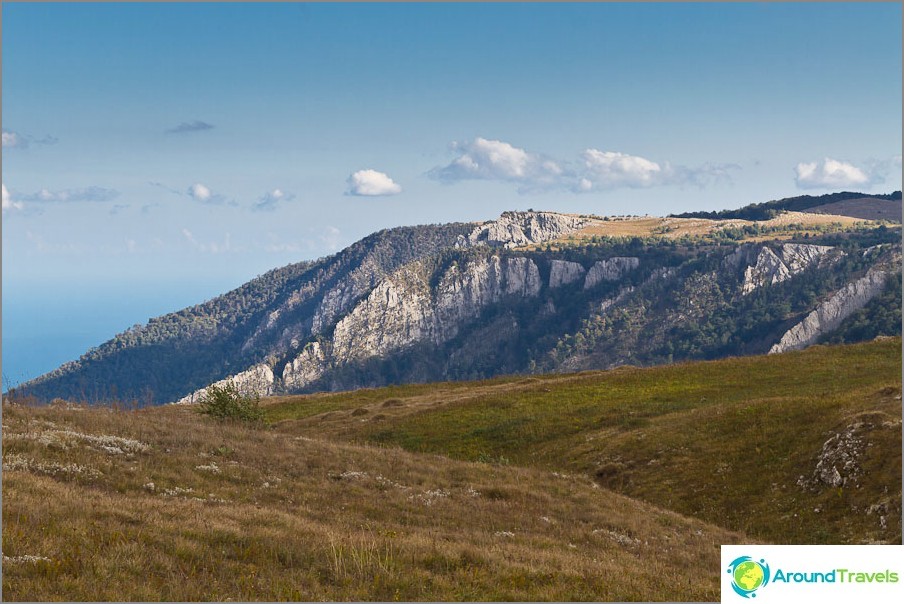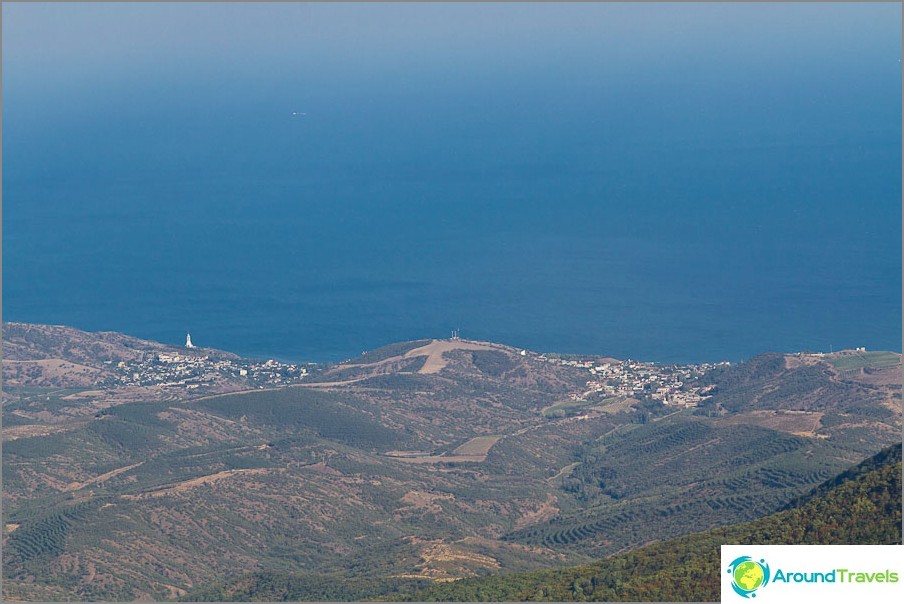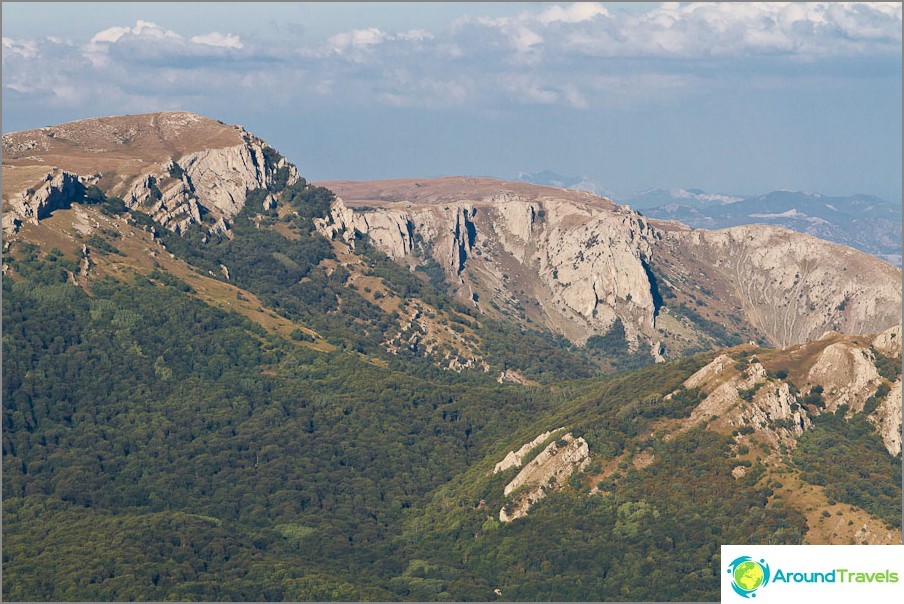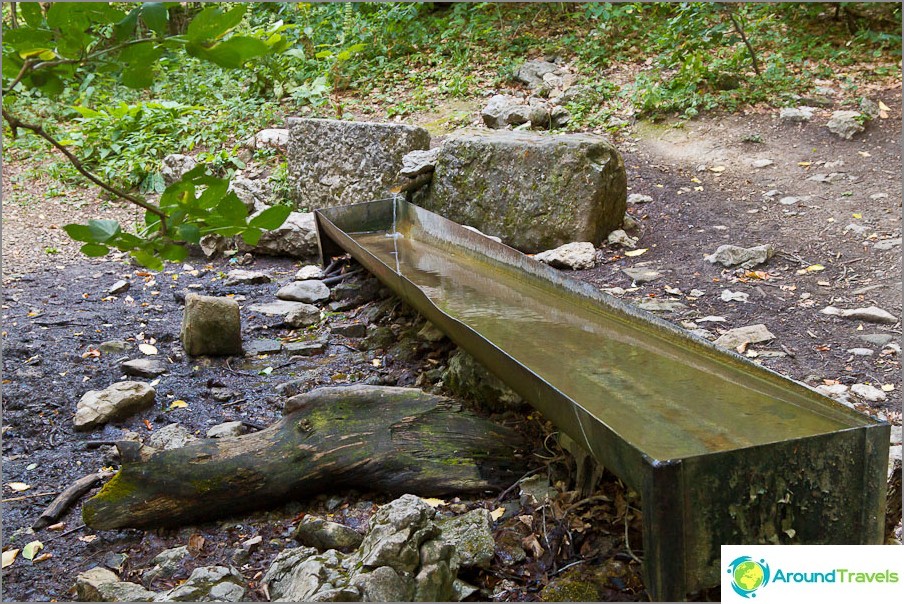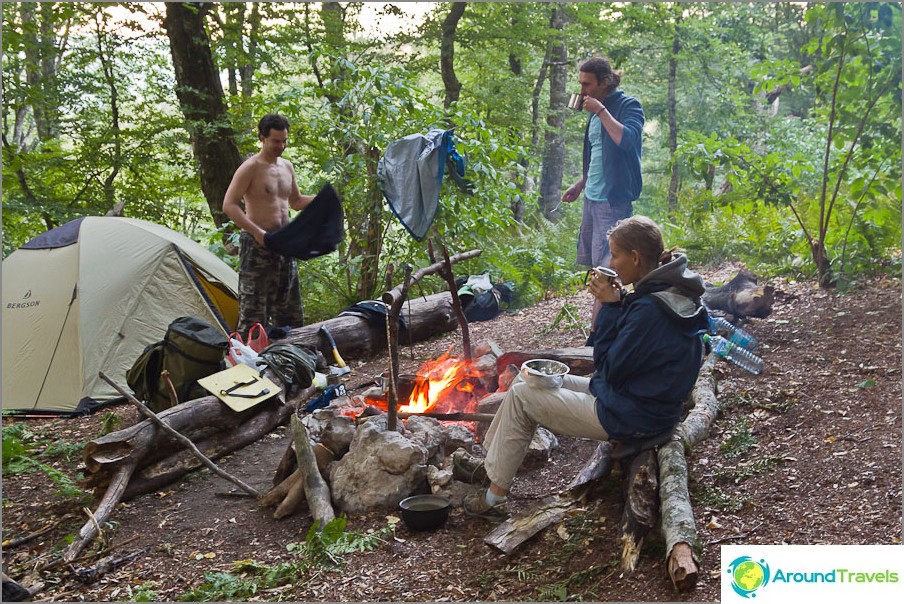 Second day. Hike.
Source Suluh-Oba - s / s East Suat and the radical on the mountain Kara-Tau
Having passed literally an hour from the spring Suluh-Both wecamped on m / s East Suat. The parking is huge - there are several children's camps you can place, so peace and quiet. We stood on its very edge, where the spring turned into a stream. Having set up tents, we went to the radial outing. It was Kara-Tau mountain (1220 m) and Terpi-Koba cave, located on the upper Karabi plateau. The cave, however, was not immediately able to be found, they walked in circles for an hour, probably. More about our outing with photos I told in the article. Kara-Tau Mountain and Terpi-Koba Cave.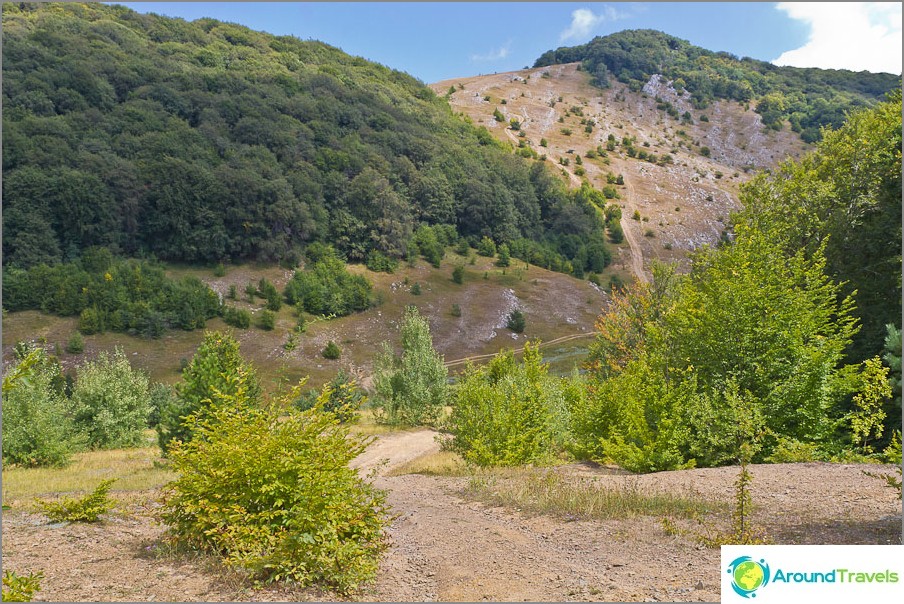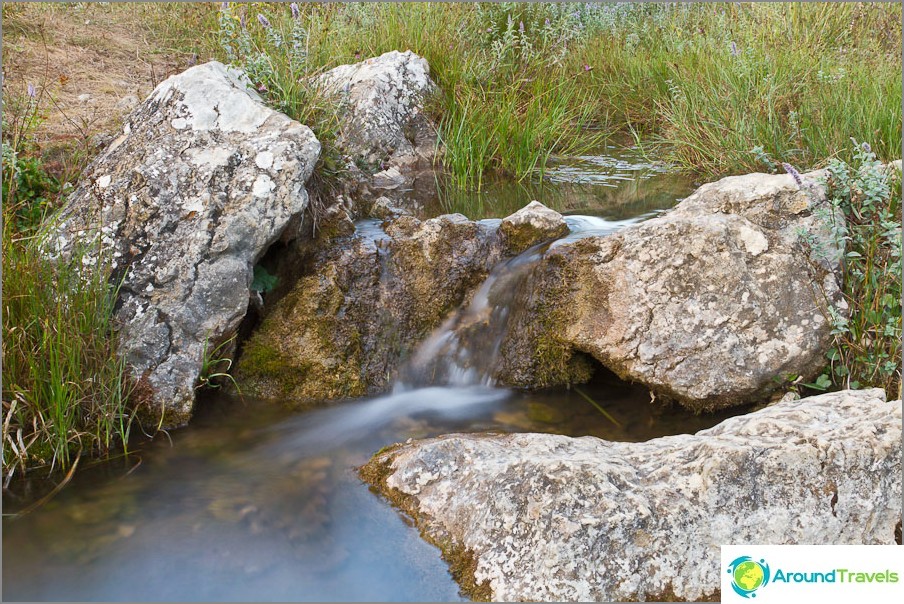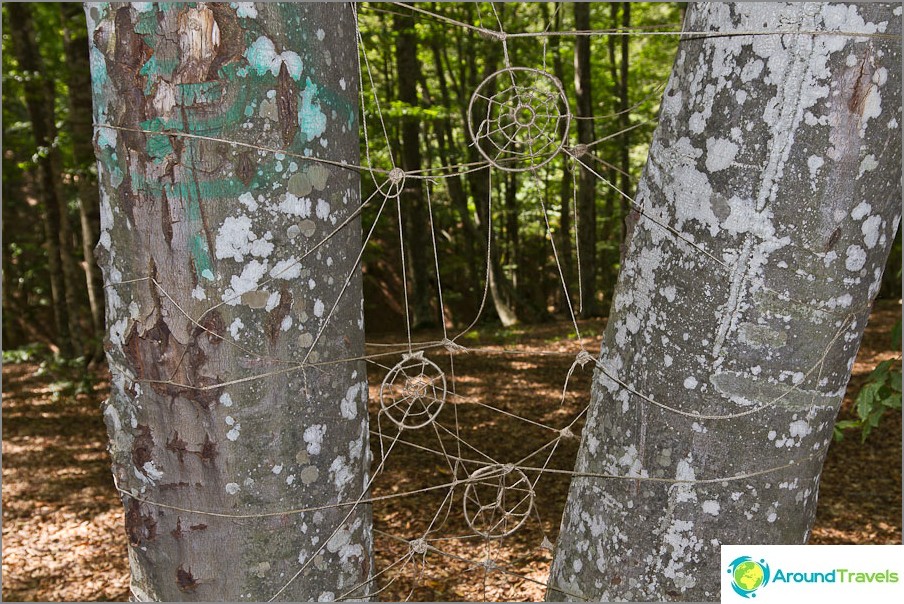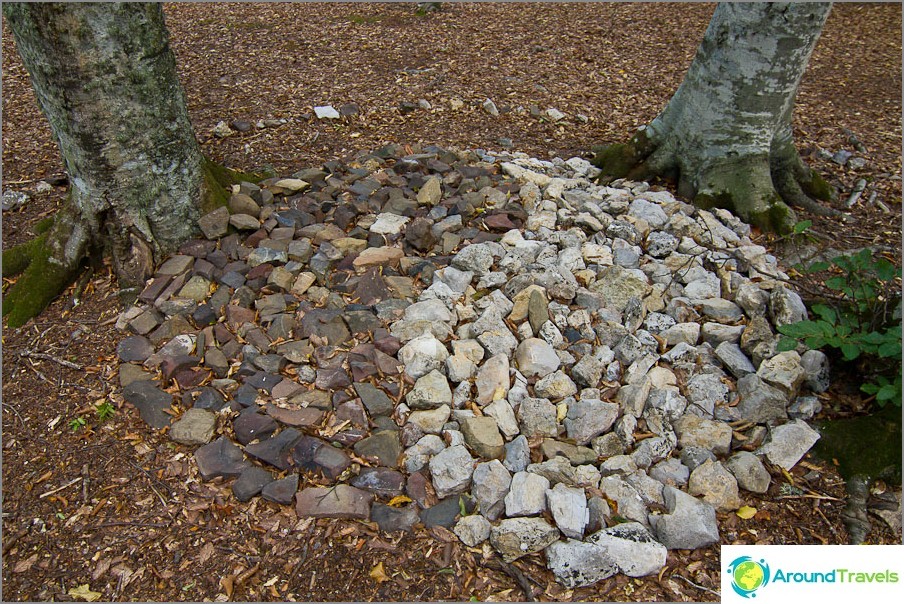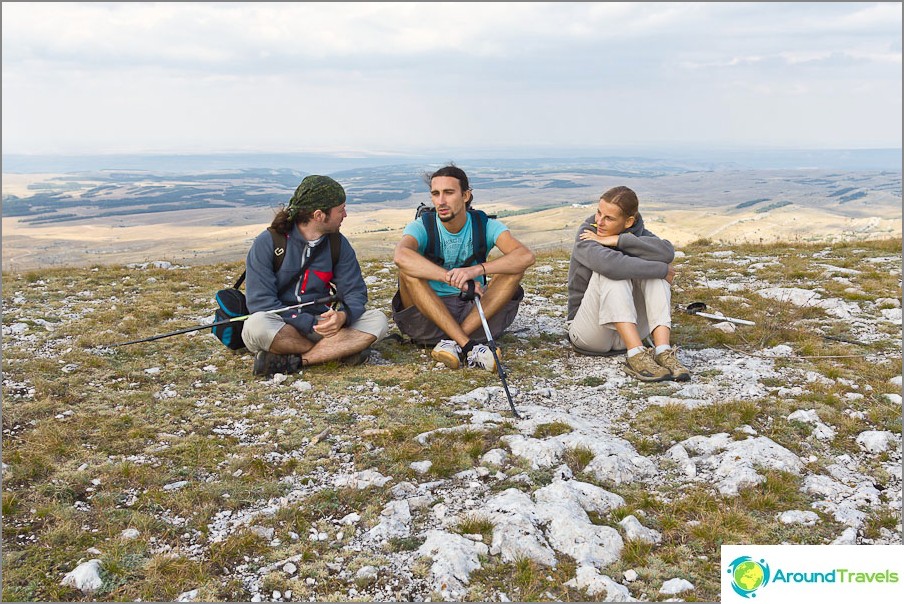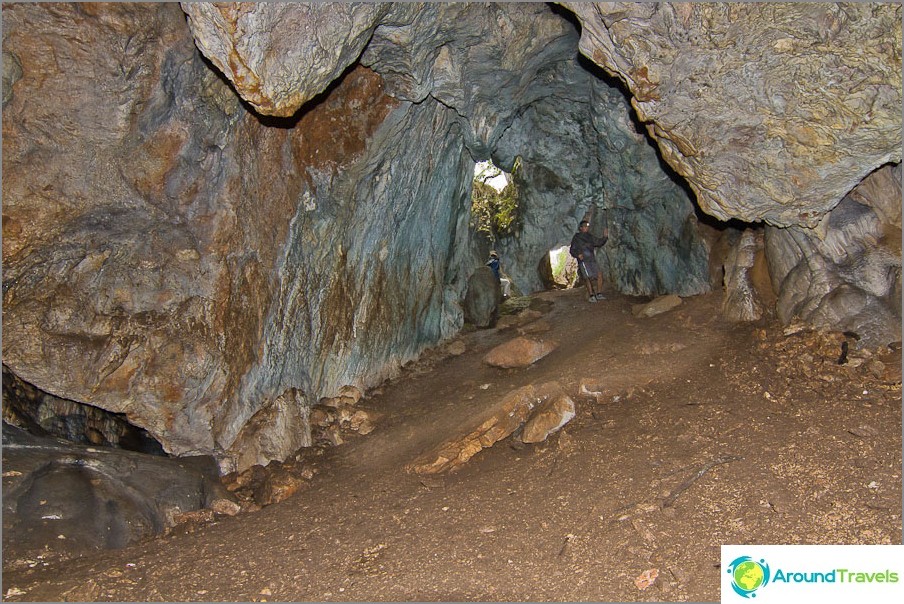 During dinner, many hours of debate took place, wheremixed science and faith in God, biology and vegetarianism, psychology and internal sensations. It's great that after this everyone was alive and I finally got to shoot the starry sky. But then, most often, the sites are located in the forest and the stars are not visible, and then the whole small valley was at my disposal. True, the mountains were not visible ...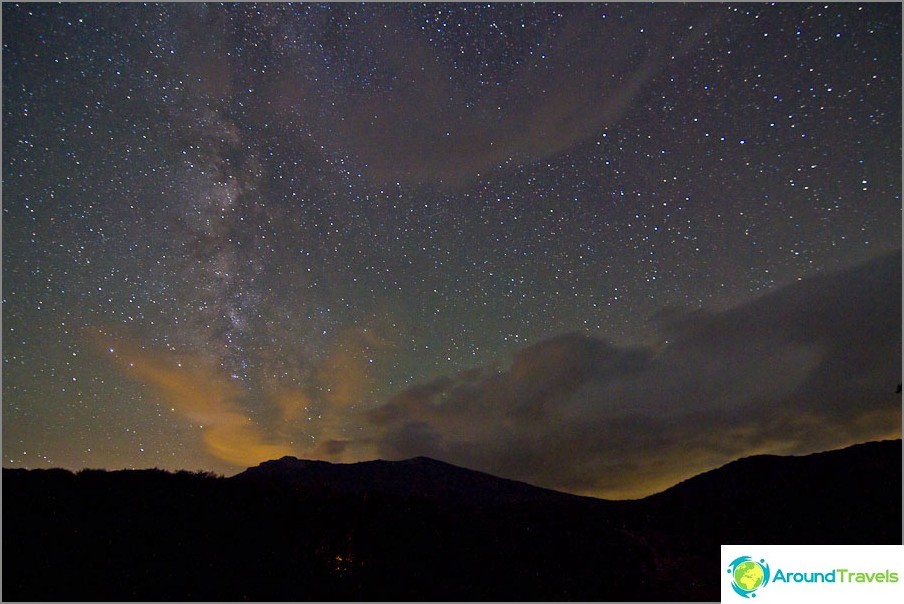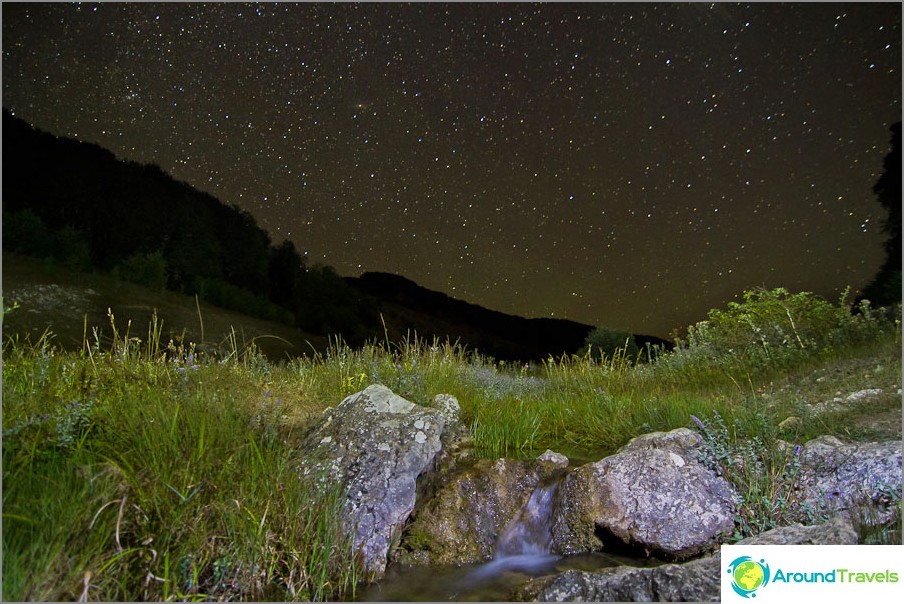 All tips for beginners going to the mountains of Crimea, I gathered in the article Tourist routes of Crimea + tips for beginners.
P.S. Since there were too many photos, read the continuation in the next article about our trip to the mountains of Crimea