Back in 2007, in the cold month of April, ina period of lack of money, I decided to take a hitch-hike trip and drove off to the Caucasus. It was my first long hitchhiking. We started three, and then we had to split up. Unfortunately, my camera was not there, so there are few pictures.
Route: Moscow - Epifan - Revival (near Gelendzhik) - Tuapse - Apsheronsk - Efremov (Tula region) - Moscow.
Purpose: To get to the village of Vozrozhdenie hitchhiking, drive into the ecological settlement near Apsheronsk and return back to Moscow.
Immediately explain what village Renaissance, and what kind of ecovillage.
The Renaissance village is a village near Gelendzhik, next to which there are dolmens, and where in the summer, hanging out all sorts of people with tents. According to some people - a place of power.
Ecovillages are settlements of people living outside the city and advocating for the environment. They unite for various reasons, which do not interest me, but rather how they live and what they do.
The first day. Autostop: Mikhnevo-Epifan.
It all started with the fact that I was standing in the rain onon the platform of Kolomenskoye railway station and waited for two of his friends (aka Veter and aka Commander), looking at the departing train, which was supposed to take us to Mikhnevo (Moscow region). The guys wanted to get into it at the station, but they were late. As a result, we went on some fashionable express train, with seats from an airplane, with tables and digital displays. But we arrived only to Domodedovo, because the controllers refused our offer to close our eyes to the lack of tickets. But there we took the train, which we were late, as the express train overtook it. So wanted to have time and had time! True, in a different way.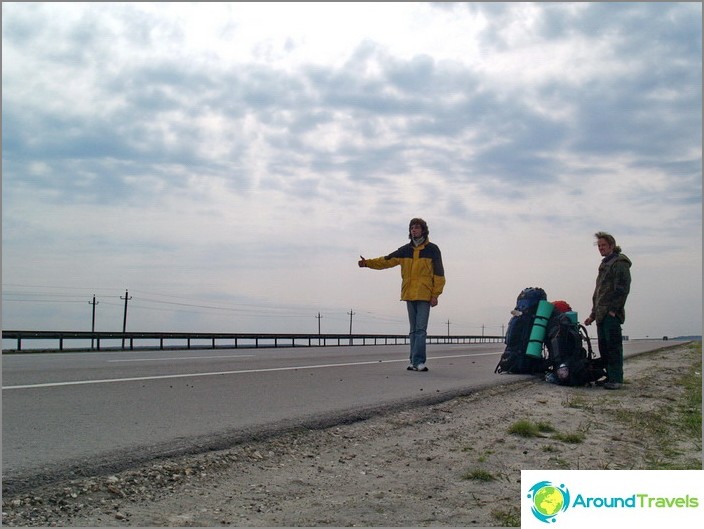 In Mikhnevo began our hitchhiking. We went to the track, and we stopped 9ku, which went to Lipetsk. Not exactly along the way, but we sat down. All the way, the driver spoke on various topics, about history, politics, jumping from topic to topic. At first I listened, and the guys even kept up the conversation, but after half an hour, it became difficult to perceive. The impression was that the driver simply wanted to speak out and share his knowledge. The crown phrase "no, not so," to any of our opinion. And suddenly I remember that I was told the day before about some ecovillage along the way. They called, agreed and left about Epifany (Tula region). We were met by car and taken to the village. Little men, his name was Alexander, showed us his house, the site. He told us about his life, where he just wasn't, and what he didn't do. And now he wants to live in the village. In the conversation, we learned that he was a manual therapist, after which everyone wanted to check his back, which was done, the vertebrae were adjusted as far as possible at a time. He also had a miracle machine, a bed that does massage and warming up. I would lie on it and lay, upward bliss.
Second day. Autostop: Epifan-Efremov.
The morning met us with village potato drannik, the hosts tried.
But hitchhiking that day was dead. A hundred kilometers from the highway, cars and buses rarely go, life here stops altogether.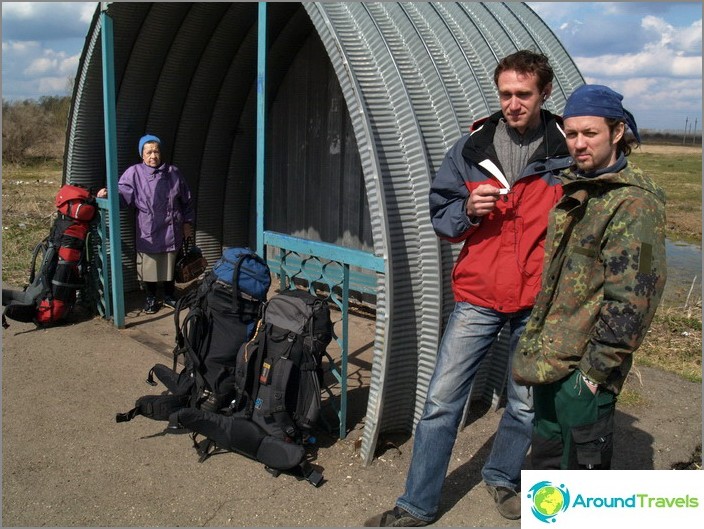 In the second half of the day, only 70 km of hitchhiking — a gazelle drove us, with a peasant prankster, he was so funny, weighed compliments, and promised to find a bride.
We spent the night near Efremov (Tula region) intree planting. This night I realized that with a summer sleeping bag I got excited, zero on the street, Iak Zatsik froze, despite the fact that my friends threw me with their warm clothes on top.
Third day. Hitchhiking: Efremov-Rostov-on-Don
Brrr ... What a frosty morning. Thought a lot about the heat. By the way, my backpack is the smallest, it is two times smaller than the Commander. I feel like an amateur that took so few things. Walking, of course, is light, but freezing is not an option either.
It was decided to split, because the three guysApparently not the best gift to the driver. I just got the lucky lot to hitchhike, that's what I was afraid of, I was afraid to do a lot of things, but more about that later.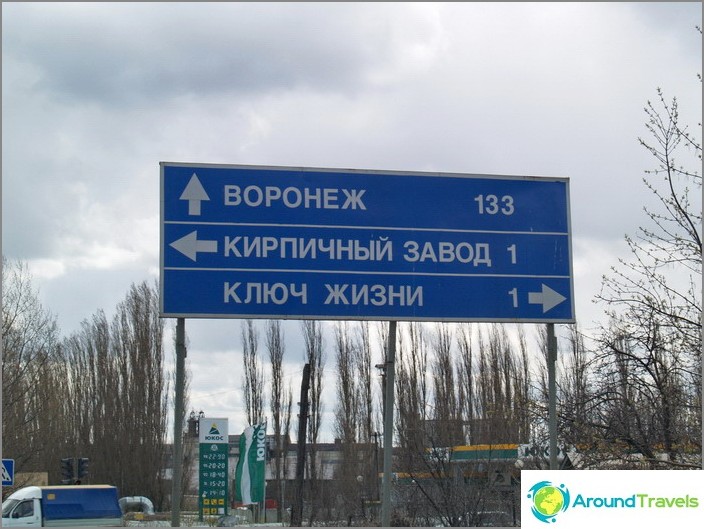 After another stagnation in hitchhiking, friendsmy MAZ truck got stuck to me (there was only one place there, that's why I went). I thank them, hehe. From that moment on, hitchhiking went reactively for me, which later became the reason for jokes and gags over me, because I came to the village of Renaissance first, Commodore after 24 hours, and after another 24 hours Wind, the most attractive element to itself. Like, only thanks to them did I get so fast. So what am I talking about ... Ah, yes, it means that I was driving on MAZ till the evening, even till night. All the way, I was stunned by ACDC, I probably listened to almost all of their albums, try to find ten differences between them. With the driver, Zhenya was his name, there were not many topics for conversation, but still they were not silent, I remember the truth, only some information about imported waggons. Near Voronezh, I saw the guys from the window, we together waved our hands to each other. After they sent a text message that drove a little more and spent the night. I drove to the mines, it is 70 km before reaching Rostov-on-Don. All the day the thought that came to me that I did not want to sleep in a tent, materialized - I spent the night in the cabin of MAZ. When entering the parking lot, I thought, would the driver drive me out or not drive me out, and it was raining on the street. How glad it was when he said, clear the shelf and fall.
The cabin is good - warm and dry. The condition of the road and hitchhiking allows you to forget all your troubles, there are other goals, a chain of events. What is important is completely different, what car will be next, how many will pass, what driver. You have time, of course, to see a lot of beauty in the window, and to feel nature. Further than half a day you do not think, you expect that life will prepare this time.
Day four. Autostop: Rostov-on-Don-Renaissance.
Sleep was warm! The mood after such a night is magical! The stove worked all night. And most importantly, slept just a few hours.
Continued the way, Zhenya landed me kilometers30 after Rostov. The main part of the way is covered, the superMAZ drove me. In total about 800 km Why, I forgot to tell you: such beautiful hills and pine forests near Voronezh. Some places resembled mountains, elevation shakes are amazing.
Next hitchhiking went like clockwork, near Rostov,after 5 minutes, 8ka stopped, although they detained me at the nearest driver's post, and they searched me. The driver was a grandfather, I also found someone to get involved with. It was enough to move away from the traffic police, as the Chechen stopped, asking first if I was embarrassed by his nationality. After 150km gazelle braked. Lesha, the driver, I liked the most, open such a cheerful uncle, drove with him to Krasnodar. He treated me to delicious apples. I kept thinking how it would be nice to meet him on the way back. I landed, it means that I was on the bypass of Krasnodar, and after a couple of minutes I was looking in the distance someone was waving, it turned out to be Lech. They called him and asked to come to one place, and there was just another 20 km with me. Well, just a miracle man that waited for me. Thank you, Lech. After I had a stagnation for an hour somewhere. While standing, I thought. And what else to do when you are standing? And I noticed such a thing, you must first satisfy their natural needs, and then continue to hitchhiking. Immediately after I slowly ate and did my own business, the car stopped, and before that, nothing happened. The guys from Adygeisk wanted money at first, but they agreed to give a ride for nothing. Came out at the turn of the city and thought of the car to the village of Renaissance, well, that was how I wanted, quickly, and so that it would be without transfers. And then she appears, the same treasured car. Behind the wheel of a guy who goes just where I want. Talked about this and that. He knows about all places of power, and he knows a lot more, but apparently he doesn't need it, although he understands that there are different points of view. Since he was a taxi driver, they agreed that I was going to the first client. On the way, his rights were taken away from him, the cops practically framed him. The driver responded philosophically, well done. He finally drove me to Pshady (Gelendzhik District), a client because he was found.
I'm almost there! Almost arrived! Then I immediately picked up a golf with a silent driver. How cool it is to be silent. For two days of continuous talk already and I want silence.
And here it is the Renaissance! Four days and goal achieved. Although if we did not go anywhere, and immediately divided, I would have arrived faster.
Tent set on the banks of the river Jean. Right under the feet of the tent there is a gap of about three meters. The water so quietly murmurs, eyes closed. Only in a tent alone, a bit lonely ...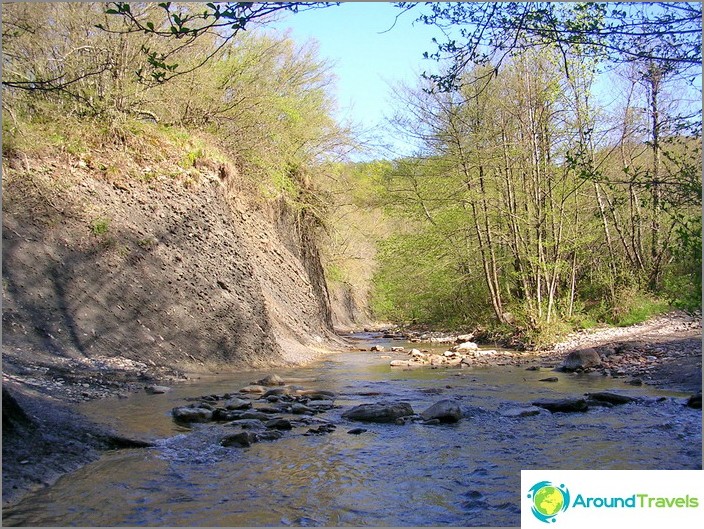 Fifth day. Without hitchhiking, in the Renaissance.
The morning began at six o'clock. Frozen Again! ...! A warm sleeping bag is a dream of my life. After all, we do not appreciate some moments to which we are accustomed. It turns out that sleeping in a warm bed is the height of bliss. With a shudder, I wait for the next night, I have to come up with other options for fighting for heat.
I didn't want to go anywhere, like this all day andpassed But I had time to think a lot. Yes, yes, I thought again. For this probably went to the Renaissance. And after I opened auto-stop for myself, it became easier to carry out such trips. Understood such a thing, you must sometimes get out of your comfort zone, and interact with life. Otherwise, the development stops. Hitchhiking opened my eyes to many of my fears. He was afraid of drivers, raising his hand, and spending the night near the highway. Yes, and here in the village of Renaissance to sleep alone, one had not yet. However, it so happened that I had to hitchhike alone and spent the night alone. Overcame himself, overcame, glad now that so. Less fears, but the life of other people learned. Quite differently in the regions, people live as if in another country.
In the Caucasus, already the grass is green, flowers appear. Some trees got foliage, almost summer. And in Moscow, before leaving, almost the snow still lay.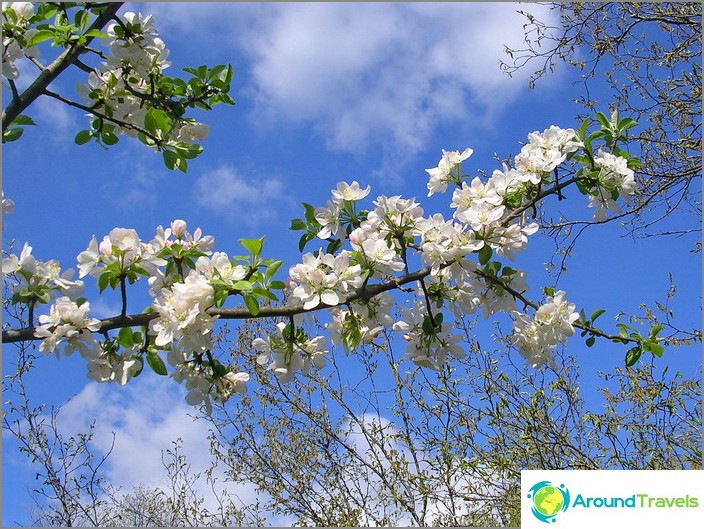 Just from the Commander sms came at night likeshould come. I will sit around the fire and wait. Where the second member of the expedition is unknown. It may also be divided, but how much you can already go, I overtook them more than a day.
The sixth day. Without hitchhiking, in the Renaissance.
In the evening the wind arrived! Finally! He told how to get. Yeah ... Exactly, man wanted adventure. And he spent the night without a tent, and went on the wrong road, and walked for five hours. I was tired, almost immediately after arrival I fell asleep. Now we are all in the collection. The commander, as he wrote, arrived last night.
He sat today at the dolmens, meditating type. Well around them, new thoughts then appear.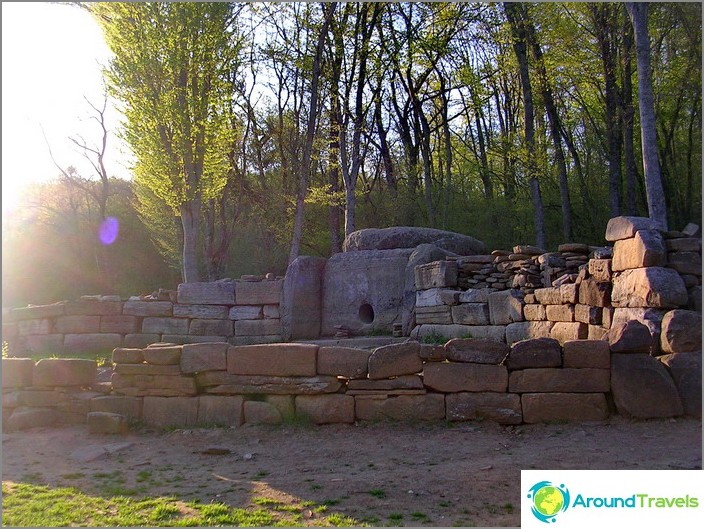 Seventh day. Autostop: Revival-Tuapse.
On the last sentence I was cut off lying intent, with the included lantern, and a pen in his hand. So, whether getting up early is making itself felt, or whether I was so bursting with boiled condensed milk with fried bread on a fire, which I used to rot in a warm sleeping bag. Yes, now I sleep in comfort, put a bottle of hot water in my legs. This awesome way is a great solution, and why I haven't thought of it before.
We got up, bathed, and decided to move in Tuapse. There take the car Commander (he lives in Tuapse) and go to the village Anastasievka (Tuapse district), where the dolmen, called the temple of the sun, is located. And after, see ecovillage near Absheron.
To Tuapse arrived quickly, probably for 2 hours. First, Kamaz paid me attention to Dzhubga, and the guys were a gazelle, where we met and stopped the passenger gazelle, the three of them, however, were more fun to ride. In Tuapse, we went to the friends of Commander, funny such people, a little fussy, fed us the way my grandmother probably fed me as a child. They listened to stories about mountain hikes, after which I realized that, apparently, not a hike, and with them I wouldn't go: almost without rest, waist-deep in cold water, some kind of mountain maniac.
The matter is in the evening, and we stayed with the Commander. In a cute room made in ethnic style. And most importantly there is a heater. And I was also lucky enough to sleep on the bed. Well, that's why when she is constantly, you don't notice her.
To be continued… Hitchhiker to the Caucasus and back. Spring 2007. Part 2.