In fact, I rarely write reviews of ours.intermediate housing. Usually articles about hotels do not go to the reader's newsletter, but simply are placed somewhere imperceptibly on the back of the site purely for information. But here I could not resist. The place is some kind of magical place and we even regret a little that we only planned 3 nights here. But okay, I tell them in order, for we ended up here quite by accident.
The content of the article
Foreword
When we decided how to get to Krabi fromBangkok, I had an idea instead of taking a plane to take a car so that Daria would dissipate a little and remember what it would be like to travel. Many people think that they went to Thailand, how cool it is, but in fact, our life here differs slightly from Moscow in terms of rest: I work all the time, and Daria is busy with Egor 24 hours a day. So we have no travels here.
But just go to the car more than 800 kilometerscompletely unjustified. First of all, Egor, though he became quieter, was still not a gift, and secondly, every day he was broken for a day's sleep, which could not be carried out in a car (Egor does not sleep in it). Hence the conclusion - we need stops, and at least two, in order to travel 250-300 km per day, no more. And then I thought, why don't we relax somewhere along the road for several days at once, for example, near the national park Sam Roi Yot, which is not far from Hua Hin. Here and the sea is, and should be quiet, because the area is not much resort, and you can go to the national park, if the desire appears.
The beach village
Unit price
Going through the stop options in AirBnb, I accidentallystumbled upon this apartment (almost a villa!). By and large, it was not important where, most importantly, on the way to Krabi and somewhere near the sea in a quiet place. Honestly, it is very interesting, you walk around the site, you look at any options, you are asking the price ...
1350 baht on Airbnb along with charges. This is the private 1-leg unit in which we lived.
Units on RoomGuru 1750 baht for a studio, 2300 baht for a 1-room, 3500 baht for a 2-room. But these are already other units that the complex itself rents. We, as I wrote, removed the unit directly from the owner.
</ Li>
Alternatively, you can simply search for other hotels.in Roy Yot Himself at RoomGuru. High-quality search service, which by its functionality has long been released to the top of the best in this segment, and at the same time there are often more lucrative offers on the hotel you are interested in. For ease of familiarization with the service, here's a green button with a direct link to the metasearch.
Through Airbnb, you can rent housing from private individuals andwithout intermediaries, both for a day and for a week, a month. If you sign up for the service, you can get a $ 20 bonus via this link. The bonus can be used within a year after registration by making the first reservation. And be sure to look at my post. about the Airbnb servicein which I told how to register, how to confirm an account, how to search for housing and so on.
Interior
In fact, initially, we did not think that welike it here. Well, a decent room, well, a pool, think. Somehow we are indifferent to amenities, we evaluate them only in terms of the availability of kitchen and space for a little boy. And yes, everything is there, except for the washing machine.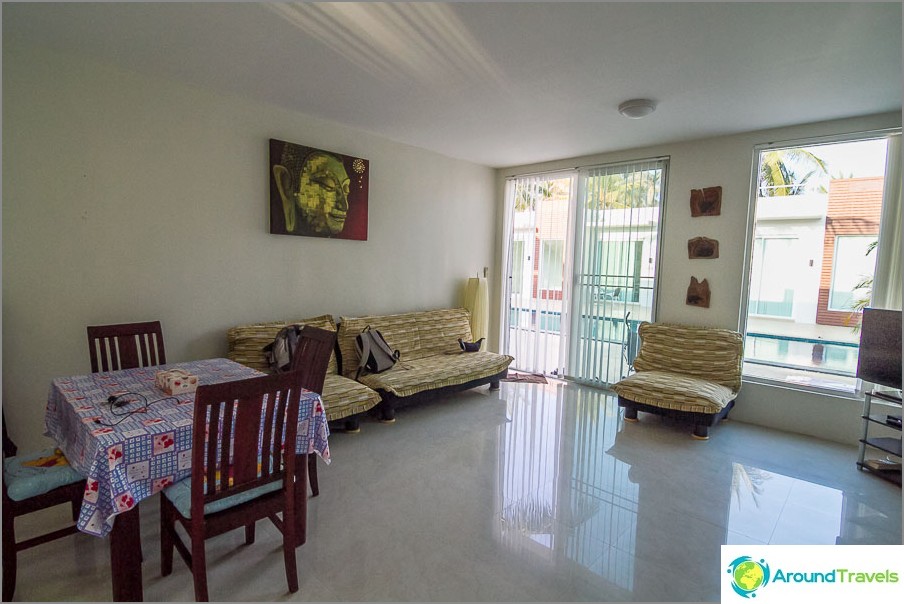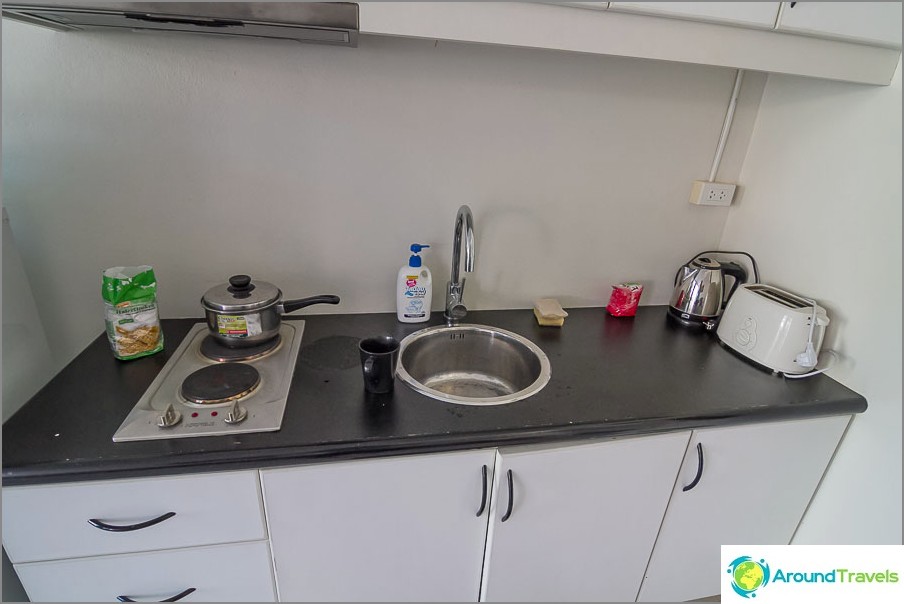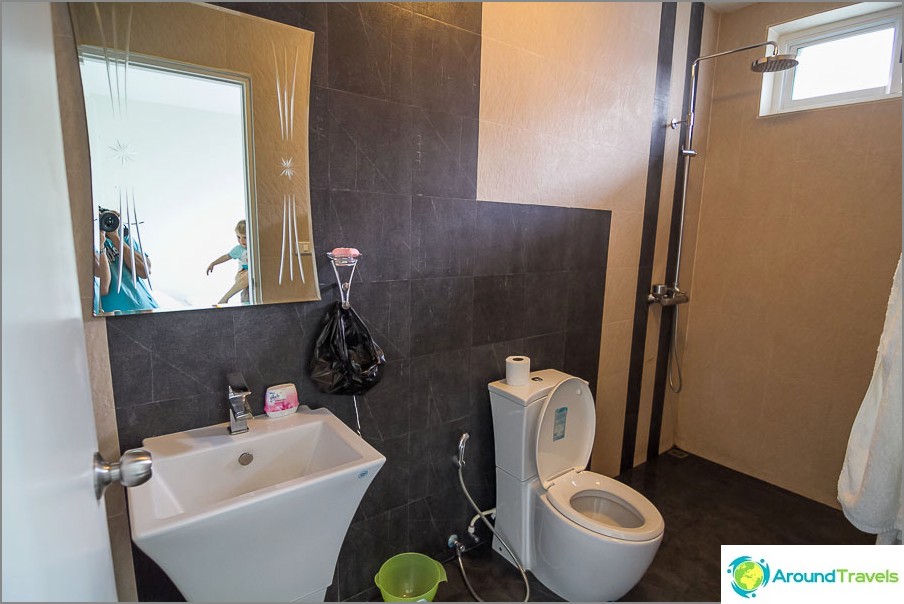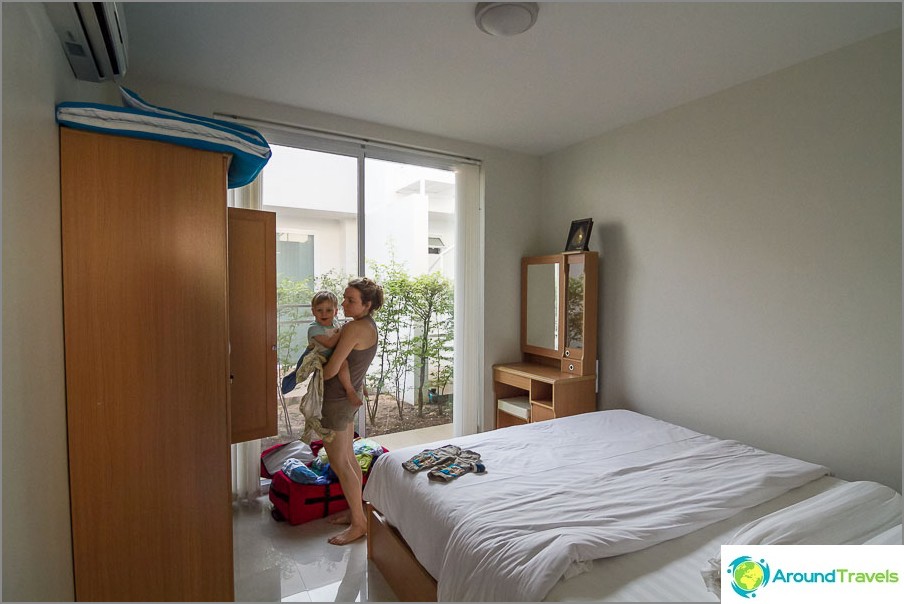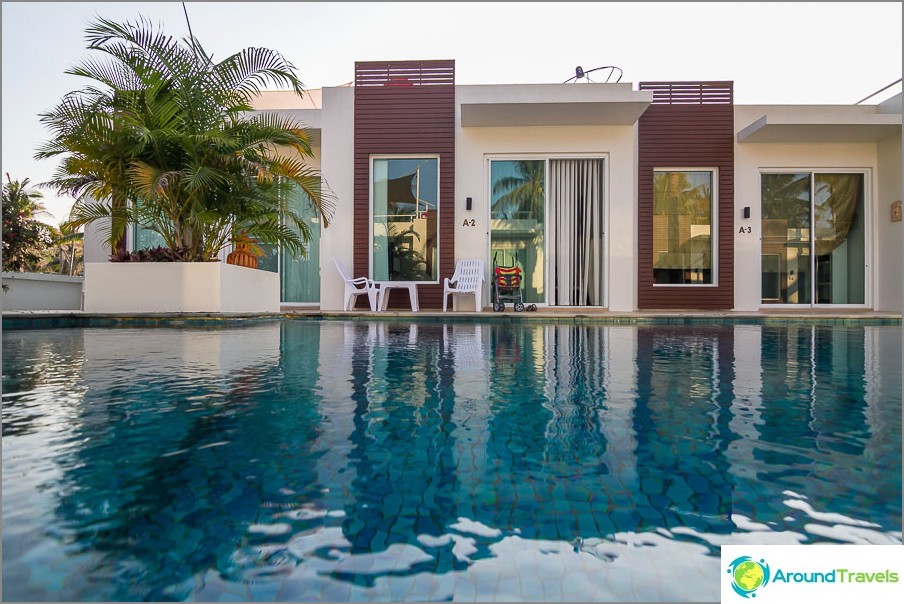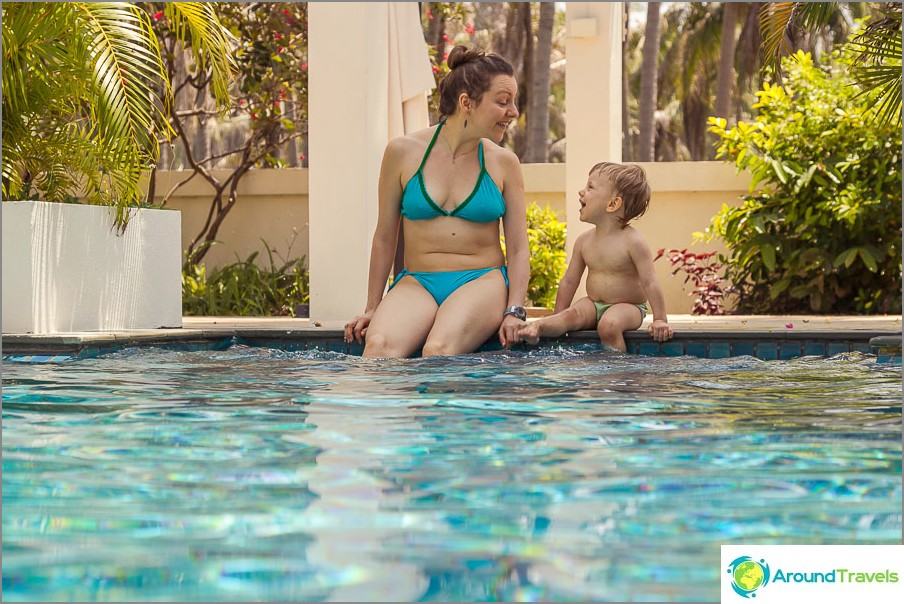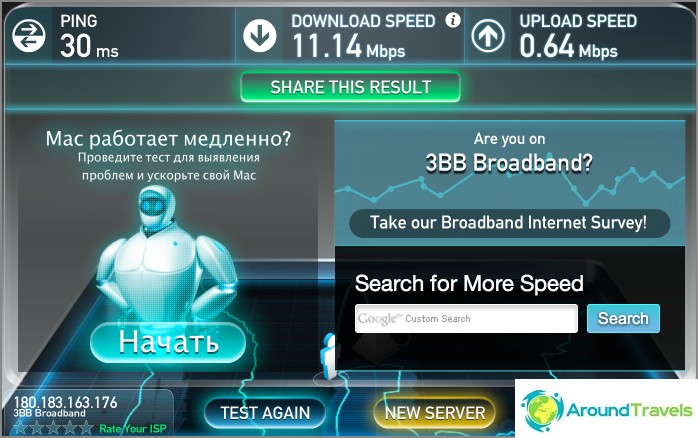 Territory
In this complex there are several blocks, in each ofwhich are 8 single-story units under the same roof and located around the pool. There are several types of housing: studios, 1-bed room and 2-bed room. The territory is typical for resort, there is a cafe, gym. But this is not exactly a resort, because some of the apartments have their owners (in fact, we have just rented such a number). The rest of the apartments are rented through the same RoomGurulike a hotel.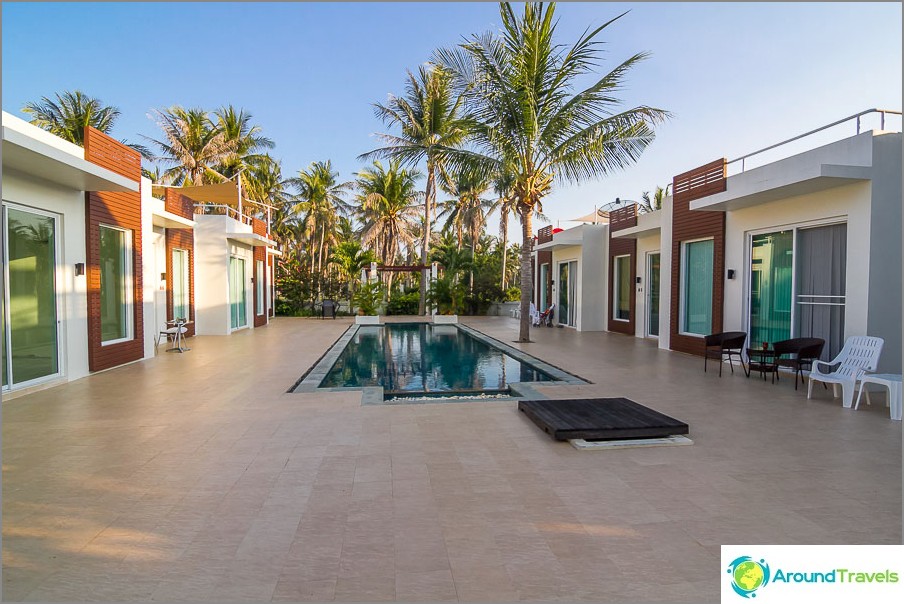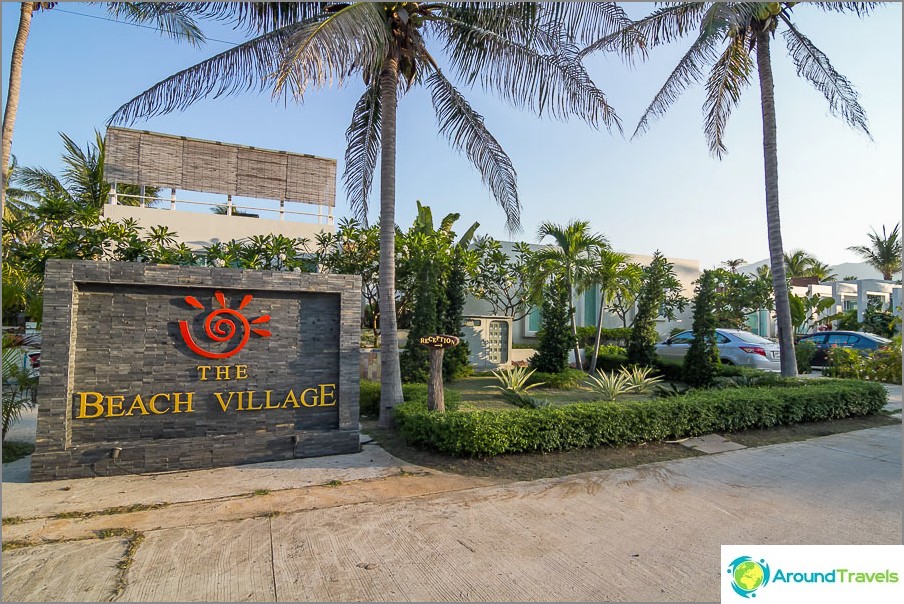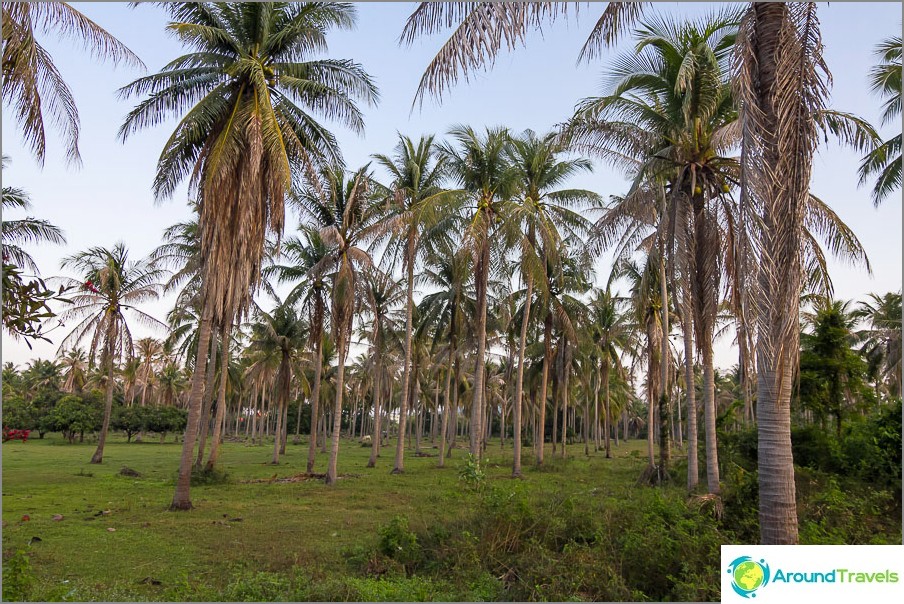 On the map
Pool house
Pool house
The houses are single-story by type of townhouse, several units under the same roof, around the pool.
Read more
The houses are single-story by type of townhouse, several units under the same roof, around the pool. Read more
Dolphin Bay near Sam Roi Yot National Park
The area itself is very quiet and calm. Everywhere palm trees grow, building is rare and mostly of a European type private houses, separated by a rainforest. Dolphin Bay beach is deserted, there is no one at all! Yes, not to say that it is very strong and very beautiful, but after the Black Sea and Pattaya beaches it is quite a sea and sea. But lovers of the bounty will not support me, here and the shells are large, and silty bottom, and very shallow, that is, horror-horror! In principle, for the fact that there are no people here, one can forgive him a lot. The main thing is that there is almost no human garbage, it's already great. The only disadvantage for us is the lack of a developed infrastructure, although there are a couple of cafes on the beach (average prices), a couple of Thai convenience stores with chips, one water mat, one laundry room, and even bike rental. And so you can drive in Tesco, it is half an hour from Dolphin Bay (located on the highway).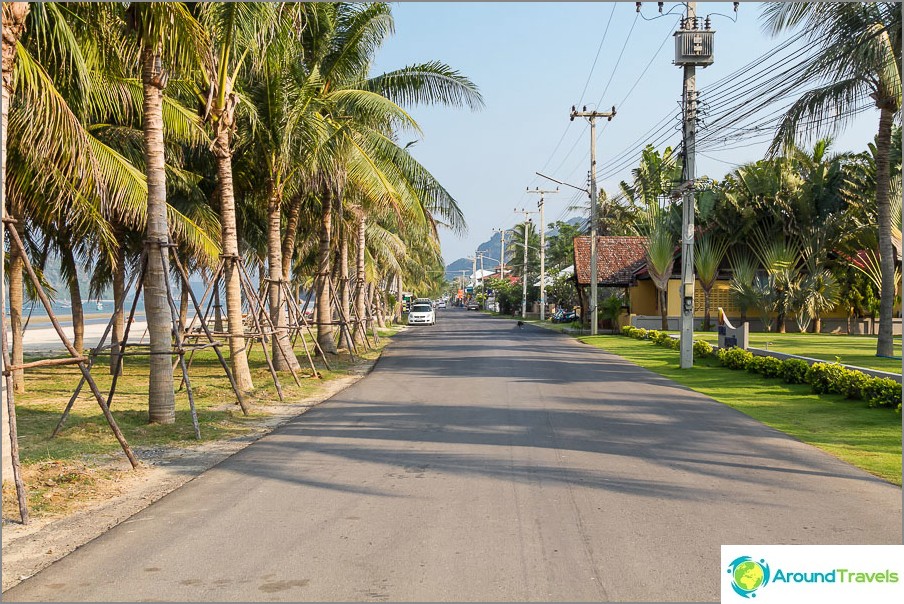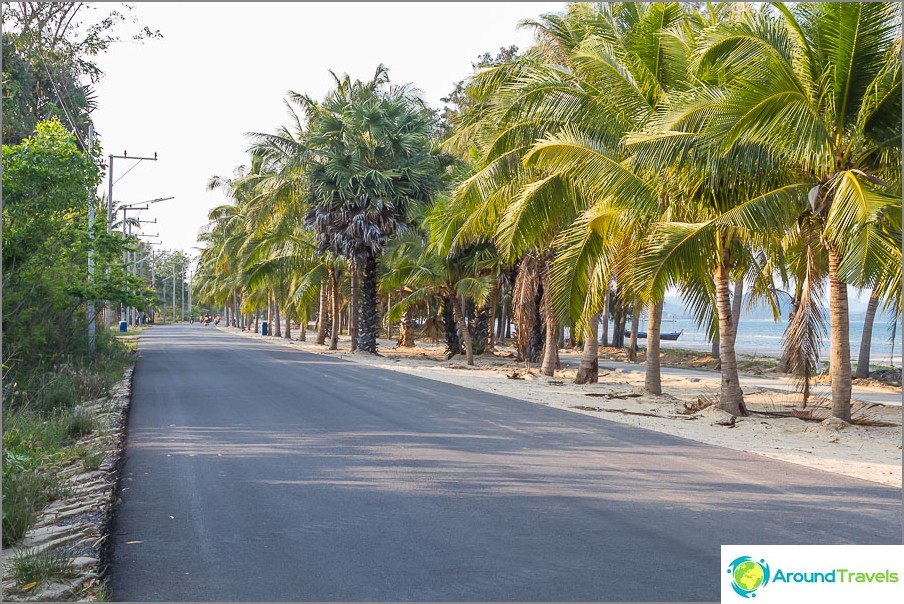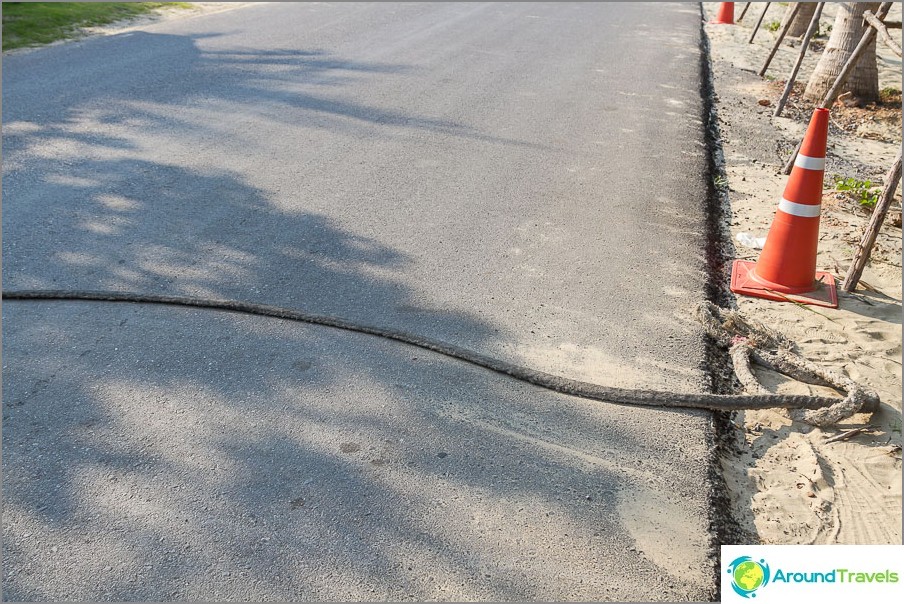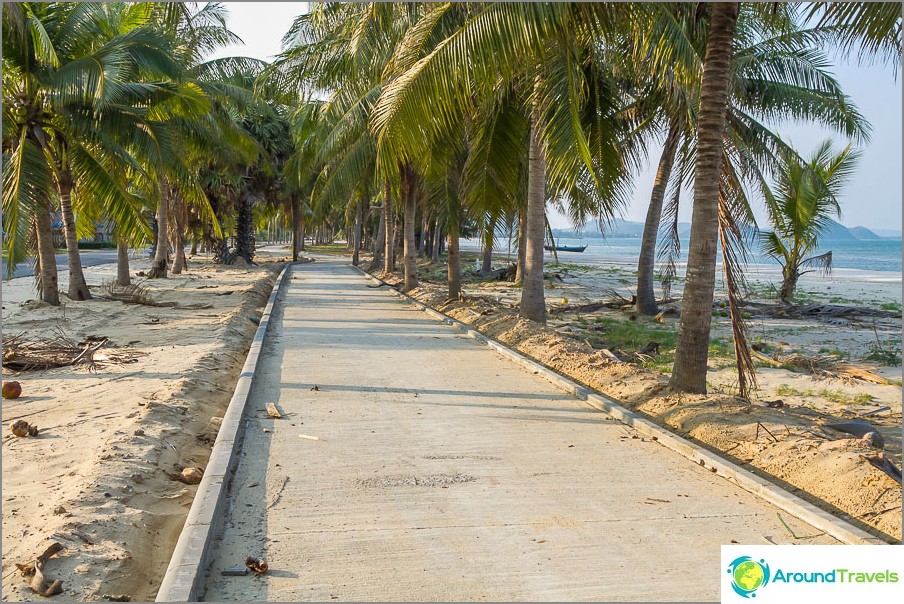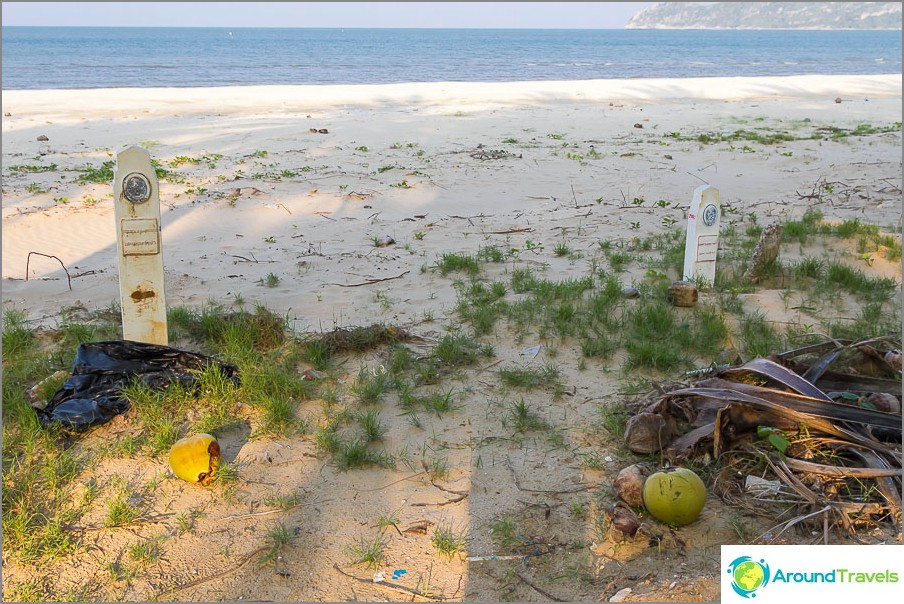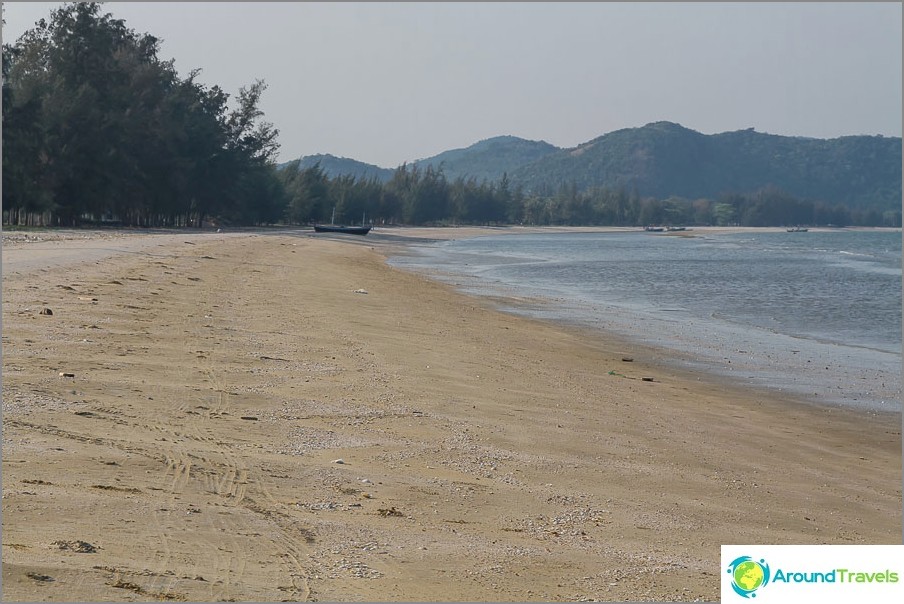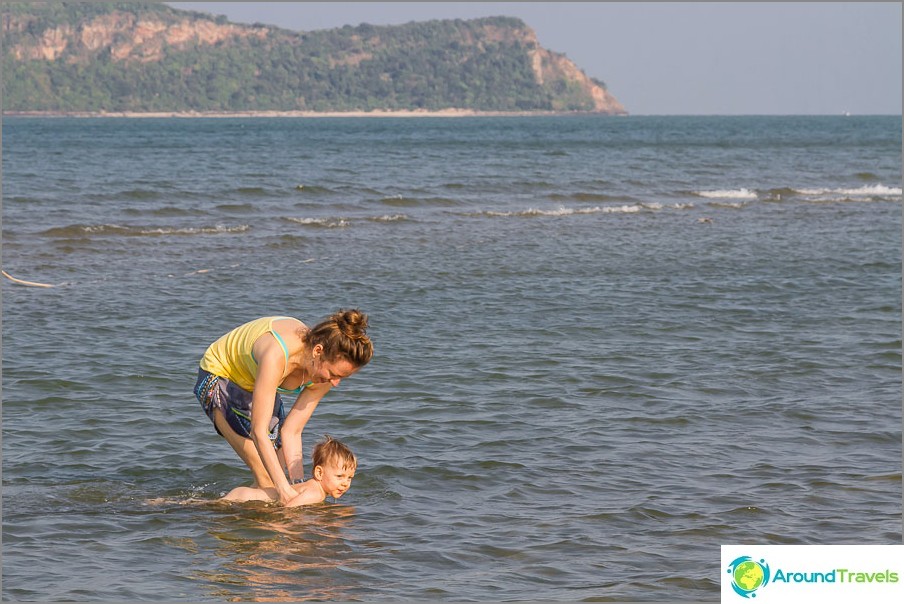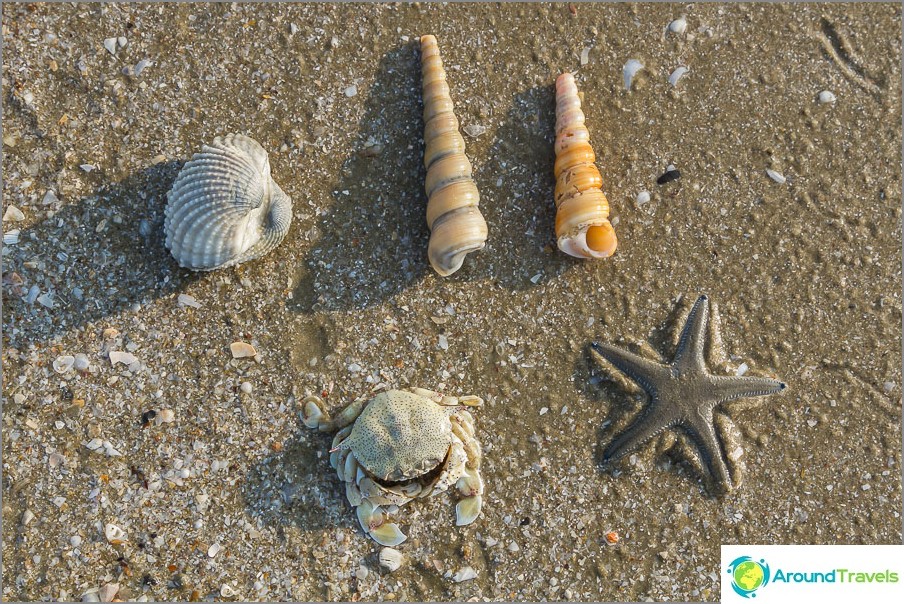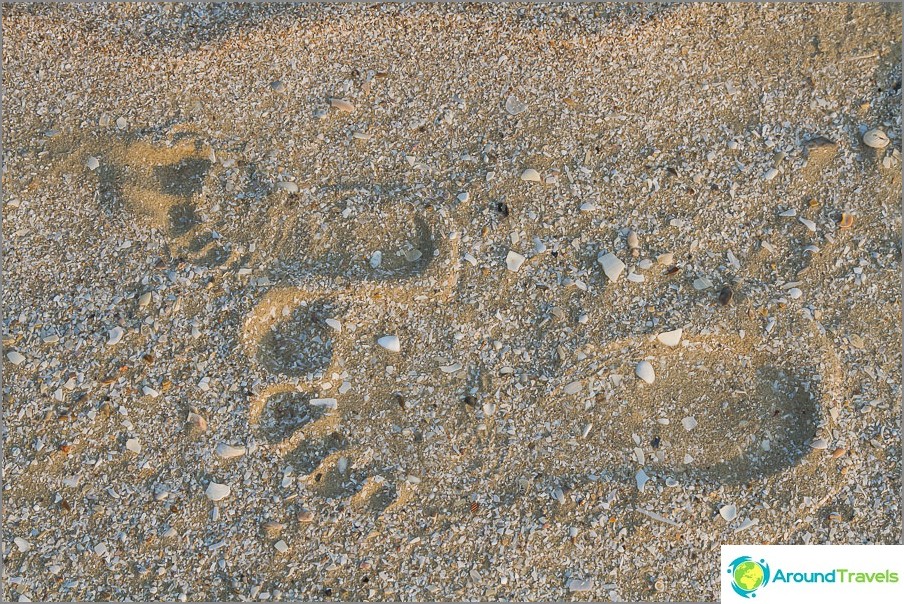 For the second day we are here andenjoy the tranquility and nature. After a noisy and bustling Bangkok is just paradise! How little a person needs to be happy, just sometimes to be in the lap of nature and take a breather ... When I recently traveled north to my mini tripI also check it out. It is very difficult to convey in words sensations, it may be that the matter is not at all in a particular place, but in the fact that we have seized upon the rest, but once again it seems to me that it is just necessary for a person to sometimes be in the lap of nature. And the essence is in nature, silence and lack of humanity, and not in the resorts with their resorts and services ...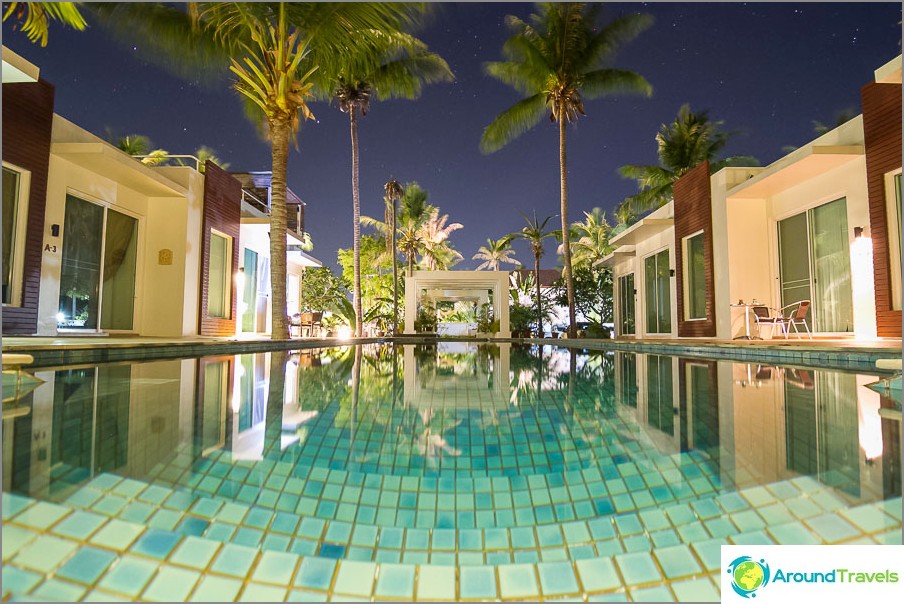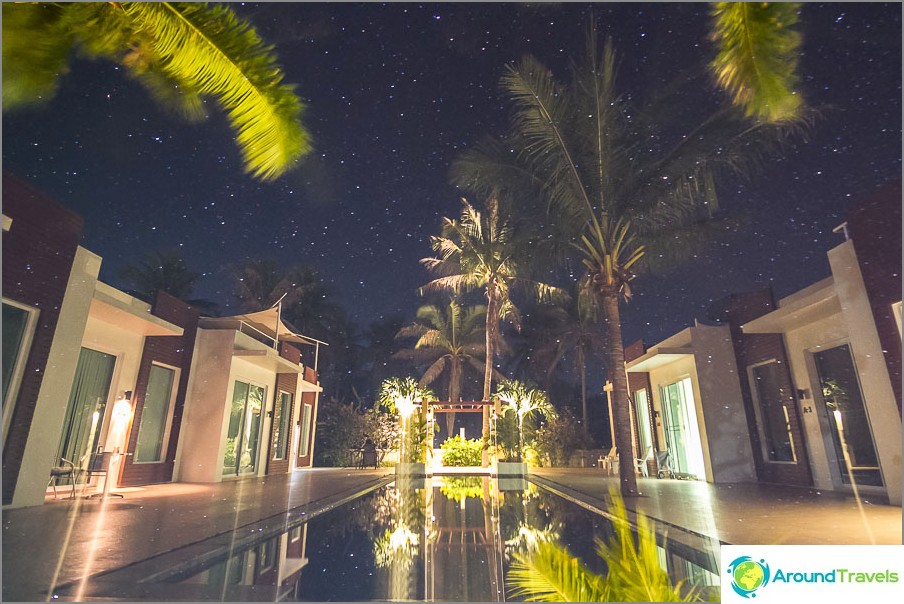 P.S. Great place to relax, have a good week or month, and not just come to see Khao Sam Roi Yot National Parkas they usually do. Recommend!
P.P.S. Chekin and checkout were very simple, at the reception we were given the keys, and then we returned them there, and that's all. From the observed drawbacks: a broken hygienic shower and a strange switch in a regular shower.
Life hacking 1 - how to buy a good insurance

Choosing insurance is now unrealistically difficult, so to help all travelers, I compile a rating. To do this, I constantly monitor forums, study insurance contracts and use insurance by myself.

Life hacking 2 - how to find a hotel 20% cheaper

First, choose a hotel on Booking. They have a good offer base, but the prices are NOT the best! The same hotel can often be found 20% cheaper in other systems through the RoomGuru service.

Discount hotels