I planned to get to this park back in the pastthe trip, I have such an interest to be in the parks. But I only managed to walk to Kowloon Park (I also liked it), and Hong Kong Park passed by, climbed escalator almost to Victoria Peakand then went on foot and walked to the south of the island, andit was no longer the way back. In a recent trip filled this gap. I must say, the park as a whole is very pleasant, but not quite suitable for people with limited mobility, including fragile mothers with small children.
The content of the article
Park hong kong
Hong Kong Park is located on the slope of Victoria Peak, right next to the stop tramtraveling to the top. Because of its inclined location, it has such a feature as a height difference. Where this moment was passed by a long and gentle path, and somewhere they made a steep staircase. We were unpleasantly surprised that the park was not fully thought out and not quite intended for parents with wheelchairs, and even more so for people with disabilities. It is necessary to know the territory very well in order not to stumble upon a ladder, and, as I understand, not to get into any sectors at all. Since Yegor is still relatively light, I can carry the stroller in my arms, but can a weak woman do this? Moreover, the park has a great large playground (4 tiers), which means they come with children. Yes, I now know how to get there without stairs, but this is not the shortest way if you came from the other side.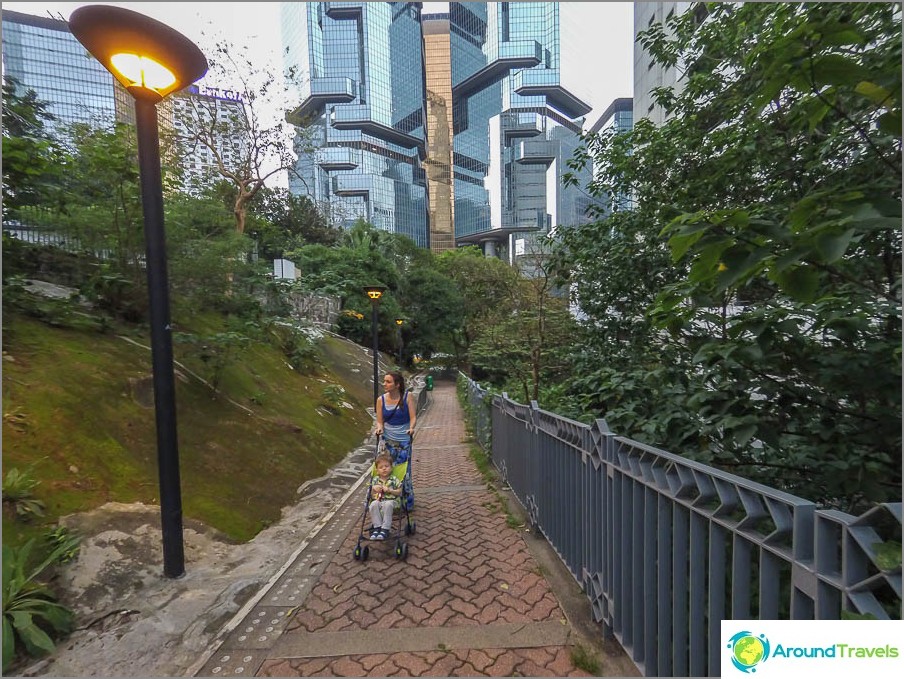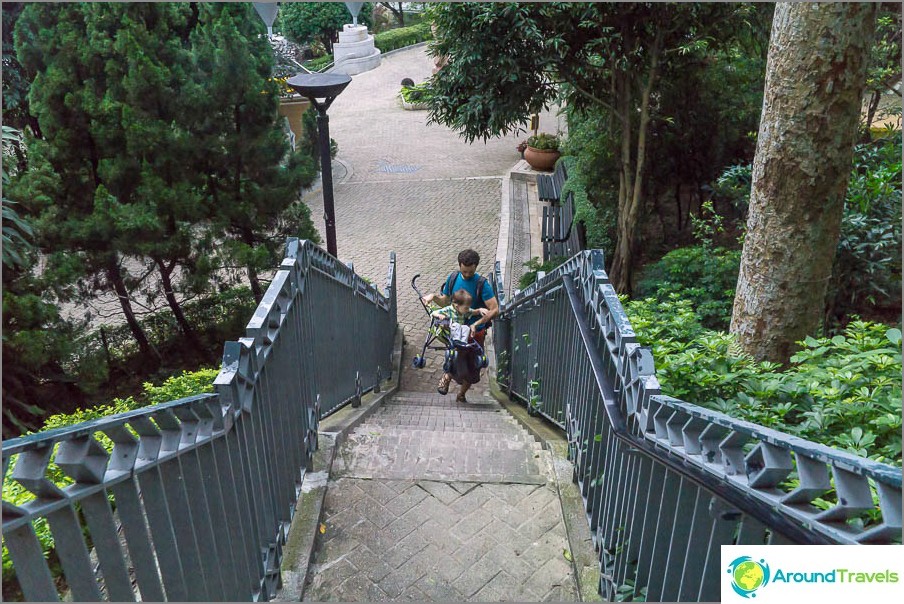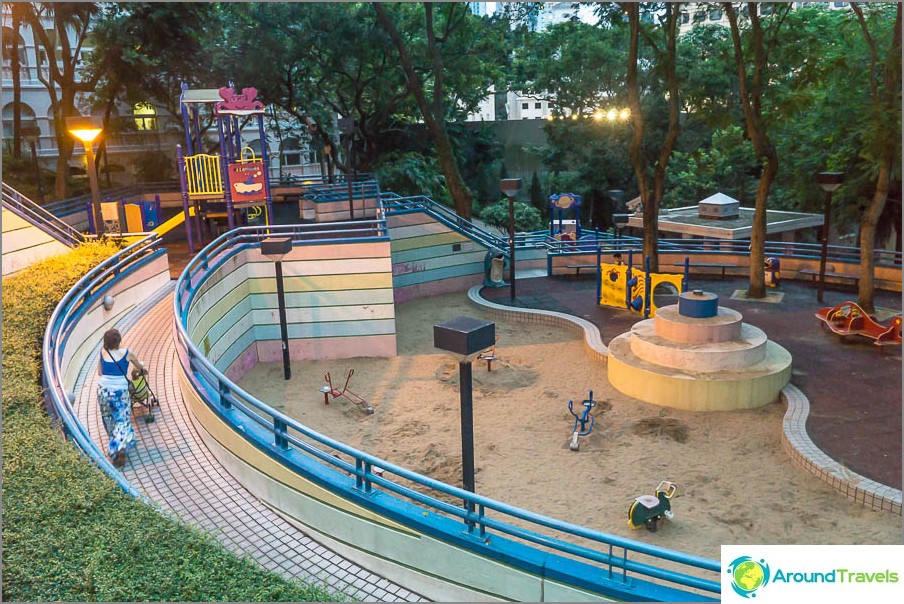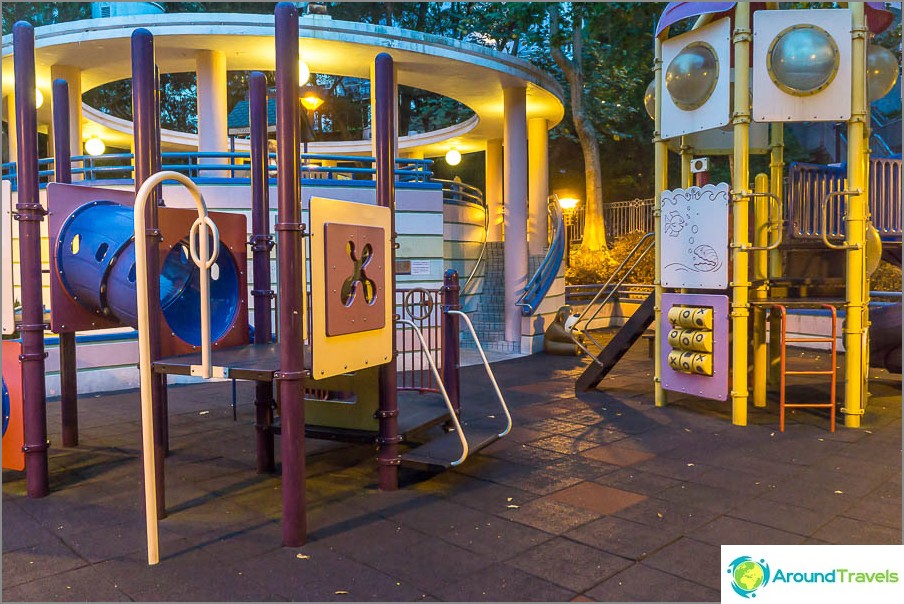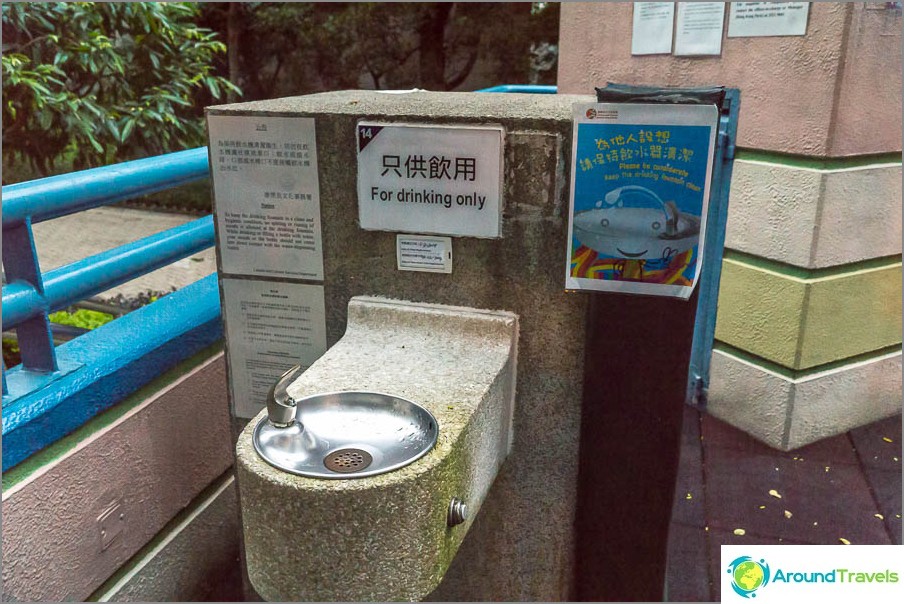 The rest of the park produces only pleasantimpressions. Each millimeter of it is neat and aesthetically beautiful. Paved paths, trees and flowers with nameplates, a small waterfall and a cave, a cafe, a huge aviary for birds, and even a conservatory. True, we were not inside.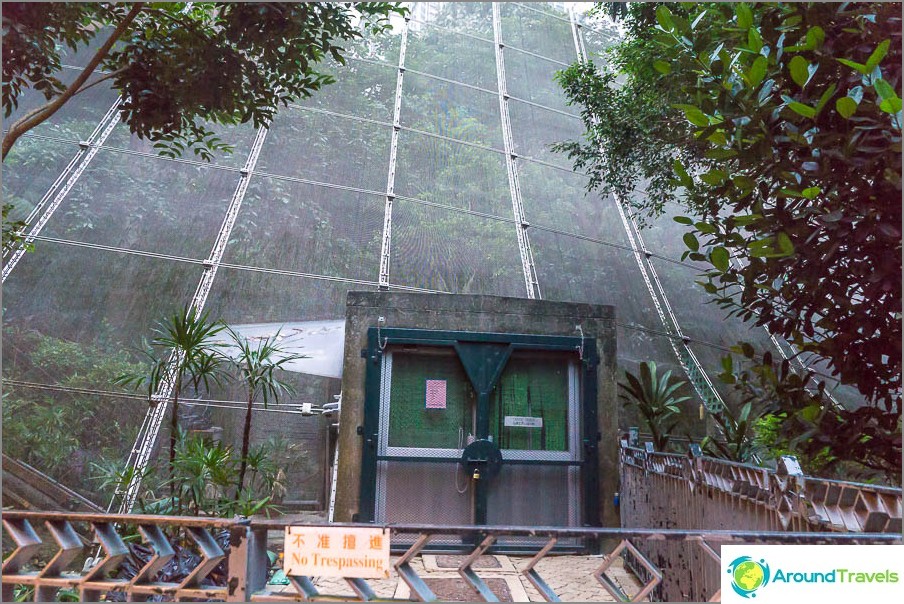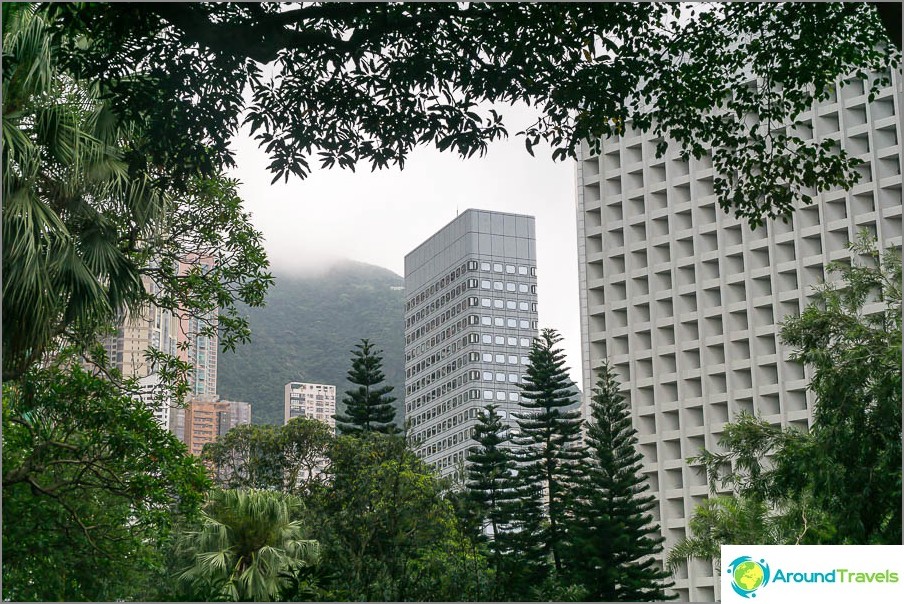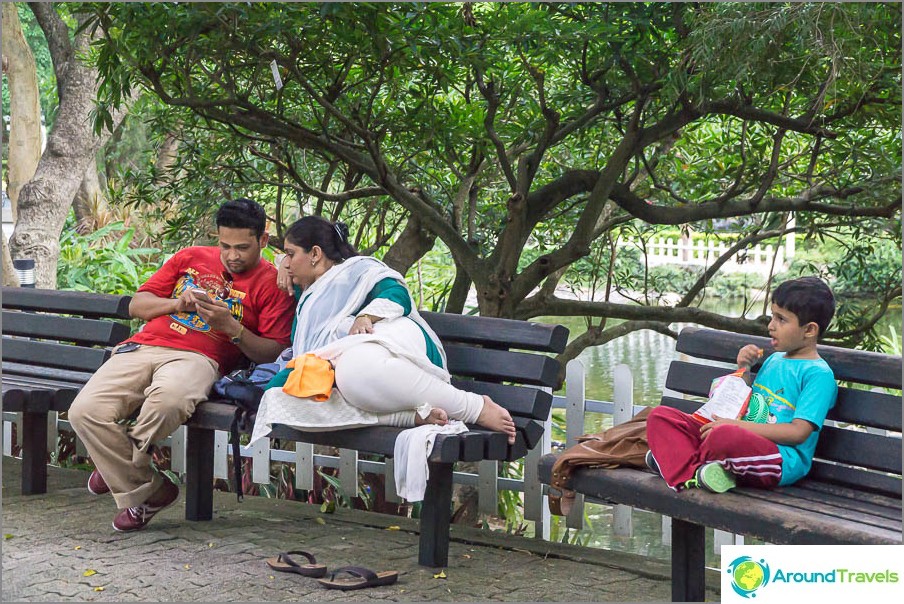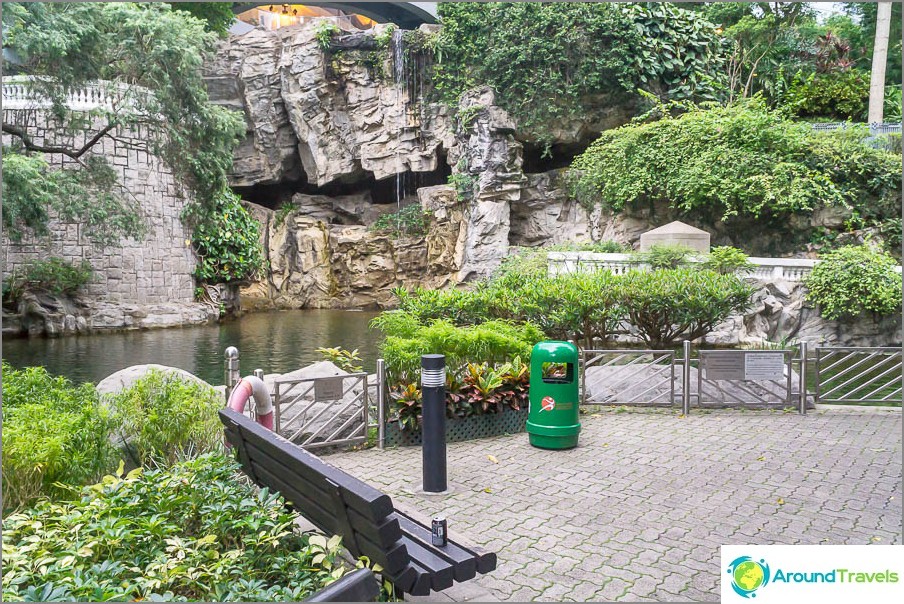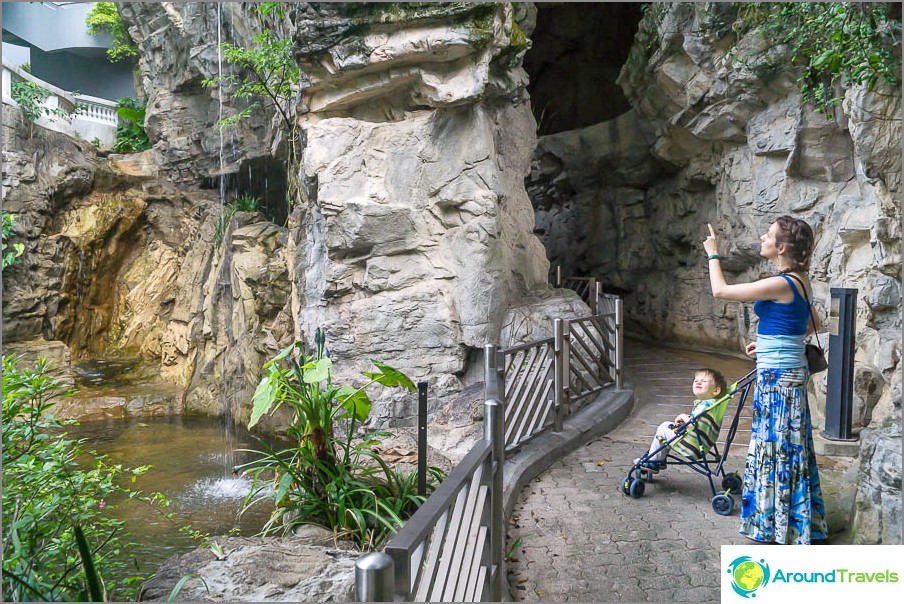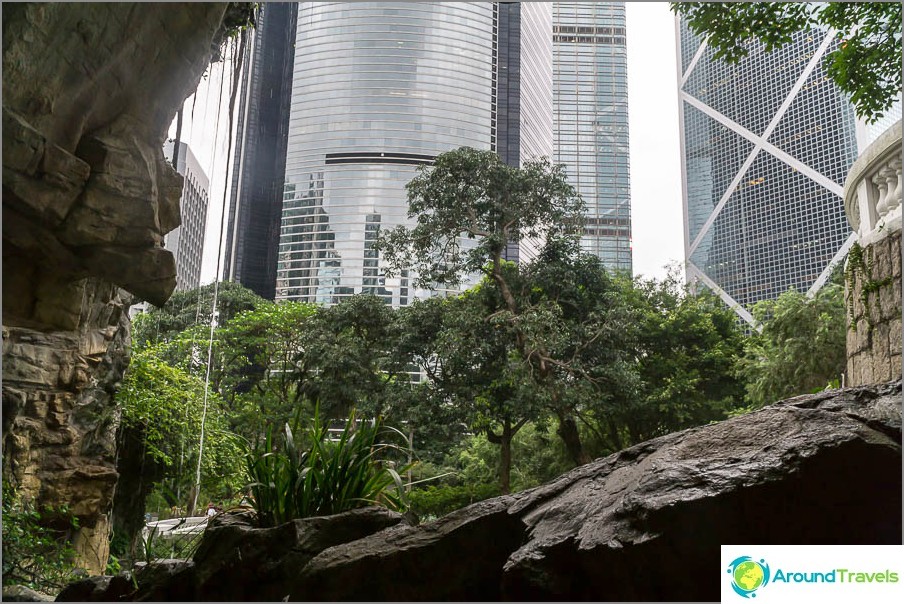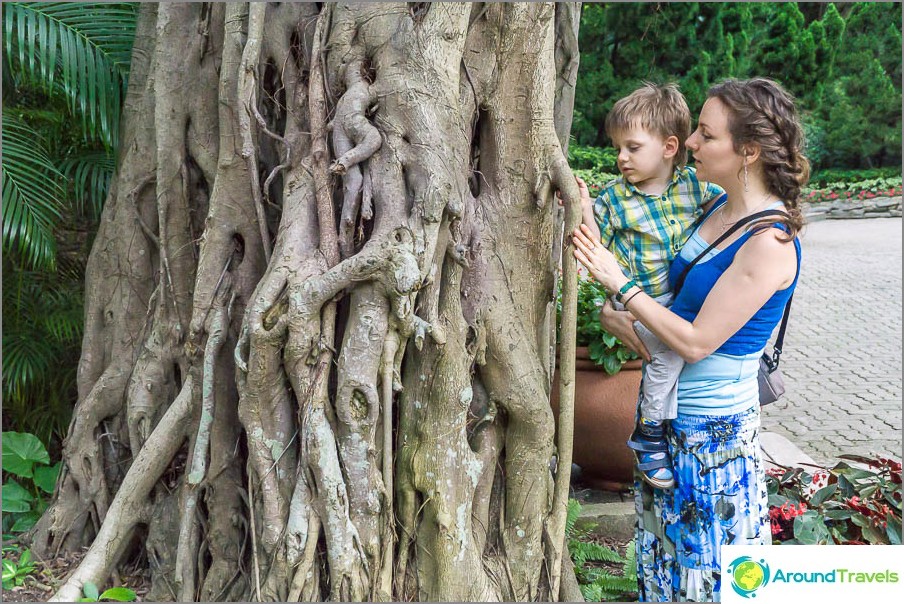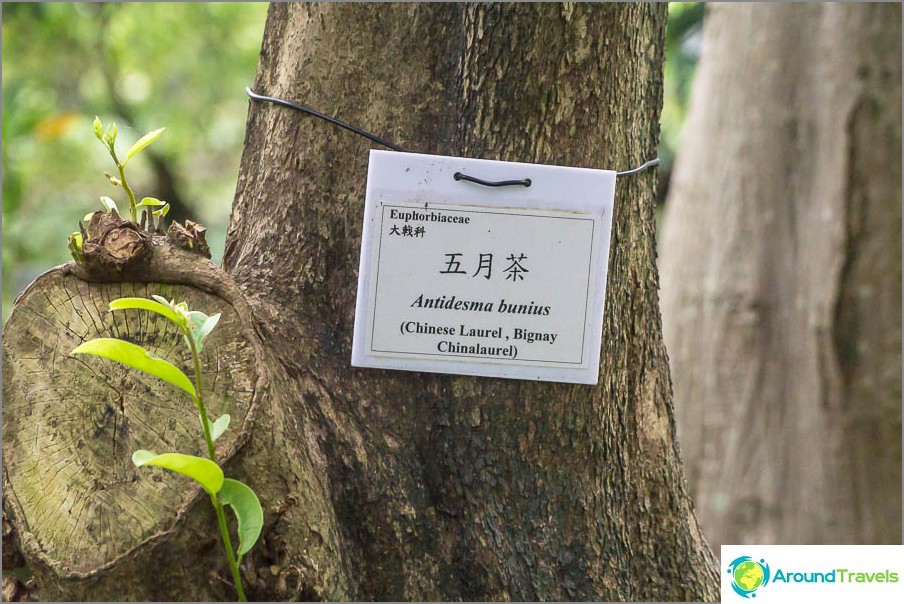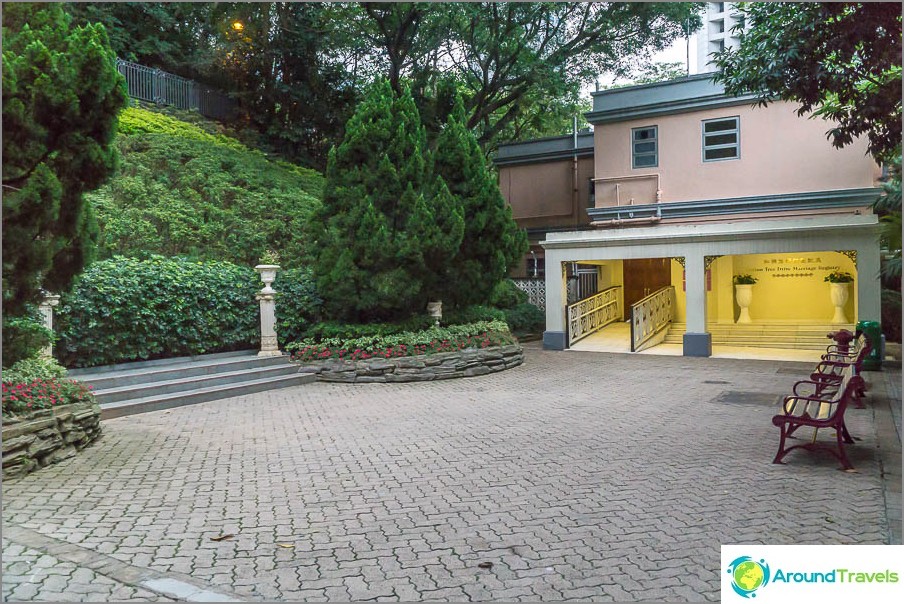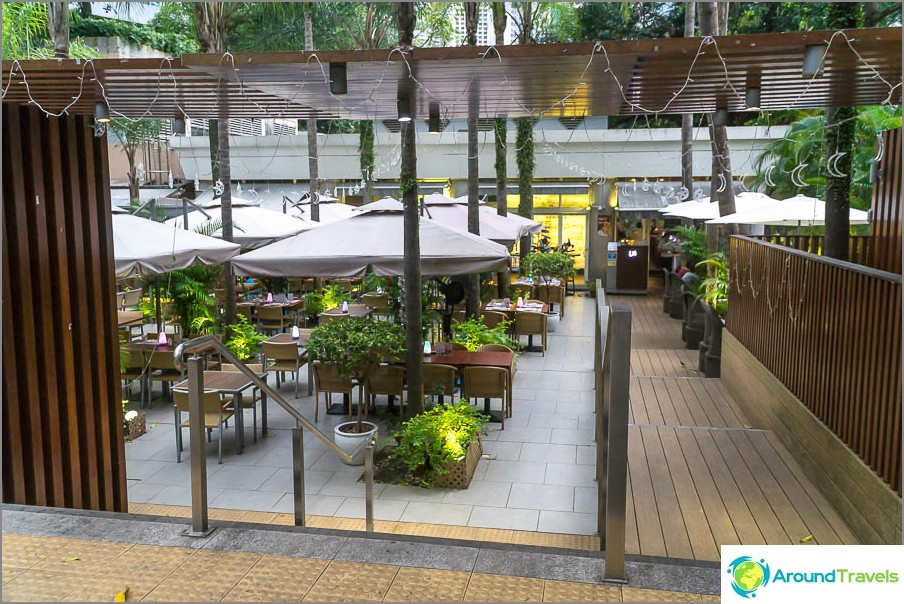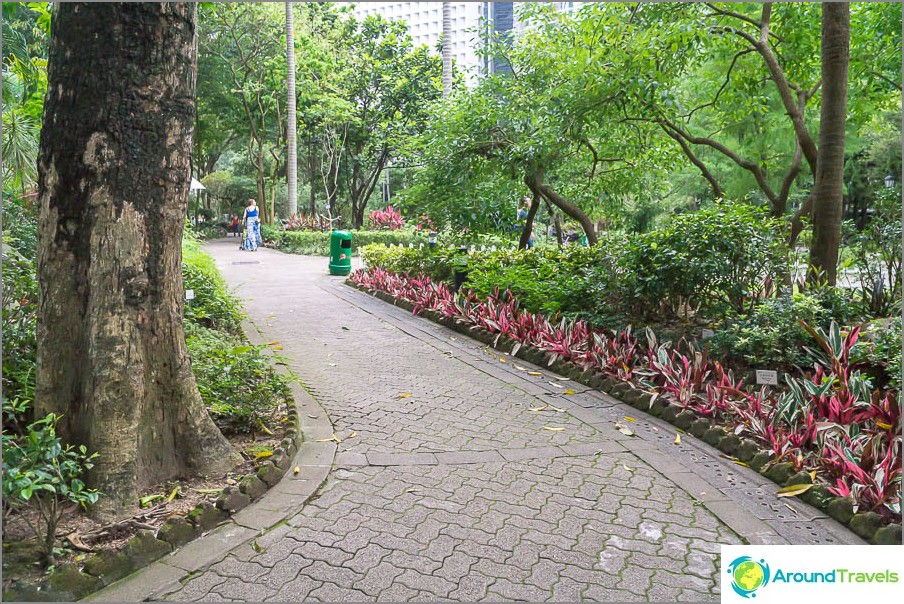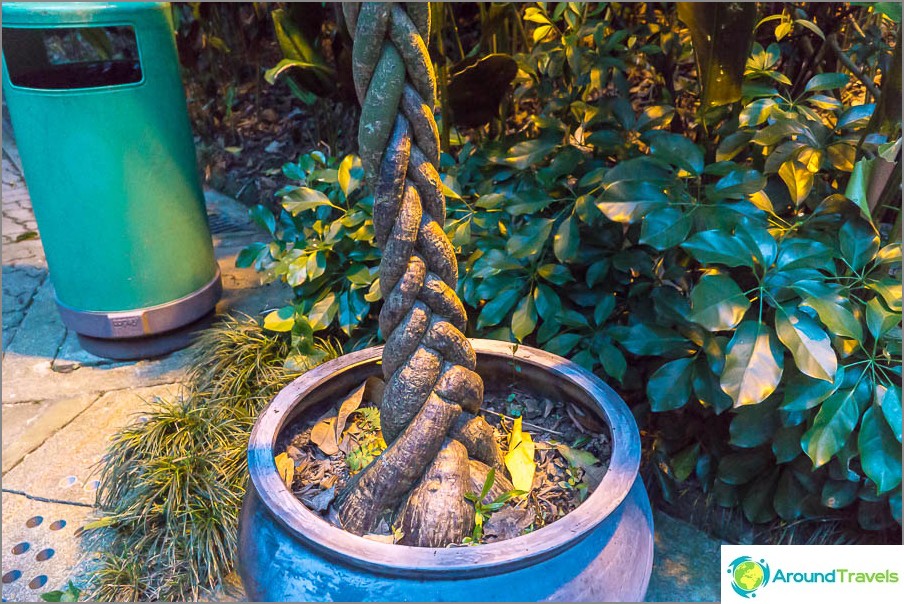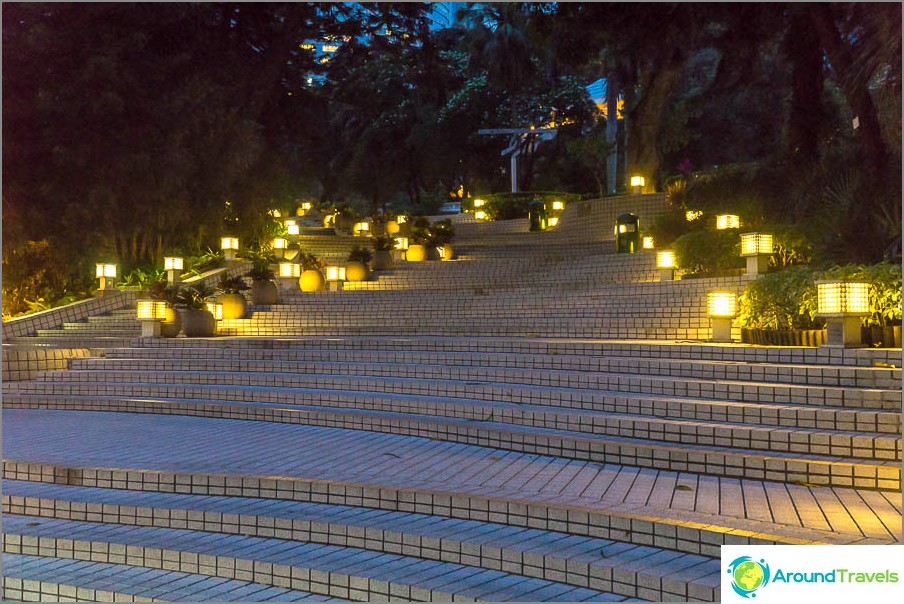 Approximately in the center of the park there is a viewing point.platform with a spiral staircase. If you go up there, you will see a view of the park, which is a kind of oasis, surrounded by a wall of skyscrapers, through which Victoria Bay is seen. Here at the height once again you realize that you are in a certain city of the future, where every piece of land has not been left unattended. Yes, many will argue and say that Singapore is much cooler, but for me and Hong Kong is very even.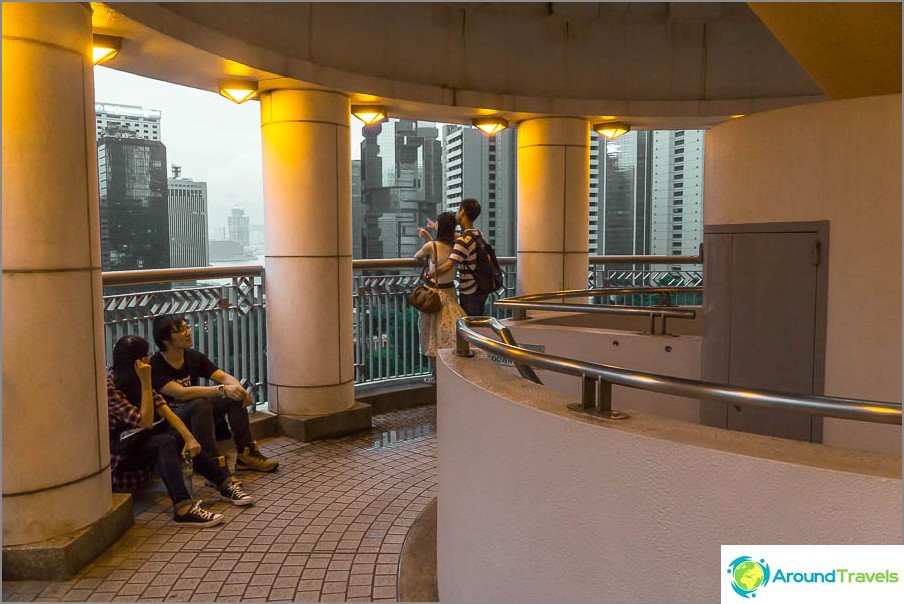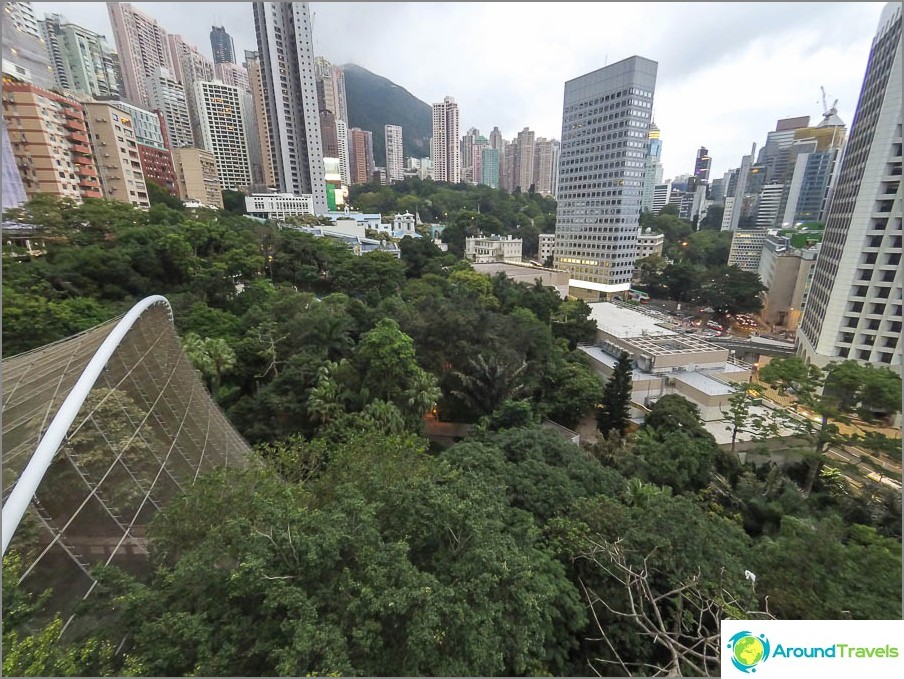 On the map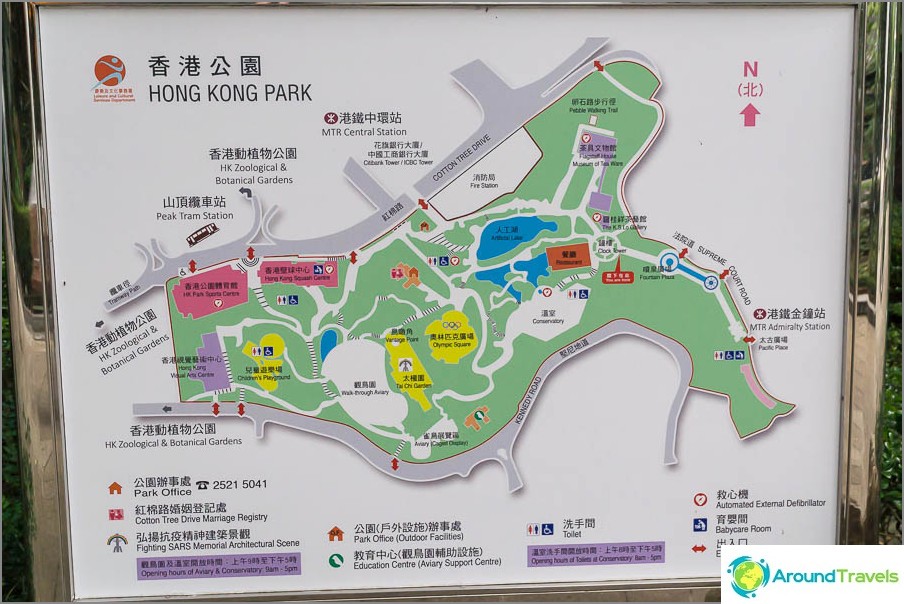 Where to get
We reached the park on foot from Admiralty station, there are about 5 minutes in total, in fact a park across the road, you just have to exit at exit B, go around the building and go up to the second level (transition).
Hong Kong Park
Hong Kong Park
Located in the heart of the city among banks, skyscrapers and hotels, at the foot of Victoria Peak.
Read more
Located in the heart of the city in the midst of banks, skyscrapers and hotels, at the foot of Victoria Peak. Read more
Life hacking 1 - how to buy a good insurance

Choosing insurance is now unrealistically difficult, so to help all travelers, I compile a rating. To do this, I constantly monitor forums, study insurance contracts and use insurance by myself.

Life hacking 2 - how to find a hotel 20% cheaper

First, choose a hotel on Booking. They have a good offer base, but the prices are NOT the best! The same hotel can often be found 20% cheaper in other systems through the RoomGuru service.

Discount hotels