Finally, I decided to live in a quiet and peaceful area of ​​Pattaya, in which you can't say that you are in such a big city. At the same time go to the center for about 10 minutes. Speech on the beach Cozy (Cozy beach), which is adjacent to the beach Pratamnak. In principle, both districts are calm and the beaches are less (after all, Pattaya is a big city and you need an amendment to do this), but if you need more civilization, then it is better to settle on Pratamnak, there is a whole Russian street.
The hotel chose by rating, reviews and price. Amari Residences Pattaya is in fact a cool hotel, its rating is 8.7, in my opinion it is true. I myself do not often stop at 4-5 star hotels in my travels, so I did not have time to get used to it (it did not become boring). Therefore, in my opinion, everything is in order in Amari Residences.
The content of the article
Price and reservation
In Amari Residences Pattaya

I took Superior Ocean Facing for 1900 baht withoutbreakfast It was still the same, but without a sea view for 1,700 baht. But in general, at the peak of the season prices start at 2,000 baht. I, as always, looked-watched various options and got at the time when there was some kind of discount.
But in general, I noticed that in this hotel, in season or out of season, prices do not change much. Deposit 1000 baht, give a check out. It is better to give cash so that it does not freeze on the map.
Pattaya hotels>
Be sure (and I insist) check availabilitydiscounts or special offers on the excellent Roomguru service. It will quickly and simply show you discounts in all existing reservation systems. In Asia, for example, there are lots of offers on Agoda.com that are much more interesting than on exactly the same hotels on Booking.com.
For example, here is a direct link to the hotel: Amari Residences Pattaya

on the hotel.
By the way, breakfast makes room cost more expensive.approximately 500 baht at time of booking. But if you take breakfast then upon arrival at the reception, then 300 baht will cost. If you pay in a restaurant, then the same 500 baht. It is always like this or not, but I took advantage of the promotion and did not regret it, the breakfast is not bad.
Interior
I got the 11th floor. I would like higher, but this is also not bad. Not bad furniture, not tired at all, but new, design is present. Coffee table out of all marble, if not mistaken (maybe just marble). The sofa is comfortable from quality leather and part of the walls with soft upholstery. By the way, a good idea with soft walls, I liked it.
Light control touch and many differenthighlights in the corners. Remote control from the TV lies in a pretty pen-case. Tea is free, but not Lipton, but normal. In the bathroom there is a shower in the form of rain and all the necessary accessories (although it is strange that the toothbrushes were tightened). In the closet there are bathrobes, an umbrella and a lantern. In the corridor that leads from the elevator to the room, a soft carpet.
Lobby with comfortable furniture and eye-catching decor. In general, wherever you look, there are pleasant little things everywhere. And the staff is especially friendly and smiling. And English, by the way, is also normal for them, as it seemed to me.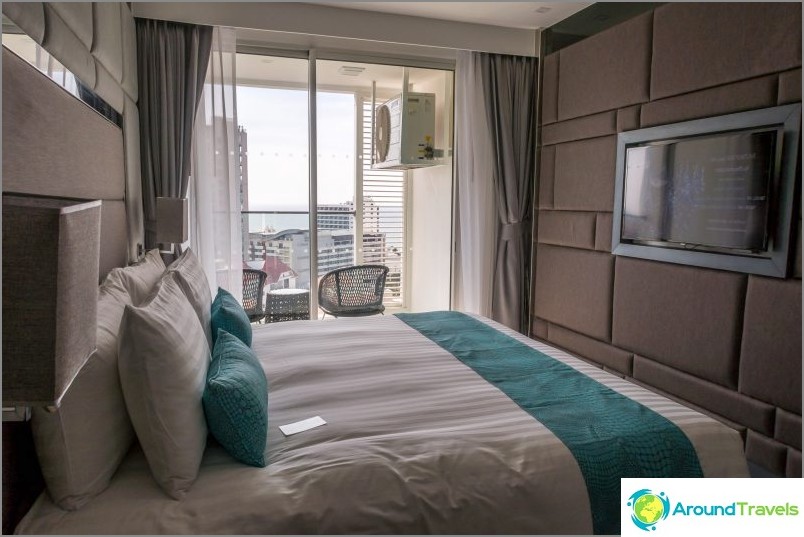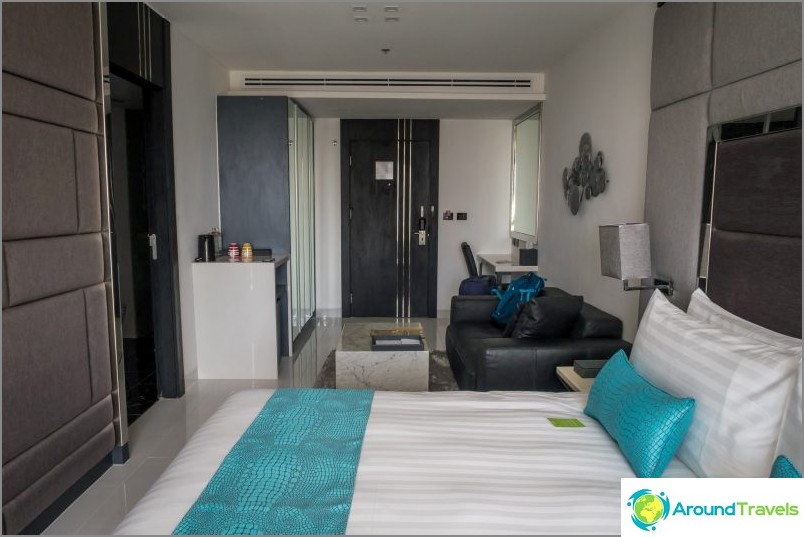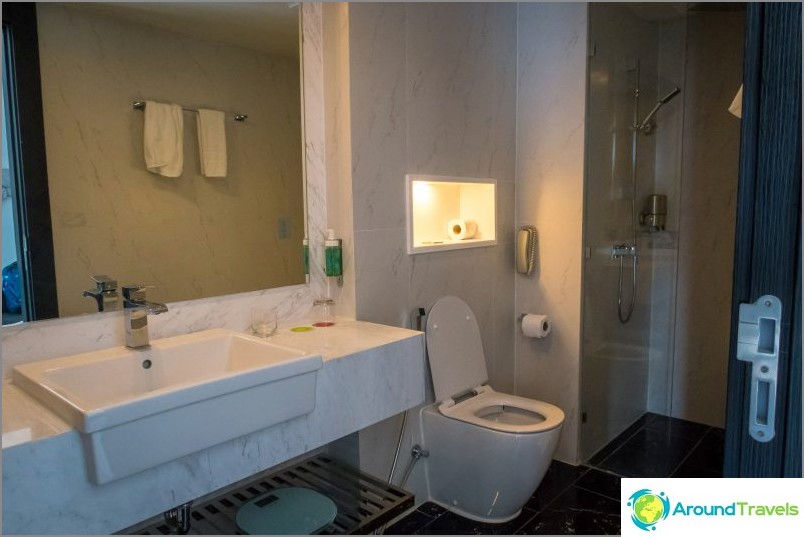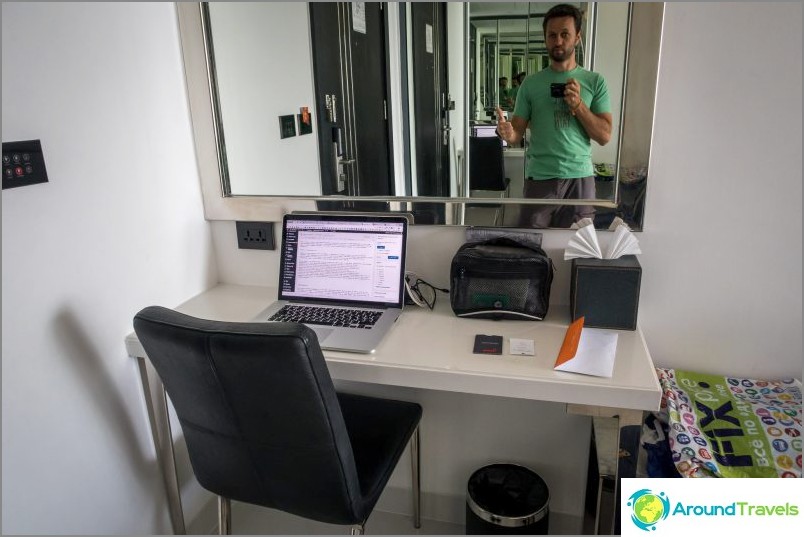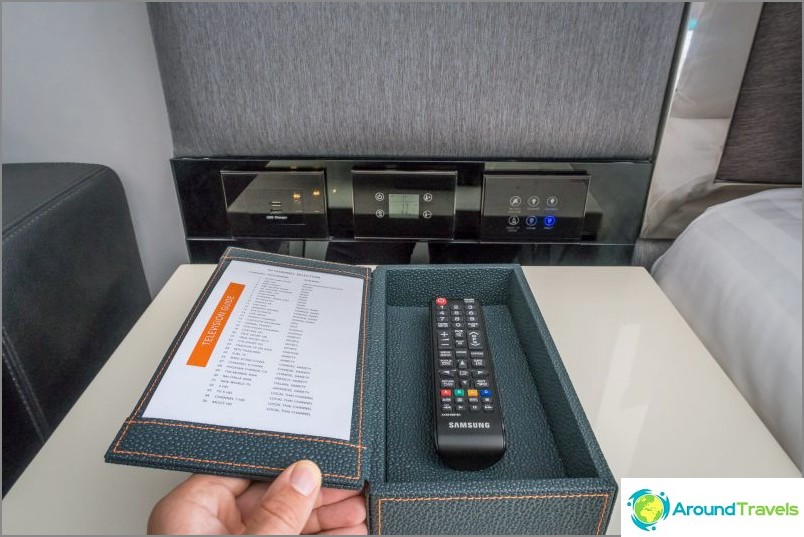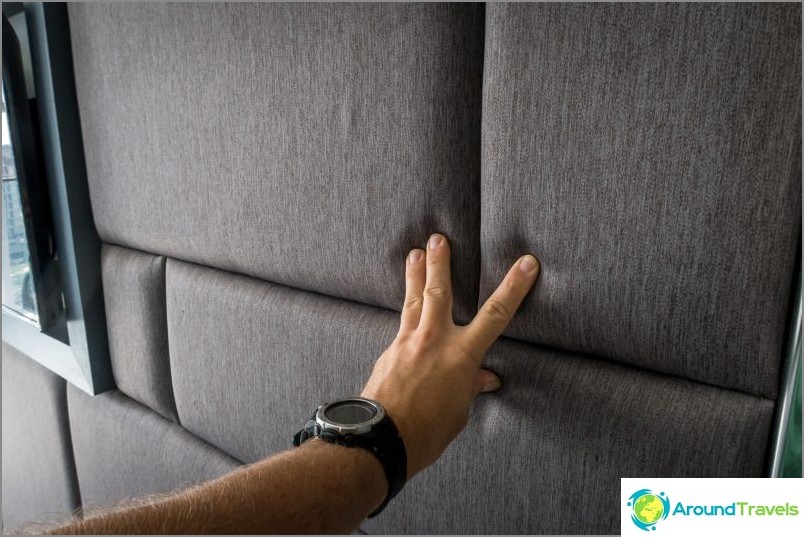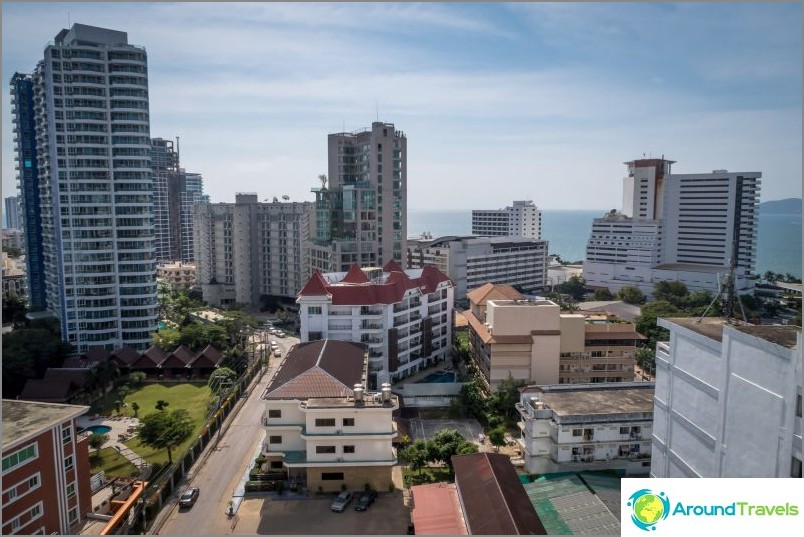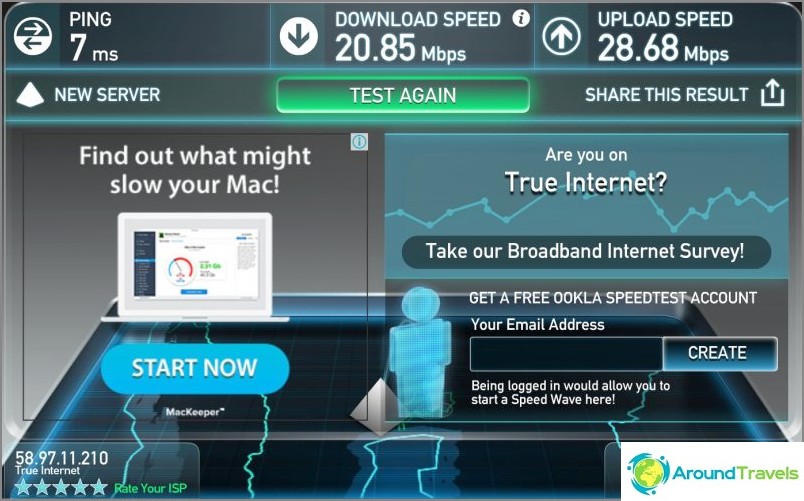 You know, on the one hand, everything seems to be the same,there is a bed or a wardrobe, but all these little things listed above create a rather comfortable environment. No, well, really, I want to return here much more than to some tortured room with repairs from a decade ago, even if they are of the same size and functionality. Probably for this people and are willing to pay more.
On the other hand, it seems to me that he does not pull 5 stars, 4 stars somewhere ... And Agoda also says that 4 is just like Bucking, where 5 stars are. Luxury is not
Although for such money (it is quite inexpensive, after all), it seems to me that it would not have been anyway, not the Hilton. In general, there is confusion with the stars, and I do not know how the hotel itself is positioning itself.
Of the minuses. The building itself would be a little closer to the sea, or with a view that is even more beautiful (here the sea view is conditional), the air conditioner would be removed from the balcony ... But this is already a nagging type, 5 stars will not appear anyway. But the location of the hotel for an amateur, after all, many go to Pattaya to be in the thick of things to be, and so they better not come here.
Exterior
The hotel does not have its own territory, thereforethere is no clearing. Enumerate what is. Really good and completely new fitness room on the second floor with a glass wall to the street. At least I found everything for myself there. More precisely, halls 2, but the second one is closed and I did not understand at all why it was.
The pool is small and located on the street. On my arrival, he was under repair, so they offered a transfer to some other hotel nearby.
It is a pity that the hotel did not make a viewing platform upstairs on the roof. I think the view should be nice from there. At least a small bar could be made.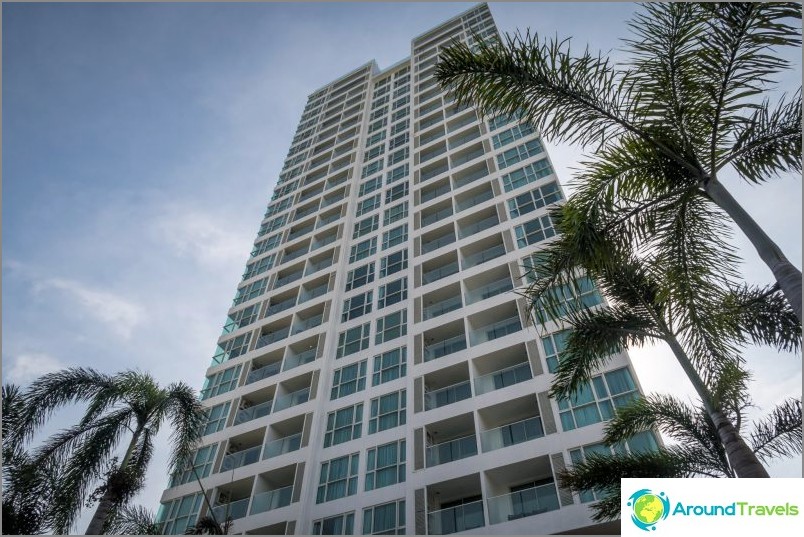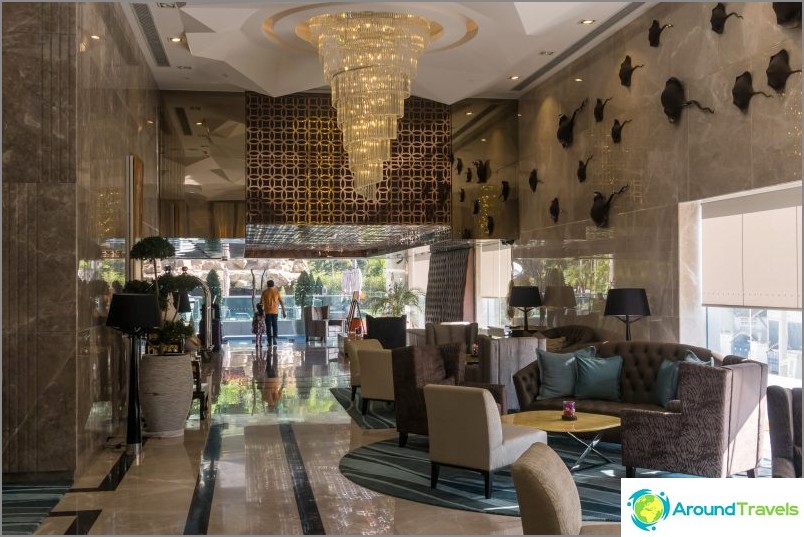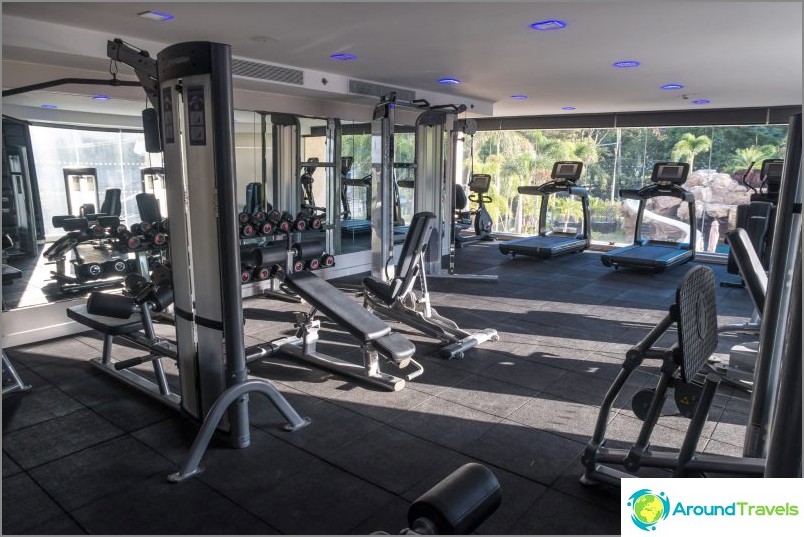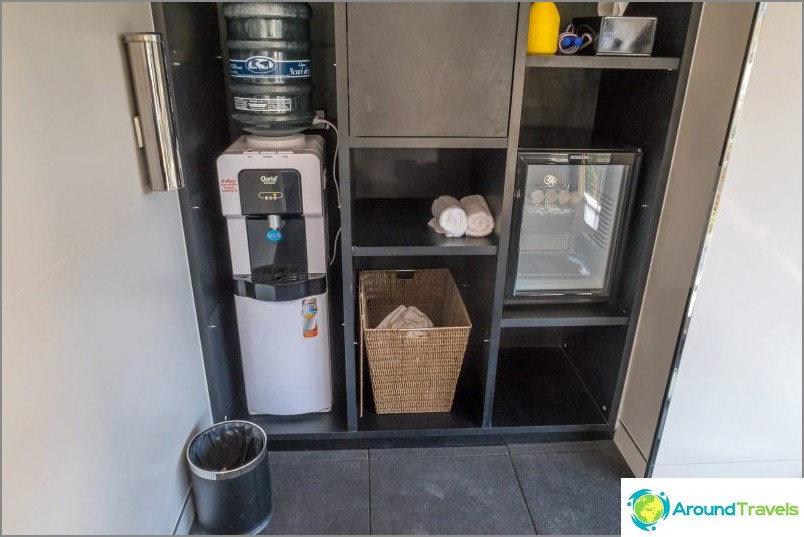 Good breakfast, which costs its 300-500 baht,because the choice is really quite good, I compare it with other Thai hotels of a similar star where I was. Probably, on 5 stars, he again does not pull, but still normal. Immediately I remember Kacha resortthere the choice of dishes is wider, but the food itself is simpler.
Coffee of different types from the coffee machine (finally, and thenforever one kind and from the kettle). Several types of bread, and not just one cheap for toast, and 9 pieces of which then spread on this bread. Juices, some milk-fruit necks, fruits, muesli with various additives such as nuts, a couple of types of sausage.
By the way, the juices seem to be better than usual in Tae.offer, not so chemozy. A good set for salad, including black and green olives. A pair of cheeses - Camembert and Dor Blue, which is rarely seen at all, because cheeses in Tae are not very favored.
Standardly when you prepare an omelet andscrambled eggs. From the hot: meat with potatoes, fish in batter slightly spicy, tomatoes with cheese, boiled rice, fried rice, rice noodles with eggs and vegetables, steamed vegetables, beans in tomato sauce, potatoes, pancakes, a couple of sausages and bacon As a resume, it's hard to stay hungry.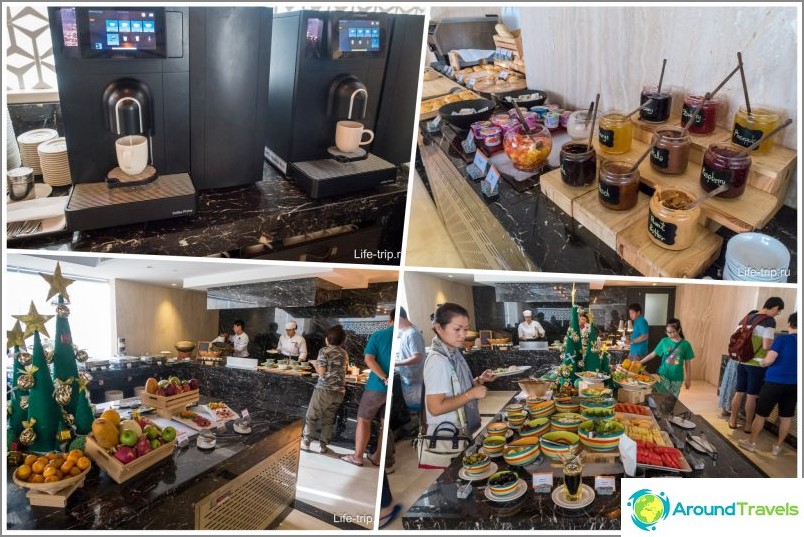 Infrastructure nearby
In the feedback to the hotel wrote that next to the hotelwilderness and nothing at all. Yes, it is, but if we talk about the street where the hotel itself stands. Literally 5 minutes on foot the street on which there is already everything you need - cafes, massages, 7-eleven and Family Mart shops. Yes, the choice is not the same as on neighboring Pratumnak, but it is enough.
All the same, for something more will have to centerPattaya to go from here that with Pratamnak / Jomtien. The same street leads to a very good Cozy beach, that is, it's about 10 minutes to stomp away from the hotel to the water. There are also a couple of decent and famous restaurants on the beach: The Chocolate Factory and Sky Gallery.
The hotel also has a free shuttle to the mall.Central Festival Center. The schedule is not frequent, but still better than nothing. In principle, it's not a problem to call a taxi, about 200 baht will cost, and you can get there for 80 baht by moto. Or rent a bike / car, it will generally solve all the issues with movements, I usually only move on my own transport to have maximum freedom.
However, I repeat, you should not settle here, if you need to be at the epicenter of civilization, it's better to live right in the central region, there is also a choice, for example here in this condominium.
On the map
Amari residences
Amari residences
The 5 star Amari Residences Pattaya. In a quiet location near a good beach, Kozy Beach. I liked it, but it is 4 stars, not more.
Read more
The 5 star Amari Residences Pattaya. In a quiet location near a good beach, Kozy Beach. I liked it, but it is 4 stars, not more. In more detail
Life hacking 1 - how to buy a good insurance

Choosing insurance is now unrealistically difficult, so to help all travelers, I compile a rating. To do this, I constantly monitor forums, study insurance contracts and use insurance by myself.

Life hacking 2 - how to find a hotel 20% cheaper

First, choose a hotel on Booking. They have a good offer base, but the prices are NOT the best! The same hotel can often be found 20% cheaper in other systems through the RoomGuru service.

Discount hotels