Faced recently that some peoplethey doubt that you can get a Schengen visa yourself, and in general you can get a visa if you do not quite comply with the generally accepted framework, for example, you do not officially work. Therefore, I decided to tell you how I received a one-time French Schengen visa for my trip to Europe by car.
The content of the article
Schengen visa of which country is worth making out
At one time I decided to do Frencha Schengen visa, as it was planned to spend it in France most of the time from our monthly trip, and therefore subsequently collected checks for gasoline just in case. Yes, of course, I could have done a Polish visa, as we drove through Poland, however there are certain nuances why the French visa suited me more, and we had a transit in Poland.
There are 2 rules
Visa of the country where you spend most of the time (the most basic rule).
The visa of the country through which you are entering, but only if it is difficult to determine the country of greatest stay (there are some nuances, and even this rule no longer exists).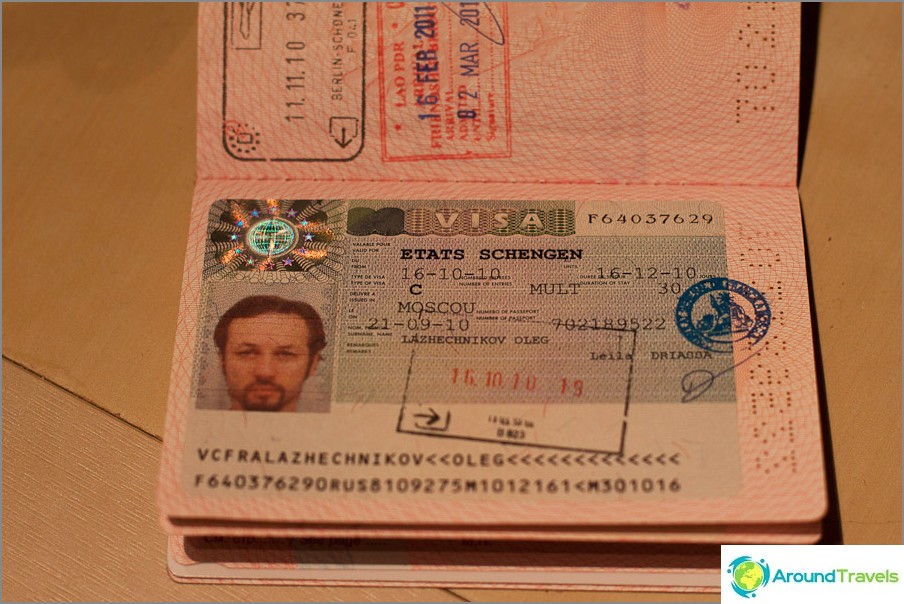 Most stay country
And this is quite logical. You are requesting a visa at the consulate in which country you are most likely to stay. For example, you go to Germany for 2 days, to France for 3 days, and to Spain for 4, then the direct road to the embassy of Spain. And if you are traveling for 2 days to Germany, for 2 days to France, and for 1 day to Spain, then you can submit documents both to the German embassy and to France.
In order to simplify your task, it is recommended to slightly change your itinerary (add 1 day) so that one of the countries becomes the country of the largest stay.
Country of first entry
There is quite a bit of confusion with this rule, becausethat it is applicable only to the question - which country's visa to receive. But when the visa is already in hand, it does not mean anything. Suppose you got a visa to France, but you fly to Germany, this is normal! It is not necessary to enter through France.
As I said, this rule applied forobtaining a visa when it is impossible to determine the country of greatest stay For example, you go to France for 3 days and to Germany for 3 days, and drive through Poland by car, where you will actually be in transit. And earlier, it was advised to make a visa just to Poland. But in the light of explanations from the European Commission, it is impossible to do that, which in general means the abolition of this rule. Most likely, in order to request a visa at the Polish consulate, the route should be like this - Poland 3 days, France 3 days, Germany 3 days.
Why can not give a Schengen visa
When you come to receive your next visa,you may be checked for violations of the Schengen rules on a previous trip. And, if the country of entry stated in the questionnaire is easy to check with a stamp in your passport, then how much time you spent in the country of greatest residence is much more difficult to check (there are no borders inside Schengen) and you will have to prove it. To do this, usually keep the checks from the host country for proof (gasoline, supermarkets), boarding passes on the plane and so on.
The most important rule is to avoid problems infuture - fully comply with the stated route and the deadlines stated in the questionnaire. Even if you were given a multivisa, then the trip should be carried out the same one, because of which it turned out. But in the remaining days on a visa, you can do anything.
Embassies of which countries apply for Schengen visas
- Finland
- France
- Spain
And according to the stories, the Finnish embassy is already inthe second time can give a semi-annual or annual Schengen multivisa. That is why, now many people go to Finland for a week, and after a time they apply for a semi-annual or annual visa. You can also try it for the first time, but no one can predict the chances of receiving a multivisa. And it's best not to do so; we are requesting the dates in which we plan to make the trip.
What documents are required for a Schengen visa
List of documents
1. Zagran passport
2.1 Bank statement at the rate of 50 euros per person per day
2.2 Certificate of employment indicating wages (2-NDFL or in free form with the seal of the organization)
2.3 Sponsorship letter and certificate of employment of the sponsor (template sponsorship letter)
3. Confirmed hotel reservations or paid reservations
4. Paid tickets (by train or bus) to the country of destination or documents for a car + driver's license (I would advise international ones)
5. Travel medical insurance with a coverage of 30,000 euros. Look my Top 10 insurance for Schengen.
6. Insurance Green card on the car. Be sure to read nuances of buying green cardsthere are very important points.
7. Visa application form
Solvency confirmation
At the moment, paragraphs 2.1, 2.2, 2.3 are interchangeable, which means that you can bring only one document, for example, an account statement, it is easiest to do. But no one knows how the embassy will relate to only one document. After all, it is important for them not only to confirm your solvency, but also your desire to return. And it is this desire that most confirms the certificate from work. But in any case, these points are best clarified at a specific embassy, ​​requirements may vary.
For example, when I did a visa, I did not havereferences from work. And they advised me to do, in addition to an account statement, a sponsor letter from my parents, which would increase my chances of issuing a Schengen visa. Perhaps the person from the visa center was simply reinsured, but many wrote that it was desirable to provide both.
Also, if you go family, then the statement ofyou will most likely have one account per family member. Therefore, this family member will need to write a sponsorship letter, which, they say, I undertake to bear all costs for the rest of my family on this trip.
Sponsorship letter
I personally did a sponsorship letter from my mom (template), which has an official salary. The letter itself is simply a plain sheet of paper with handwritten text.
Also attached was her certificate of work on hersalary (2-NDFL). We recommend a certificate with a bag of at least 15 thousand rubles. However, I think one could still not be reinsured and get by with only an account statement, especially if there would be more money than is required.
Paid flights
I did not check it myself, but in theory, if there is no desireyou can buy tickets in advance, you can bring documents to the car (if they are available of course) or buy tickets from Aeroflot of the FLEX line, which can be returned later.
This will, firstly, buy the necessary tickets.later, and also, for example, to fly not to the country of destination, but to another, and then travel on site already by low-cost airlines, buses or trains. True, in this case it is better to be safe and then collect up different checks proving that you were in the country whose visa you were doing. This can be useful when you make the next visa.
If you want to buy tickets, you can do it, for example through Aviasales.ru and Skyscanner.ru.
Hotel reservations
Another reason why I designed FrenchA visa is what the French embassy accepts paid hotel bookings with Booking.com, which can then be canceled. The main thing is to carefully look at the hotel policy, because not everyone assumes cancellation of the reservation, as well as the timing of cancellation.
For me it was very important, since I planned to stay not only in hotels, but also with friends and a couple of times through couchsurfing. And the most inconvenient in terms of a visa, I did not have a clear schedule for moving by day. Therefore, armor were made through the bookings, and then canceled after obtaining a visa.
Do not get tired of repeating, hotels in which you willto really live (not for canceled armor), you need to look not only on Booking, but also punch through RoomGuru service, which is looking for at once in 20 booking systems. There are very tasty prices.
P.S. Of course, I did not take into account all the nuances of self-registration of a Schengen visa, but I didn't have such a task. Otherwise, I would have had to write a dozen articles.
Life hacking 1 - how to buy a good insurance

Choosing insurance is now unrealistically difficult, so to help all travelers, I compile a rating. To do this, I constantly monitor forums, study insurance contracts and use insurance by myself.

Life hacking 2 - how to find a hotel 20% cheaper

First, choose a hotel on Booking. They have a good offer base, but the prices are NOT the best! The same hotel can often be found 20% cheaper in other systems through the RoomGuru service.

Discount hotels