The most important thing where planning beginsIndependent travel is buying tickets and booking accommodation. Pro tickets - a separate conversation. And now let's figure out where to start and how to book online accommodation for your trip, be it a hotel (hotel), a guesthouse (guest house) or a hostel. Now there are many booking systems (such as Booking, Agoda, etc.) and services (for example, RoomGuru), where you can search for hotels and compare prices for it in different booking systems.
The content of the article
How to book a hotel by yourself
First everything in detail. At the very end of the post I will tell you how I book hotels myself, in what order.
What do you need
To book a hotel yourself, you will need a little time and three simple things that most already have:
- Internet access. Now it is practically everywhere: home, mobile, in cafes, shopping centers, hotels, etc.
- Bank card (debit or credit) Mastercard, Visa or the like. Make it in advance, before the trip, in your hometown
- Email. Her address must be specified when booking, there you will receive a letter with confirmation of your reservation and reservation code.
By the way, some systems now allow you to book a hotel without a map.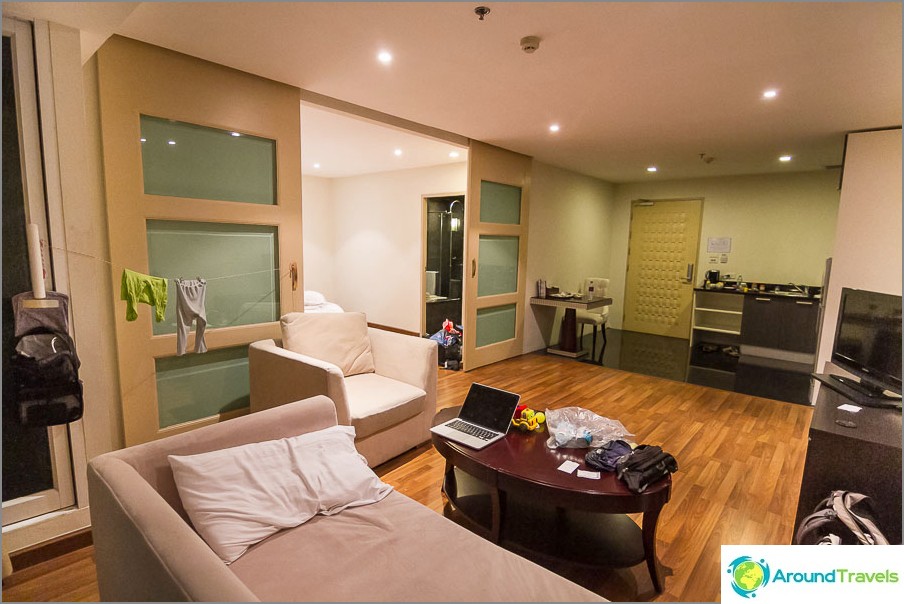 What is a booking system
A booking system is a website thatallows you to book a hotel, in fact it is a database of hotels around the world. Hotels themselves are added to it in order to be able to rent their rooms over the Internet. Booking systems do not charge users for the use of its base, and receive money directly from the hotel. That is, as a rule, the cost of living in a room via the Internet or on the spot (at the reception) for you does not change. But it all depends on the particular hotel, because it is he who sets these prices, for example, he can hold a promotion, that when booking in advance you get a discount (and there will be no discount at the place).
In any booking system, you can select hotels according to different criteria - country, city, dates, number of people, the presence of some specific services. Payment occurs by credit card (my selection of travel maps). After payment, you will receive an email with your booking details (confirmation of your reservation).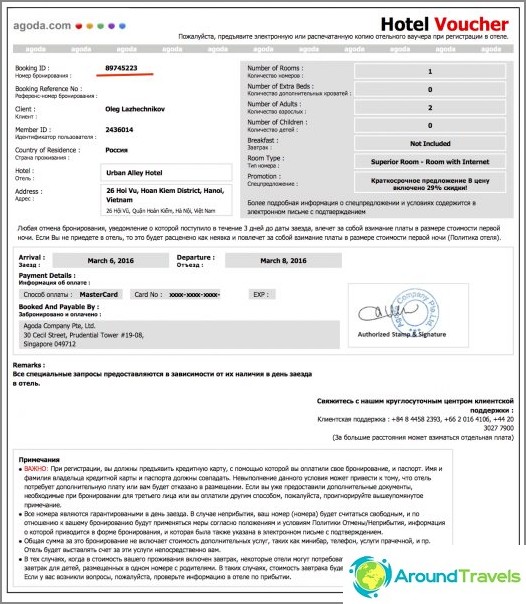 Which particular reservation system should I choose? There are no clear rules, a matter of habit, one understands one interface, other people another. However, the number of hotels in different countries in the reservation systems is different. Therefore, there is such an unspoken rule: at Agoda, the choice is precisely Asian hotels, and Booking is more suitable for Europe and Russia.
List of hotel booking systems
Most popular booking systems: Booking.com, Agoda.com, Islet, Hotels.com, Expedia.com. There are also booking systems that specialize in hostels, but now the same Booking and Agoda have become very large services, and they have hostels, apartments, and even houses with villas.
And here are my instructions for each service:
- How to use Booking
- How to use Agoda
You can search for hotels in different systems.booking and compare the results. Somewhere the interface is more convenient, and somewhere there is a larger base of hotels. Therefore, it is best to use the Search engines of hotels that are looking for all the reservation systems at once. In fact, such services do most of the work for you. About them in detail below.
Apartment Booking System
I want to take out a separate item Airbnb. This is a service that offers private housing. Most of them have apartments, rooms in apartments, or even houses of local residents. This service helps homeowners make money by being an intermediary between them and you. By the way, you can also rent your apartment for rent in this way, if there is a desire (anyone can participate).
Sign up on the link and get a discount of $ 32from Airbnb to apartments around the world. Valid on the first booking, the reservation must be from $ 70. If you are not familiar with the service, be sure to read my detailed post about him, where it is told about what it is, how to register correctly, how to book accommodation, etc.
Get $ 32 off>
So, in Airbnb there are really cooloptions that are primarily interesting to families with children and companies from several people. Because often the apartment can accommodate not two people, but 4-6 or more. And with this approach (you usually pay for all the accommodation at once) it is several times cheaper than at a hotel. After all, the hotel would have to take a few rooms for so many people. And the living conditions in the apartment can be much better than in the hotel. For example, most apartments have kitchens, many also have a washing machine. These are very relevant items when traveling with children.
What is the hotel search engines
The hotel search engine is a service where you cansearch for hotels at once in all popular booking systems at the same time. That is, such a service is looking for the hotels you need right away, in Bucking, in Agoda, on the Island, and in other systems. Manually they would be tortured to sort out. Search engines of hotels are also called aggregators, meta-search engines. In fact, this is such a Google hotel.

How does this happen? You also specify the search criteria you need (country, city, dates, services in the room) and the search engine gives you the results - the list of hotels. And then, choosing a particular hotel, you will see the cost of staying at this hotel in various booking systems (Booking, Agoda, Island, etc.), that is, you have the opportunity to compare and select. When you make your choice, the search engine will redirect you to the site of the selected reservation system, where you will make a hotel reservation. That is, the search engine itself does not sell anything, it only searches. There are no additional or hidden fees. The principle of work reminds already familiar to everyone. flight search engines. Read more about the services, you can read in my instructions:
- How to search for a hotel at RoomGuru
- How to search hotel on Hotellook
One of the best search engines in my opinion.hotels - RoomGuru. It has very good integration with Bucking and other systems, it has all the necessary filters, the hotel rating is immediately shown. I also personally like the display of hotels on the map, since I often look for accommodation in a particular place. And when you move the map, the hotels are shown throughout the territory, even if I initially indicated another city in the search. Thus, it is easy to find hotels between cities or on specific beaches, even without knowing their names. You can try to find yourself through the form below.
Book a hotel in advance or search on site
On-site search is more relevant for low-costAsian countries such as Thailand, Vietnam, Cambodia, and where many small hotels at every turn. But in Hong Kong, Singapore, or Europe it is cheaper and easier to book everything in advance. However, I still prefer whenever possible (when I know the exact dates) to book everything in advance, so as not to waste my time searching, there are all the tools for this, it is foolish to ignore modern technologies.
When booking in advance you will be surethat on arrival you have an overnight stay. You can fine-tune and plan the entire trip at once and, thus, the likelihood of breaking the schedule is minimal. This is especially true if you are traveling to a popular place in a season, you can simply stay outside and not find empty seats.
Again during the preparation you can readreal reviews from guests in booking systems and take into account all your wishes: distance to the beach, air conditioning, swimming pool, WiFi and so on. On the spot, you will have to go into all the hotels in a row and ask what is available, and it will also be not entirely clear what kind of service, not to ask people on the street.
The most important thing in booking in advance is savingtime and your strength. The fact is that searching on the spot is far from a romantic affair, and not everyone will like to spend even 1-2 hours walking around various hotels in the heat and after a long flight. No, of course, if you come for a few months and you need to carefully select housing for this period, then this may be justified.
It is not uncommon that prices when bookingvia the Internet is less than directly on the spot. I remember that I made a reservation right at the reception of the hotel (it was almost 2 times cheaper), no matter how strange it might sound.
When obtaining a visa may require printouts.from the booking system, confirming that you have where to live. For example, the consulate of France (and many other European countries) accept printouts from Booking.com
Despite the fact that the bases have reservation systemshuge and they include hundreds of thousands of hotels, the smallest and cheapest hotels may be absent (sometimes these hotels do not even have their own site). Therefore, if you have time, and you have just enough money, then it makes sense to go and look for housing on the spot.
</ Ul>
Some nuances when booking
Check check-in time (usually around 14hours of the day) and departure check out (about 12 days). In some hotels this is very strict and can take payment for another day if you stay. You also need to understand that if you come earlier, the hotel can accommodate you only if it has such an opportunity, otherwise you will wait.
Specify the time of reception desk, otherwise, if you arrive late in the evening or at night, you can come to the closed doors.
Write-off of money for a hotel or the possibility of booking a hotel without payment (with payment during arrival) depends entirely on the particular hotel and its policy.
Read the cancellation policy carefully.especially if there is a possibility that it will be necessary to cancel the reservation. Usually, reservation without any penalties can be canceled some time before the arrival. In some cases (for example, there was a special offer) the reservation is not canceled and the money is not refunded. All this is indicated on the page of a particular hotel. Also, in the case of non-arrival, may begin to write off money for accommodation.
Sometimes it is possible to book a hotel notonly without prepayment, but even without specifying bank card details. Of course, you can score and not cancel later, but I would not recommend doing so, there is a risk of being fined (the cost of one night). As an option, you can register a new account every time, but IMHO is easier not to bring to this.
If the bed type is very important (large doubleor two singles) it makes sense to contact the hotel, or at least read reviews, as it is not always clear what is meant in the room description. Although I personally have never encountered problems.
It is best to always have with you a printout of the hotel reservation (voucher) or a file with it on the phone to display on the screen. But usually you just need to give the name or number of the reservation.
How do I book hotels and life hacking
Life hacking for those who are used to Booking.com. Search for a hotel on your usual Booking'e, copy its name and paste it into the search box on RoomGuru for the dates you want. Thus, you will find out if the hotel is offered at a cheaper price, for example, on Agoda, Isletrovka and others.
A little using various sites likereservation systems, and search engines, you yourself figure it out. There is nothing difficult in finding and paying for any hotel or guesthouse. I look for housing in the following sequence
I go to RoomGuru and begin my search: I set the city and dates, and then compare prices. As a rule, I always know the area where I need a hotel, so I switch to the map right away. I am looking for a map, but the most important thing is looking at how the price changes from living conditions to understand for myself how much I will be willing to pay (I am looking for my own price / quality ratio).
I turn now to Bucking, then to Agoda to readreviews (10 pieces, not more) about a particular hotel. Also there is a rating system, it is very easy to navigate through which hotel is good. I brought this rule for myself: if the hotel has a rating of 7 or higher, then it is normal, if it is below 7, then it makes sense to doubt and study the reviews more deeply to make a conclusion for yourself. And if the rating is above 8, then you can safely book, without particularly delving into it. As a rule, I do not book hotels with a rating below 7, or only in cases where there are no other options.
After analyzing 5 pieces, turn fromRoomGuru to a specific hotel in a specific booking system. As a rule, I choose a booking system from my friends, usually it is Booking or Agoda, depending on where it is cheaper. They are both proven, I have used them many times already. It also happens that Dimpenguet Islet or Ozone, then take in them. In fact, I only use these 4 reservation systems.
I fill in all my data: full name, bank card details, etc. Pay if the hotel immediately requires payment. If the hotel allows you to book a room without prepayment, then just book.
In Thailand, in case I don't know exactly whenand where I'm going to stop (for example, I'm going 800 km by car), I'm looking for accommodation right in the direction of service. But again, not without the help of services. I have a mobile application from Hotellook (Android, iOS, Windows Phone), the convenience of which is that it can show hotels right next to your location. Sometimes it is enough to go 100-200 meters and there will be the right hotel. Actually, this is not all possibilities, there you can search and book hotels in advance, what I also do.
But in general it is better to book in advance, in the peak season in Tae it happens that all the suitable hotels on the day of the call are already completely occupied and you have to settle where other hands would not.
P.S. Add if you forgot
Life hacking 1 - how to buy a good insurance

Choosing insurance is now unrealistically difficult, so to help all travelers, I compile a rating. To do this, I constantly monitor forums, study insurance contracts and use insurance by myself.

Life hacking 2 - how to find a hotel 20% cheaper

First, choose a hotel on Booking. They have a good offer base, but the prices are NOT the best! The same hotel can often be found 20% cheaper in other systems through the RoomGuru service.

Discount hotels