Technology does not stand still and there is no need to go to a travel agency to buy a tour. Everything can be done at home for a cup of tea and in your comfortable chair. All you need is internet and a bank card.
Even in my 60 years I was able to figure everything out andbuy a tour in the UAE, where long wanted to go. Now I am writing you instructions on how to buy a tour. Looking ahead, I will say that the trip went fine, here my detailed review.
The content of the article
Preliminary search
Go to the website of the online store Travelata tours.ru, where we offer tours at prices of tour operators or below. And they even promise that "if you find a particular tour cheaper than ours, we will refund the difference in double size" and what you need to do to return the difference. It is tempting, but I could not verify this information, since the tour I chose was the cheapest here.
We look at the Calendar of low prices for the current month or another period for the country where we want to buy a tour and determine dates.
Immediately look Popular directions for this period of time. Until you begin your search, you can change the country to a cheaper one.
Select a particular tour
So, if you have decided on dates and country,start the search. Apply filters (beach line, budget, hotel class, food, etc.) We get a list of tours, the price of which includes airfare, transfer, hotel accommodation, meals, medical insurance.
Pay attention to the hotel rating and the number of reviews, for example: Rated 4.3 out of 5 (123 reviews).
View tour prices>
We also look at the distance from the airport. This determines the duration of the transfer from the airport to the hotel, 30 minutes or 3 hours with arrivals to all hotels along the way. For those who travel for a few days to lose two times three hours is undesirable.
We read reviews of real travelers and make a decision.
Choose a few tours you like and subscribe to the newsletter to catch the best price for these tours E-mail will go to the proposal until you unsubscribe.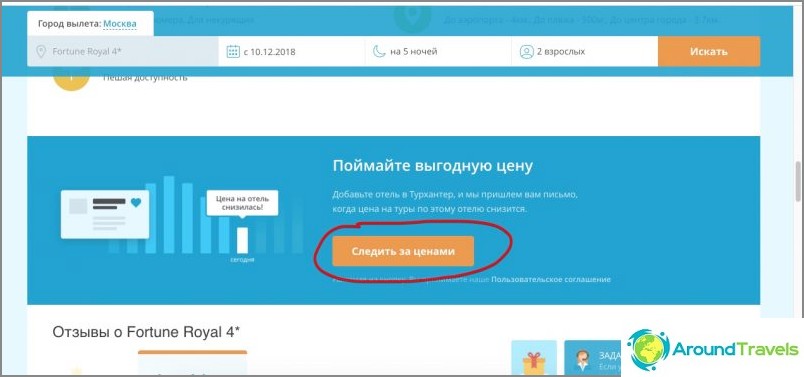 If you have already found something for yourself at this stagesuitable, then proceed to booking the tour and payment. If not, then we continue to search: read the newsletter, watch the prices, periodically go to Travelata and check if there is anything new.
Booking and payment
When the tour is selected, go to the booking. I chose a tour for 5 nights at the four-star Al Bustan Hotel in Sharjah for 41,377 rubles for two.
Hotel rating 4.4 is a good choice, and the reviews are also normal. Yes, Sharjah is not as developed Emirates as Dubai or Abu Dhabi, but the price tag on the tours below.
Ideally, do not slow down for too long with the solutionotherwise the price may not change for the better. As it was with me, after all, the New Year was on the nose. Quite lucrative offers leave pretty quickly, because already many book here like this via the Internet in the way I described.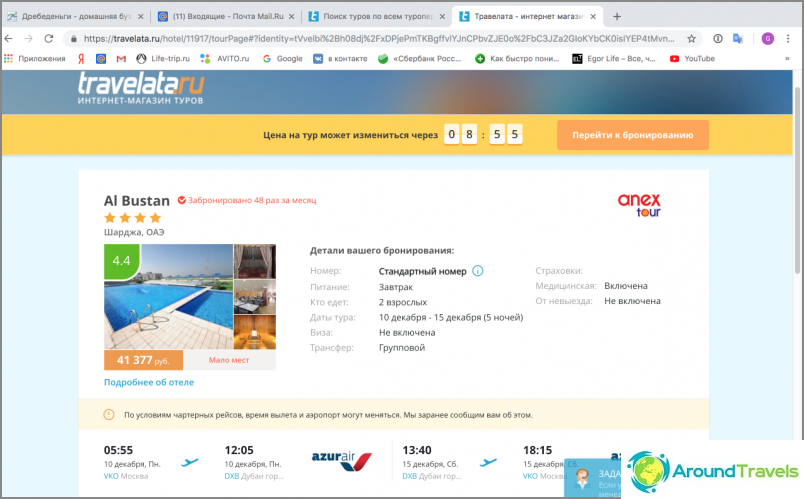 Fill all the fields: Full name, passport number, date of birth and so on. We make additional requests to the order, if any. In principle, everything is standard, as with any purchases, such as air tickets or insurance.
It is necessary to pay by credit card, paidusual sberovskoy. Initially, you enter the card data to guarantee the reservation, that is, the amount is not debited, but is frozen on the card. Money will be removed from the card only when confirmation of the tour by the tour operator arrives.
Each stage is accompanied by an SMS alert and an e-mail message.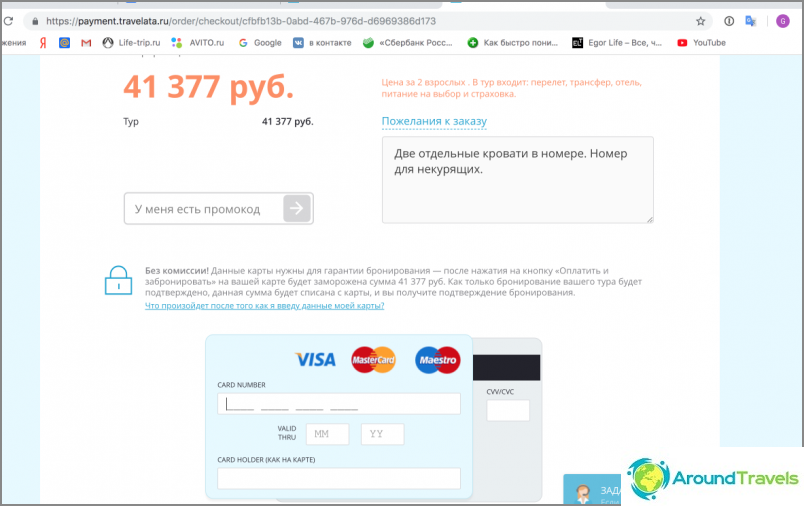 IMPORTANT! A couple of minutes after creating an order, a reservation sheet arrives, which you need to check and unsubscribe about the correctness of filling in all your data.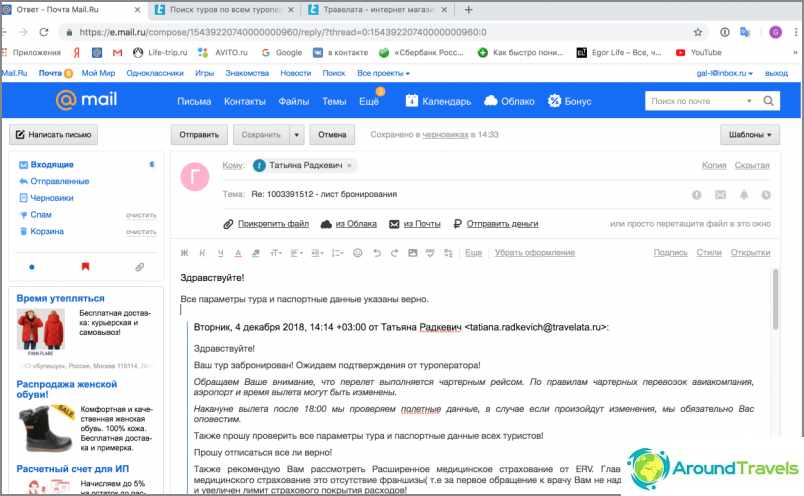 Four hours later came via e-mail booking confirmation and cash voucher. Very prompt.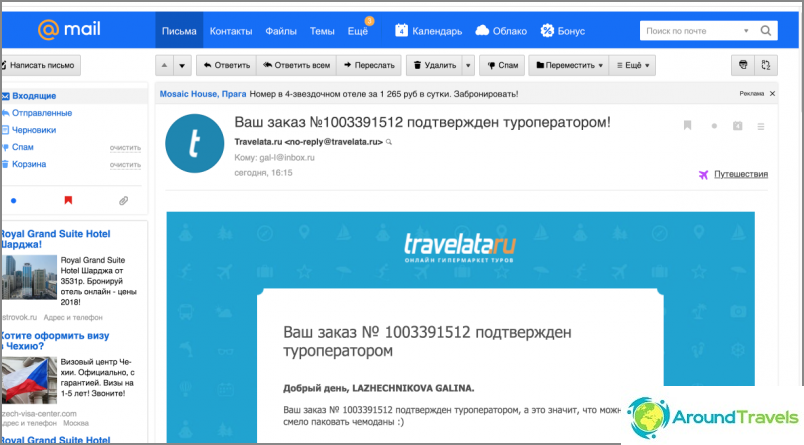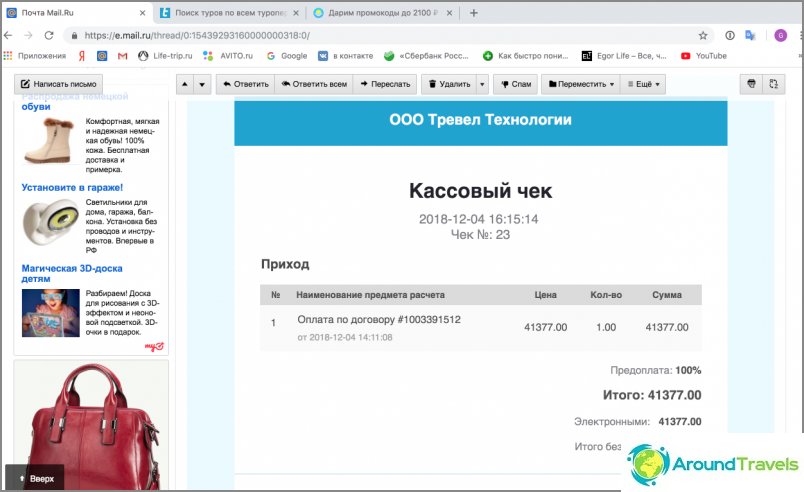 Receiving a package of documents
Soon the whole package of documents was sent: itinerary receipts, insurance, voucher, tourist information.
I ordered and paid for the tour on December 4, 2018,the documents came by e-mail on December 6 with a preliminary SMS notification, three days before departure. It is even faster than promised, 1-2 days before departure. Checked and confirmed receipt. In general, it is convenient, the notification at each stage (confirmed booking, payment, sent documents).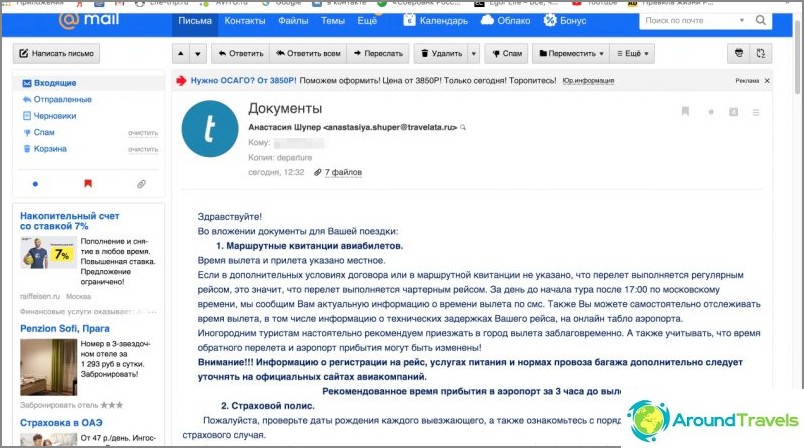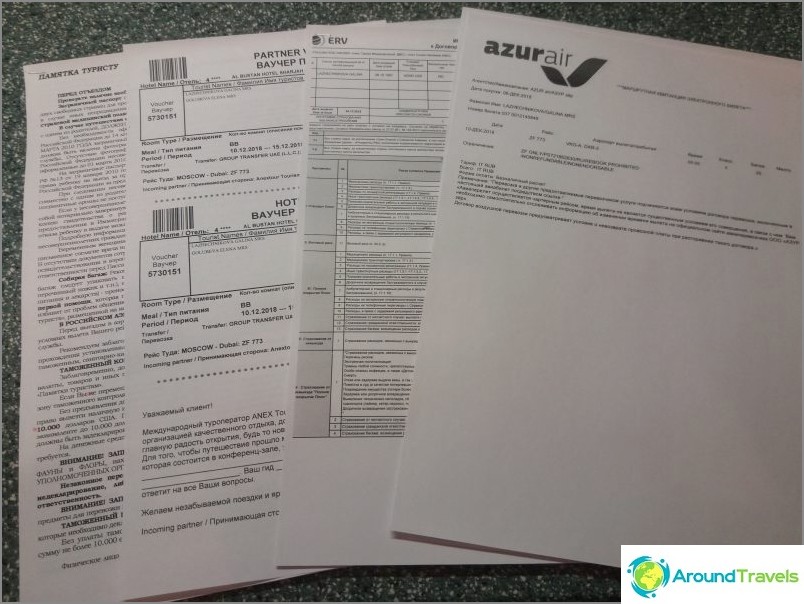 In addition, the mail comes an offer to addpaid service "Personal Travel Concierge" for 990 rubles. if you feel insecure in traveling. The letter provides a list of services provided by the Personal Travel Concierge. But it is already everyone decides for himself whether to use this service or not. Frankly, I doubt that she is needed.
The site also has a free service.24/7 customer support, you can ask a question by phone, on social networks and instant messengers. This is a good thing, especially when you can write in Vatsapa, because calling from abroad is expensive, and the Internet is in any hotel.
Honestly, there were no questions, becauseAll steps on the site are very chewed up. But I decided to check how quickly they will respond. She asked if it was possible to use the free round-the-clock support on tour. The answer received a few minutes.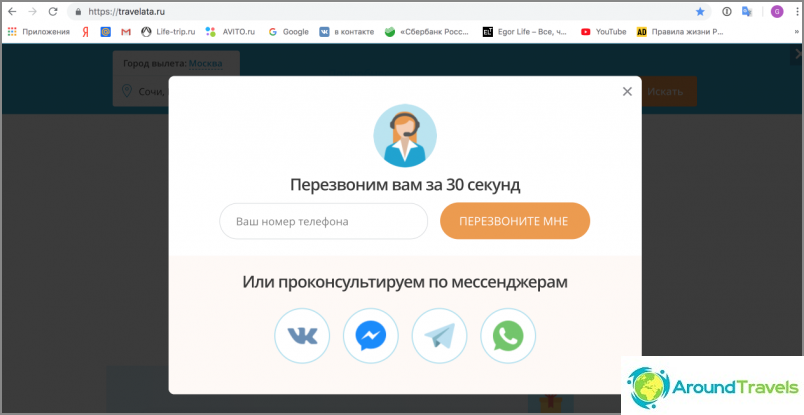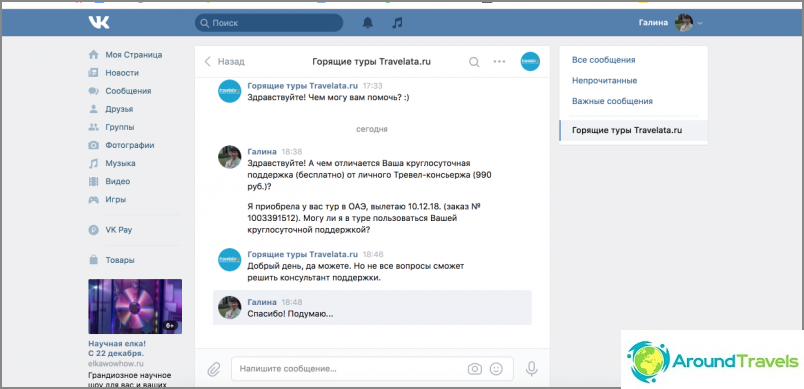 Documents on hand, you can fly. I had a charter flight with AZUR air. The day before I received a text message confirming the departure time. In addition, you can go to the airline's website https://www.azurair.ru/ and see the online scoreboard and go online.
See prices for tours in the UAE>
By the way, on December 2018, online registrationwas possible only from Russian cities, so when returning from the UAE had to be registered at the airport in Dubai. However, it still flew with luggage, so not so important.
P.S. Read about how the tour went. my post. Dare! If I figured out everything myself and went well, it means that you too can.
Life hacking 1 - how to buy a good insurance

Choosing insurance is now unrealistically difficult, so to help all travelers, I compile a rating. To do this, I constantly monitor forums, study insurance contracts and use insurance by myself.

Life hacking 2 - how to find a hotel 20% cheaper

First, choose a hotel on Booking. They have a good offer base, but the prices are NOT the best! The same hotel can often be found 20% cheaper in other systems through the RoomGuru service.

Discount hotels