Another one of my life hacking, which will allow you to buyERV insurance is 12% cheaper. But lately they have often asked about her, since she is the best for Thailand now. By the way, promotional codes do not exist, do not get fooled.
Insurance is not cheap. But! when it comes to health, especially about the health of children, this is not the case when you need to save. That is why my life hacking will have, more than ever, by the way.
The content of the article
Instruction
Follow the link to the Instore Travel service.
Select the desired country and date. Currency must be dollars, this is important!
We see in the search results ERV and buy.
After purchasing the email you will receive a policy from ERV.
For 3 weeks the policy to Thailand will cost ~ 5568 rubles instead of ~ 6333 rubles.
Insurance as a result turns out to be 12% cheaper, plus you will also receive a very useful option "Telemedicine" from Instore, which costs an additional 250-500 rubles.
Buy 12% cheaper>
Now I will explain how it turns out. The fact is that EPB sells its insurance on its website with an insurance amount in euros, and at Instore you can buy it with an insurance amount in dollars. Since the value is pegged to the currency, and the dollar is cheaper than the euro, here it is a profit.
So no promotional codes, just savvy. Do not look for promotional codes, they are prohibited from them. Below are screenshots of price comparisons.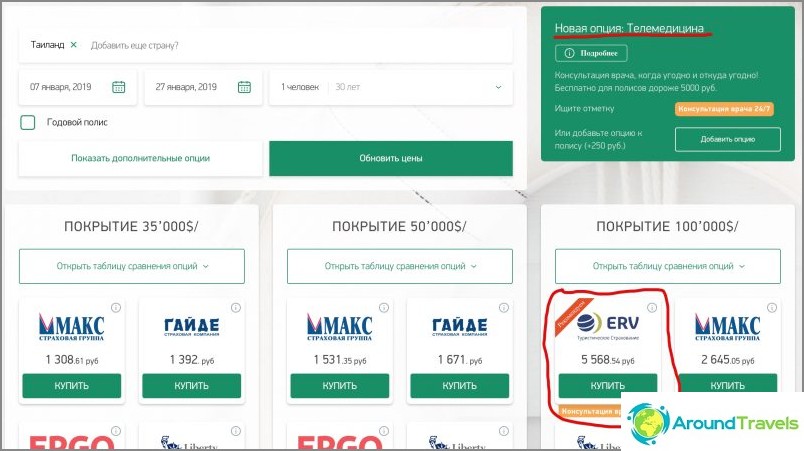 Why is this done in EPB, I do not know. But while it works, you need to use it. I think it is obvious that there is no difference, you will have 100 thousand dollars or 100 thousand euros. But the savings on the price of insurance turns out nice.
Where else to buy
Through the service Compare.Ru. Perhaps he is better known to you, as he often comes across his eyes. In addition to travel insurance, there are also OSAGO / CASCO sold there, and there is also a database of reviews on insurance.
Buy from Compare>
The service also allows you to buy insurance.dollars and therefore its price is lower by 12% lower. If you for some reason compare like more, then you can safely take here. There is no difference in terms of the policy itself, but there will be no online consultations with Russian doctors, like with Instore Travel.
Lower price for 3 weeks for Thailand is the same as for Instore Travel.

What is Telemedicine?
In fact, it was high time to do this.option all insurance, it really can be very useful in the journey. When you are abroad, the consultation of a Russian doctor is not enough for you to explain everything in your native language.
For example, a child has a fever, it's timealready go to the hospital or not? Suddenly, Dengue started and an urgent need to put the drip, you can still wait, so as not to wind it back and forth. You can ask what a rash on the skin, it is dangerous or not. It is useful to clarify whether the foreign doctor made the correct appointments, find out why, and so on.
Instore has its own app! It will be more convenient to consult and apply for a referral to a hospital. For calls, of course, the Internet is required. Since the application is immediately attached to you and your policy, you will not be asked who you are, what your policy is and so on.
Install Instore app>
It's better to always be able to consult thannot to have. Moreover, not only a therapist or pediatrician, but also a narrow specialist such as a nutritionist or a dermatologist. Telemedicine is attached free of charge to all ERV insurance and to other insurances worth from 5,000 rubles. Otherwise, the option is paid.
About ERV insurance
And fresh, that I know: a hospital worker in Koh Chang recommends doing it, since the least of her problems are with her. Who does not know, some insurance just stupidly sent to the mainland in Trat. Although in a serious situation and the EPA will also direct, the island is still small and there are small hospitals there.
At one time, ERV could buy an annual policyat a ridiculous price. At one time, I found this chip, told it on a blog, and then all the other bloggers rebuked it for me. After a while the shop was closed, now there are no such prices, forget it. Now ERV for the price as premium insurance. Although not for the price either, the reviews are still the best about it.
I myself got with this insurance on 1.5 million baht (3 million rubles) a couple of years ago and the insurance paid for everything, never pulled anywhere, and in general I was satisfied with their work. Ttt that nothing like this happens again, and God forbid you, too, to face.
Buy good ERV insurance>
At such moments, you realize that you can not saveon the insurance, you can get stuck so that it does not seem like a little. 1 day in the hospital can cost 15-60 thousand rubles to put a dropper trite to the child. 1 day in the hospital discourages the entire cost of insurance several times.
If you watch groups in social networks, thensee how often they are full of messages, help-save, got into the hospital, but did not do the insurance. The account for 10 thousand dollars is a common thing. Tips to score on insurance are good until those he himself has encountered.
Life hacking 1 - how to buy a good insurance

Choosing insurance is now unrealistically difficult, so to help all travelers, I compile a rating. To do this, I constantly monitor forums, study insurance contracts and use insurance by myself.

Life hacking 2 - how to find a hotel 20% cheaper

First, choose a hotel on Booking. They have a good offer base, but the prices are NOT the best! The same hotel can often be found 20% cheaper in other systems through the RoomGuru service.

Discount hotels