Recently, I received a letter from Airbnb, which supposedly youviolating bonus distribution rules, and my bonus link has been blocked. Since this case is not a single one lately, I decided to write my own thoughts on this matter and tell me how the matter ended with me. So say, I want to warn colleagues
Looking ahead, I will say that after a week the link was unlocked and I received official approval for its placement on the pages of this blog.
The content of the article
Where to post bonus links
According to company rules, links can only be given.Your friends and their categorically can not be published in the open on such resources as forums, Wikipedia, coupon sites. Moreover, you can publish in social networks, but only on the wall of your profile, not in groups.
Honestly, I don't understand Airbnb's policy onthis issue. Well, someone gets bonuses, what's the difference if there is no possibility of cheating, because the bonus is issued not for registration, but for the first booking. I guess the point is that in this way they are trying to increase the credibility of the brand. After all, one thing you get a link from a friend who recommended the service and then you send him your questions, another thing you will find in the vastness of the link and with any misunderstandings you will write negative reviews.
My history
I was sent a letter that I am breaking the ruleslinking, that they are not for commercial use, and that I have to remove them within 24 hours. In response, I wrote that the links were removed, and asked to explain the reason. I will not bother you with the chronicle of all the correspondence, which lasted a week, the point is that I told you that I place links only on my personal travel blog (this is indeed so), where, one can say, the Airbnb service among PR friends and subscribers And not just PR, but I use the service myself, talking about the apartments where we stay. As a result, technical support looked at my blog and I was allowed to publish links here in the open and said that it is quite justified that I get a reward for the promotion.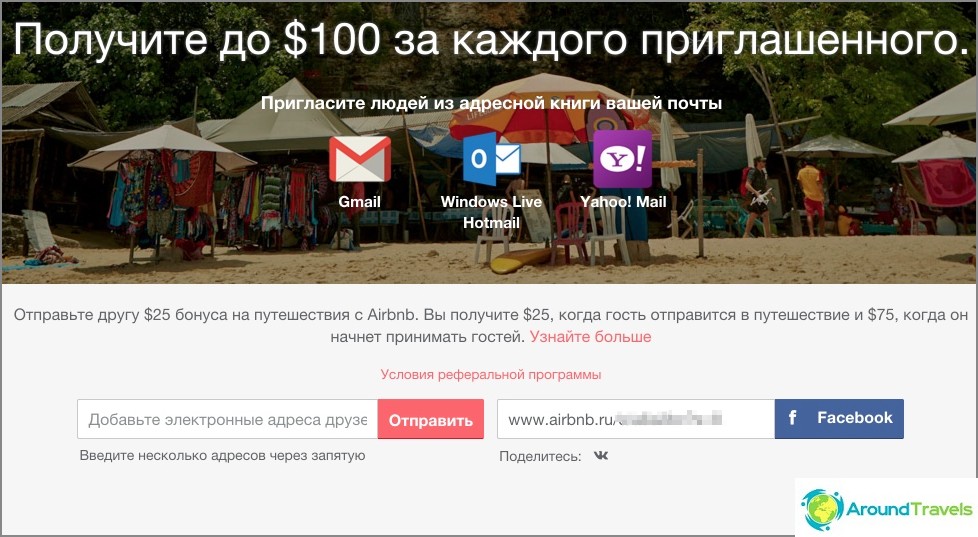 The exact answer is why the link waslocked, i didn't get it. As I understand, such letters will sooner or later receive all accounts that create a lot of "friendly" clicks on the link. Agree, in ordinary life, you are unlikely to give it more than 10-20 friends.
I also asked a tech support representative, but notIs this due to the fact that I have two types of links on my blog: bonus links and from Tavelpayouts, but they vaguely answered that they were not. Let me remind you that the Airbnb affiliate program was closed in 2012, and in the summer of 2015 Travelpayouts tried to revive it, which I wrote about in friend post. Unfortunately, there was no information about whether something like this will be available directly or again either.
findings
To reduce the number of transitions withoutregistrations, I removed the banners on the blog. Well, those banners that say that you register and get $ 16. Then I removed the gift links from almost all the posts and referred to my general post about Airbnb, where I left this link. So, in theory, everything should look like a maximum plausible, given that I answer all comments with questions, and completely erase negative questions right away. I don't think that the support was studying my site in direct detail, but I did everything just in case.
Other options I had such, I will share. You can place a bonus link in the profile Vkontakte / Facebook, and give a link to the blog is already on that status. Thus, all transitions will be from the social network, and not from the site. The second option is to place on the site a field for entering an Email and a button "get $ 16", when clicked, a letter with a bonus link will be sent. So, in general, all transitions will be from the mail. Although, not everyone will want to specify their email, and even with a large number of transitions, Airbnb may suspect you of mailing lists.
If you have a live travel blog, then be afraidthere is nothing. If any other sites / projects, then I would think how best to give a bonus link to avoid the ban. At a minimum, you should not arbitrate on the bonus links, I think, banned. True, they did not block the bonuses themselves to me, but who knows. Once we started to do this all, then for some reason they are tightening the policy.
P.S. He spoke in English with support, answered every time during the day. They did not reply formally, but normally, so you can write immediately explaining your situation.
Life hacking 1 - how to buy a good insurance

Choosing insurance is now unrealistically difficult, so to help all travelers, I compile a rating. To do this, I constantly monitor forums, study insurance contracts and use insurance by myself.

Life hacking 2 - how to find a hotel 20% cheaper

First, choose a hotel on Booking. They have a good offer base, but the prices are NOT the best! The same hotel can often be found 20% cheaper in other systems through the RoomGuru service.

Discount hotels