If someone does not know, but has recently been changedMigration card to be filled before the Thai border. These cards are distributed to everyone else on the plane when flying from Russia. Some Asian airlines do not issue. But, of course, there are blanks before passport control, but it will take extra time, so I fill it in the plane, if there is such an opportunity.
The content of the article
Sample card filling
I post the sample fill. And then I remember the first time I flew to Tai, then I asked my neighbors what was meant. It seems clear, but in doubt.
Download sample>
Pictures can be saved to your phone and then see them if you have any questions.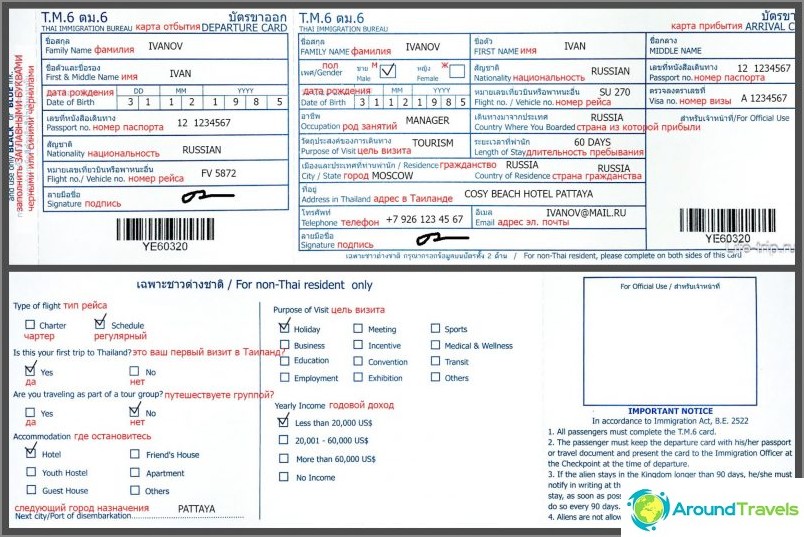 How I filled out a card
And now just in case an example of my filling. Let there be another sample.


Some explanations
Everything about visas to Thailand and about the process visa in Moscow (if you need it), read my links.
It is necessary to fill both sides with both sides. The border guard will keep one of them for himself, the second will be invested in your overseas, and it is better not to lose it, otherwise you will have to go to the immigration office later.
Cards are not that formality, but they are notespecially checked. It is not to the fact that wrong information should be written there, but to the fact that one does not need to be a perfectionist. For example, in the card you need to indicate your annual income, I think it is obvious to everyone that you can put a tick in any field and this will not affect anything.
Similarly, the address in Thailand - just specify the city and the name of your hotel.
You do not need to fill in the visa number if you enter on a 30-day stamp.
It is necessary to fill with blue or black ink. And take a pen with you on the plane, the flight attendants do not give them away, you will have to ask your neighbors who have them. By experience, few people take.
Life hacking 1 - how to buy a good insurance

Choosing insurance is now unrealistically difficult, so to help all travelers, I compile a rating. To do this, I constantly monitor forums, study insurance contracts and use insurance by myself.

Life hacking 2 - how to find a hotel 20% cheaper

First, choose a hotel on Booking. They have a good offer base, but the prices are NOT the best! The same hotel can often be found 20% cheaper in other systems through the RoomGuru service.

Discount hotels