This post is informational, for those who are goingto Cappadocia. Before the trip, I was faced with the fact that this place is quite difficult to find on the map. Yandex did not even really know the Turkish names. The route of our journey can be seen here - Alone in Turkey.
Let me remind you, Cappadocia is the name of the locality inwhich contains stone remnants of volcanic rock in the form of mushrooms, and in which people used to live. Also here are the underground cities. About our trip there you can read here: Goreme National Park - Cappadocia tours.
All sights of Cappadocianot far concentrated each other and around the village of Goreme (Goreme), in the national park Goreme. From here it is already possible to go to neighboring villages, and, for example, to the underground city in Derinkuyu.
The content of the article
Where to stay in Cappadocia
- If you prefer to live in a hotel, then on the spotyou will find them for every taste, prices are on average 35 liras (700r) per person. There are hotels that convey the whole flavor, they are located directly in the stone tuffs.
- If you are traveling with a tent, then in Goreme there are several campgrounds costing 10 lire (200 rub) per person, the price includes a shower and toilet.
- There is a large number of places there where you can stand with a tent on your own and not pay anyone. The national park is not guarded and is free to visit.
Cappadocia how to get there
First of all you need to get to the cityNevsehir. From any city buses go in this direction. For example, from Kemer the bus goes at 21.40, the cost of a ticket is 45lire (900r). And already from Nevsehir on the dolmush (minibus) you will go to Goreme, there literally half an hour to go. Sometimes you can immediately buy a bus ticket to Goreme, but this is less common. You can also first get to cities like Aksaray, Nowhere, Kayseri, and from there go to Nevsehir or Goreme.
Area Maps
All neighborhoods can be visited independently, having on hands only some cards. You can download them from my blog or take them to any of the travel agencies in Göreme, they are distributed free of charge.
All images are clickable. Click on the image and it will open in a large size.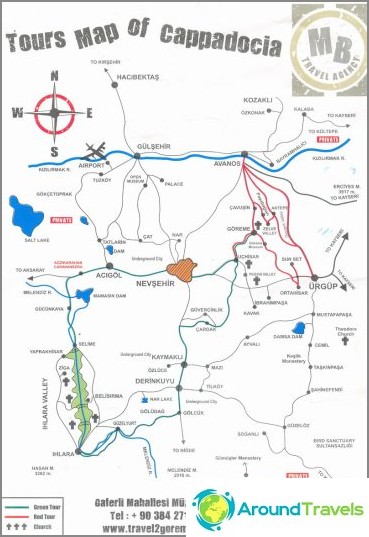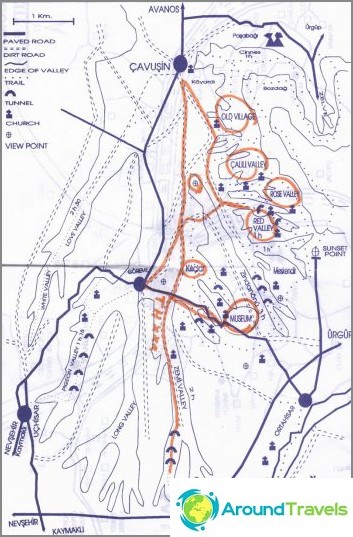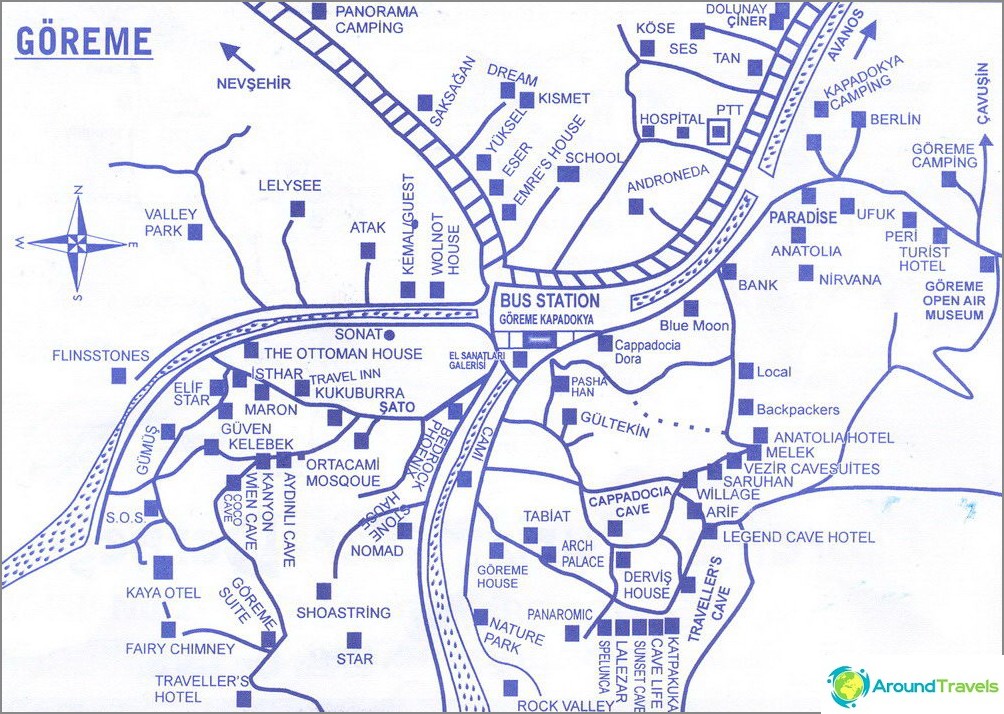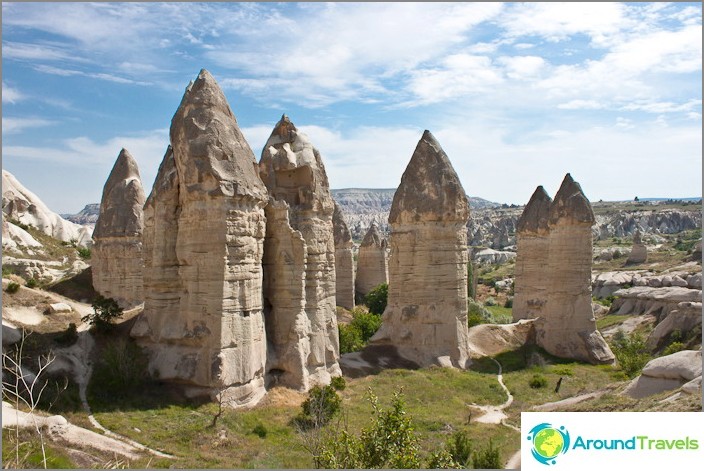 Cappadocia on the map
Life hacking 1 - how to buy a good insurance

Choosing insurance is now unrealistically difficult, so to help all travelers, I compile a rating. To do this, I constantly monitor forums, study insurance contracts and use insurance by myself.

Life hacking 2 - how to find a hotel 20% cheaper

First, choose a hotel on Booking. They have a good offer base, but the prices are NOT the best! The same hotel can often be found 20% cheaper in other systems through the RoomGuru service.

Discount hotels