Already wrote about various cashbacks for travelers: cashback cards (debit and credit), pro Cashback via Travelpayouts (air tickets, insurance, hotels, car rent,excursions, etc.). And here's another option to get a cashback of 3-4% from booking a hotel through the Tourister. Yes, this option partially duplicates my previous post on this topic, but maybe you will like it with something more, for example, with a more understandable interface. After all, who you like, try and decide for yourself. And after all, no one bothers to combine - book hotels via Tourister, everything else via Travelpayouts.
For travelers
Service Tourister, I think, many people know, so do notI will talk about him. Not so long ago, a special offer was launched on Tourist for its registered users. You generate a special link in your account, go to Booking.com via it, and get 3-4% cashback from your booking. Money can be withdrawn later on WebMoney, Yandex.Money or PayPal. It's simple! If you book hotels on Booking's most often (and most of Russian-speaking people book there), then this promotion should suit you. You surely have nothing to lose.
A special link to the booking is sent to you inwelcome letter immediately after registration. My link looks like this "www.tourister.ru/go/5f2a34" and yours will look like. Leads such a link to the main page Booking.com. At any time you can go to your personal account in the section "Cashback" and generate a link to any other page of the Booking, for example, directly to the hotel. This is optional, but it can come in handy if you want to give this link to someone you know or place it on any site. There, in your account, you can check the number of transitions, bookings and the amount of cashback.
I did not notice any special conditions for obtaining cashbacks. I repeat, it's simple. By and large, only two nuances for travelers:
Every time you need to follow your link beforesearch and book a hotel and make sure that the Tourist's logo is always present on the Booking.com website, which will indicate that your binding is working and you will get the cashback for sure.
Cashback will be available to the conclusion after youchecked out of the hotel. You understand that booking on Bucking is easy to cancel, so this restriction is set. But all affiliate programs have it, so nothing new.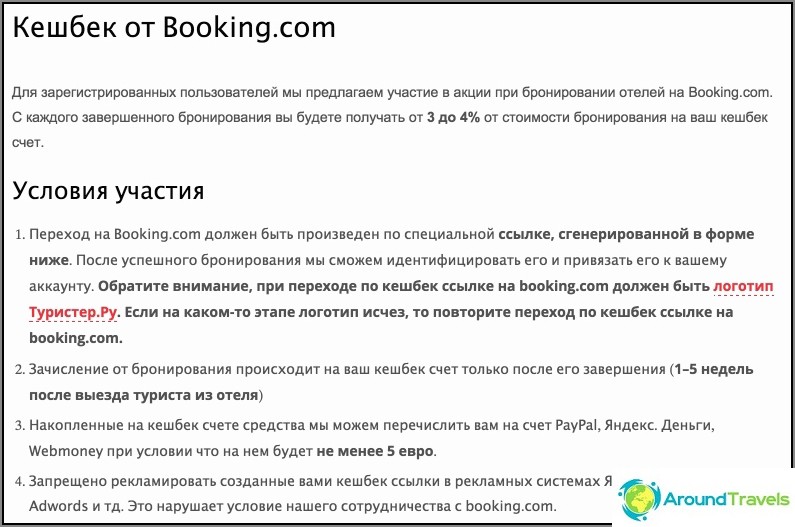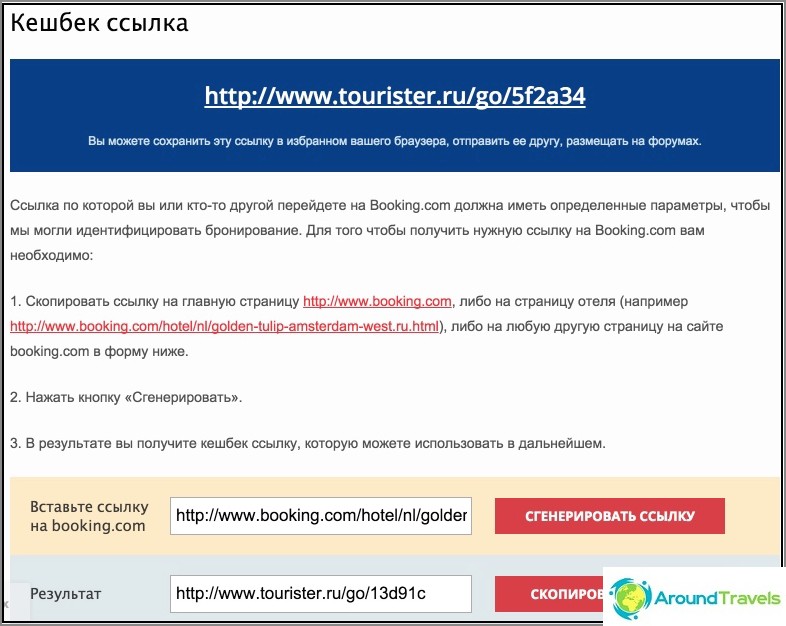 In addition to the fact that you yourself can get 3-4% withyour hotel booking, so also you can earn some money on your link, handing it out to your friends, acquaintances and work colleagues. Of course, if you want to earn money directly, then you need your own website, blog, or at least a popular group on the social network.
For bloggers
Although the Tourister isintermediary Booking.com can and should be considered as a separate affiliate program and test it. Moreover, if you work with Booking.com (and not with Hotellook, RoomGuru aggregators), then it just makes sense to check, it will suddenly turn out more. Below is a mini-comparison of Booking and Tourister.
Bucking has a differentiated income scale independing on the number of bookings: 0-50 => 25%, 51-150 => 30%, 151-500 => 35%, 501-more => 40%. And, most likely, most of the blogs have no more than 150 bookings, that is, earns 25-30% of the commission of Bookings. Since Booking takes about 15% of the commission on the cost of booking, 25-30% of 15% is 3.75-4.5%, that is, about the same percentage that the Tourist offers.
Bookings offer withdrawals only onbank account or paypal. Obviously, WebMoney and Yandex.Dengi is preferable, and just such a way to have a withdrawal from the Tourist. In addition, Bucking has a withdrawal limit - at least 100 euros, while the Tourist has 5 euros.

I myself will not test until I work withaggregators. Before that, I had already tested both Booking and Agoda separately, and I managed to get less bookings from them, and, accordingly, earnings. But I know people who have a situation with accuracy on the back. It is difficult to say why, but it all depends on the specific traffic to the site, there are no universal recipes. I can say for sure, people know and trust Booking, but far from all have heard about other sites. Therefore, if you are describing specific hotels (for the Russian-speaking population), then it makes sense to check how references to Bookings and the Tourist will work.
P.S. Does anyone already have experience using cashback with Traveler? According to reviews, I look, everything works fine.
Life hacking 1 - how to buy a good insurance

Choosing insurance is now unrealistically difficult, so to help all travelers, I compile a rating. To do this, I constantly monitor forums, study insurance contracts and use insurance by myself.

Life hacking 2 - how to find a hotel 20% cheaper

First, choose a hotel on Booking. They have a good offer base, but the prices are NOT the best! The same hotel can often be found 20% cheaper in other systems through the RoomGuru service.

Discount hotels