Quite often people go from Bangkok to Pattayaand this is one of the most frequently asked questions - how to get to Pattaya. There are a lot of ways, ranging from budget buses to taxis, probably because the distance from Bangkok to Pattaya is small (about 150 km). I'll tell you everything in order. You may also be interested. how to get from bangkok to the island of Chang or transfer from Pattaya to Chang. I, as if I am not campaigning for Chang, but it seems to me that there is a much better beach holiday there than in Pattaya.
The content of the article
From Bangkok Airport to Pattaya
From Suvarnabhumi International Airport (where you fly from Russia) you can get to Pattaya in three ways: by bus, taxi or by rental car.
Yes, another such moment - you can get to Pattaya, both from Bangkok itself and from Suvarnabhumi Airport. The second option is more common with him and begin.
Bangkok-Pattaya Bus
6 flights a day makes this busBelltravelservice company (08:00, 10:00, 12:00, 14:00, 16:00, 18:00). Tickets can be booked, cost 250 baht, travel time - 2 hours. This price includes delivery to the hotel - on arrival in Pattaya, you will be transplanted to the minibus. Ticket sales is located on the 1st floor (1 floor) between exits 7 and 8, it is impossible to pass by. That is, you need to go down after arriving just one floor down.
Rack bus company Airportpattayabusis in the same place. The final stop is Jomtien, the bus passes through Pattaya. It runs from 7 am to 10 pm, every hour. Ticket price 122 baht, travel time 2 hours. And if you buy a ticket to the hotel, then 250 baht.
Even buses run from the airport bus terminal, which is 10 minutes from the airport itself, there comes a free shuttle.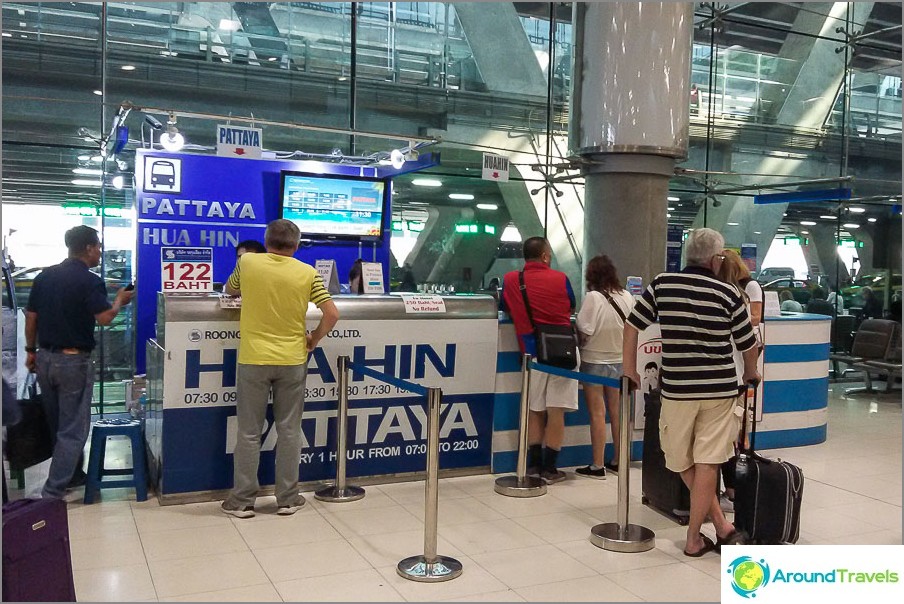 Order a taxi via the Internet
Anyone who wants a minimum of gestures canin advance via the Internet to book a transfer to Kiwitaxi. You will be met in the arrival hall, you will take luggage, put you in a car and take you to the right place. The method is good because there are no problems at all, but it costs SO MANY, like a regular taxi, about 1,500 baht.
I already went to the transfer from this company and was completely pleased with it. Met with a sign, put in a car and taken to the hotel. Here is my review of kiwitaxi.
Transfer to Pattaya>
Regular Taxi Bangkok-Pattaya
Taxi to Pattaya from the airport will be worth from 1500baht and up, depending on where you take it. Yes, there are cases when it managed to leave cheaper, but it is necessary to have a certain skill and be able to bargain. If ordered on racks on the second floor of the airport (arrival zone), the price will be about 2500-3000 baht. Alternatively, go up to the 4th floor (arrival hall), go out and catch the taxi driver who just disembarked the passengers. The price should be the lowest.
Do not forget that you need to clearly stipulateprice in advance. As an option, to go on the counter, but it is more important for short trips, I have no idea how much the meter counts, did not check. And look for the taxi driver to understand you, Pattaya is not long, otherwise they will think that this is somewhere in Bangkok. In case of problems, mention the touristic police, take a picture of the driver and the taxi number.
Car rental
I understand that Pattaya is only 3 hours away, butless talk about this option. It can be useful for active travelers who are going to travel around the neighborhood or Pattaya is an intermediate destination. IMHO, it is a pleasure to drive a car in Tay: good roads, everywhere gas stations with cafes and 7/11, you can go by company. All the nuances car rental in Tae, I have already expounded in detail.
The car must be taken through provenEconomybookings is a broker. The price will be lower than directly. He will issue on his website offers from all the major distributors in the country. I always take through them and get a discount almost 2 times from Hertz. Well, I still like Hertz, because if you take a car from them for a period of 5 days or more, you can return it elsewhere for free (other companies charge a commission for this). And just on this site it is convenient to compare what comes out cheaper, pay this commission, or not pay, because the price per day is different for all companies.
Discounted car rental>
From Bangkok to Pattaya
If you go to Pattaya not fromSuvarnabhumi airport, and from Bangkok itself, the easiest way to get there is by bus (or minivan) from two bus stations. By the way, if you are staying in the center of Bangkok, in the area of ​​Kao San Raod street, then most likely you will be able to go directly to Pattaya from the guesthouse or from some travel agency located on this street or in the vicinity, the cost of traveling in the area 200 baht Also at the hotel you can order a taxi to Pattaya, the cost of 3,000 baht.
How to buy a ticket via the Internet
Not everyone knows, but there is a site 12GO.asia, where you can buy bus / train tickets online. This is now the only service offering this feature. It covers many destinations in Thailand, of course there is Pattaya. Minibass / bus tickets from different stations, taxi / transfers and so on.
Bangkok-Pattaya Tickets>
Payment by credit card or PayPal, an electronic ticket, very convenient. I hope that they will continue to add various routes and expand functionality.
Bus station Ekkamai
Buses run to Pattaya from Ekkamai Eastern Bus Terminal (Ekkamai). It can be reached by underground train to Ekkamai station (BTS Skytrain). There you are Bangkok metro map and on the same link post about the subway, bus stations and more. Ekkamai Bus Station is right next to the metro.
Buses run from 5 am to 10 pm everyhalf an hour. The cost is about 100 baht, the journey takes 2 hours, air-conditioned buses. The bus arrives on North Pattaya Street. It makes sense to make sure that it is an express train, not a local bus, otherwise you will drive longer, 4 hours, and you will leave on the outskirts of Pattaya, on Sukhumvit Road.
Bus station Ekkamai
Bus station Ekkamai
East bus station. From here, buses travel mainly to the east of Thailand. Located right next to the metro station of the same name BTS Ekkamai.
Read more.
East bus station. From here, buses travel mainly to the east of Thailand. Located right next to the metro station of the same name BTS Ekkamai. More details.
Bus station Moh Chit
You can also go to Pattaya from the North.Moh Chit Bus Terminal (Mo Chit), which is located 1.5 km from Chatuchak Park (MRT subway) and Mo Chit (BTS Skytrain) stations. From these metro stations (they are close by), you can either stomp on foot for 15-20 minutes (as on the map), or take bus 130 or tuk-tuk. This bus station is closest to Don Muang Airport, so from this airport you can go here.
Buses run from 5 am to 7 pm every half-hour, hour. The cost is about 100 baht, the journey takes 2 hours, air-conditioned buses. The bus arrives on North Pattaya Street.
Bus station in the southeast of the city
Buses run from 5:30 am to 9:30 pm every half hour. Cost 108 baht.
A good schedule and cost, but it's not very convenient, you're tortured to get there, only if you live somewhere close by, or don't mind taking a taxi.
Buses to Pattaya
Buses to Pattaya
Buses run to Pattaya from 5:30 am to 9:30 pm every half hour. Cost 108 baht
Buses run to Pattaya from 5:30 am to 9:30 pm every half hour. Cost 108 baht
Victory Monument
From October 2016 no longer go from here.minivans in other cities in Thailand. The military junta struggled with traffic jams on the square, which arose due to the activities of 4,000 minibuses, which in fact created an illegal bus station in the middle of the city. Minivans were distributed between the three main bass terminals of Bangkok and free shuttles from Victory Monument now run to these three bus terminals. If you are closer to the monument than to the stations - come here. Shuttles run from 4:30 am and until 20:30 every 20 minutes.
Train Bangkok - Pattaya
You can also get to Pattaya by train fromHua Lamphong Railway Station (Hua Lamphong), which is located right next to the Hua Lamphong Underground Metro (MRT) station of the same name. However, the trains do not go as often as buses and you have to come at a certain time, IMHO, an inconvenient option.
Departure time is 6.55, and arrival at 10.30. The train without air conditioning, 3rd class, runs on weekdays. Tickets cost about 80 baht. In Pattaya, the train stop is located next to the Siam Country Club in the north of Sukhumvit Road.
Railway Station Hua Lamphong
Railway Station Hua Lamphong
Station in the heart of Bangkok
Station in the heart of Bangkok
P.S. If you are interested in housing in Pattaya, then for a short period, housing is best sought through RoomGuruby reading reviews, booking in advance. The service is convenient in that it allows you to find out discounts in all existing reservation systems, and in particular on Agoda, which everyone does not know about, and the same hotels are often cheaper on it than on Booking.
Life hacking 1 - how to buy a good insurance

Choosing insurance is now unrealistically difficult, so to help all travelers, I compile a rating. To do this, I constantly monitor forums, study insurance contracts and use insurance by myself.

Life hacking 2 - how to find a hotel 20% cheaper

First, choose a hotel on Booking. They have a good offer base, but the prices are NOT the best! The same hotel can often be found 20% cheaper in other systems through the RoomGuru service.

Discount hotels