A brief post, just a note to those who go from Ao Nang to Krabi. In fact, you have only three options for how to get there: Bus, Songteo (minibus), taxi.
The content of the article
Bus
The bus runs on a schedule and it is sharpened by arriving flights. That is, it goes quite well from Krabi Airport (the link is not only about the airport, but also fromHe will not have to wait for him to get to Aonang), but from Ao Nang, on the contrary, he will have to adjust. Bus tickets can be bought at some hotels or travel agencies, and I was told that the bus ticket can not be bought (dubious information, most likely you can). Unfortunately, the bus stops are very inconspicuous, and they are few. By this, I didn't like the bus that it's not at all obvious to the newcomer that in principle there is a bus in Aonang. And the schedule does not hang at bus stops ... In general, it makes sense to wait for him near McDonald's, this is a good landmark. The cost of the ticket to the airport is 150 baht, the cost to Krabi Town is 80 baht, it stops by the road. The journey takes about an hour.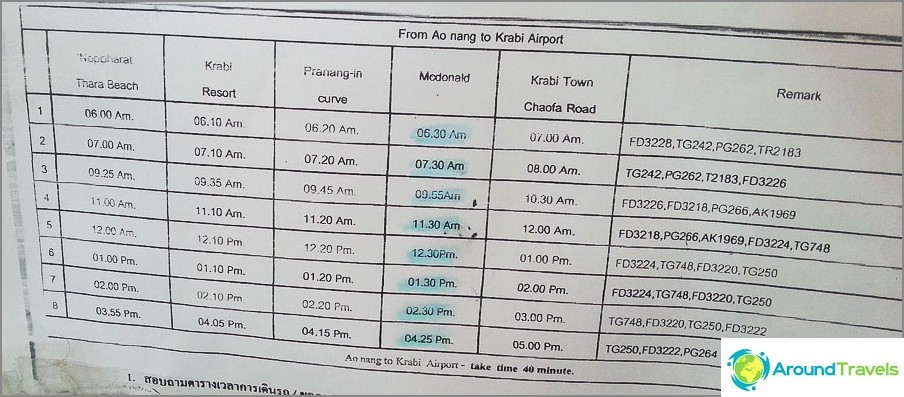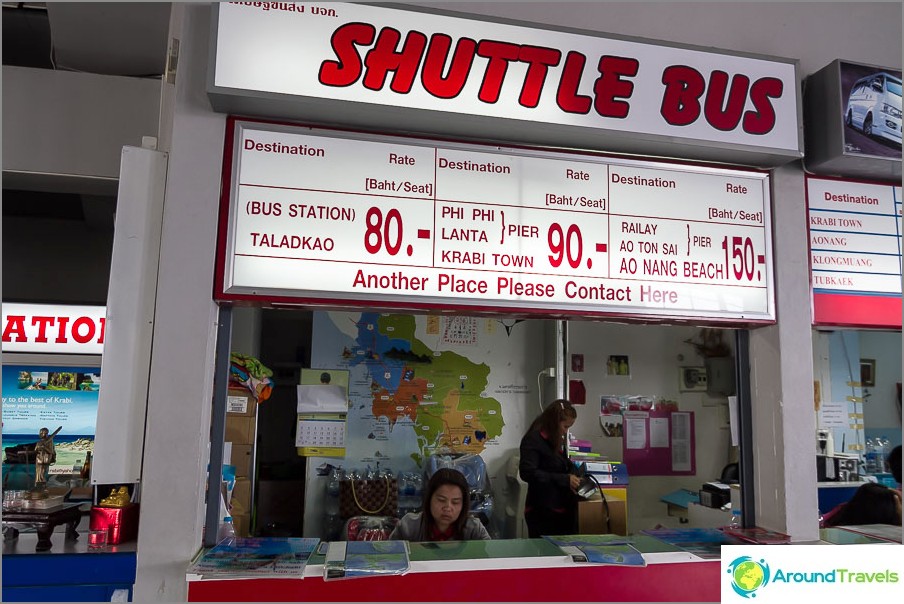 Minibus
With songteo (shuttles) easier, they go witha certain periodicity (approximately every half hour, but before darkness approximately) and they can be braked at any place on the main road. They walk from the beach of Noparata Tara through Ao Nang. Cost of 50-60 baht to Krabi Town. Travel time 40-60 minutes.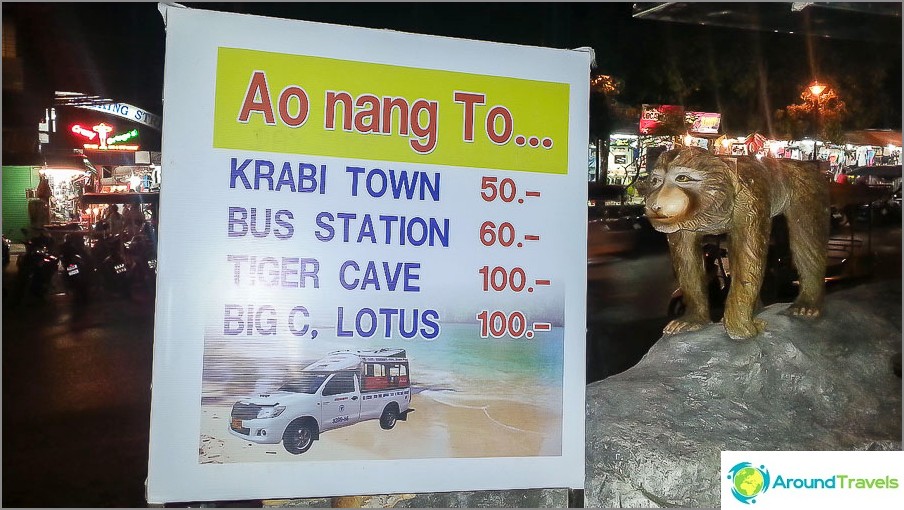 Taxi
Well, the most convenient and easiest option is a taxi. True, and the most expensive. If you save, you will not be hurt by a taxi, only if you take a one-time or a few per person. For example, 3-4 people are already comparable to the bus or Songteo. We once took a minivan minivan for 600 baht, though, usually for the money it will not be a minivan, but an ordinary car. But you can take a taxi almost instantly, it's enough to go to the lobby of a hotel or to a company that deals with transfers and say what you need. Last time I waited about 10 minutes in total.
Alternatively, still order a taxi via the Internet fromKiwitaxi, they just work in Thailand. Of course, if you need it in advance, and not after 5 minutes. For example, go to Krabi airport, or even to Phuket. Even out of the house will not have to order.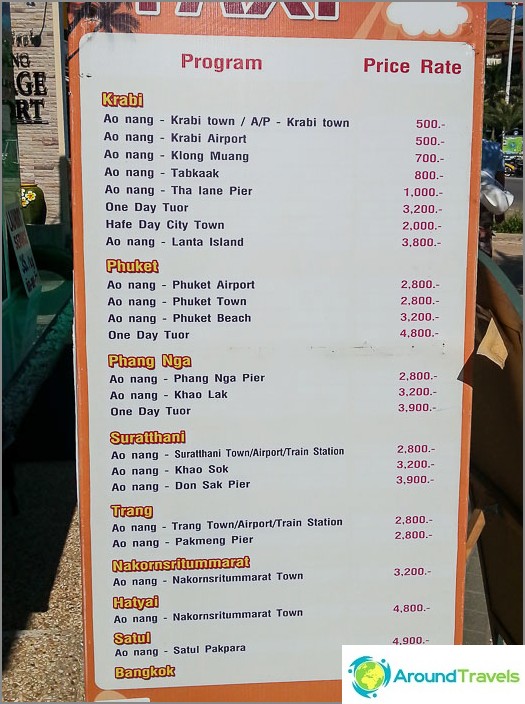 P.S. If you want to rent a house in Krabi, I remind you that we have personally collected me catalog of houses in Krabiwhere more than 70 houses with a map and photo. Housing the same for a short period, while you are looking for a house, you can forget it through RoomGuruThis is the most convenient service.
Life hacking 1 - how to buy a good insurance

Choosing insurance is now unrealistically difficult, so to help all travelers, I compile a rating. To do this, I constantly monitor forums, study insurance contracts and use insurance by myself.

Life hacking 2 - how to find a hotel 20% cheaper

First, choose a hotel on Booking. They have a good offer base, but the prices are NOT the best! The same hotel can often be found 20% cheaper in other systems through the RoomGuru service.

Discount hotels