You can get to Ayutthaya from Bangkokways, but I will tell one, in my opinion the fastest and most convenient. And, in fact, Ayutthaya is so close to the capital that one should not bother too much with the choice of the way to bother.
The content of the article
How to get to Ayuthaya
On the minibus from Victory Monument
From October 2016 no longer go from here.minivans in other cities in Thailand. The military junta struggled with traffic jams on the square, which arose due to the activities of 4,000 minibuses, which in fact created an illegal bus station in the middle of the city. Minivans were distributed between the three main bass terminals of Bangkok and free shuttles from Victory Monument now run to these three bus terminals. If you are closer to the monument than to the stations - come here. Shuttles run from 4:30 am and until 20:30 every 20 minutes.
It used to be chic - they brought right to the old city on the mini-bus terminal (the usual bus station is in the new city and far from here), where there a dozen hotels, Market and Family Mart. You can immediately settle here, rent a bike and go see the ancient capital of Siam.
During the season it is better to book in advance, and thenyou never know there will be no numbers, I almost got it, took the last one and waited for a long time until it was released. And it is possible and without settling, and in the evening go back to Bangkok from here.
Bus to Ayutthaya
Bus. I think this is not very convenient, because first you need to get to bus station Mo ChitYes, and the bus goes a little longer, and not all the buses in Ayutthaya itself call in. I drove from Chiang Mai there and just ran into it. And if it comes, it will then be cut from the Ayuttai bus station.
But if you decide by bus, you can simplify your life and at least buy tickets in advance through 12GO. Actually, they have mini-bass there too. Also convenient to take.
Tickets to Ayutthaya>
Transfer from Khaosan
There are many travel agencies in Khaosan sellingtickets in all directions. And if on the night bus from them it is better not to go anywhere (they steal at night), then on the mini-buses it is the most. But this is convenient only if you already live in a hotel on Khao San.
Online transfer
Anyone who wants a minimum of gestures canBook a transfer online to Kiwitaxi or 12go. You will be met in the arrival hall, you will take luggage, put you in a car and take you to the right place. The method is good because there are no problems at all, while it costs like a regular taxi.
There is still a taxi, but you have to look for it on the spot, and bargain to bring down the price. I don't know the exact cost, somewhere around 2,000 baht one way, they'll probably take it that way.
By train
A way for those who want to ride exactly onelectric train and get a little extreme. From the Hua Lamphong station, she walks often, 30 times a day. The schedule is here, the ticket costs 15-20 baht, travel time is 1.5 hours, but it may be late for another 2 hours. On the other hand, does not depend on traffic jams.
He comes to the local railway station and it is a little further from the ruins than if we were traveling by minivan, it would be necessary to swim across the river on the ferry (3 baht). You can also use tuk-tukers.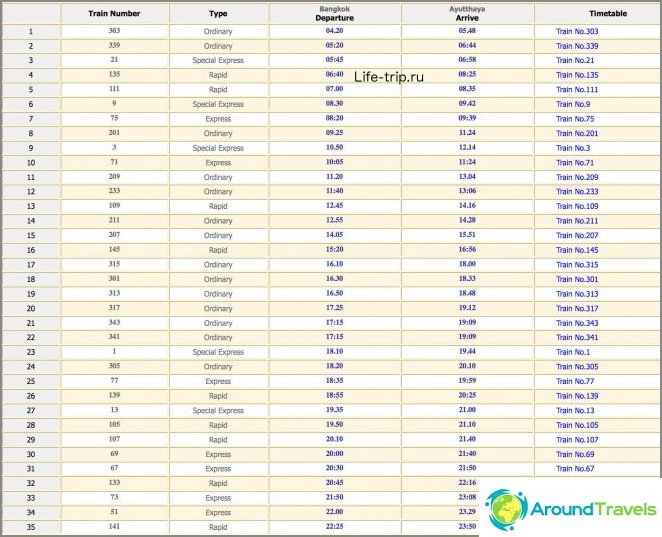 Ayutthaya Map
Life hacking 1 - how to buy a good insurance

Choosing insurance is now unrealistically difficult, so to help all travelers, I compile a rating. To do this, I constantly monitor forums, study insurance contracts and use insurance by myself.

Life hacking 2 - how to find a hotel 20% cheaper

First, choose a hotel on Booking. They have a good offer base, but the prices are NOT the best! The same hotel can often be found 20% cheaper in other systems through the RoomGuru service.

Discount hotels