I tried to collect all the ways how to get there.to Krabi from the capital of Thailand Bangkok. There are budget options, there is not much. But in terms of convenience, Krabi will give odds to the same Samui, trite because it's not an island and you don't need to mess with the ferry.
On the other hand, Krabi is on the side ofrailway, which makes the option to travel by train is not as convenient as we would like. In general, we last time just rented a car in Bangkok and traveled there for several days. It was possible to get there in 1 day, but we made stops at the most beautiful national park Samroiot and National Park Khao Sok.
The content of the article
From Bangkok to Krabi
Aircraft
The plane is in the first place, because in terms of price / convenience, the option is very good. This is not for you Bangkok-Samuiwhere monopoly is at Bangkok Airways and prices are higher than the roof. For the price of about 1000-2000 baht you can easily buy a plane ticket from Airasia or Nokair and quickly fly to Krabi.
True, there is such a nuance that Airasia and Nokair fly from the airport Don Muang, therefore, if you arrive standard inSuvarnabhumi, then you will still have to lay the time and effort to get to another airport. However, it will take you 30-60 minutes by taxi and about 300-500 baht in monetary terms. There are also free shuttle buses between the airports. Details in the article about Don Muang, the link I have already given. By the way, as an option, you can spend the night in Bangkok in Nasa vegaswhere I have stayed several times, an inexpensive transit hotel.
If you are going to buy tickets, I advise you to do this through Aviasales.ru and Skyscanner.ru, we use them ourselves, very convenient services.
But from the airport in Krabi to get to Ao Nangnot at all difficult. You most likely will go to Ao Nang, it is there that everyone lives. So, from the airport there are buses and their schedule is adjusted to the arrival time of flights. Well, no one bothers to take a taxi.
It is also worth mentioning that fly toKrabi is also possible from Suvarnabhumi Airport on Thai Airways, but the price will not be as pleasant as that of low-cost airlines. Therefore, in terms of price / convenience, this option is not as tasty as described above. But here everyone chooses how much he is willing to spend on moving.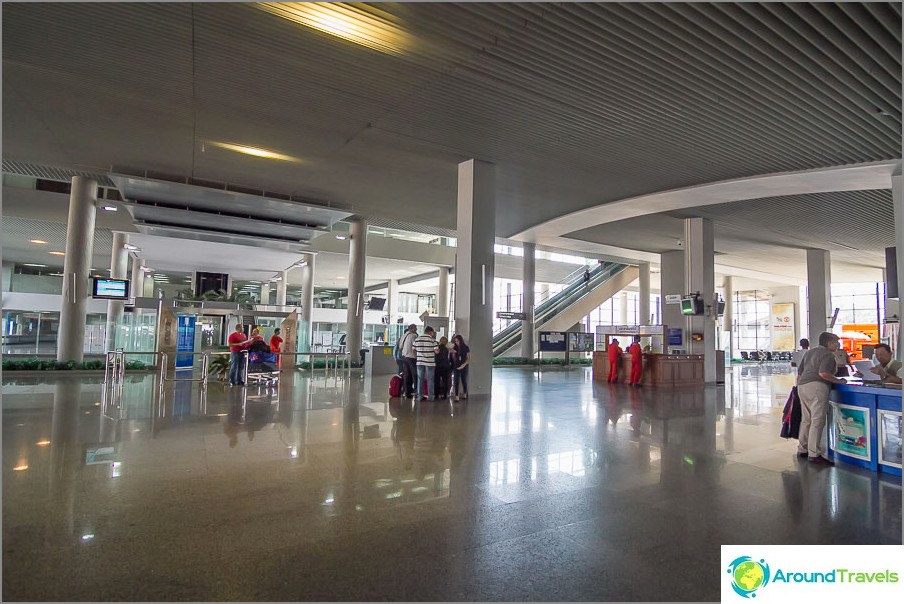 Bangkok-Krabi Bus
How to buy a bus ticket via the Internet
Tickets are sold at the box office on the third floor of the bus station, at prices ranging from 500 to 1,000 baht, depending on the chosen company and class of service.
You can buy tickets online now.only on the site 12Go.asia. At its base there are almost all bus companies, so the choice will be. But the directions are not all, only popular ones. In any city in a remote province to buy a ticket until it turns out. Payment by credit card or PayPal, an electronic ticket, very convenient!
Bangkok-Krabi Tickets>
South Bus Station
Buses in the direction of Krabi depart from the Southern Bus Station, to which it is easiest to get a taxi directly from Suvarnaphumi Airport. Taxi I recommend to anyone who has no experience.trips around the city, burdened with luggage or just terribly tired after the flight. Sit down only to the driver who does not refuse to drive over the counter. The bus station is called Sai Thai Mai, and do not forget to clarify to the taxi driver that you need a new "New Sai Tai Bas Terminal", otherwise you may be brought to another place. Just in case bus terminals bangkok.
South Bus Station (Sai ​​Tai Mai)
South Bus Station (Sai ​​Tai Mai)
Southern bus station (in Thai, buses go from here to the south. You just need a new Sai Tai Mai. Ticket offices on the 3rd floor.
Read more.
Southern bus station (in Thai, buses go to the south from here. We need a new Sai Tai Mai. Ticket offices on the 3rd floor. More.
Travel time and nuances
Travel time is about 12 hours; busarrives at the Krabi Town bus station. From Bangkok to Krabi goes three flights, one morning and two night. Considering that you will spend half the day on the road, it is better to oversleep them safely, so choose one of the evening ones.
Before you check in your luggagebranch, get warm things that will soon come in handy on the road. Simply, Thai drivers have, to put it mildly, a feature that is expressed in an air conditioner operating at full capacity. Even if you read it with a smile, remember the warm things, they will help you get to Krabi without pneumonia.
The disadvantages of this method are: long travel time, uncomfortable temperature, not the most convenient places.
Pros: low price, the opportunity to sleep on the road.
Train + bus
How to buy a train ticket via the Internet
Buy a combined train / bus ticketit is possible, both at the box office of Hua Lamphong, and in any travel agency, on the streets of Bangkok. In my opinion, if you already buy tickets at the agency, it is better to do it in advance and via the Internet. There is such an opportunity - 12Go.asia.
Bangkok-Krabi train tickets>
Payment by credit card or PayPal. An electronic bus ticket, the train must get the original, either at the agency's office (several points) or by mail. Unfortunately, the Thai railways do not support the e-ticketing system.
Movement pattern
If you decide to get from Bangkok to Krabi ontrain, that is a hitch - there are no direct trains to Krabi province, because they have not yet laid tracks in this part of the Kingdom of Thailand. So, the route will be a combined "train + bus".
When choosing a train ticket, plan your destination.in the cities of Suratthani (common Surat), Nakhon Si Tammarat (Nakhon) or Trang. Immediately at the railway ticket office say that you are going to Krabi, you will be sold a bus ticket (price is between 350-400 baht) and will be guaranteed to be met at the train and will be taken by hand to the bus.
Trains to Suratthani run every hour and a half, andonly two trains leave for Trang and Nakhon in the evening. The cost of a train ticket is between 400 and 1500 baht, depending on the class of the car and whether the top or bottom you will have a seat. It is better to go by express train of the 1st or 2nd class with air conditioning. In Thailand, as in Russia, railroaders love extremes. In the Thai car, air conditioners work like in a refrigerator, so prepare a blanket, socks, jackets, jackets and closed shoes, you will need them. Read more about thai railways I wrote in another post.
Travel time to Suratthani is about 13hours, to Trang about 15 hours, and to Nakhon about 17 hours. After that, you will be taken by bus from the train station to the office of the carrier company, waiting for the shuttle bus to Krabi and driving to Krabi takes about 3 hours.
There is one more nuance of the "train + bus" option,which is that each company brings you to its office, from which you still have to take a taxi or Songteo to get to your home or hotel. The office can be located both in Krabi Town and Ao Nang.
The disadvantages of this way to get from Bangkok to Krabi: a long time on the road, many transfers, the final stop is far from the main resort of Krabi.
Pros: in the train you can sleep in a full bed, but this is only part of the way.
Bangkok Railway Station
Get from Suvarnaphumi Airport Bangkok Railways Railway Station(Bangkok Railways) can be on the City Link overground line. Drive to Makkasan Station, then transfer to the Petchaburi Underground Station (MRT Phetchaburi) and wait for Hua Lamphong's final station.
If you are not in the mood to wander through Thai subway transfers, take a taxi to Bangkok Railways at the airport and insist on turning on the meter.
Railway Station Hua Lamphong
Railway Station Hua Lamphong
Station in the heart of Bangkok
Station in the heart of Bangkok
On a rented car
Reserve a car best in the famousthe company. You will be given a car with a full tank of fuel, insurance and in good technical condition, which is important on such a long stretch - from Bangkok to Krabi about 780 km. Details about car rental in Thailand. By the way, the car can be taken at Krabi airport upon arrival.
The cost of renting a car is from500-1000 baht per day from official distributors. The deposit for the car is usually 5000-10000 baht. This amount is frozen on your card until the car returns (which is why it's good use a credit card).
You need to take the car through Economybookings, thisbroker. He will issue on his website offers from all the major distributors in the country. The price will be lower than directly, plus you can give full insurance for free. I usually take in Hertz, because if you take a car from them for a period of 5 days or more, you can return it elsewhere for free (other companies charge a commission for this). And just on this site it is convenient to compare what comes out cheaper, pay this commission, or not pay, since the price per day is different for all companies.
Discounted car rental>
From Suvarnaphumi Airport to KrabiThere is a multi-lane highway with excellent quality road surface. If you have driving skills on the roads with left-hand traffic, you can keep within 11-12 hours of travel with short rest stops. With an average fuel consumption on the highway, even 10 liters per hundred, you will burn 80 liters of gasoline. This is about 2,400 baht.
The car is returned at Krabi Airport,at the front of the company. The approximate total cost of such a trip from Bangkok to Krabi, for two people - about 3,500 baht, if you do not take into account the cost of services to return the car at another point. And if you take into account, you need to add about 5,000 baht, or just take the car for a longer period of 5 days, then this service can be free (for example, from Hertz). I just took the car to get to Ao Nang and ride around the neighborhood, so infa first-hand, as they say. I really liked it.
Cons: travel time, freezing of the deposit, you must have a driver's license, after a difficult flight you will have to lose a day in Bangkok to rest before the road.
Pros: price, comfort, interesting experience and experience.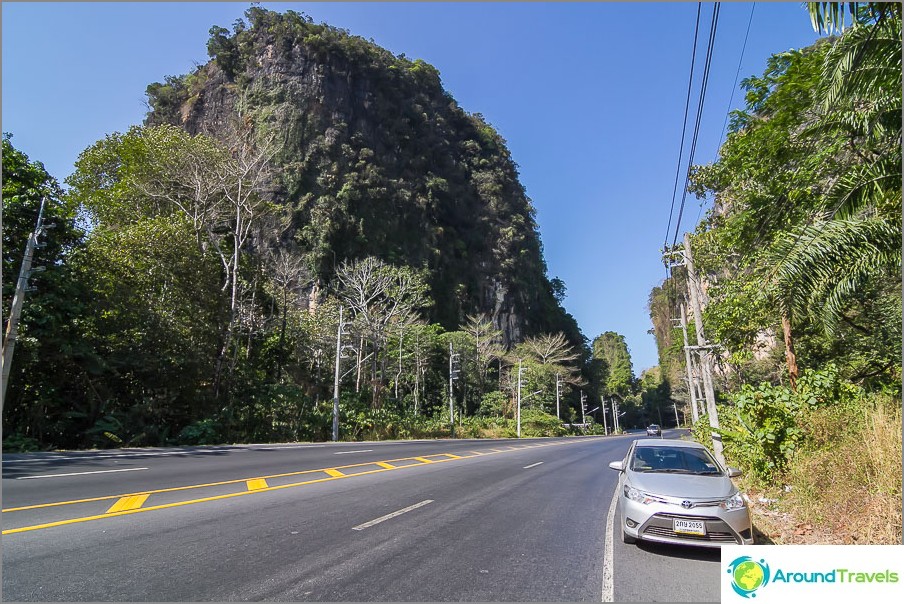 From Phuket to Krabi
Krabi can be reached very quickly from Phuket bydrier, there is only 2.5-3 hours by car. It will be faster than the plane with its check-in, baggage upon arrival and a taxi from Krabi Airport to your hotel.
As an option, do not take a transfer / taxi from Phuket, namely a car for rent. Then generally it will be very convenient. In Krabi, drive around all the main attractions and return the car at Krabi airport.
Bus
Buses and minivans depart from Phuket toKrabi several times a day from the bus station number 2, which is located in the north of Phuket Town, next to the Super Cheap Market. Buses start walking at about half past six in the morning and finish at five in the evening, depart every hour.
One way ticket costs about 150 baht. To Krabi bus travels about 3 hours.
Phuket Krabi Tickets>
Very good service 12GO, where you can buy electronic tickets for the bus + ferry, without leaving the hotel.
Buses from Phuket come to Krabi bus station,Talat Kao Bus Station, which is located a few kilometers from the city. From this bus station all the way to Krabi Town or to Ao Nang can be reached by shuttle route or taxi.
If the goal is Ao Nang, then we must take into account that the songteo will still go through Krabi town, the ticket will cost about 60 baht, in time it will take 40 minutes.
If you go by minivan, travel time can be longer, because they make many stops and drive in many places, collecting tourists. In this case, the comfort of a minivan is not better than a bus.
Internet transfer
Anyone who wants a minimum of gestures canorder online private transfer to Kiwitaxi. That is, you order a taxi in advance via the Internet, on the spot you will be met in the arrival hall, you will take luggage, put you in the car and take you to the right place. The method is good because there are no problems at all.
For the price all the same (from 3000 baht), if you took a taxi on the spot.
Phuket Krabi Transfer>
Taxi on arrival
No one bothers to take a taxi upon arrival in Phuket. It will cost from 3,000 baht for a passenger car, a minivan is more expensive. As I have already said, you can order the exact same car in advance via the Internet, so that you can take them right under the arms and into the car.
If you have not booked in advance, then leave the airport and on the street look for transfer racks, arrange and pay.
How to get to your beach in Krabi
From Krabi Town
If your trip from Bangkok to Krabiended in Krabi Town, and you need to go to Ao Nang, then take the Songteo (pick-up bus) that goes in the right direction, the price of this trip does not exceed 50 baht per person. The journey takes about an hour, the Songteo does not travel fast and often stops.
You can find out if the Songteo is going to Ao Nang from the driver. Nopparat Tara beach can be reached by the same songteo, but it is better to ask the driver in advance about the route or arrange for him to drive there.
From Krabi Airport
As I wrote above, from the airport you can withoutproblems getting to Ao Nang by bus. The ticket costs 150 baht. The bus schedule is tailored to the flights, so it will not take long to wait. The journey takes about an hour. A little more detail I have everything described in the article how to get from the airport to Aonang.
The bus calls in Krabi Town, if you need him, then you can get out there. The cost of tickets to Krabi Town 80 baht. The journey takes about 30 minutes.
In addition to the bus, you can take a taxi, both on site and via the Internet. It may even be more profitable if you have several people. I was driving for 600 baht. About return trip from Aonang to the airport.
P.S. If you come to Krabi on vacation and are looking for accommodation, I remind you that we have personally collected me catalog of houses in Krabiwhere more than 70 houses with a map and photo. Lodging for a short period can be found through RoomGuruThis is the most convenient service showing discounts on hotels.
Life hacking 1 - how to buy a good insurance

Choosing insurance is now unrealistically difficult, so to help all travelers, I compile a rating. To do this, I constantly monitor forums, study insurance contracts and use insurance by myself.

Life hacking 2 - how to find a hotel 20% cheaper

First, choose a hotel on Booking. They have a good offer base, but the prices are NOT the best! The same hotel can often be found 20% cheaper in other systems through the RoomGuru service.

Discount hotels