There was a need to highlight ways howget from Moscow to Samui, in a separate post, because there are several options for flights and beginners are not immediately obvious difference between them. It will be a question only of an air way, that is about planes. And all the options, how to get from Bangkok to Samui by land (5 ways), I already told earlier.
The main feature of this journey is thatThere are no direct, direct Moscow-Samui flights. And because of this, it's harder to get here than to Phuket. Plus, there are various nuances, and they will be discussed. And about that how to fly to Tai cheaper, I already wrote.
The content of the article
Why there is no direct flight Moscow-Samui
Koh Samui is an island where the only private airport is built (by the way, very beautiful), which independently determines whichairlines it will work. For a long time, rumors have been spreading about the imminent transformation of Samui Airport from local to international, but so far it has taken only five airlines in the world.
Thai Thai Airways and Bangkok Airways (our flight impressions)
Malaysian Firefly
Singapore Silk Ai;
China China Airlines
When planning a flight from Moscow to Koh Samui tolooking for a better price, it's worth looking through not only Russia-Thailand options, but also routes passing through neighboring states (for example, Malaysia, Kuala Lumpur), from where it will be cheap to get to the island. But remember - with any chosen air route you will have at least one transfer.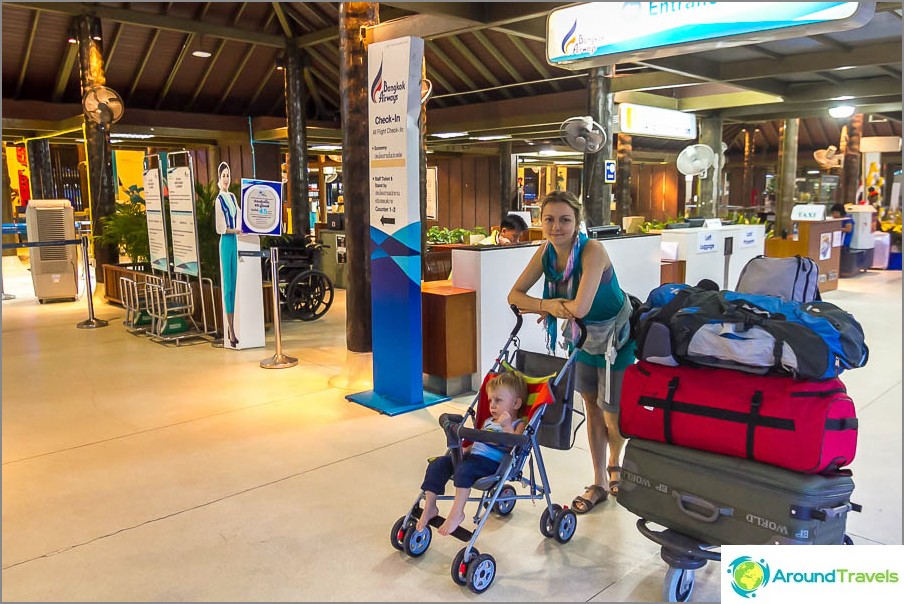 Flight on a single ticket
This option means that you immediately buyair ticket to Samui. The same version of the flight, which you issued Aviasales or Skyscanner with all transfers. That is, you pay once all segments of the flight at once and get one electronic ticket in your hands. At the same time there can be both 1 and 2-3 transplants. Let us examine each of the options.
Moscow-Samui with the 1st change
To achieve this option you need to buy a ticket.Aeroflot or Thai Airways (recently canceled direct flights from Moscow, but I hope they will resume). Only these two giants of air travel will provide you with a direct flight from Moscow to Bangkok, and then you will be forwarded to Samui Airport by Bangkok Airways. A transplant will be one in Bangkok, and it is inevitable, as I said.
When you check in at the airport of departure, they give youtwo boarding passes at once (one for each aircraft), that is, the carrier who sold you the Moscow-Samui ticket takes responsibility for your journey with domestic airlines. This solution is very convenient from the point of view of the passenger. Indeed, in the event of a delay in the first shoulder of the Moscow-Bangkok, the discrepancy in time during the transfer to domestic airlines will NOT be your headache. The airline itself will solve this issue and put you on the next flight.
Another advantage of such a flight is registration.baggage to the final point, that is, to Samui. You do not have to get it in Bangkok and take it back, transferring to domestic airlines. At the same time, passport control is carried out specifically in Bangkok, in its transit zone. Getting lost there is difficult, the airport staff will direct you to where they are, they stand there specially.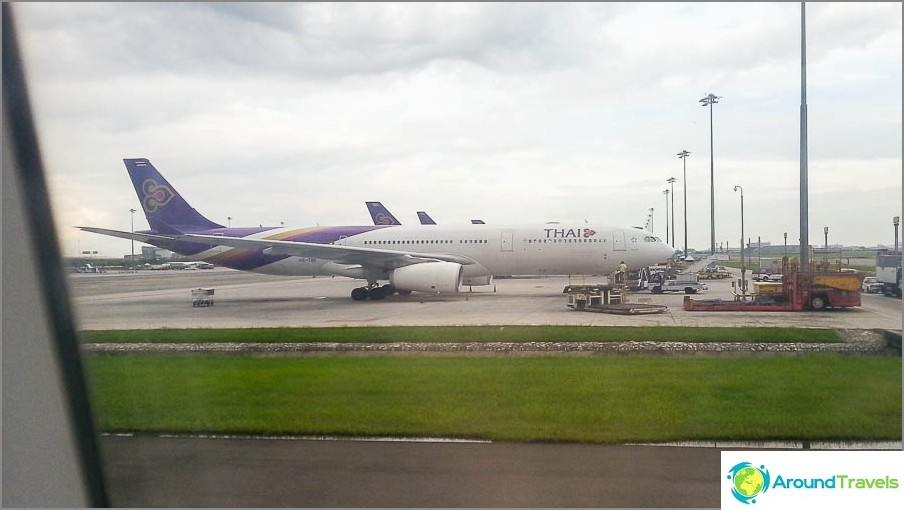 Moscow-Samui with 2-3 transfers
A mass of other airlines carry passengers withtwo or three or more transfers. That is, you will have several transfers (usually 1) on the shoulder of Moscow – Bangkok in some Dubai or Abu Dhabi, and another transfer in Bangkok itself. All the essence and all the advantages mentioned in the previous paragraph are retained. Moreover, the increase in the number of transfers does not always affect the cheaper flights. The price depends on the chosen carrier, on the tariff and on the season, it is necessary to monitor prices every time and see what is cheaper. It used to be thought that a direct flight is always more expensive than a flight with transfers, but if you look at the prices yourself, then make sure that this is not always the case now.
It is possible that there will be an action, such asEtihad or Emirates airlines, which periodically arrange rides of unprecedented generosity and sell tickets with a 20-40% discount. Other carriers are also satisfied with the promotions, so if you are not tied tightly to the departure date, I highly recommend taking good deals for a while. The flight can get quite inexpensive, and at the same time it is almost always cheaper than the total cost of two separate tickets Moscow-Bangkok and Bangkok-Samui.
So here. If, at the request of Moscow-Samui, the Aviasales or Skyscanner search engines give out a cheap flight with a transfer (for example, Moscow-Doha-Bangkok-Samui, or Moscow-Abu Dhabi-Bangkok-Samui), then, as in the case of a direct flight, you are handed one ticket. In general, tickets purchased online is a simple electronic document that is sent to your mail after payment. It lists all your flights, transfers and airplanes.
When checking in at the airport of departure, for thisa ticket is given to you as many boarding passes as there are planes along the route. The carrier ensures your delivery directly to Samui and if one of the planes is late, it will resolve all problems with subsequent flight inconsistencies. Accordingly, the baggage is also registered to the final destination of Samui, and passport control is passed in the transit area. Bangkok Suvarnabhumi Airport.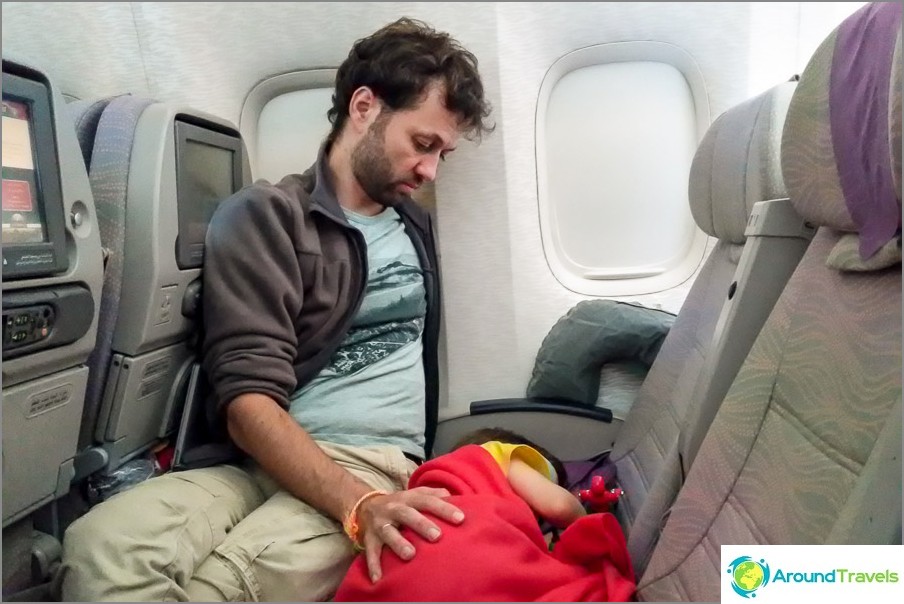 Flight with multiple tickets
This option means that you separatelybuy several tickets for several flights. Yes, you podgadvat them for each other in time, but in fact they are not connected at all. Before, you will need a ticket to Bangkok or Phuket.
Flight Moscow-Bangkok and flight Bangkok-Samui
This is a way for those who for some reason cannot buy a single ticket for the entire flight. Here you have a simple algorithm:
Buy a ticket from Moscow to Bangkok, separately. Direct it will be a flight or with transfers - you decide.
Buy a ticket to Samui, also separately, on the website of Bangkok Airways. You can also buy this ticket upon arrival at Bangkok right at the airport at the Bangkok Airways ticket office.
The main danger and inconvenience in this version -the likelihood of being late for your first flight to Bangkok, which no one will compensate for you, you will simply lose your second ticket. Not to take a ticket for domestic flights in advance is also not an option, since the price of a ticket on the day of departure may differ almost five times from the price that will be set 1-2 months before the flight.
That is, take tickets for domestic flightBangkok-Samui is better in advance, so as not to face the high cost and, worse, the lack of empty seats on the day of departure. In fact, this is a classic puncture for inexperienced travelers in Thailand. Of course, there is always the opportunity to leave on the ground, but in this article we discuss only the options for air travel.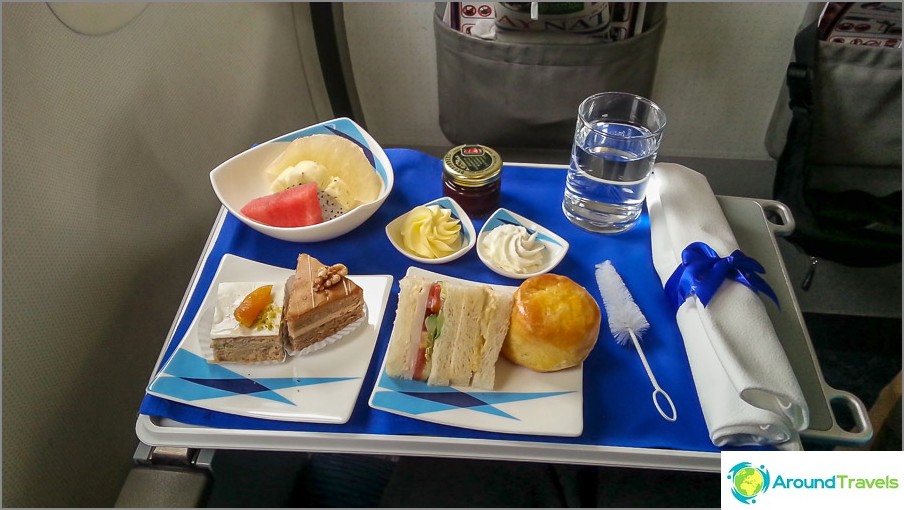 If you still got into such a situation that you have already flown to Bangkok, and a ticket to Bangkok Airways is too expensive or there are no empty seats, then you have two options.
Stay overnight in Bangkok. For example, in a hotel Nasa vegaswhich is quite close to the airport. On the link read my review, I have stayed there several times already. And then fly away the next day.
Go to Don Muang Airport (by taxi is 30-60 minutes), and use the AirAsia or Nokair low cost airlines.
Worth knowing that Bangkok Airways -a monopolist company whose planes fly to Samui every hour. And the price for them is twice as high as for tickets of low-cost airlines, such as AirAsia and NokAir. But these low-cost airlines do not fly to Samui, but land on the mainland in the city of Surathani or Nakorn Si Thammarat, about 100 km from the island. Here is the arithmetic. Therefore, when you watch the site of the low-cost airline, do not be surprised that there is a direction "Samui", just in fact it is a combined ticket "flight + bus + ferry".
Moscow-Phuket flight and Phuket-Samui flight
Another way to travel with two separatetickets. Be sure to pay attention to the options that are offered in the airline Aeroflot. These guys carry direct flights from Moscow to Phuket, Transaero also flew earlier and their prices were much tastier, but everything changes.
WITH Phuket Airport you just have to do it yourselffly to Samui by Bangkok Airways planes, so I remind you of the pre-purchase of a ticket. The distance from Phuket to Samui is almost two times less than from Bangkok, but the flight will be literally 10 minutes shorter due to the fact that the plane flies slowly and saves fuel. So that you have time to eat a good corporate lunch.
And a little advice for those who still riskbuy a ticket to Bangkok Airways already in Phuket. If you have not guessed with the decision and you have to spend the night waiting for the next plane, then do not take a taxi or book a hotel at the airport racks. Literally 200-300 meters from the airport exit there are cheap hotels (availability and location can be quickly looked through RoomGuru). If you have one suitcase, you can easily get to the hotel and check in by yourself. And cheaper.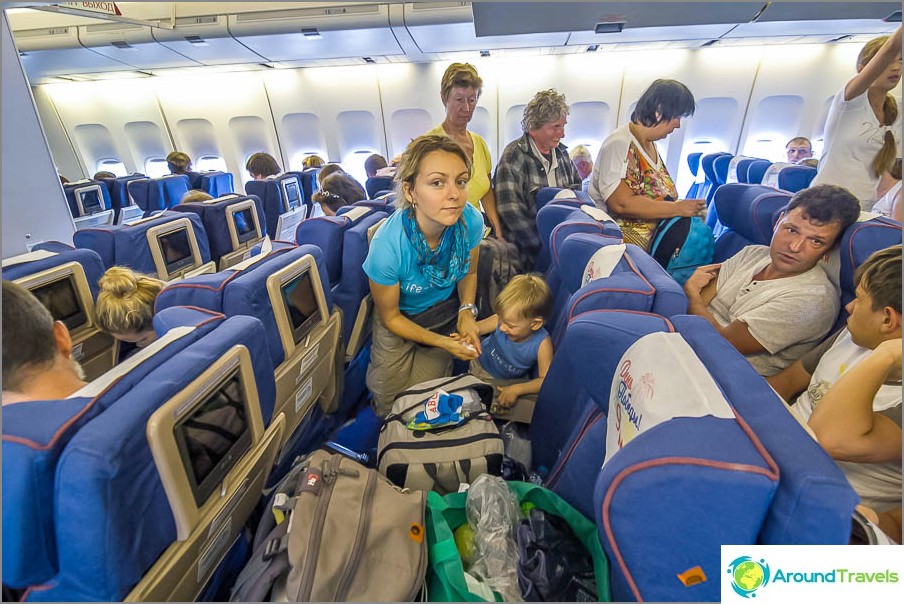 P.S. As I wrote at the beginning of the article, there are still countries from where airplanes fly right up to Samui. We have never used these methods, because there was no need, but I never forgot about them during the search for cheap tickets. Which, in fact, I advise you, especially if you do not fly from Moscow, but from another city. Prices and rules are changing, it is better to keep under review all possible options.
Life hacking 1 - how to buy a good insurance

Choosing insurance is now unrealistically difficult, so to help all travelers, I compile a rating. To do this, I constantly monitor forums, study insurance contracts and use insurance by myself.

Life hacking 2 - how to find a hotel 20% cheaper

First, choose a hotel on Booking. They have a good offer base, but the prices are NOT the best! The same hotel can often be found 20% cheaper in other systems through the RoomGuru service.

Discount hotels