It is often asked how to get from Suvarnabhumi Airport before Don Muang Airport. Flights from Russia arrive to Suvarnbhumi, andthen you need to fly out of Don Muang to get to Phuket, Krabi, Samui, and so on. All Thai low-cost airlines such as AirAsia or NokAir, fly from Don Muang. The distance between airports 50 km, so they can be overcome only by transport. Below is a list of all the ways.
The content of the article
Free shuttle bus
A free shuttle bus runs between the airports from 5 am to 24 pm.
Every 30 minutes: from 5:00 to 8:00, from 11:00 to 16:00, from 19:00 to 24:00.
Every 20 minutes: from 8:00 to 11:00, from 16:00 to 19:00.
Travel time in normal time: about 1 hour.
Travel time during peak hours: from 1.5-2 hours.
Lay more time waiting for the shuttle.
The shuttle leaves from the 2nd floor of the airportSuvarnabhumi (Arrivals) from exit number 3 and arrives at the departure zone of Don Muang Airport. That is, after arriving in Suvarnabhumi, you will need to leave the arrival hall and walk to the exit on the same floor. He will be on his right hand if he faces the exits to the street. Then just go out and there will immediately be a shuttle stop. If you need to drive in the opposite direction from Don Muang to Suvarnabhumi, then look for the exit number 6 in Don Muang.
The bus is free, goes non-stop. To travel on it, you need an air ticket, for example, a boarding pass or just an electronic ticket (you can show it on the phone screen) with departure from Don Muang on the same day. At the shuttle desk will check your tickets and put a stamp on your hand. Not always can meticulously check tickets, but I would not count on it. If there is no ticket, then you need to make at least a reservation, they still do not punch it, at least when I was there the last time.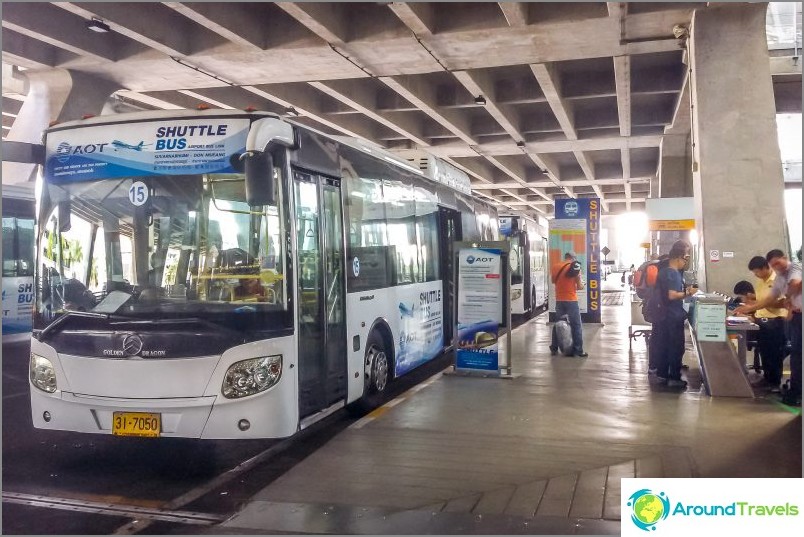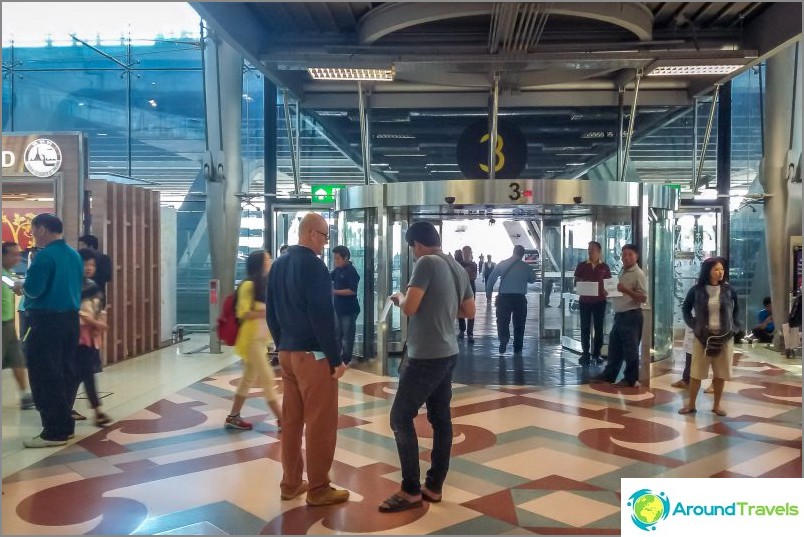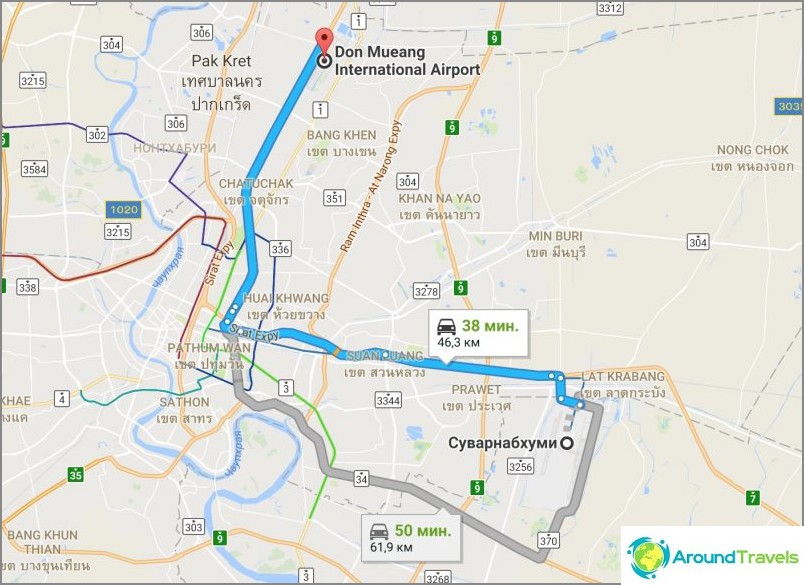 Taxi and transfer online
Since time to transplant should be laiddecently, especially if you get into the rush hour, it is often easier to take a taxi. I usually travel this way, as it happens that I come to the shuttle, but it's literally half an hour just not enough to ride it, and in the end I take a taxi.
It is inexpensive - about 300-500 baht,depending on traffic and, accordingly, the duration of the trip. Go somewhere 40 minutes, again, like traffic jams. Taxi is the fastest way. Of course, you have to go to the public taxi at the counter or through the GrabTaxi application, otherwise the cost will already be close to 1000 baht fixed.
As an option, in advance take a transfer by ordering itonline via Kiwitaxi. Then you will be met with a sign and without any extra actions will be taken directly to Don Muang, well, or in the opposite direction. True, the price is 2 times more expensive than a public taxi on the counter. So let's say, overpayment for minimizing actions and the lack of need to look for something at the airport.
Transfer from Suvarnabhumi to Don Muang>
Metro + taxi or bus
Doubtful option, since it is even more economicalit turns out, than to take a taxi right away, but not by much, and it takes decent time. First, go down to the lowest floor Suvarnabumi and take the Airport Link. You reach the end of the Phaya Thai station, where you will need to take the BTS metro and get to the BTS Mo Chit station. Travel time is about 1 hour. The cost is about 100 baht per person for 2 metro lines. Then, going out into the street, you take a taxi and you arrive at Don Muang Airport for about 150-200 baht over the counter. This is somewhere around 20 minutes. In total, this method will take about 1.5 hours.
Everything is the same as in the previous method, onlyno taxi at all. The most economical and longest way. We get to BTS Mo Chit station on the subway with one transfer. But now we must not take a taxi to the airport, but wait for the bus. I will not tell you the number, I do not know. It will go about 30 minutes.
Bus
Near the airport there is a bus terminal. There you can take the bus 555, which takes you to Don Muang. The ticket costs about 45 baht.
How much time to lay on the transplant
Also very often asked. Let's try to count.
Passport control in Suvarnabhumi and gettingLuggage takes from 30 minutes to 2 hours. Yes, yes, when there are a lot of flights, you can stay there for 2 hours, I ran into it myself. So, when you come to the bag to issue baggage, the suitcases are already lying on the floor, and the tape is expected to be issued from another flight. However, if you have children with you, then the Thais will most likely pass you through the booth for Thais and diplomats. Also, those who receive a visa on arrival (VOA), they can even 3 hours with all registrations.
If you need to withdraw money from an ATM, exchange currency, buy SIM cards, then it will take a total of another 30 minutes.
The trip by shuttle takes about 1.5 hours along with its waiting, and a taxi about 1 hour. Rush hour may take longer. In any case, I would lay at least 1.5 hours on everything about everything.
Check-in for local flights ends in 45 minutes, but I personally prefer to arrive in 2 hours, having an hour in reserve, you never know what will happen along the way, and there will be a stop at the airport.
Total it turns out that you need to lay at least 4hours between arriving in Suvarnabhumi and departure from Don Muang. Of course, it all depends on how quickly passport control passes (maybe half an hour in total), what you are going to do in Suvarnabhumi (currency, sims), where you will go to the airport, and how long you prefer to come for registration. I would lay in general 5 hours (6 hours at rush hour). It is better to wait in Don Muang and calmly eat or drink coffee, but there will be less hassle.
P.S. Just in case. If you fly with Thai Airways or Bangkok Airways, they fly from Suvarnabhumi, and if you transfer to them, then you don't need anywhere from Suvarnabhumi.
Life hacking 1 - how to buy a good insurance

Choosing insurance is now unrealistically difficult, so to help all travelers, I compile a rating. To do this, I constantly monitor forums, study insurance contracts and use insurance by myself.

Life hacking 2 - how to find a hotel 20% cheaper

First, choose a hotel on Booking. They have a good offer base, but the prices are NOT the best! The same hotel can often be found 20% cheaper in other systems through the RoomGuru service.

Discount hotels