Phangan is an island without an airport. You can get there only by sea. Shipping to Phangan is carried out by different companies, but only from four places in Thailand, three of which are located on the mainland (Chumphon, Suratthani and Donsak), and another place is the neighboring island of Samui (there is an airport). Here in this article I have already told in detail about how to go toSamui (and this is where Phangan is), including the version where you are an absolutely independent and fearless unit. This is when you yourself buy tickets for each section of the route. But in fact - it is difficult even for experienced people, to podgadat so that all three shoulders docked in time. Today I focus on a more light version of the trip - the joint ticket only.
The content of the article
Aircraft
Koh Phangan is located eight kilometers northKoh Samui and does not have its own airport. Rather, there are airport rudiments in the form of a clay square, somewhere deep in the mountainous region of the island. The square has been empty for several years now, bulldozers are rusting there, but occasionally a joyful announcement appears in Thai resources about the imminent completion of the construction of the Pangan airport, which no one believes. In short - direct flights Bangkok-Phangan does not exist. However, flights with transfers, too. The maximum that you can do is get close to Phangan on the plane as close as possible and there are already options.
Aircraft from Bangkok Airways + ferry
The fastest, most convenient and expensive option - directflight Bangkok-Samui by Bangkok Airways. For 3500 baht and an hour of time you will find yourself in a kilometer from the three passenger piers of Samui, from where ships ply to Phangan (described below). Unfortunately, buying from Bangkok Airways joint ticket to Phangan itself will not work, there is no such service.
Take care in advance of booking tickets forsuch a plane, because to buy a ticket on the day of your arrival you will not smile at all, and book better through Aviasales.ru and Skyscanner.ru, we use them ourselves, very convenient services. Although it is possible on the website of the airline.
At Samui airport you will need to catch a taxi.to Bang Rak Pier (about 350 baht) or get into a minivan (150 baht) - both types of transport are on duty right at the exit from the arrivals area, where people are always pushed. Well, or go on foot outside the airport and catch a moto taxi driver for 50 bahts, provided that you have one backpack from your luggage.
Airplanes of low-cost airlines companies + bus + ferry
A more budget and long option is to use AirAsia or NokAir flights that fly from Don Muang to the cities of Suratthani or Nakhon Si Thammarat. Dong Muang is the domestic airport where the low-cost airlines are based and it is also located in Bangkok. Immediately lay in your schedule an hour to move from Suvarnabhumi until Dong Muang.
From Surat Thani or Nakhon Si Tammarat to youIt takes an hour and a half by bus to the piers near the town of Donsak. Then transfer to the ferry and another two and a half hours of the crossing to Phangan. And if you flew from Nok Air, then you will not ride for a long time - they ferry passengers from Lomprayya ferries from Tapi Pier to Suratthani. He used to be in Donsak, closer to the island, but in 2017 they moved to the Tapi River in Suratthani. Time by sea now takes 1 hour 55 minutes.
Plus the fact that when you buy a plane ticketImmediately you can specify the final point of arrival and you immediately calculate the price for the joint ticket, and this greatly facilitates the trip. Roughly speaking for 1200 - 1800 baht you will be taken by the hand from the plane to the island of Phangan. I flew like that, specially tested, but I did not like.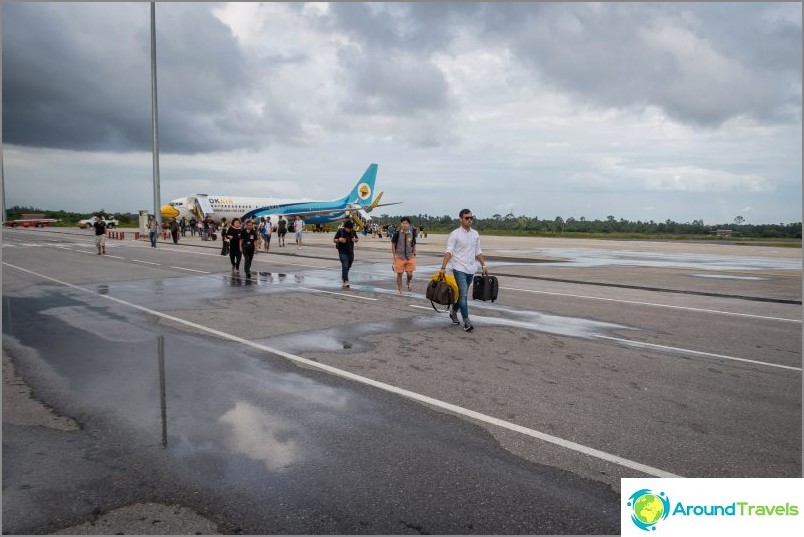 Train + ferry
How to buy a train ticket via the Internet
Unfortunately, only the ferry company SongsermExpress is a joint ticket with the option "train + ferry" from Bangkok to Phangan. Beloved by all, Lompraia is not engaged in such things. But there is a solution - the Russian-language online booking site, which shows you both official joints, and simply convenient combinations of tickets. There will be more options. True, the price of such options is slightly higher, but the transfer from the place of arrival by one means of transport to the place of departure by the other is included in the ticket price.
Unfortunately, Thai railways do notThey support the system of electronic tickets and that is why they sell them only at their box office, and not through the site of railway roads. Therefore, 12go go to the train station and buy a ticket for you, but you still have to pick it up at one of the points of issue or receive it by mail.
Bangkok Phangan Tickets>
By train to Chumphon and transfer to the ferry
Trains run from Bangkok to the south of Thailand one by one.single branch. To the town of Chumphon - about 350 km, to the city of Suratthani (almost near Samui and Phangan) - about 730 km. Relatively speaking, Chumphon is a half-way to the intended goal. From it you can go further by train or transfer to the ferry.
If for some reason you decide to buy the train tickets yourself, then study my article "How to get from Bangkok to Samui" in the section about trains. The main thing is to check that the time of arrival of the train and departure of the ferry allows you to safely get from the railway station to the pier. By the way, for clarity, all the piers are displayed on the map at the end of the article.
Pier Lompraya is located 30 km from the station, timethe way to it without traffic jams is about 45 minutes. The company's office is located right next to the station building, on platform 1. Departure catamarans twice a day: at 07:30 am and at 13:00 o'clock. Travel time from Chumphon to Phangan is 3 hours 45 minutes, the ticket price is 1000 baht per person. Moors on Phangan to Thongsala Pier
Songserm Pier Mataphone Pier (SongsermExpress) is closer - 18 km from the railway station, but the road passes through the settlement, so it still takes about 35 minutes. Songserm boats leave daily at 07:00. Ticket price - 800 baht per person, travel time 4 hours 40 minutes. Moors on Phangan to Thongsala Pier.
If you booked a joint ticketthe link indicated above, according to the terms of the sale of that site, you have to pick up the train tickets, voucher for the bus + ferry in person and independently take the train at Hua Lamphong station. Upon arrival in Chumphon, you will be greeted by representatives of the ferry company. The price for train + bus + ferry tickets is about 1,500 - 2,200 baht per person.
By train to Suratthani, autobustaxi to the pier in Donsak, ferry
Here the picture is more interesting. There are no official combined tickets for Lomprayi, but you can book a ticket through the guys from 12go.asia, pick up your train ticket and voucher for the bus + ferry from them, then sleep 13 hours from Bangkok to Suratthani and, on arrival in Surat, search eyes at the exit of the station, where there you are met by a transfer with a sign. The price for train + bus + ferry tickets is about 1,500 - 2,200 baht per person.
But the company Songserm offers joint ticketstrain + bus + ferry. When buying online offers a couple of dozen options that differ in the class of the car and the location of the shelf. TRAIN TICKETS ARE ALSO NEEDED TO BE BOUGED IN THE OFFICE. The price is from 1280 to 1980 baht per person. Departure of trains from Hua Lamphong station in Bangkok: 17:05, 18:30, 19:30 - in short, all night trains, which travel 12-13 hours. On Phangan you will find yourself at 12:15, regardless of the train departure.
What is interesting, Songserm in all itsonline booking carries people on buses from the railway station to the piers in Donsak, although they have a pier right in Surat Thani, which is much closer. And yet - if you did get yourself to Suratthani by train, then look to the left, coming out of the station building - there will be ugly buses, near which the booths with prices and travel options will be displayed. For example, the company Phantip will take you to Phangan for 350 baht and this price includes the ferry.
Taxi to the same pier will cost about 1,700 baht.
There are more exotic options for ferries, all of them are located in Suratthani:
Pierce bandon SeaTran Express high-speed passenger boats ply between Surat Thani and Phangan from this pier. Departure once a day at 07:00 am, travel time - about 4 hours. Ticket price 550 baht per person.
Pierce Tatong. From here come the passenger boats of Songserm Express. Twice a day, on the route Samui - Phangan - Koh Tao. Departure: at 08:00 and at 14:00, with an obligatory stop on Ko Samui, they arrive at Koh Phangan at 11:30 and 18:20, respectively. The trip price is 550 baht per person.
And again Pierce Bandon, in case you are veryarrived late in Suratthani and definitely do not have time for any of the ferries. From here comes the night ferry - a two-story ship of a private company, equipped with sleeping places (trestle beds like in a concentration camp) that only transports people. It departs from Suratthani, from the pier on the Bandon Road quay once a day, at 23:00, and moors to the Pangan pier at Thong Sale at 6 am. Tickets are sold in the same place near the pier and the trip costs 400 baht per person. Travel time is 7 hours. Seven o'clock, Karl!
Bus + ferry
Bus to the pier in Chumphon and transfer to the ferry
Through Chumphon purposefully lucky onlyLompraya company - they have high-speed catamarans and they can afford to overcome the remaining half of the way by sea. You can reserve seats online no later than three days before the departure date, and 24 hours prior to departure you can confirm the reservation in person at the office or by phone. A shuttle service is provided from the airport hotel to the tourist gathering area by bus to the Rambuttri Alley office. Departure from Bangkok at 6:00, arrival at Phangan at 16:30. Price - 1300 baht per person.
State bus carriers are drivingImmediately to Donsaku, and the company Songserm does not offer options for a trip from Bangkok to Phangan via Chumphon, despite the presence of a pier and its presence in this city. Therefore, here we are returning thoughts to our guys from 12go.asia and see what suggestions they have. In case you find yourself in Chumphon on your own - see the ferry schedule above, at the point about the train + ferry.
Bangkok Phangan Tickets>
Bus to the pier in Donsak and transfer to the ferry
The first option is the state bus transportation from the Southern Bus Station in Bangkok (Sai ​​Tai Mai) - here you can see how to get to him.
South Bus Station (Sai ​​Tai Mai)
South Bus Station (Sai ​​Tai Mai)
Southern bus station (in Thai, buses go from here to the south. You just need a new Sai Tai Mai. Ticket offices on the 3rd floor.
Read more.
Southern bus station (in Thai, buses go to the south from here. We need a new Sai Tai Mai. Ticket offices on the 3rd floor. More.
You can buy tickets online or come yourself -ticket offices are located on the third floor of the bus station. The cost of a regular ticket is about 800 baht, and the VIP will cost 1500. Travel time is about 13 hours. Take tickets only for night buses and prepare warm clothes - air conditioners are working brutally.
Seatran Discovery sells online jointticket on its website for 1,200 baht per person. Gather passengers around their office in Bangkok on Chakapog Road (on the map). Departure at 20:00, arrival at 13:30. Travel time is 17:30 minutes.
Songserm Express also sells joints. They collect tourists in two places in Bangkok: near their office on Khaosan Road and near the train station Hua Lamphong. All night buses, departure time at 18:00, 19:00, 20:00, arrive at Phangan at 12:15 the next day. Price - from 900 to 1 100 baht per person. By the way, there are a lot of complaints about this company that during a long trip someone has time to rummage around the suitcases of tourists in the luggage compartment. So do not put anything of value in the suitcase, but rather do not unwind it after the flight.
For those who independently get to Donsak we remind:
Raja Ferry ferries depart at 7:00, 10:00, 12:00, 13:00, 16:00 and 18:00. The road takes 2 hours 30 minutes an hour, a ticket costs 210 baht per person.
SeaTran ferries depart at 11:00 and 14:30. Travel time is the same, and the price is 450 baht. I assume that the difference in price is due to the state of the fleet and the quality of service. In Citran, ferries are more modern and cleaner. Raja in this plan is frustrating.
Lomprayah Catamarans depart from Tapee PierPier in Surat Thani (he used to be in Donsak, closer to the island, but in 2017 they moved to the Tapi River in Surat Thani). Departure is at 9:00, 11:30 and at 15:30. The journey time is 1 h 55 min, the ticket costs 600 baht per person.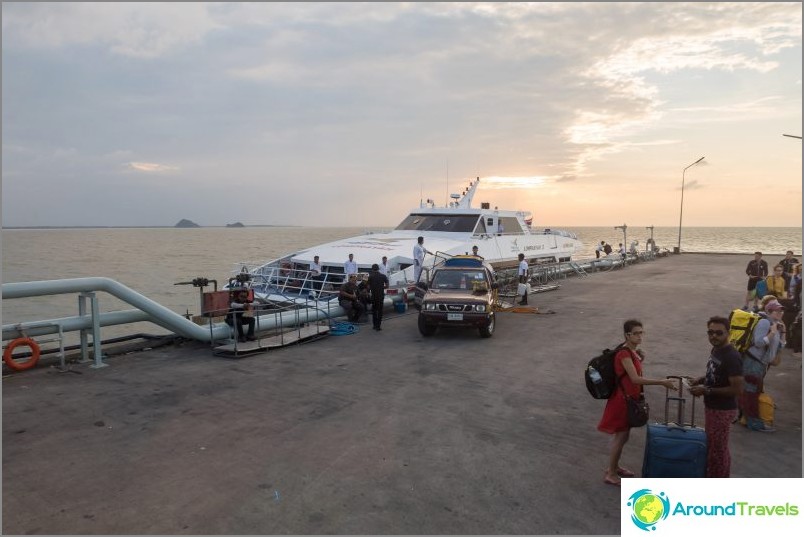 By car
Ferry to Phangan, where to boardstart the car, is only near Donsaka. Ride from Bangkok to Donsaka about 730 km. By the time - 13 hours for sure. It is better to reserve a car in advance in a well-known company, so you will get a serviceable car, a full tank, insurance and guarantees, which is important on such a long stretch. All the details about car rental in Thailand read the link.
Discounted car rental>
You need to take the car through Economybookings, thisbroker intermediary. The price will be lower than directly. I usually take in Hertz, because if you take a car from them for a period of 5 days or more, you can return it elsewhere for free (other companies charge a commission for this). By ferry there are nuances - the last ferry leaves at 19:00 and even it can be canceled for various reasons. The queue for the ferry is alive and on holidays it is possible to stand for a long time, booking of parking spaces is not possible for non-members of the club.
How to get from Koh Samui to Phangan
And now I will describe all the Samui versions, based on the fact that you have already reached Koh Samui and now face the question: how to get to Phangan? You have five options:
Lomprayah (Lomprayah). The catamarans leave from the pier on Maen at 8:00 and 12:30, as well as from the pier in Nathon at 11:15, 13:30, 17:00 and 19:00. Arrive at Thong Sala Pier. Travel time is about half an hour. Ticket price - 300 baht per person, carry only passengers. Tickets can be bought online (no later than 3 days). Bonus to the online purchase is a free transfer from the place of residence. Very important! You must confirm your reservation one day before the trip, either in person - at the box office, or by phone.
Sitran (Seatran Discovery) speedboats leave withBang Rak Pier at 8:00, 13:00, 16:30 and arrive at Thong Sala Pier. Ticket price - 300 baht per person. Travel time is half an hour. Tickets can be booked online on the company's website.
Haad Rin Queen Ferry (Sea Flower) leave from Big Buddha Pier at 10:30, 13:00, 16:00, 18:30 and arrive at Haad Rin Pier. Ticket price - 200 baht. Travel time is about an hour.
Songserm Express (Songserm Express) leave from Nathon pier at 11:00 and 17:30, travel time is one and a half hours and 45 minutes - respectively. The price of the ticket is not yet clear, I'll clarify because of their repair on the site.
Raja Ferry. Departure time from Samui: 09:00, 14:00, 18:00. A pedestrian ticket price is 130 baht, a scooter with a driver is 180 baht, a car with a driver is 420 baht.
As you can see, there are more options thanenough. Ferries Raja Ferry and Citran Ferry are suitable for ferrying both passengers and equipment, all other boats, boats and ships are exclusively passenger. All ships arrive at the two piers of Phangan Island: Thong Sala and Haad Rin. The first is an impressive enough concrete structure in the center of the largest settlement of Phangan. The second pier is smaller, simpler and located five minutes from the most famous beach of Haad Rin, where all these midnight fun madness take place - Full Moon Party.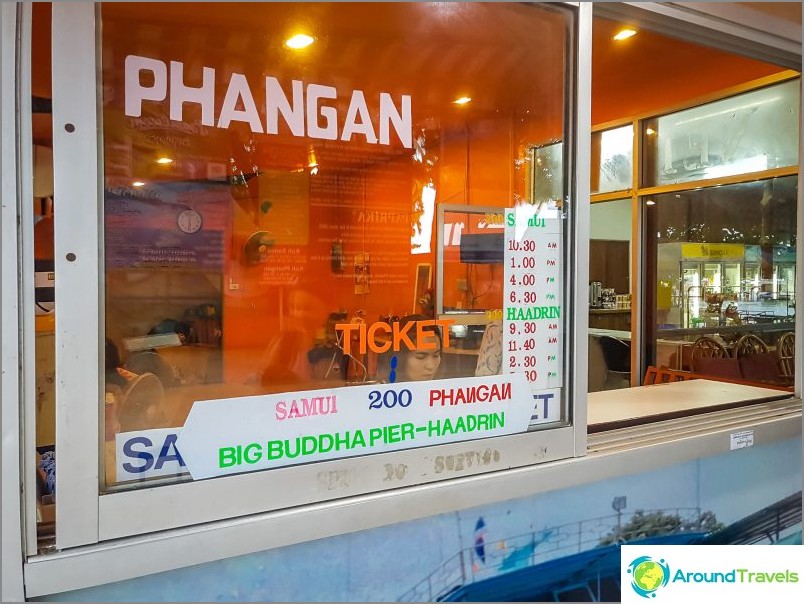 Berth Map
Well, as a summary of the above, here's amap, where various services are marked on Samui and Phangan, including transport: berths, bus stations and railway stations. To make it easier for you to navigate, and then with these variants of the routes the devil himself will break his leg. I strongly recommend that you carefully consider where the airport of Suratthani is, where the city of Suratthani is, where Donsak is and where the piers are on Samui. These are four completely different places that constantly confuse people. Do not confuse)
Transport Samui, Ko Phangan and Tao
Samui Airport:
Raja Ferry Pier:
Pier SeaTran Ferry Pier:
Pier Raja Ferry:
Ticket office of Raja Ferry:
Pier SeaTran Discovery:
Pier Lomprayah:
Gas station to the cafeteria and minimarket:
Tha Thong Pier:
Pierce Bandon:
Suratthani Airport:
Suratthani Railway Station:
Nakhon Titammarat Airport:
Pierce Matapon:
Pierce Lompraia:
Pier Tha Young:
Pierce Pra Lan:
Pier Bang Bang:
Tong Sala Pier (transport and passenger):
Tong Sala Pier (passenger):
Pier Haad Rin:
Pierce Petcherrat:
Pierce Big Buddha:
Lompraia Office:
The new office of SeaTran Explorer:
Phantip CO Tickets:
Yellow Bus Office:
Stop the songteo:
Pier on Koh Tao:
Rent a car at Samui Airport:


Life hacking 1 - how to buy a good insurance

Choosing insurance is now unrealistically difficult, so to help all travelers, I compile a rating. To do this, I constantly monitor forums, study insurance contracts and use insurance by myself.

Life hacking 2 - how to find a hotel 20% cheaper

First, choose a hotel on Booking. They have a good offer base, but the prices are NOT the best! The same hotel can often be found 20% cheaper in other systems through the RoomGuru service.

Discount hotels