There are several ways to get from Bangkok toSamui If you do not consider exotic, like "walking" and "hitchhiking", then there are 7 options for the trip, and which one is yours - decide on the situation and individual financial opportunities.
Samui is an island, so when choosing anytype of land transport, you need to consider at the end of the way ferry. There are only three places from which you can get to the island of Samui from the mainland: Chumphon, Surat Thani and Donsak. The catamarans of the company Lomprayya run from the pier in Chumphon, which is 470 km from Bangkok on the way to the city of Donsak, and from the pier of Tapee Pier in Suratthani. The remaining ferry companies are based in Donsak, from which it remains to swim about 40 km to Samui in a straight line.
The content of the article
Aircraft
The most comfortable and fast way to get yourself from Bangkok. Or rather, there are two ways, and one is comfortable, and the second is already comparable to the bus ride + ferry.
Airplane from Bangkok Airways
The airline Bangkok Airways is a monopoly on Samui, so only this airline has direct flights to the island. Separately, I wrote about flight options Moscow-Samui read if you want to get from Russia immediately to Samui.
Bangkok Airways operates its departures fromairport Suvarnabumi, which makes it very convenient. After all, it is at this airport that tourists arrive from Russia and many other countries. However, you should understand that if your flight is delayed, then you run the risk of not catching Bangkok-Samui on your shoulder, so it's probably worth thinking about spending the night in the capital transit hotel (we stop there, read our review). Also, the airline cooperates with others, like Emirates, and they offer single tickets with a transfer in Bangkok. In this case, you can already not worry about the lateness of the first shoulder. And, by the way, sometimes such tickets can go cheaper than if you bought each segment separately.
Bangkok-Samui flight price corresponding to: from 3500 baht per person, although only an hour to fly. Occasionally there are promotions and then you can buy a ticket for about 2500 baht. We once flew the whole family to Bangkok Airways, you can read our impressions.
If you are going to buy tickets, I advise you to do this through Aviasales.ru and Skyscanner.ru, we use them ourselves, very convenient services.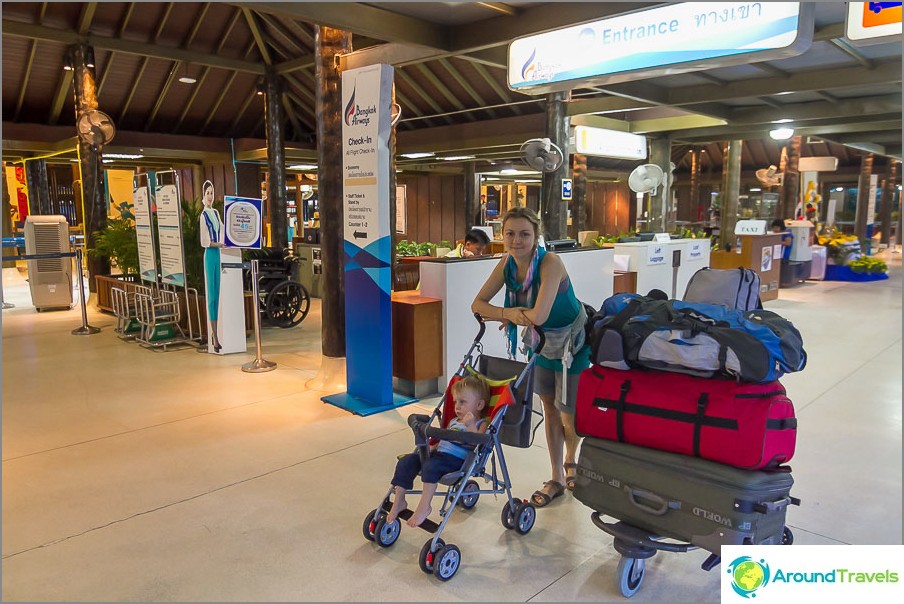 Aircraft from AirAsia and NokAir
Airlines Airasia and NokAir depart from the second airport in Bangkok - Don Muang. That is, if you flew in Suvarnabhumithen you need at least another hour to get to another airport.
The second minus of these airlines - they are not flyingon Samui Island itself (since there is a monopoly at Bangkok Airways), and on the mainland to the cities of Suratkhani or Nakorn Si Thammarat. Pay attention when you buy tickets, there will be written about the transfer to Samui. That is, the cost of the ticket still includes a bus from Suratkhani Airport (or Nakorn Si Thammarat) to the pier and ferry ride.
The price of such a ticket is an average of 1,500 baht (byshares are cheaper), and travel time: 1 hour by plane, 1.5 hours by bus, 2 hours by ferry, additional waiting between all transfers. I took such a flight for the last time about 8 hours, so read my review of the flight Bangkok-Samui to Nokair.
I think it's obvious that the flight fromAirsia / Nokair is not very comfortable and does not save much time. For families with children, I would recommend to overpay a bit and fly Bangkok Airways. And budget travelers can go by bus from Bangkok, because when you need to save, there is no place for planes.
Train + ferry
How to buy a train ticket via the Internet
Buy a combined ticket tothe train / bus / ferry is possible, both at the box office of Hua Lamphong, and in any travel agency, on the streets of Bangkok. In my opinion, if you already buy tickets at the agency, it is better to do it in advance and via the Internet.
Bangkok-Samui Tickets>
There is such an opportunity - 12Go.asia. Payment by credit card or PayPal. Bus / ferry tickets are electronic, and you must get the original by train, either at the agency's office (several points) or by mail. Unfortunately, the Thai railways do not support the e-ticket system and that's why they sell them only at the ticket office, and not through the railway roads.
How to get from the airport to the railway station
Drive out Suvarnaphumi Airport along the City Link Skytrainto Makkasan station, transfer to Phetchaburi underground station and wait for the Hua Lamphong terminus. Here is the Hua Lamphong Railway Station or otherwise Bangkok Railways.
If this option seems difficult, then it's not advisable to tell me about the city buses - take a taxi, speak to the driver of Bangkok Railways and insist on the meter being turned on.
Railway Station Hua Lamphong
Railway Station Hua Lamphong
Station in the heart of Bangkok
Station in the heart of Bangkok
By train to Chumphon and transfer to catamaran Lompraia
Choosing this option you need to understand that yourigidly tied to the time of departure of catamarans, which go only twice a day - at 07:30 am and at 13:00 hours. Trains to Chumphon run from 13:00 and on - every hour and a half. When choosing a train, do not be lazy to look at its description. Take the tickets only those flights that arrive in Chumphon no later than 06:00 am - trains number 167 and 85.
The cost of train tickets is between 400 and 1200bats, depending on the class of the car and whether the top or bottom you will have a place. It is better to go by express train of the 1st or 2nd class with air conditioning. In Thailand, as in Russia, railroaders love extremes. In the Thai car, air conditioners work like in a refrigerator, so prepare a blanket, socks, jackets, jackets and closed shoes, you will need them. Read more about Thai trains.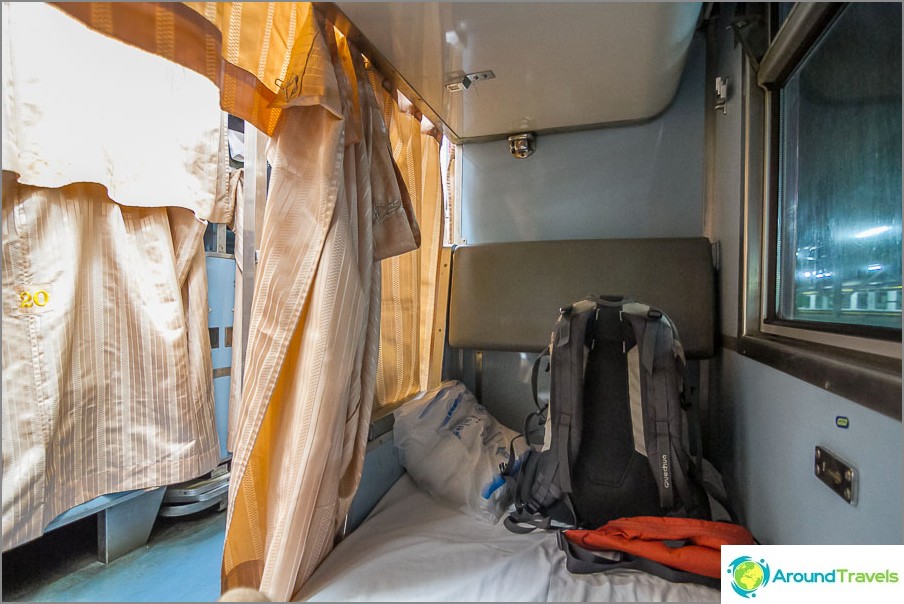 Lompraia is a large, well-knownoffice, which for a long time engaged in maritime transport of passengers in the Gulf of Thailand. They do not sell united train + catamaran tickets. I recommend to buy tickets for Lomprayu in advance, on the Internet. In high season, with tickets directly at the Lompraia office can be stressful. Tickets to Samui cost about 1,100 baht, the price can be specified on their office site.
Upon arrival in Chumphon, look at the squarebuses or minibuses of the company Lomprayya. If you need office Lomprayya, then he is right there, at the railway station (10.502861, 99.175848) on platform 1. In good weather you will reach Lomprayya pier on Samui island in 1.5 hours, and at the same time you will see Koh Tao island and Phangan.
Minuses: a long time on the road, a long docking between the modes of transport, the risk of being left on shore due to a storm, if there are waves, it does not seem like a little, two ferries a day
Pros: comfortable seats in the train, you can sleep.
By train to Suratthani, bus to the pier in Donsak, ferry
Trains to Suratthani run from 13:00 and on - every hour and a half. Travel time from Bangkok to Surat Thani is about 13 hours, but lateness is the most common thing for Thai trains. Details about trains.
In Suratthani, to the left of the station exit,Several buses of different companies and stand-ups with prices are a transfer to Donsak, you can buy a combined bus + ferry ticket from them for 300-350 baht.
Depending on which ferry you sold your ticket to, you will be brought to Donsak at one of two piers:
- Raja Ferry, whose ships arrive on Samui in the area Lipa Noi beach.
- Sitran Ferry (Seatran Ferry), whose ships arrive on Samui in the administrative center Nathon.
The crossing time is about the same for both companies - 1.5 hours.
As an option - the company Songserm Expressoffers joint tickets train + bus + ferry. When buying online you will be offered several options that differ in the class of the car and the location of the shelf. TRAIN TICKETS SHOULD BE COVERED AT THE OFFICE - read the conditions when booking. The price is from 1280 to 1980 baht per person. Departure of trains from Hua Lamphong station in Bangkok: 17:05, 18:30, 19:30 - in short, all night trains, which travel 12-13 hours.
The disadvantages of this way to get from Bangkok to Samui: a long time on the road, uncomfortable temperature, two transplants.
Pros: buying tickets in one place, you can sleep in the train, more comfortable places than on the bus.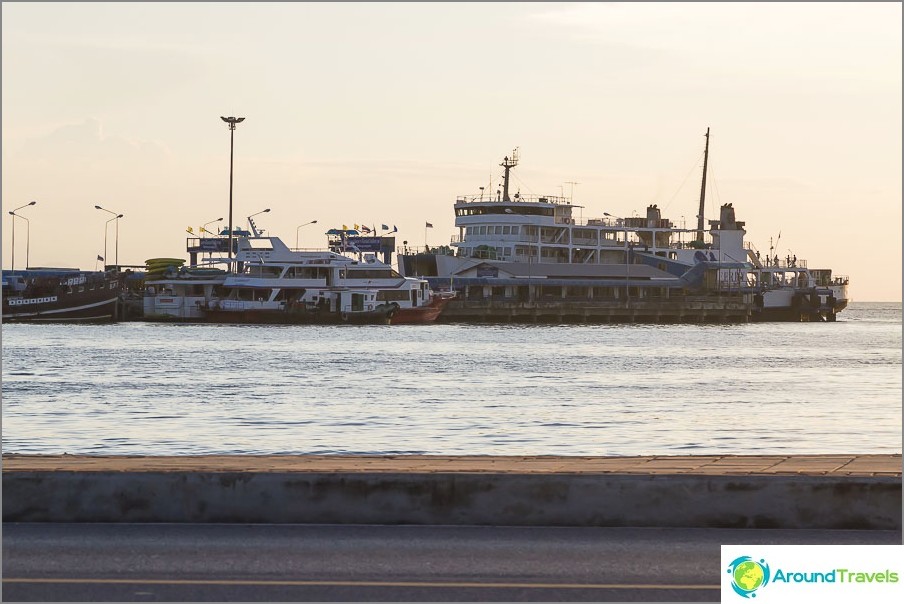 Bus + ferry
By bus to the pier in Donsak and ferry
Donsak is the closest point to Samuithe mainland. To get from Bangkok to Donsak, you need to get from Suvarnaphumi Airport to Sai Tai Mai Southern Bus Station (13.780589,100.422699). There are several routes, but the most reliable, especially if you first came to Thailand - this is a taxi over the counter (there's no problem leaving the airport for the counter, you need a Public Taxi counter). Tell the driver that you need a New Site because there is still an old Site.
South Bus Station (Sai ​​Tai Mai)
South Bus Station (Sai ​​Tai Mai)
Southern bus station (in Thai, buses go from here to the south. You just need a new Sai Tai Mai. Ticket offices on the 3rd floor.
Read more.
Southern bus station (in Thai, buses go to the south from here. We need a new Sai Tai Mai. Ticket offices on the 3rd floor. More.
Travel time on the bus is about 13hours, so my advice to you - do not stint buying a VIP ticket. Ticket offices are located on the third floor of the bus station. The cost of a regular ticket is about 800 baht, and the VIP will cost 1500. But in the VIP, there are more comfortable seats that are laid out almost in a horizontal position. Before handing the suitcase to the luggage compartment, get your warm clothes, it can be useful. Usually in buses, air conditioners operate at full capacity, and there is a real chance to catch a cold.
Depending on which ferry you sold your ticket to, you will be brought to Donsak at one of two piers:
- Raja Ferry, whose ships arrive on Samui in the area Lipa Noah.
- Sitran Ferry (Seatran Ferry), whose ships arrive on Samui in the administrative center Nathon.
The crossing time is about the same for both companies - 1.5 hours.
Cons: travel time may not be a comfortable temperature.
Pros: price
By bus to Chumphon and transfer to catamaran Lompraia
The second bus issue is a purchase.integrated ticket at Lomprayah office. Lompray's office in Bangkok is located on Rambuttri Street (13.759342, 100.498595). You can take a chance and try to buy a comprehensive bus + catamaran ticket on arrival, but I would advise you to attend to this in advance and book tickets online on their website. According to the schedule on the website, the cost of one package ticket is 1,450 baht for the evening flight at 21:00, and 1,400 baht for the morning flight at 06:00.
Much of the route, almost 9 hours of travelfrom Bangkok to Chumphon pass on the bus, with one stop per toilet and snack. The route across the sea passes through Koh Tao and Koh Phangan, and ends at the north pier Maenam beach 3.5 hours after leaving Chumphon.
During check-in at Lompray's Bangkok office,which is produced two hours before departure, you will be pasted over with stickers and will be led by the hand until arriving on Samui. The whole trip from Bangkok to Samui is rehearsed as if by notes.
Minuses: travel time, reserving a ticket in English, if there are waves, then vomit on a catamaran.
Pros: price.
How to buy a bus ticket via the Internet
Bus tickets online nowBuy only on the site 12Go.asia. There you can choose both combined tickets and, for example, only Bangkok-Suratthani. Decide what suits you best. Lompraya is there too.
Bangkok-Samui Tickets>
Payment by credit card or PayPal, a bus / ferry ticket is electronic, very convenient!
Rented car + steam
Reserve a car better online in the famousthe company. A car with a full tank of fuel, insurance and in good technical condition will be brought to you, which is important on such a long stretch - from Bangkok to Samui about 730 km. All the details about car rental in thailandread the link.
You can take the car through Economybookings, thisbroker. He will issue on his website offers from all the major distributors in the country. The price will be even lower than directly taken. I usually take in Hertz, because if you take a car from them for a period of 5 days or more, you can return it elsewhere for free (other companies charge a commission for this). And just on this site it is convenient to compare what comes out cheaper, pay this commission, or not pay, since the price per day is different for all companies.
Discounted car rental>
On average, the cost of renting an ordinary passengercars cost about 1000 baht per day. The price range for official distributors is from 800 to 3,500 thousand baht. A deposit for a car is usually around 10,000 baht. This amount is frozen on your card until the car returns (which is why it's good use a credit card).
From Suvarnabhumi Airport to the marinasDonsaka passes a multi-lane highway with a high quality road surface. If you have driving skills on the roads with left-hand traffic, you can keep within 8-9 hours of travel with short rest stops. With an average fuel consumption on the highway, even 10 liters per hundred, you will burn 70 liters of gasoline. This is 2,000 baht. A ferry from Donsaka to Samui costs 470 baht for a driver with a car, and 150 baht for each passenger.
The car will be returned at Samui Airportat the front of the company. The minimum cost of this option trip from Bangkok to Samui: 3620 baht (rent 1000 + gasoline 2000 + ferry 620). But this is without taking into account the cost of a service such as returning a car to another destination. As a rule, in Thailand, all rental companies charge for a certain amount, for example, 5000 baht. To not pay it, you need to take the car for a period of 5 days or more (as in Hertz).
Minuses: travel time, freezing of the deposit, you must have an international driver's license, after a difficult flight you will have to lose a day in Bangkok to rest on the way
Pros: comfort, interesting experience and experience.
Night ferry
This option, I stand straight in a separate section onfor the simple reason - all previous methods (except aircraft and rental cars) include a joint ticket. That is, you have all the tickets for all types of transport all the way to Samui. Moreover, the routes of the combined tickets have been worked out so that you cannot physically be late for one shoulder and just have time for the last ferry to Koh Samui. Airplanes - understandably, will reach. The car - you will not leave it in any case and the night ferry will not smile at all to you. Why?
The night ferry is a passenger vessel (nottransports equipment), which departs at 23:00 directly from the city of Suratthani. I repeat - right from the city, despite the fact that the city seems not to be at all at sea. There is a big river and a network of canals in Surat Thani, so on the bank of one of the canals there is the pier of Bandon, with the cashier, where you buy a ferry ticket for 200 baht and sleep on the ferry for almost seven hours. At the pier in Nathon ferry arrives at 5:30 am. By the way, he also leaves from Samui at 21:00 (that is, two hours after all the last ferries of the island) and moors in Bandon at 3:30 at night. Just for reference.
I would recommend the night ferry only if yousomehow we ended up in Surat Thani and absolutely do not have time to get on time to the ferries near Donsak. Well, if, for some reason, you came to the ferries near Donsak and did not have time to sail, then I would advise not to catch a taxi to Surat Thani. Firstly, it is not cheap - it costs at least 1,500-1700 baht. Secondly, go forty minutes. Then wait a long time for departure and still sausage all night on board. It will be much more comfortable to spend the night near the piers in one of the motels for 350 - 650 baht in an air-conditioned room.
How to get to your beach on Samui
If you are not going to rent a car or scooter, then there are only four travel options for new arrivals on Koh Samui: transfer from the hotel, taxi, songteo, minibus.
If you come to Samui and are looking for accommodation for a short period while you are looking for a house, you can book through RoomGuru, it's just a mega-service, you can immediately see in which booking system (Booking, Agoda, Hotels, etc.) the hotel you need is cheaper. I also have my detailed review. best hotels in samui. I recommend reading overview of the beaches on Samuito make it easier to choose where to go, if you have not already chosen.
Taxi via the Internet
Anyone who wants a minimum of gestures canin advance via the Internet to book a transfer to Kiwitaxi. You will be met in the arrival hall, you will take luggage, put you in a car and take you to the right place. The method is good because there are no problems at all. And sometimes it will be even cheaper than taking a transfer from the hotel, they sometimes pick up prices.
Order a taxi online>
Where you can go on the spot
Pier Raja Ferry on Lipa Noah. Immediately after the release, there are two large pen for technology. Indoor pen - for the sailing cars, and open - for meeting. There you will find both taxi drivers and transfer waiting for you.
Pier Citran Ferry in Nathon. At the end of the pier, on a small patch, a bunch of taxi drivers and Songteo (pick-up bus). If you are traveling with up to seven people, then you can prescribe a Grand Sea Discovery company minibus by reservation.
Pierce Lompray, Maenam. Then either order a taxi, or take a minibus company. The third option is to walk to the ring road and catch a songteo.
Samui Airport. Only taxis and minibuses are available. And the transfer, if you ordered it. By the way, if you are not sure that you will find the right place on your own, if you do not have a card with the name of a hotel or a business card with a location map - do not refuse the transfer of the host party, save your nerves.
Prices for travel
Taxi
Previously, the cost of taxis was fixed,It started from 400 baht to the nearest beach and rested on 1000 baht for delivery to the opposite end of the island. After the military coup in 2013, the prices for taxis in the main resort areas - Pattaya, Phuket and Samui, were tried to be brought under control, but it did not seem to work out.
If you are still lucky to go on the counter, thenyou will be charged 50 baht - the minimum fare, plus 50 baht service fee, for the money you can drive 2 km. The rest of the way you pay by the meter, 12 baht per kilometer.
Songteo (pick-up bus)
Travel within the same beach costs about 20 baht in the daytime, during the official working day. For travel through half the island you will be asked about 100 baht.
There are only three routes for a Songteo movement:
- Nathon Lamai runs along the southern part of the island;
- Nathon Chaweng passes through the northern part of Samui;
- Nathon – Big Buddha – Chaweng, also on the north.
At night, that is, from 18:00, the drivers of the Songteo begin to work for themselves, and the prices break down accordingly.
Minibass
- At the airport take from 150 to 650 baht from oneperson for delivery to any place of the island, depending on the distance. If you are two or more, the price is proportionally reduced, and the amount is charged for the number of people. Where one will give 350 baht for a trip to Bo Phut Beach, then two will have 400 baht, and seven - 1000 baht.
- In Nathon, a Grand Sea Discovery minibus is ordered by phone, at prices ranging from 700 to 800 baht per car.
Russian speaking taxi
These are compatriots who are illegalearn extra wagons. They have no meters, the price for transportation is negotiable. They do not advertise their work, do not stand on the piers and at the airport, and you can find them either on the advice of a real estate agency or independently on social networks and communities of Koh Samui. The price is usually set at 100-200 baht more due to the fact that the service is provided by the type of Russian-speaking driver.
Berth Map
Well, as a summary of the above, here's amap, where various services are marked on Samui and Phangan, including transport: berths, bus stations and railway stations. To make it easier for you to navigate, and then with these variants of the routes the devil himself will break his leg. I strongly recommend that you carefully consider where the airport of Suratthani is, where the city of Suratthani is, where Donsak is and where the piers are on Samui. These are four completely different places that constantly confuse people. Do not confuse)
Transport Samui, Ko Phangan and Tao
Samui Airport:
Raja Ferry Pier:
Pier SeaTran Ferry Pier:
Pier Raja Ferry:
Ticket office of Raja Ferry:
Pier SeaTran Discovery:
Pier Lomprayah:
Gas station to the cafeteria and minimarket:
Tha Thong Pier:
Pierce Bandon:
Suratthani Airport:
Suratthani Railway Station:
Nakhon Titammarat Airport:
Pierce Matapon:
Pierce Lompraia:
Pier Tha Young:
Pierce Pra Lan:
Pier Bang Bang:
Tong Sala Pier (transport and passenger):
Tong Sala Pier (passenger):
Pier Haad Rin:
Pierce Petcherrat:
Pierce Big Buddha:
Lompraia Office:
The new office of SeaTran Explorer:
Phantip CO Tickets:
Yellow Bus Office:
Stop the songteo:
Pier on Koh Tao:
Rent a car at Samui Airport:


Life hacking 1 - how to buy a good insurance

Choosing insurance is now unrealistically difficult, so to help all travelers, I compile a rating. To do this, I constantly monitor forums, study insurance contracts and use insurance by myself.

Life hacking 2 - how to find a hotel 20% cheaper

First, choose a hotel on Booking. They have a good offer base, but the prices are NOT the best! The same hotel can often be found 20% cheaper in other systems through the RoomGuru service.

Discount hotels