I got to the last article related totaking pictures, hooray! On the topic of processing a lot of holivars in the network: and, regarding the fact that it is necessary / not necessary to do it, and how exactly to do it. My view on this topic is based on what result I personally want to get and at what cost. I clarify: first of all, I take pictures for the blog and for my family archive, that is, I don't earn a living directly from photographs. Plus, I can't spend too much time on them, otherwise there will be no time to work, after all there are a lot of photos to process. I have 2-3 articles per week on my site, each containing about 20-40 photos. On the other hand, I can't release any raw ones either, they are faded (because RAW), there are often too bright or too dark areas, etc., and I don't like these photos myself. That is, it would probably be possible to spread any, but this is not my option.
The content of the article
All parts of my FAQ for beginner photographers
1. Which camera to choose a novice photographer
2. What lens is needed for and what to choose
3. Basic digital camera settings
4. How to take pictures while traveling
5. How to process photos in Lightroom and how to store them
6. Sample photo bag and fotoryukzaka for traveler
7. How to photograph the starry sky
0. What I photograph in travels
How I process photos in Lightroom
So I'm a shallow supporterprocessing due to lack of motivation to spend a lot of time on it, and I don't see much of a difference for myself so far. Of course, occasionally I can conjure a little longer, but this "masterpiece" still has nowhere to go. Now I have all the processing going on in Lightroom, and have already forgotten it by other programs when I used it. So, if you are on Photoshop with you, and prefer to process photos pretty hard, then in a post you are hardly able to find anything worthwhile for yourself
As I said, all the processing happens to me.in Lightroom, and it's pretty simple. In fact, I just frame and level the horizon, draw out the shadows and darken the light areas, add color and sharpness.
Import photos and presets
I insert a flash drive from a camera into a card reader andI import a photo with transfer to an external hard drive. About the storage of photos, I will write below. When importing, I apply the previously created presets: Clarity-Detail-Noise-Lens and NewA6500. Now I use only the last one (I have a Sony A6500), it has more settings for my camera and how I shoot There are a couple more for the phone and the second camera.
But the presets are very similar, differ only slightlysettings of shadows, lights and exposure, and I constantly adjust them, as my opinion changes, I try to adjust the settings to most of the photos once again in order to process them less. Some of the duplicate settings are: Clarity +25, Vibrance +25, Sharpening +60, Noise Reduction Luminance +65, Enable Lens Correction. The latter is quite important, as it adjusts the photo (mainly geometric distortions are removed) under your lens. But that is if Lightroom knows your camera. For example, for a Canon G7xm2, I have to manually select something similar to it.
Regarding the presets, just want to say, there is notright or wrong. Well, if we talk about amateurs, the pros are different, although they may have a special author's style. Therefore, you can create a preset for yourself with any settings, as you like, and it will be correct. After all, the main thing is that it suits you, you process them, simply because "I see it so". Here, of course, we can argue, I do not insist
It is never too late to read about professional processing, how gurus suggest using a particular setting, and changing your presets.
I do not rename files, I leave it as it is.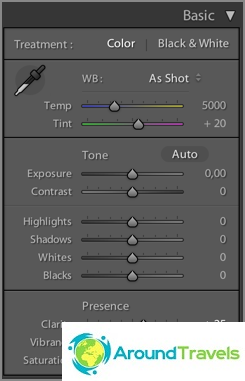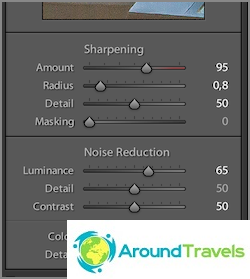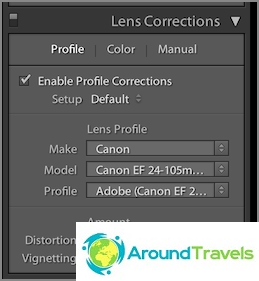 Photo thinning
The next stage after import and before processing -it is thinning. Usually I delete: photos that are blurred, duplicates (when 20 photos were taken of the same object), all photos with a marriage (too dark, too bright, etc.), just photos that do not like. Sometimes I can leave it with a marriage, if there is nothing like it, but the photo is very necessary.
But in general, after a couple of years, photography has become muchspend less time on thinning and less carefully thin out, at first almost 50% somewhere left. It is easier to change hard drives to more capacious ones and to buy new ones than to sit for a few days and thin out. Moreover, my archive is growing not so fast. Plus, besides, more than once there was such a moment that suddenly I needed a distant photograph, even if it was defective.
Thinning takes place in Lightroom too, mark the photo as Rejected with the X key, then delete all marked at once.
Cropping and leveling the horizon
At first cropping was done very often, then apparently I shot it and I build a normal composition already at the photographing stage. In the article How to take pictures while traveling I said that I use the rule of thirds, so I use it exactly when cropping. Not fanatical.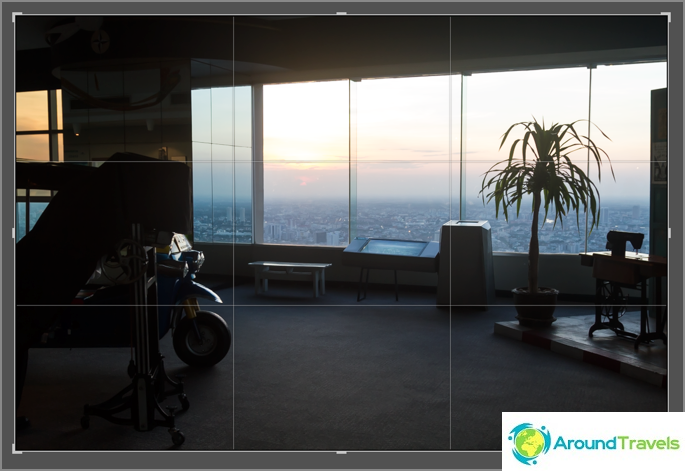 White balance
As always I photograph with automaticwhite balance, then I correct it in the program by the eye with the Temp and Tint levers. Mostly use the first, second less. Sometimes you can use Auto to find out about Lightroom. By the way, colors are difficult to edit on conventional monitors, because they are not calibrated, and the matrices themselves have poor color reproduction. That is, you will do as you see fit, and for other users, everything will be seen quite differently.
Now I have a Macbook Pro 15? with Retina screen. I consider it, of course, not a reference, but very good in color reproduction. Also, 15-inch dual resolution for photo processing is quite enough for me.
Shading shadows and dark areas
Since many photos have someproblems with dynamic range, thanks to the processing can be reduced. For this, I lighten the shadows with the Shadows lever (move to plus), then darken the too bright areas of Highlights (move to minus). The resulting result is adjusted Exposure (plus or minus, depending on the situation) and often still adjust White and Blacks. Yes, and I almost forgot, I add Contrast, because when I lighten the shadows, it is lost, and occasionally I add Clarity (up to 50), increasing the microcontrast. Although usually the contrast and microcontrast are immediately set by me with a preset when importing to the fixed values ​​I need (+10 and +25, respectively).
I personally prefer the microcontrast photos,than with contrast or with increased sharpness. Therefore, I sometimes even take Shadows away to a great extent, and then increase Clarity. How well it turns out for you, you decide it. Well, I often do the contrast not at the expense of Contrast, but at the expense of White and Blacks, this is how it turns out to be more accurately adjusted, because it is regulated from two sides.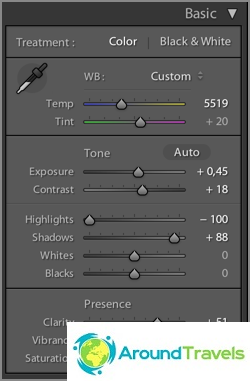 Adding color
I used to apply 2 transfers: Blue Sky 0.5 (download), or Skin toning lighter (download). The first preset was overseen by Sergey Doli (he was called Matts Blue Sky 1), but I slightly redid it, reduced the parameter changes by half. The second can not remember where I downloaded. So, now Blue Sky 0.5 is already "sewn up" with me into a preset during import, so I have reduced my processing activities a little more.
Blue Sky is needed to increase the blue of the sky, but forThis should not be too much overexposure (otherwise it will be no use), and to increase the saturation of yellow and orange colors. It is important to mention that sometimes you need to put Luminance for blue color back to zero, otherwise the blue is not natural.
Skin toning changes the balance of light, making the skin color more like the real one. But the truth and everything around also changes the balance, not only the skin. So let's say, for lovers of warm colors and lampovosti.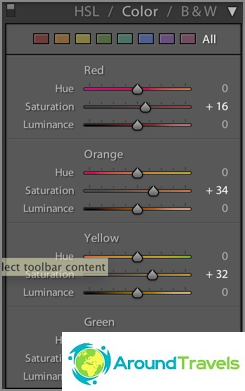 Sharpening and noise removal
Since all the pictures go either to the blog or toInstagram, that is, photos will be viewed only from the screen, and not at the maximum resolution, but about 1000 px in width, then sharpness can be lifted up smoothly in the program. My sharpness is also set by the preset while importing (+60). Depending on the photo, I can reduce the Sharpening values, in order to avoid excessive sharpness or noise. Actually, the neutralization of noise also occurs during import, and then I rarely touch the Luminance (+65) lever. Basically, you have to reduce Sharpening and Luminance for jpeg, obtained from a soap dish or smartphone.
Again, I'll mention the Clarity tool here. In fact, he also makes the photo more sharp.
Using additional tools
Most often from all presented I usegradient filter to brighten / darken a part of a photo, or change the contrast or white balance of a certain part of a photo. Sometimes it is better to use a brush instead, which is more convenient in the case when you need to change a complex area, for example, a face on which you need to, on the contrary, remove Clarity (otherwise it will be too structural). In the latest versions of Lightroom, these tools have much more settings; you can change anything you want for the selected area.
I use a stamp less often to remove some rubbish from a photo.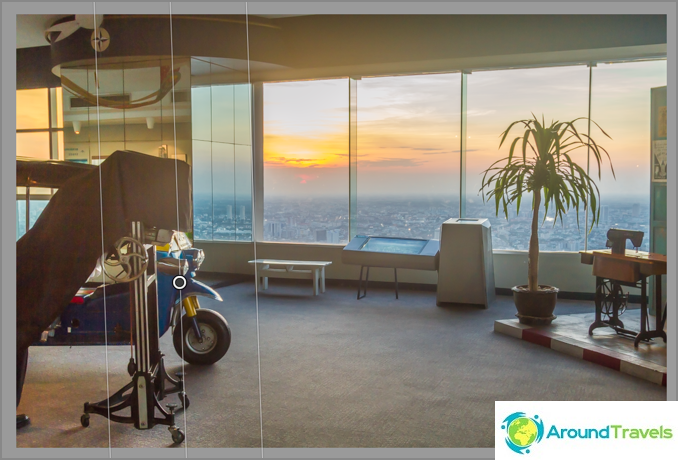 Export
After I have processed the snapshot, I putthe flag (Set Flag -> Flagged) with the P key. This will, after I finish with all the snapshots, display only them using the filter (Filter by flag -> Flagged only), look again only at the processed snapshots and export them all together. For each article, I usually process about 20-40 photos.
I have already created a special preset for export. It selects the folder for export, the size of the exported jpeg (2048? 2048), its quality (75%), the sharpness when exporting (High), saving the metadata, watermark (configured and saved as a preset). For Instagram I do quality 100%, I do not add watermark.
Final result
In fact, in the example above, there was somean attempt to expand the dynamic range (if greatly expanded, there will already be a pseudo HDR). Naturally, it is not always necessary to carry out just such manipulations with photos, but usually they are very similar: adjusting the blue / yellow balance, highlighting the shadows, darkening bright areas, increasing the contrast. Simply, when there is not such a big difference between dark and light areas, then the levers will not need to be moved to extreme positions, but only a little bit and this is done, of course, by eye.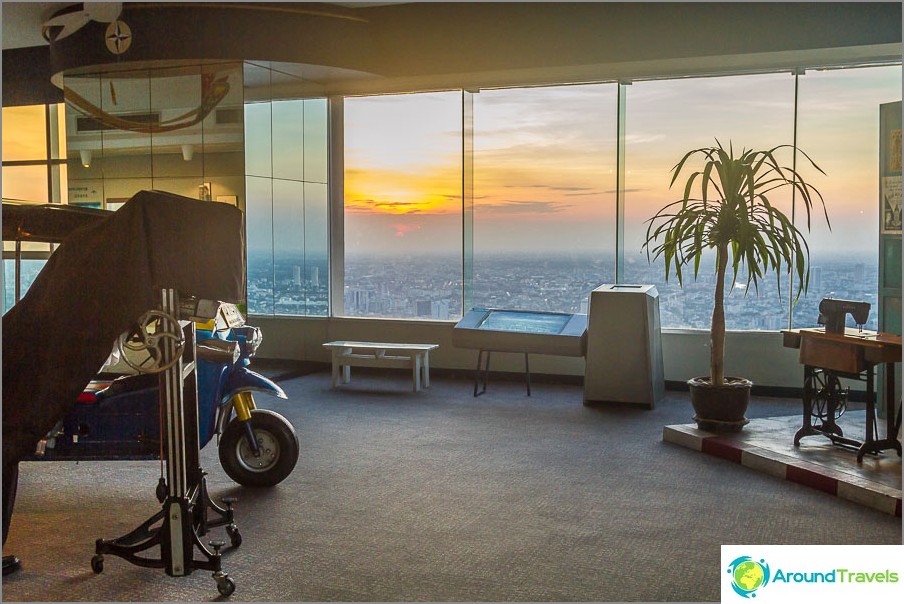 Why Lightroom
Everything is simple, it happened. I tried and liked this program. It is great for correcting photos, and not for their deep editing. Everything is done for this purpose, there are all the tools. Plus, I also have the entire photo library in it, and you can quickly find everything you need: there are a lot of different filters, you can set labels on photos (I really don't use it at all).
There are plenty of analogs, but I don't want to try anything yet, everything suits.
About resize in Wordrpess
I can't help but mention such a thing asmay be important to WordPress bloggers. I upload 2048px wide photos to the blog, but they are displayed in the post in the size of 800 px (full size by click, the photo is shown in the lightbox). If you upload full-size photos on your blog, and the engine resizes them to the size you need, then this is a so-so idea, if quality is of course important to you. The fact is that the built-in resize defuses sharpness quite a lot, the photo is blurred. However, few people will notice this from visitors, unless you have a photographer's portfolio with an offer of their services. Well, there may not be enough space on the hosting, as a full-sized JPG can safely occupy 10 megabytes.
As an option, use the Sharpen Resized Images plugin, it will add sharpness when resizing, but it also does it quite roughly.
How do I store photos
All photos, videos and other files are stored onSeagate 4TB external portable hard drive, because they do not fit on a laptop drive. I always have this disc with me. The photo archive now takes about 1.5 TB (for 2017), which is actually not very much, if you are a photographer or a blogger, and you shoot a lot. The file structure is shown in the screenshot below. As a rule, for each trip there is a separate folder, inside which there are another 2-3 folders for each of the cameras. But if the trip is long and in different cities, then each city also creates its own folder.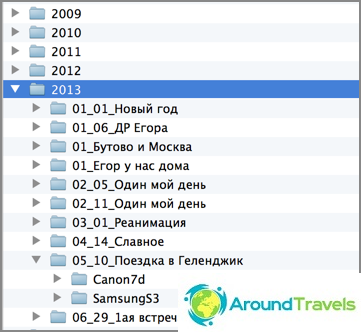 Folders have the following structure: Year / Month_Number_Name Events / Survey Device. The directory structure in Lightroom is exactly the same. And what is convenient, you can put a photo in any of the folders on the disk, and then synchronize this folder in Lightroom and the photo will appear in the program. For me, since such a structure is quite convenient for storage, and does not take extra time for cataloging, I did it once. Now there is simply a trend to dump everything in one pile, and only then the program itself distributes the photos according to different criteria. I like this option less.
Photos stored in the originals, that is, in RAW, toto be able at any time to make a photo of what I need. And in Lightroom in my settings it's worth saving all the information about the photo to XMP files. After all, when RAW is processed with the file itself, nothing happens; all information about the actions taken is stored in a directory file. So XMP is a double of information for each photo, it weighs quite a bit, so the total amount does not increase much. Due to XMP files, transferring photos to other computers is simplified, and this is a kind of protection from the fact that something happens to the directory file, there have already been precedents, it was necessary to delete it.
Where to backup photos
In addition to how to store photos, it is important where else theyback up First you need to remember the golden rule that backups should be 2. As I said, all my photos are stored on an external hard drive, that is, this is the main base, and you need to make 2 backups (copies). Your main base may be on a hard laptop, it is more convenient.
The first backup I do on another external harddisk. About once every 3 months (and before each trip) I make a full copy from one external (main) to the second (backup). So that it doesn't take time, I set it up at night, and in the morning everything is ready. I do not drive the second hard drive, that is, the risk of ruining it is minimal.
The second backup I do to the cloud from the mainhard, specifying the folder with the base as a folder for the cloud. While I use the cloud service Meil.RU, since in 2014 they had a share and they gave 1TB for life. But I no longer have enough space for this place, plus I do not like the download speed, and the fact that the storage is not very reliable was already the case when they deleted some of the files. Therefore, I want to go to Dropbox, which is now considered the most functional and secure. There is a good paid rate without space restrictions. In principle, I already use it, I keep important files, but so far free of charge.
And one more important, as it seems to me, moment. Since on all trips I take only one external hard drive where the main base is stored, that is, the risk of ditching it. This is not terrible, as a copy is kept at home, but you can lose photos from current trips if you constantly transfer them from a USB flash drive to the main disk. So, if possible, I leave all the files on the flash drive, rather than deleting them immediately after transferring to hard. Yes, for this you need a little more volume from a flash drive (or several pieces), so that they would be enough for the entire trip, but a guarantee. Also, if on a trip there is good internet at the hotel, then the files also fly to the cloud.
P.S. That's all that I can tell you about the processing of photos and their storage. Not thick, but that is
Life hacking 1 - how to buy a good insurance

Choosing insurance is now unrealistically difficult, so to help all travelers, I compile a rating. To do this, I constantly monitor forums, study insurance contracts and use insurance by myself.

Life hacking 2 - how to find a hotel 20% cheaper

First, choose a hotel on Booking. They have a good offer base, but the prices are NOT the best! The same hotel can often be found 20% cheaper in other systems through the RoomGuru service.

Discount hotels