So how do people earn from traveling? We are often asked about this, both by mail and live. It is clear that you can travel around the world and earn offline travels, but today a post about making money via the Internet, as it does not tie you to any particular place, and for this you need only a computer and access to the network. I do not pretend to the completeness of the information, after all we have a travel blog. If the need arises, then there will be more posts additions.
The content of the article
All parts of my short FAQ for bloggers:
I wrote a number of articles related to blogging. They do not claim to be a full-fledged manual, but beginners may be helpful. You can get acquainted if interested.
0. I recommend the course "How to become a thousand-blogger and earn money"
1. How to start blogging
2. How to promote a blog - a list of my actions
3. How to make money while traveling on a blog and not only
4. An example of earnings on our blog - Finstrip 2013. Finstrip 2012. Finstrip 2011
5. Reader and search traffic, as well as why readers do not return
6. A little truth about travel blogging
7. WordPress Blog Protection Tips
Basically I will talk about earning ontraffic, that is, directly about working on the Internet. However, people often earn money by selling their labor, working for someone, and not appearing in the office. I'm talking about freelancers.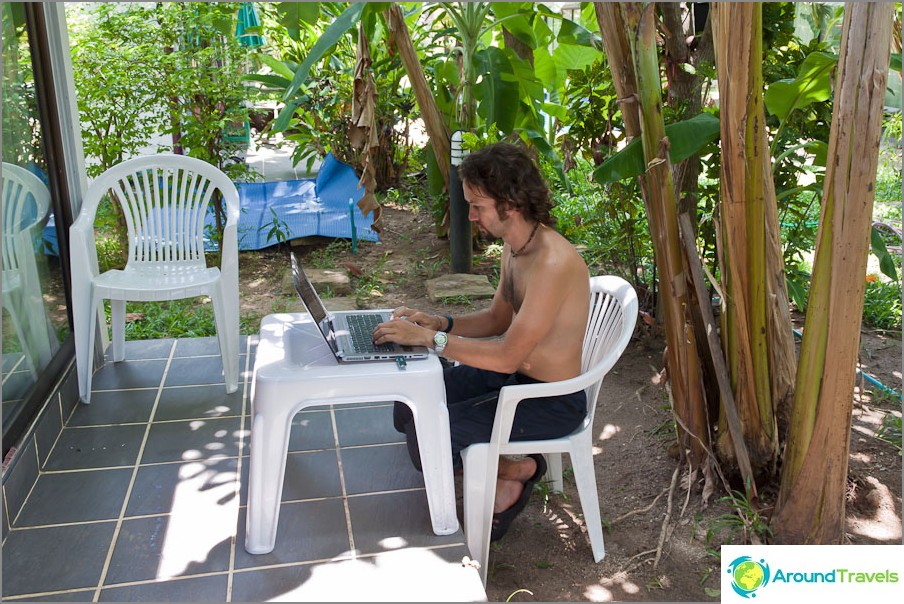 Freelance and work on the Internet
The most common professions:
Programmers in all forms. You know how to code, so you can earn. And for good programmers, the doors are open in many countries, only the language is necessary.
Web designers. Those who make websites and design to them. Sometimes these are separate people, some make the site itself (code), others come up with a design.
Copywriters write unique articles and rewritesfor various web resources. You can search for customers first on Advego.ru, but there are very small prices. Therefore, it makes sense to seek and privately, for example, sending letters to site owners. After a while, it's really at a normal professional level.
Vector and raster graphics. All sorts of pictures, banners, icons. You can sell, both privately and on special drains.
SEO optimizers, are engaged in the promotion of sites on the Internet to order.
SMM-boxes, everything related to social networks. The simplest thing is to administer the group in VKontakte. More difficult - to make such groups to order and bring them to the top. Actually, this item includes all those who one way or another engaged in traffic from social networks.
Translators from one language to another.
Teachers on Skype, ranging from English, ending with all sorts of advice and psychological sessions.
Site owners and blogs. There may be, as copyright projects, when the site leads and owns 1-2 people, and the organization of the work of copywriters, when you are only in charge, and the content is created by freelancers.
Earnings on photos and video stands. The competition is great, so creating a normal portfolio will take a decent amount of time. Plus, you still need to feel what works are being sold and which are not.
InfoBusinessmen. Although this word has become abusive lately, there are normal people in info-business. The bottom line is that you are doing some kind of course, on moving to Thailand, or on how to properly develop a blog, and sell it. True, it will be necessary here not only to share knowledge, but also learn how to sell them.
There are other options, it all depends on yourof skills. Just go to the freelance market and see what kind of work they offer. There are other exchanges, and you can also search for employers through your own channels: through friends, through your websites, and so on. I didn't do much freelancing, so I'd hardly say anything meaningful. So, copyrighted a bit and the sites did. In general, it is hard to start from scratch, you need to make a name for yourself and a rating, and only then normal earnings will go.
It is important to understand that you must initially choosethe way you work for someone or you create yourself a job, this is a crucial moment. For example, you can be a copywriter and always write for others (money at once), and you can write for your sites, and when these sites rise (earnings in 1-2 years), you can attract other copywriters.
Earnings on traffic
Let's go back to internet earnings based ontraffic, that is, on visitors. In this case, it all comes down to the fact that if there is traffic, you can monetize it (make money on it). It is conditionally possible to divide the options into several points.
Earnings on websites and blogs by placing different types of advertising.
Earnings on affiliate programs.
Traffic arbitration.
Online shops
Selling your goods and services
Let us examine all the items one by one.
Earnings on websites and blogs by advertising
A resource is made that is useful and interesting.to people. He could be about anything. But the best thing to do on the topic in which you understand, and that you like. In this case, you will also get pleasure from your business.
It can be a website and a blog. You can write in it, both yourself and make a project that will be updated by other users (for example, a travel portal with travel reports). Accordingly, the better the resource, the higher its attendance, and the higher the earnings. Normal attendance should be in the thousands of people a day.
Contextual advertising (Yandex.Direct, Google Adsense, Begun.ru) pay-per-click. The site hosts a code that looks like an ad, the subject of which depends on the context on the page, and on what the visitor recently searched for in a search engine. The cost of clicks is usually several rubles, everything happens automatically.
Pay-per-click advertising, but not contextual. Similarly, the code is broadcasting advertisements. You can learn more by typing the word teaser in a search engine.
Advertising with pay per impression - banner. A banner is placed on the site and hangs until a certain number of times or a certain period of time (for example, a month) appear. Advertisers are both independently and through Rotoban.ru. The cost of placement per month from several tens of rubles to thousands.
Advertising in the form of guards. A guard is a link at the end or beginning of your article to a resource. Placed once and for all. Advertisers are searched both independently and through the sale sites of the guards Gogetlinks.net, Getgoodlinks.ru, Blogun.ru, Rotapost.ru. The cost of guards from several tens of rubles to thousands.
Earnings on placing promotional articles(main purpose of the link). You post an article on your site, and it simply contains the links needed to promote the customer's resource. Advertisers are searched both independently and through the Miralinks.ru exchange.
Earnings on placing promotional articles (goalPR brand). You post an article on your site, and it can how to advertise any product / service. But advertisers will post this only if you have a large readership. Such a post can cost tens of thousands.
Earnings on links with hourly pay. It means Sape.ru and Trustlink.ru. Unlike the post links, they are posted for a while and change periodically. Externally, it may look like contextual advertising. With this type of advertising, you need to be most careful, because if you put it in the wrong place, there is a great risk of falling into the ban of Yandex.
For serious sites, originally made forpeople (NLL), suitable only contextual advertising (Direct and Adsense). Links on such sites are not worth it. Also, blogs with a large audience can place promotional articles from private advertisers to promote their brand.
Earnings on affiliate programs
There are websites on the Internet that sellany goods or services. And some of them have affiliate programs, and you can get a percentage of their sales or, for example, a fixed fee for the fact that the user you listed is registered. Thus, having connected to any affiliate program, you get a referral link (your personal link with an identifier) ​​that you place on your site, and, clicking on which, your visitor gets to the partner site where they can make a purchase or register.
There is a huge number of affiliate programs on various topics. It makes sense to work only with proven and relevant topic of your site. Here is an example of several of them:
Beget.ru - hosting our blog, provides also an affiliate program.
Admitad.com is a set of affiliate programs on various subjects on one site, or, in other words, an affiliate aggregator.
Travelpayouts - an aggregator of affiliate programs that are associated only with travel: booking of air tickets / hotels, insurance, transfers and so on.
You can read about my successes in working with affiliate programs here in my the last finstrip.
Traffic arbitration
Or, differently, the resale of traffic. In short, the point is to buy traffic cheaply, and sell it expensive, putting the difference in your pocket.
I will explain. You have a website, you place ads on it or links to affiliate programs, and you need to click on it and switch, because you get money for it. To do this, you yourself can buy advertising on the Internet, leading visitors to your pages, or buy traffic on special exchanges. Accordingly, the cost of advertising on third-party resources should be less than the earnings received from affiliate programs hosted on your site.
Resale of traffic can be done withoutown resource, for example, when buying advertising on third-party resources, immediately indicating your referral link (and not a link to your own website), or using a VKontakte group or a laying site as an intermediate link.
In fact, this type of earnings is one of the mostprofitable, but it will have to learn. For example, I do not know how to arbitrate, so I create all the traffic on the site by writing content (search traffic).
Online shops
With the online store everything is clear. You can make your own online store and sell something there. And it is not necessary to sell real goods, it is possible and information or something else, for which delivery and warehouse are not needed.
Selling your goods and services
Having a website or blog, in addition to posting onYou can also sell your goods and services by advertising. For example, the author of a photoblog can offer the services of a photographer, the author of a travel blog — guide guide services, and so on. With the same product, if you have a knitting site, you can sell handmade sweaters.
Yes, this is already more offline earnings, which is sometimes tied to a place, but with some approaches you can continue to travel and live in other countries.
Earnings on the travels themselves
Well, and finally, earnings on the travels themselves. This is real! I know people who earn this money. Yes, this path is not trivial, but it exists. I, unfortunately, can not tell you how to do it all, but once I tried to lead a group in Thailand and I liked it.
Someone takes pictures and writes articles for magazines,making extraordinary reports from different places, someone designs and implements unusual or social travel projects and attracts sponsors to this event, who pay for, or equipment, or the whole trip. We even participated in a similar project. Russia for 365 dayshowever, on an altruistic basis.
P.S. These are the ways to earn money while traveling online and offline. Not all options have been tried by me on this blog and in life, but still ahead. To get a rough idea of ​​how much advertising costs in terms of the number of visitors, you can walk around on blogs and see who sells for how much.
Life hacking 1 - how to buy a good insurance

Choosing insurance is now unrealistically difficult, so to help all travelers, I compile a rating. To do this, I constantly monitor forums, study insurance contracts and use insurance by myself.

Life hacking 2 - how to find a hotel 20% cheaper

First, choose a hotel on Booking. They have a good offer base, but the prices are NOT the best! The same hotel can often be found 20% cheaper in other systems through the RoomGuru service.

Discount hotels