The cost of living in Thailand is likelynow few people will be lower than in Russia. Dollar exchange rate to him. But it all depends on the specific people and on the specific needs. Therefore, if you come here to live for a long time, it makes sense to analyze your spending in your native city in all respects and compare them with the estimated spending in Thailand. It may happen that for one person it will be cheaper here, and more expensive for another. Therefore, the answer to the question "How much does it cost to live in Thailand" cannot be unequivocal.
Some numbers. In Moscow, we spend 30,000 rubles / month for food, buying in supermarkets and not visiting a cafe. Here we spend 25,000 baht / month, while eating almost every day in a cafe and leaning heavily on tropical fruits. Taking into account the course, it became more expensive, although a few years ago the expenses were identical. When you read how much people spend in Thailand, be sure to ask about how much they spent in their homeland.
The content of the article
Cost of living in Thailand
Rental of property
Renting an apartment here costs about the samehow many in Moscow. A small apartment or house with a bedroom and living room will be released on average 10,000-200,000 baht / month. Depending on the area, the number of rooms, furniture, area and the duration of the rental price will vary. Comparable with odnushkoy on the outskirts of Moscow. Nevertheless, a house with a small territory and close to the sea still looks, in my opinion, more attractive than a Moscow odnushka. Tips on renting apartments I already gave, as I told you about how to rent a house.
Now, about the communal. The cost of water is very small, about 300-500 baht. More water may be initially included in the rental price. Electricity is much more expensive than in Russia, 4-10 baht per kW. If you do not use air conditioning and an electric stove (usually gas), then there will be about 500 baht. If the air conditioner is always on, it will be 1500-3000 baht per month.
Accommodation for rent. The cost of cheap guesthouses, as a rule, is 500-800 baht per day. Hotels are better cost 1000-1500 baht, and for 2000-3000 baht you can already rent quite a great room in a decent resort. You can check the prices of hotels in all existing reservation systems at once using the service Roonguru. A very useful thing, since the usual Booking's will not be enough, it is not the main one in Asia.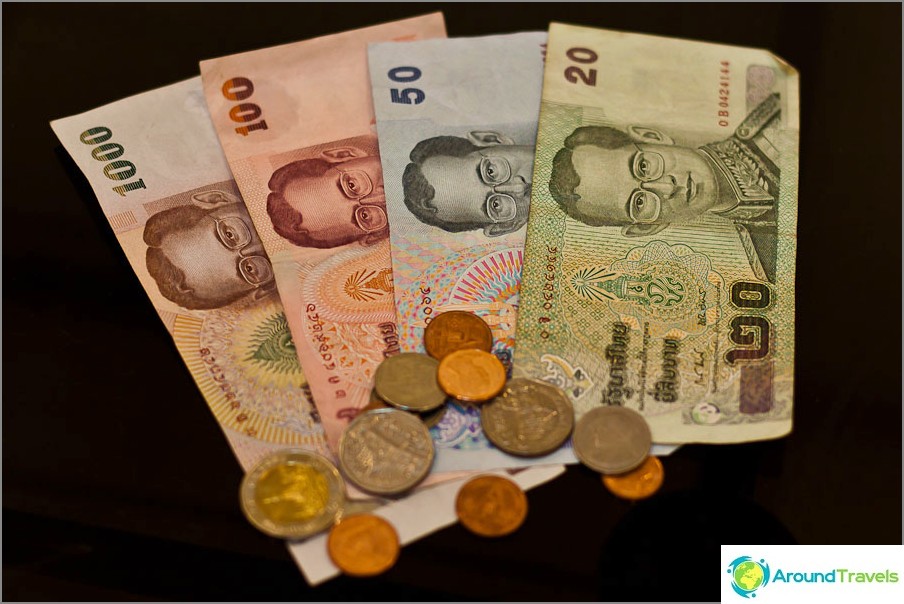 Communication and Internet
4G / 3G mobile Internet costs 300-800 baht per month depending on the traffic package. For 300 baht you get 3 GB of traffic, for 800 - 12 GB. Read my posts about mobile operators DTAC or AIS, there are all the tariffs.
Mobile communication is comparable at prices from Moscow, about 1-2 baht / minute. Only here at first you can do without a phone, there is no one to call.
Wifi is in every hotel and is providedis free. When renting an apartment or house, the Internet is sometimes already included in the price, but more often it is necessary to pay about 500 baht per month for it. The speed will be 5-10 megabits.
Food prices in Tay
AT Thai supermarkets food prices are about the same as in oursMoscow Something cheaper, something more expensive. Compare with stores such as Dixie, Crossroads. Moreover, the choice of the usual products is not very large. There are no cereals (buckwheat, pshenka, barley) and dairy products (sour cream, cottage cheese), standard sweets for tea (drying, gingerbread). Or, if there are these products (they are found in some supermarkets), then they cost decently, because they are imported. For example, cheese costs an average of 500-800 baht / kg. Chocolate is also expensive - 100 baht bricks, 50-100 baht bread brick. I wrote separately how to find the usual food.
Prices Thai market lower than our summer season. Naturally, talking about tropical fruits such as mango, mangosteen, rambutans, pomelo, bananas, etc. Any sweet cherry is on sale only in supermarkets and costs, as the plane (import). In general, the quality of vegetables and fruits I personally like. In general, here is a real fruit paradise. As an example, a mango in a season costs about 30 baht per 1 kg, in an off-season about 100 baht. Consider that the mango, which is sold in Russia and was not lying next to yellow Thai, cannot be described as a difference, we must try.
Prices in cafes lower several times than in Moscow (if we talkabout tayfud and simple food). Therefore, foreigners prefer to eat it in them. European food is more expensive than Thai. As a rule, a portion of rice or noodles with something costs about 30-80 baht. Thai green papaya salad, som-tam - from 35 baht, tom-yam soup - from 60 baht, natural coffee - from 40 baht. Small pies, donuts and cakes - 5-15 baht for things. European dish or something more complicated - about 150-200 baht and above. In terms of prices in Thailand for food, you need to consider that if you like Thai cuisine, then everything becomes easier and cheaper, both in cafes and when shopping in supermarkets. And if you're not a fan of Thai food, you'll have to cook at home.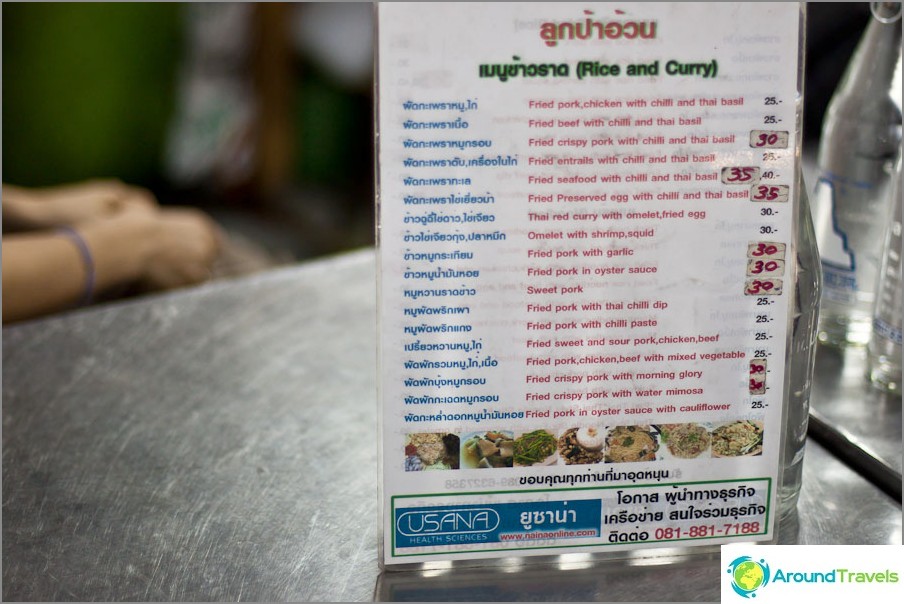 Prices for excursions and entertainment
Prices for excursions in Thailand start from250-300 baht for a simple transfer to the zoo or the beach and back, more serious, with a guide - from 600 baht. Excursions for 1-2 days cost from 1500-2500 baht and above, depending on the program. Also, excursions to the islands, boat trips, at a cost of starting from 1,500 baht.
Motorboat rental (speedboat) with driver - from3000 baht per day for a small boat up to 6000 for a large one. Ride on a jet ski - from 250 baht for 10 minutes. Prices for visiting water parks in Thailand start at about 1,200 baht. Entrance to museums depends on the promotion of the place, from a few dozen baht for provincial sights to 300-500 baht for places known to foreigners. Entrance to the national park is usually 100-200 baht.
Transportation in Thailand
Taxi is very cheap when talking about Bangkok Taxi, and at the resorts prices break. For example, from the Bangkok airport to the city center - 400 baht (40 minutes), and from Phuket airport to the beach - 800-1000 baht, although it takes 30 minutes to travel there. That is, Moscow resorts at the resorts, if not higher.
Metro costs about the same as in Russia andthe fare depends on the number of stations. City buses are only available in Bangkok and cost a penny. In resorts, they are less common, and there are more popular tuk-tuki or songteo (such as a minibus). Travel by tuk-tuk for a short distance of 100-300 baht, on the songteo 20-50 baht.
Thai trains much cheaper than Russian Railways. And there is a choice to go quite cheaply in a seated car, or in a recumbent and with air conditioning. For example, a Bangkok-Chiang Mai ticket (800 km) with air-conditioned reserved seats costs 800 baht, a seat without it - 300 baht.
Intercity buses cost a little cheaper than trains, and alsoequipped with air conditioning. Moving Bangkok-Phuket (850 km) costs 800-1000 baht, depending on the class. All long-distance buses are modern and comfortable.
Domestic flights are not comparable with ours,because there are no low-cost airlines in Russia. Sometimes cheaper to fly to Europe than to any Novosibirsk. Air ticket Bangkok-Phuket (700 km in a straight line) costs 1500-2000 baht (I recommend to buy air tickets through Aviasales.ru and Skyscanner.ru, we regularly use them ourselves).
If we talk about moving on your own transport, you can remove the motorbike. Rent will be about 3,000-4,000 baht per month, orabout 200-300 baht per day, if you take a short time. Gasoline costs about 30 baht for 1 liter. The cost of buying a new bike is 40-60 thousand baht (unbroken), and you can buy used in good condition for 20,000 baht. Also, do not forget that it can be sold after your wintering and not for much less money.
The cars here are mostly Japanese. Used items are sold at prices higher than Moscow, the dollar and all that, but their condition is several times better. The climate is good, and they were not collected in Russia. If you live from six months-year, then it is more expedient to buy a car, otherwise it is better rent by the month. Rent will be released at 800-1200 baht / day for a regular economy class sedan, or about 15,000 baht / month.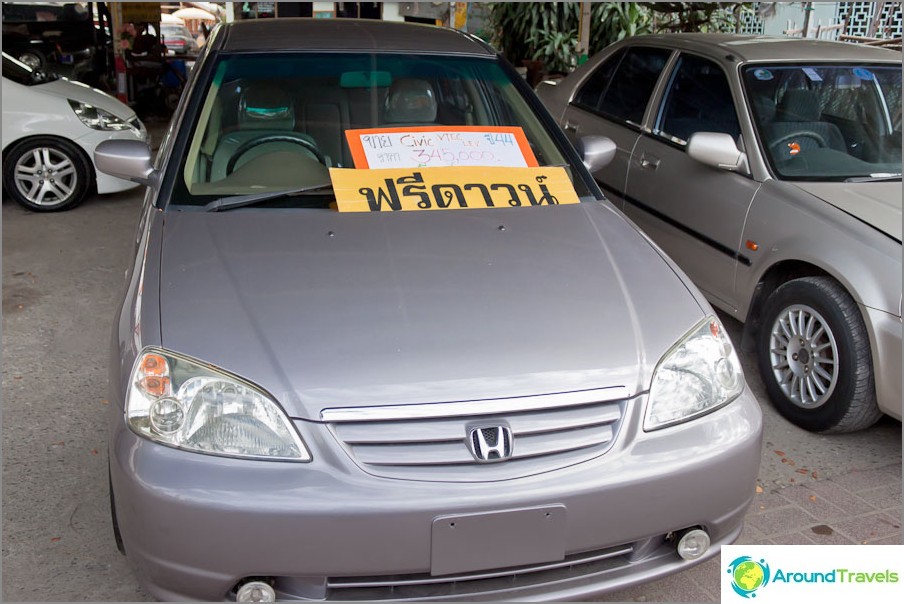 Prices for shopping
Casual clothes and shoes are cheaper than ours,but they also serve not for long. For example, shoes like rubbery slap cost an average of 100-200 baht, summer sandals 200-400 baht, T-shirt 100-150 baht, sweatshirt 300-500 baht. We also have shops with similar prices, but there are such prices in any supermarket.
Brand clothes and shoes are more expensive than inRussia, so I personally do not buy it here. Firstly, it simply does not make sense, and secondly at home I know where the store is. Considering that branded items last for a long time, it is rarely necessary to pack something up during wintering.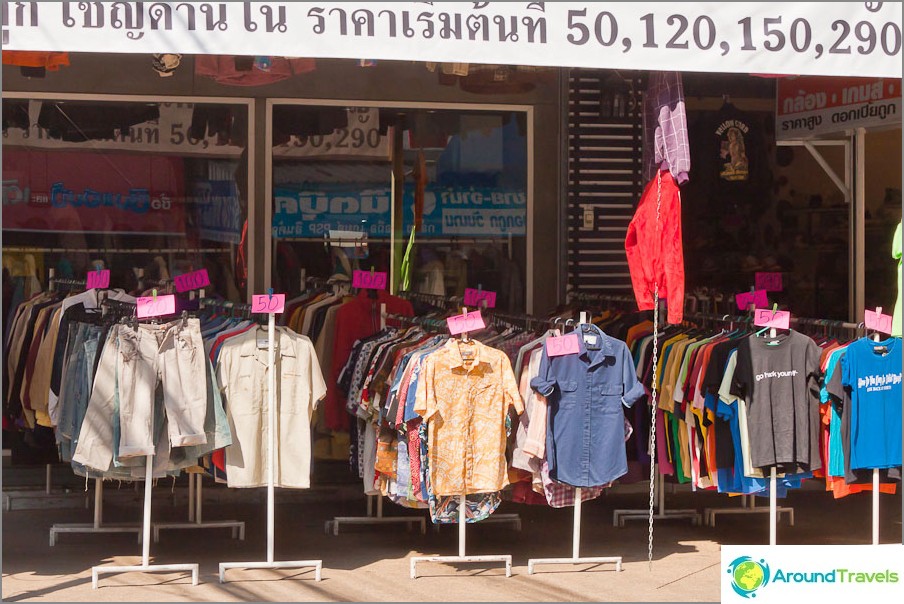 Prices for equipment and gadgets
Compare prices for cameras, iPads, phones,hard drives, laptops. I can not say that the prices have pleased me. If you buy a gray product in Moscow, it will be cheaper, only it will be at least some guarantee from an online store, if you buy in Thailand, then you will also have to return to it for repair. If you buy white goods from official distributors in Moscow, the price in terms of recalculation will be similar to the Thai one, sometimes cheaper in Tae. Here it is necessary, of course, to look at the specifics. But in general, I do not see the point of buying gadgets in Thailand.
Appliances Apple (iPad, iPhone, Macbook) stands in Tae10-15% cheaper than in the official official Apple Store. And it's great that the warranty on Mac is valid all over the world, it is better to take other devices in Russia. Gray Apple technology in Moscow will be cheaper than in the Thai store.
The cost of phones in Thailand is about the sameor more expensive, if we talk about familiar brands, but local products or Chinese, you can buy cheaper. Although it is better to take Chinese immediately on Aliexpress (how to save on Ali up to 11%).
Also I remind you, this is just for the technology is important that you can return vat 7% at the airport, thereby reducing the cost of purchase.
Flight cost to Thailand
The cost of the flight to Thailand varies and dependsfrom many options. The best option is to buy a ticket in advance, a few months before the trip. A single ticket will be more expensive than if you buy it along with the reverse. Direct flight is more expensive than a flight. I flew repeatedly to Thailand and at different prices. On average, one-way ticket costs from 18 thousand rubles, round-trip from 25 thousand rubles. Also, you can still buy last-minute tickets for charters, they can get quite inexpensive, but you need to monitor their appearance.
I wrote about airline tickets in detail in these two posts: How to fly cheap to Thailand and How much is a ticket to Tai.
The cost of a visa to Thailand
We should not forget about such expenses as a visa,or visa-wound. Yes, if you arrive for a couple of weeks, then you don't have to spend anything extra, because for up to 30 days, you do not need a Thai visa for Russian citizens, and you simply stamp the passport at the airport.
However, if you want to spend more than a month,then you will need to either extend the stamp for 7 days for 1,800 baht or go to a neighboring country (most often it is Laos) and make a Thai one-time visa for 3 months. This entire trip trip will rise to you no less than 4000-5000 baht. Read more about the visa regime, stamps, vizaranah - All about visa to Thailand.
The cost of tours to Thailand
It is clear that trips to Thailand are verydifferently. In the season - more expensive in low season prices fall. The cost also depends on the number of days, the hotel, the resort, the type of food and accommodation. Last minute, too, has not been canceled. The most inexpensive resort of Thailand is Pattaya, tours for a week there start from about $ 350 (without meals or only breakfast). A weekly tour to Phuket will cost much more - from $ 650 for a week, tours to Samui are usually even more expensive, from $ 850. In general, good tours to Thailand for a week start at $ 1000-1200 per week per person. If you go on vacation for a week or two, then the tour is cheaper to buy, the cheapest one costs almost the price of plane tickets round-trip.
findings
After the crisis in Russia, and becausefor the Russians, the Tai dollar has risen in price much, the wintering trend has slowed down. With a similar way of life it will turn out, either also, or more expensive. Indeed, now there is no special sense to go for savings, it has become easier to downshift in Russia. Although all the advantages of Thailand have not gone away, and for those who did not initially save on everything, here it is still good.
Nevertheless, you can save if you havestand such a goal. Thailand allows it. There are budget accommodation and budget cafes ... You can walk around and look for something that suits you better. Especially noticeable cost reduction for long-term residence. For example, the cost of winter clothes and shoes disappear, you can move all year round by bike or bike instead of a car. Instead of cafes with European food you can cook at home. Rental housing for long term will be cheaper than 1-2 months. Tell me why so sweat? Well, everyone decides for himself whether he needs to go to Tai or not.
Personally, it seems to me that for the same or even letYou can get a lot more money than in winter in Russia: eternal summer, the sea at your side, tropical fruits, a relaxing atmosphere and positive local people. Honestly, you can pay for it. As long as I did not look for alternatives to Tay, I could not find it. After all, for those who have ruble incomes, it has become more expensive because of the exchange rate absolutely everywhere. It remains only to accept it and live on. Well, or create for themselves dollarvye income
In general, no one bothers to go for 1-3 months, and not for six months, as before.
Once upon a time, everything about two took about 30,000 baht / month for two for us (spending on Phuket). But when we arrived with the child and we needed comfort, the spending increased (spending on samui).
P.S. If you go on vacation, read the post - How much to take money to Thailand on vacation. The order of $ 50-100 per day per person should be enough for you to inexpensively rest.
Life hacking 1 - how to buy a good insurance

Choosing insurance is now unrealistically difficult, so to help all travelers, I compile a rating. To do this, I constantly monitor forums, study insurance contracts and use insurance by myself.

Life hacking 2 - how to find a hotel 20% cheaper

First, choose a hotel on Booking. They have a good offer base, but the prices are NOT the best! The same hotel can often be found 20% cheaper in other systems through the RoomGuru service.

Discount hotels