After we spent some time inThailand, I want to answer the most popular questions about prices in this country. Old-timers will not be interested in all this, but for those traveling for the first time it may be useful.
It is worth noting that a trip to Thailand on tourIt will not differ in cost for the better from independent recreation only if you are going to stay in this wonderful country for a month or more. This is primarily due to the flight, since this is the most expensive part of the journey, and the main price of the voucher is made up of it. But if you live in Thailand for more than a month, the cost of the hotel will be high, and it is much cheaper to rent an apartment in Thailand on a monthly basis.
And another article on this, but a little more in detail on some items of expenditure, regarding life in Tae - How much does it cost to live in Thailand. If you have questions not related to prices, then you can find them in our guide. How to go to Tai yourself.
The content of the article
How much is a trip to Thailand
People often wonder how muchholiday in Thailand. If we are talking about a ticket, their cost starts from 20,000 rubles per week per person. Given that one flight on regular flights can be more expensive, this is a very good price. True, something special to expect for this amount is not worth it, and the hotel will be average, and the usual conditions.
How much is a trip to Thailand
About how much a tour to Thailand costs, I alreadywrote the paragraph above. But an independent trip to Thailand can go to a very different money. It all depends on the specific requests of a particular person, as well as on the time and place of his stay.
It will be cheaper to take a regular flight withtransfer - from 18-20 thousand rubles and higher in one direction (or from 23-25 ​​thousand rubles round-trip). If you are going to live for at least a month, then it's better not to rent a hotel, but to rent an apartment or a house. Cost per month for an inexpensive option 10000-20000 baht per month. Apartments for rent in Thailand - tips.
The rest of the expenditure of a personal matter of each. The food will be about the same as in Russia. Especially if you are good with rice and noodles and you do not need delicacies. Moreover, in a cafe to eat at a cost about the same (if you like Thai food), as well as buy food in a supermarket and cook on your own.
How much is a ticket to Thailand
Air ticket to Thailand one way costs atan average of 18,000 rubles on a charter flight, or on a regular flight. If you buy a ticket right there and back, then the flight will be cheaper - somewhere from 23,000 rubles. Prices are average and depend on the season, as well as in what month you will buy air tickets. If you have time and you can leave at any time, then a good option are last-minute tickets from charter companies. You can search for them on the ticket exchange.
I recommend buying air tickets through Aviasales.ru and Skyscanner.ru, we regularly use them ourselves.
Details on how to find cheap tickets I wrote here - How to fly cheap to Thailand and here - How much is a ticket to Thailand.
How much is a visa to Thailand
Russian citizens do not need a visa to Thailand. At the entrance to the country you are stamped for 30 days. If you need to stay longer, you can make yourself a visa for 3 in a neighboring country like Thailand, or in advance in Moscow / St. Petersburg. Read more about it here - Visa to Thailand or how to live here for a long time
How much are trips in Thailand
Trips in Thailand are about the same as inother Asian countries. For example, one-day trekking to the mountains costs ~ 1000-1500 baht, some excursion to small islands is 2500-3000 baht. The easiest way to buy tours in local travel agencies, which are abundant here, and not from hotel guides, is a well-known feature.
How much does massage cost in Thailand
The famous Thai massage is extremely cheap. Body and foot massage costs 150-200 baht per hour in the north of the country, and 300-400 baht in the south.
Massage salons are found on every corner, ifyou live in a tourist place. There is also a back and shoulder massage, a head massage with oil. Prices are about the same, only oil is more expensive. There is still a completely different category of massage, for which many Russians go to Pattaya, but it's difficult to confuse, it will be immediately clear what I mean. About classic thai massage I already wrote.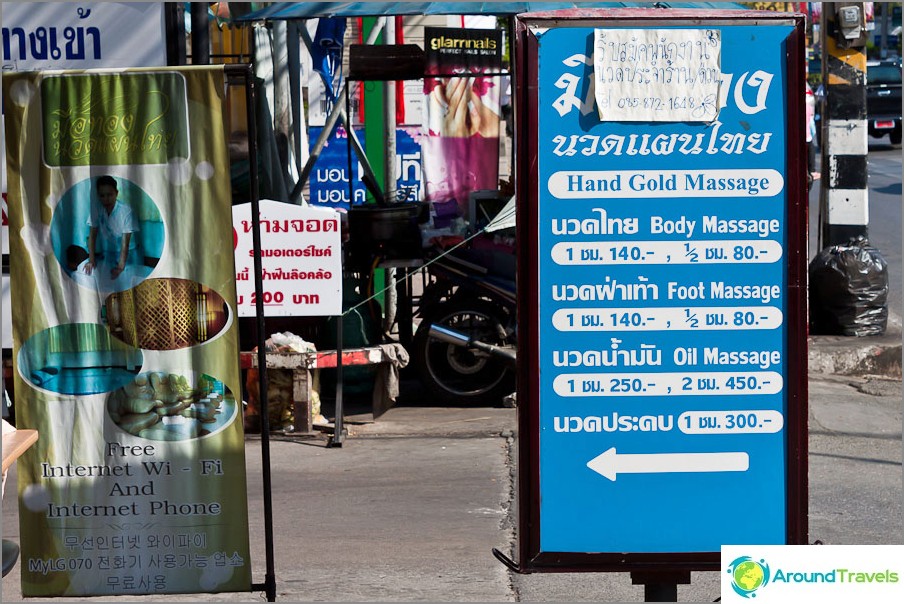 How much is clothing in Thailand
Clothes in Thailand can be both cheap andexpensive. There are also branded shops and boutiques. However, if you are interested in ordinary casual clothing, then you can buy it in markets where it is cheaper than in Russia. True, she lives not very long.
T-shirts cost from 100 baht, shorts from 150 baht, summer shoes from 300 baht, bags from 300 baht.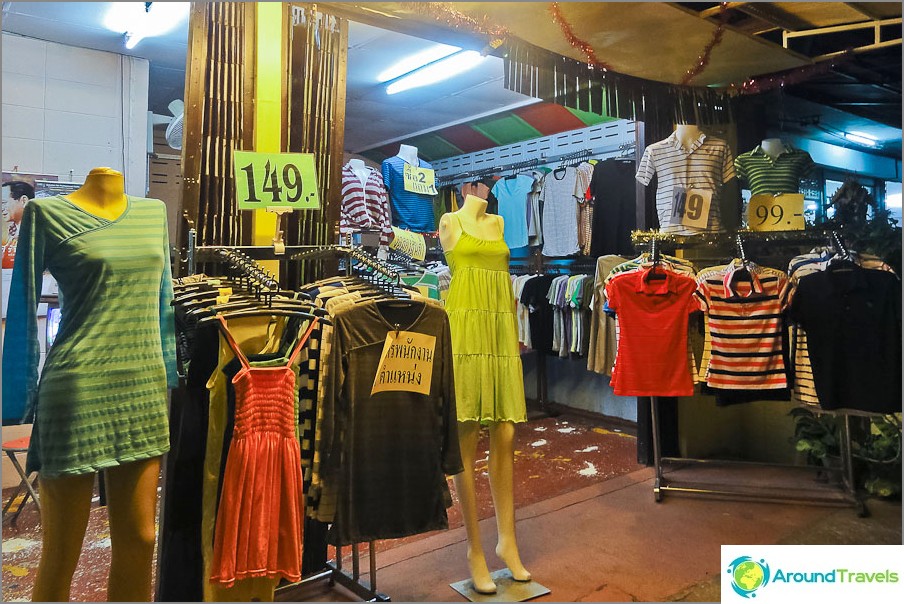 How much is food in Thailand
Thai food in the cafe is quite cheap, European is more expensive. In Thai cafes will be the cheaper, the farther from the sea and in general resorts.
Price for a dish (fried rice withvegetables / chicken / myproducers) starts at 30 baht, and the average price is 50-80 baht. Soups are different, if this is a classic noodle soup, then the price is about 50 baht, if something more interesting, such as Tom Yam, it is already more expensive - from 60-150 baht. Of course, if you go to a restaurant or a cafe with a very civil interior, then the listed prices can be multiplied by 2.
In supermarkets, food costs about the same as Moscow. But there is not always possible to meet our usual products. More precisely, they are found in large supermarkets, but they are more expensive because they are imported.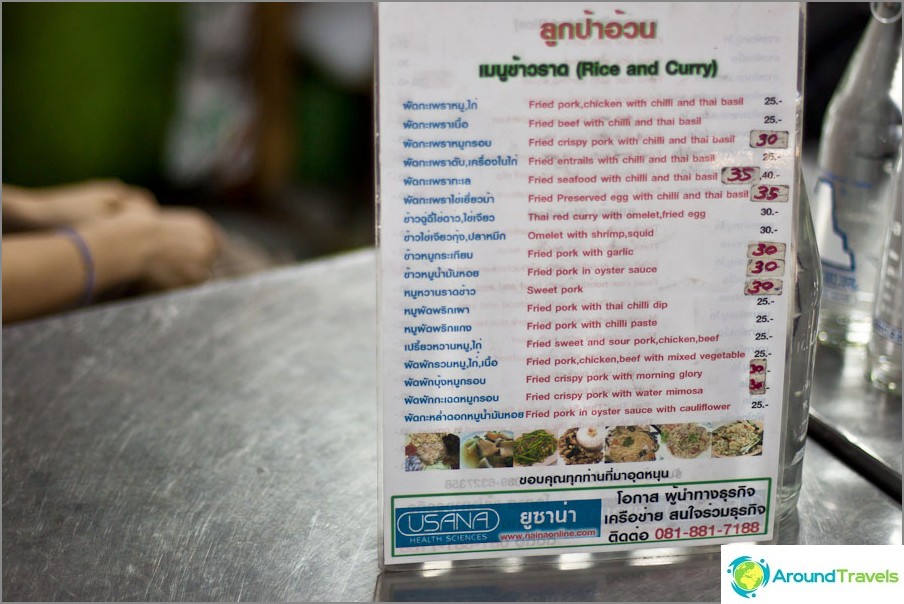 I wrote more about food here: Thai markets. Thai supermarkets. Thai cafes.
And a number of popular questions about Thailand
- How much is an apartment in Thailand
You can rent an apartment from 5,000 baht for the mostsimple option, the average price is 10,000-200,000 baht. And when it comes to buying, the prices for studios start from as low as 1 million baht. There are cheaper, but they do not look very.
- How much is a house in Thailand
You can rent a normal house from 10,000 baht. The average price for a house is 15000-20000 baht. The longer the lease, the cheaper. Tips for renting homes in Thailand
- How much does it cost to live in Thailand
Depends on your needs. We lived in 2015 at 80 thousand baht per month, and, for example, in 2011 at 20 thousand baht. Here is an example of our spending: on samui. on Phuket.
- How much are the bags in Thailand
Consumer goods cost from 300 baht, something better is closer to 1000 baht and above.
- How much are things in Thailand
Things for everyday wear are 2 times cheaper than ours. Good things, branded, are about the same or even more expensive.
- How much are jeans in Thailand
Jeans are from 200-300 baht.
- How much does a call to Thailand cost
Depends on your mobile operator. Usually inhuman price tag. For example, the Moscow megaphone - 60 rubles per minute. Use Skype, much cheaper, or local sim cards, you can call them for 5 baht / min.
- How much is SMS to Thailand
Depends on your carrier. The Moscow megaphone has 4.5 rubles per message.
- How much do fruits cost in Thailand
Exotic fruits are here, like we have apples. Everything else is worth, as we have on the market in the summer, and even cheaper, especially if you buy in bulk. In supermarkets often more expensive.
- How much are souvenirs in Thailand
Magnets are from 30 baht. All inexpensive.
- How much does the equipment cost in Thailand
The technique is about the same as in Russia, althoughit all depends on the exchange rate. I formed the opinion that the purchase of gray goods in Moscow is more profitable than in Thailand. With white goods, when how, depends on the course.
- How much is the phone in Thailand
It depends on the model, but is usually cheaper by 10-20 percent. You can buy local phones, they are really cheaper. Apple products are also slightly cheaper. Apple prices in Thailand.
- How much is the iphone in Thailand
A bit cheaper than in Russia. Prices can be found on the official website. There is also the cost of iPad and MacBook.
Life hacking 1 - how to buy a good insurance

Choosing insurance is now unrealistically difficult, so to help all travelers, I compile a rating. To do this, I constantly monitor forums, study insurance contracts and use insurance by myself.

Life hacking 2 - how to find a hotel 20% cheaper

First, choose a hotel on Booking. They have a good offer base, but the prices are NOT the best! The same hotel can often be found 20% cheaper in other systems through the RoomGuru service.

Discount hotels