After posting a report about our journeywith the group, I was asked a question how much the trip to Thailand cost the participants, they say, it's interesting to know, in order to estimate the budget for their own independent travel. Yes, when I just announced our future route with a group, I wrote approximate prices and costs, but now I myself was wondering what happened in reality. And since I keep the budget and write down everything in it, it's easy to calculate the cost of a trip to Thailand. Since this information may be useful to someone else who will come together to go on their own, so I decided not just to answer this question in the comments, but to post it in a separate post.
The content of the article
Trip format
In order for me not to groan too long on what we had during the trip with the group, just look my report. From it you will get a full impression of how we drove, but nevertheless, I will explain something.
The format of our trip was originally budget andcan be said bekpekersky. In total, we spent together 10 days, of which 2 days were in Bangkok, 2 days in Pae, 3 days in Chiang Mai, and 3 days in Koh Chang, including transfers. As the participants of the trip were quite close in interests, we were together from morning to evening, and we had the same leisure time. We also ate about the same Thai food and lived in the same cheap hotels. I say this to the fact that I can only calculate my expenses (I don't know how much I spent), but I'm sure that my expenses are not very different from how much the guys have spent.
All calculations are based on the fact thatWe started from Bangkok, and returned to it. Although in fact we broke up at Koh Chang, but I thought it was here, as if we were together in the capital. However, this is not a big difference in cost, just one transfer.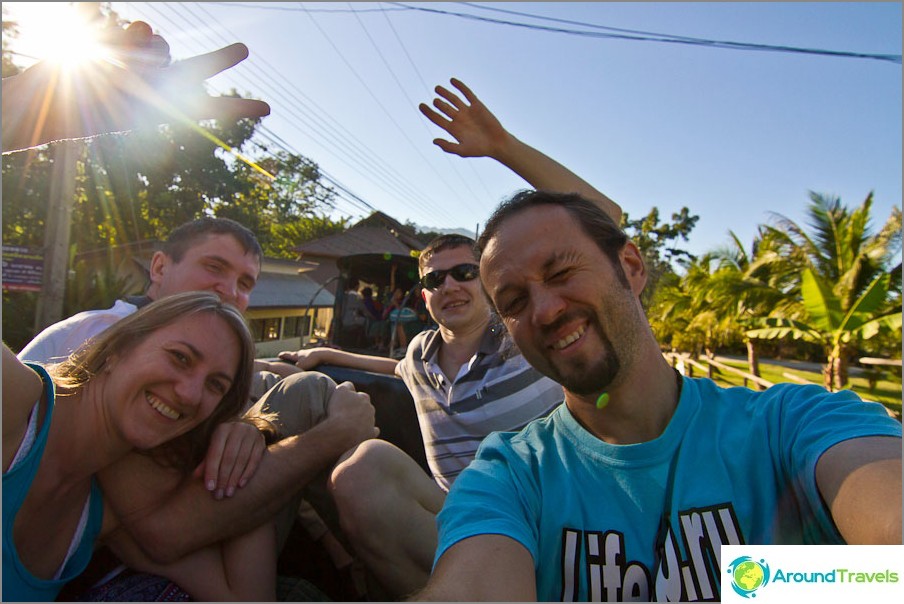 The cost of a trip to Thailand
Food: 2205 baht. We ate, as far as I remember, mainly Thai food in small cafes, food courts and macabinnas. Alcohol, restaurants and lobster was not.
Transportation: 6,770 baht. 3 times we traveled by intercity bus, 3 times by minibus, once by a tuk-tuk and a taxi, several times by a shuttle bus, twice by a ferry. It also includes a car rental for two days with gasoline and a bike rental for 3 days. Accordingly, if you take the car to several people, as we did, then the amount per each one will be much less.
Accommodation: 4100 baht. I think the cost for doubles, that is, for a couple this amount can be divided in half. Basically, they were cheap guesthouses and bungalows, half of the seats had air conditioning, half were not.
Sightseeing: 2415 baht. Naturally, there are only paid places here: an observation deck, two temples, pokatushki on elephants, a national park, a waterfall, paddling on a kayak, a rope park.
Massages and other purchases, ala mosquito spray and Thai t-shirts, did not consider it too individual.
Total
It turned out 15,500 baht for 10 days of independent travel.
If you add another flight here from Moscow 25-30thousand rubles (I advise you to look for it through Aviasales.ru or Skyscanner.ru), then we get the final amount for everything about everything per person. It is quite normal for me, even compared to cheap tours to Thailand, considering how many places we have been and how many we have seen. In the announcement of the route, I pawned just about such an amount, it's great that I was not mistaken in my calculations.
If you do not go so budget, you willstay in hotels is more expensive, order food more refined and make a couple of domestic flights around the country, it makes sense to multiply the amount by two. In case you need not an independent journey with constant movements, but a rest on the sea and excursions, restaurants and bars, then approximate alignment for the money.
Or vice versa, if you go to spend the winter or just for a few months, that's how much you could spend (a budget optionand off-budget).
P.S. Please note that you can get a completely different amount, since everyone has different needs and ideas about traveling. If you have questions, well in the comments
Life hacking 1 - how to buy a good insurance

Choosing insurance is now unrealistically difficult, so to help all travelers, I compile a rating. To do this, I constantly monitor forums, study insurance contracts and use insurance by myself.

Life hacking 2 - how to find a hotel 20% cheaper

First, choose a hotel on Booking. They have a good offer base, but the prices are NOT the best! The same hotel can often be found 20% cheaper in other systems through the RoomGuru service.

Discount hotels