By tradition, I will write our monthly spending inThe next city, this time, is Bangkok. We have not lived here before. Despite the fact that this is the capital, you can live here on a lower budget than on resorts, everything just as usual depends on the preferences of a particular person. We do not live in a budget this winter, so this mini-financial report should not be considered as a living wage for Bangkok, it's rather an average standard of living.
To make it more objective and understandable, let's set the "initial conditions". We rented a two-bedroom apartment in the city center (Apartment 1. apartment 2), moved around the city mostly onlytaxis, ate at home and in the nearest cafes, not really spending time searching for cheap. It is also worth considering that my mother came to us, and we were already three adults.
The content of the article
Our spending in Bangkok
In Bangkok, we lived for 3 months, so we passedafter the period of arrangement (which is different for everyone in price), and therefore there will be some average costs without taking into account the first purchases of the type of multicooker, all kinds of basins, pots and other things.
For example, how much we spent on two in chiang mai and on Phuketand for three with a child on samui.
Housing
Apartment with two bedrooms (in fact, three-bedroom) 22,000-25,000 baht.
Electricity: 2000-2500 baht, air conditioning worked 12-14 hours per day, plus electric stove.
Water: 250-300 baht.
Internet: 700 baht.
Purchase of household goods: 1000-2000 baht. Basically, large spending only at the beginning, then already on the little things at all.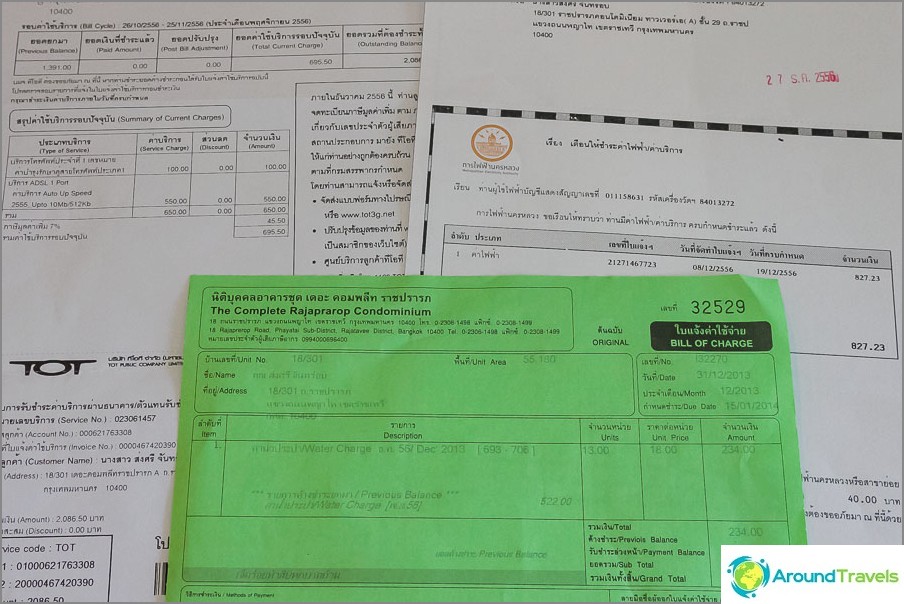 Food
For food, it took us about 19,000-23,000 baht, thenthere is less than it was on Samui, although one adult was added. The reason - they began to cook more at home, or rather grandmother began to cook for us. For this amount, about this is the alignment (here it's too long for each month to write):
Supermarkets: 9,000-13,000 Baht.
7/11: 500-2500 baht.
Thai cafes and street food: 4000-5000 baht.
Fresh juice Egor: 500-1500 baht. Egor is the only thing he drank with pleasure, it is pomegranate juice, in BKK he stands on the street 40-50 baht a bottle. If a bottle a day, then that's 1500 baht.
Water: 200-1000 baht. At one time they bought water, then they switched to water-boats.
Market: 1500-3500 baht.
Moves
Taxi and subway: 3000 baht. This is mainly a taxi, because it is fast, convenient and cheap. We had at least 4 trips a week.
Internet and communication
3G internet: 700 baht.
Mobile connection: 500 baht.
Other
Baby: 1000-4000 baht (diapers, toys, clothes). The main part was spent on toys and clothes in the first month.
Clothes to Darya: 1500-3000 baht. No matter how hard it is for me to understand, we have a constant item of expenditure.
Massage: 800-1000 baht (4 sessions of 200-250 baht).
Total
As a result, it turns out about 53,000-65,000 baht per month. This is a little less than on Samui due to the fact that we did not rent a car in Bangkok, even though our apartment was more expensive.
Of course, we also have other expenses, for example, on Egor's classes, but writing them in such a budget does not make sense at all. Even such a simplified layout is very subjective.
How much money do you need in Bangkok and how to cut waste
To make the post more useful, I'll add my ownConsiderations for those who want to save. In my opinion, to live in Bangkok, you need at least 20-25 thousand baht at least, well, and the upper threshold is infinity
I already wrote how to rent an apartment in bangkokwhere he gave examples of different housing for differentprices. So if you do not need the city center (although you can live here for 5-10 thousand baht), and also do not need a large area and several rooms, then you will easily keep within 5-15 thousand baht. And on the outskirts of 15 thousand will be a fairly large apartment. If suddenly you need to find a hotel in Bangkok, search and choose conveniently on RoomGuruThis is a service where you can compare hotel prices.in different booking systems. I have stayed in Bangkok many times and in different hotels. I will not give links to all my reviews, I will give only a few. Nasa vegas - convenient for stopping near the airport and metro, Rajata - a good place to spend the night near Khaosan, S3 residense located in the center near the park.
With food here, everything is the same as in everything elseThailand. If you mainly buy in the markets and supermarkets, and cook at home, then a family of three people will be able to eat 10-20 thousand a month. Naturally, we are not talking about buying expensive European products. Or, as an option, it will be necessary to look for cheap cafes with a price per serving of no more than 50 baht, and better still less. It should be noted that there are few markets in the center, and cafes are often expensive, but cheap ones should be seen in small lanes, and not on the main street.
You can move around Bangkok by metro / buses, or by taxi (taxi in bangkok). And if you are two or three, then it is cheaper to get it just by taxi, but only on the counter. For this, I love Bangkok and here you can not have your car or rented, public transport is very developed (buses are worth a penny). Well, if you have time, you can walk a lot.
Probably the most embarrassing moment is clerk in cambodiabecause it takes a whole day. But this procedure in almost all cities is unpleasant and long, because you will not live right next to the border. That is, it is possible, but it suits everyone. In Bangkok, there are several companies that carry a vizaran to the border and back, it costs 2000 baht per person. Depending on the chosen scheme (stamp every month or life on tourist visas), there will be different costs.
P.S. The main kind of told, the rest is all individually.
Life hacking 1 - how to buy a good insurance

Choosing insurance is now unrealistically difficult, so to help all travelers, I compile a rating. To do this, I constantly monitor forums, study insurance contracts and use insurance by myself.

Life hacking 2 - how to find a hotel 20% cheaper

First, choose a hotel on Booking. They have a good offer base, but the prices are NOT the best! The same hotel can often be found 20% cheaper in other systems through the RoomGuru service.

Discount hotels