By tradition, I continue to write our spending per month. Probably, after this post, many will delete us from budget travelers, and in some ways they will be right. Once we lived in Chiang Mai to 16 thousand. in Phuket for 24 thousand, but then there were only two of us. In fact, children do not always greatly increase the cost of staying in a particular country, everything very much depends on the approach of parents to spending and on specific children. Knowing some examples, I am 100% convinced that if we had somewhat different circumstances, then we would live on similar amounts as before. I think an average of 30-50 thousand per family with a child is enough to live on Samui (without kindergarten or school).
The content of the article
Our spending per month on Samui for three
Since I keep the budget I don't remember from what year,then calculate all the monthly spending was not difficult. Now, in general, technology has stepped up, and I bring all expenses / incomes from the phone, and I only analyze on the computer. About, how to keep a budget, you can read the link.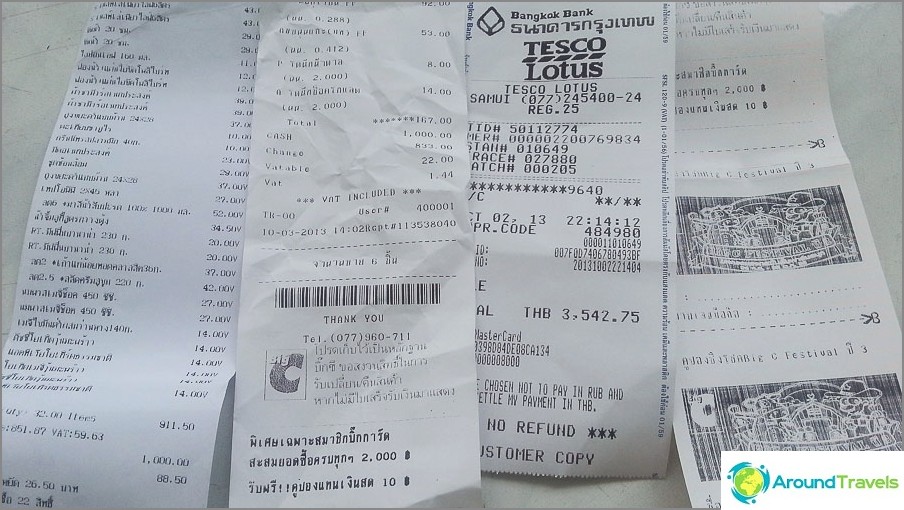 Housing
House overlooking the sea: 15,000 baht (if you are looking for accommodation, you can see personally drawn up by us catalog of houses on Samui and our house on Samui for example. Housing for a short period while looking for a house, you can zabukat through RoomGuru, it's just a mega-service, you can immediately see in which booking system (Booking, Agoda, Hotels, etc.) the hotel you need is cheaper. And we have our detailed review. best hotels in samui).
Electricity: 1030 baht, we pay according to state tariffs, air conditioning works 12-14 hours a day.
Water and Wifi: free.
Cleaning: 800 baht (3 times).
Purchase of household goods: 5000 baht (kettle, rice cooker, dishes, towels, rags, mops, light bulbs, washing powder, etc.).
Food
Supermarkets: 11,000 baht.
7/11 and Family Mart: 3,000 baht.
Thai cafes and street food: 5,000 baht.
Market: 4,000 baht.
Moves
Car rental: 6000 baht (we remove in half with friends).
Petrol: 3000 baht (40bat / 1l).
Internet and communication
3G Internet: 650 baht.
Mobile connection: 400 baht.
Other
Baby: 2500 baht (diapers, toys, clothes).
Clothes to Darya: 5200 baht (clothes, slingoryukzak with a grid).
Sightseeing: 880 baht (Paradise park and Magic garden).
Broke the glass in the door in the house: 1500 baht (glass + work).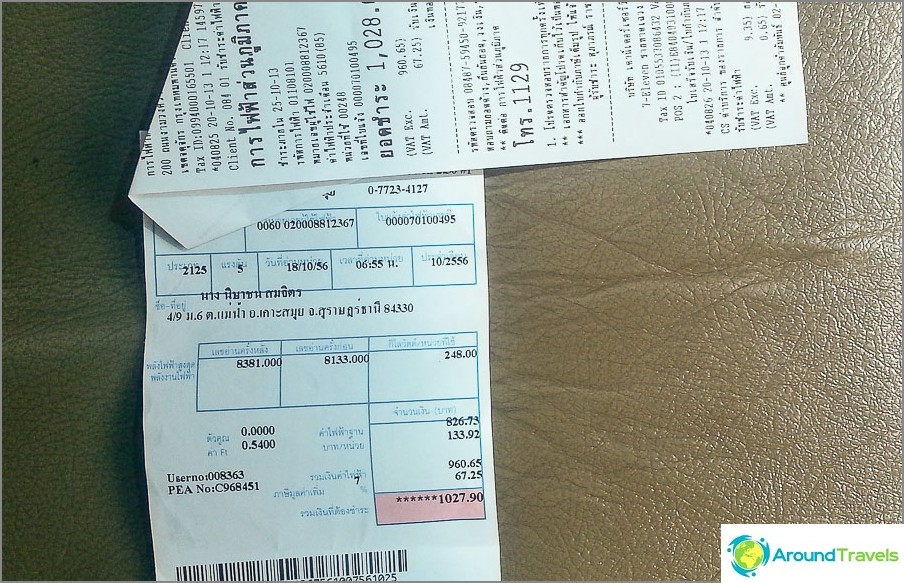 Total
As a result, it turns out about 65,000 baht per month. Of course, everything is very individual, and, as a rule, all people will have different spending. Some will spend several times more on clothes, others will want a more civilized, some will only eat in European cafes, and some will, on the contrary, live in a simple house, riding only on a bike and eating macarons. Therefore, comparing and estimating your budget, consider your personal needs. Because of our moral fatigue, we have become much more important than comfort, which was not needed before, and also we simply have no time to search for something cheaper.
How to reduce waste
Since we decided to stay for the second month on Samui, then just in this second month there will simply be some spending (second month layout). At first, there are always wastes that are not there afterwards, and this is precisely what longsteats are good at. I partially wrote about this with the article - Is Thailand as cheap as enthusiastic downshifters write about it?
First, the home improvement is over and notwill need to buy anything more in droves. Secondly, I hope that Daria bought the main clothes for herself, although along the way this process is endless in women. Thirdly, when you are less or less mastered on the spot, then the spending starts to fall. For example, we ate at all cafes in a row regardless of price, took a lot of things to taste the stores, and also bought for some reason Camembert, German bread, soups in bottles and other expensive imported, but familiar products to us in supermarkets.
Next, list the points where you can specifically reduce costs.
If you rent a house for a long time or with less requirements, then you can easily fit in the amount of 10-12 thousand per month, especially if you give up the view from the window to the sea, replacing it with pedestrian accessibility.
In order not to buy household appliances and otherhousehold goods, you can try to find a house immediately with the necessary, such there are. At least, if we are talking about a short stay, it is more profitable. I saw a house with a kettle, microwave, rice cooker and a full set of dishes.
Sometimes they are at home with cleaning at once, but they are usually also more expensive. Alternatively, clean yourself.
Rent a bike instead of a carbecause it is both cheaper several times and ongasoline then spending will be less. Another even more budget option is to take a bike, and sometimes take a bike / car for daily rent. Or you can do as we do - rent a car with someone in half.
Speak less on a mobile phone andconnect cheaper 3G internet package. Actually, if most of the time you sit at home, where the Internet is normal (look for a house in advance), then you don't need 3G.
Try different Thai cafes and findmore suited in terms of price and quality, or more often to cook at home, especially if it is not about Thai dishes (European dishes are cheaper to cook at home). To buy vegetables and fruits in the market (not always in the market cheaper, but, as a rule). And then I once bought a mango for 160 baht / kg in Tesco You can also not buy different imported products, unless, of course, they are not particularly pulling.
Allocate time to savings, which is to find cheaper prices for certain goods and services.
P.S. That's about something like this
Got something to add? We write in the comments!
Life hacking 1 - how to buy a good insurance

Choosing insurance is now unrealistically difficult, so to help all travelers, I compile a rating. To do this, I constantly monitor forums, study insurance contracts and use insurance by myself.

Life hacking 2 - how to find a hotel 20% cheaper

First, choose a hotel on Booking. They have a good offer base, but the prices are NOT the best! The same hotel can often be found 20% cheaper in other systems through the RoomGuru service.

Discount hotels