Before you go to Anapa, I traditionallysat and picked up suitable housing options, both in the city itself and in the vicinity, such as Dzhemete and Vityazevo. Fortunately, when there is such an opportunity, you can make wishlists. I didn't look towards Sukko because I was interested only in a sandy beach. If you go with children, you will agree, it is much nicer than stone. In general, I share with you those apartments and houses that I for one reason or another liked.
In addition to apartments you can see a couple of my selections on Anapa: Where to stay in Anapa cheap and What to see and where to go in Anapa.
The content of the article
How to rent an apartment or house in Anapa
Where to looking for
There are a lot of sites with offers of apartments now. I selected Booking and Airbnb for myself. You can also search on the spot, in fact. At the station there are always people with a sign "apartment by the sea." The last option does not suit me personally, so I choose Booking, as it is convenient and proven over the years. Previously, on Booking there were very few offers of apartments, apartment hotels and apartments, but now the choice is becoming more and more. It is necessary only in the filters when searching to specify the "apartment". You can also search for Avito, but this is more suitable for long-term rent, I think.
I often use the Airbnb service. Conveniently, you can watch real photos of housing, read real reviews from those who lived in the apartment / house and reviews about the owners. You can book a bank card without leaving home. This is all about Booking.com. Some are afraid to use Airbnb, but in fact the risks of fraud are reduced to almost zero, the owner will not receive the money until you enter the accommodation, and you can always return the money if the conditions are not in accordance with the conditions. Once upon a time, Airbnb was relevant only for foreign countries and there were very few offers in Russia. Now the situation has changed and the owners on the site are more and more, it's really not a problem to choose from. And I am glad that housing is also getting better, the carpet on the wall and old furniture are getting smaller.
If you don't have an Airbnb registration, then it's timeSign up and get a bonus of $ 20 at this link. The bonus can be used throughout the year when you first book. And be sure to read my detailed post about this service, where I tell how to register, how to get a bonus, how to search for accommodation, etc.
The nuances of the lease
The nuances here are about the same as for the whole Krasnodar Territory, I already wrote about them in other posts, but I repeat.
Hosts may not understand how the service worksif they are newbies there. I do not know that in a personal it is impossible to throw card numbers, phone numbers, website addresses, and so on. Also, not everyone understands the payment scheme. I would not recommend paying by transfer to the owner's card, so you can run into fraud, you will come, and there's no one else on the spot. The service in this case will return the money, and if you transfer it to the card, you can say goodbye to the money.
In many apartments there are several sofas / beds to fit more people. For a big company, this is good, for a small one, extra sofas can get in the way.
Pay attention to the number of people forwhich you are requesting a reservation, if you are four, then indicate so. In some apartments the price is not fixed and depends on the number of residents. Moreover, some owners, even for a small child, will want to pay, as for an adult, check right away. But in general, renting a house directly to the company is cheaper.
Try to find out more about the nuances in the correspondence,especially important to you: elevator, internet, washing machine, hot water and so on. It so happens that someone does not indicate anything at all in his ad, but in fact there is the same washing machine. And someone, on the contrary, indicated a washing machine, and in fact it is common on the floor and paid.
For the reasons described in the previous paragraph,It always makes sense to use filters in the search (washing machine, wifi, kitchen, etc.), since if the owner does not specify this, then the service will not show you this accommodation. It is better to look at the pictures, read the description, there usually will be just everything said.
Apartments often do not have internet. But not a problem to buy a local SIM card and connect 3G.
The cost of housing varies depending onof the month. Most cheaply in the winter, and since May, the price rises, reaching a peak in August. Then again decreases. By the way, not all owners update the price, since the Black Sea resorts are still more for summer holidays, so the price should also be clarified, especially if it is too high.
Apartments may not be traditionalmulti-storey houses, to which we are accustomed in their Russian cities, and private. Therefore, there may not be an elevator or parking space, the layout will be unusual, and communications are not centralized. This does not always cause inconvenience, but it should be understood. Some people call such apartments apartments or rooms with a kitchen in an apartment hotel.
Apartments in Anapa on Booking
Apartments on Soviet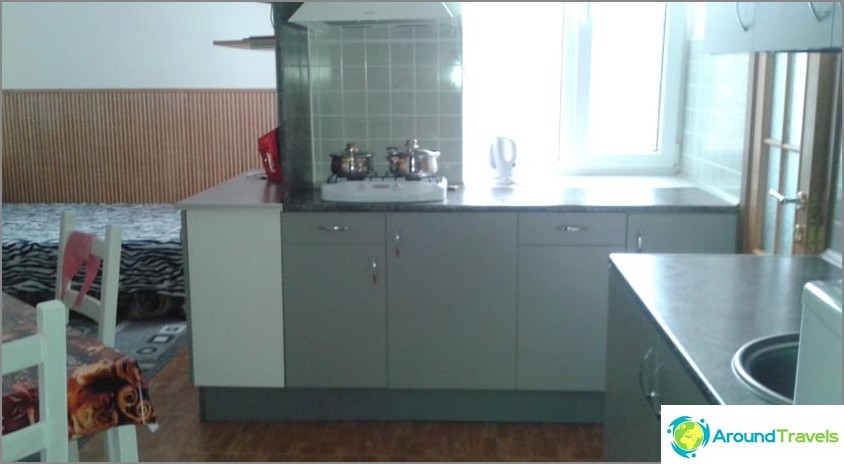 Cost per day: from 1400 rubles
Studio apartment with kitchen, washing machine,furniture. 10 minutes to the center of Anapa walking. Clean, quiet area, there is parking. The hostess is pleasant to talk to. The interiors are simple but functional. Read more.
Apartments on Tolstoy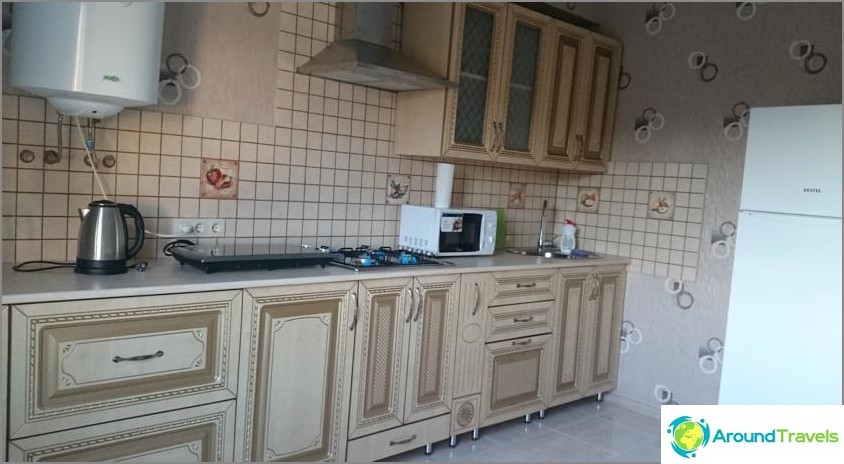 Cost per day: from 2000 rubles
Nice spacious apartment with new furniture and decoration. There is everything you need to feel at home. All kitchen utensils are available. Purely. The place is quiet. More details.
Apartment on Turgenev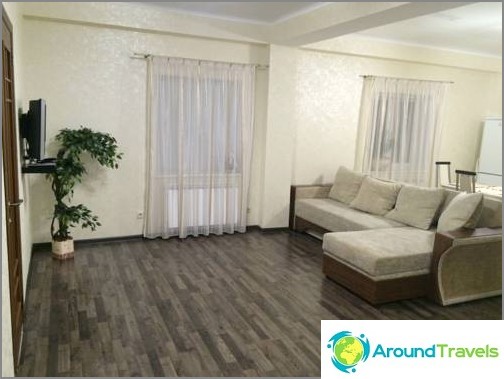 Cost per day: from 3000 rubles
New spacious apartment in the centerAnapi. The kitchen is equipped with an oven and microwave. There is air conditioning, wi-fi, parking. The hosts are friendly. The apartment is clean and comfortable. Read more about the apartment.
Apartment Novosel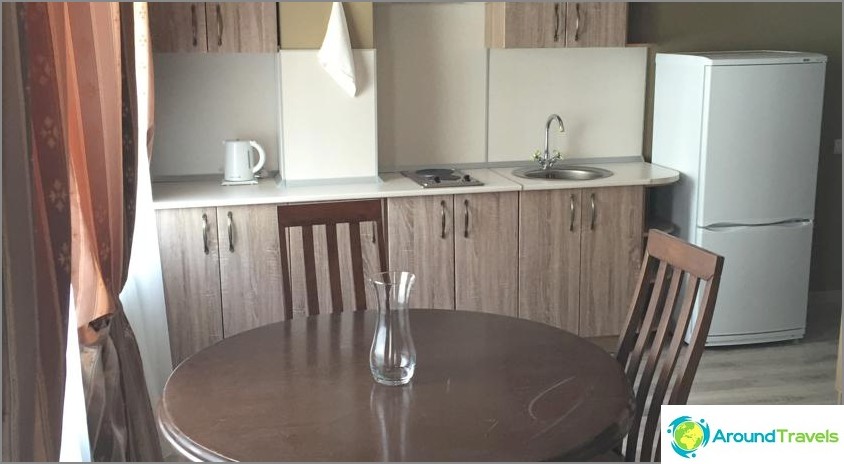 Cost per day: from 3800 rubles
A good option for a family holiday. The apartments are not very large in size, but the decoration and furniture are new, there is everything you need, clean and quiet. From equipment air conditioning, stove, refrigerator, kettle - the usual household set. Nearby there are shops, a market where you can buy groceries. About the owners and staff reviews are good. Read more about the apartments.
Blue Lagoon Apartments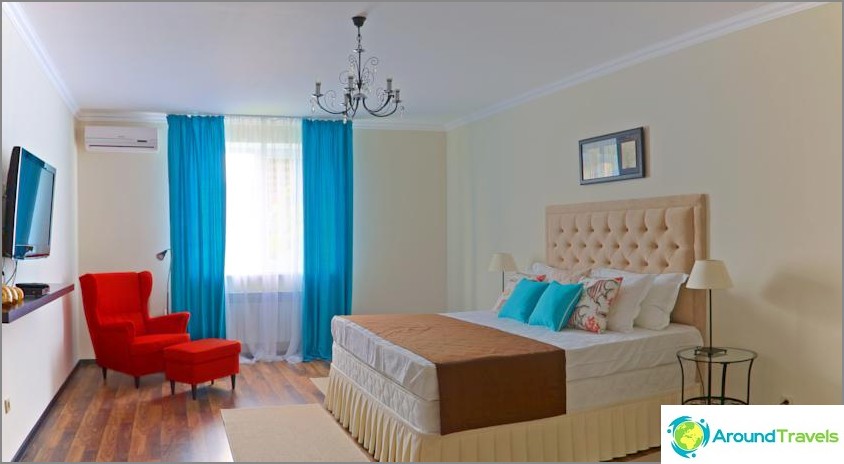 Cost per day: from 4000 rubles
Spacious new apartments with gooddesigner interior. New furniture, fully equipped kitchen. All equipment is working. Repair fresh, everything is clean. Also a good location - in the city center, near the park, 10 minutes walk to the sea. The staff is polite. Read more.
Aparthotel Love and 8 Countries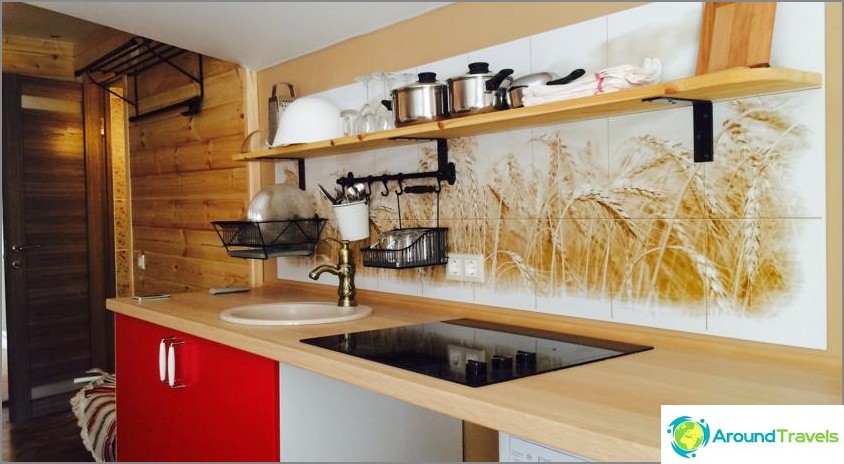 Cost per day: from 6000 rubles
An apartment hotel with an interesting and unusual design.interiors. Original and cozy. Good hosts and staff. There is wi-fi, household appliances: kettle, stove, refrigerator, air conditioning, TV, washing machine, iron. Furniture, bedding, dishes - everything is new, clean. The area is quiet, with good infrastructure. Downstairs there is a cafe and a bakery. Great place to stay with children, family holidays, for a couple. Cozy, original, comfortable. Read more.
Apartment in the village Pyatikhatki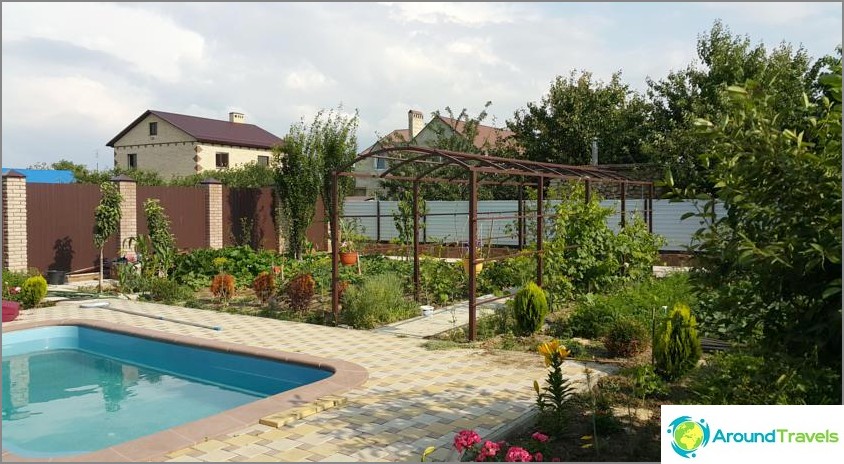 Cost per day: from 2500 rubles
Accommodation is interesting because it is a private house onpretty large fenced plot, with garden and swimming pool. The place is perfect for families, with children. The area is clean, quiet around, nice pool, lawn and a place for sunbathing, there is a barbecue, a table with chairs where you can sit in nature, a lot of flowers and greenery. The downside is that far from the sea. But if you are in a car, this is not a problem, you can easily get to good uncrowded beaches. You can also get to the sea by shuttle bus. Near the house there are shops with everything you need. Rooms are clean, with new furniture, comfortable and cozy. There is everything you need: iron, ironing board, a full set of dishes, microwave, stove, hairdryer, kettle and so on. Reviews about the owners of the house and about the housing itself are good. Read more about the apartments.
Studio on Pioneer Avenue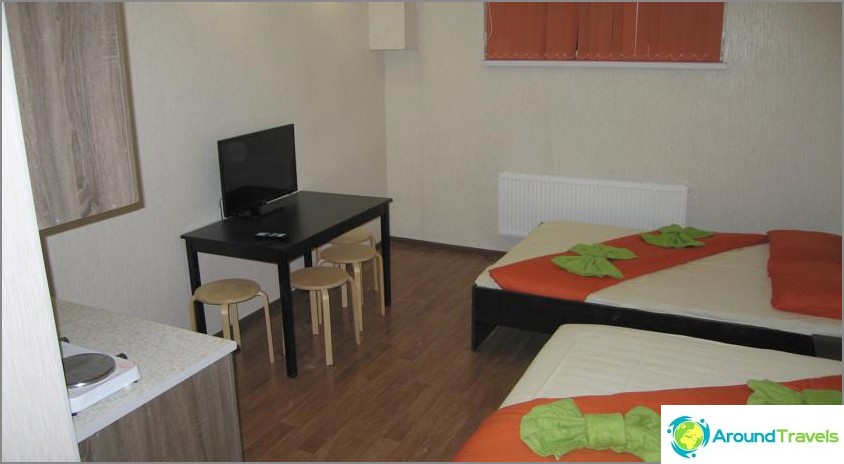 Cost per day: from 3500 rubles
Simple finishing studios in the new house, whichlocated between Dzhemete and Vityazevo, near the sea. This is the main advantage of this property - a quiet place, close to a good beach, literally three minutes walk. Around there are no noisy cafes or discos, calmly at night. From furniture and appliances, dishes have the necessary minimum - a microwave, a refrigerator, a sink, a small stove, a TV, two beds. Near the house there is a shop, parking, cafe, dining room. The station is close, Vityazevo can be reached on foot. Reviews about the owner of housing are good. Suitable for families with a small child or for a couple. Read more.
Apartments in Anapa on Airbnb
One bedroom apartment in the city center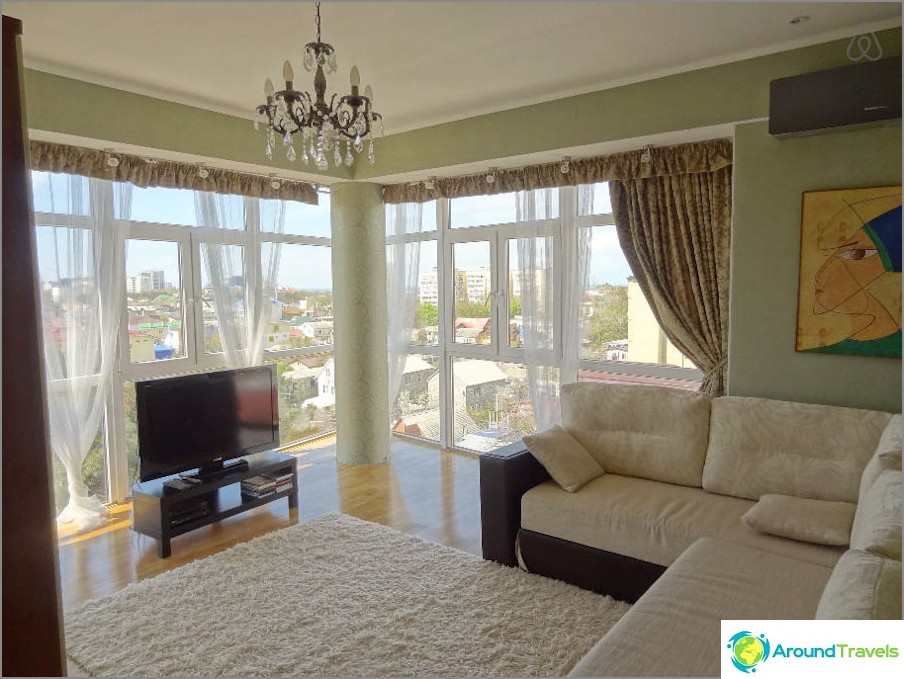 Cost per day: 3002 rubles
Studio apartment on the sixth floor, withpanoramic windows in the living room, view of the city. The house is located 15 minutes walk from the sea, almost in the center of Anapa. The infrastructure around is quite good: there is parking, next to the Magnet shop, a cafe. The apartment can accommodate 4 guests: there is a large sofa in the living room and in the kitchen. The apartment has air conditioning, refrigerator, washing machine, large closet, Internet, kitchen with everything you need to cook. The apartment is suitable for families with children. Read more about the apartment.
3-storey house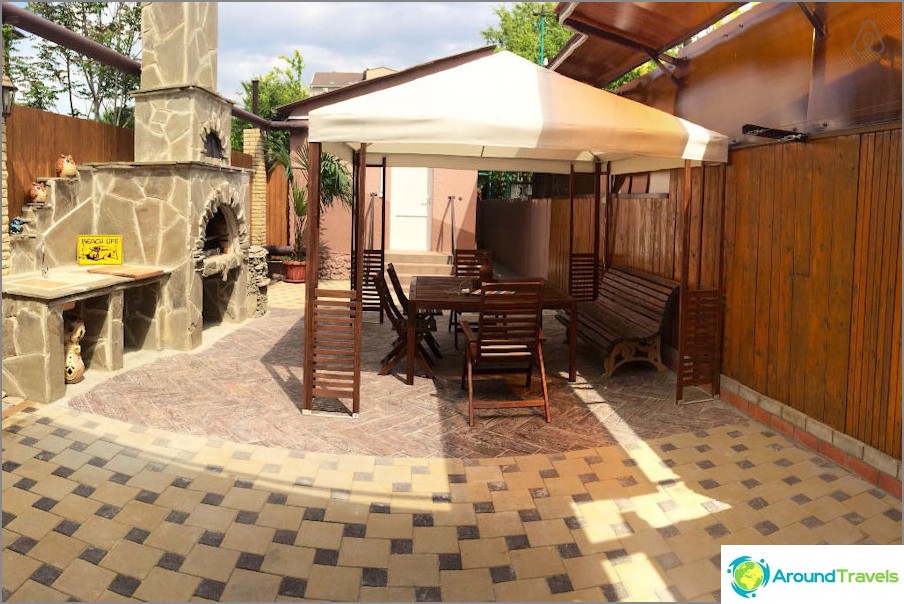 Cost per day: 6712 rubles
Big house, with homely interior, but not withoutdesigner highlights. The house is perfectly equipped with everything that may be required for a comfortable stay. In the well-kept courtyard there is a grill, a gazebo, parking for 2 cars. Suitable for families with children, the maximum number of guests - 8 people. Guests of the house can enjoy accommodation on the territory of the Anapa Surfing surf station on free sunbeds. Read more about the house.
Three bedroom apartments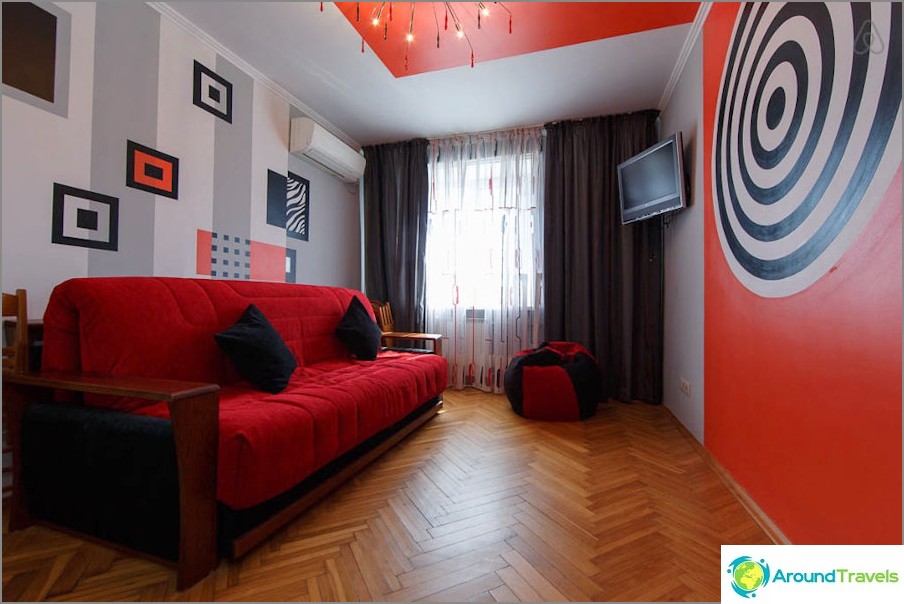 Cost per day: 8352 rubles, extra charge for each subsequent guest is 698 rubles per day after 4 guests
Spacious three-bedroom apartment with new furnitureand decoration, located next to the park to them. 30th anniversary of the Victory. Accommodates up to 8 guests. The apartment is well furnished, there is a washing machine, air conditioning, wi-fi, well-equipped kitchen. The interiors are quite original, new. The minimum rental period is 7 days. Read more about the apartment.
Apartment with sea view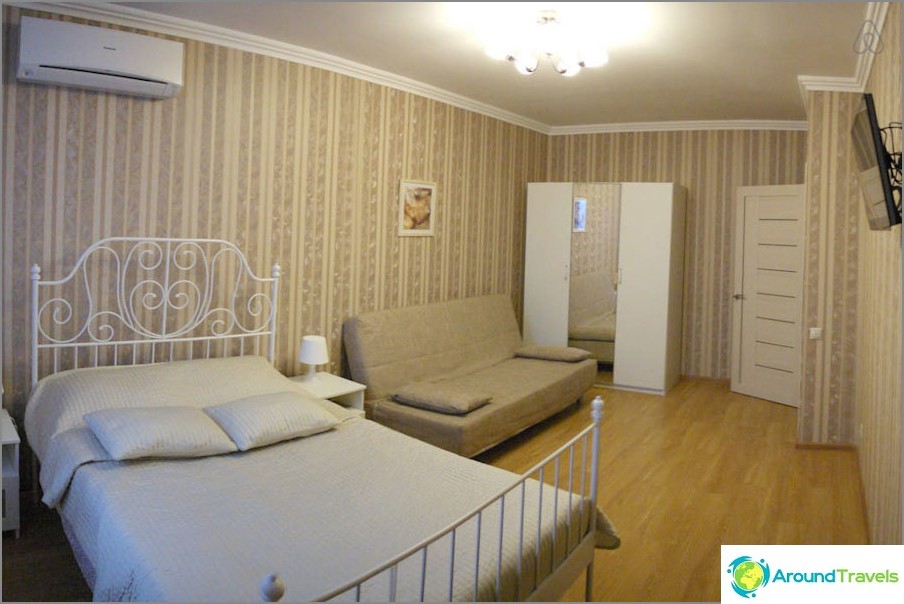 Cost per day: 2906 rubles
Apartment in a high-rise building on the 9th floor, withsea ​​view. Located in Vityazevo. At 700 meters from the house - a sandy beach. The furnishings and furniture in the apartment are quite new, there is a fully equipped kitchen, wi-fi, a split system, a washing machine. On the territory of the LCD there is a grocery store, a pharmacy, covered parking. Nearby is a market with vegetables and fruits. Suitable for a couple or a family with a child. Read more about the apartment.
Apartment in Vityazevo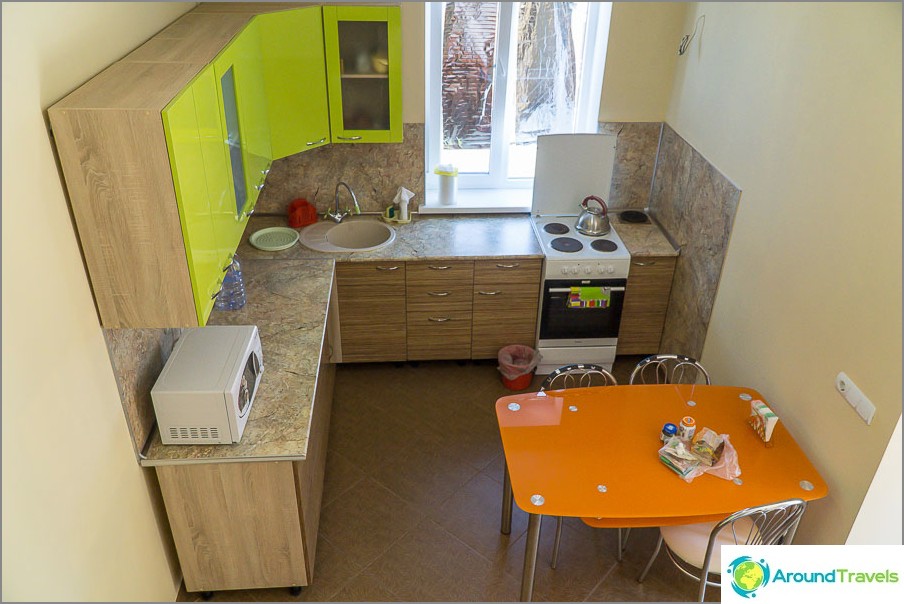 Cost per day: 3559 rubles
New two-story house with a good repair, which is more like a townhouse than an apartment. This house was our second home during a trip to Anapa. The house accommodates four separate duplex apartments with separate entrances. Each apartment has a well-equipped kitchen and a bedroom on the first floor and two more bedrooms on the second. In such an apartment it is quite possible to accommodate a large company of three families, for example. Bathrooms with shower are on the first and second floors, there is also a fireplace and a washing machine downstairs. In front of the house is a small plot of land where you can sit in the fresh air at a table, prepare a barbecue. The furnishings, the furniture in the house is quite simple, but completely new and fully functional. From the house to the nearest shops about 10 minutes walk, so the location is convenient. The house is in a new area, the village is still under construction. The sea is quite far away - about half an hour walk. But if you are by car. it is not so critical. Read more about the apartment.
Three bedroom apartment in an apartment hotel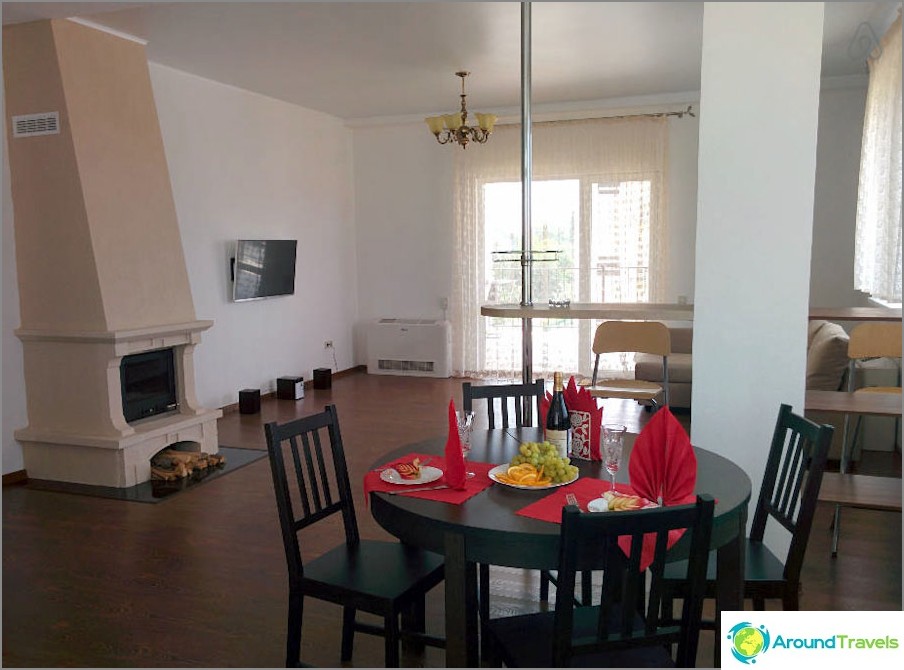 Cost per day: 6011 rubles
This was our first accommodation in Anapa. It is located in a three-story private house,near the beach Dzhemete. On the first owners live, the other two are dealt. The apartment has 3 bedrooms. In two of them there are double beds, in one there are two single beds. The living room is a rather large sofa that unfolds. The area is simply huge and it begs for the stay of the crowd. It is also convenient that there are 2 bathrooms (one of which has a bath), no need to stand in line. In each bedroom and in the living room air conditioners are installed working on cooling in the summer and on heating in the winter. The kitchen is well equipped, there is a refrigerator, an induction stove, an oven, a slow cooker, a large dining table and a bar counter. From the terrace, no particular view can be opened, but there it is quite possible to arrange a gathering of a large company. You can go out on the roof, promise to do another gym and sauna. The price includes daily cleaning. Read more about the apartment.