We finally settled in the house on Samui, soI hasten to share photos of our housing. In fact, I am personally not very pleased with him, he reminds me of some summer house in Crimea, but Daria really likes the view of the ocean, because of which, actually, this house was rented. Now another dream less
Who would have thought that on the most expensive islandThailand can live right on the beach and for sane money, everything is real! Of course, this is not a villa with a pool, but such a house is available to many. True, I would still live somewhere far away, but in a better house, since other things were more important to me, such as the novelty of the walls, equipment, cleanliness, etc., but for a month, why not. By the way, they say, the sound of the sea is very annoying over time, but so far I can not say anything about this.
The content of the article
Our requirements for home
If you rent a house, then read my post-booking instructions: How to book a house in Thailand - 5 ways. Also remind that we have personally collected me catalog of houses on Samuiwhere more than 70 houses with a map and photo. Accommodation for a short period, while you are looking for a house, you can forget via RoomGuru, it's just a mega-service, you can immediately see in which booking system (Bucking, Agoda, Hotels etc.) the hotel you need is cheaper. And we have our detailed review. best hotels in samui.
In fact, Samui is full of housing for every tasteand wallet. There are so-so at home for 10 thousand, and excellent for 30 thousand, and vice versa, so you have to go and watch. A large role is played by the amount of housing on the beach in general and the distance from the sea. If you really need a beachfront (beach front - right on the beach), then you need to prepare for a price increase. If we talk about the average price, then somewhere between 10-20 thousand there will be a good house not near the sea (both within walking distance and not), and 30-50 thousand near the sea (1st or 2nd from the sea ). Alternatively, to rent a house further from the sea, but with a pool, the path is even common, it is somewhere from 15 thousand.
And our requirements for the house were as follows:
- Bang Po beach, since our friends live here and we wanted walking access to them (thanks guys for help in finding!).
- Beachfront or second-third from the sea, that isbetween the highway and the beach, in order to be able to be at sea in 2 minutes, otherwise we will not go to the sea with Egor. By the way, even with the availability of the sea, like ours, we still bathe only once a day.
- Given that between the road and the beach, you need a house not on the road itself, otherwise it's too noisy.
- A large house with an area so that there is not only a bedroom but also one more room
- It is very desirable that everything around the house was not rolled into concrete.
- Kitchen, internet, condo, everything is clear, and like all requirements.
Actually, the first three points we narrowed downrange of homes to literally a few pieces. There were great houses on the other side of the road; there were lots of offers on other beaches. And then everything that is near the beach is already occupied (there is not much housing on Bang Po), and basically there are some Tai-tiles. There was an excellent house for 30 thousand, Eurostyle, with good furniture and appliances, and we even thought to remove it, but we were not told whether it would be handed over or not.
Our house on Samui
Our house just started to pass, judging byto desolation in it, and if it is repaired and tinted, it can be more expensive to pass. But since we are for a short time and with such exaggerated demands, we, in my opinion, were generally lucky to grab a house with access to the sea for only 15 thousand a month. From this, perhaps I'll start, from the beach.
If you are traveling to Thailand for the first time, thenI recommend to book a house or apartment in advance. This is done only through a realtor. Yes, they are not engaged in the cheapest housing and take a commission, but this allows you to avoid unnecessary trouble in an unfamiliar country. Believe me, independent searches on the site is a difficult task and it is not worth it. You're going to rest.
Send me a request, advise a trusted realtor, whom I myself trust. And then in recent times a lot has become a scam.
Send request>
pros
One way to look for a house near the beach isgo along the beach and go to the villages. Actually, I did. Our village is completely Thai, I don't know if this is good or bad, so far there's no difference for us, except that the hostess speaks almost no English. So Bang Po beach is great! There is a relatively long entry into the sea, which is convenient with children, then corals begin, where you can swim with a mask. There are almost no people on the beach, but only for this you can live here! Affects a small amount of housing and infrastructure. In general, the beach and the beach house is the biggest plus we have.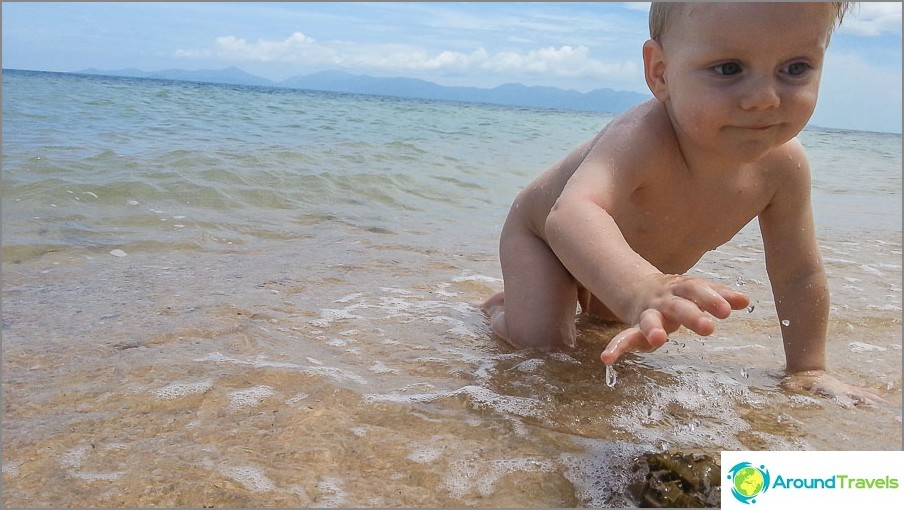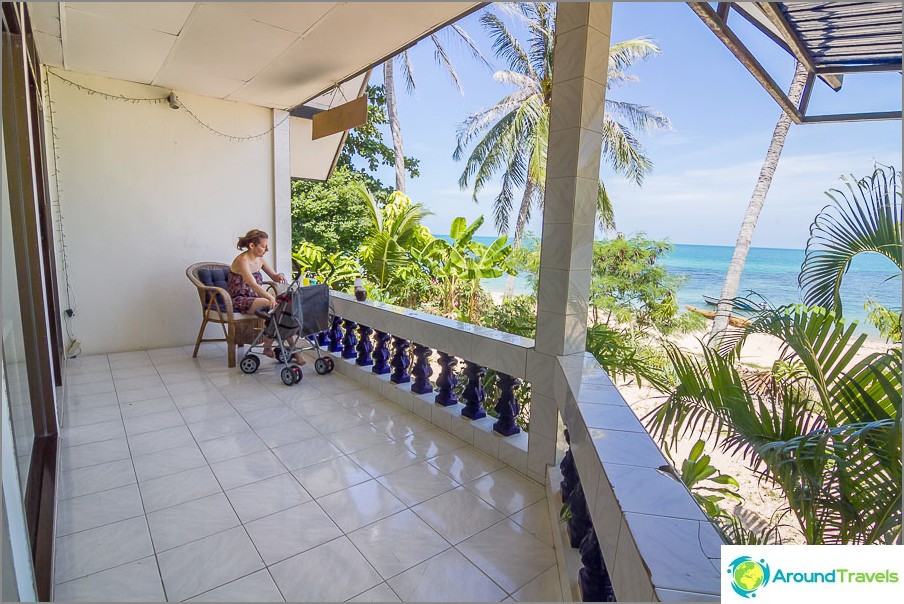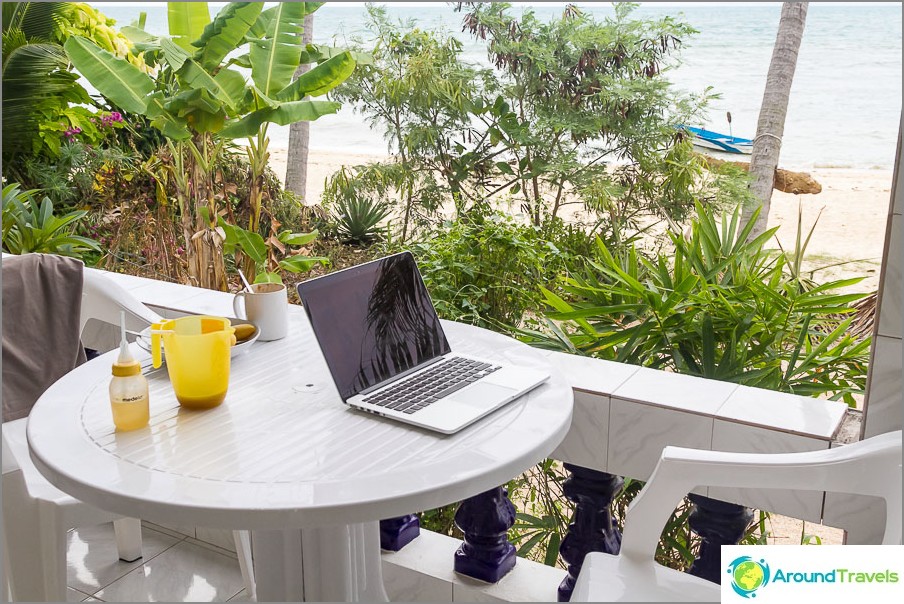 And so in the house 1 large bedroom, 2nd bedroom onon the second floor for extreme sports, the heat there is utter, kitchen thaistyle on the ground (the house itself on stilts), bright living room with a minimum of furniture, a large circular terrace, a standard shower. From equipment condo, gas stove, refrigerator. By the way, when the kitchen is on the ground, it is not very good for crawling children, those who strive to come down the stairs. Although most of the houses in Thailand are not well suited for small children because of the tiled floors, becoming terribly slippery with a drop of water.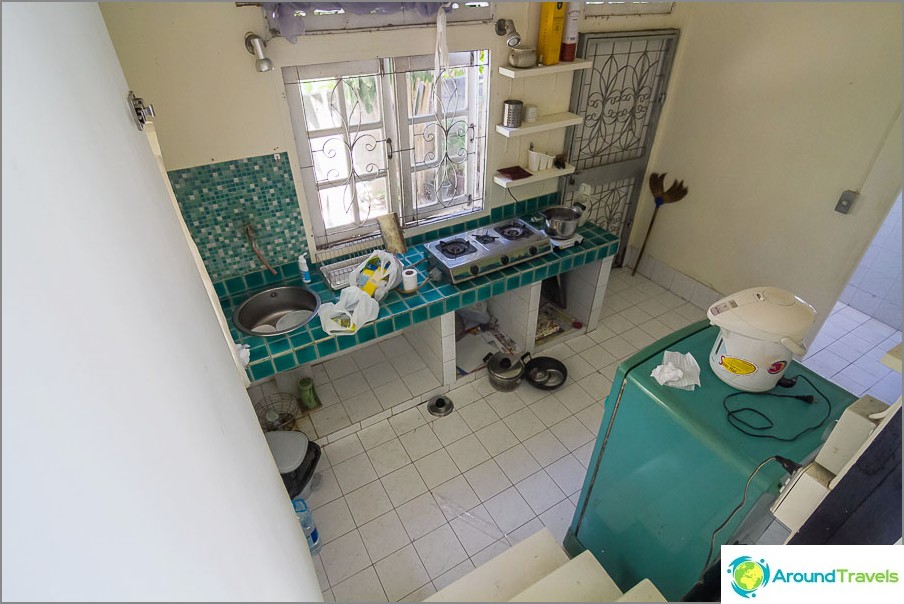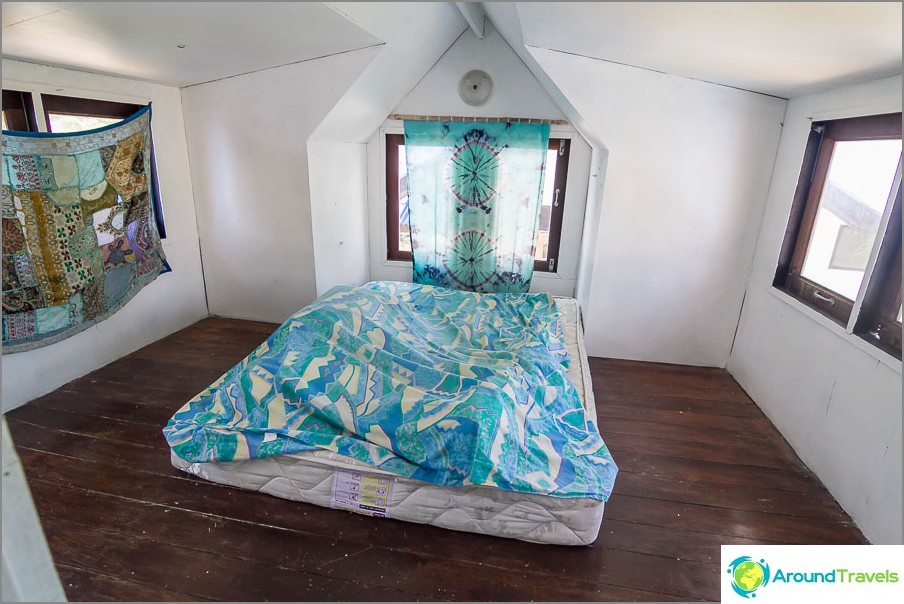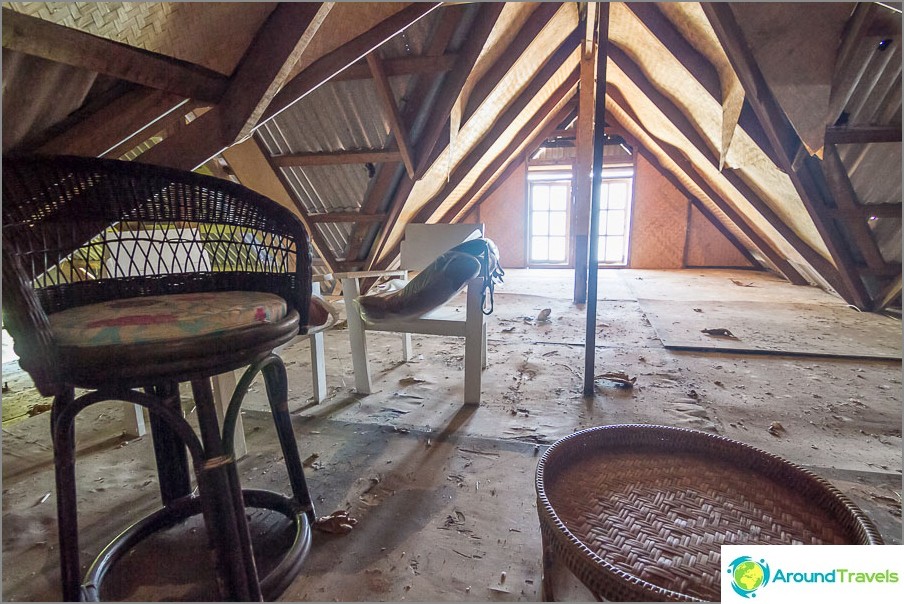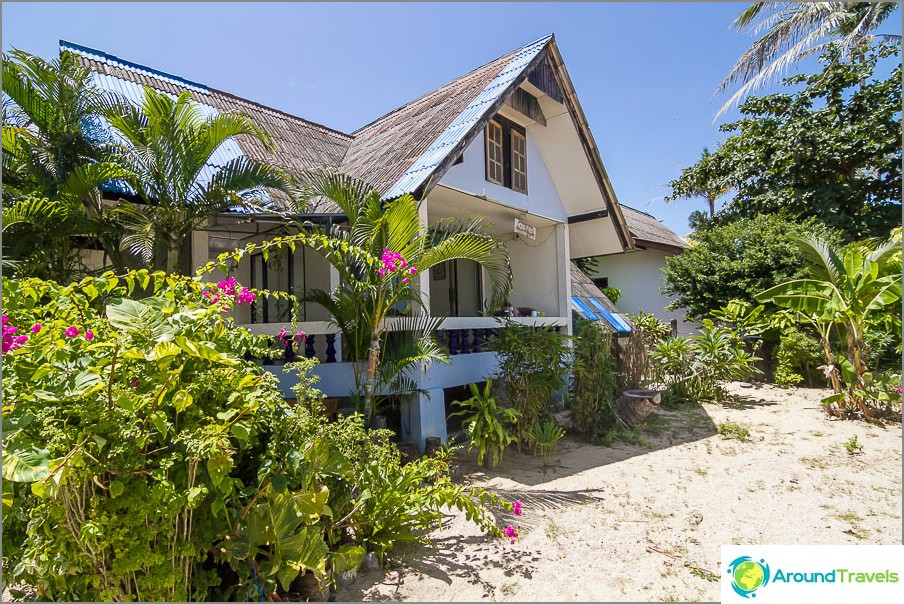 From the technology we lacked only a kettle andrice cookers, which were successfully purchased in Big C for 270 and 320 baht, respectively. And with wifi it is generally interesting, this house does not have its own Internet, so we use the master from the next house. And for some reason he only works during the day (then he started working at night). Either they turn it off, or the torrent hangs on it maliciously swinging something: there is a wifi network, but there is no Internet. But this is rather a plus, I will not sit at the computer at night, besides, I have my 3g from Dtac.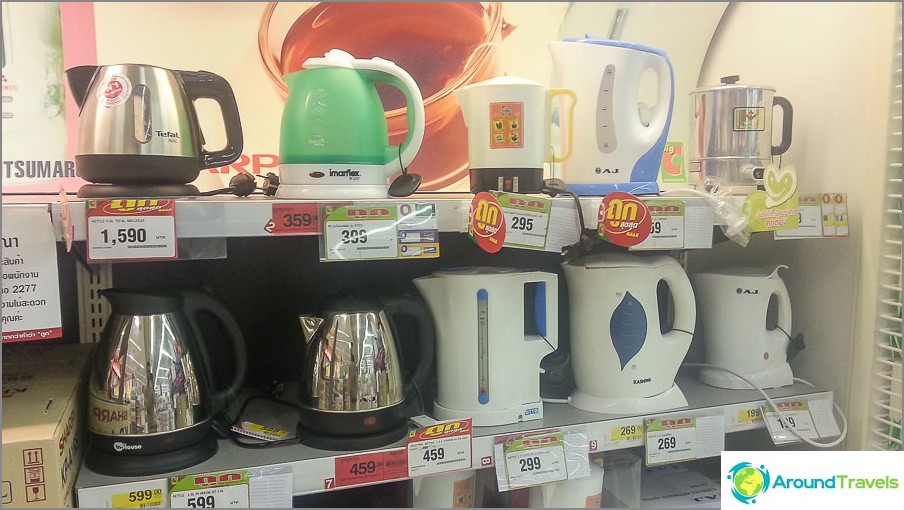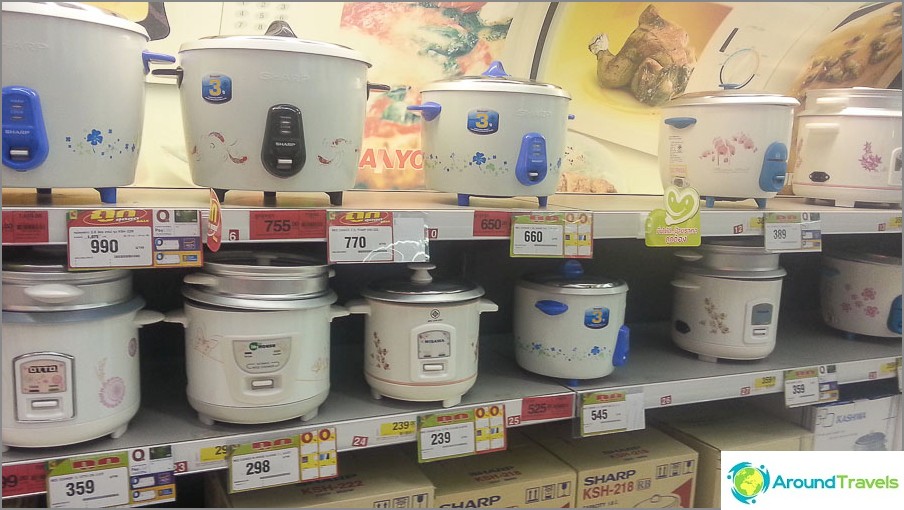 Minuses
Actually, I'm not too squeamish, and Asia is for meI like it, but human dirt confuses me the most. Okay, old things, but when it is greasy stains on the walls, mold, or black tile on the bathroom floor, it is somehow unpleasant already. Although the total killed housing does not add aesthetics. Everywhere there are cobwebs, kotsan tiles, broken ceiling in places, cracks in the walls, current taps, buzzing condo, shabby refrigerator, rusty stove and so on. And if you can just remove the dirt (cleaning costs about 300 baht for a couple of hours), then the fray is more difficult to hide.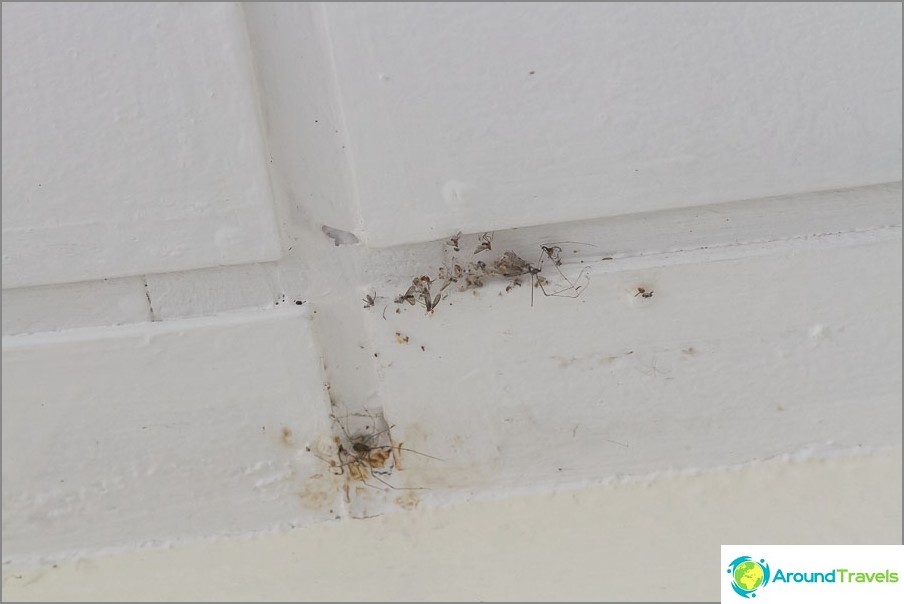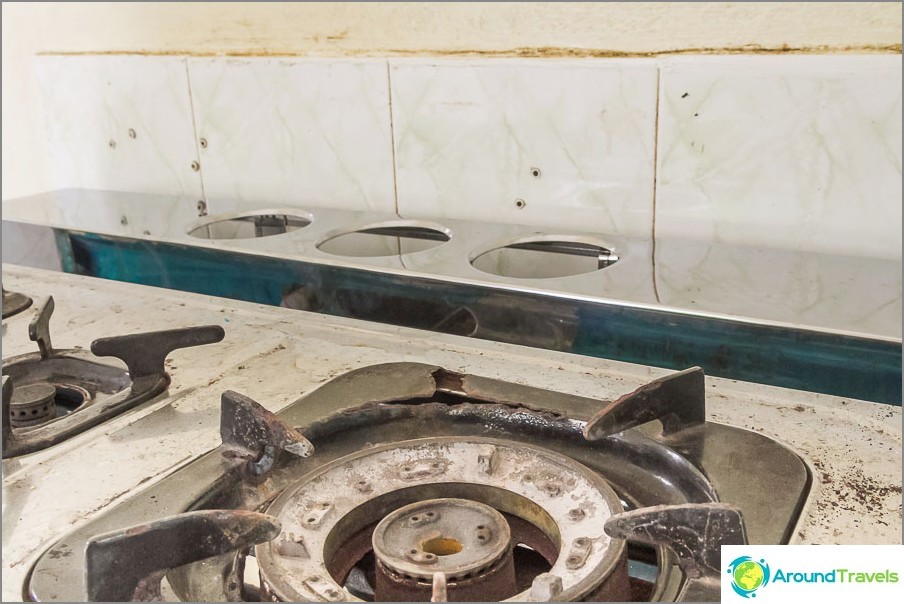 By the way, if you often use air conditioning, anddrive into the house for a long time, ask the owners to clean the indoor unit. Ours broke here the other day, and while it was being repaired, it was also washed, dust and dirt there were tatters. This concerns not only Thailand, but any country that needs to be cleaned and changed filters once a year, otherwise you'll have to breathe.
Conclusions after the move
Upon finding accommodation and moving to second house It turned out that the first house is very good for such money:
- The first line for 15 thousand is nonsense. And at Bang Po, he is almost the only such in October (maybe the situation is better in low season).
- We paid for electricity at state rates, which is two times lower than usual.
- We have a really big house, which is also a plus.
- We have changed the condo, it works great.
- After the cleaning, everything was not as scary as in the photos (but, of course, I still want everything newer).
P.S. Other houses, and ours in particular (map + contacts)look in directory of houses in Samui. Specially made
Life hacking 1 - how to buy a good insurance

Choosing insurance is now unrealistically difficult, so to help all travelers, I compile a rating. To do this, I constantly monitor forums, study insurance contracts and use insurance by myself.

Life hacking 2 - how to find a hotel 20% cheaper

First, choose a hotel on Booking. They have a good offer base, but the prices are NOT the best! The same hotel can often be found 20% cheaper in other systems through the RoomGuru service.

Discount hotels