Well ... Again, cheer. If last time Egor and I, now Egor and Daria. Classes are again postponed, and we have to leave soon
If it were not for this, they would not have been particularly worried, likehow not much sick. Once again I understand why people come here for at least 3 months (and preferably for half a year) in order to have time to work out between illnesses. I thought that in the tropics we would hide from Chinese infections, but it was not there. Thank God that it is much easier to get sick in a warm climate, it is not necessary to humidify the air and run from cold drafts.
Okay, I will tell you why we are treated with such a strange
Why is it easy to get sick in China
It is generally a shame every time at rehabilitationHere begins such a garbage, which gives a pullback. Egor is weakening and everything must be started anew. So it was in Moscow, then in Olinek, now in China. Everywhere, where children, there are viruses
Although in Thailand, Yegor was hardly ill (forHalf a year literally a couple of times with snot and without temperature almost), but there we interacted very little with the children (classes were almost isolated from everyone), and the Thai therapists did not come in sick to work or were wearing masks. In ordinary Thai life, there are also enough viruses, but basically all the complaints about kindergartens, where the winterers give their children, even those who are sick.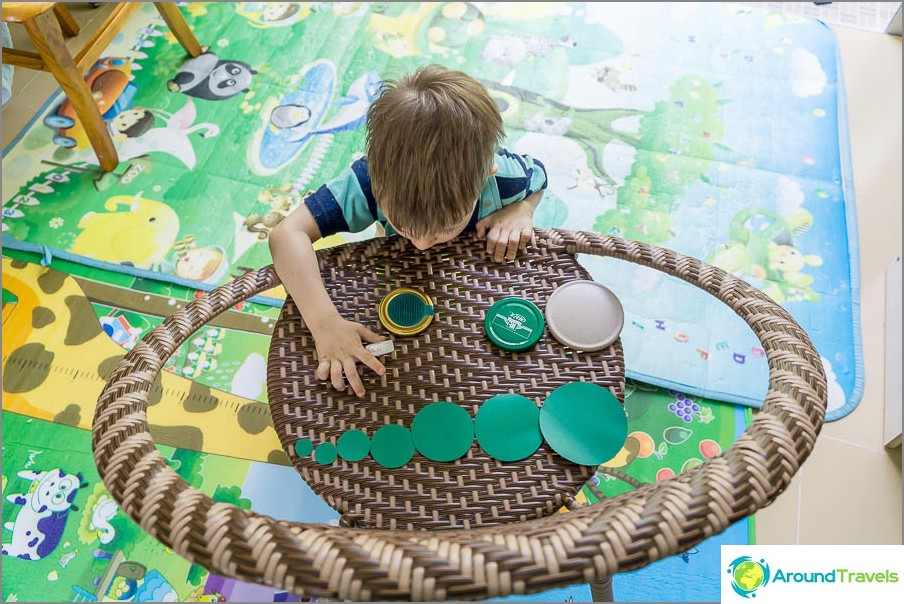 China is a special case.it is customary to get sick at home, so everywhere are sneezing and coughing Chinese, including our doctors and therapists. Add to this the constant shark and spitting (well, that is not on the floor, but somewhere in the window), as well as smearing snot on the wall (not kidding), here we get an eternal hotbed of infections. No wonder there get sick.
And we are not alone sick. The neighboring boy has been coughing strongly for two months, and now he has just become easier. The family from the next wing got sick with us both times. A month ago, snot and temperature, and now just as coughing (both mother and child). Our doctor has been coughing for weeks too.
How to treat cough in China
In China, there are two medicines, as far as I understood, TCM(traditional Chinese medicine) and western. Since Egor doesn't get very sick, we didn't go to the hospital, but went to the doctor at our rehabilitation center, and he is clearly a supporter of BMT. Therefore, he prescribed us to drink balls (?????) or syrup (??????) from the infusion of the horns of antelope. Oh how! Actually there are plenty of ingredients, but this one I remember most of all. Unfortunately, I can't tell you the details, because everything is in Chinese, but there's more like honeysuckle, orange peel, bell, licorice and so on.
Syrup and balls differ in composition, doctorbelieves that the balls are more effective. From the experience of use, I can say that the cough has become wet and Egor clears his throat, that is, he gradually becomes better. Local guys say that the drugs are safe here (such as on herbs and all that), but they take longer, so time is needed.
The balls, by the way, are very funny. Kinder surprises resemble, but small. You take it in your hand, push it and it breaks. Moreover, the shell is plastic, but outside it is for some reason covered with something resembling wax, you can knock it off with a fingernail. Type all natural? Yeah, I just picked it up with my fingernail and then from the other side, and then there was ordinary plastic.
Inside the Chinese medical kinder, a ball of gum consistency, to taste, like some kind of sweet squeeze of herbs.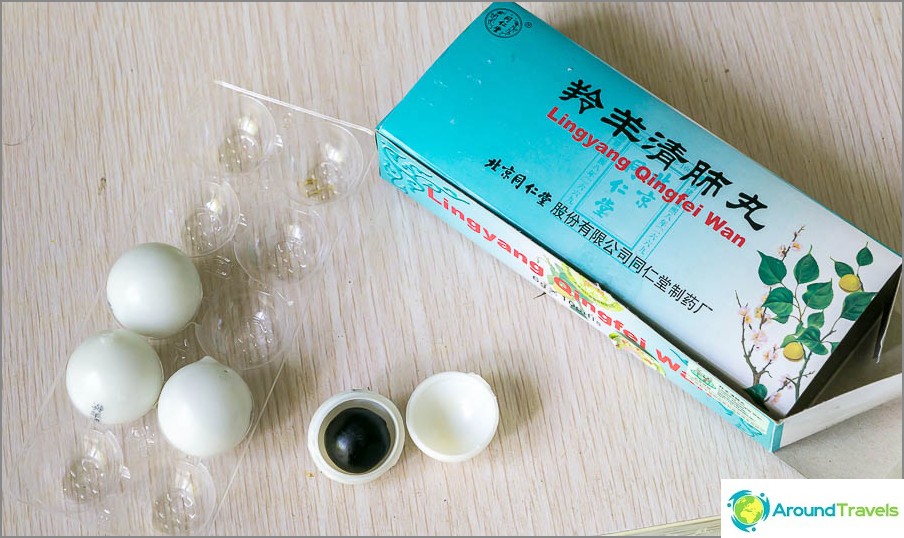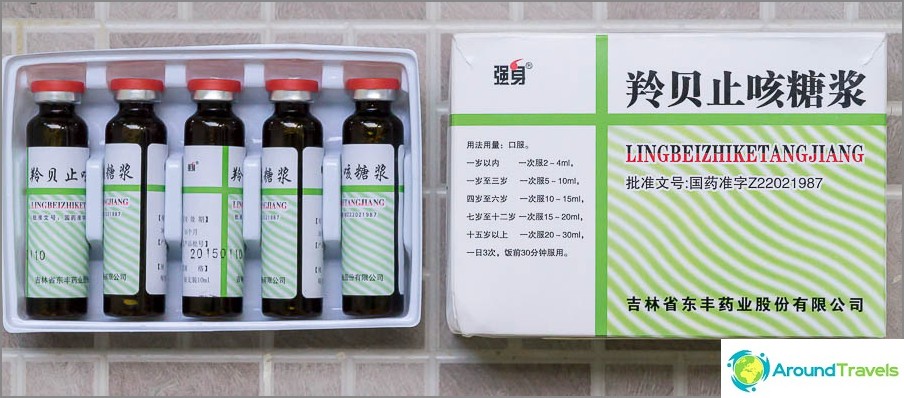 Since I don't really trust the antelope's horns,decided to buy more Lasolvan, or rather any syrup / solution with the active ingredient Ambroxol, in English Ambroxol. On the basis of it, other syrups and solutions for inhalations are made - Ambrobene, Ambrogexal, Bronkhoksol, etc. Knowing the Chinese name to buy the right medicine is not such a big problem. A little later I will write instructions on how to look for a medicine abroad, in the sense of analog. So in a pharmacy, I showed the Chinese name (screenshot of the site) and then already showed on the phone in the translator in Chinese "syrup", "for child", because at first they wanted to give me ambroxol tablets. In the end, he took ????????? (Abroxol solution for oral administration).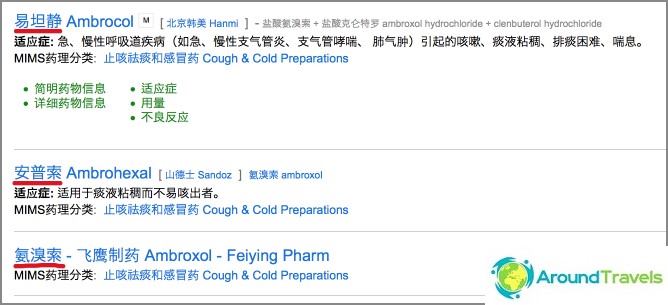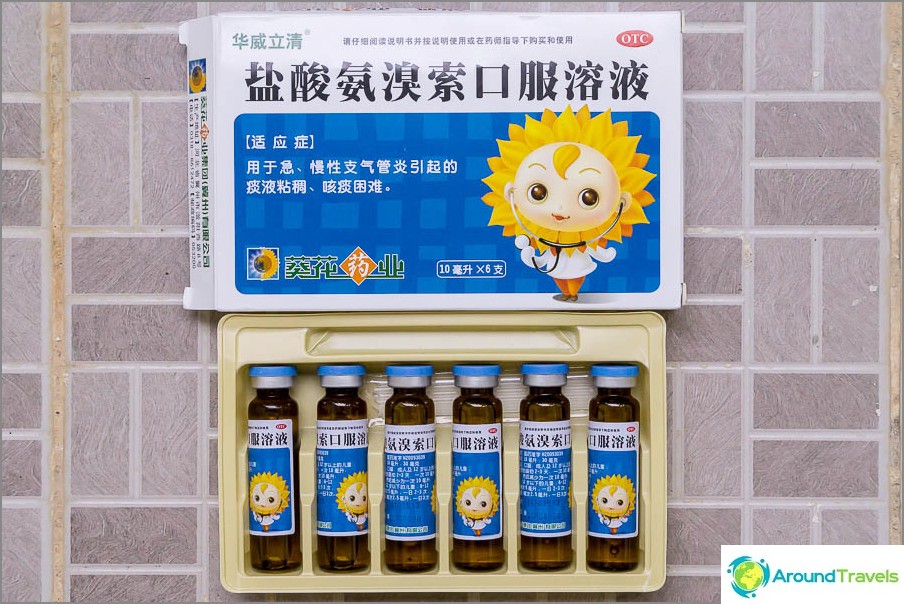 But there are no problems with inhalations in China, everything is the same. Full of all sorts of balms, ranging from the usual and familiar to us asterisks, ending with tiger balm, so beloved by us in Thailand (what I bought in Thailand).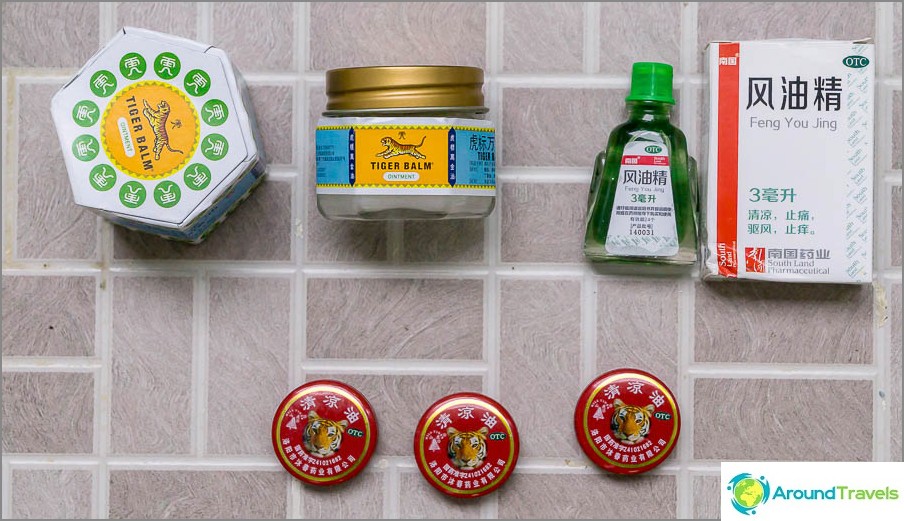 The biggest challenge in China isthat it is possible to show something in a pharmacy, but that's what they will say to you in return, you won't understand at all. Moreover, when they give medicine, you cannot check either, and they either give it, because there is not a word in English. But I was lucky, I came home, sfotkal box (thanks, Google Translate), translated and found out that I bought just what you need. Therefore, ideally, to come to the pharmacy prepared and with a box of medicine or her photo.
P.S. Naturally do not forget about traveler insurance. If something serious begins, it is better to go to the hospital right away than to self-medicate.
Life hacking 1 - how to buy a good insurance

Choosing insurance is now unrealistically difficult, so to help all travelers, I compile a rating. To do this, I constantly monitor forums, study insurance contracts and use insurance by myself.

Life hacking 2 - how to find a hotel 20% cheaper

First, choose a hotel on Booking. They have a good offer base, but the prices are NOT the best! The same hotel can often be found 20% cheaper in other systems through the RoomGuru service.

Discount hotels