When we were preparing for the first winter in Thailand, we had a choice what plasticcards do what bank to use. At that moment we made ourselves a multi-currency Visa card from Alfabank and a ruble Mastercard of Sberbank. A couple of years later, they almost completely transferred to Tinkoff, making a Tinkoff debit card and AllAirlines travel credit card from them, and they are satisfied in principle, but more on that in another post.
Links to other posts about our financial calculations, as well as other topics of interest to independent travelers, you can see in the FAQ Winter in Thailand. If you have questions, first of all look there.
The content of the article
How we chose the bank and bank cards
When we began to actively travel as wellgathered for the winter in Thailand, a number of questions arose - how do we get money from Russia, how to withdraw money in Thailand, etc. Basically, it was a question of choosing a bank that could give us all this.
I read a number of topics on the forums, a lot of all sortsreviews, looked at the rating of banks. But I didn't meet with a single opinion, saying that this bank is the best in all respects. Unfortunately, you have to choose. Our criteria were:
Receiving one-time passwords via SMS and no need to come to the bank for them (needed to confirm transactions when paying online)
Good internet banking, preferably with the possibility of vyh I / O Webmoney and Yandex. Money.
More or less positive feedback about the bank.
It seems nothing supernatural, but not all sosimply. Good online banking is not so much. Positive reviews even less. After weighing all the pros and cons, I chose Albank and Sberbank, which in the ranking are not the best places.
The first is for internet banking with everyoneopportunities and a multi-currency account tied to one card, and the second simply because there was already such a plastic card, and did not change it. Especially since most of my life I live in Russia and the extensive ATM network in the country is very convenient. Yes, and Sberov cards have almost everyone now, so you can instantly get money from someone. And now there are actually more options, and I think to change Alpha to Avant-garde.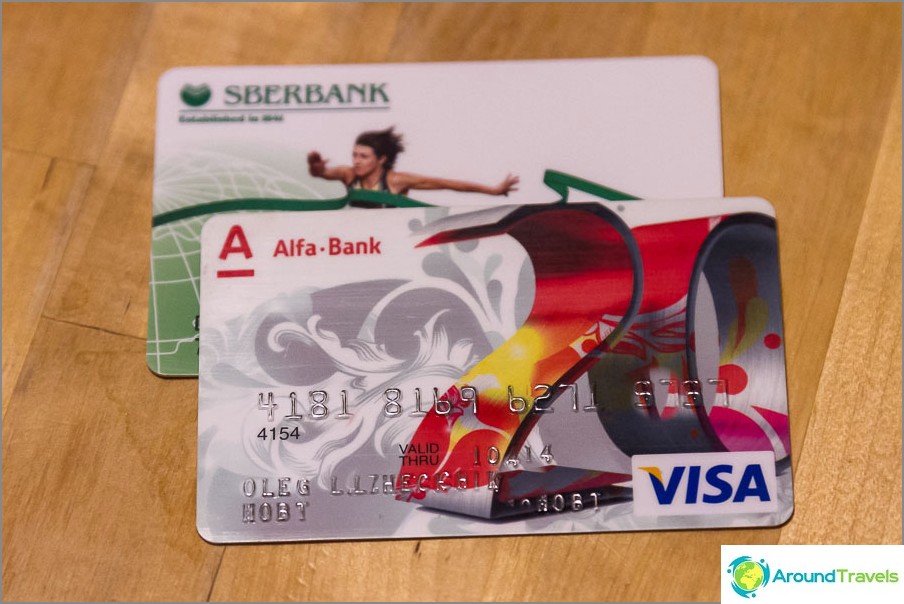 By the way, I wrote about one-time passwords. Some banks issue them only by checks at an ATM, or in the bank branch itself, which is very inconvenient for travel. Earlier, for example, Avant-garde sinned with these and issued scratch cards, but now they have also entered SMS passwords. Read more about one-time passwords I wrote here: Which bank card to choose.
Pros and cons of Alfabank and Sberbank
Alfa Bank
(+) The most convenient Internet banking compared toby three. You can make any operations with your account, make deposits, withdraw or enter electronic money at the moment, switch the account currency, if it is multi-currency.
(-) A lot of negative reviews regardingcash withdrawals at Alfabank ATMs, they say money is written off, and the devices do not issue them. Tolley is the machinations of enemies, or it really is, but I myself did not come across.
(-) OIF / CBF fees are not transparent whenconversions, there is no information through what currency work with payment systems. On the forums they write that 1.7% for both Visa and Mastercard. They also work with Mastercard only through dollars, which means getting into a double conversion everyone who uses such cards in Europe.
Sberbank
(+) The largest number of ATMs byRussia, which means it will almost always be possible to withdraw money without a commission. It is also very convenient for money to be deposited in Russia. To do this, you need to know only the card number, and come to the branch, which is in almost every district and every subway.
(+) OIF Commission for Visa 0.65%, which is very smalland 0% for Mastercard. They work with payment systems both in dollars and in euros. For example, Thai baht converted BAT => USD => RUB for both payment systems, if the account is in rubles.
(-) Long queues at the bank. Simple operations are made for a long time, such as connecting / disconnecting a mobile bank and sms notifications, and employees contradict each other if you ask questions. By phone, too, few issues can be resolved.
(-) Affiliates are not related to each other, all actions on the card are only in the branch where they issued the card.
More about payment systems, how the conversion takes place, I wrote here: Which bank card to choose.
Fee for cash withdrawals at ATMs of third-party banks - 1% from Sberbank, and 1.2% from Alfabank.
Internet banking, Webmoney, Yandex.Money
Electronic Money TransfersNow it is possible to carry out in many Internet banking. In Alfabank it appeared one of the first, it is done in two clicks and immediately after linking the account to the accounts. The commission is really not very happy:
POISON => Alpha - 3%
Alpha => Poison - 0%
Webmoney => Alpha - 2.8%
Alpha => webmoney - 1%.
Although such a commission is now everywhere, if we talk aboutinstant payments related to electronic money. If you want minimum fees, you can withdraw Webmoney to any bank account through the Guarantee Agency (0.8%), although the transfer is done in about a day. Also for the withdrawal of Webmoney there is a bank Opening with a good commission.
P.S. This post is already outdated. We now have other cards, details in this post. Although in principle the card from Sberbank remainsrelatively useful card, at least for the reason that usually everyone has it, and it is easy to make a transfer or receive it. It makes sense to do exactly Mastercard from Sberbank, and not Visa, the commission will be better.
Life hacking 1 - how to buy a good insurance

Choosing insurance is now unrealistically difficult, so to help all travelers, I compile a rating. To do this, I constantly monitor forums, study insurance contracts and use insurance by myself.

Life hacking 2 - how to find a hotel 20% cheaper

First, choose a hotel on Booking. They have a good offer base, but the prices are NOT the best! The same hotel can often be found 20% cheaper in other systems through the RoomGuru service.

Discount hotels