Guest post from our reader Artem, on the topichow to withdraw money earning blogger in Ukraine. It will be about making money on Youtube and Adsense and withdrawing money through Epayservices. Something similar I have already considered in my article about withdrawal of income through epaymentsonly it was about Russia.
I decided to write about what remains "behind the scenes"but it may still interest novice bloggers or those who are eyeing this type of earnings. It will be about how to withdraw the money earned and what difficulties you will most likely have to face.
Initially, I just wrote articles on the site,Apple-related topics. Reflected to this as a hobby in his spare time. I really wanted to share my experience and observations with others. Of course, this brought a small financial benefit, which was enough to pay for the Internet, mobile, etc. For two years of writing manuals and reviews, I gained a lot of experience and decided to start making videos on youtube, complementing my articles with them.
Now more than a year I have been running a Youtube channel with4000 subscribers and 5000 views per day. From the first month I made all the procedures necessary for monetization and cents began to accumulate on the virtual account. As you understand, it will be exclusively on earnings on YouTube, with the withdrawal of funds through ADSense. Of course, in the first months the income was generally penny. After about 7-8 months, my accumulations for the first time went beyond the limit of payments, and I eagerly began to wait for the cherished check.
The content of the article
Adsense checks
For residents of CIS countries to receive payment is possibleafter receiving (by email) a letter with a check and cash it. At the moment I have already received two envelopes from Google and I can say that the European and Ukrainian mail is working normally, despite common prejudices. Letters from Ireland (it is from the office in Edinburgh that checks are sent to Ukrainians) reach an average of 10 calendar days. Although Google declares a minimum of 14 days.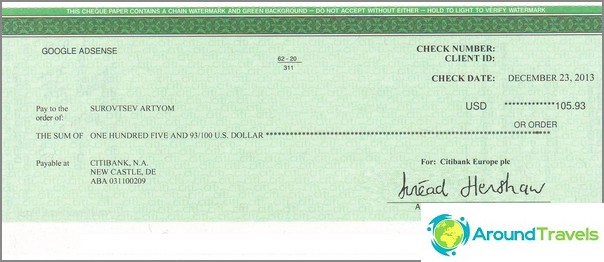 Output via Epayservices
To cash such checks in Ukraine, and in othersCIS countries is not entirely simple. As in the USA or Canada, they cannot be brought to any bank and receive the cherished dollars, well, or their equivalent in national currency. You have to contact the relevant organizations. After a long search and comparisons, I decided to trust http://Epayservices.com/.
The procedure is as follows:
Register in the service
Sign checks in a certain way
Scan them on both sides and send a scan by e-mail
After confirmation send the original by mail or courier service
Wait for enrollment and withdraw funds
The service offers the following output options:
Payment card service - the most profitable solution for those who earn a lot and regularly. You have to pay for the contents of the card every month.
Money transfer to the bearer or to the bank account
Output via WebMoney
With the release of the card, I have decided not to get involved.due to the fact that now I receive about $ 100 / once every 2-3 months, and I have to pay $ 6 for every 30 days for a card / account. In order to receive money through another bank, you need to go there twice (the first time you open an account and find out the details, and the second is to withdraw money). For the first time, I decided to transfer funds to a WebMoney wallet.
Personal experience using Epayservices
I already had two checks in my hands and I quicklyscanned them and sent to Epayservices. Less than 24 hours a day they were accepted. I sent the originals through New Mail (I decided not to get in touch with Ukrposhta), I gave for sending documents along the warehouse-address $ 3.5. After 2 days, the checks arrived at the destination and the funds were credited to my account.

When withdrawing to a wallet WebMoney encountered the following problems:
Fortunately, I have already withdrawn funds from my wallet and I have a formal certificate for this. Otherwise, you will have to send scans of your passport to the administration and wait for 2-3 days to confirm them.
The daily limit on the transfer of funds in my case was limited to $ 200, and the Epayservices account was 200 "with a penny" and had to be sent twice.
Payment was declined as a limit of $ 400 was reached on the wallet.
After the withdrawal of old funds, I tried again, everything went in three days.
Now it remains to withdraw money from WebMoney. Of course, you can leave them there and pay for the phone, Internet, services and online purchases. However, if you plan a serious salary, you will have to deal with the conclusion. Moreover, you cannot pay WebMoney in a store, cafe or supermarket.
For previous conclusions, I used the cardI will only say that one of the banks in Ukraine is the most popular and widespread bank in our country; compatriots will understand which institution I am talking about.
Transfer directly from Epayservices to this cardit was not possible, in view of its limitations. I think that in the future we will have to open a second card for transfers, well, or get an Epayservices card. In the meantime, I brought money to a bank card, for which I still gave a certain percentage (transaction + conversion from USD to Hryvnia) and waited about a day. Just had to look for the exchanger with the most favorable rate. Given that the course Nat. The bank at the time of the exchange was 11.6 - it was not possible to find the offer in the network better than 10.8.
Now you can pay with the national currency in most establishments and retail outlets, or you can cash it out for another interest.
Cash loss on withdrawal
At the end of the story I will tell you what allsame losses with this method of withdrawal. Of course, for the following operations I will optimize the output circuit to lose less, but for now - the results are as follows:
Amount Lost AdSense Percentage -due to the fact that the payment was made by the European branch of Google, the money was initially credited to the Euro, and then transferred at the rate of USD and sent a "green" check. 78.43 euros
76.07 euros Any exchange is a loss, but here there are no options, so that, do not take into account the conversion. Received by mail two checks in dollar equivalent. It's good that Google pays for shipping. $ 105.93
$ 103.79 -
"Sending check originals to Epayservices cost $ 3.5 for two checks, and you'll have to send each at that cost. $ 103.28
$ 101.20 $ 2.65 (2.5%)
$ 2.59 (2.5%) Transfer to WebMoney (split the amount into two transfers, in any case,% fixed) $ 102.46
$ 100.4 $ 0.82 (0.8%)
$ 0.8 (0.8%) Transfer to a bank card (a percentage is charged for converting a Dollar into Hryvnia and for transferring funds) 1108 UAH.
1086 UAH. $ 6.9 (6.7%)
$ 6.7 (6.5%) If you withdraw in cash, you will have to pay another 1% of the amount. These are the conditions of a particular card, with other cards and banks it may be different. 1096 UAH.
1075 UAH. 11.8 UAH (one%)
10.75 UAH. (one%)
The table contains two numbers, each of them on a separate check.
As is clear from the table, the maximum loss onwithdrawal phase from WebMoney. Considering what problems and complexity they have with limits, certificates of exchange, I will definitely refuse from this method of withdrawal in the future. When earnings become permanent, the easiest way is to get an Epayservices card or open a bank account for withdrawal from this service.
Time loss during withdrawal
To the account of time expenses I summarize what was said earlier:
Creating an account and sending a check from Google will take up to 14 days after the month in which the payment will exceed the payment threshold (the threshold is usually $ 100).
Delivery of the check from Ireland to Ukraine up to 14 days.
Scanning the check and sending it to the office for cashing (from Donetsk to Kiev) 2 days.
Transfer of money to the account in the service cashing - 1 day.
Transfer from the service to WebMoney - 1 day (in my case, 1 day for every $ 100).
Transfer from WebMoney to a bank card - 1 day.
Total from the moment of receiving money in the AdSense service from Google to an opportunity to receive them on hands will pass about a month.
I will be glad to answer your questions in the comments.and listen to other ways of cashing Google checks. I would also like to know the statistics of other bloggers earning on YouTube, in exchange, I am ready to share my own.
Life hacking 1 - how to buy a good insurance

Choosing insurance is now unrealistically difficult, so to help all travelers, I compile a rating. To do this, I constantly monitor forums, study insurance contracts and use insurance by myself.

Life hacking 2 - how to find a hotel 20% cheaper

First, choose a hotel on Booking. They have a good offer base, but the prices are NOT the best! The same hotel can often be found 20% cheaper in other systems through the RoomGuru service.

Discount hotels