Having accumulated experience of several winters, withdrawing money invarious ATMs / banks and various cards, and also having finally figured out all the conversions, I am writing an article about withdrawing money in Thailand. Yes, and to be honest, there were too many wrong conclusions on the Internet about commissions, about how to save money on withdrawals. People do not even delve into the topic, and then they say that one card is more profitable than another.
In this post we will talk only about where to shoot and how to shoot. Choosing a bank card for travel leave for another post, otherwise the article will become too long.
The content of the article
How to withdraw money in Thailand
You can withdraw cash from any card that worksabroad. To do this, you only need a PIN code (ATM) or a passport (bank). There are only 2 ways to withdraw money from a bank card in Thailand. I will tell about each in detail.
How to find an ATM
The ATM in Thailand is called ATM, and it's ATM that you need to ask local people (hey-th-em), and not otherwise. Signed, by the way, they are also everywhere, like ATMs. There are no ATM ATMs, they do not suit you.
ATMs on the streets work around the clock, andlocated in shopping centers, of course, closed with them. There is no problem finding an ATM in Thailand, they are almost everywhere. Often they are located near the entrance to 7-eleven.
Shopping centers are usually open from 8 am to 10evenings The bank branches located there usually close at around 19 o'clock, but the ATMs are located outside the terminal and are completely independent of the closure of the branch. Although there may be exceptions, when I cut off Aeon ATMs, as soon as the bank began to close, I barely managed to get the card.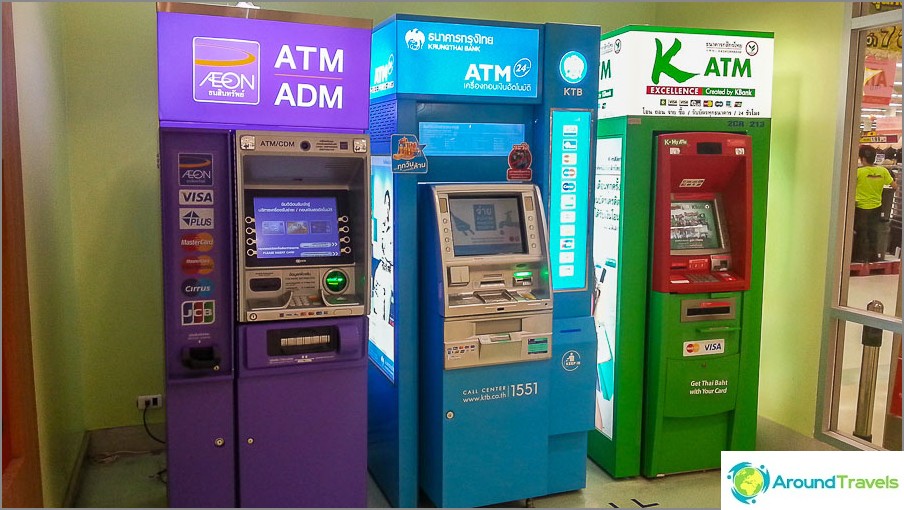 What currency can be withdrawn from an ATM?
Always ATM gives you only Bats. Neither dollars, nor euro, nor rubles, namely, baht, and it does not depend on what is on your card. You immediately remove the bats and you do not need to change anything after the removal. They took the money and went to the store with them. But, if the store is large (Tesco, BigSi), then it is better to pay with a card, but more on that below.
If you want to ask yourself a task, thenmake out a Tinkoff card, open an account in baht and withdraw 1 to 1. By the link you will receive 3 months of service as a gift. Just enough to test the card in action. Then it will not be necessary to bother at all on currency rates. How I shot bats from the map.
Check out the Tinkoff map>
If you need one or another currency, then you will need to find an exchanger. With their search, too, there are no problems, they are, both separately and in each bank branch.
The only place in Thailand where you can rentdollars - the transit zone of Bangkok Suvarnabhumi Airport (Duty Free zone), there are currency ATMs (dollars, euros, pounds). I specifically checked when I flew away from Thailand. Yes, it is during your departure that you will have access to these ATMs. During the arrival, while you are going to passport control, I have not seen such ATMs.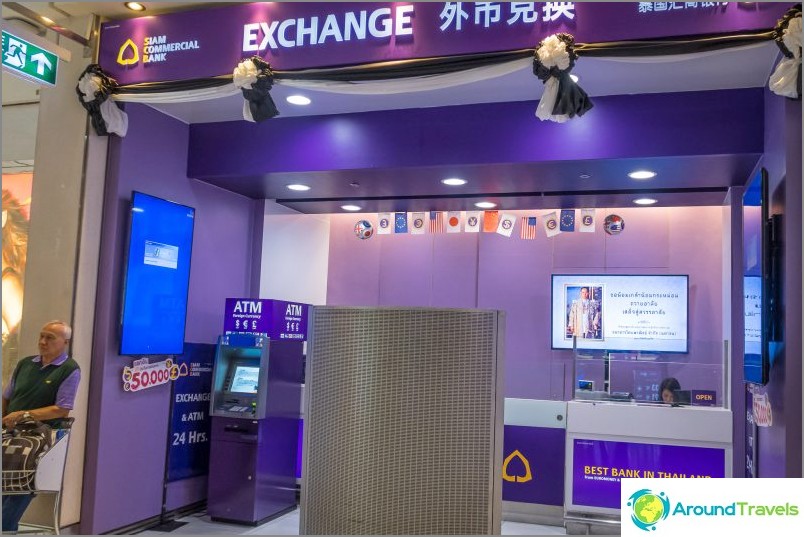 Exchange rate at ATM (IMPORTANT!)
ATM does not change you money, it only themgives out. All exchanges are carried out by your payment system (Mastercard or Visa) and your Russian bank. Therefore, it does not matter in which ATM to withdraw money.
However, after all the exchange may be, if you are onagree with him yourself. Some ATMs offer conversion at the Thai bank rate. The question appears on the display - "Like, let's convert, the course is so-and-so, do you want?". If you see this, you must refuse and choose without conversion! Thai bank rate is unprofitable, and it is worse than your payment system. Here is my instruction To withdraw money at specific Thai ATMs, see the photo of how it all looks in practice.
If you agree, they will be removed from the card altogether.not what you expected. This error is often made by people who do not read what an ATM writes, and then swear at bad exchange rates for certain cards.
Commission and maximum amount in ATM
Thai ATMs take their ownfixed commission 220 baht. It does not depend on anything, either on the amount of withdrawal, or on your card, or on your citizenship, or on a Russian bank. The commission is permanent. Earlier in some ATMs there was no commission, but now all ATMs take this commission.
Also, all ATMs have a limit onthe maximum withdrawal amount is 20-30 thousand baht. In order not to pay the commission several times, you can shoot immediately to the maximum for a month in advance. And, on the contrary, you should not take small amounts, you will give extra 220 baht for each operation.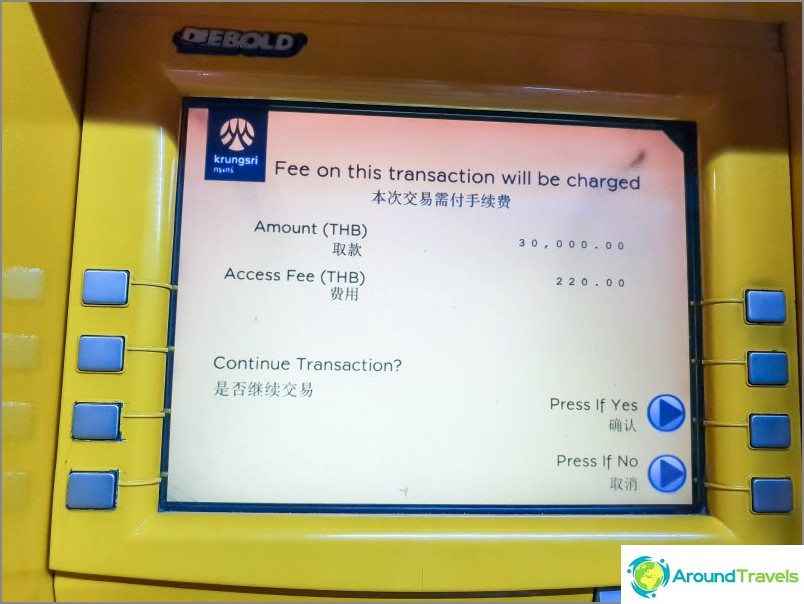 How to withdraw money in a Thai bank
It is said that some banks also have a commissionappeared and is 180-220 baht. I can't say for all the banks, because I last shot at Krungsri Bank in late 2018 and there is no commission there. Previously, this commission was not exactly anywhere.
Come to the office and speak English"Cash advance" or "withdraw from credit card". You can also get a card, passport, and wave, which, they say, I want to withdraw money from the card. Most importantly do not forget your passport! Without it, they will not give you anything in the bank, it has already been pinched itself several times and you had to rent it at an ATM.
When withdrawing money, your scan is often done.bank card, so that paranoid people might not like it, as well as the fact that they do not always ask for a PIN code. Although the latter again often depends on the settings of your card.
Far from all branches will serve you, sometimes Thais say that they do not have a card machine and send them to an ATM ... Sometimes they pretend they don't understand or advise them to go to another bank.
If ATMs are round-the-clock, then banks operate most often from 8.30-15.30 from Monday to Friday. In shopping centers longer, hours until 19-20.00, including weekends and holidays.
In the bank you may not be allowed to withdraw a small amount,on the type of 2-3 thousand baht, say go to the ATM (but it is not necessary). There are no restrictions as such from above, Siam Bank told me that it was an unlimited (unlimited). I shot a couple of times 60-80 thousand baht, no longer checked. For large sums, the bank is still more profitable, since it is better to withdraw 100 thousand baht from a bank and pay a commission once, than insert a card 5 times into an ATM and pay a commission 5 times.
important points
Commission for withdrawals
Most importantly, you need to remember a few points.
The ruble has long been not equal to the bat and do not equate them. 1 baht = 2 rubles and you need to "pray" so that it does not get worse.
Cash withdrawal losses at an ATM / bank orif you pay with a card in a store, they will be on any card anyway, since currency conversion takes place, often twice: Bats => Dollars => Rubles. And in that order. If the card is a dollar one, then there will be only one conversion: Bata => Dollars. Each conversion may contain its own commission, and rates need to look at your bank, and not in Thai.
In the store you have to pay by card! Many Russian banks have their own fees for withdrawing money from an ATM of a third-party bank (in this case, Thai), so it's more profitable to pay with a card in a store instead of withdrawing cash and then paying it. True, you can pay with a card in Thailand in few places, only in large supermarkets (Tesco, BigC, Macro, Tops Market) and shopping centers.
In addition to theory, I specifically checked whetherthe difference in which ATM / bank to withdraw money, withdrawing the same amount in one day on the same card. No difference. Unless, of course, do not agree on the conversion of Thai ATM. I also analyzed and counted at what rates the conversions take place when paying at the store.
If you want to figure out in more detail howthere are conversions on a specific example, what are the commissions of Russian banks, is there any difference if you withdraw money from a dollar card, then read my post How to convert baht in rubles. There I have disassembled everything in detail.
Do not be amiss to read my other post about compilation of travel maps, including Thailand, this also applies.
Blocking Russian cards
Thailand is at risk, so Russianbanks love to block their cards. Often I met reviews about Sberbank and Alfabank, but I only came across Alpha's blocking. I decided to question the call. Therefore, be sure to have multiple cards.
Before leaving, call the bank and clarifywhether to add the country of your future stay to the exceptions. Also be sure to remember the code word for contacting technical support and put money on Skype / Viber. In case of blocking the card, you will need to call Russia to the bank. It is also desirable that your Russian SIM card work in roaming, they can call from the bank during the transaction, and if you don't pick up the phone, they will block both the transaction and the card (Alpha, hello). Read more about how to make cheap calls to russia from abroad.
Cards Thai Bank and Webmoney
If you are in Thailand for a long time, thenIt is advisable to make a Thai bank card. This is usually the green Cacicorn Bank because others refuse to issue cards on tour visas. Actually, a trip to Cacicorn can be unsuccessful. In this case, you just need to try your luck in another department. In general, I have repeatedly met reviews that if you do not just want to open a card, but also deposit some amount of money (deposit), you will be given a card in almost any bank.
Besides the fact that no one you Thai cardblock, they are still convenient because you can transfer money from a Russian account and they will be stored there in baht, which saves you from frequent monitoring of exchange rates. Although the dollar is growing overall (and in Thailand, too), so the dollar card is also a good choice now.
And that is not all. Thai cards are suitable for Webmoney withdrawal through this exchanger, there are excellent rates. It will be better only if you agree with a private person, you give him WebMoney, he will give you bats.
How to transfer a large amount from Russia to Thailand
Thai bank cards, or rather an account in a Thai bank, will come in handy for you to transfer a large amount from Russia to Thailand, for example, to buy an apartment. After all, not in cash to lead.
You just have to choose the right Russian bank,for a transfer to take place with minimal commissions and at a good rate, large amounts of losses are especially noticeable. For example, Alfabank is well suited for such transfers, but there it is necessary to take the maximum tariff (Maximum tariff), which is 3,000 rubles per month. Then the transfer fee will be only 0.1%, conversion at the rate of the Central Bank and then at the rate of the Thai bank. You can overtake a decent amount in the Internet Bank (for several approaches, as there are limits), and then switch to a cheaper rate or close the Alfabank account altogether.
It must be remembered that the translation is for yourA foreign account is possible only if you have a paper in your hand that you have notified the tax account of opening an account abroad. Otherwise, the bank will refuse to transfer. The solution is to transfer money not to your foreign account, but to a third party, for example, your wife / husband.
Where to change money in Thailand
You can exchange currency in any exchanger, or inbranch of any bank in separate booths, which are often found in resort places. Courses differ, but not much (well, for those who change not very large sums). At airports, the rate is slightly worse than in the city. For large amounts, Superrichthailand is usually advised; they are in Bangkok.
There is also a difference how much to change. Usually there are always 3 courses: $ 1-50, $ 50-100 and from $ 100. Accordingly, the best rate for amounts from $ 100.
P.S. The remaining information about the tariffs of Russian banks, about choosing a card, about the conversion scheme, in other articles.
Life hacking 1 - how to buy a good insurance

Choosing insurance is now unrealistically difficult, so to help all travelers, I compile a rating. To do this, I constantly monitor forums, study insurance contracts and use insurance by myself.

Life hacking 2 - how to find a hotel 20% cheaper

First, choose a hotel on Booking. They have a good offer base, but the prices are NOT the best! The same hotel can often be found 20% cheaper in other systems through the RoomGuru service.

Discount hotels