Everyone knows that housing in Hong Kong is very expensive andafford not every traveler. That is why here, as nowhere else, the Airbnb apartment search service is relevant. Of course, a single traveler can move into a hostel costing $ 30, and a married couple in a budget hotel for $ 50, but you know what these conditions will be. I once lived in such guest an area of ​​several square meters with a shower over the toilet.
So, if the family goes with children when you needspace (and housing is all close in Hong Kong) and a full-fledged kitchen, it is better in my opinion to rent an apartment in Hong Kong rather than book a hotel. Because the hotel of the same level, will come out at all prohibitively expensive.
The content of the article
Apartment in Hong Kong
Price and reservation
Used the Airbnb service, by the ratioprices and quality of apartments are cheaper than hotels. There lived in this apartment Luxury Flat 2-bedrooms. Under the link description and the ability to rent. Chose in terms of price and quality. It costs $ 200 per day.
Sign up on the link and get a discount of $ 32from Airbnb to apartments around the world. Valid on the first booking, the reservation must be from $ 70. The bonus can be used within a year after registration. And be sure to look at my post. about the Airbnb servicein which I told what it is, how to register and confirm an account.
Get $ 32 off>
In general, made the following conclusion: 1 bedroom apartment or studio will cost about $ 80-100, double $ 100-150 and above. Speech about the city center or near it. Of course, it also depends on the district, but not drastically. To save a little, you can settle completely on the outskirts, there are also options.
Interior
For $ 200 / day you get more by the standardsHong Kong apartment with two bedrooms (this is true for us, we slept apart). We also had two bathrooms (optional, but comfortable), a fully equipped kitchen (fridge, stove, microwave, rice cooker, toaster), a washing machine with drying function, hot water, 3 air conditioners in the bedrooms and living room (very convenient that you can turn on where there is no one now), a huge TV with 5.1 speakers and a balcony with so-so views, but still a balcony.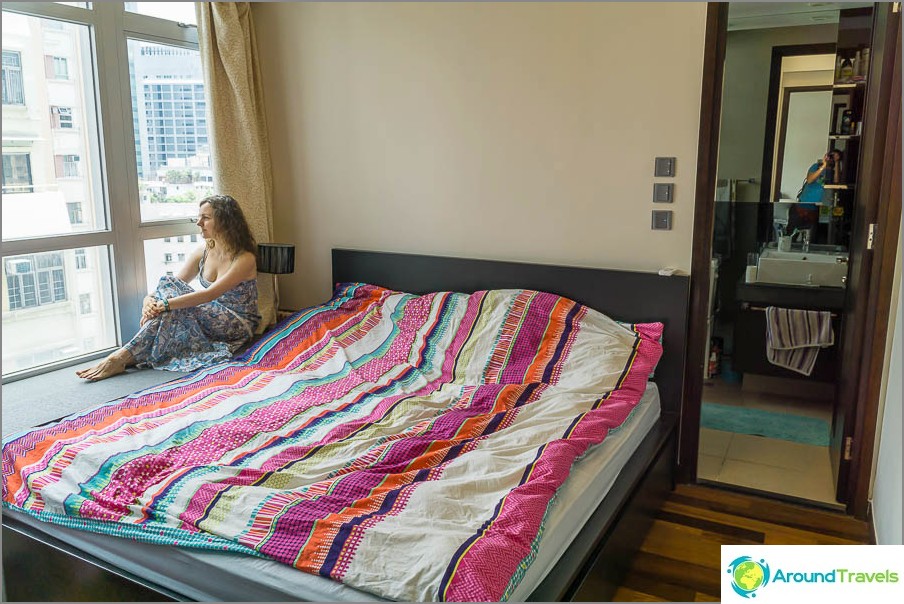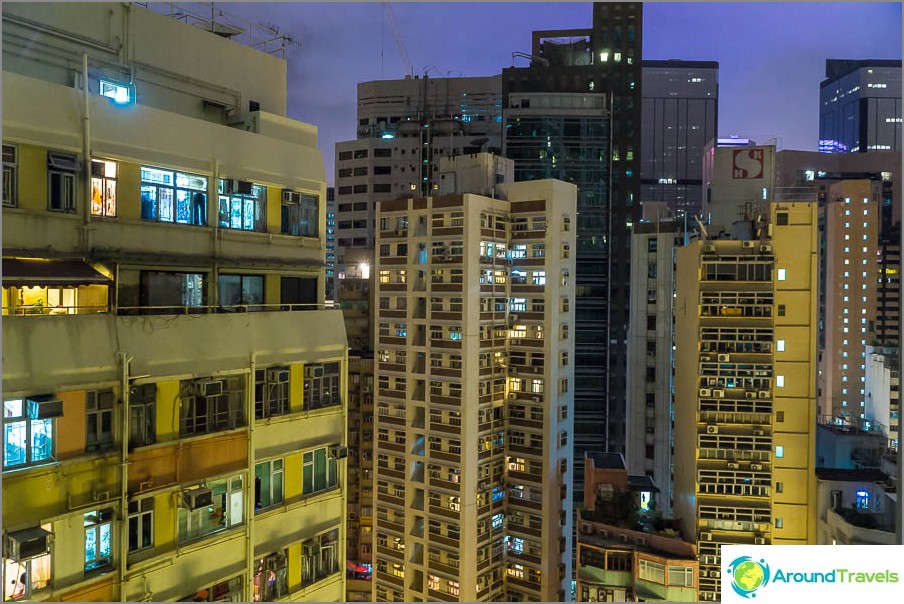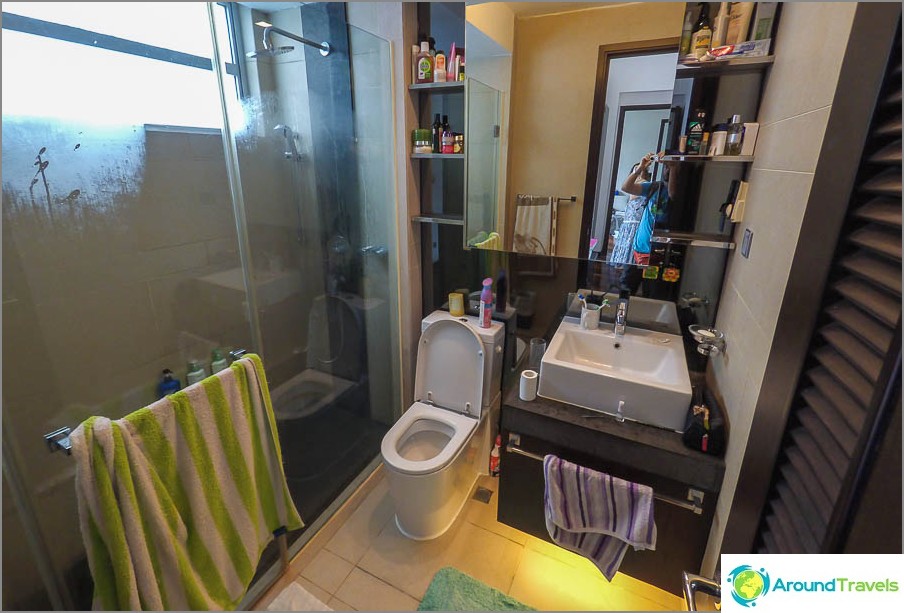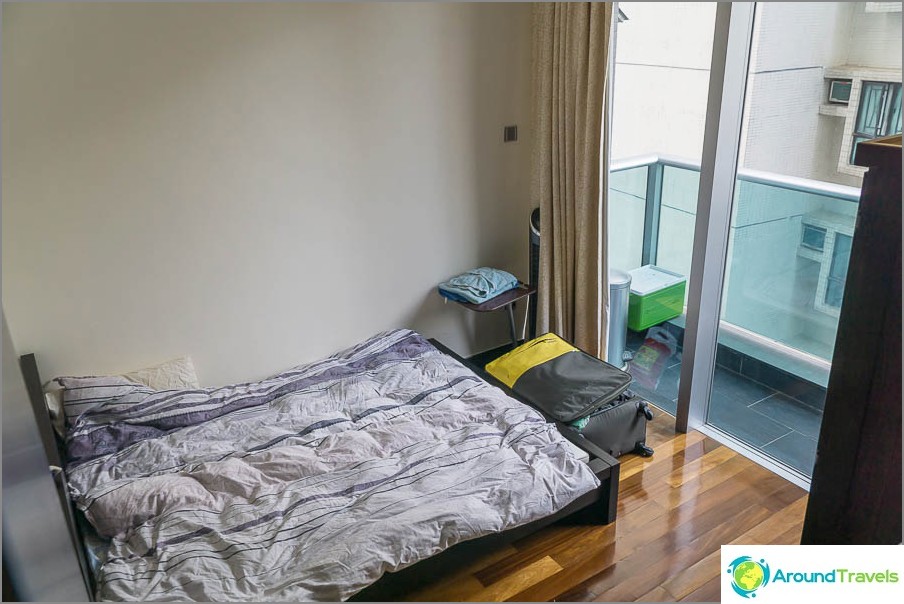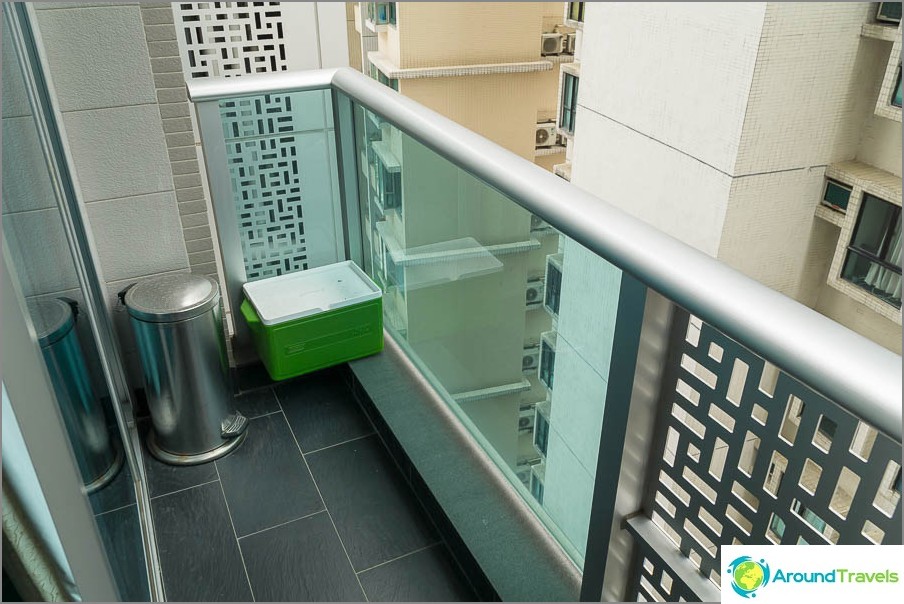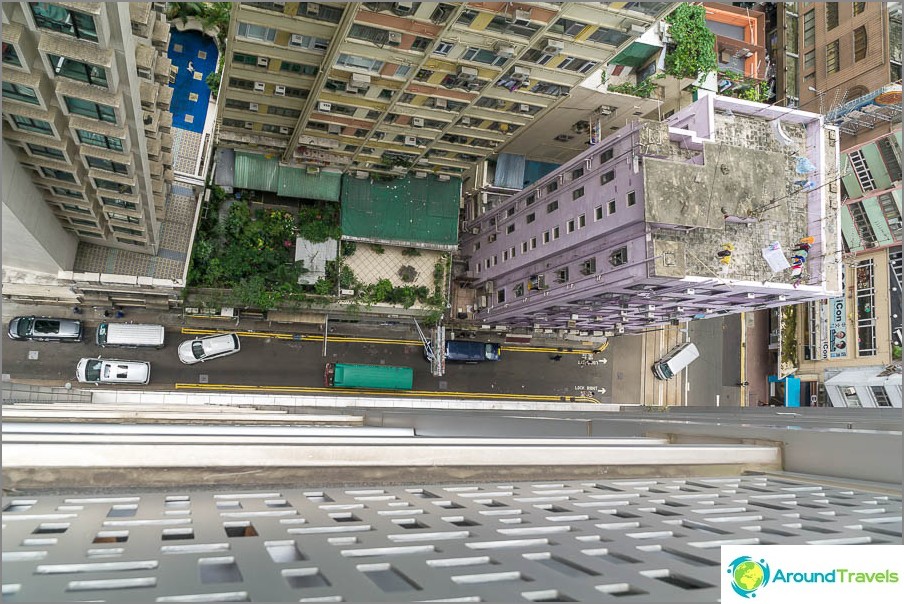 In general, very comfortable conditions, where it is quiteYou can live without straining. Eh, I would have lived in Hong Kong for several months ... Separately, I was still happy for our accommodation, because it is more convenient to get sick in comfort, and not in a trash hotel (we took turns for a couple of days). By the way, I liked the wide window sills under the large windows, you can sit there and look out the window or use it as a shelf for storing something.
Of the minuses I see only one thing - in the apartmentthe owner constantly lives, he probably rents it out only when he leaves. Because of this, the apartment is full of his belongings, boxes, cabinets are occupied, in the fridge one shelf was with his products. Thus, if you are used to unpacking your bags completely and you have a lot of things, then putting them all apart is not a fact of what happens. Our host has freed only half a wardrobe in each bedroom.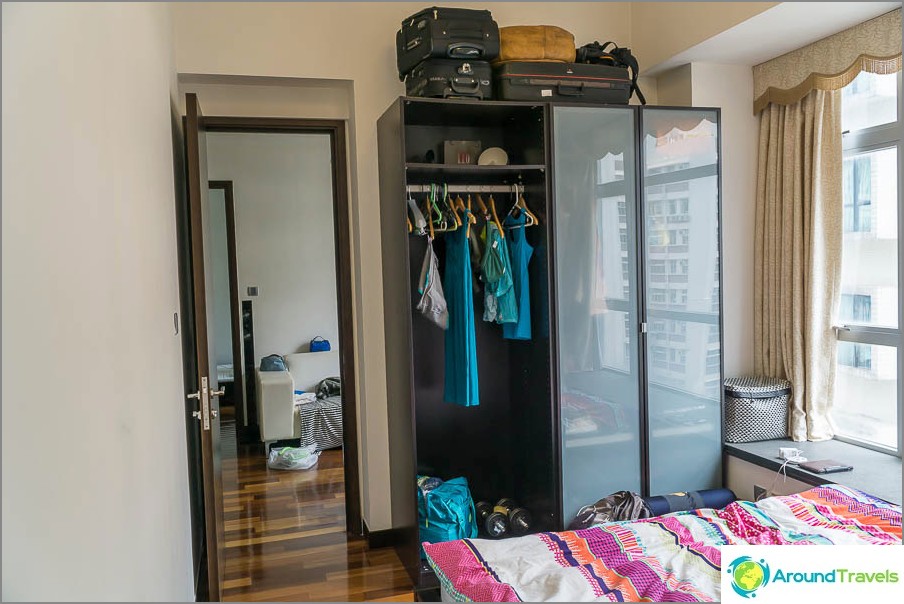 Gym, pool, view
In addition to comfortable housing, you get a gym withbeautiful view from the window. Imagine running on a treadmill and look into a beautiful distance. Unfortunately, I did not get to the gym, it was not at all to him. There is also a swimming pool, it is small, but quite self-sufficient to swim.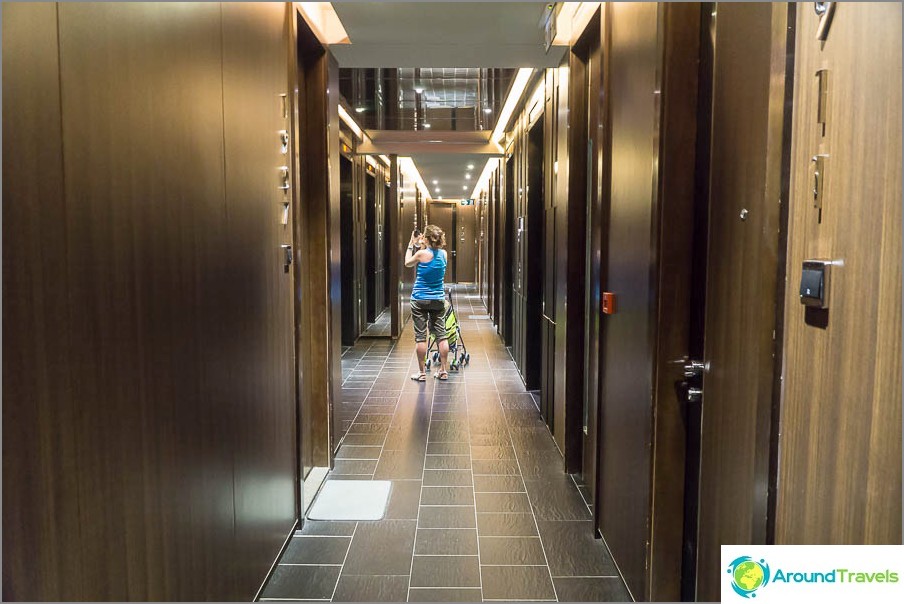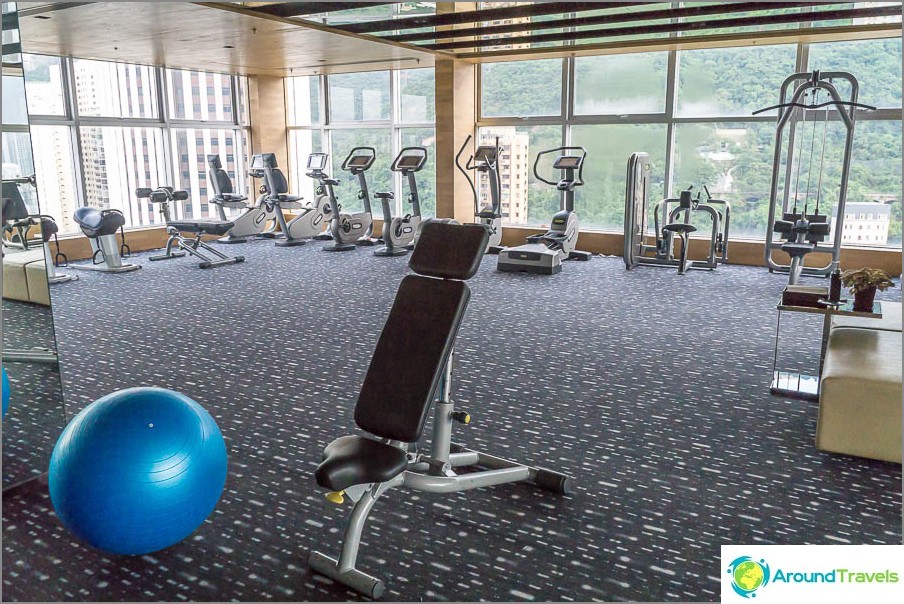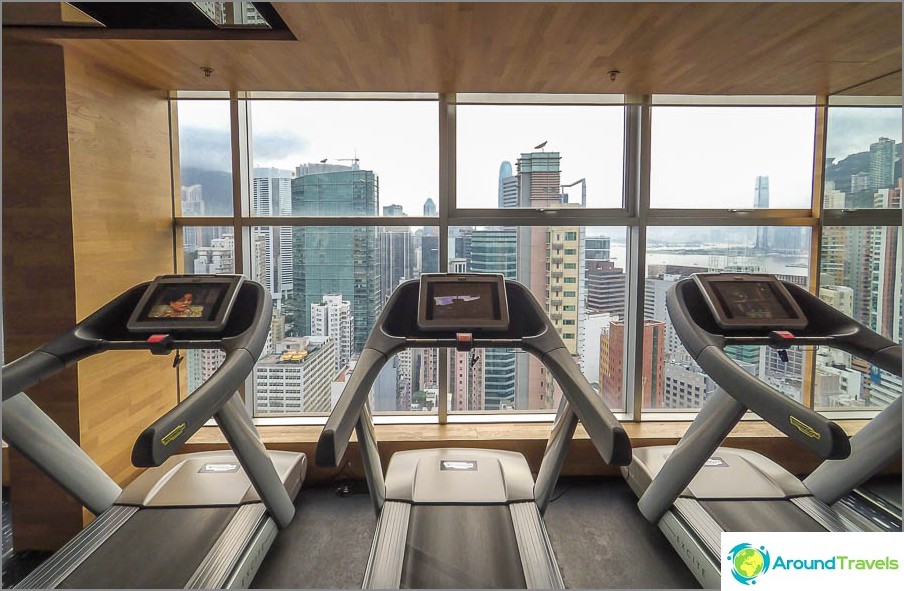 And most importantly - on the roof there is a playground with an amazing view from the 44th floor! View from the series "wow"
In principle, you can no longer go to otherviewing platforms, enough of this kind. You can come here with a bottle of wine or juice, depending on what you eat, and sit in a romantic setting with your family. There are chairs, wicker sofas, live lawn. The fence is quite high, you can come with children.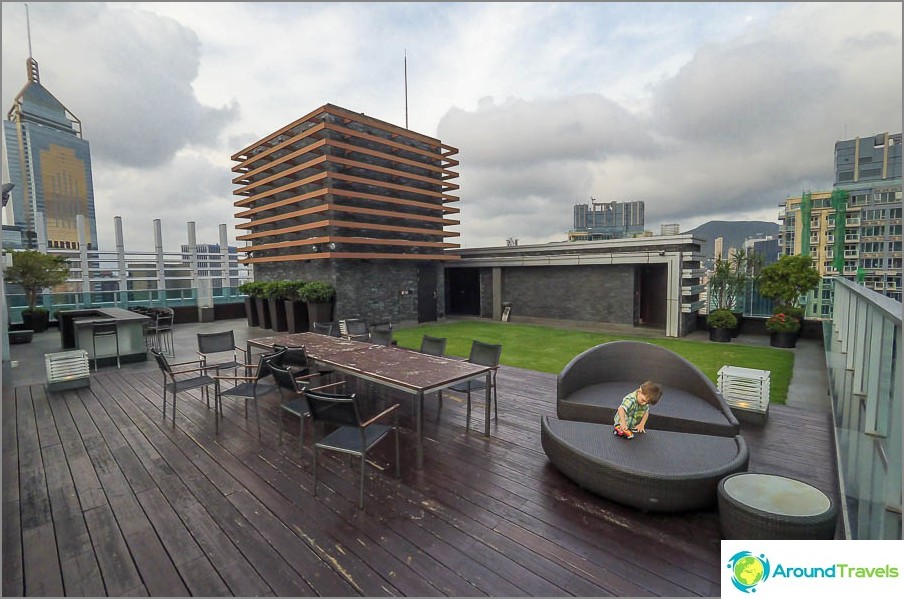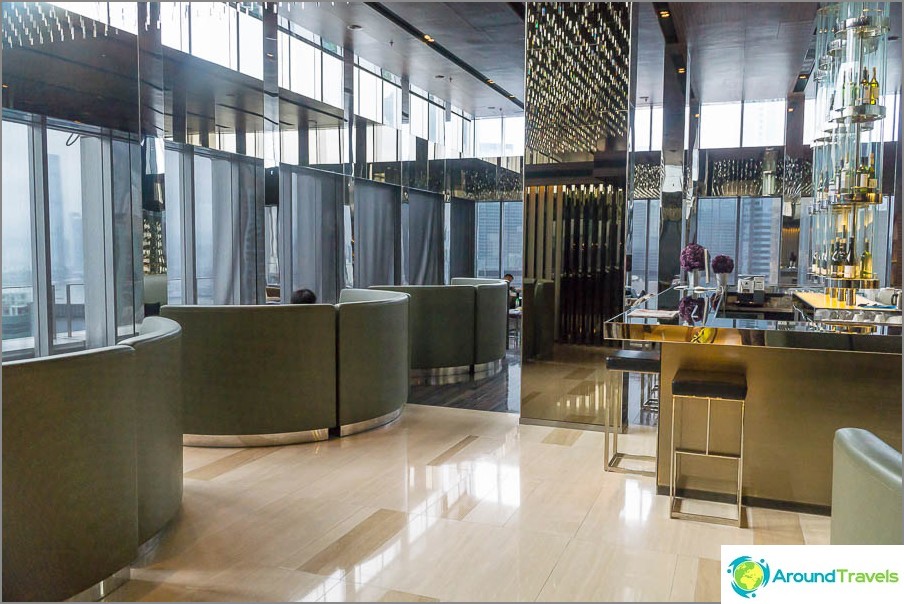 On the map
Apartment where we lived
Apartment where we lived
Excellent two bedroom apartment in the Wan Chai area right next to the subway. But not cheap.
More about the apartment
Excellent two bedroom apartment in the Wan Chai area right next to the subway. But not cheap. More about the apartment
Other apartments in Hong Kong
Here you still my selection of other apartments (including the budget), which weconsidered, but discarded in favor of the above option. The main part of the apartments I was looking for were located on the island of Hong Kong and near the subway station Wan Chai. We chose this particular area for ourselves, as there is a supermarket nearby, a ferry Star ferrywho goes to the Kowloon Peninsula to Avenues of Stars, two metro stops to Central, a couple of tram stops to HongKong Park and before the tram (peak tram) that goes on Victoria Peak.
P.S. There are a lot of apartments in Hong Kong, so you can always find what you need in Airbnb. Well, or do you still prefer hotels, then RoomGuru to help.
Life hacking 1 - how to buy a good insurance

Choosing insurance is now unrealistically difficult, so to help all travelers, I compile a rating. To do this, I constantly monitor forums, study insurance contracts and use insurance by myself.

Life hacking 2 - how to find a hotel 20% cheaper

First, choose a hotel on Booking. They have a good offer base, but the prices are NOT the best! The same hotel can often be found 20% cheaper in other systems through the RoomGuru service.

Discount hotels