Recently, in May, my friends and I went to Italy andrented a yacht for five. We went around Sicily to the Aeolian Islands. So, renting a yacht, divided into 5 people, turned out to be funny. The yacht has long been in my was on my list of what to try.
For some reason, it is believed that the yacht is very expensivebut in fact it is not at all like that. You just need not to buy an organized turnkey tour, but to find a captain among your acquaintances who needs a team. Yes, yes, it happens, and all in the end in the black. Captains, too, cannot always immediately find sailors, but they want to swim. The result is mutually beneficial cooperation, rather than providing the services of a captain for some money.
The content of the article
By car in Sicily
Route
In order not to fly to Italy just for the sake of the yacht, weWe decided to ride it a little more on the cars for the first 3 days. They took two: Smart For Two and Opel Corsa. For some reason, one minivan went more expensive than 2 small cars. However, I was not upset at all, I had long wanted to travel on a smart, to feel what it was like.
In fact, it turned out that the car is great. Small, nimble, economical. Ideal for parking in tight spaces, turning radius at all fire! As long as you drive, you don't feel that the car has no ass and you only drive half a car. The smart has quite a lot of space in the front seats and the doorways are wide. The trunk is too small, yes, but for short trips without children, a pair of small backpacks fit without problems.
We flew to Catania, not to Palermo, because we wanted to see the east coast, and even to the marina in Portoros, where we had to pick up the yacht, closer. We lived 3 days in Catania and traveled around the neighborhood.
Arrived in the morning, so on the first daytake a walk around Catania, drove on a sightseeing tour bus for 15 euros. On the second day we went to Syracuse and Noto. On the third day we visited the Etna volcano. And on the fourth, on the way to the yacht marina, we stopped at Taormina, where I tried cannoli. Such a program is minimum.
All of the cities listed are pleasant andwatchable. Catania is not. Dirty and battered city. And the atmosphere in it is not the same at all. Most of all I liked Taormina, a very cute and tidy town, with views of the sea and the surrounding mountains. I wanted to take a picture of every corner, before being refined. Although I was just on one tourist pedestrian street, maybe on the outskirts everything is different (as in Catania).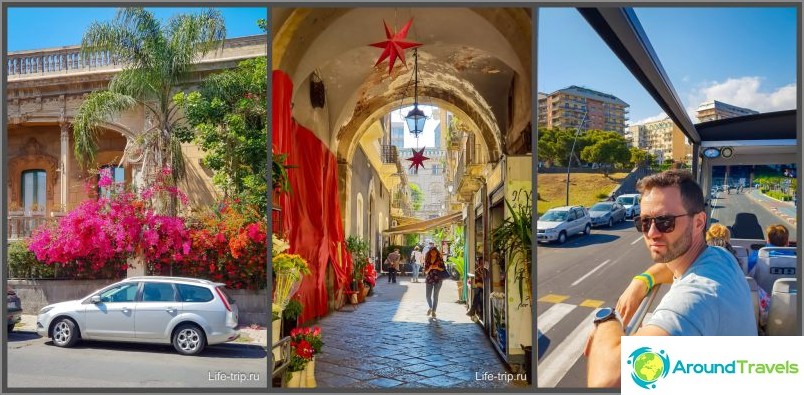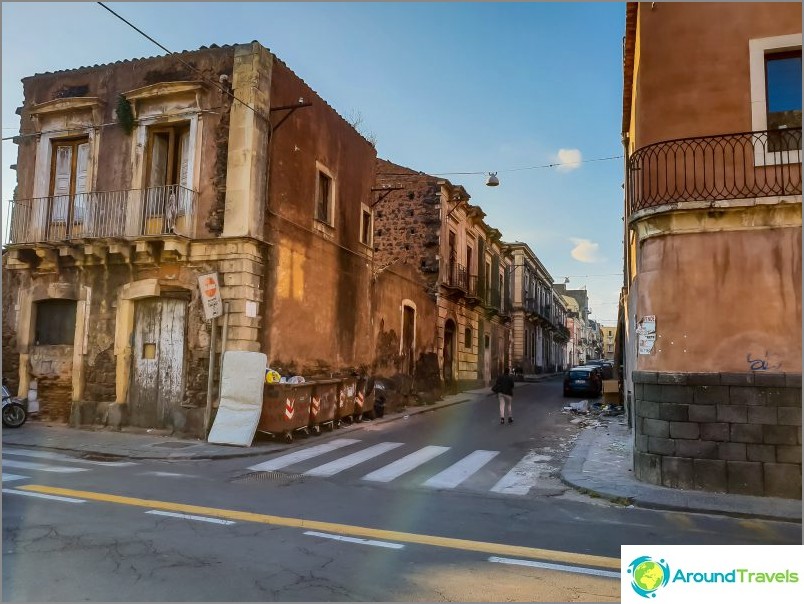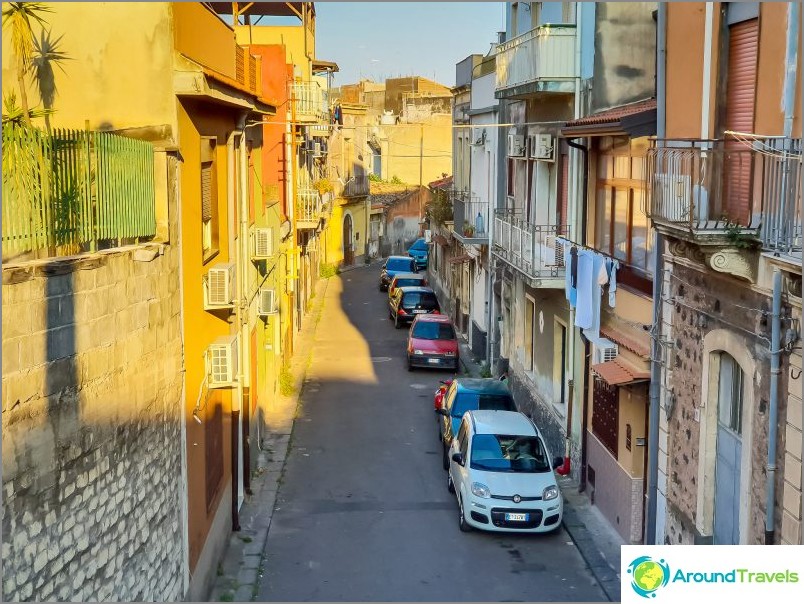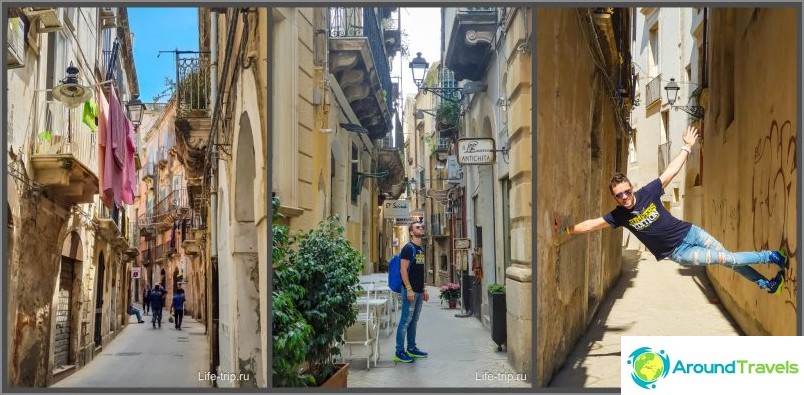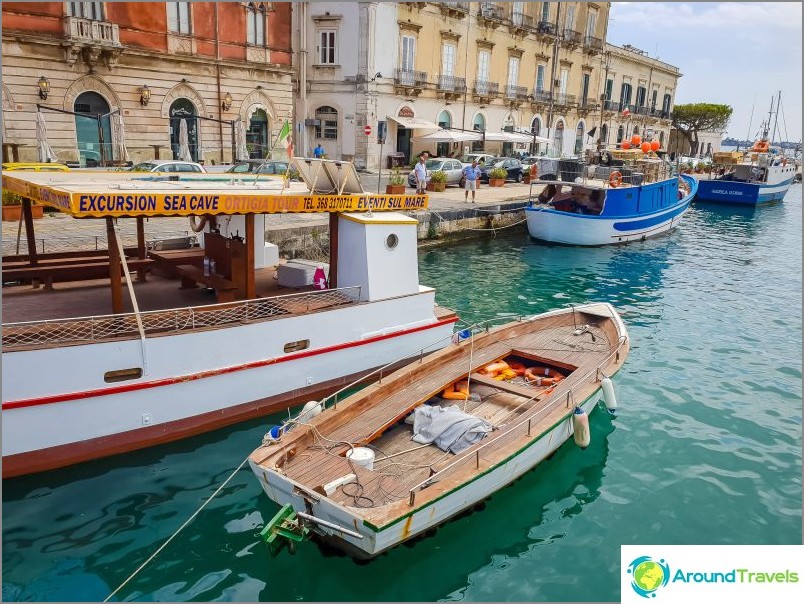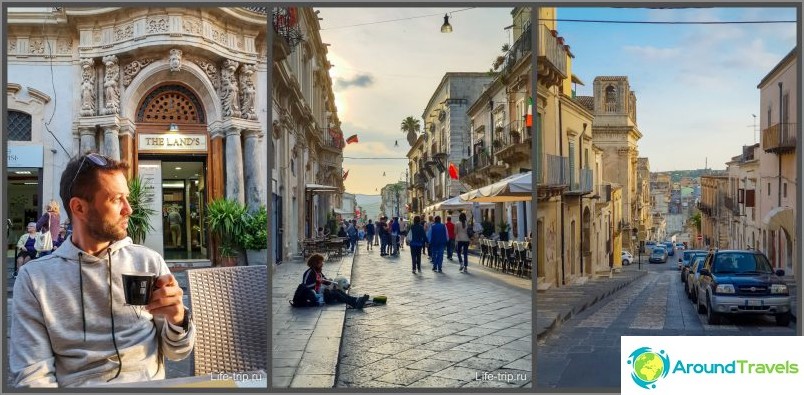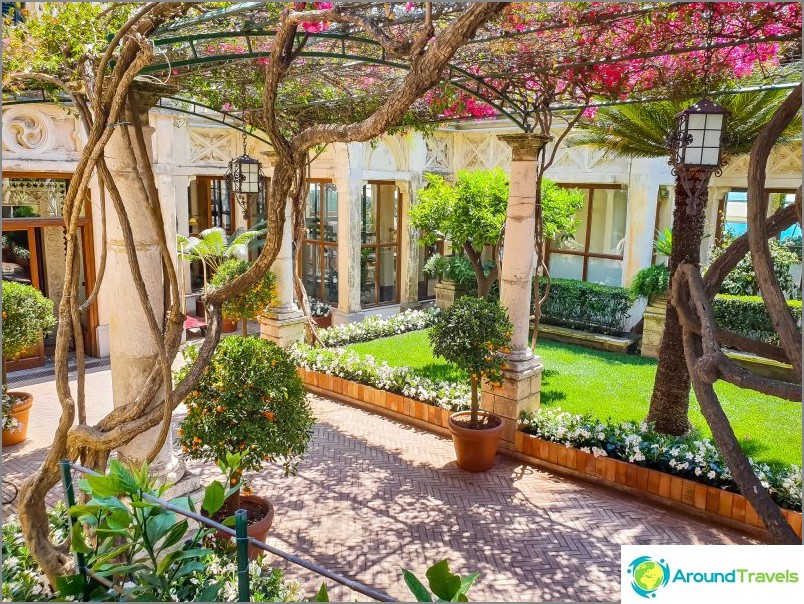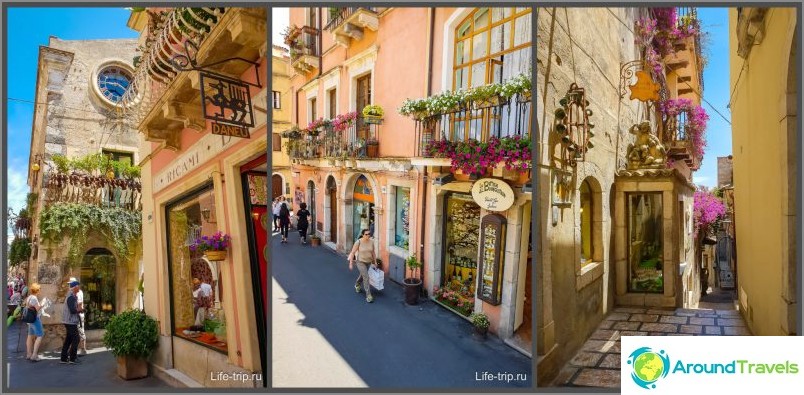 Sights, except a volcano, did not seeit's no good if you have only 3 days. The most it is just walking through the narrow streets, sitting right there in the cafes, drinking cappuccino and eating it with pizza or pasta. By the way, how they do not get fat if the main food is bread in its different variations?
Mount Etna left a disappointment after visiting. Neither lava nor smoke, plus just the darkness of tourists and everything is too organized. First, the cable car, then transfer to the bus, then the guide leads to the crater. About the crater stayed just 20 minutes. Perhaps there are more serious excursions, with trekking along a less tourist route, but I did not recognize.
Sicily in general, I did not go. It was enough to go to see me once, it is very unlikely that I would return again. Something wrong. I do not know.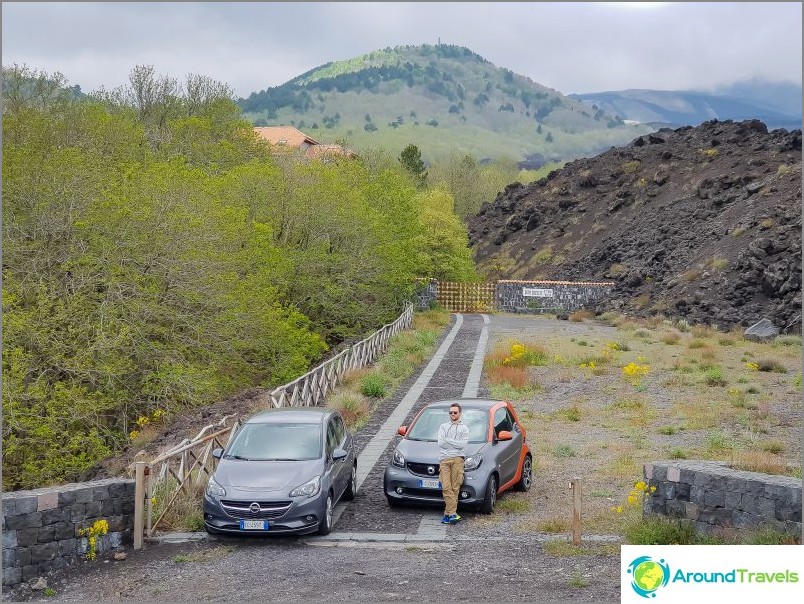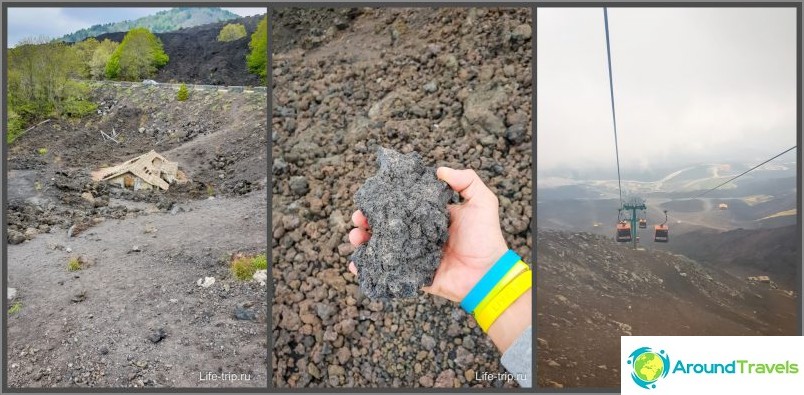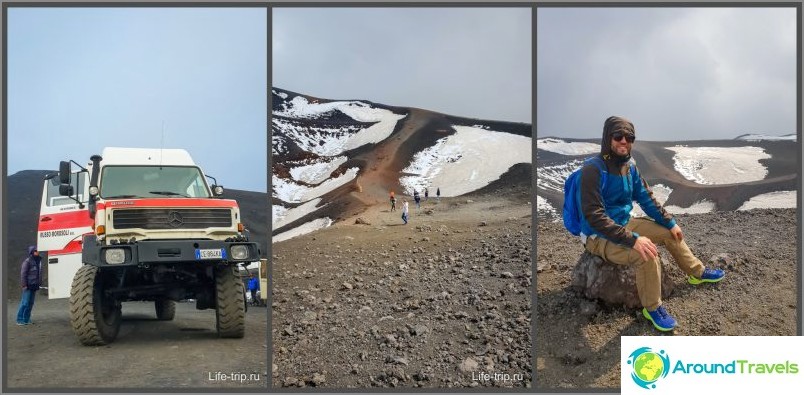 prices
Tickets from S7 Moscow-Catania in one direction - 8200 rubles. I flew back through other countries, otherwise I would have immediately gone there / back for 15 thousand rubles.
Smart for two on the machine cost 15 thousandrubles for 10 days, or 1500 rubles per day. There was no complete insurance, only the one with a default franchise of around 1,500 euros. The deposit was 900 euros, it was frozen on a credit card. Booked through standard through Economybookings.
Gasoline poured Super (95y) for 1.6-1.7 euros. The toll road section 2-3 euros, 3 times paid for 200 km.
The rest of the guys paid for the Opel Corsa onmanual box 9 thousand rubles for 10 days, or 900 rubles per day. For me, so very good price, if it is divided into three. If I'm not mistaken, they booked through Rentalcars. You just have to look at prices in all search engines, prices differ, there is no universal one.
Cars took exactly 10 days, and not 3 days. And all because that from Portorossa, then getting to Catania Airport will be almost more expensive than renting a car for seven days, well, and hemorrhoids are very.
Instead of a hotel, they rented apartments through Airbnb. Register here and get a discount of $ 32 from Airbnb on apartments all over the world. Valid on the first booking, the reservation must be from $ 70.
Get $ 32 off>
Immediately filmed on the 5th: 2 bedrooms, living room, 2 bathrooms, full kitchen and a terrace with a green garden (lived on the first floor). For 3 days, they gave 12 thousand rubles. For me, this is also excellent - only 800 rubles per day per person.
Sightseeing bus - 15 euros.
Climbing by cable car - 30 euros. The bus from the top cable car station to the volcano is 25 euros and then the guide is another 9 euros. T-shirt with Etna - 15 euros.
On a yacht in the Lipari Islands
Route
Our route was simple and designed for a week. This time is enough for the first time. I had more than enough. We managed to spend the night several times in marinas and at anchor off the coast, try to steer the yacht and sail, explore several Aeolian islands and a volcano, swim in the sea and ride a motorboat.
It seems to me that for the first time it is exactly that way.to do, because it is not a fact that you need yachting itself and yachting only. But the second time you can already adjust your plans and add what you need.
Vulcano Island is the most boring, I don't understand what to do on it. Yes, there you can climb the volcano, but apart from sulfur fumes there is nothing to watch. Marina is also so-so, without any additional services.
Lipari Island is the most developed of the entire group. A pleasant town, narrow streets, you can spend a whole day walking around it. Marina is also good.
Panarea Island - the first anchorage, on trial, so to speak. They didn't even land on the island, there's nothing to do there.
Stromboli Island - the most credited island, for good reasonthere are even excursions from the mainland to it. It is a really active volcano, with constant small eruptions. To see something, you need to go upstairs (rise 3 hours), usually go closer to the dark, to be better seen. The rise is difficult. But this is what I tell from other people, since my friends and I went a different way - bypassing from the other side and without a full climb to the crater. It turned out that we even saw more than those who climbed to the very top of the standard route that day. In reality, we saw red flashes with sparks and red glowing stones flying out.
By the way, near Stromboli we were also anchored, so we floated on the tuzik on the island. This is a separate entertainment.
Salina Island - the best marina, fenced offso that there are no waves, with a hot shower and wifi. Who would have thought, we almost passed by. The town is very small, several times smaller than on Lipari, but nonetheless pleasant. One magic narrow pedestrian lane. We enjoyed it and relaxed.
If you remove all the activities, you are not sure thatI would have had the impression. 2-3 days it was quite enough for me to taste the yacht crossings on the motor and sail, ship control, and mooring in narrow places. But we had 7 days, so walks around the islands, visiting a volcano, swimming in the harbor, climbing a winch in turn on a swinging mast, riding a motorboat - all this perfectly complemented the trip.
I'm definitely not a sea wolf and I love land more, but if you make such a varied sea voyage, then you're very much. There wasn't enough snorkeling, but the water was still cold for him.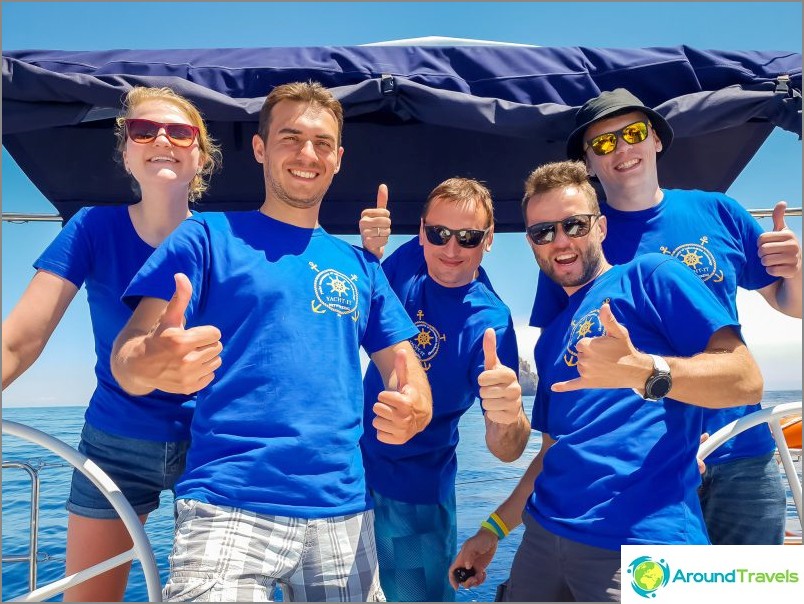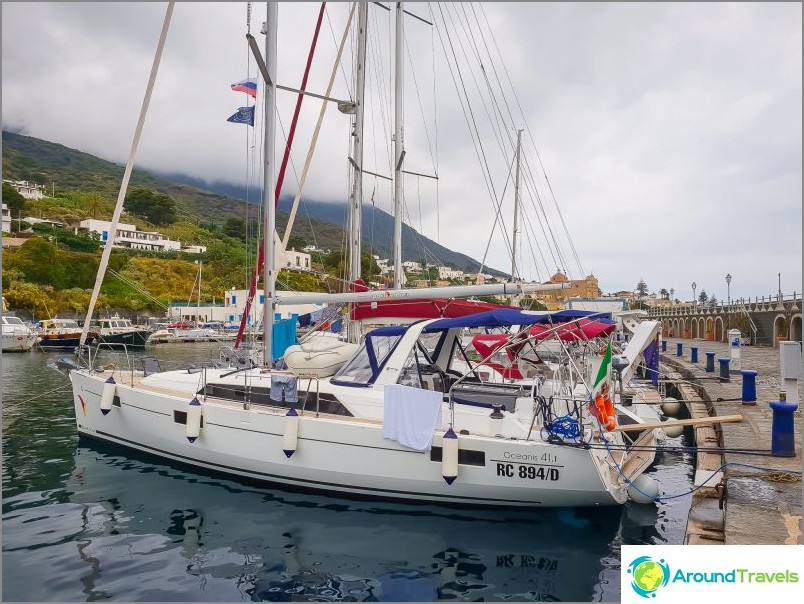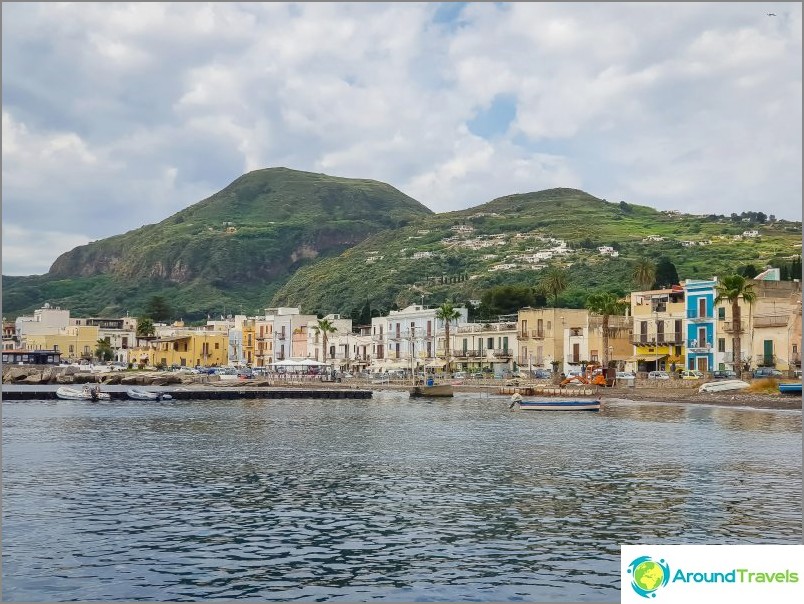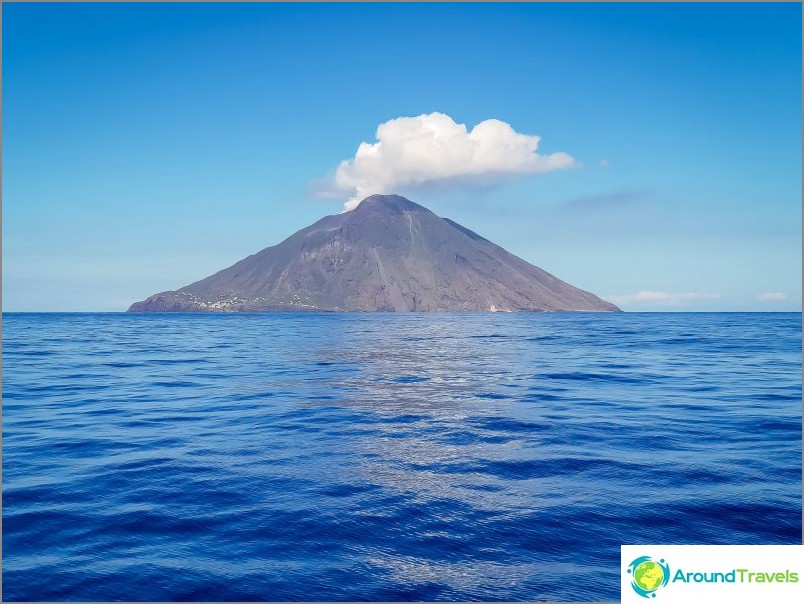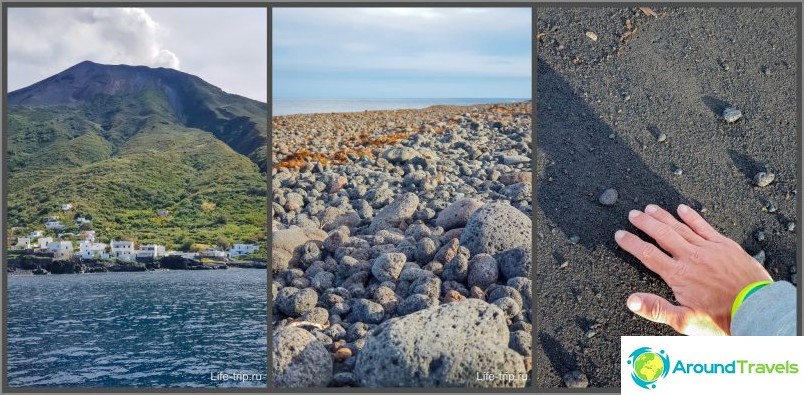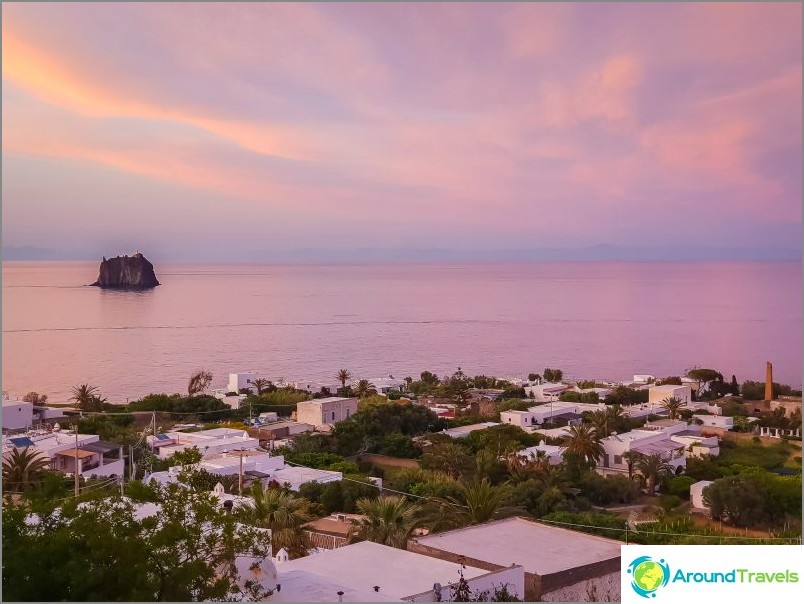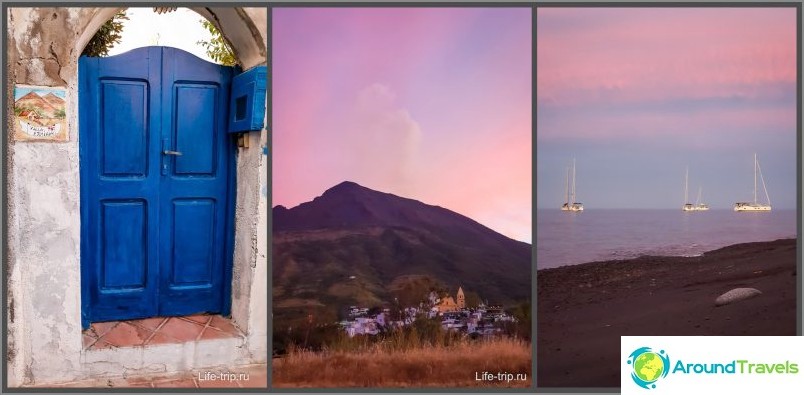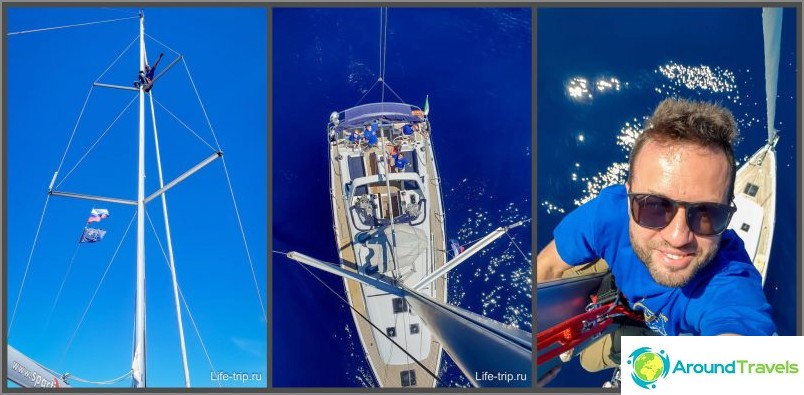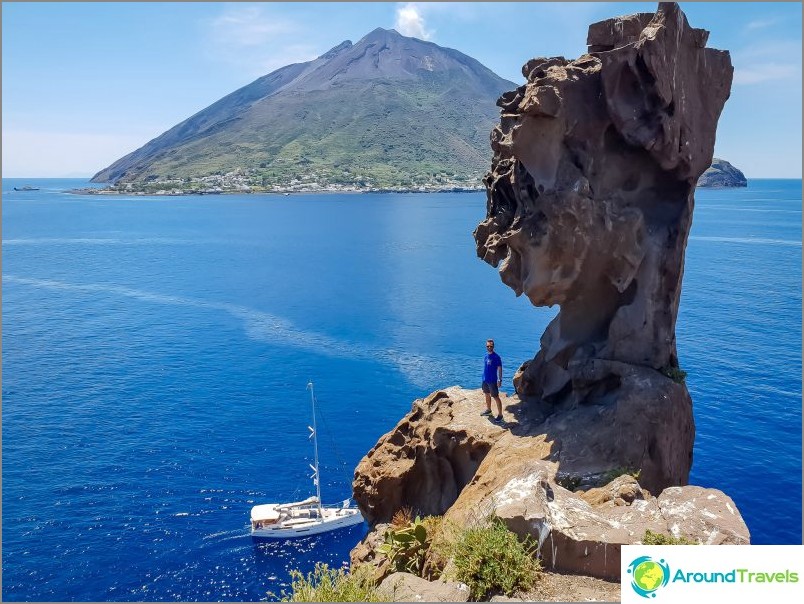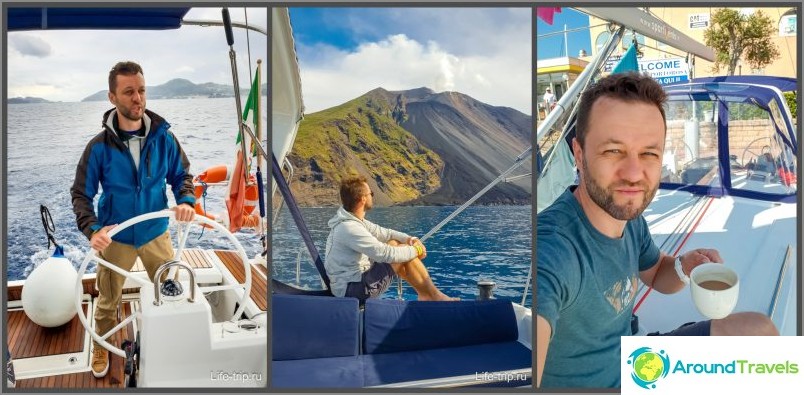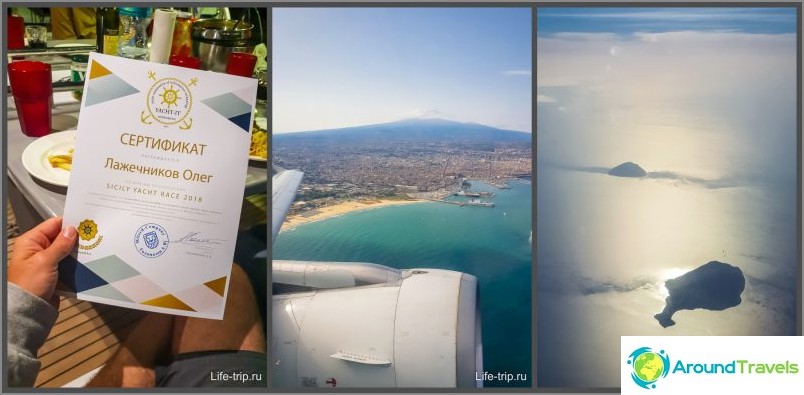 The cost of traveling on a yacht
The price of the boat in terms of 5 people is obtainedalso not very big. In fact, the yacht was designed for eight, but we did not have that much. Well, it's still comfortable there are only six, since there are only 3 double cabins (just 6 people) and if there were more, then two more would have to sleep in a cabin, and this is already crowded.
The yacht was taken for 7 days. Prices immediately for the whole period:
1600 euro - renting a yacht for a week (in May, more expensive in the summer season)
190 euros - super insurance and 500 euros returnable deposit (or without insurance and 3 500 euros pledge returnable deposit).
106 euros - for diesel for a yacht.
120 euros per week - 2.5 hp outboard motor for a motorboat (the more powerful - the more expensive). Motor can not take. He is optional.
150 euro - 3 parking in the marina (50 euro / day) with water and electricity
120 euros - the final cleaning of the yacht. Be sure to include in the price, you can not pay.
75 euros - a set of towels for 5 people (15 euros per person).
0 euro - water (we included in the price, but may be charged).
Total is 450 euros per day or only 65 euros per person per day. Not bad? An inexpensive hotel in Europe costs so much.
P.S. Does anyone have a similar experience? How many have you got?
Life hacking 1 - how to buy a good insurance

Choosing insurance is now unrealistically difficult, so to help all travelers, I compile a rating. To do this, I constantly monitor forums, study insurance contracts and use insurance by myself.

Life hacking 2 - how to find a hotel 20% cheaper

First, choose a hotel on Booking. They have a good offer base, but the prices are NOT the best! The same hotel can often be found 20% cheaper in other systems through the RoomGuru service.

Discount hotels