I myself did not go to Thailand with animals, however asand to other countries. But he repeatedly came across the experience of other people who turned it all around. Not everything is so easy, but if you can't leave your pet with someone, you will have to take it with you. Although, it seems to me that it is worth doing this only when you are driving for a long time. Otherwise, all those difficulties will not be justified, and for the animal all these flights and acclimatization need nothing.
The nuances are different: what vaccinations to do, what documents are needed for export, how to fly with an animal, how to move inside Thailand and where to live ...
The content of the article
To Thailand with a dog and a cat
Vaccinations, international passport, permission to export from the Russian Federation
Before the trip you need to preoccupyvaccinations and get an international veterinary passport. Thailand's requirements are set out on the official website of veterinary surveillance. At one time he did not work, but now everything is in order.
In theory, a veterinary clinic in Russia should be aware of what you need to do, but it is better to recheck everything yourself. So, you need:
Vaccinations against rabies and leptospirosis, which are done at least 21 days before the trip. Also need an analysis that there is no leptospirosis for 30 days before the trip.
Optional, but better to do chipping (or stigma).
International veterinary passport with a photo of the animal and vaccinations. Give the same in the clinic.
Shortly before departure, you receive a certificate at the state veterinary clinic for transporting the animal across the border, it is valid for 5 days.
Change the international certificate at the airportcertificate. To do this, you need to arrive early at the airport in order to be in time for registration. It makes sense to call your airport and check the working hours of the wind control.
Maybe you need a certificate that the dog has no breeding value, but according to reviews it is absolutely not needed.
About chipping. As such, there is no requirement for chipping in Thailand, but it turns out that chipging is not necessary for import, but for export it is necessary ... In principle, this is not long and not difficult, you can do it right away with vaccinations in Russia, so that you don't do it later in Tae. Moreover, the chip and vaccination in time does not have to be the same.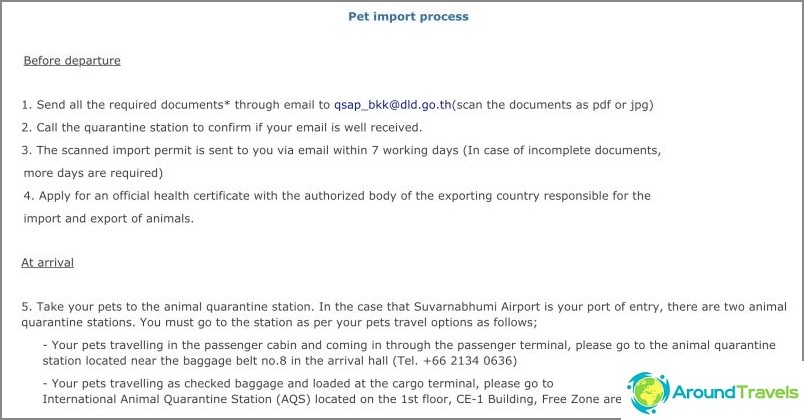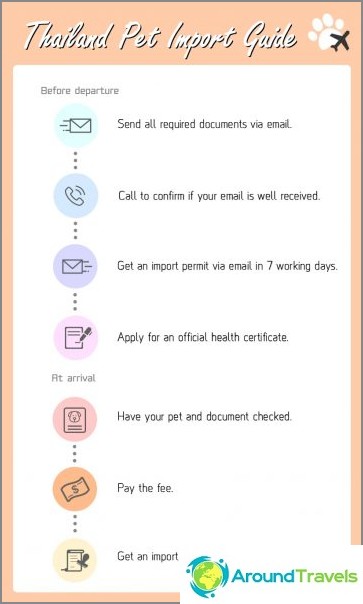 Here's another good post from Skyscanner, regarding vaccinations and documents for traveling to different countries. The authors have a good understanding of the issue.
Permit to import an animal to Thailand
Even ideally, you need to get permission in advance to bring the animal into Thailand, although not everyone does it and they say that everything is solved on the spot without any special problems.
А вот емейл, куда нужно будет писать: [email protected] (Бангкок), [email protected] (Пхукет)
Старые емейлы (вроде как уже нерабочие): [email protected]. [email protected]. [email protected]. [email protected]. [email protected]
Phones of the quarantine service of Bangkok airport: +6621340731, +6621340636
Gave immediately all emails that he found, otherwise they are Thaisuch with the Internet is not very friendly. In theory, the first two emails should suffice, they write there, judging by the reviews, but you can send it to all at once. You need to write to vet control 15 days before departure. In the reply letter you will receive an invitation and the same requirements that you need to fulfill (they are listed on the site).
Airline Carriage Rules for Airlines
Be sure to before buying tickets (I usually monitor Aviaseels), specify what the rules of transportation for a particular airline. If the site is not clear, it is better to call them or write.
Usually, if carriage is allowed, then carry or incontainer in the cabin, or in the luggage compartment. The container is bought by you yourself (must strictly comply with the rules of the airline). But in order to be transported inside the cabin, the animal must fit in a container of a certain size and be no more than a certain weight (together with the container), which may not be suitable for large dogs. Accordingly, if you really do not want to give the animal in the luggage, then you have to shovel the rules of all airlines to find something suitable. As a result, travel with a dog or cat can be more expensive than usual, because you may have to fly more expensive flights.
For example, for Turkish Airlines, the container shouldbe 45x35x23 cm and weigh no more than 8 kg. In the popular S7 overall dimensions should not exceed 115 cm, and the height of the container should not be more than 20 cm. In Aeroflot weight up to 8 kg and allowed to the salon. A good resource, on which all the info is collected - Setguru.com, select the desired airline from the list and then look at the Pets section. Here, for example, is a direct link to Qatar from this resource. But you still need to clarify on the website of the airline and call them in person.
Yes, and get ready to pay more for the dog inairport, as a separate piece of baggage, for each kilogram. It can easily go 10-20 thousand rubles. Some airlines take a one-time fee for transportation in the cabin of the animal, for example, Aeroflot takes 50 euros and that's it.
Buying a ticket and registering an animal for a flight
Before buying tickets, be sure to notifypet airline, usually only 2-3 animals are allowed on board, no more, and more often and in general only one. And if there are several, then most likely only one species. That is, if a cat is registered, the dog will not be unable to get lucky.
To not be in a situation that ticketspurchased, and other animals already registered and you are denied transportation of the animal, it is better to buy tickets after confirmation from the airline. You can do it this way: first we book a ticket and do not pay, then we receive a confirmation from the airline for an animal, then we pay for the ticket booking.
Depending on the airline and the agency where the tickets are bought, the booking can last from 1-9 days. In particular, Qatar and Emirates last 9 days (convenient for reservation ticket reservations for thailand), but they can not be in the cabin with the animal, so many fly Aeroflot from Russia.
Before the plane and on the plane
It is recommended to give the animals before the flight.a sedative, and you must give it in advance, a few days before departure. Also, for a certain number of hours, it is worthwhile to stop giving food, and closer to the flight and water. But, here, probably, it is better to consult with specialists / breeders how to do better, depends on the particular animal. Someone in flight feeds and waters in addition.
In the cabin of the aircraft the beast will be located incontainer, but sometimes you may be allowed to get it out of there, except take-off and landing, of course. If you are lucky, it is possible and places will allocate more suitable for your case.
Quarantine at the airport in Thailand
Upon arrival in Thailand, you will need togo through veterinary control. Show the dog to the airport employee and tell the animal control, they will show you where to go. The cost of processing 100 baht. Even at the exit, you can be let down the red corridor and request 1000 baht for a dog. Someone wrote that this is due to the fact that you allegedly can sell it on the territory of Thailand, therefore, brushing it off or not depends on the specific situation.
Quarantine at the airport may or may not bebe. Although the site vetkontrol said that it is mandatory and lasts 30 days. Usually quarantine dogs that do not like something, who have problems with documents and who come from disadvantaged countries. As I understand it, this happens very rarely, when it comes to arriving from Russia, basically everyone flies without problems.
Veterinary control works around the clock. It is located in the baggage claim area near conveyor No. 8. Their phone number is +66 2134 0636.
Inside thailand
Transport
Transportation of animals is prohibited in buses andtrains, so usually either take a taxi or fly by plane. You can also rent a car (not all offices agree, but how do they find out). True, the car may not be quite budget, because if you give the car in another city, and not where you took it, then this is extra money. Rather, the car is well in place to move or round-trip. And there is another option - to carry it on the bus in secret (if the animal is small and quiet) or give it to the driver's paw, but this is not always the case, even not everyone will want to take it for money.
Between cities it is cheaper to fly AirAsia, buttransportation of animals is prohibited there, therefore only Nok Air remains from low-cost (rules of transportation). You can also fly Bangkok Airwas (transportation rules) and Thai Airways (transportation rules), but this will be significantly more expensive. About airlines in Thailandread the link.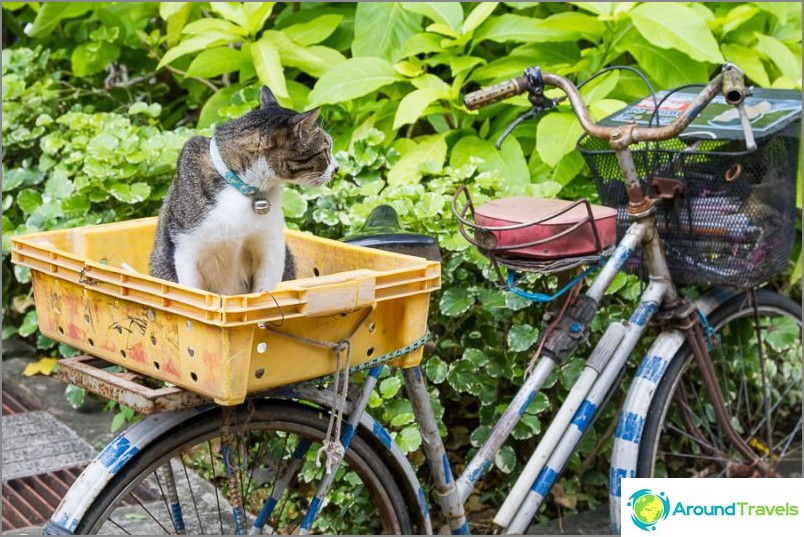 Hotels and apartments
When searching for a hotel through Booking or through RoomGuru(he shows discounts) you should always put a tick "with animals." Otherwise, you probably just will not be allowed into the hotel if it does not allow you to stay with the animals. Yes, the choice of hotels will be small, but with this initially need to accept.
When you rent a house for a long time, it's betterconsider houses, because in almost all apartments will be against dogs and cats. Although it is much easier with cats, you can carry it and it will be quietly living at home, you don't have to walk it. And the owner of the apartment / condominium is unlikely to come to visit you. Although, of course, you will have to twitch, all of a sudden it will just go to ask something, you will forget, you will open the door and the cat will jump out into view.
Some homes may also be againstanimal, but the chances of finding a house without such a condition are much easier than an apartment. In general, lay extra time on the search and get ready, they may ask for a small surcharge.
P.S. Back when you fly, you will need to come in 2-3 days to the international airport, and get permission from the vet to export from Thailand (takes a couple of hours). Previously they need to write a letter, no less than 7 working days. And in the Thai clinic, you can only get a certificate, that is, you still need to go to the airport for permission.
Life hacking 1 - how to buy a good insurance

Choosing insurance is now unrealistically difficult, so to help all travelers, I compile a rating. To do this, I constantly monitor forums, study insurance contracts and use insurance by myself.

Life hacking 2 - how to find a hotel 20% cheaper

First, choose a hotel on Booking. They have a good offer base, but the prices are NOT the best! The same hotel can often be found 20% cheaper in other systems through the RoomGuru service.

Discount hotels