All with the coming! I will not write banal greetings, and all the more words about how great it is, and it will be even better - there is enough of this good in the network. Indeed, what to hide, it was an incredibly difficult year for us, and most likely there was nothing like this in our life. However, from his words about the desire for a dream, I do not refuse. But one thing became clear to me that the most important thing is faith! As long as it is, everything is fine, and if it is not there, write it is gone. As many times as you like to fall and hurt yourself, you can get depressed and upset as much as you like, but if you have faith, then sooner or later you will go where you were going. Therefore, I can only wish if something goes wrong with you, if circumstances are stronger than you, if you sometimes give up, then find the strength to believe in yourself, in the world and in the people around you, and everything will work out! Let not now, let later, but certainly!
Here is my strange wish for the new year
Generally not traditionally (never beforeI did not do this publicly) I want to take stock of the year of the past, which was good, bad, important, and not very good. I remember, I wrote earlier in a similar vein only about what I achieved in terms of blogging, about all the TICs there, the number of comments and other indicators. Now it is not so interesting, so leave it aside. The only thing that I will write after some time is the actual financialstrip, and then the last was over a year ago. Maybe someone motivates this blogging
The content of the article
Egor Olegovich aka Tilipulkin / Lapulik / Vygibushek, etc.
Naturally, the main event of 2012 forus - this is the birth of our son Egor. Almost exactly a year ago, this little man burst into our life and put it on its head, so that we still did not wake up. But the most important thing is that we are coping with sin in half, we stayed together and love our petty troublemaker very much. I am surprised at the unhealthy tendency in Russia, that even during pregnancy or at the maternity hospital, the doctors "advise" to abandon children if everything is not in order and that their husbands leave when they find out that the child is disabled. Well, okay, this is a completely different topic ...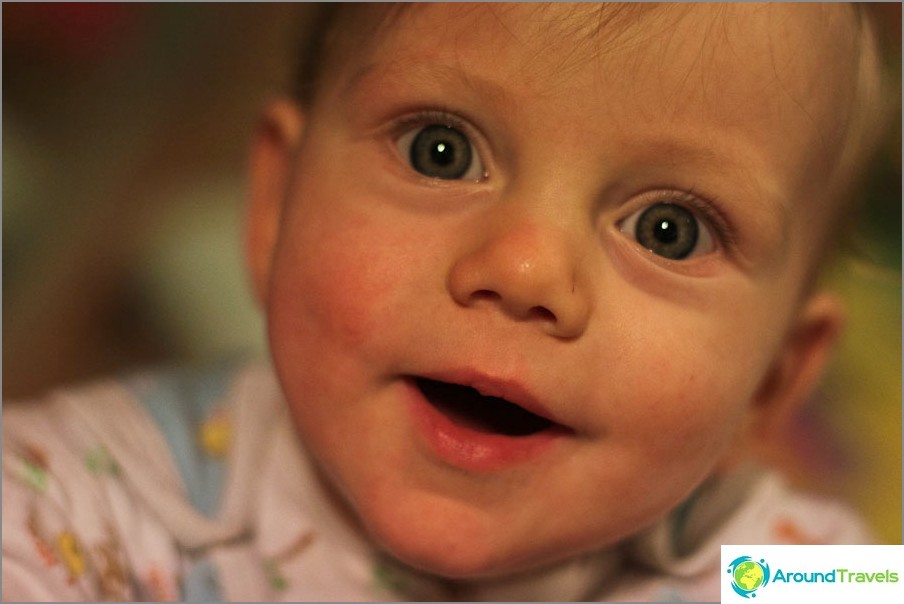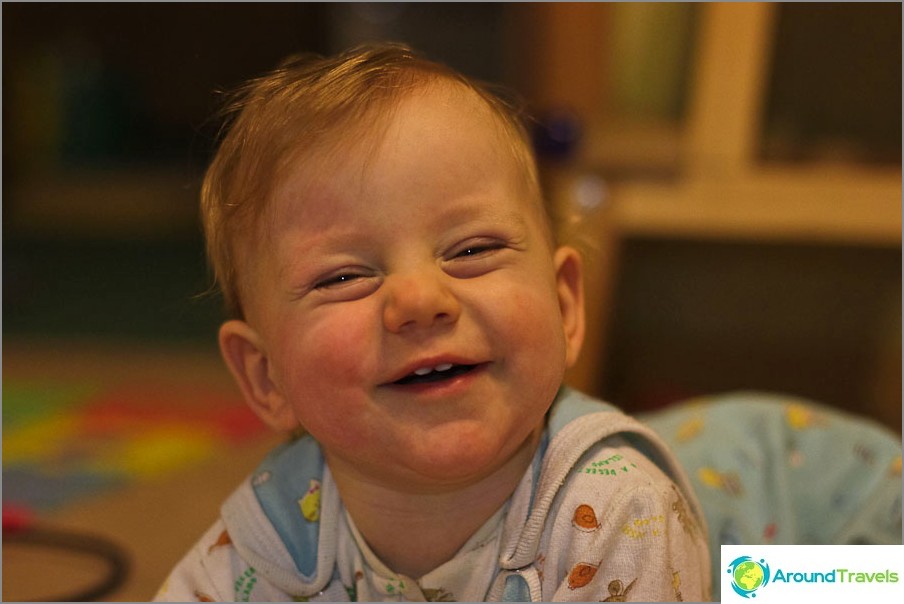 Of course, we were completely unprepared for suchtwists of fate neither morally, nor financially, nor physically. I am sure that any children change the lives of their parents quite strongly, but for some reason it is in our family, which has a dozen sewed in the ass, a child has come who makes us sit in one place, which for me personally is like death. Someday we will understand why this was necessary, but in the meantime, we will just live.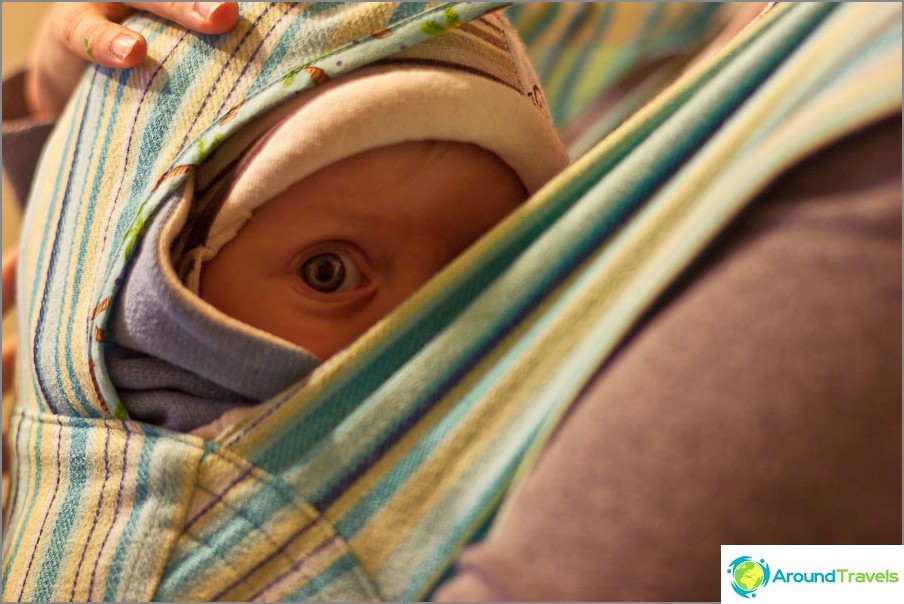 To say that it was hard to say nothing. There is a feeling that from time to time we were at the limit of our physical and moral abilities, falling into despondency, depression and disbelief in anything. But this limit was constantly shifted, giving an understanding that, it turns out, a person can do so much. Yes, yes, there are those who have a much worse situation than ours, so I'm ready to erect a monument to them, God forbid anyone, and never know what it might be. I look back a few years ago and ask myself the question - "Did we ever have problems?" Now it's so obvious that no, we never had them, we went like cheese in butter. And when we are now looking at the parents of ordinary children, it seems to us that it is so easy for them ... "When my child falls asleep for a couple of hours, I have so much time to do during this time" - like we only dream, two hours of free time are fantastic! Of course, from the side, there is always more caviar on someone else's sandwich, but we look forward to Egor going to sleep normally, and so are we, too. And in general we wait until it becomes a little easier.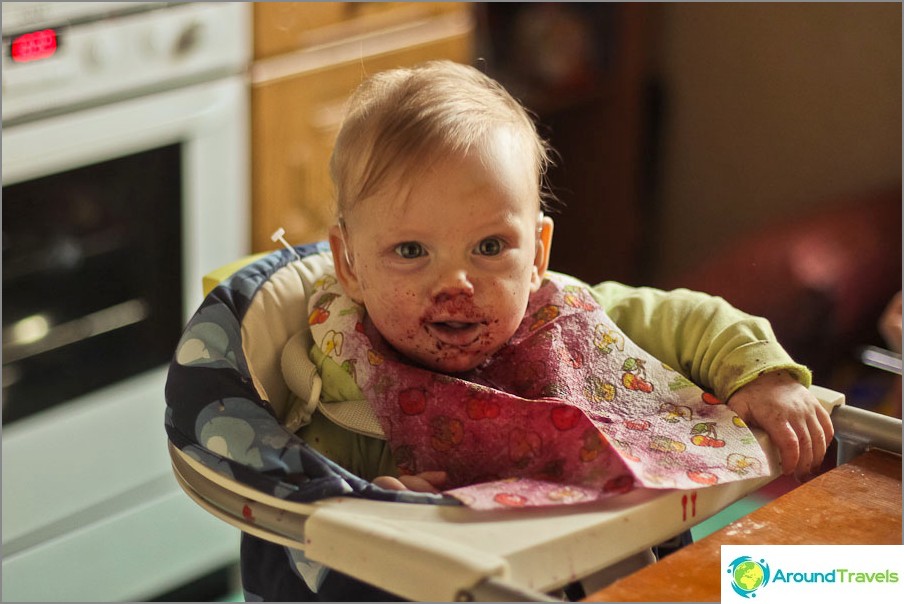 By the way, the most valuable resource is time. Money, apartments, cars, all this dust, but the time it goes irretrievably. Well, why, a person needs to lose something to start to appreciate it. Sit and watch the movie together for the happiness, and once I could swallow "Friends" 10 seasons in a month
So, at what stage is the situation with Egor? We ourselves do not know, and along the way, no one knows. We do not have a final diagnosis, although we consult at the same time with 4 neuropathologists. True, one intimidated us very much, saying that development is only for 3 months, and in general only a miracle will save you, otherwise cranes, but we don't believe something, more faith in the other three, which are more or less the same. In principle, the lack of clarity is not surprising, here it goes through our whole lives, everything is not like that of humans. Doctors are in no hurry to draw conclusions and agree only on the fact that we definitely have serious neurological problems and developmental delays that need to be treated with medication and massages. Moreover, our hearing and our eyesight depend on neuroscience (yes, not everything is alright with vision either). Therefore, while we are walking in hearing aids (and we are not in a hurry to be examined for cochlear implantation surgery), we make injections and almost every day a masseuse comes to massage our body.
Some people ask, is it better?would you go where you yourself are good, meaning Asia and life by the ocean. Like, where the parents feel good, the child will be fine there. True, we often think about it, but we don't want to risk it. We have no confidence that this will really help. If a child would be ordinary (or at least an accurate diagnosis), we would probably not be so afraid to experiment. But, as soon as we feel the intuitive desire that it is time to leave, we will do so. For the time being, it's just a trip for a month, for the sake of a change of atmosphere and rest.
Travels
Our joint travel happened quite a bit. These were mostly trips to various estates near Moscow and ecovillage. Single travel, too, to count the fingers - hiking in Crimea. Beautiful Swordyes my trip to Asia (Hong Kong-Macau-Thailand) for two months, in which I rolled thousands of kilometers.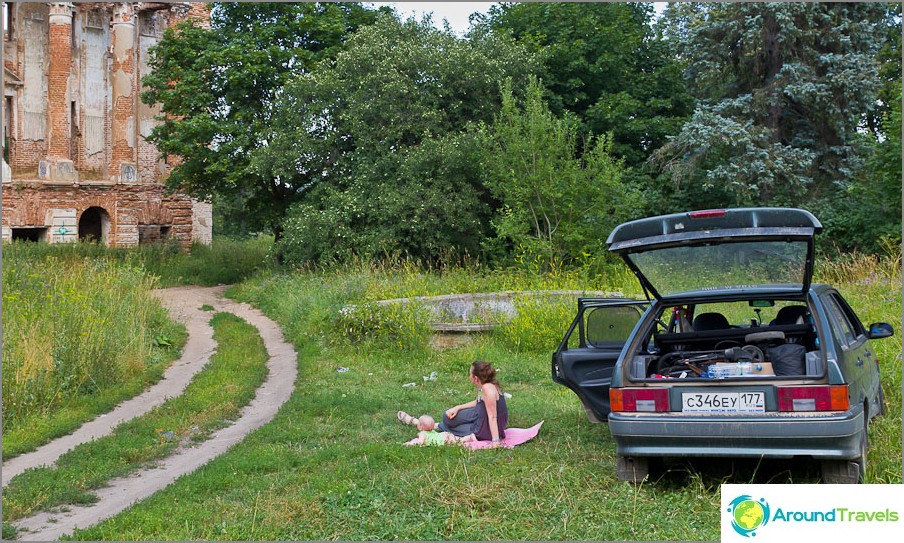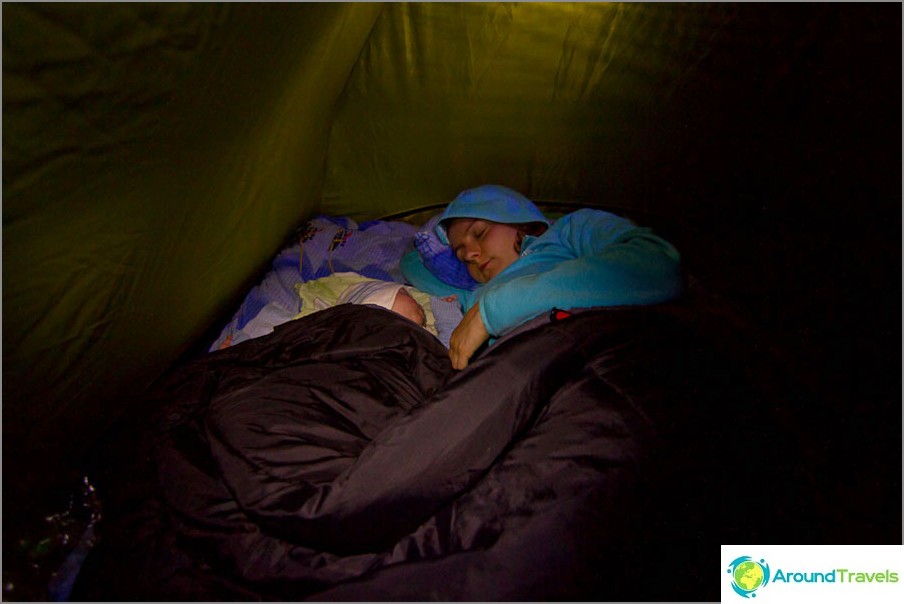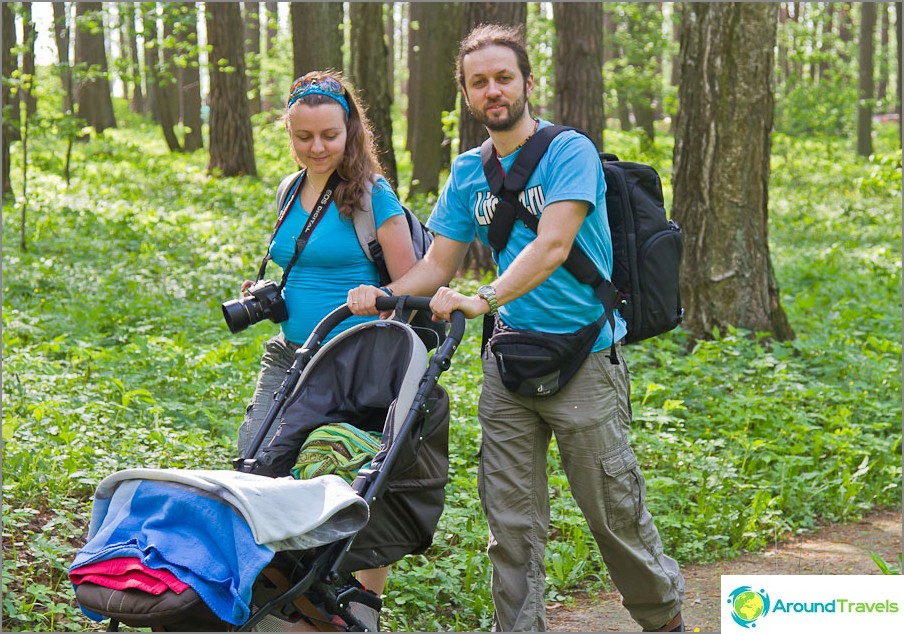 Most of all, of course, remember our route with a group across north of thailand. It was a completely new experience for me, and II am very glad that everything turned out in the end. Now I know that, taking into account all the points about which I drew conclusions after this trip, I will be able to engage in groups if there is such an opportunity in the future.
Despite our circumstances, thirst for travelnot passed, if not increased, so that we are just waiting for the moment to jump somewhere. Moreover, it just so happened that traveling to our liking so much that I wanted to leave somewhere for a long time, a month is the minimum. And if for a short time, then so that by the dictates of the soul or with meaning. Just for the sights to go, as I did not want, I do not want to.
House
Our life is a pendulum. So it has always been and this year is no exception. I often find myself thinking when I am in some place where I already was a few years ago, what could I have thought then that I would be here in a completely different capacity: with a different profession, married, with a special child, on a different machine and with other aspirations in the head.
Sometimes I envy those people who always have everythingunderstandably. It's just as convenient that you can predict what will happen in ten years and perform certain actions today to achieve the intended one. We, then, were going to leave for Asia, then from Moscow to the Moscow region, how can we plan something here ?! And in other years, it was all about Canada and Australia, and the Krasnodar Territory, and the Oryol region. Perhaps life shows us that our home is Russia, and it's time to stop rushing. And it may well be that this is the best option, even if we leave to spend the winter in the heat, the house is still needed. Although winter is not in the city, according to the assurances of our friends, who already live in the region, is not so terrible at all, and you can even love it very much. Pines and white snow, sun and blue sky, warm stove and sauna.
This year we have a desirehave your home and create comfort in it. It was before, but not so manifested. Our apartment is still our home, and we have already created comfort in it, but without regard to children, and therefore now I want something more: more suitable in terms of geography, area, proximity to nature and like-minded neighbors.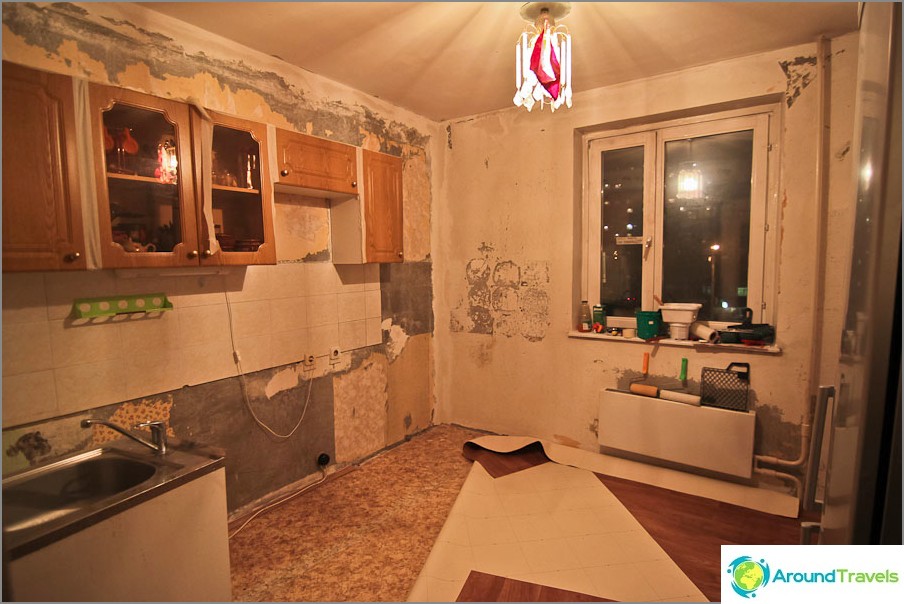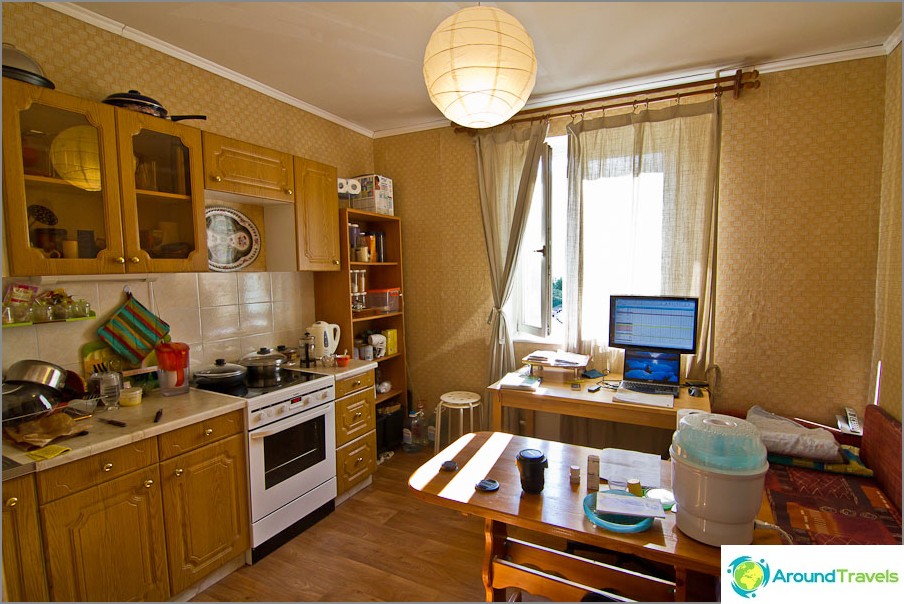 It remains to wait for the summer, and then, I hopefinally, there will be some clarity about how often you need to go to Moscow, and also we will find out whether a piece of land will be freed up next to our friends.
Finance and work
It's funny, but as soon as we find out about oursproblems with Egor, I had an additional income and a little increased earnings on the blog. All this gave us the means for the current treatment of Egor, but neither more nor less. Straight exactly under the calculation, as if someone over specially made. In general, we can't complain about the financial side, for a person who is engaged in his favorite business, I am more or less in order with money (t-t). Although life in Moscow dictates its own rules, and here it is necessary to earn much more than I personally need. If a trip to a doctor can cost 5 thousand rubles, and a monthly massage course for 30 thousand, then of course, you have to think whether you want to do something stupid for the money ...
One of the most difficult things for me waswork at home, to which I was so eager at one time. Finding a time when no one was jerking you and finding a corner where no one would find you turned out to be quite difficult. Distracting factors and the Internet is enough, and then Egor crawls and smiles (how not to pick up), or Daria asks something to bring or do, or you need to wash the dishes, or ... So the work at home has its drawbacks, especially when a creeping, sticky sweet creature appears. And I can't go anywhere for the whole day, because my family needs me, and without me some things will stop being done. But options are sought, ranging from rigid graphics, finishing work on the balcony.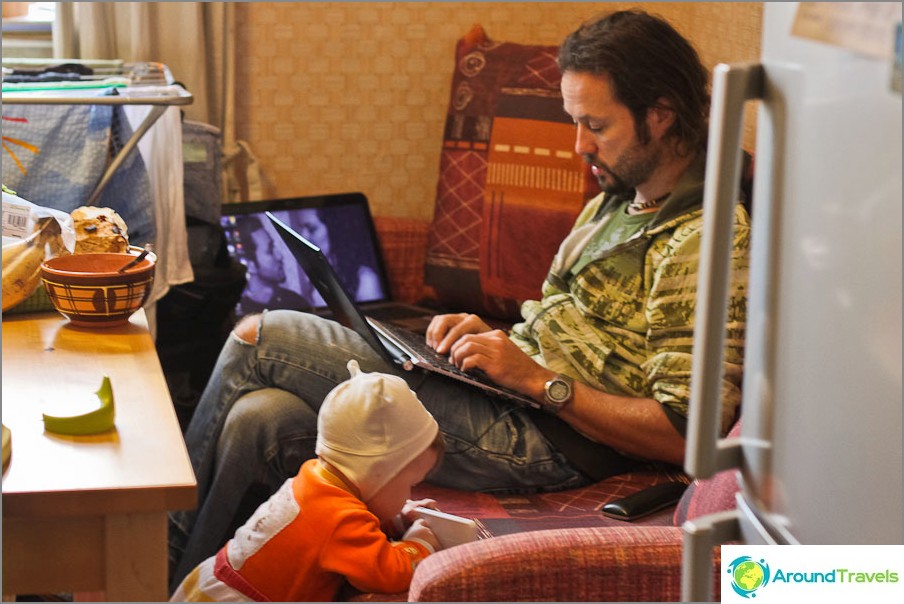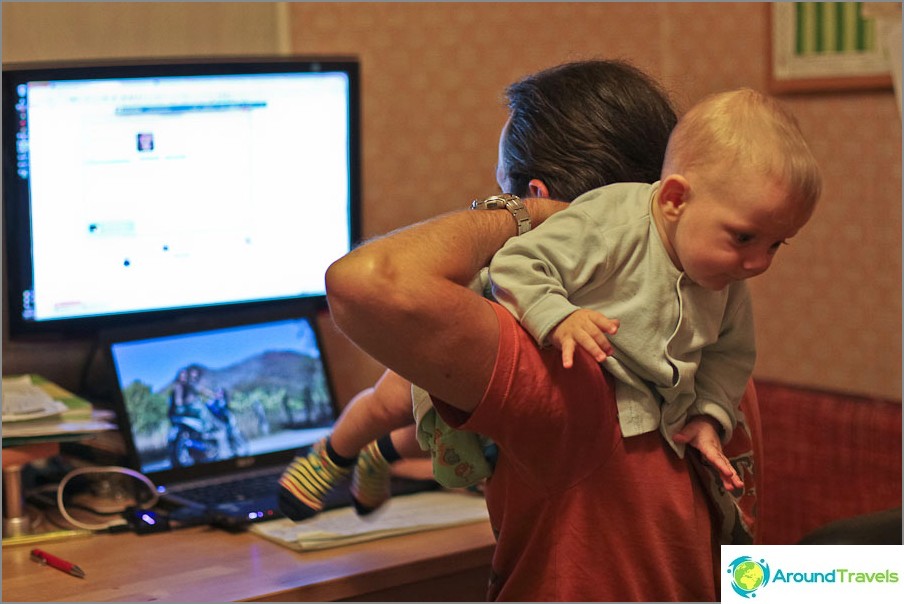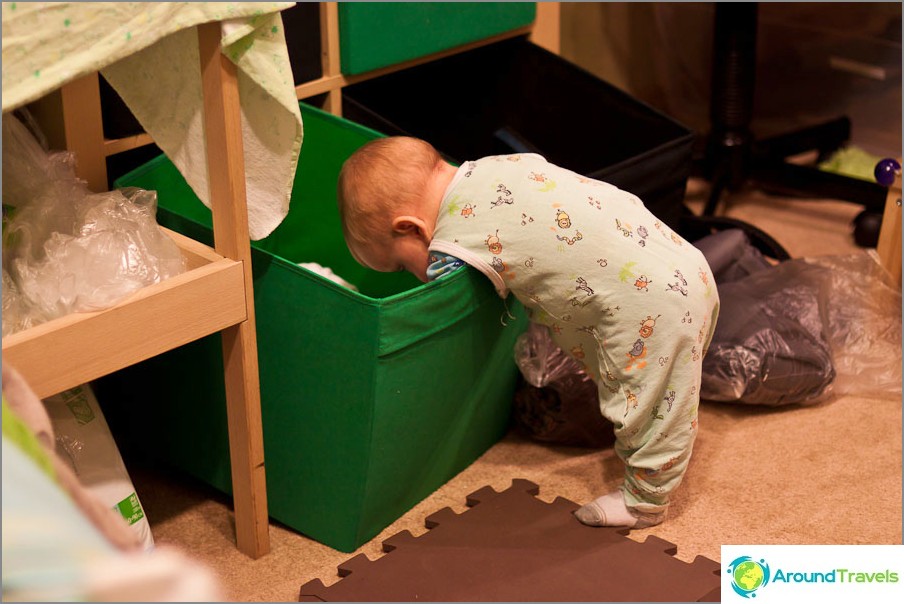 In general, I regard this chapter in our life as neutral, without any particular growths and falls. But given that Thai theme (and everything was tied to her) I can't do it right now, then, most likely, the time has come to invent something else that is connected with our life here, and not in Thailand.
Questions
This year there are few questions and all of themrelate to why so illogical happened. And Daria and I are different. She does not understand why, despite her healthy lifestyle and all her actions, Egor came to be so special, while those who drink and smoke have absolutely healthy children. And why did such weak people like us face such serious tests? Are we still strong and just feel sorry for ourselves, or vice versa, to gain strength?
My question is different: - why after 6 years, during which I went to remote earnings and departure from Moscow, it was at that moment when earnings, a favorite activity, freedom, understanding how to develop a business were combined, you need to start all over again, or almost all over again. Such a strange coincidence ...
Specially wrote these questions here so that laterlaugh through "tsat" years when I read. Blog is a good thing, after a while you return to the old posts, read, compare. I mean, I don't need to answer them, the answers will come themselves, just later.
P.S. What was your 2012? It is said that leap years are not easy for many, some even the end of the world happens
Life hacking 1 - how to buy a good insurance

Choosing insurance is now unrealistically difficult, so to help all travelers, I compile a rating. To do this, I constantly monitor forums, study insurance contracts and use insurance by myself.

Life hacking 2 - how to find a hotel 20% cheaper

First, choose a hotel on Booking. They have a good offer base, but the prices are NOT the best! The same hotel can often be found 20% cheaper in other systems through the RoomGuru service.

Discount hotels